The sink in an RV is one of those underappreciated things that most people don't give a second thought to.
That is until something goes wrong with it, or you come to realize that your current RV sink just doesn't meet your needs.
If you are unhappy with yours, then you might be wondering if it's possible to replace your RV sink, and just what to look for in a quality replacement?
The good news is that RV sinks can be relatively easy to replace. Though there are some real nuts and bolts details to be mindful of with the plumbing.
Not to mention you need to make sure that your preferred replacement RV sink is compatible with your kitchen countertops and plumbing components.
To truly help you find the best RV sink, we are going to have to roll up our sleeves and take a closer look at what makes a good RV kitchen and bathroom sink, and how to make sure that your replacement is compatible with your RV's plumbing system. This starts with asking a few key questions.
What Make An RV Sink Different From A Regular Residential Sink?
At first glance, RV sinks and regular sinks like you find in an apartment or home kitchen have a lot in common.
They both have similar faucets and fixtures and do basically the same things. Though it's how they connect to the plumbing system that really separates the two.
In fact, you might have to use special adapters to replace an RV's faucet with a regular faucet from a traditional kitchen sink.
It's also worth bearing in mind that residential sinks with a garbage disposal on one basin are rarely compatible with an RV's plumbing system.
Even if you can get one to fit in place, the excess food material that goes into the RV's gray water storage tanks can cause a world of problems later on down the line.
Can You Install A Regular Kitchen Sink In An RV?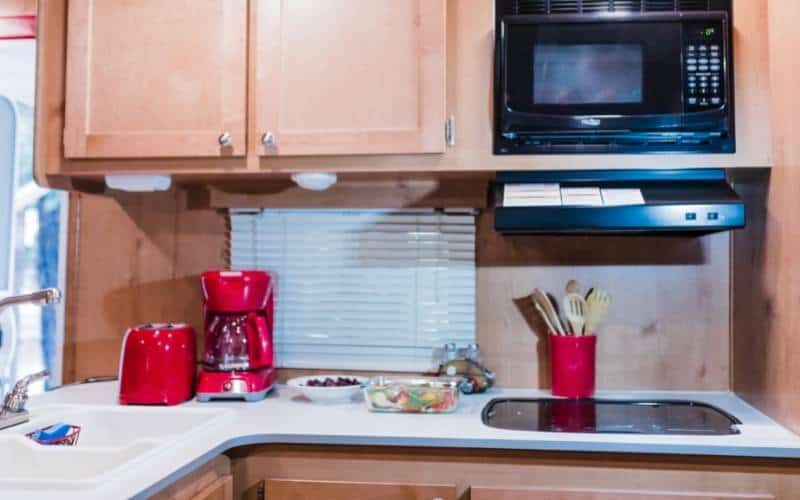 Most of the time, you can use a regular residential kitchen sink or bathroom sink in an RV. Though this is truly a time where you need to measure twice or even three times before pulling the trigger on buying the sink.
You need to make sure that the sink you are planning to install will fit a variety of dimensions.
The first and arguably most important is the actual hole in the kitchen countertop. All four sides of the replacement sink need to cover the original hole in the RV countertop by at least half an inch.
Though a full inch or two is preferable, as this gives you a little more "Wiggle Room" when it comes to properly connect the drain pipes to the basket drains on the underside of the RV replacement sink.
Next, you need to check the height of the RV's drain lines and compare it to the depth of the sink's drains.
The RV drain pipe has to be lower than the bottom of the drains by at least 3/4 of an inch for the drains to release water properly, as well as allowing for the drain's gooseneck to connect the two.
It's okay for the height difference between the RV drain pipe and the bottom of the sink drain to be greater than ¾ of an inch, as you can always make up the difference with an adaptor or a small extension pipe.
Things To Consider When Choosing An RV Replacement Sink
There are a few different things to consider when looking for the best replacement sink for your RV.
If any one of these is off, you may not be able to properly connect the replacement sink to the RV's onboard plumbing system, or you might need to make significant modifications to the existing plumbing.
Compatibility
This is arguably the biggest factor when shopping for a replacement RV sink. Some RVs are constructed with specialized infrastructure that is not always compatible with after-market parts.
Size
You want to make sure that all four dimensions of the sink overlap the hole in the countertop by at least half an inch to an inch or more.
This can get a little tricky when it comes to replacing an oval bathroom sink.
Faucets & Fixtures
Most people who replace their RV sink also upgrade the faucets and fixtures, rather than swapping out the old fixtures.
If your sink doesn't come with faucets and fixtures included in the package, you will need to make sure that whatever fixtures you do source will be compatible with the sink, as well as water lines and drains underneath the cabinet or vanity.
The Material
RV sinks can be made from stainless steel, acrylic, plastic, or even fiberglass. Each has its different pros and cons to consider. Which we will cover in a little bit.
Mounting
Most RV sinks are what's called "Over Mounted" sinks, which means they set into the hold in the countertop or vanity.
Though some "Under Mounted" RV sinks offer superior depth in the basin.
If you intend to handle the installation yourself, you should prioritize an over-mounted or "Drop-In" sink.
If you are particularly handy or experienced, or you are simply willing to pay a little extra for installation, then an under-mount RV sink tends to be more esthetically pleasing.
Especially in an RV kitchen. Another nice thing about an under-mount sink is that it is flush with the countertop, which means you can set a cutting board or other surface insert to maximize workspace on the kitchen counters.
The Warranty Coverage
This is a minor consideration, though it does help to check the fine print of the warranty protection offered by the manufacturer.
Some have language that voids the warranty if not installed by a licensed professional or if the sink is improperly installed in a way that later causes damage.
Is A Custom RV Sink A Good Option?
If you have the budget to play with, then a custom sink is arguably the ideal option for replacing a bathroom or kitchen RV sink.
Though this is definitely something you need a professional for and not something the average person can do on their own.
Though this does take more time and will likely cost more money than sourcing your own sink and having it installed, or installing it yourself.
RV Sink Replacement & Upgrade Options
Right off the bat, you need to break it down between bathroom sinks and kitchen sinks.
Though in a few rare instances a single basin sinks a bathroom and kitchen sink of the same dimensions can be compatible.
So long as they fit the correct size dimensions and have compatible plumbing.
RV Kitchen Sinks
RV kitchen sinks are typically replaced more often than RV bathroom sinks. This is due to a variety of factors.
Kitchen sinks tend to get a lot more use and vigorous use. Especially if your RV doesn't have any type of dishwasher.
Kitchen sinks also tend to be larger and more prone to being chipped, cracked, or damaged if something heavy is accidentally dropped into them.
A lot of RV owners will also choose to upgrade a kitchen sink from a large single basin model to a double basin.
This allows you to use one basin for washing up with soapy water and the other for rinsing or drying on a small dish rack.
Camper Bathroom Sinks
RV bathroom sinks tend to be a little bit smaller, and many of them are an oval shape.
This can be a little bit of an issue when it comes to sourcing a replacement sink as even a seemingly minor difference in the dimensions can leave an unsightly and potential unsafe gap in the bathroom counter.
RV bathroom sinks are more frequently replaced in models where the sink is included in or near the wet bath, as it tends to get wet more often.
Types of RV Sink Options
RV replacement sinks can be made out of stainless steel, acrylic, plastic, or fiberglass.
Each one has its own strengths and weaknesses to consider, which can affect the function, the esthetic look, and the overall cost.
Fiberglass RV Sinks
Fiberglass is admittedly going out of style as it is prone to cracking. Especially if it isn't winterized properly.
Though there are some "Vintage" RVs out there that originally had fiberglass sinks and the owners want to keep the original material build quality.
Fiberglass sinks are also an option when it comes to having a professional install a custom sink as the size, shape, and dimensions can be altered to suit the space available. Though this might significantly raise the overall price tag.
Porcelain Ceramic RV Sinks
Porcelain is more commonly found in RV bathroom sinks than in RV kitchens.
It tends to cost more than some of the other RV sink materials, which makes it more common in things like Class A motorhomes and luxury fifth-wheel trailers.
Porcelain RV sinks can be prone to cracking and chipping. Especially if something heavy is dropped into it.
A porcelain sink in an RV is often better installed into a counter or bathroom vanity rather than onto a porcelain pedestal.
Plastic RV Sinks
Plastic RV sinks tend to have the easiest price tag, which makes them a very tempting option for RV owners who are replacing a sink on a budget.
Unfortunately, less expensive plastic RV sinks are prone to cracking and rattling loose from where they are seated into the countertop.
Especially if you are driving your camper or travel trailer over bumpy roads.
Acrylic Resin RV Sinks
Acrylic RV sinks are the next step up from plastic in price, though they also tend to offer superior durability.
Some of the best acrylic RV sinks are even engineered to be "Shatter Proof" which provides some added peace of mind for the relatively friendly price tag they come with.
Acrylic sinks do tend to be seen more in RV bathrooms than kitchens.
Some people complain about the esthetic look of an acrylic sink, though this is more of a personal preference issue than a functional complaint.
Stainless Steel RV Sinks
Stainless steel is more common in RV kitchens and is seen by most people as being aesthetically pleasing.
Stainless steel RV sinks also tend to be very durable and can easily handle the rough and tumble life or RV travel on bumpy roads.
Stainless steel also tends to be highly bacteria-resistant which makes it great for kitchen use and RV that might have smaller than average fresh water storage tanks.
It also tends to be popular with manufacturers, meaning you should be able to easily find a stainless steel RV sink that will meet just about any dimensions you need.
Of course, stainless steel RV sinks also tend to have a higher price tag, which is part and parcel of any high-quality fixture.
If you have the budget to play with, a stainless steel RV replacement sink will yield the longest overall value.
Best RV Sink Replacements
There are some RV sinks that are meant strictly for the bathroom, and some that are truly meant to just be RV kitchen sinks.
Then there are a few RV sinks that can potentially be used in both a typical RV dry bathroom or as a single basin sink in a small RV kitchen.
3 Best RV Bathroom Sinks To Buy
1: KINGSMAN 19 Inch Round Topmount Bathroom Sink
This is a high-quality porcelain ceramic sink that is meant to fit in a bathroom. Made from vitreous ceramic it tends to offer superior crack resistance.
This is also a relatively common size for an oval bathroom sink, which makes it more compatible with a lot of RV bathroom counters or vanities. It's top-mounted, which makes it easy to install.
2: KINGSMAN 22 INCH Ceramic Rectrangle Undermount Sink
This is a much larger single basin RV sink made from vitreous porcelain ceramic. It offers superior durability for porcelain and is large enough to also be used in a kitchen.
Though it is primarily intended for a bathroom, as the depth of the basin is a little shallow for washing dishes.
This type of under-mounted bathroom sink does require special installation hardware and fasteners which might be beyond the skills of the average do-it-yourselfer.
If you currently have an under-mounted sink in your RV, take a good hard look at the fasteners to assess if it's something in your comfort zone to handle.
3: Kingsman Stone Modern Bathroom Vanity Vessel Sink
This is a special type of acrylic sink that's meant for bathroom use. It's rather large too, which makes it more likely for motorhomes, fifth-wheel campers, and luxury travel trailers that have a big bathroom.
Since it sits on top of the counter or vanity, you don't have to worry as much about finding the compatible size.
Though you likely will need to install a drain pipe extension to connect the drain basket to the rest of the existing RV drain pipes.
RV Kitchen Sinks
1: Elkay Quartz ELGRU13322WH0FC Undermount kitchen Sink
This is a single basin kitchen sink that can also fit in an RV. Though you should note that it is an "Undermount" sink, which can be a much trickier installation for an RV do-it-yourselfer.
It's made from impact molded quartz porcelain which gives it superior impact resistance and makes it less prone to cracking.
You also have to like that the faucet fixture and all the other accessories come included in the price.
That way you know the faucet and the sink are completely compatible, and you don't have to risk taking a second trip to the hardware store if you want to install it yourself.
2: MotorFansClub B08781C68X Camper Kitchen Steel Sink
This is a small single basin stainless steel sink that was made specifically for RV use.
It includes a special lid that closes over it, which is handy for a small RV camper kitchen where countertop space is at a premium.
The faucets are even set up at the lip of the sink, which further helps the lid to close flush.
This is a great kitchen sink for a small travel trailer, pop up camper, or teardrop camper.
You also have to like that it comes with everything you need to install it, including the highly durable stainless steel faucet fixtures. All at a very friendly price tag.
3: Dayton D225193 Double Bowl Top Mount sink
This is a dual basin stainless steel sink meant for kitchen use. It's small enough to fit a modest RV kitchen countertop while providing a separate basin for washing dishes and another for rinsing or drying. The stainless steel makes it very durable as well as bacteria-resistant.
This is an overmount sink with a wide surrounding flange, which also makes it forgiving when it comes to compatibility.
All this at a very friendly price tag for stainless steel. It is available in a three-hole model for individual hot and cold taps, as well as a four-hole model for a single faucet fixture that blends the temperature of the water via an internal mixing valve.
Bathroom & Kitchen Sinks
1: STARSTAR B0841B79DJ Ledge Undermount Single Bowl Kitchen Sink
This is another under-mount sink that comes with a cutting board insert. It helps add square inches of workspace to the RV countertop when you aren't using it to wash hands or dishes.
It's made from stainless steel, which improves long-term durability. It's also available in a wide range of sizes, to suit just about any RV kitchen counter.
You could go with a 15 X 15 or a 15 X 17-inch sink for a small kitchen counter or bathroom.
In a larger RV kitchen, you could install a 28 X 19 or a 30 X 19-inch sink for added volume.
Using this type of strategy all the sinks in your RV could match the same look and concept.
How To Replace An RV Sink
While there might be some variables depending on your RV's plumbing system, most RV sinks can be replaced following some basic steps, and guided by some simple principles.
Step One: Measure & Label Everything
You want to know all your dimensions for the sink and the hole in the countertop or vanity.
Some masking tape or painter's tape can then be wrapped onto important components like the hot and cold water lines.
If your sink has mounting hardware make sure to draw a schematic picture noting the exact location of every fastener.
Step Two: Turn Off The Water Supply
Turn off the hot and cold water valves supplying the sink and then run the taps wide open until all the water is drained out of the fixtures.
Note that there will still be some water remaining in the gooseneck.
Step Three: Disconnect Any Accessory Hardware
Some sinks have a drain stopper system that lets you close the drains via a lever or a plunger button.
This is more common in bathroom sinks and it needs to be disconnected before you start disconnecting anything else.
Step Four: Disconnect The Drain Line & Water Lines
Drain lines usually have compression fittings that are hard to turn at first. You'll likely have one on each end of the gooseneck.
It helps to have a small bucket handy as the gooseneck will still have water in it.
Once you have the drain disconnected, you should put a plastic bag over the end of the pipe or stuff a rag in it to keep gases from the storage tanks from coming back up.
This is especially important if your RV just has one universal black water storage tank.
Step 5: Disconnect Any & All Fasteners
Drop-in sinks might just have a line of bathroom caulk around the edge, whereas an under-mount kitchen sink might have multiple fastener clips or brackets with screws holding them in place.
Here again, make sure you label everything. This is also a good time to double-check the diameter of the drain pipe and compare it to the sink's drain baskets.
Step 6: New sink install
Insert the new sink and secure it in place using the appropriate fasteners. Make sure to connect the drain line and the gooseneck first before connecting the hot and cold water lines to the faucet taps.
When installing the drain baskets you will need to lay down a bead of plumbers putty to ensure a water-tight seal in the bottom of the basin.
Step 7: Check all things
Turn the water lines back on and run a slow stream of water. Watch for any leaks in the compression fittings around the gooseneck or the drain baskets.
Frequently Asked Questions
How Long Does An RV Sink Last?
RV sinks can last anywhere from 5 to 20 years depending on how they are cared for and how much punishment they take.
If you like to do a lot of boondocking off the grid, the vibrations and jarring motions of traveling down rough gravel roads can cause excess wear and tear on a lot of RV components.
Especially sinks and the solid connection they have with the drain pipes underneath.
Storing your RV in the winter without properly winterizing the plumbing system can also damage RV sinks faucets, drains, and water lines, which leads to a shorter overall lifespan.
What Are The Most Common RV Sink Sizes?
Just like in a home or apartment there are a lot of size differences in camper kitchen and bathroom sinks.
The dimensions of an average RV kitchen sink are 14-11/16″ x 14-11/16″ and the internal depth is 5-1/2" and it has the standard 2-1/8″ diameter RV sink drain hole.
Though there are some RV sinks with only a 2-inch drain hole. You can always take a 2-inch diameter drain hole and connect it to a 2 1/8th inch drain pipe via a special adapter and compression fitting.
Though this is not true if the differences are switched and you have a 2 1/8" drain hole and a 2-inch diameter drain pipe.
Can I Install An RV Sink Without A Gooseneck?
If there height of the RV drain pipe and the bottom of the replacement sink meet perfectly at the same height, you might be tempted to forgo installing a gooseneck pipe.
However, this is a bad idea in the long run. The gooseneck remains filled with water which essentially prevents odors and gasses from the black and gray water storage tanks from coming back up through the sink.
Conclusion
Replacing your RV sink can be a great way to improve functionality as well as esthetics in your RV's kitchen or bathroom.
There are a lot of good options to choose from, though size and compatibility are important factors to be mindful of.
If you are looking for a long-term investment that will pay off in durability and square inches are at a premium in your modest RV kitchen, then the MotorFansClub Single Bowl RV Hand Wash Rectangular Basin Sink with Lid might be the best RV replacement sink for you.
In this same theme, the STARSTAR Workstation Ledge Undermount Single Bowl 304 Stainless Steel Kitchen Sink is a great option.
It is available in a wide range of sizes to suit just about any countertop scale. Though as an under-mount sink the installation might be a little more challenging.
If you are looking to replace the sink in your RV's bathroom, and you truly want the look and feel of porcelain, then the KINGSMAN 19 Inch Durable Round Drop-In Vitreous Ceramic Lavatory Vanity Bathroom Sink might be the perfect fit. It is a very common size and designed to be crack and chip resistant.
Whatever type of size of sink you are thinking about replacing in your RV, just make sure to take your time, be mindful of all the dimensions above and below the countertop.
If you have the budget available, stainless steel is always the safest option. If square inches on the countertop are at a premium, then you might want to lean toward an under-mounted RV sink with a cutting board or lid.
Just be prepared to pay a little extra for professional installation, or make sure it's a job your do-it-yourself skills are up for.