Loading and unloading a truck camper doesn't have to be a big production, especially when you have equipped with right camper jacks. A lot of truck campers come with some type of truck camper jacks or stabilizers to get the camper loaded just right.
Either electrically powered, manual, or hydraulic, truck bed camper jacks help in the process of installing your truck camper into your pickup truck's cargo box as well as helping to stabilize the truck camper when you are parked up at camp.
In this guide, we'll explain different types truck camper jacks, how they work and how to choose the best truck camper jacks for your setup.
What Are Truck Camper Jacks?
Camper jacks are robust vertical struts that remove a lot of the load weight from your pickup truck's suspension system when you are parked up at camp.
Most are powered via some type of hydraulic system, though there are a few older truck camper jacks that are extended manually.
You need to bear in mind that some of the biggest campers can weigh as much as 5000-pounds.
Though even the lightest models will still tip the scales with a weight rating of around 1,000 pounds.
This means you need some strong, reliable and well-engineered components to help load your truck camper into the box of your pickup truck for proper installation.
Can You Load a Truck Camper Without Jacks?
Technically, if you have a light enough truck camper and some burly friends to help you, or perhaps a skid loader or two, you might be able to load it into the cargo box of your truck camper without jacks.
Though this is really not a good idea, and opens the door for some serious accidents.
When you add heavy duty truck camper jacks into the equation you gain not only the mechanical advantage, but you also improve the overall safety.
Not to mention reducing the risk of damaging your truck camper, which is a serious investment in its own right.
What Are The Different Types of Truck Camper Jacks?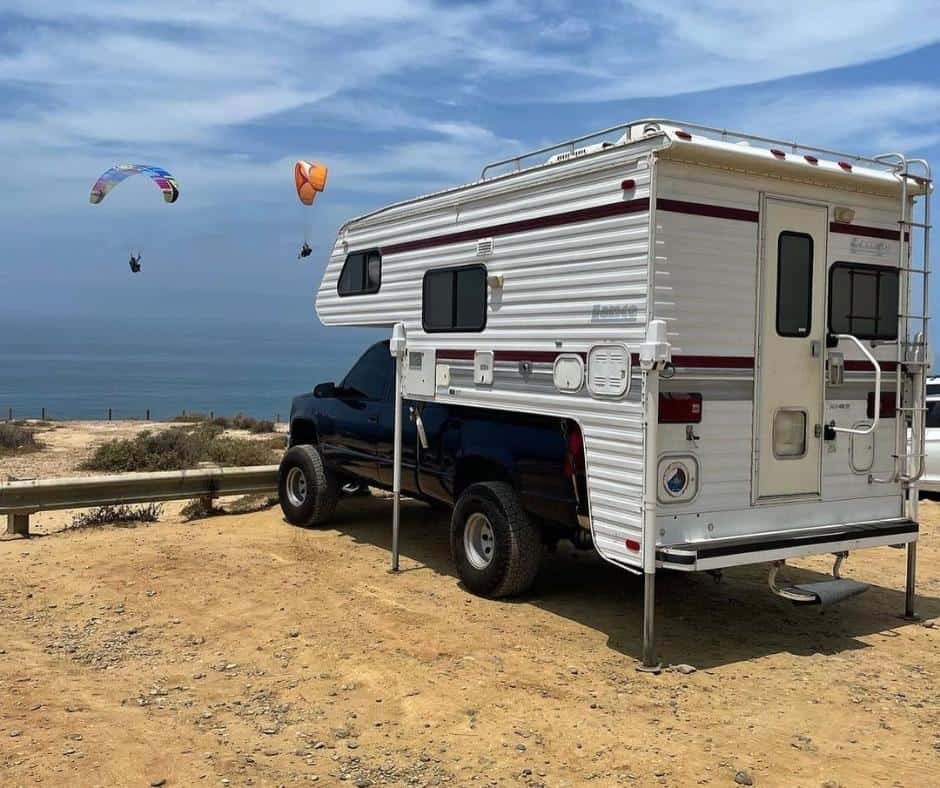 When it comes to determining the right type of truck camper jacks for your rig, you absolutely have to start with the weight of the truck camper itself.
If a set of jacks isn't rated for the weight capacity of the truck camper, then you won't be able to safely load or support it.
Truck camper jacks can be found as tripod jacks, corner mounted jacks, hydraulic jacks as well as electric controlled jacks.
1. Tripod Truck Camper Jacks
Tripod truck camper jacks generally have a weight capacity between 1,000 to 2000 pounds.
This means they are better suited for lightweight truck campers. You can find tripod truck jacks in three and four jack sets.
For a three-jack setup you would mount a single truck camper jack under the wing at one of the corners. This isn't always ideal.
So most people tend to pay the extra amount to get the four tripod jack set to secure each corner with equal balance.
One of the great things about tripod jacks is that they fold up for convenient storage when transporting.
You should also note that tripod camper jacks can have optional bracket extensions and lift extensions to accommodate dually as well as lifted pickups.
2. Corner Mounted Truck Camper Jacks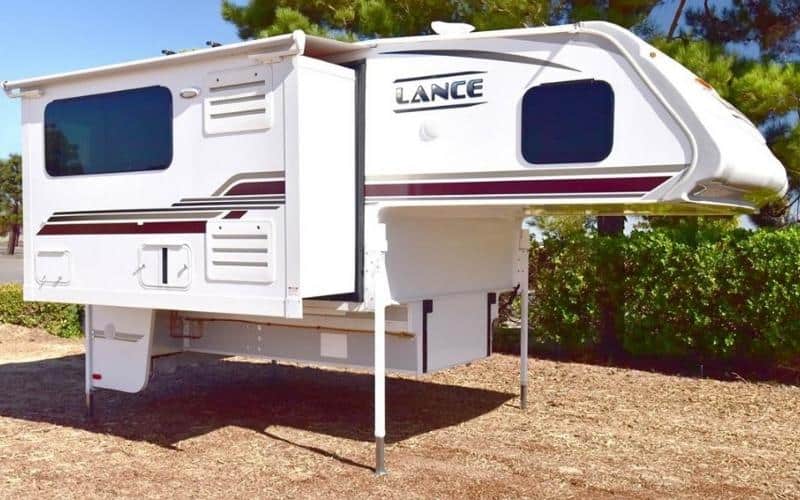 Corner-mounted truck camper jacks are designed to securely attach to each of the four corners of the truck camper's base.
You should be able to find them in either electric, hydraulic, or manual versions.
Though "Dually" trucks will require that these mounted jacks have a special "Swing Out" feature.
So if you do have a pickup truck with dual rear axles, you need to look for this feature in the specifications.
It's also worth bearing in mind that a lot of newer truck campers will come directly from the manufacturer with corner-mounted camper jacks already installed.
This can save you some money as opposed to buying aftermarket truck camper jacks.
3. Electric Truck Camper Jacks
Electric truck camper jacks are essentially corner-mounted truck camper jacks that use an electric motor to raise and lower the camper.
This is a great advantage over manual four corner jacks as you can simply press the lever, and the truck camper jacks move up or down.
This spares you a lot of the cranking, and back-breaking labor. Electric truck camper jacks are also less likely to have an accident, as you can monitor them as they work.
4. Hydraulic Corner-Mounted Jacks
Ironically hydraulic corner-mounted truck camper jacks do require a little cranking, though they still take less effort than manual camper jacks.
They allow you to load and unload your camper more efficiently than manual cranks, and are safer.
4 Best Truck Camper Jacks On The Market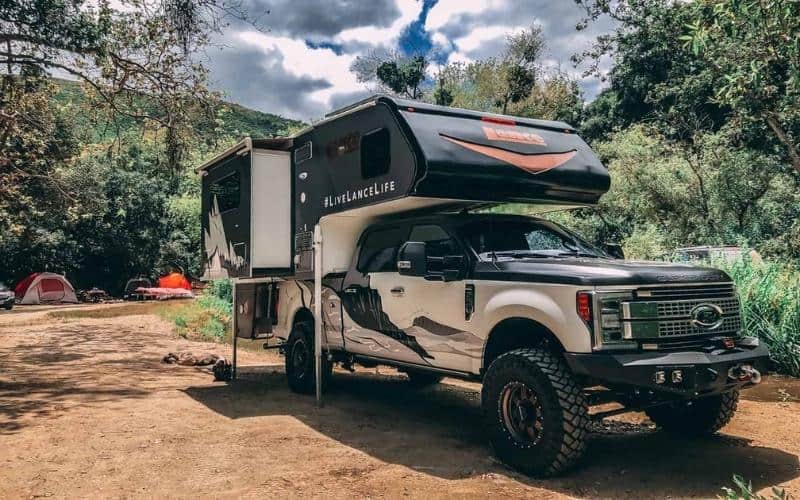 When reviewing the vast field of truck camper jacks on the market, we tried to include at least one different type.
Along the way we also kept a keen eye out for material build quality as well as engineering principles that were designed to work in the real world.
The end result is a collection of options to fit just about any truck camper on the market today.
1: Rieco-Titan THD2000-1Z1 Camper Tripod Jack
Reico-Titan is one of the industry leaders in the truck camper jack niche. The THD2000-1Z1 was built using heavy-duty all-steel construction.
It has 18 tooth gears for added strength and durability. Internally there are three guide bearings as well as a single master thrust bearing.
The free-floating grip makes it easy and comfortable to crank compared to some of the competitors.
The Rieco-Titan THD2000-1Z1 has a minimum height of 38″ and a maximum height of 60″.
It has a maximum lift capacity of up to 2,000 pounds, which makes it a better option for lightweight truck campers.
The extra strong tripod plus large area pads minimize soft, sink-in problems. It can be easily folded into a compact package for easy storing.
2. HappiJac LC736515 Electric Truck Camper Jack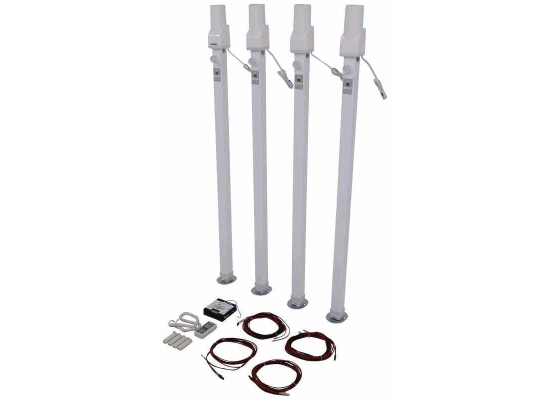 This is a completely electric truck camper jack system that comes with everything you need to take your truck camper to new heights all at the press of a button.
It is engineered with clutch-less motorheads that attach to the jacks to eliminate the need for manual cranking.
The self-lubricating nuts prevent overextension of jacks for superior safety.
It also has concave footpads that further help to reduce movement as well as providing superior stability.
The HappiJac LC736515-ELKIT Electric Truck Camper Jack System has a minimum lift of 36.5-inches, and a maximum of 51-inches which will accommodate most truck campers on the market today.
Though it might not be high enough if you are hoping to load your truck camper into a "Lifted" pickup truck cargo box.
When properly installed in all four corners this electric truck camper jack system has a maximum lift capacity of up to 11,200-pounds.
3: Rieco Titan 15450 Truck Camper Hydraulic Jacks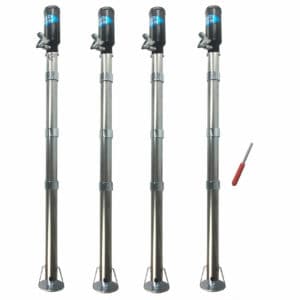 The Rieco Titan 15450 hydraulic jacks operate via a traditional pump system that serves to lift the jack as well as a controlled release of the hydraulic valve to help lower the jack afterward.
These hydraulic truck jacks were engineered with nylon guides between telescoping tubes for smooth operation.
There is also a travel latch on the foot of the jack for superior safety when traveling.
When properly installed the Rieco Titan 15450 hydraulic truck camper jacks have a maximum weight capacity of up to 4,000-pounds.
They have a minimum height of 36-inches and a maximum extended height of up to 53-inches. This will accommodate most pickup truck cargo box heights.
4: HAPPIJAC 736514 Single 4220 Acme Screw Jack
The HappiJac LC736514 are some of the easiest manual camper jack systems to use.
This set of four is designed to install permanently on the 4 corners of your truck camper to provide superior stability as well as convenient loading and unloading.
Once raised into the position they lock in place securely. They use Acme screws, with self-lubricating nuts that effectively prevent overextension of truck camper jacks.
The HappiJac LC736514 has a minimum height of 34.5 inches with a maximum extension of up to 51-inches.
This will accommodate most pickup truck cargo boxes. It's worth bearing in mind that the 34.5-inch minimum height might be preferable for some older half-ton pickup trucks.
When properly installed this set of four offers a maximum load capacity of up to 8,800-pounds.
---
Are There Extensions For Dual-Axle Pickup Trucks?
If you have a dually pickup truck, and you want to use a traditional truck camper jack, there are some aftermarket extensions available.
Just make sure that they offer the companion installation hardware so that you have everything you need in one convenient pack.
This is often the preferred option for truck campers that come with the camper jacks installed from the manufacturer.
Conclusion
Modern engineering and material design has helped expand the versatility, availability and weight capacity of truck camper jacks.
The type that is best for your truck camper will start by factoring in the weight of your model, as well as the height capabilities of the jacks themselves.
If you have a heavy truck camper, then a manual cranking truck camper jack system is probably going to be too much back-breaking labor and can even raise some safety concerns.
In a situation like this the HappiJac LC736515-ELKIT Electric Truck Camper Jack System is probably your best option.
If you have a lighter truck camper then the Rieco-Titan THD2000-1Z1 Heavy-Duty Camper Tripod Jack might be your best truck camper jack option.
They offer stable loading and then fold up for easy transport to take them with you to camp.