Truck campers are a great way to keep your powerful truck and your living quarters together in one cohesive unit.
This makes them a great option for people who need a base camp when hunting public land in places where vehicles are allowed, but campers and travel trailers are not.
Of course, being able to handle everything the elements can throw at you is also a very big deal.
The last thing you want is to set up your fall or winter hunting camp only to be freezing to death at night.
This is even more of an issue if you like to camp in the mountains or boondocking in the middle of Arizona where temperatures can swing wildly from day to night.
If you need a truck camper that can stand up to unpredictable and harsh climates, then you might be wondering what are some of the best four-season truck campers?
Right off the bat the EarthRoamer HD and the Northwood Arctic Fox are two popular models with a reputation for keeping people comfortable regardless of what the outside weather is doing.
Though they're certainly not the only 4-season truck campers worth considering.
We decided it was high time to take a closer look at some of the best four-season truck campers, and what makes some stand out from others.
This included looking at things like the type of insulation they have the robustness of their air conditioning and heating systems as well their reputation for build quality.
Why Truck Campers Are Great For Four-Season Camping?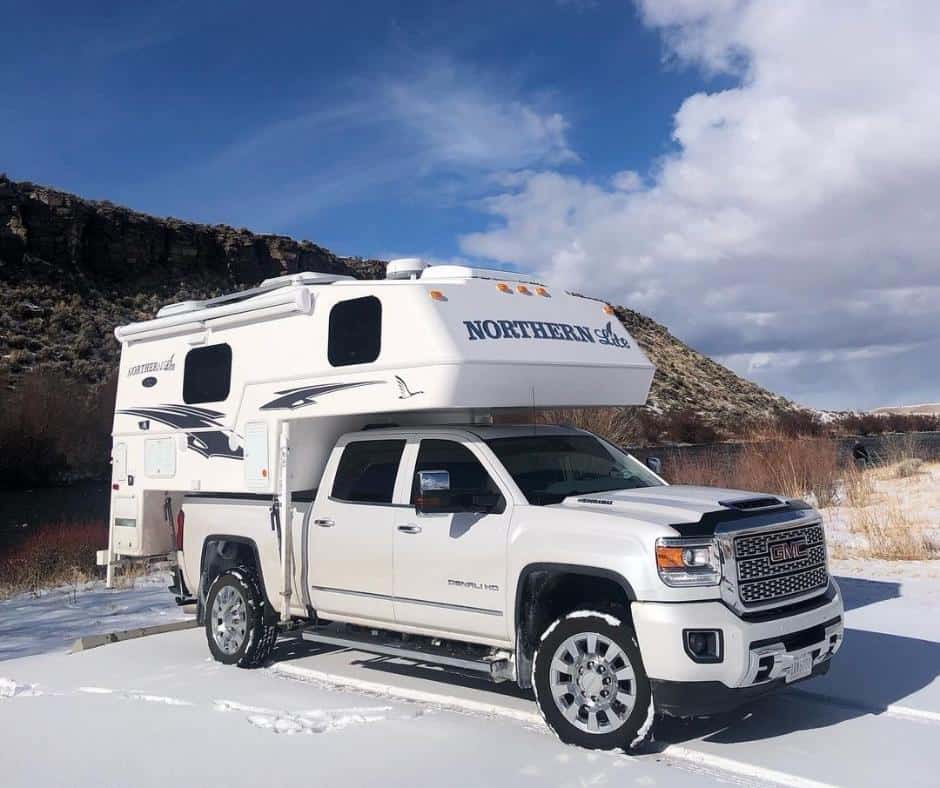 Truck campers are a great way to bring your living accommodations with you, without having to tow a cumbersome travel trailer behind you.
They are especially great in scenarios where you need to stay in a relatively small campsite that just simply wouldn't accommodate a teardrop camper or a small travel trailer.
When you also consider that most of the full-size pickup trucks that carry four-season campers have four-wheel drive with locking rear differentials, it also makes truck campers the ideal option for boondocking off the grid.
Especially if you want to get far off the grid, and you can't rely on heaters and direct electric shore power like you might find at an RV campground.
Hunters who use public land for hunting in the fall and wintertime also prefer four-season truck campers.
Many tracts of public hunting land don't allow travel trailers, or they limit the amount of time you can park a camper.
They also tend to have specific sites set up, which aren't necessarily near good hunting ground.
You can only park your travel trailer in those areas, which can leave you with a lot of hiking to do on cold mornings and nights.
Whereas a four-season truck camper doesn't necessarily have those regulations governing it, as it is seen as a being a self-contained vehicle. This means you can stay anywhere you can drive your all-terrain pickup truck.
How to Tell If a Truck Camper Is Really "4-Season"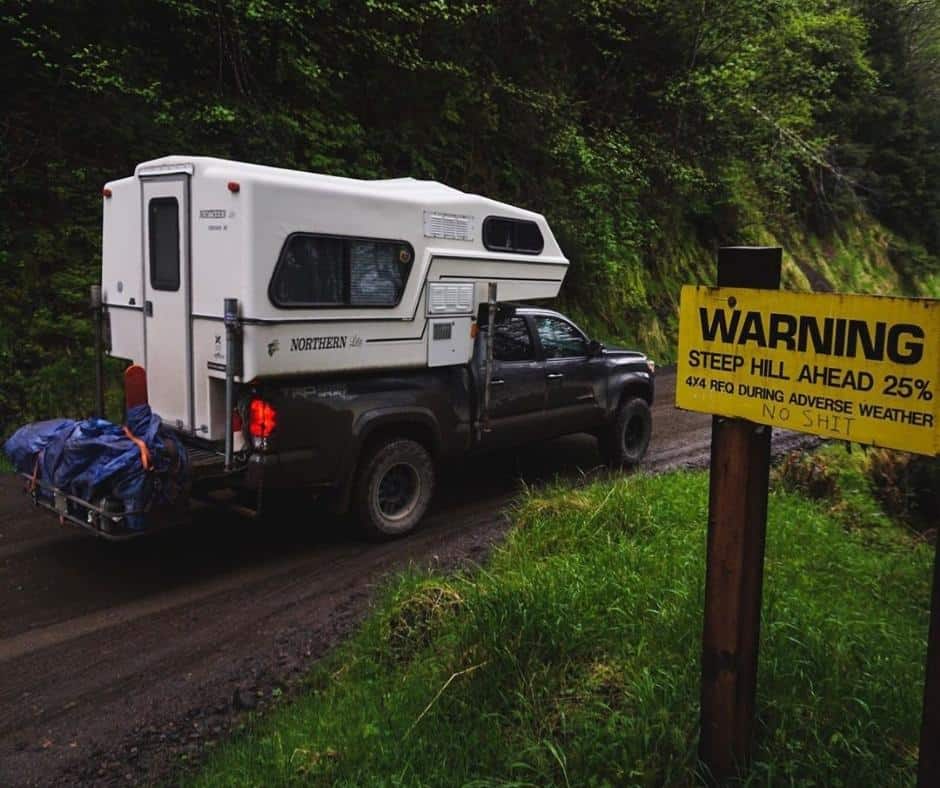 There are a few things that set a good four-season truck camper apart from the truck campers that are only used during the prime summer season.
When shopping for the best truck camper to meet your four-season RV travel style you will want to look for some of the following things.
Superior Insulation
A "4-season truck camper" either have upgraded insulation or are made using materials that have inherently good insulative qualities.
This makes them more efficient for holding in the heat in the winter or reducing the strain on the air conditioner in the summer.
Good HVAC Rating
Ideally you want a truck camper with an air conditioner that is rated to at least 8,000 BTUs, with 13,500 BTUs being impressive.
When it comes to a heater, you want a propane furnace that is rated to produce at least 15,000 to 20,000 BTUs.
Water Storage Tanks & Lines
If you plan to stay in your four-season truck camper in the winter, you will want to look for a model that has some form of insulation or heating features for the fresh and wastewater storage tanks.
Ideally, it will also have the water lines running through the warm interior of the camper or will have some type of beefed-up insulation or water line heating to prevent freezing in sub-zero temperatures.
5 Best Four-Season Truck Campers suitable for all-weather camping
When reviewing the best four-season truck campers, we kept an eye out for models that had superior build quality and many of the key features that can withstand extreme heat and below-freezing temperatures .
We also tried to take into account certain models that might appeal to specific niche interests.
1. Northern Lite 4-Season Truck Campers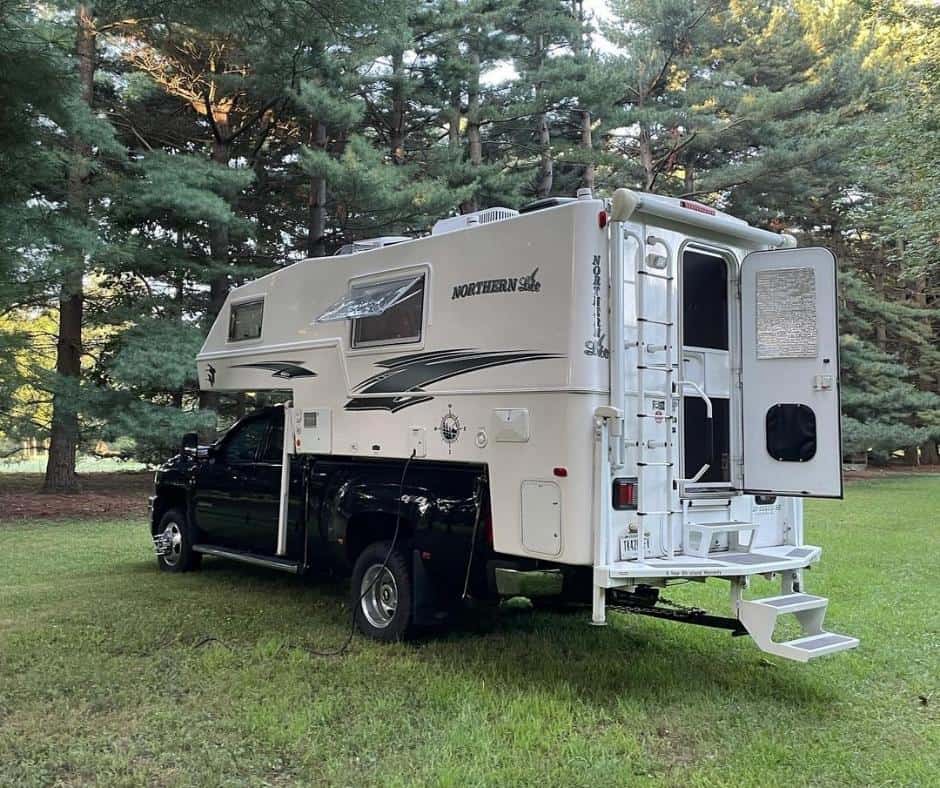 The Northern Lite is available in a wide range of floor plans to fit short, and long box pickup trucks. You can also choose between a wet or a dry bath as well as extra-large storage tanks. Though each comes with a 10,000 BTU air conditioning, and 18,000 BTU heater and thermal windows to help handle anything the four seasons can throw at it.
One of the other nice things about the Northern lite is that it comes with a pair of 200 Watt solar panels.
This really helps you top up the charge on the house batteries when you want to take your four-season truck camper off the grid for several days at a time, or you want to stay at a campground that doesn't offer services in the winter.
With a dry weight ranging between 2,832-pounds and 3,317-pounds it is best to pair the Northern Lite with either a robust three-quarter ton or ideally, a one-ton pickup truck.
This will ensure that it has the suspension and payload capacity to confidently support the truck camper. Especially if you are going to be staying at remote or off-road campgrounds, where you need the extra power and capacity when driving over rough terrain.
2. The EarthRoamer HD Luxury Off-Road Truck Campers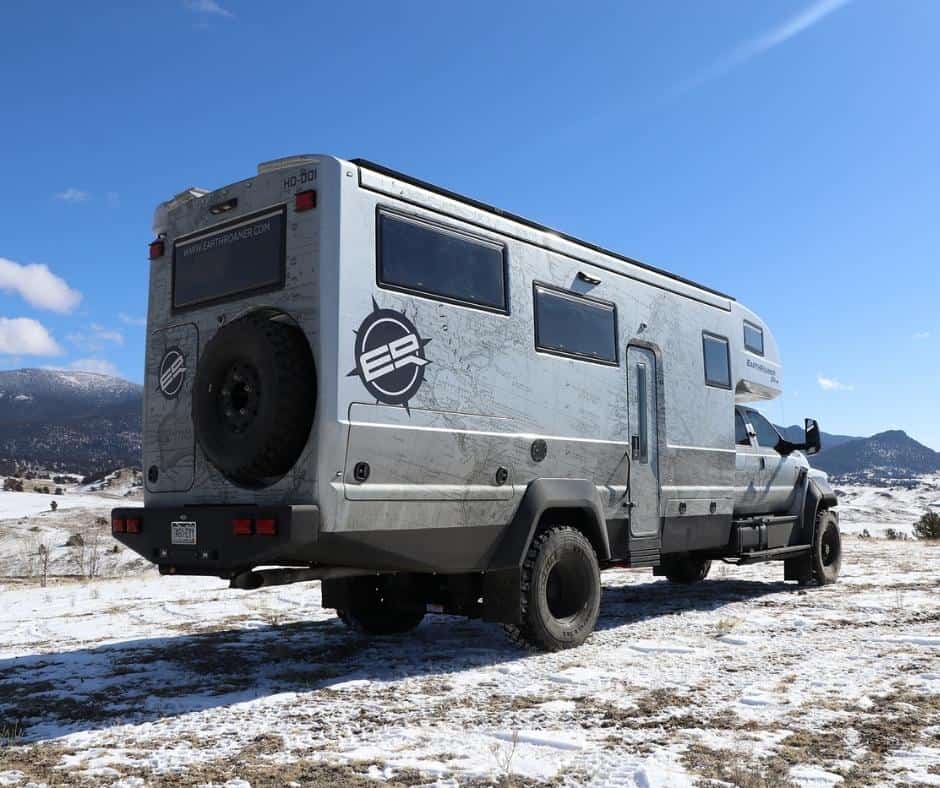 The EarthRoamer HD is a custom-built four-season truck camper that is installed onto an extremely robust Ford F750 pickup truck.
The high-end build quality and the overall statistics of the truck itself make it a great option if you love to hunt deep into public land in the fall and winter or you spend a lot of time in the mountain.
If this sounds like you, then you need a base camp that will support you for days on end without having to break camp for more water or to charge up the RV's house batteries.
Beyond the impressive hard-sided construction and truly spacious interior, the thing you will fall in love with in the EarthRoamer HD is the fact that it was designed to be self-sufficient.
The 2,100-Watt solar panel array is arguably the best in class. It diverts power to a staggering 2,000 Watt Hour house battery pack.
This means that with thoughtful power consumption the EarthRoamer HD can give you full use of lights and appliances even in the shorter days of winter sun.
Though you do have to be patient with your love for the EarthRoamer HD. It is a truly costume-built four-season truck camper that is installed onto a Ford F750 chassis.
This means an extended time between when you order one and when you receive it.
Though what you get in the end is sure to be able to handle anything the four seasons can throw at it.
3. Loki Base Camp Falcon Edition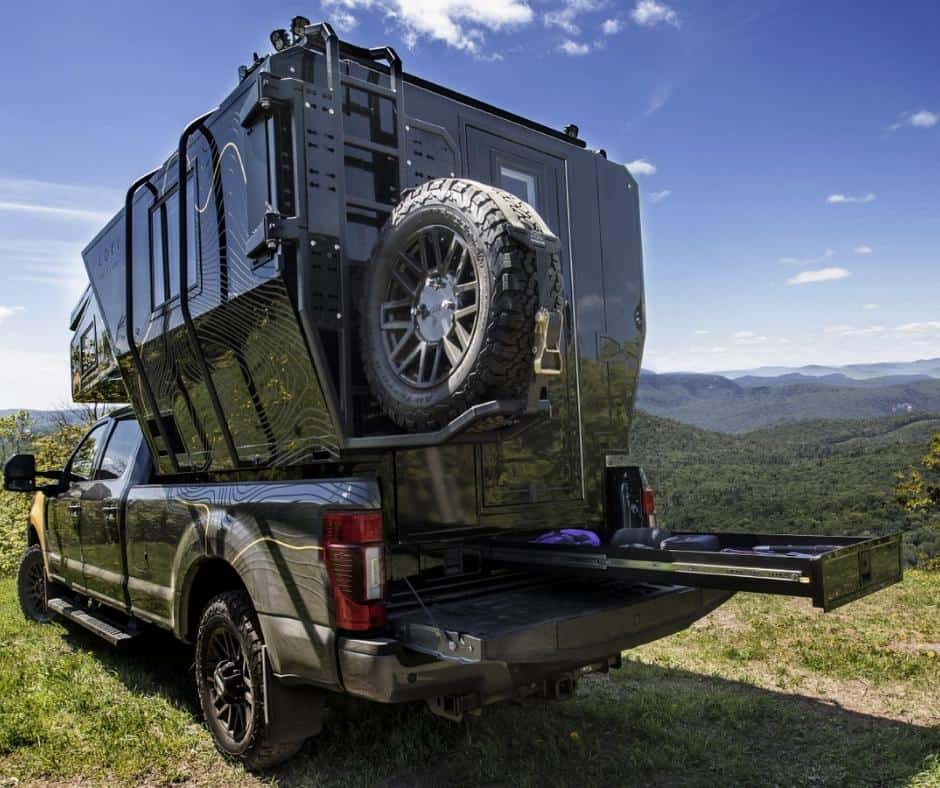 The Loki Basecamp Falcon Series was designed with models that will fit both short, standard, and long box pickup trucks.
This means you can fit it to your Ford Ranger or Nissan Frontier, as well as full-size half-ton trucks like the Ford F-Series, Chevy Silverado, or Dodge Ram.
This makes the Falcon series a great option for four-season camping regardless of the truck you already have.
As you might expect, the available floorplans are different for each box style.
Though Loki does their level best to optimize the space available, and never cuts corners on the material build quality.
Every version of the Falcon series has a durable aluminum exterior shell to prevent corrosion.
This is a major benefit if you like to camp near saltwater or estuaries where cool salt mist can eat lesser campers.
The sidewalls and roof of the Falcon series are made from a special double-density synthetic composite insulation, which has an R16 insulation value.
When combined with the automatic HVAC system, it keeps you cool in the heat of summer and warm when the mercury starts to dip.
The double-glazed windows made from a special type of Lexan glass also help optimize the interior climate control of the Falcon series.
If it happens to be nice out, you can easily open them to allow for great airflow.
4. Northwoods Arctic Fox 990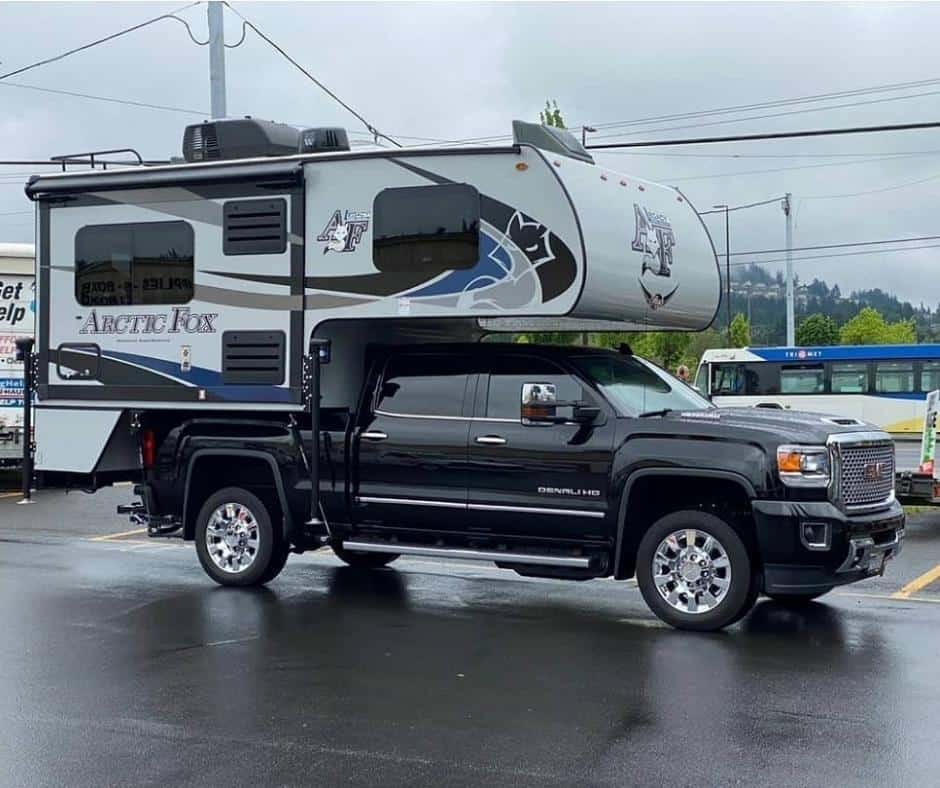 The Arctic Fox is one of Northwoods most popular truck campers for a reason.
It starts with solid construction and framing as well as sidewalls that are infused with four-season block foam insulation.
It also stands out in the four-season truck camper niche in that it is one of the few models that have a power slide-out section.
The slide-out section helps maximize the interior living space when you are at camp, while still being easy to drive down the road.
The impressive insulation and the heavy-duty seals reduce the air leaks and temperature changes that can be an issue when camping in deep cold weather.
5. Lance 975 Truck Camper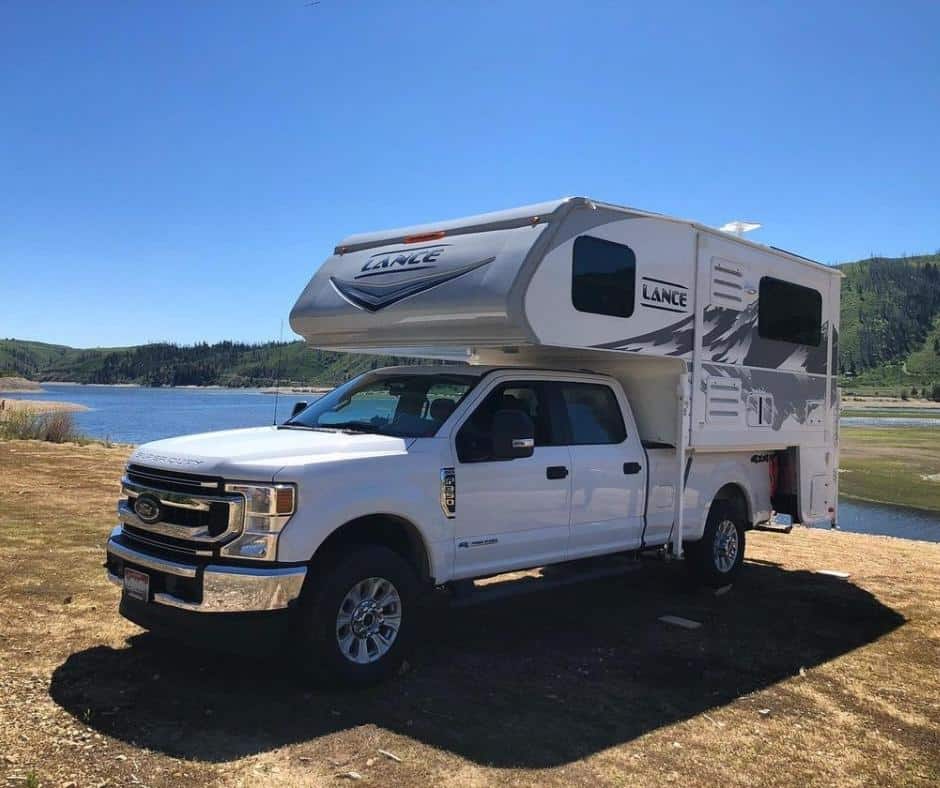 Lance is one of the leading manufacturers of high-quality truck campers to meet nearly any travel style.
So, it's no wonder why they would offer up a model like the 975 to meet the needs of four-season campers and small families who love to travel regardless of what the weather throws at them.
It has modest fresh and wastewater storage tanks that are stored within the frame of the truck camper to reduce the risk of a freeze-up in sub-zero temperatures.
They help support the kitchen and a dry bath, which is rare in a truck camper this size.
If you aren't a fan of a sloppy wet bath, but you still want a truck camper that can fit most three-quarter-ton truck boxes, then you might want to move the Lance 975 up your list.
6. 8' Alaskan Cabover Truck Camper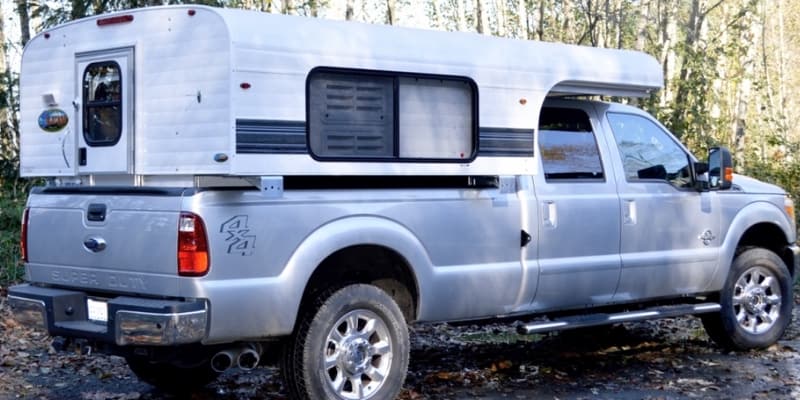 As the name suggests, you'll find that the Alaskan is built to handle cold weather, while still being able to hold its own when the mercury starts to climb.
With a dry weight of 1,680-pounds, it is best suited for a three-quarter-ton pickup truck.
Though it could be just as comfortable in the cargo box of a half-ton pickup truck with upgraded suspension.
The solid wall construction and the high-pressure laminate interior also give it the durability to handle all four seasons.
It also makes it very easy to keep clean, which can be an issue if you are tracking mud, dirt, and snow in or out.
It can technically sleep up to four people, but I think you'll find two to three is more realistic.
Frequently Asked Questions
Are Slide-Outs & Popup Sections Bad For Four-Season Truck Campers?
There has long been an argument that slide-outs and pop-up beds are too leaky and thermally inefficient to be used in a true four-season truck camper.
While this is true with older truck campers, you will find that modern versions with upgraded seals and superior build quality are much better than their cold, leaky predecessors.
Though you will still get better thermal efficiency out of a hard-sided four-season truck camper that doesn't have any popups or slide-out sections.
Which Is Better In A 4-Season Truck Camper A Wet Or Dry Bath
Wet baths are somewhat common in truck campers as they save space by combining the shower and toilet into one compact area.
Though dry baths are much cleaner, and you don't have to worry about so much cold water around the toilet area if you are camping in late fall or winter.
Just bear in mind that a dry bath generally drives up the price and will take more precious square footage away from the rest of the interior living space.
What Are Four Season Truck Campers Best For?
While most RV travelers limit their adventures to a window of time from late spring through early fall, there are some people who need a truck camper that can truly handle what all four seasons can throw at them.
This includes public land hunters who need to bring their base camp with them for late fall and winter hunting trips as well as people who want to camp in the mountains or desert where temperatures can swing wildly regardless of what the calendar says.
Conclusion
Modern materials and construction innovation have made true four-season truck campers more available than ever before.
Though there are still a few that rise to the top of the list. The one that is right for you will depend on your travel style, the class of pickup truck you want to pair it with, and your budget.
If you want a truly custom-built four-season truck camper with a lot of living space and impressive durability, then the EarthRoamer HD might be the best four-season truck camper to meet your needs.
The F-750 chassis it is built onto, and the superior material build quality can't be argued with.
It can take you anywhere you want to go and keep you comfortable regardless of what the outside weather is doing.
If you have a smaller pickup truck like the mid-size Ford Ranger or even a half-ton pickup truck that you want to use as your basecamp for late fall and winter hunting trips, then the Loki Falcon series might be the best four-season truck camper to meet your needs.
It's available in floorplans that can fit short, standard, and long-box pickup trucks without compromising the all-season durability.