Camper van awnings are one of the most practical additions you can make to your RV lifestyle and are now more popular than ever before, showing consistent market growth over the years. A camper van awning will make your vehicle a great place to wine, dine, and entertain guests. It protects from the elements while extending the usable space of your camper.
There's nothing better that I enjoy than relaxing with a good book and enjoying the scenery of the great outdoors. With a camper van awning, you can get much more space to create a cozy nook for you and your family while out on camping trips, creating new possibilities for fun memories that you can make.
I've seen it all in many years of camping and traveling the great United States. I have used small awnings that barely protect your camper from the rain to large ones that can completely change your camping experience.
In this guide, I'll go in-depth into the top 10 campervan awnings you should check out based on their durability, stability, value for money, and much more!
I'll even answer some of the frequently asked questions about this topic.
How I Selected Each Camper Van Awning for Outdoor Adventures
Since there are many campervan awnings for sale on the market, I set out to make this comprehensive list of the best ones that I have come across throughout my years of camping.
I selected these awnings based on the following factors:
Reliability: The camper van awnings I have selected and presented here are some of the most reliable on the market. There is no point in investing in a camper van awning only to find that it breaks easily, gets blown away in a storm, or collapses atop your camper. For this reason, reliability was one of my main criteria.
Availability: Regardless of how good a campervan canopy is, it doesn't help if you can't find it on the market or if the manufacturer has discontinued the product. For this reason, I've ensured that each of the awnings on this list is readily available for you to purchase.
Real-life experience: User reviews on the internet are one thing, and real-life experiences can be quite another. I have tested these awnings and can attest to their sturdiness and reliability.
Cost: While campervan awnings can be expensive, not all have to cost an arm and a leg. For this reason, the awnings on my list are not only the most reliable on the market but also cover a range of prices, so you can choose the one that fits your budget.
Top Camper Van Awnings for Outdoor Adventures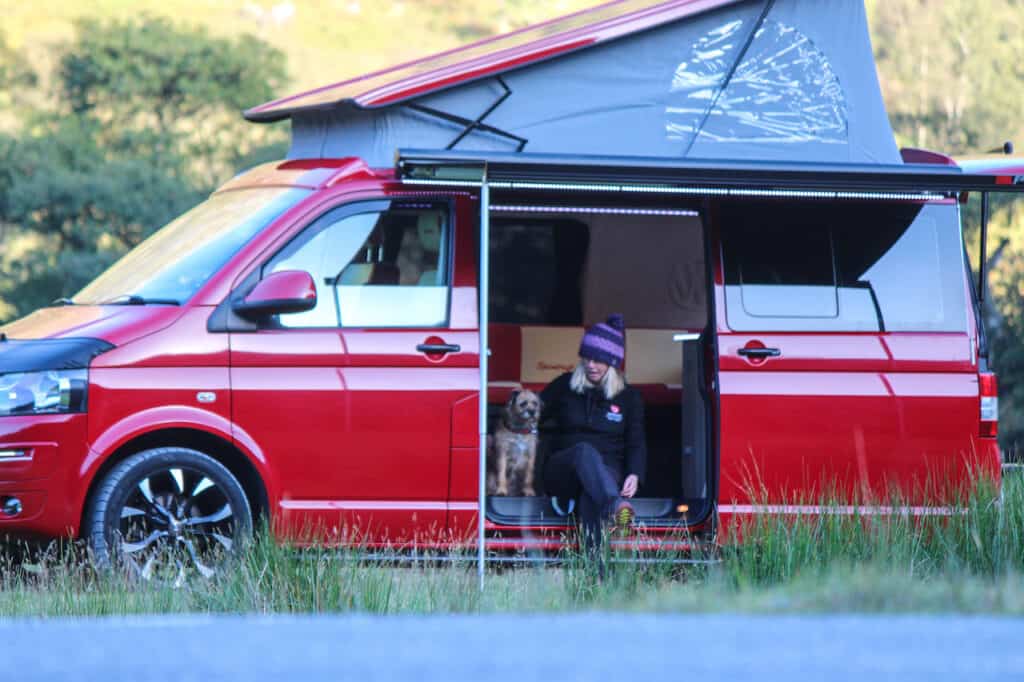 Fiamma F45S Awning
The Fiamma F45S is a top-notch camper van awning known for its durability. You will smile when you feel the strength and sturdiness of the Fiamma F45S's build quality. As a result, this awning is popular with campers and RV owners since it is the ideal blend of usefulness and beauty. Furthermore, its user-friendly design makes it simple to set up.
The integrated legs of the Fiamma F45S give stability on uneven terrain, providing a much more stable and safe setup. Also, the Fiamma F45S is made of UV-resistant fabric, which shields you from harmful UV rays.
Thule Hideaway Awning
If you're looking for a great camper van awning with style and substance, look no further than the Thule Hideaway Awning. What makes this awning special is that it creates a perfect extension to your camper without taking up too much storage space to create a cozy outdoor area for fun activities.
We earn a commission if you make a purchase, at no additional cost to you.
Its durable and lightweight construction will last years and help you make exciting and enjoyable memories with family and friends in the great outdoors. It comes with an inbuilt tensioning mechanism that creates strong stability even in stormy conditions, precisely what you want when camping in rough weather.
Despite its compact size, the Thule Hideaway provides plenty of shade and cover. I was pleasantly surprised it could hold well even in the strongest winds, so I confidently recommend it.
Dometic PerfectRoof PR 2000 Awning
The Dometic PerfectRoof PR 2000 awning provides superior performance and protection. This awning combines a sturdy frame with a waterproof fabric, assuring longevity and dependability in various weather situations. You can easily extend and retract the awning with its motorized operation, saving time and effort during setup and takedown.
The Dometic PerfectRoof PR 2000's expansive covering helps you create an outdoor paradise, whether enjoying a lovely campground or resting at a picturesque beach. The adaptability and ease of this awning make it a popular choice for campers looking for a high-quality, hassle-free solution to improve their outdoor experience.
Vango AirBeam Kela III Low Awning
The Vango AirBeam Kela III Low is an innovative and highly versatile camper van awning that will transform outdoor adventures. The inflatable AirBeam technology in this awning eliminates the need for traditional poles and allows quick setup in minutes.
We earn a commission if you make a purchase, at no additional cost to you.
The guaranteed weather protection the sturdy and waterproof fabric provides keeps you dry and comfortable. There will be plenty of space to rest, cook, or entertain friends and family. The Vango AirBeam Kela III Low is great for campers searching for comfort, durability, and weather resistance.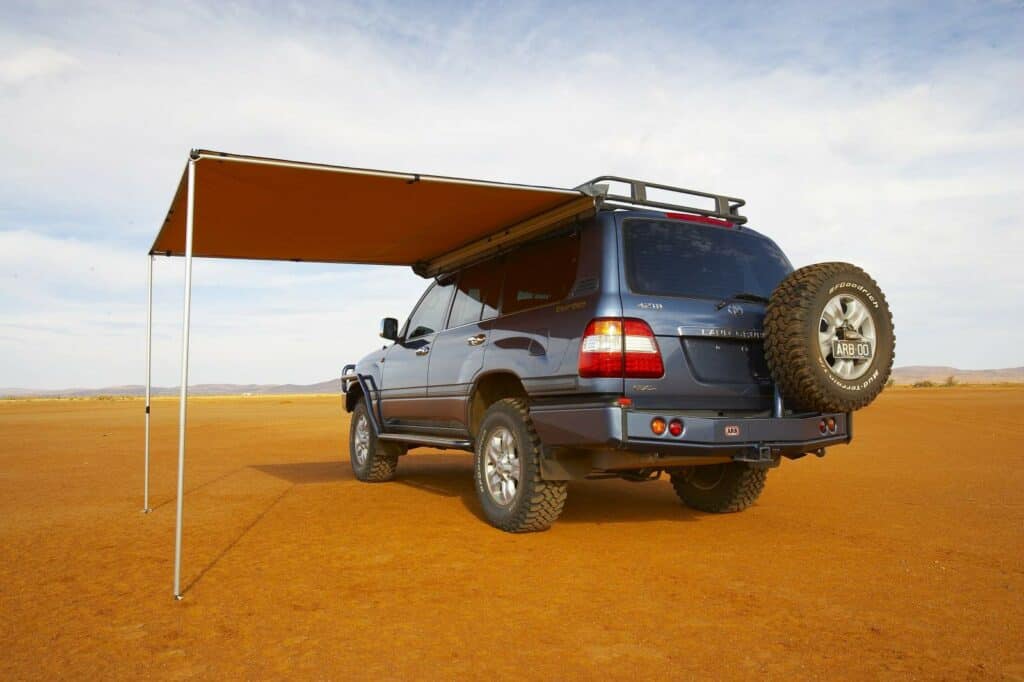 ARB Awning
The ARB Awning is worth mentioning for its aesthetics and durability. As someone who has spent many months camping at a stretch, I can vouch for its strength. This is one drive away awning for a campervan that could end up lasting you the entire life span of your camper and beyond.
When I first saw this small campervan driveaway awning on a friend's camper, I was immediately impressed. You get the feeling that it will survive even the most torrential conditions.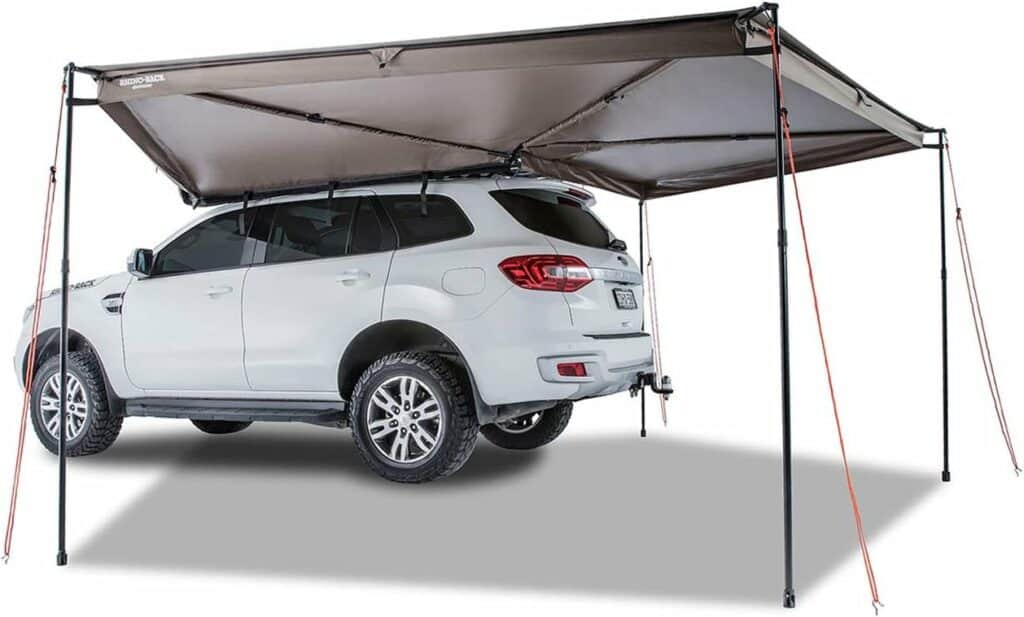 In the time that I had used it, my camping group never once experienced an issue with it. It was so good that we even forgot we had put it up and got lost in the outdoor barbeque we were having.
We earn a commission if you make a purchase, at no additional cost to you.
Rhino-Rack Batwing Awning
The Rhino-Rack Batwing Awning is a unique and innovative awning that offers an impressive 270 degrees of coverage, providing ample shade and protection from the elements.
This awning is notable for its quick and straightforward assembly, allowing you to rapidly create a comfortable outdoor area. The sturdy construction ensures lifespan and stability even in windy conditions. With adjustable height poles, you can easily tailor the awning to your specific needs and surroundings.
The Rhino-Rack Batwing Awning provides versatility and simplicity, making it a must-have for outdoor enthusiasts seeking maximum coverage and convenience, whether camping, tailgating, or relaxing on the beach.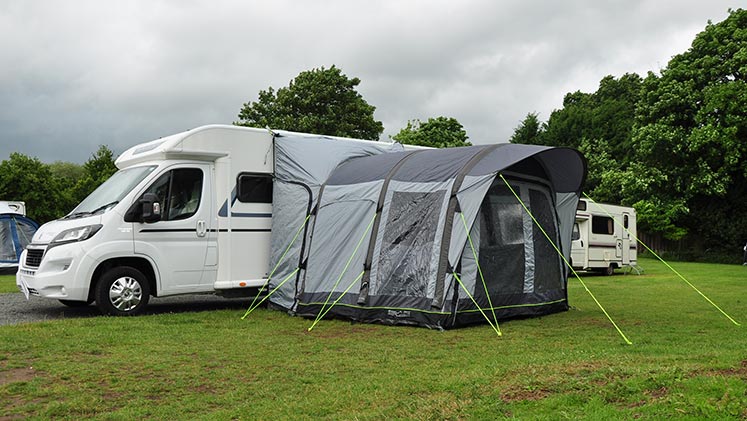 Outwell Country Road Tall Drive-Away Awning
The Outwell Country Road Tall Drive-Away Awning is ideal for campers wishing to increase the space and adaptability of their camper van setup. This campervan awning canopy features a spacious inside with several openings that allow you to separate sleeping, dining, and storage rooms.
While it serves a useful purpose, the Country Road Tall's larger size may need more effort and time to install than smaller awnings. However, for those searching for a more roomy camping experience, its increased space and comfort make it well worth the money and time needed to assemble it.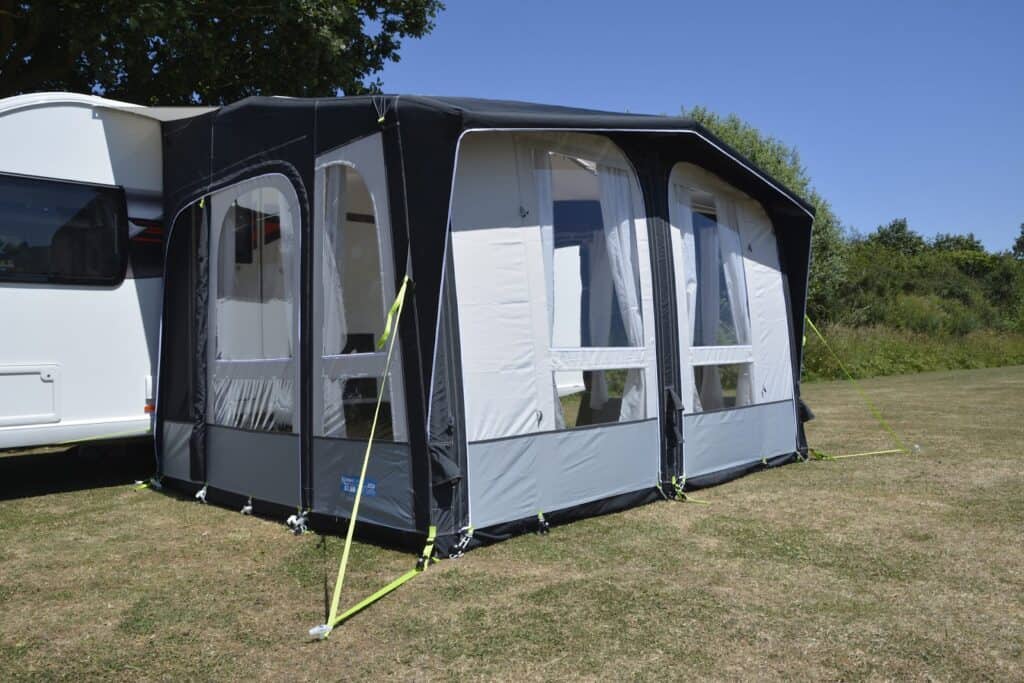 Kampa Dometic Club Air Pro 330 Awning
The Kampa Dometic Club Air Pro 330 Awning deserves a notable mention. This awning combines style, convenience, and durability, making for a comfortable and fun small campervan drive-away awning experience.
What sets this awning apart is how easy it is to install. When it comes to awnings, you want one that you can quickly set up and dismantle when needed. It's important to note that this inflatable awning may require more maintenance than those you affix with poles into the ground.
The Kampa Dometic Club Air Pro 330 boasts a lovely, roomy interior that is overall just a great place to be in. Perhaps the only downside is that its larger size may need careful consideration of weight limits.
EuroTrail Universal Caravan Porch Awning
The EuroTrail Universal Caravan Porch Awning is easy and fun to set up and is a versatile and cost-effective campervan canopy. With little effort, you can create a wonderful sit-out area to enjoy the weather with your loved ones. What makes it even sweeter is that this awning doesn't cost an arm and a leg!
It's important to remember that the Universal Caravan Porch Awning is less robust and weather resistant than higher-end awnings on this list, so it weighs in at number 9 on my list. It is, however, appropriate for fair-weather camping and occasional use.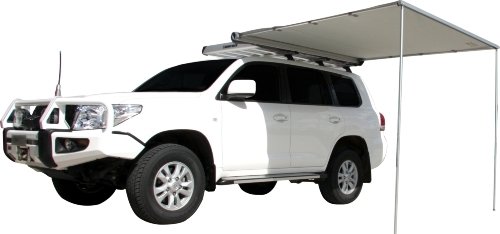 Despite these considerations, the EuroTrail Universal Caravan Porch Awning gives you value for money and has the potential to improve your living space when camping.
Oztrail RV Shade Awning
Coming in at number 10, last but not least, I give you the Oztrail RV Shade Awning. While this awning is not as sturdy or durable as other mentions on this list, it can do more than get the job done. It is cost-effective and competitively priced to remove the barrier to entry for drive-away awnings for campervans.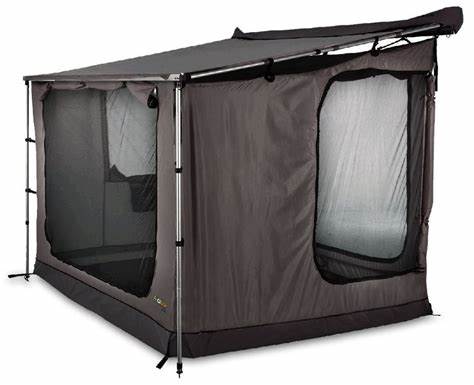 The Oztrail RV Shade Awning has an adjustable height, meaning you can set it up to match your exact requirements, depending on which camper van you are attaching it to. It's great for small to medium-distance camping trips, and you can easily carry it around when unused.
For these reasons, it's still a popular alternative for people on a tight budget or who desire a basic, uncomplicated awning.
Conclusion
Although there are plenty of options when it comes to camper awnings for sale, you should always do your due diligence before making the purchase.
Before you buy one, always ensure that it is the right size for your camper, and serves the purpose that you're buying it for, be it for protection from the elements or to extend the outdoor area of your camper to create a bigger living space.
In this guide, we went through the top 10 campervan awnings for sale, giving you plenty of choices to help you make an informed decision.
No matter what kind of campervan awning canopy you are looking for, you will find it here. Always stay safe while enjoying your camper awning, ensuring that it is fixed sturdily without the chance of it coming off your camper. Happy trails!
Frequently Asked Questions (FAQs)
Q: What are the top-rated camper van awnings available?
A: The Fiamma Campervan Awning, the Thule Hideaway Awning, and the OVS Nomadic 180 are some of the best-rated camper van awnings, thanks to their durability, adaptability, and favorable customer feedback.
Q: How do I choose the right size and type of camper van awning?
A: When choosing the size and type of camper van awning, consider the size of the vehicle, mounting choices, required covering area, and preferences for freestanding or connected awnings. You may make an informed selection by consulting experts, reading reviews, and measuring your van.
Q: What key features should I consider when buying a camper van awning?
A: Look for materials that are long-lasting, easy to install, resistant to weather, and versatile. Give priority to quality, user-friendliness, and the capacity to survive various weather situations.