Discover the top campgrounds on Florida's East Coast with our ultimate guide. Get insider tips and find the perfect spot for your outdoor adventure. Campgrounds East Coast. 
Camping in East Coast Florida always holds amazing adventures for my family! There are numerous RV parks, RV campgrounds, and fantastic RV resorts along Florida's east coast. Having camped in most of them, I can recommend my best picks. In addition to my own experiences, I spoke with other RV families and friends and conducted thorough online research before making my six recommendations.
This article explains the differences between Rv parks, RV campgrounds, and RV resorts. I also present vital considerations when selecting an RV park, RV campground, and RV resort. Find tips on how to book a state park reservation by reading to the end.
How To Choose The Best RV Campgrounds In East Coast Florida
Arriving at a campsite only to learn that space is unavailable for your RV or the campground is not operating can be disappointing. Therefore, before starting your trip, you must do a few things. I've summarised a few factors to consider when searching for your ideal RV campground, park, or resort.
Key Features
Factors to Consider
Location
Do you want to be close to the mountains, the ocean, the kids' amusement parks, the state parks, or a remote hideaway?
Do you want to be close to the mountains, the ocean, the kids' amusement parks, the state parks, or a remote hideaway?
Do you want to have some quiet time in your RV? Then a good setting detached from society might be more appropriate.
Do you want to have some quiet time in your RV? Then a good setting detached from society might be more appropriate.
Price
Will you visit museums, shopping malls, or restaurants? Finding a campground close to such sites is a cheaper option.
Which additional activities require an additional fee?
Will you head out to the surrounding area, and how much will it cost?
Desired experience
Which activities are there at the campgrounds that interest you?
Can your RV's size fit on the campsite?
Costs differ from campground to campground. What is the price for on-site rental?
Reliable services
If you need reliable wireless internet, is the campground offering it?
It would also be helpful to have an accessible RV repairman.
A campground where you can receive mail is essential if you frequently shop online.
The campground should offer an on-site store where you can buy necessities like propane and firewood.
Personal social preferences
Do you want seclusion where guests focus on and follow their agenda?
Are you seeking a campground where you can connect and network with like-minded people?Campgrounds with social events and clubhouses would be ideal.
Amenities
Does the campsite offer full RV hookups, laundry rooms, restrooms, dump stations, Wi-Fi, a fitness center, and a heated pool?
Do they have a cable or satellite TV or a community center?
Reviews
What are the rules? Are there additional fees? Are there amenities like a pet walk to keep your pet happy if you take them along?
The best review sites are Yelp, Tripadvisor, Campendium, Good Sam, AllStays, and RV park reviews, which are likely to be updated.
What Are The Best RV Parks in East Coast Florida?
RV parks are usually a middle ground between a campground and a resort. The surroundings are more park-like and woodsy. Usually, the roads are well-paved, and the pads are level and spacious. Most RV parks generally offer electrical, sewer, and water hookups. Others can accommodate a large RV, but you need to enquire first from their management.
1. Faver Dykes State Park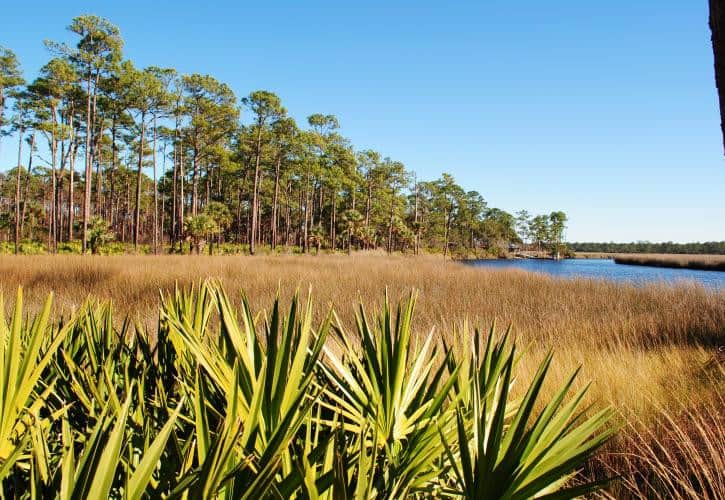 The Faver Dykes State Park is on the highway, just outside St. Augustine. You can go fishing at Pellicer Creek on the park's southern border.
With 30 spacious and private campsites, the full-service campground at Faver Dykes State Park is a gem. You can undertake cycling, boating, birding, hiking, paddling, wildlife viewing, and picnicking.
The park allows well-behaved pets.
The RV park features RV hookups for fire and electricity, fire pits, a central bathroom with shower facilities, an RV dump station, and picnic tables.
If any campsite or RV park lacks a dump station, you can find free RV dump stations in the U.S.
Price ranges from $5 per vehicle, $18 camping fee, and a $7 RV utility fee.
Location: 1000 Faver-Dykes Road, St. Augustine, FL 32086
2. Sebastian Inlet State Park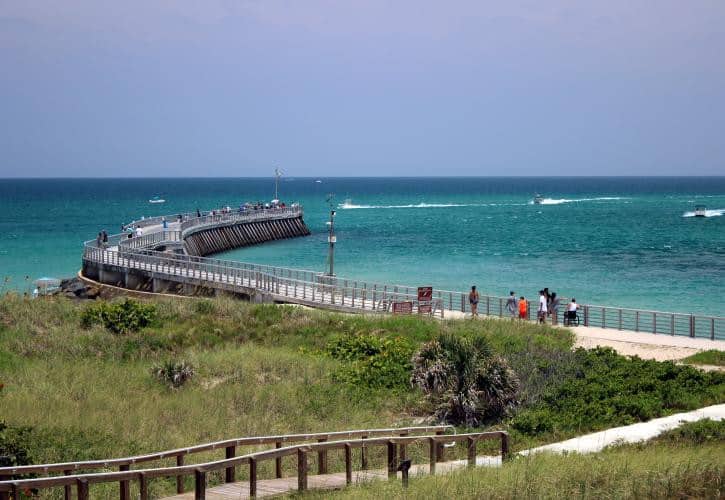 The park's Sebastian Inlet location runs between the Indian River and the Atlantic Ocean. Within the park, there are three mountain bike paths that you can explore.
Additionally, you can enjoy birdwatching, boating, fishing, geocaching, mountain biking, hiking, paddling, picnicking, scuba diving, family gatherings, reunions, going to the beach, initiating canoe and kayak takes off, and seeing wildlife.
Be aware that the campground only allows up to 40 feet long RVs.
The RV park features 51 campsites, each with a fire ring, a grill, and picnic tables. A dump station, WiFi hotspots, and restrooms are also available.
Price range: Prices are $8 per vehicle, $28 camping per night plus tax, and a $7 utility fee for RV units. Please check for other fees.
Location: Melbourne Beach, FL 32951, 9700 S Hwy A1A
The Best Campgrounds on Florida's East Coast
An RV campground offers a more uninhabited, natural experience than an RV park or resort. Campgrounds place greater emphasis on nature and breathtaking views than on amenities. Most RV campgrounds have unpaved driveways. Although full RV hookups in campgrounds are rare, you might find a site with an electrical one.
Larger RVs are more likely to fit in RV campgrounds because they are spacious and level enough. However, you must ask the campsite managers to reserve a spot if you have a large RV.
1. The Jetty Park Campground
I will let the Yout Tube channel CampTravelExplore tell the story of this beautiful campground hidden in Port Canaveral.
<iframe width="560″ height="315″ src="https://www.youtube.com/embed/iPdEd2Y_nEQ" title="YouTube video player" frameborder="0″ allow="accelerometer; autoplay; clipboard-write; encrypted-media; gyroscope; picture-in-picture; web-share" allowfullscreen></iframe>
You'll find the Jetty Park Campground at the edge of the Atlantic Ocean in Port Canaveral, Florida. Due to the numerous exciting activities, the few RV spots in the small campground quickly fill up.
You can see wildlife, marine life, cruise ships, and submarines arriving and departing. As a camper, you can observe rocket launches from the Kennedy Space Center and the nearby Canaveral Air Force Station.
Other activities include fishing, walkways to the beach, and jetty areas. The park is pet friendly.
The campground features bathhouses, laundry, playgrounds, a campfire pit and picnic tables, WiFi, dump stations, and grocery and RV and grocery supplies stores. A security patrol keeps watch on the campground.
Price range: Please check their site for detailed fees.
Location: Port Canaveral, FL.
2. Disney's Fort Wilderness Campground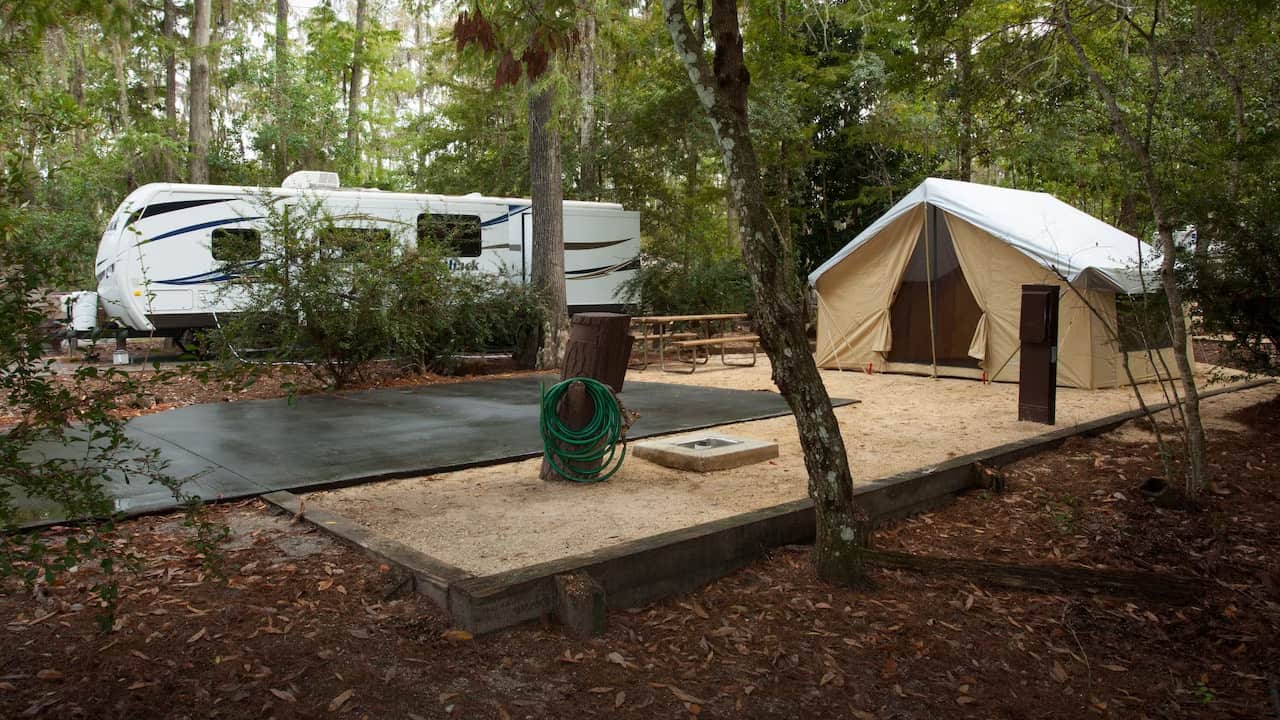 Disney's Fort is one of the best RV campgrounds on Florida's East Coast. Let your kids enjoy a Disney vacation RV style! You can be at the four Disney parks in no time by catching a bus or grabbing a ride on the ferry. Enjoy a guided horseback ride through the forest, catch some fish, practice archery, or canoe or kayak down the river.
RVs that are 45 feet or longer can fit in any of the campsites at Fort Wilderness. Your children can explore the fort-themed water play area with toddler-friendly slides. Each camp has privacy-enhancing landscaping. The campgrounds provide electric golf carts for rent to help with transportation.
The campground allows pets as long as you abide by a few guidelines. However, expect to pay your pet a $5 fee every night.
Campground features include cable television, electric hookups, a sewer hookup, a charcoal grill, a picnic table, a swimming pool with a whirlpool spa, and water.
Price range: They have different campsites, whose rates vary every season. Call +1 407-939-1936 for the fees.
Location: 4510 Fort Wilderness Trail, FL 32830.
Best Campground Resorts Florida East Coast
The best RV campground resorts on Floroda's East Coast combine luxury and camping. These resorts include flat, paved sites, adequate space for even the largest RVs, and fully equipped RV hookups. Your stay will feel more like one in a hotel than outdoors, thanks to their various amenities.
However, most resorts have specifications that your RV must conform to. They could specify the brand, model, or manufacturing year of the RV they allow at the resort. Though the most expensive and least outdoorsy of the three options, it can also be the most enjoyable.
1. Ocean Grove Resort
A couple, Darryl and Clayron, shows what to expect at Ocean Grove Resort on their YouTube channel.
The Ocean Grove campground is the best option if you want a campground that is open and removed from the city. You can also participate in various camp activities while still finding time to see the city's museums.
The resort is close to St. Augustine Beach, where you can plan a family beach day. Feel free to park your large RV on the paved campgrounds. Unfortunately, the 208 campsites are too close to one another, which can make the campground feel a little crowded when the resort is busy.
Pets are welcome at the campground, so don't leave your furry friends behind!
The campground features a bar and grill with affordable menu items, drinks, and live music. It has a pool, dog run, mini golf, bathhouse, store, and laundry facilities.
Price range: The campground has different rates for their various campsites. Check for pricing on their website.
Location: 4225 A1A South St. Augustine Beach, FL 32080.
2. Ocean Breeze Resort
The Ocean Breeze Resort is the ideal location for an RV trip without the kids. It's in Jensen Beach and is only open to those above 55 years. For active people, it offers a ton of activities.
The campsites have gravel platforms with space for slide-outs and RVs up to 40 feet long. You can picnic on the resort rooftop deck, swimming, kayaking, boating, or fishing. The resort plans game evenings, potlucks, and card games.
The resort allows campers to come with their pets.
The campground features a resort-style swimming pool and laundry facilities on site. You'll also access a fitness center. Their RV sites include full hookups, WiFi, and cable service for an additional fee.
Price range: Their hookup RV site rates start at $66 per night.
Location: 3,000 NE Indian River Dr, Jensen Beach, FL 34957
How To Book State Park Reservations
Here are a few tips for the simple reservation process.
From 8 a.m. to 8 p.m. EST, contact the toll-free number 800-326-3521 or TDD 888-433-0287 to make a reservation using a credit card. Alternatively, make a reservation online.
The Florida State Parks allow reservations starting 11 months before your arrival date. Often, interested parties have reserved all campsites within minutes of the reservation window opening.
Creating an online account in advance and logging in before 8:00 a.m. EST when the reservation window starts will give you an advantage.
However, if you can't make the reservations for one reason or another, there is no need to give up. During regular business hours, specific state park campgrounds accept same-day reservations on a first-come, first-served basis. Ask the park if they provide this service by giving them a call.
You can also use a service such as Arvie to find a campground cancellation and book for you in your favorite parks.
Conclusion
Making a list of the qualities you want in a campground will help you select the best one. Look at the six campgrounds for RVs I've recommended to understand what a good campground should contain and look like.
Read reviews, look at photos, and read all the information before staying at any RV campground.
Frequently Asked Questions
What are the top campgrounds on Florida's east coast?
The Jetty Park and Disney's Fort Wilderness campground is one of the top campgrounds on Florida's East Coast.
How can I find family-friendly campgrounds on Florida's east coast?
You can find the most family-friendly campgrounds via Campflorida.com. Search by city location or region. Use the descriptions, videos, and photos to learn more about the campground you wish to visit.
Are there any pet-friendly campgrounds on Florida's east coast?
There are, indeed! Pets are welcome at Disney's Fort Wilderness, Ocean Breeze Resort, Ocean Grove Resort, and Faver Dykes State Park.
What amenities do the campgrounds on Florida's east coast offer?
Most campgrounds on Florida's east coast offer laundry facilities, restrooms, RV hookups, dump stations, cable TV, wireless internet, picnic tables, and campfire pits.