There is now a plethora of resources out there for RVers interested in boondocking and dry camping.
However, the primary hurdle for many boondockers is finding free RV dump stations between dry camping destinations.
With RVing's popularity increasing in recent years, it is natural for new people to seek more remote campsites.
Being able to find places to empty your RV's holding tanks between those remote sites is just a reality of life on the road.
Even if you aren't staying in a campground, most places will allow you to utilize their dump stations for a small fee.
But we are here to help you keep some extra cash in your pocket by finding free places to empty your tanks.
So let's "dump" our findings!
How Much Does It Usually Cost To Dump An RV?
You should expect to pay between $10 and $25 for each disposal at most RV dump sites that provide full service. You can empty your tank and thoroughly wash out your RV gray and black water tank for this amount.
If you're a regular traveler, you can get a membership that allows you to dump at different stations.  A full-service membership's annual charge may range from $200 to $1,500.
If you are not paying for a site, most RV parks and public campgrounds will charge anywhere from $10 to $25 to use their dump station. Private campgrounds and luxury RV resorts may charge even more if you are not an overnight guest.
So Where Can I Dump RV Waste For Free?
Aside from the technically "free" use of an RV park's dump station that is included in the cost of an overnight stay, truck stops and gas stations sometimes have free dump stations.
For boondockers, you can empty your wastewater tanks and refill your gas tank in one convenient stop.
Additionally, many city wastewater treatment plants and highway rest stops offer free dump sites for RVers and campers.
Remember that treatment plants often have more restrictive hours of operation than rest stops, but not all rest stops boast RV waste dumps.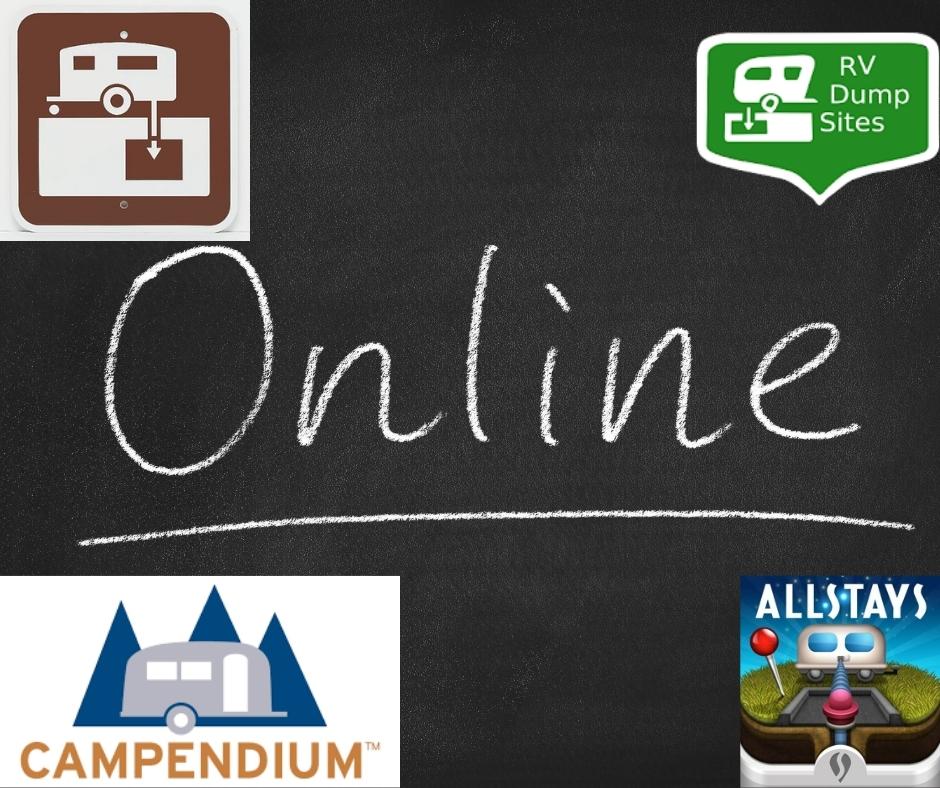 Online Resources And Apps For Finding Free RV Dump Stations
There is an app for that! No, companies have developed mobile apps to help RVers and campers find free places to dispose of their "unmentionables."
So, hop online to download an app before you hit the road.
Here are six of our favorite apps and websites that will help you track down free or low-cost RV dump station locations near you:
1. Sanidumps
This is one of the most extensive collections of RV waste management locations online.
They have been collecting information on free and paid RV dump stations for over 15 years, and their platform currently has more than 17,000 locations.
The Sanidumps database is constantly being updated and heavily reliant on user-submitted information.
As a searcher, this information will help you stay up-to-date on real-time information on the ground and help you avoid going out of your way to finding that a free dumpsite is temporarily out of order.
You can use a variety of criteria to find free waste disposal places on this platform.
They currently include sites in the USA, Canada, Australia, New Zealand, Belgium, Belize, Chile, Costa Rica, El Salvador, Panama, Honduras, and Mexico.
After specifying your country, you can narrow your search by choosing a city or province or entering a postal code.
This platform also allows you to add new locations if you discover a free dumpsite that is not already there.
Type your query into the search field, and the site will narrow down the results to match your criteria.
For instance, if you type in "free dump station near me, RV dump station near me, or RV dump sites near me," the platform will provide results for the closest locations where you may dump your RV waste without cost.
You may get it on your Google Play or App Store.
2. RV Dumps
This website is another excellent free and paid dump station search tool.
They also offer several how-to guides and online resources for RVers to dispose of wastewater properly and learn other helpful RVing tips.
The platform allows you to search using a map feature, enter your specific location, or read through a list of sites by state.
They also actively encourage users to submit corrections if they arrive at a site that doesn't meet expectations.
The map feature on this platform is handy because it breaks dump stations into categories based on their associated costs.
You can filter results by interstate dump stations, free sites, sites that cost $10 or less, $20 or less, $30 or less, $31 or more, and all others (such as those that merely suggest a donation or for which the cost is unknown).
These filters are also color-coded to make it easier to identify the locations that fit what you are looking for.
When you click on a dump station icon, it pulls up a description that includes the physical address, latitude and longitude, associated costs, and a one-touch button that allows you to begin navigating to that location immediately.
Like Sanidumps, you can submit an entirely new location to this platform if you are a dump station trailblazer.
There is a version of an RV Dump Stations app available in the Apple Store for iPhone users and accessible through your preferred browser.
3. RVDumpsites.net
Have you heard of freecampsites.net? Well, this is the exact equivalent, but for finding free dumpsites.
The platform even looks almost identical and is super easy to navigate. You can either input your exact location or use the map feature to zoom into an area to look for places.
This platform has various locations organized as 'free,' 'pay,' 'guest,' or 'no info.'
The sites are labeled as 'no info' simply because users have not yet reviewed them (so, honestly, they may not be the best bet).
As you hover over each location, it also tells you how many miles away they are from your search location.
For sites that have been used, you can read reviews of user experiences so you know any details on how to pull in or who to check in with when you arrive.
If you have to rely on a paid dump station using this platform, it does have the info on how much they cost so that you are not blindsided.
An app version of this platform is available in the Google Play store and accessible via your web browser.
5. Allstays RV Dumps
AllStays offers a free version with access to basic camping site data. But if you're serious about RVing and would like extra features, I strongly advise upgrading to the Pro version.
Let's explore what makes AllStays so helpful. You can identify RV dump stations close to you with only a few clicks on your phone. This means no more asking people for directions or driving around for ages. One-touch turn-by-turn instructions to the closest disposal station are available from AllStays.
Even better, AllStays also functions offline. As a result, you may still get all the information you want, even if you find yourself in a location with poor internet connectivity. You won't have to worry about the app not functioning just when you need it.
Dump stations are simply one aspect of AllStays. The resource also offers various other features to improve your RVing experience. You can also identify overnight parking spaces, campsites, and locations for setting up a tent from AllStays. Need to locate a local shop or fill up on gas? Just go to AllStays.
The ability for one-touch calling is one feature that I find to be very useful. You may easily phone the camp supervisor from the app with any queries concerning a particular disposal site. You can also ask questions regarding prices, business hours, or any other issues.
Here's a video from the YouTube channel Randi's Adventures that demonstrates the functionality and advantages of AllStays: 
You should go for the Pro version for access to all the features. Remember to check out their website and download your iOS smartphone app.
6. Campendium
A group of Airstreamers developed Campendium to consolidate diverse information on the internet. They compiled it all into one convenient reference, and it's wonderful. The app includes more than 20,000 RV parks and boondocking spots.
Campendium's user-contributed reviews and pictures are among the site's strongest features. It's like being surrounded by a group of RVers willing to talk and provide advice. As a result, you'll be better able to choose between potential campsites.
Campendium is an easy-to-use app. The comprehensive search feature lets you quickly locate the information you want. Do a name search or use your present location to identify places that interest you. You may refine your search results by distance, rating, or number of user reviews. It's a fast and effective way to limit your choices.
Campendium categorizes search results. It offers BLM, national parks, private campsites, overnight camping parking, and dump stations. You may filter by pricing, connection type, rig size, elevation, restrictions, and amenities like pools or playgrounds.
It's free. You can upgrade your experience with a $20-per-year subscription. This subscription removes ads from the app and lets you sort by elevation and phone service, view favorites, and find local trails. Your subscription supports Campendium's maintenance and enhancements and adds convenience.
Here is a video that highlights Campendium's features:
How To Find RV Dump Stations Offline
If you can't download the latest mobile apps or go online to search for a free dumpsite near you, here are a few ways to find spots offline.
1. Stay at the Nearest Cabela's Location
Cabela's has quickly outpaced Wal-Mart for the best temporary overnight location for RVers.
Because most Cabela's locations have an inventory of kayaks and other outdoor recreation gear locked up outside, they have better security than Walmart, Cracker Barrel, and other places offering free overnight RVers parking.
Suppose the added security isn't enough to convince you to prioritize Cabela's over those other spots. In that case, most Cabela's locations also offer a free RV dump station because they are banking that you will wander inside and pick up a few camping supplies there.
2. Investigate Highway Rest Stops
Not all rest stops will have a place to dispose of your dirty wastewater, but some will.
Even if your tanks are only half-full, the next time you pull into a rest stop to stretch your legs, look around to see if they have a dump site you can take advantage of for free.
3. Explore City Wastewater Management Facilities
All modern cities maintain wastewater management facilities, and some are even open to the public for wastewater disposal.
Think of the commercial trucks that pump out Port-a-Potties and septic tanks. They need someplace to dispose of the wastewater once the car is complete.
Instead of paying a private facility or even dedicating a city worker's salary to a separate dump facility, most wastewater management facilities will set up a dump location where these commercial trucks can pull in, empty their tanks, and pull right back out.
If you find a facility like this on your travels, the odds are they won't bat an eye when an RV pulls in to dump.
4. Keep An Eye Out for Dump Station Signs
Occasionally, you will encounter random signs for dump stations on your travels. Familiar places to look for them include city parks and large truck stops/gas stations.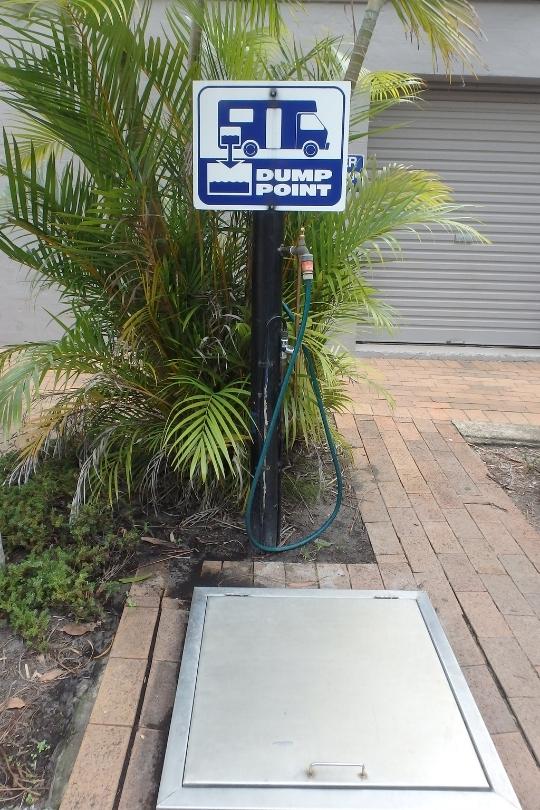 Not all of these facilities will be free, but some will be (which makes them worth investigating!).
How To Practice Good Dump Station Etiquette
If you seek free RV dumpsites, you have an ethical responsibility to keep those facilities in good condition.
Because many of these facilities aren't maintained by an operating campground's maintenance department, there can be less funding to keep them clean.
So please adhere to proper dump station etiquette when using these sites.
Be Patient With Others
Some of these locations can get relatively crowded precisely because they are free.
So it is best to arrive when you don't necessarily have a time crunch to dump and be elsewhere. And always be patient and respectful of your fellow RV dumpers.
Use Proper Equipment and Maintain It
Getting your grey and blackwater safely and successfully into the dump station inlet requires the proper equipment.
Invest in the right length of hose and proper fittings for both ends of that hose to ensure that you don't make a mess at the dump station (and make yourself sick by getting waste on you!).
Using proper equipment also includes wearing disposable gloves and keeping your hose, connectors, and valves clean.
If you don't maintain your equipment well, the likelihood of leaks will be much higher, and nobody likes to pull up to a dump station that the previous user has neglected.
Stay Present During Dumping
Even seasoned RVers know that leaving an actively dumping sewage hose unattended is never a good idea.
Things can come loose, and waste can begin going where it shouldn't, even if you have done it several times.
Plus, it would be best if you always dumped black water first and followed with greywater to flush the nastiest of the nasty out of your sewer hose.
Sometimes, you must slightly open a valve to decrease the initial pressure before opening it.
Refilling your tanks with fresh water is a good idea at the end of the process, and then flushing it through your hose.
All of this requires presence. So stay around so you can keep the process moving or quickly shut things down if they don't go as planned.
Hose Down and Rinse Spillage
As much as the proper technique should allow you to dump your wastewater without a mess, spills sometimes happen.
Be courteous of your fellow RVers and dumpsite users by hosing down and rinsing spillage into the dump inlet before you depart.
Fortunately, most locations will have a spigot or water hose to make this step easier. 
Conclusion
Waste management is nobody's favorite part of RVing. With these resources at your disposal, we hope that it makes your disposal needs a little easier and helps you save a little money in the process!
FAQs
Where can I dump my RV waste?
You can dump your RV's garbage at approved RV dump stations in various places such as rest areas, truck stops, gas stations, campsites, and specific municipal sewage systems.
Are there any free RV dump stations nearby?
Finding one of these disposal sites near you might take much work. Even while a fast Google search for RV dump stations near me could turn up a few possibilities, many charge fees, have limited hours, and may not let unregistered visitors dump.
Where can I find an RV dump station?
Here is a list of some typical locations where you can find dumping stations:
Truck stops and travel centers
Occasionally, national parks
Your house's cleanout sewer
At RV dump stations, you may empty your RV's waste tanks. These stations may be in various places, including marinas, truck stops, and rest areas. It's crucial to properly dispose of your trash and adhere to any rules or specifications established by the particular dump station you choose to utilize.
What are the nearest RV dump sites?
RV dump stations may be closer to you, depending on your location. The most effective way to find out about RV dump stations is to utilize web resources or mobile apps. You may use search terms like free RV dump stations near me or RV dump sites near me to uncover appropriate alternatives in your local area.
Where can I find a camper dump station?
You may do an internet search for a camper dump station nearby by entering the words camper dump station near me and your state. Alternatively, you may find the RV dump station closest to where you are by using interactive maps of RV dump stations.
Where can I find an RV dump station near me?
The best techniques to locate RV dump stations nearby are listed below.
Online search and mobile apps for RV dump stations
Locate nearby RV dealers
Contact with RV park and campgrounds staff
Consult RV owners
Where can I dump my trailer waste?
There are dedicated dump sites in many RV parks and campgrounds where you may dispose of your trailer waste for a charge or as part of your camping fee. To confirm a trailer dump station and any costs or regulations, it's a good idea to give them a call or check online.