You'll need the vehicle's title, bill of sale, and maintenance records to sell your RV. Ensure the title is clear and in your name. The bill of sale contains the details of the transaction. Depending on your location, you may need additional documents, so check your local regulations.
Let's face it: selling a used RV can be stressful. I remember selling my 2011 Tiffin Allegro Open Road RV to a dealer who found it on RVTrader, an online classifieds site for buying and selling RVs. 
The sale of my RV was pretty straightforward, but I soon discovered that many RV owners struggle with getting the right paperwork when planning to sell their vehicles.
I have created this quick guide to walk you through all the necessary documents you should prepare and have if you plan to sell an RV.
Remember that most of the required paperwork depends on your location, so I'll detail all key considerations in this article. I encourage you to read to the end.
Necessary Paperwork For Transfer When Selling RV – Overview
In the table below, I have listed the basic, necessary paperwork to be ready for transfer to the new owner. These documents will be required no matter your location:
| Required Paperwork | What It Means | Why You Need It |
| --- | --- | --- |
| The vehicle's title or registration | Proves that you are the legal owner of the camper van | You'll need to sign it over to the buyer. |
| A bill of sale | Serves as a record of the sale. It includes the sale price, date of purchase, and names and addresses of the buyer and seller. | To make the transaction legal. |
| Maintenance records | Details the history of the RV's maintenance and repairs since when you acquired it. | It gives the buyer confidence in the condition of your RV. |
| Release of Liability  | This form is an official notification to your state's Department of Motor Vehicles office that you've sold the vehicle. | It protects you if the new owner gets into an accident or incurs parking tickets before registering the RV in their name. |
Did you Know:
Some state DMV (Department of Motor Vehicles) offices, such as California's, require RV owners to provide a smog certificate when selling the vehicle if it's more than four model years old.
The smog certification features a smog check that includes a multi-part inspection of the RV's exhaust and pollution control systems.
Now, let's dive into in-depth details about these necessary paperwork and how to acquire them as you sell your RV.
The RV's Title Or Registration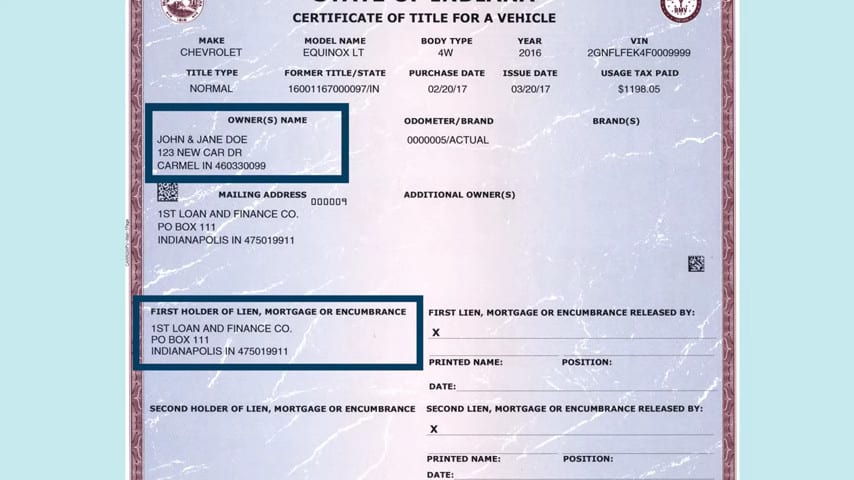 Credit: INBMV
The RV's title is a legal document proving vehicle ownership. If you can't find it, you may need to request a replacement from the DMV.
ARV title typically includes the vehicle identification number (VIN), year, make, and model of the vehicle, owner information, odometer reading, title number, and issue date.
It may also list lienholder details and buyer and seller information, requiring notarization for validation. The title's format and content can vary, depending on your jurisdiction.
Bill Of Sale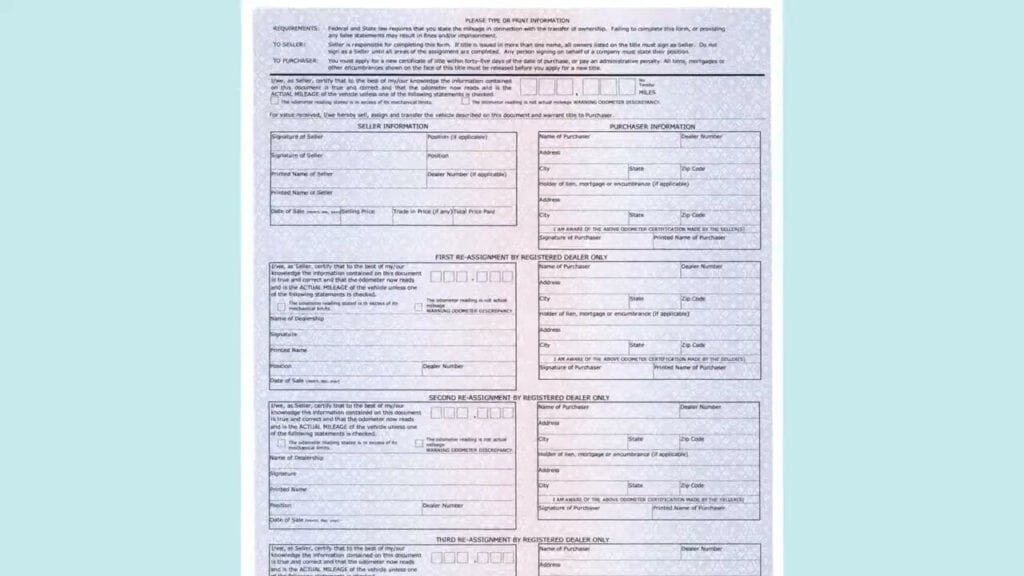 Credit: INBMV
Another necessary piece of paperwork to prepare is the Bill of Sale. It serves as evidence of a transaction between you and the buyer. A Bill of sale for an RV should contain the following information:
Price and terms (e.g., payment method and conditions).
Vehicle description (the make, model, year, vehicle identification number (VIN), and other relevant details identifying the RV).
Seller and buyer information (names, addresses, and contact information of you and the buyer).
Date of sale.
Signatures of both the seller and the buyer.
You can find bill of sale templates online or through your state's DMV or equivalent agency. These templates are often tailored to the specific requirements of your state or jurisdiction.
Pro Tip:
Make copies of the signed bill of sale for you and the buyer. It's a good practice to keep transaction records for your protection.
Check with your local DMV to confirm if you need to submit a copy of the bill of sale to the DMV or other relevant agency as part of the vehicle transfer process.
RV Maintenance Records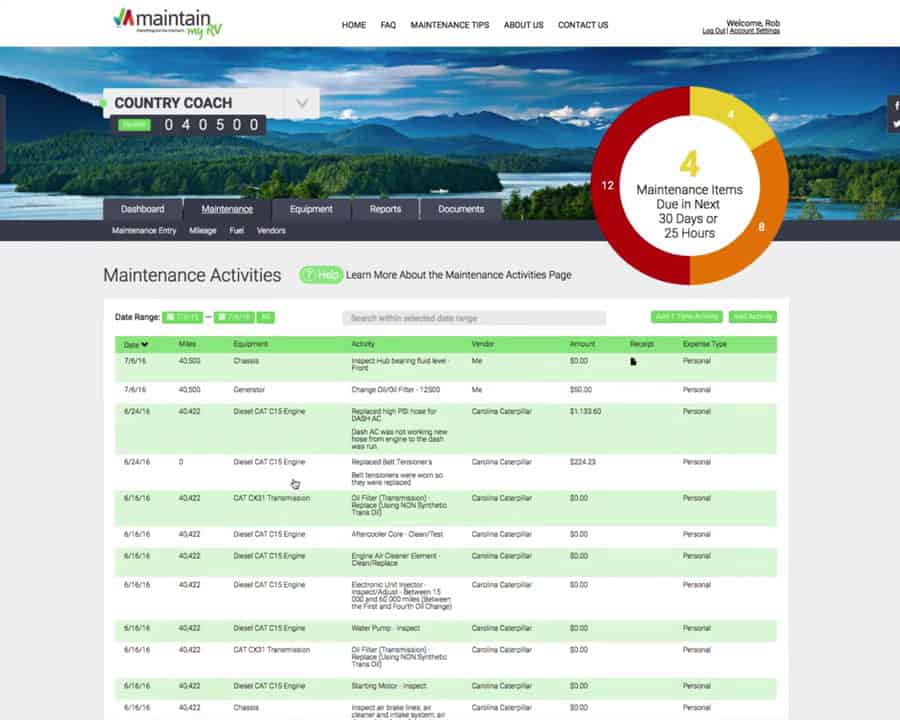 Credit: Youtube
Maintenance records provide potential buyers with evidence that you have taken good care of your RV. So, this document can boost their confidence in the vehicle's condition and reduce concerns about hidden issues.
Services records are an easy way to win the trust of someone interested in your used rig. When preparing your maintenance record, it should have dates when you performed maintenance or repairs along with the details of the work done, such as oil changes, tire rotations, brake inspections, repairs, or upgrades.
To increase credibility, add the name and contact information of the service provider or mechanic who performed the work.
You also need to include the RV's mileage during each service. If there are materials you've used in the maintenance or repair, along with their costs, highlight them in the document.
If you don't have an RV maintenance record, gather any existing maintenance records, receipts, or invoices related to your RV. These may be from past service visits or repairs.
Alternatively, contact your mechanics, RV dealerships, or service centers where you've had maintenance or repairs done. They may provide you with copies of the records they have on file.
Pro Tip:
I performed much DIY maintenance on my '11 Tiffin Allegro Open Road. So when I was about to sell it, I documented the dates, works performed, parts used, and other relevant details, which sufficed as my maintenance records document. So, if you did more DIY, you can follow this cue.
Release Of Liability
When selling your RV, a release of liability is important because it shields you from legal problems that may occur after the sale.
I have heard about cases where new RV owners get into an accident, incur fines, or engage in illegal activities using the RV after the sale and then try to hold the seller accountable.
This is where a release of liability document comes in. It helps clarify with your state's DMV that you are not responsible for such incidents or issues after the sale.
The details on a typical release of liability for selling an RV include the full names and contact information of you and the buyer, a description of your RV, including the make, model, year, VIN, and the date of the sale or transfer of ownership.
At the bottom section of the document, there's a statement indicating that the seller is releasing all liability for the RV from the date of the sale onwards. Then, it's sealed with the signatures of both the buyer and the seller, along with the date of signing.
You can create a release of liability document or use an online template. Ensure that it includes all the necessary information mentioned above.
Depending on your jurisdiction, you may need to submit a copy of this document to your local DMV or similar agency to officially notify them of the sale and transfer of ownership.
Final Thoughts
It is normal to get distracted with achieving eye-catching photos and sales copy to sell your RV on online platforms. You may even forget to prepare the necessary paperwork to make the transaction possible.
To experience a smooth sales process, you must get familiar with your local DMV rules for selling used vehicles, as it varies by state.
But the general documents you need to prepare, regardless of the location, are the vehicle's title or registration, bill of sale, maintenance records, and release of liability.
Meanwhile, since you're considering selling your used RV, you may find my recent article helpful, where I've carefully documented my review of the best places to sell a used RV or camper for top dollar.
FAQs
What paperwork do I need to sell my RV for cash?
To sell your RV for cash, you'll need the RV title that should be in your name and free of liens, a bill of sale that documents the sale with buyer and seller details, and a maintenance record that shows your RV's history. You must also prepare a release of liability form that protects you from future issues and a valid ID.
How do you sell a travel trailer privately?
Selling a travel trailer privately means selling the trailer directly to another person without involving a dealership. To do this successfully, you should thoroughly clean and inspect the vehicle to improve its appeal and value.
Then, look at the market to determine a fair price. Take high-quality photos of the travel trailer, highlighting its best features and condition. Include your contact information and specify whether you are open to negotiations.
Post this information on online classifieds such as Craigslist, Facebook Marketplace, and RV-specific websites, e.g., RVTrader or forums like iRV2 Forums.
Where can I sell my RV fast?
Consider online platforms like RVTrader, Craigslist, or Facebook Marketplace to sell your RV quickly. Price it competitively, provide detailed photos and descriptions, and respond promptly to inquiries.
You can also try consignment dealerships, RV auctions, or classified ads in local newspapers, but nothing beats the reach speed of social media and RV forums.