Most full-time RVers like to watch TV on occasion. Nowadays, we watch so many of our favorite shows and sports using streaming services, but catching local news or other cable shows begs the question: can I use my home Dish receiver in my RV?
Most home Dish receivers are linked to your home address. The receiver can be moved into your RV, but you will have to update your address with your service provider in order to receive service every time you move your RV.
This makes transitioning a home Dish receiver onto an RV possible, but not necessarily practical.
Plus, even if you have thoroughly enjoyed your Dish satellite TV service, you probably don't want to spend an hour on the phone with them every time you move to a new location.
Fortunately, we are going to suggest a few alternatives to using a home Dish receiver in an RV.
So, for those of you still figuring out how to get television in your new RV, let's discuss a few more practical solutions.
Can I Use My Home Dish Receiver in My RV?
Yes, you can take your home dish to your RV if you already have an existing satellite TV service account with Dish. The practical answer, however, is no. The issue is that your Dish account is linked to your home address.
So, while you can move your home Dish receiver into your RV and plug it in just like you would at home, you won't be able to receive the same service once you leave your driveway.
Now, if you are moving into an RV full-time and you don't plan on moving often, you may be able to call Dish's customer service number once and simply change the address to the location you will be living, which could allow you to use your Dish receiver in your RV.
If you travel for short-stints or live full-time in your RV and move around a lot, however, it isn't practical to call Dish and update your address every time you move.
Plus, it will put you in the position of having to reinstate service at your home address every time you return from a trip.
Can I Add A Second Receiver To My Existing Dish Account?
Yes! This is absolutely an option for Dish users and it is actually quite popular for second home owners. By adding a second receiver to your existing account (for a small fee), you will be able to set it up in your RV permanently.
Dish advertises a $5 fee for adding a second receiver to an existing account. They also have several bundle packages that are made specifically for RV use.
The best one for you will depend on what kind of television accessories were built into your RV as standard options.
Are There Downsides of Using a Dish Receiver in an RV?
Because the best way to use a Dish receiver in your RV is to add a second receiver to your home's account and then plug it into your rig, you will enjoy the same selection of channels that you receive on your home television.
For RVers that travel a lot, this means you will have to source local news or weather updates from other avenues.
The good news is that most new outlets make it relatively simple to find information online or on a mobile device. If you want local channels in your RV, however, you may need to explore other solutions.
Do I Need Additional Hardware to Plug a Dish Receiver into My RV?
The good news is that today's newer RVs feature very similar electronics to most residential homes.
So you shouldn't need to purchase a bunch of extra cables or connectors to plug a second Dish receiver into your RV.
Most modern RVs are equipped with an existing roof-mounted antenna that can be plugged into a receiver using coaxial cable.
From there, your receiver will connect to your RV's television using HDMI or RCA cables.
How To Get Satellite TV For Your RV
There are several ways to watch your favorite sports, shows, and news broadcasts without adding a second Dish receiver to your RV.
If you aren't a Dish customer, let's explore some other ways you can get satellite TV or enjoy streaming media in your RV.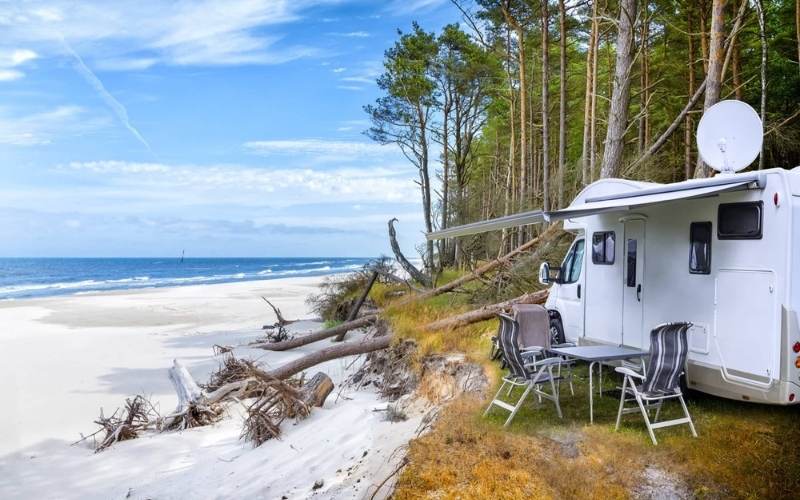 1:

Add A Second Receiver From A Different Service Provider
The fact of the matter is that not everyone is already a Dish customer. So, while adding a second receiver is quite economical for anyone that already has an account with Dish, it will be more costly for those who don't.
That's because you will have to set up an account and establish a service with an entirely new provider.
Setting up a new Dish service with two receivers, for example, can cost as much as $100 per month, depending on how many channels you want.
The good news, however, is that most satellite TV providers will allow you to add a second (or sometimes even a third or fourth) receiver to your account for a minimal fee.
So we'd urge you to reach out to your provider to see if this is an option before you switch over to Dish.
During that call, it will be useful to also inquire as to what other RV-specific television bundles your provider offers.
One of these may help you significantly upgrade the number of channels (and service quality) you can enjoy in your RV.
2:

Use Wi-Fi To Stream Your Shows
If you are the type of RVers that always stay in RV parks, you can always use the park's free Wi-Fi to stream shows and sports over services like Netflix, Hulu, and Disney+.
If you have these services at home, there's no reason you can't enjoy them while you are on the road as well.
Today, Roku devices are super affordable and popular for accessing streaming services. If you have a Roku device, you can always unplug it from your home television and then plug it into your RV for the duration of your trip.
If you don't want to bother with that, you can also purchase a second Roku device to keep in your RV permanently.
For those of you that aren't currently using a Roku device for streaming entertainment, we'd highly recommend looking into the benefits of adding one of these devices to your home setup.
3:

Record Content on a Hopper Receiver
If you are using a Hopper receiver at home that allows you to record content, you can always load up several shows or movies before you leave for your RV trip.
Then, simply bring the Hopper receiver along and plug it into your RV television when you want to watch something.
4:

Set Up Remote Access To A Tivo Receiver
If you have a Tivo receiver at home, it is possible to set up remote access to your home's network using a VPN.
You can then log into the account for any compatible mobile device and pull up the recorded content you want to watch.
This is a great option for watching live sports remotely, and it has successfully been used during international travel to record and watch live U.S. sports in locations that wouldn't otherwise be broadcasting them.
This solution requires a little more of a technical approach and it also requires to to pre-set the recording of any shows you want to watch before you leave for your trip.
That said, if you have a Smart TV in your RV, you should also be able to cast the picture from your mobile device to your TV so that multiple people can watch more comfortably.
5:

Use A Mobile Wi-Fi Hotspot
If you have the ability to cast the screen from a mobile device to a Smart TV, you can also connect to your phone's mobile hotspot in order to stream sports, television, and shows.
The only caveat to this approach is that it uses a lot of mobile data that you might want to preserve for other uses (such as route planning or campground research, just to name a couple).
That being said, many of today's 'unlimited' data plans can be more affordable than investing in some of the other solutions for getting streaming shows and television in your RV.
Just make sure to read the fine print on the unlimited data plan offered by your cellular provider.
Although some of them claim 'unlimited' service, they actually greatly reduce the speed of your data connection after you have used a certain amount.
So being aware of that limit and how much data you use in an average month is important when evaluating whether this is a good solution for you.
How To Enjoy Entertainment Without Streaming Media or Satellite TV
As you can see, most of these streaming or satellite TV solutions require some type of wireless connectivity.
For those of you that like dry camping or boondocking, these additional alternatives might be better for you if you don't want to worry about finding a signal in a remote area.
1:

Load Up Your DVD or Blu-Ray Collection
While VCRs are pretty much obsolete these days (remember those?!), most of us still have some sort of DVD or Blu-Ray player in our homes.
As long as you do, you can transfer that player over to your RV relatively easily, or just get a second one to remain in your rig permanently.
Keeping a DVD or Blu-Ray player in an RV just requires that you insulate the bottom and keep it from sliding while you are driving.
Using something like a Smart Design Shelf Liner is a great way to keep your media player from sliding around and also protect it from damage while your RV is bouncing down the road. 
Also, make sure your DVDs or Blu-Ray discs are stored in such a way that they won't all come falling out of the cabinet when you open it.
Keep in mind that the contents of the cabinets often shift while RVs are in motion. So store your media carefully to prevent them from becoming damaged.
2:

Store Content On A Laptop or Tablet (or External Hard Drive)
Another alternative is to store content on the hard drive of your laptop or tablet. Many RVers that don't want to take up space in their rig with a larger television will often just watch their shows, sports, or movies on a laptop or tablet.
The issue with this is the relatively small screen size. Plus, it's not really a functional solution for watching live television.
So it's really only a good solution for solo travelers or couples that primarily only watch movies or shows that can be downloaded onto a device.
That said, it can allow you to utilize cabinet space to store other items instead of having that space taken up by television.
Also, if you are spending multiple weeks or months on the road, it might not be realistic to store all of your content on your laptop or tablet's internal hard drive.
In that case, you can purchase an external hard drive and load a bunch of movies and older shows onto it for your viewing pleasure.
3:

Use a Traditional Set of 'Rabbit Ears'
Many RVs already have an TV antenna on top, but your receiver's inability to filter for local channels can be problematic for some folks.
So, if you want to watch local channels as you relocate your RV, you could also use a more traditional set of 'rabbit ear' antennas to pick up local frequencies.
This will require you to fiddle around with repositioning the rabbit ears every time you park your RV in a new location.
But it is a relatively easy and affordable way to get local channels without changing the service address linked to your satellite TV account.
So, How Do I Get DIRECTV in My RV?
Ultimately, the answer will be a matter of your personal preference, but let's offer a few concrete suggestions for you to ponder.
If you are an existing Dish customer and you want access to the same channels you have at home, simply add a second Dish receiver to your account and install it in your RV. Then you'll be good to go.
For those of you that stream most of your entertainment over services like Netflix, grab an extra Roku device for your RV and utilize RV park Wi-Fi to watch your shows and movies when you are parked.
And for the boondockers and dry campers out there, reliable Wi-Fi and cellular service is going to be harder to come by.
So your best solutions will be to load up content on a computer, tablet, or external hard drive or bring your movie collection and media player along on your RV adventures.
Conclusion
While we are still firm believers in utilizing RV vacations to unplug and disconnect from technology, we also recognize the importance of being comfortable in the RV of your choice.
Plus, the reality of moving around frequently in an RV is that it can be important to stay up-to-date on local news and weather wherever you are.
Fortunately, it is actually much harder to get fully off-the-grid than it is to remain connected these days.
From streaming service to satellite TV service providers with offerings uniquely made for RVs, it is no longer difficult for RVers to remain connected and informed on the road.
If you aren't an existing Dish customer, we'd encourage you to reach out to your service provider to see if they give you the option of adding a second receiver for RV use to your plan.
If not, there are luckily plenty of other streaming options that rely on Wi-Fi or cellular service out there.
As always, we hope you found the information in this guide useful for helping you create your perfect RV setup. And we wish the best of RV adventures during the upcoming travel season!