Picture this: a cozy campfire crackling under a sky painted with stars, the gentle sound of waves lulling you to sleep. Then you may as well imagine yourself in one of the best oceanfront campgrounds in North Carolina.  
Oceanfront camping in North Carolina offers a slice of paradise where adventure and relaxation intertwine. Dating back to the early 20th century, camping in North Carolina has been a cherished tradition for families and outdoor enthusiasts alike. However, finding the proper oceanfront campground in North Carolina could be like trying to unravel a tenacious fishing line.
This article carries all the campsite-related information you need to know about NC. I shall assist you in navigating the sea of options to find the place that satisfies your requirements – swimming in the sea, fishing, sea-side camping, go-karting, or simply sipping into your hot mocha.
Consider me as your compass, pointing you toward the right campground on the seaside to meet all of your coastal fancies.
What to Consider When Choosing a Campground in North Carolina
You can camp along the coast in a number of locations. You may unwind on sandy beaches while reeling in large fish at the well-known Cape Hatteras Seashore.
Goose Creek is a tranquil retreat where you can escape your troubles.
Do not overlook White Oak Shores, where you may appreciate both the outdoors and modern conveniences.
Who can resist the allure of New Bern KOA, where history meets oceanfront camping?
Consider location, amenities, proximity to recreational activities, and campsite rules when selecting an oceanfront campground in North Carolina to ensure it suits your interests, such as camping, kayaking, live music, swimming, dog walking, and more.
Now, here are the best oceanfront campgrounds in NC. Of course, this is a subjective list based on what I liked. I would love to hear what your favorite campground in North Carolina is.
1. Cape Hatteras KOA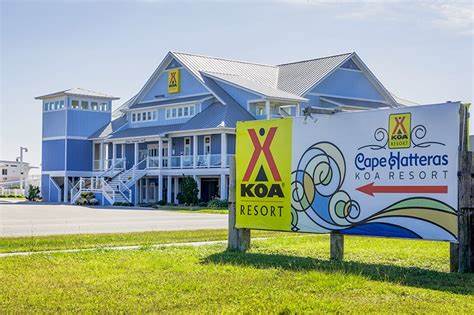 The Cape Hatteras KOA is a seaside campground in NC unlike any other. Your beach holiday is here, with the Atlantic Ocean on one side and the Pamlico Sound on the other. Enjoy the zero-entry pool, a new double water slide for the youngsters, and a soothing hot tub area. The guest house has a store, a poolside cafe, an internet area with PCs, and a lounge room with Wi-Fi. 
Other attractions: Pool games, basketball contests, tie-dying, live skits, live music at the pool, and family movie evenings beneath the stars are all available. For beach bums, they have direct beach access from the campground. Rent a bike, kayak, or paddleboard for even more fun.
Where: North Carolina's Outer Banks.
Visit during: Summers
Traveler's eye: "Great Spring escape location. Lots of good local restaurants can be found nearby but major chain stores are about 40 miles away in Kitty Hawk." –Curbmaster
2. Holiday Travel-L-Park
At Holiday Travel-L-Park, you can reserve a piece of North Carolina's Crystal Coast for yourself. Three direct beach accesses, two of which are handicap accessible; a snack and drink bar on the beach (open Memorial Day to Labour Day).
Other attractions: Every campground is totally grassy and has a picnic table. You can also use the swimming pool and splash pad, super clean bathhouses, the coffee and bagel shop, the go-kart track, bands every weekend, and more.
Where: Emerald Isle, North Carolina.
Visit during: Early summer, spring
Traveler's eye: "It's right on the beach, and there is a nice pool near the office. They rent golf carts also." – Kathryn V
3. New Bern KOA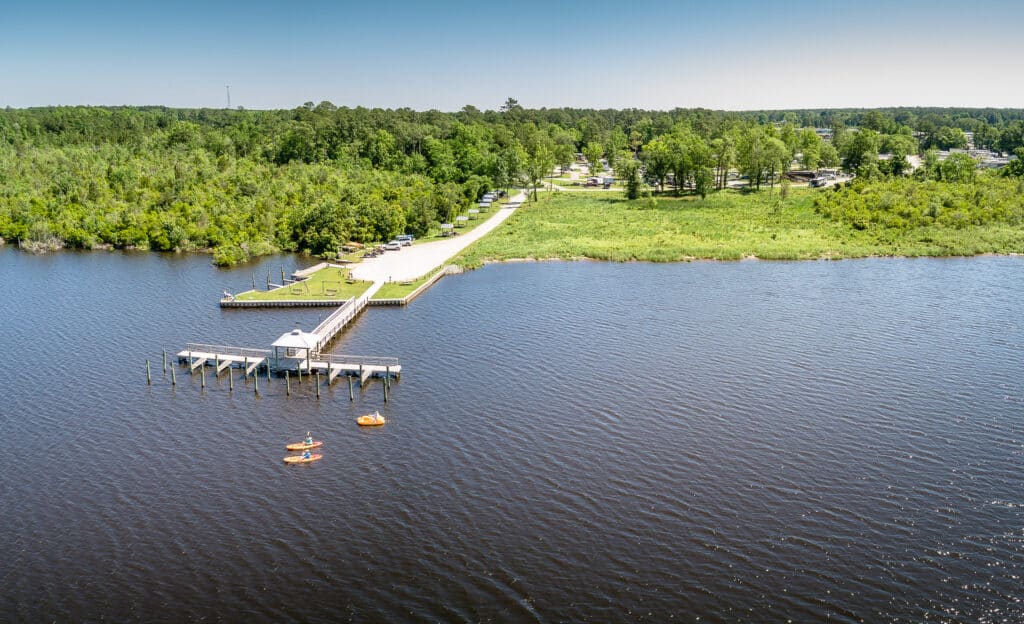 The award-winning New Bern KOA campground in North Carolina offers fantastic camping and lodging for families and RV'ers alike. You have access to free WiFi; dogs are permitted in campers at no cost, and camping cabins at a fee, however, no dogs are permitted when tent camping.
Other attractions: Enjoy a fishing pier and boat ramp, kayak and paddleboat rentals, and so much more.
Where: On the Neuse River, just minutes from downtown New Bern, North Carolina.
Visit during: Summers
Traveler's eye: "Nice people, clean and fresh facilities, and lots of fun. Two catch and release fishings ponds and the Neuse River (license required)."- The Coastal Aviator
4. White Oak Shores Campground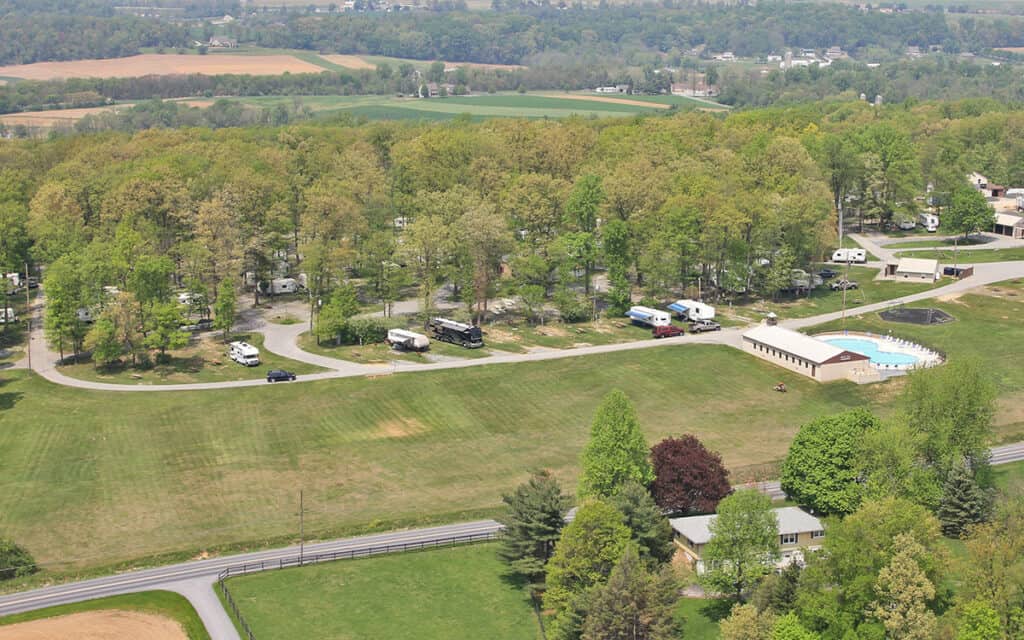 This White Oak Shores Campground site gives tourists serene surroundings and an ideal 'base camp' for exploring the various attractions of this magnificent location, surrounded by the placid, flowing waters of the White Oak River and between coastal marshes.
Other attractions: Possumwood Acres Wildlife Sanctuary (4.6 miles), Stella Church Of God (0.6 miles), and Midway United Methodist Church (1.0 miles) are nearby attractions.
Where: It is located on North Carolina's beautiful Crystal Coast.
Visit during: Summers
Traveler's eye: "The number one thing that impressed me was the campsites' grass/ground. I am not sure what kind of grass this is, but it is like a soft carpet on your feet, and really no need for rugs/mats. You pretty much track nothing in your RV that needs to be cleaned up. I LOVE THAT!" – Surfinva
5. Twin Lakes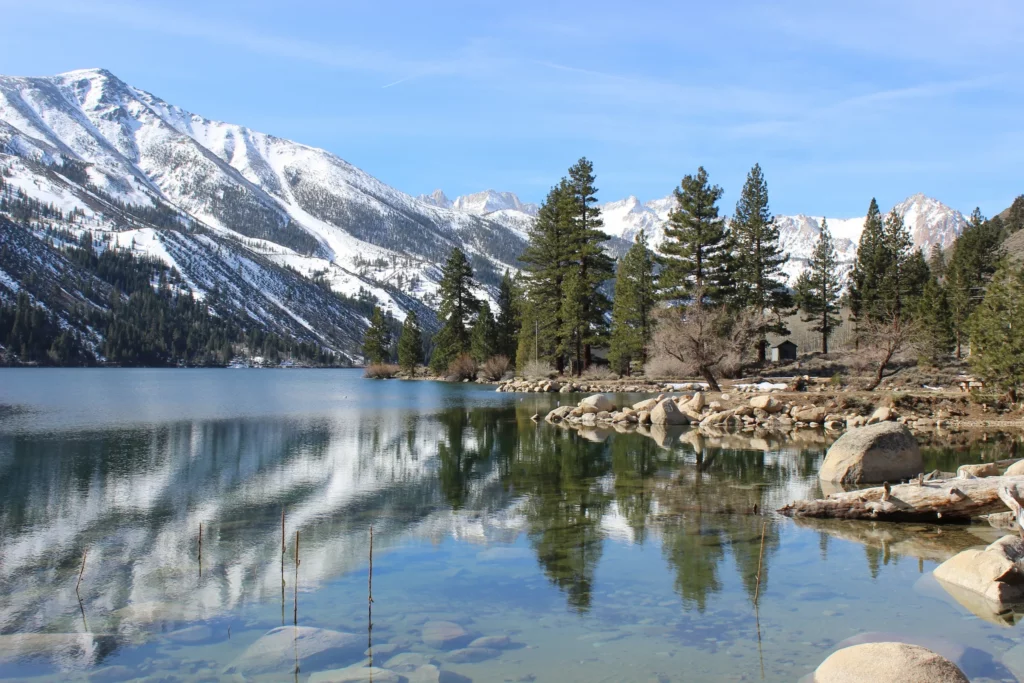 Don't miss the chance to visit the Outer Banks while vacationing at Twin Lakes RV Resort. The Twin Lakes in North Carolina provides outstanding golf courses, island-style eateries, and a slower pace that draws travelers worldwide.
Other attractions: They have a family-friendly environment which they've built and maintained over the years as the only RV Resort in North Carolina's Beaufort County. This and their real southern friendliness keep families coming back to Twin Lakes for a dependable RV resort experience.
Where: It's a North Carolina RV resort on a peninsula between the Pamlico River and the Chocowinity Bay.
Visit during: Summers
Traveler's eye: "We always have a good time at the campground and in the community. The campground is lovely and well-equipped" – Elizabeth
6. Camp Hatteras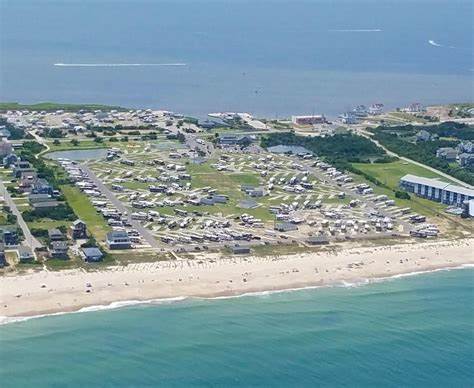 Camp Hatteras (different from Cape Hettaras) has nearly 400 concrete pad sites with all the amenities you need while on vacation at the beach. There's nothing not to like about this place: paved broad roads, cement spots with complete connections, and excellent and clean facilities. The parking app is quite handy, but remember that it only recommends some sites, not all.
Other attractions: They feature indoor and outdoor pools, tennis, and mini golf, and you may choose between sound and ocean views. The boat ramp is also open to campers and provides an excellent kayak launch.
Where: North Carolina Hwy 12, Waves, Hatteras Island, North Carolina.
Visit during: Summers
Traveler's eye: "Location! location! location! Depends on what site you are in, but the ocean is super close. For us, it was right over the dunes." – Susan & Kevin
7. Goose Creek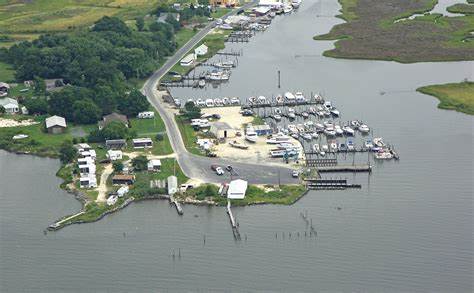 The Goose Creek Resort provides a tranquil setting in what may be one of the last unspoiled beach vacation locations. The lack of dense commercialization provides campers with a true family feel.
Other attractions: Your visit to Goose Creek RV Resort will keep you busy with various activities throughout the year. Goose Creek RV Resort is located near some of the best saltwater fishing spots in the world.
Where: Its campsite is conveniently located on the Intracoastal Waterway along North Carolina's Crystal Coast.

Visit during: All year round
Traveler's eye: "They are spacious, well-kept, and have easy access to a boat ramp. Plenty of walking areas for our two dogs." – Bvolk
8. Whispering Pines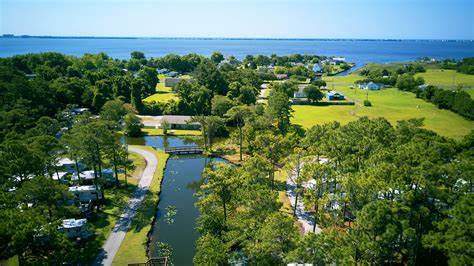 Whispering Pines RV Park & Campground is family-friendly, with a private boat ramp and day dock. Beaufort, Emerald Isle, Havelock, and Swansboro are short distances from Whispering Pines RV Park & Campground. Explore the beach at your back door.
Other attractions: The neighboring region offers plenty of entertainment, boutique shopping, and delectable eateries. Furthermore, the lovely Whispering Pines RV site is on the 85-mile stretch of North Carolina's famous Crystal Coast, which features nine premier beach destinations.
Where: The location is along the Intracoastal Waterway, North Carolina

Visit during: Summers
Traveler's eye: "We had an amazing time at Whispering Pines. We stayed for 2 full weeks and found it a great and central jumping-off point for many fun activities." – Michelle B
9. Wilmington KOA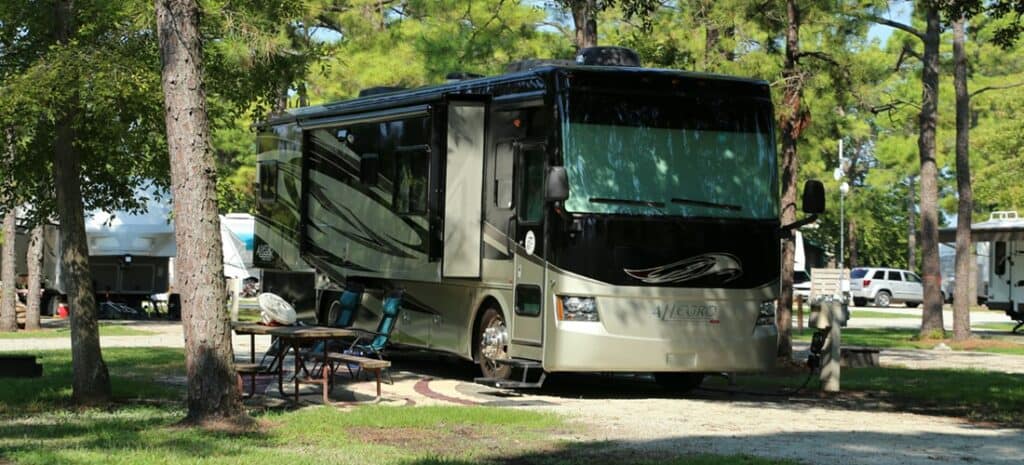 You'll understand why Wilmington KOA has won the renowned Founder's Award, a coveted honor that demonstrates they're leading the way in the KOA camping and lodging experience since 2009. The tranquil nature hideaway is tucked away in the heart of Wilmington, offering the ideal balance of quiet and amusement.
Other attractions: With the huge Southern Pines shadowing the RV resort and beautiful cabin accommodations, you and your family will enjoy the excitement of camping while yet having all of the conveniences of home. There's a dazzling pool, a cozy game room, a fully equipped camp store, and a pet playground. You'll also be only five miles from Wrightsville Beach's sun-drenched sand and surf and minutes from the lovely historic downtown shopping and dining center.
Where: 7415 Market St, Wilmington, North Carolina
Visit during: Summers
Traveler's eye: "The location of the site is also great. Very close to downtown Wilmington as well as Wrightsville Beach!." – Michelle L
10. Brunswick Beaches Campground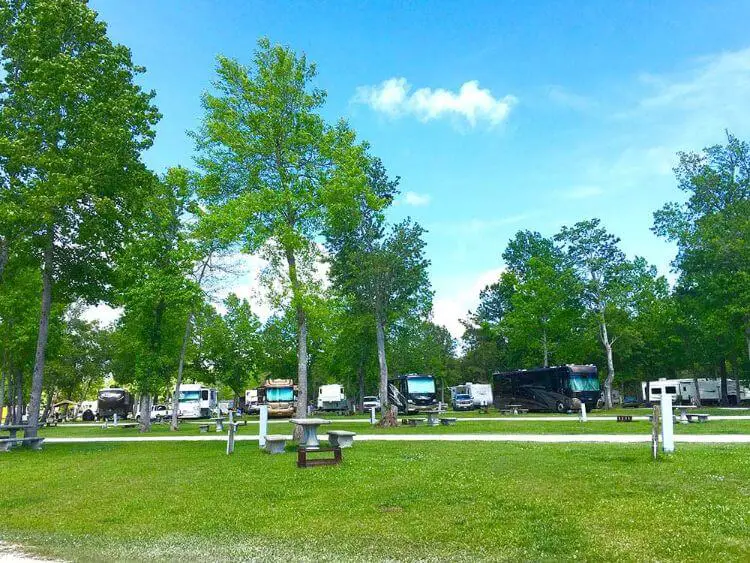 Brunswick Beaches' theme is leisure. Relax by the pool, fish in the pond, play volleyball, or basketball, ride your bike, or explore nearby beaches for sun, sand, sea, and fun. They provide spacious, shady RV and tent camping areas, 1- and 2-bedroom cabins, and a cottage.
Other attractions: Other amenities include clean restrooms, laundry facilities, a camping store, a camping kitchen, and a pleasant staff to guarantee your stay with them is unforgettable.
Where: Sunset Beach, North Carolina
Visit during: Summers
Traveler's eye: "I was beyond impressed by how clean the cabins, bathrooms, and showers were. Very quiet, cute, and clean place to relax." – J. H.
11. Yogi Bear's Jellystone Park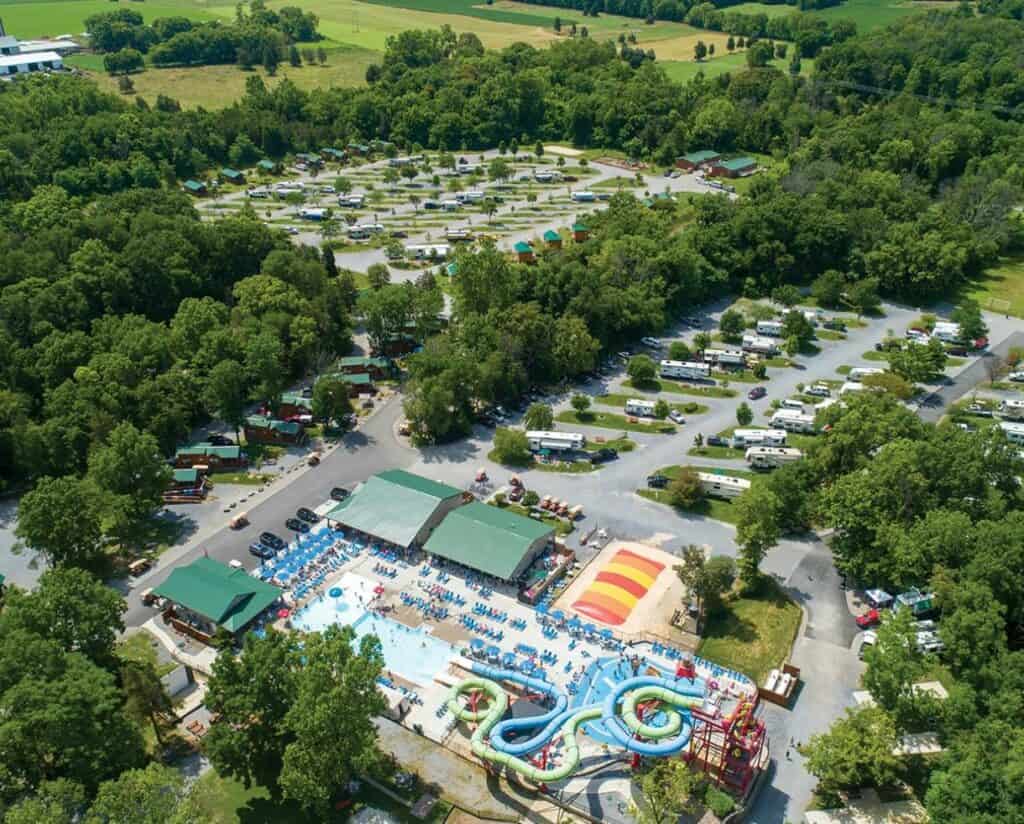 The Yogi Bear's Jellystone Park camp resort, formerly known as Daddy Joe's, in Tabor City, is a terrific place to relax and have fun with friends and family. Located in Tabor City, it is tucked away on a peaceful farm and is one of North Carolina's best-kept secrets.
Other attractions: First-rate amenities such as free Wi-Fi, camping in NC, and activities for the entire family add up to a fantastic fun-filled camping trip that will leave you with memories to last a lifetime. You can be sure that the best locations will be gone first, so don't put off planning your camping excursion. When you run out of interesting things to do, visit nearby Myrtle Beach and Wilmington.
Where: It is only minutes from the Grand Strand of South Carolina, Myrtle Beach, and Wilmington, North Carolina.
Visit during: Summers
Traveler's eye: "This place is for camping, don't forget that. So don't think you get a gorgeous huge space with all the frills." – Megan Plank
12. OBX Campground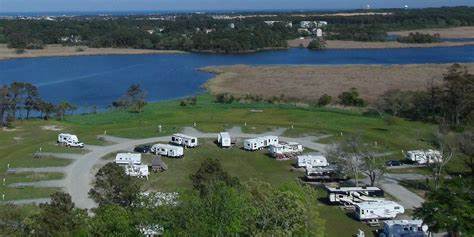 The OBX Campground has access to water, sewer, WiFi, and cable TV. Beautiful, quiet, pet-friendly, and spacious sites. The Atlantic Ocean is only 2 miles away. There are wonderful restaurants nearby, a pizza parlor, a coffee shop, and a fresh seafood market with groceries, gas, and much more.
Other attractions: The campground is clean and strategically placed near many activities, making it ideal for those wishing to wander or simply hang out. The night sky is filled with stars, so if you enjoy stargazing, here is the place to go.
Where: Marshy Ridge Rd, Kill Devil Hills, North Carolina.
Visit during: Summers
Traveler's eye: "The price was great and very reasonable. We extended our stay and can't wait to come back and stay again." – Ashley
13. CarrollWoods RV Park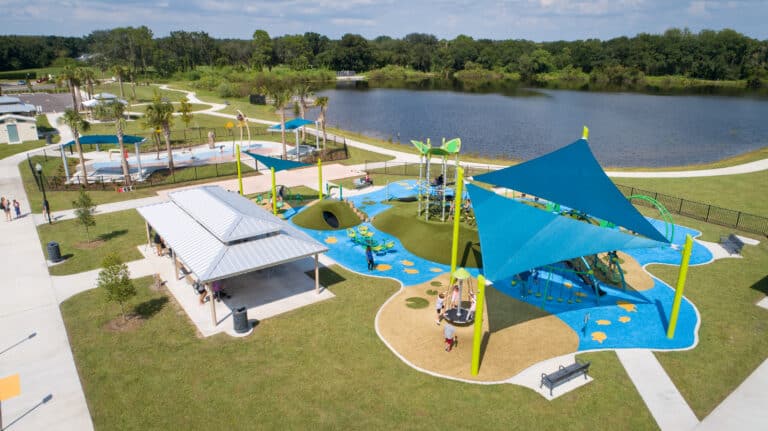 Carrollwoods RV Park is one of NC's most unique campgrounds, and the RV Site was built in 2009. It is only 20 minutes from the beach, shopping, restaurants, and golf area. There is free Wi-Fi throughout the campground, and cable TV is optional.
Other attractions: They are just behind Grapefull Sisters Vineyard and have daily wine tastings and a 3-bedroom inn. Looking for a peaceful, family-run campground away from the hustle and bustle of the beach? They are the ideal choice for you. Also, some television channels are available for free over the air.
Where: It's a calm haven, minutes from the action of the North Myrtle Beach Area.
Visit during: Summers
Traveler's eye: "It's a clean, friendly family park. Quiet and in the woods. Lots of shade. Don't miss the wine tasting and the jams." – Kay S
14. Holden Beach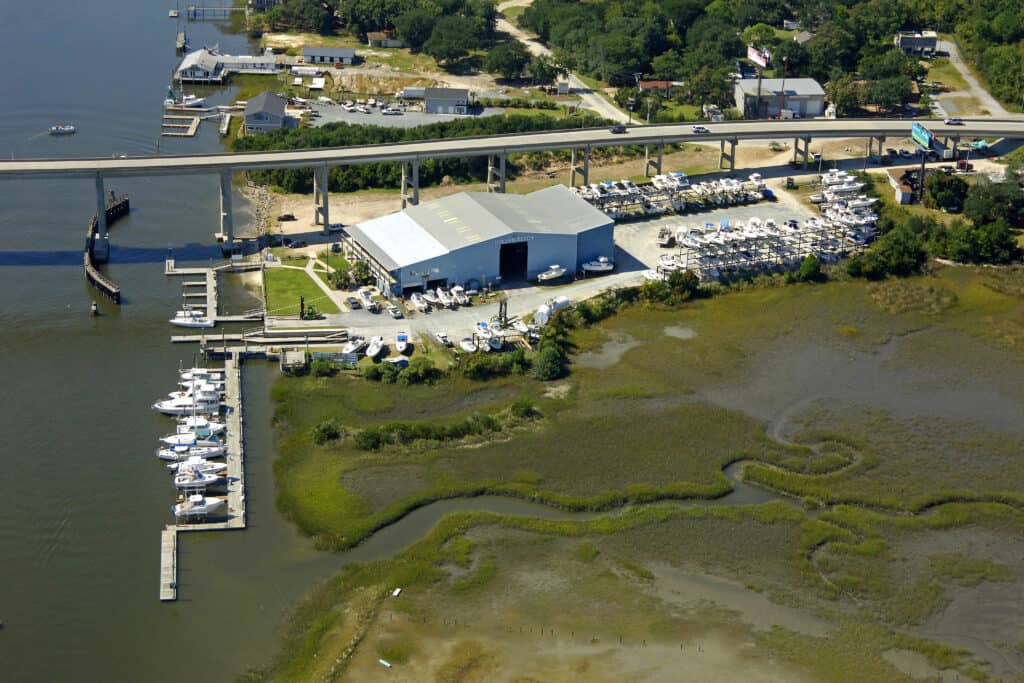 The staff is at Holden Beach fantastic. The restrooms and laundry facilities are spotless, and the dog park is well-kept and a tremendous benefit. The beach is within a five-minute drive away from the campsite.
Other attractions: A mile' away are eateries and a Food Lion, as well as a nice, new, large liquor store across the street. The new bathhouses are beautiful. There is complimentary WiFi and over-the-air television coverage. A free tram brings you to two beach access spots (2 kilometers distant) and three eateries.
Where: 2650 Liberty Ln SW, Holden Beach, North Carolina
Visit during: Summers
Traveler's eye: "Holden Beach is a quiet and lovely beach, perfect for long quiet walks. If you are looking for a big, beautiful beach without crowds, this is the place." – Jennifer W
15. Frisco Campground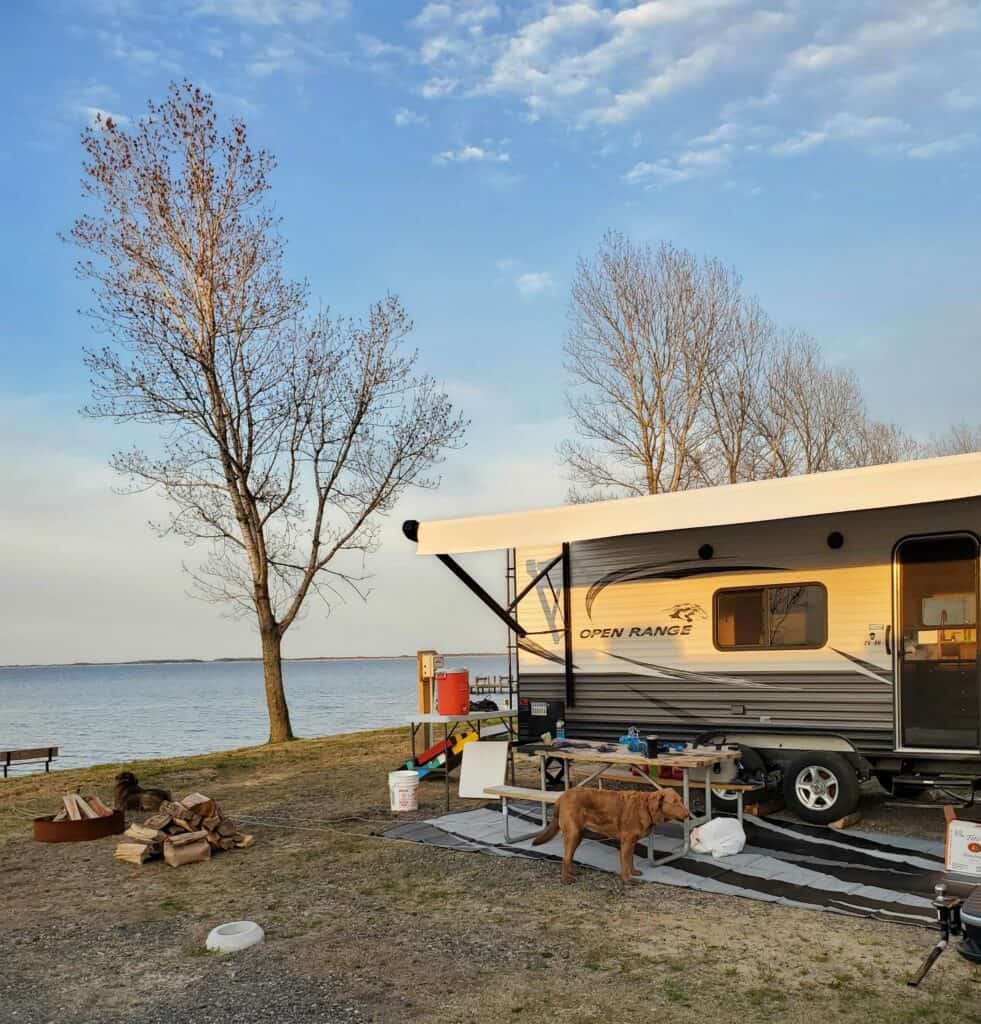 Frisco provides enough privacy and awesome beach access. Dogs are allowed on the beach. Frisco Market is immediately across the street from the entrance, fully stocked, and has block ice.
Other attractions: It has extensive fauna – frogs, toads, and birds galore. It's a short distance from the Cape Hatteras Lighthouse and the Ocracoke Ferry.
Where: Billy Mitchell Road, Frisco, Hatteras Island, North Carolina
Visit during: Early summers
Traveler's eye: I could ride all throughout this campground in NC because there were paved roads. – Carolyn K D
Final Word
Oceanfront camping in North Carolina is an unmatched deal. It has long been a beloved tradition that enables individuals to leave the city and appreciate nature, dive deep into adventure, or sometimes do both.
FAQs
Is it legal to camp on the beach in North Carolina?
Camping on the beach in North Carolina is generally legal.
How much does it cost to camp at Carolina Beach State Park?
The cost to camp at Carolina Beach State Park varies, you can contact the park for specific pricing information.
Does the Outer Banks have a campground?
Yes, the Outer Banks have campgrounds in NC.
Are you allowed to camp on the beach in Outer Banks?
No, camping on the beach in the Outer Banks is generally not allowed.
Can you drink beer on the beach in North Carolina?
The regulations regarding drinking beer on the beach in North Carolina vary by location, so it is advisable to check local ordinances.
Can you camp overnight on Carolina Beach?
Yes, overnight camping is allowed at Carolina Beach State Park.