If beach camping in California is calling your name, and you believe the answer should be yes, you have arrived at the right destination. Having experienced several beach campsites in the Golden State, I have compiled this article to provide all the information you need for the best beach camping in California.
California is known for some of the best beach camping sites in the US. Its beaches stretch for over 800 miles, offering many options for every type of camper. In this comprehensive guide, I will detail some of the best beach campsites and the must-haves to ensure an unforgettable coastal camping experience.
Top Sites For Beach Camping In California
I have camped at most of the sites I recommend in this guide. Added to my experience, I chose these top beach camping spots using the following criteria:
Number of outdoor activities available.
Facilities provided by the beach camping spots.
Natural beauty surrounding the beaches.
The popularity of these beaches.
Reviews by those who have stayed at the various beach camping grounds that have made it into my list.
Pismo State Beach
You will find Pismo State Beach along the central coast of California. The climate is pleasant all year round, making it an ideal spot for outdoor activities such as camping, surfing, swimming, fishing, and bird-watching. Follow these tips for the best Pismo beach camping experience.
You can park your vehicles in the lot on West Grand Avenue near Fin's Bar & Grill Restaurant.
A boardwalk to the beach is available, with public restrooms for visitors along the way.
Campfires are allowed but must be within three feet in diameter and two feet in height.
Remember to extinguish the fires with water and leave it exposed. Do not bury it in the sand.
You can bring dogs to the beach, but they must always be leashed. The length of the leash cannot extend beyond 6 feet.
For Pismo Beach camping reservations, visit Reserve California or contact them via phone (1-800-44-7275). Their timings are 8 AM to 6 PM Pacific Time.
There are two campgrounds – North Beach & Oceano. You can get a full description of these grounds from the Pismo State Beach Campgrounds website.
If you are traveling with children, there is a Junior Ranger Program to enroll them in to experience fun activities outdoors.
There are many wonderful places to explore in and around Pismo Beach campgrounds, like Charles Paddock Zoo, Hearst Castle, and Piedras Blancas.
Some services offered at Pismo Beach camping include restrooms, trails, picnic tables, fire rings, and grills.
Carpinteria State Beach
You will find Carpinteria State Beach, south of Santa Barbara. This beach is renowned for its scenic views, clear waters, and many recreational activities for visitors. Plenty of camping opportunities exist to enjoy your Carpinteria Beach camping experience. Here are further details:
There are four campgrounds – Anacapa, Santa Cruz, Santa Rosa, and San Miguel. Each campground offers a unique experience, depending on your preferences. The Califonia Department of Parks and Recreation website has more information on these campgrounds.
Reservations can be made at Reserve California in advance up to six months from the arrival date.
Dogs are not allowed on the beach, except service animals. They must be kept on a leash no longer than 6 feet. They cannot be left unattended at any time.
If you want a campfire, buy food at the park. You can visit the California Firewood Taskforce to understand how you can safely enjoy your time at the campfire.
You can indulge in swimming, surfing, fishing, exploring tide pools, hiking, and a simple stroll along the beach.
The facilities available at Carpinteria Beach Camping are restrooms, showers, picnic areas, and fire rings.
Some key locations include Jellybowl Vista Point, Harbor Seal Preserve, Tomol Interpretive Play Area, and Tar Pit Park.
You can also observe wildlife on the state beach, like birds and small animals. You can learn more about the different species you can spot by visiting the Carpinteria State Beach website.
San Clemente State Beach
San Clemente State Beach is in southern Orange County. It is one of South California's most popular camping beaches. This location is known for its scenic and oceanic beauty. The beach is about 1 mile long, and you can enjoy various water sports here. Here are some tips to ensure you have the best San Clemente Beach camping experience of your life:
There are two campgrounds here – one designated for tents and the other for RVs and camping trailers.
Popular water sports include swimming, surfing, paddle boarding, fishing, bodysurfing, and snorkeling.
Reservations can be made on Reserve California.
There are 88 campsites, and you can explore the map yourself to determine where you would enjoy the best San Clemente beach camping experience.
The campground is pet-friendly, but pets are not allowed on the beach.
If you carry a generator, you can only operate it between 10 AM and 8 PM.
Bring flashlights if you head to the restroom or around the campgrounds most evenings.
For RV and trailer use, note there are full hookups such as electrical, sewer, water, and group campsites.
The various amenities provided in San Clemente State Beach are restrooms, showers, picnic tables, barbeque pits, first aid stations, and a visitor center.
Please note that the peak season to visit is from April to October.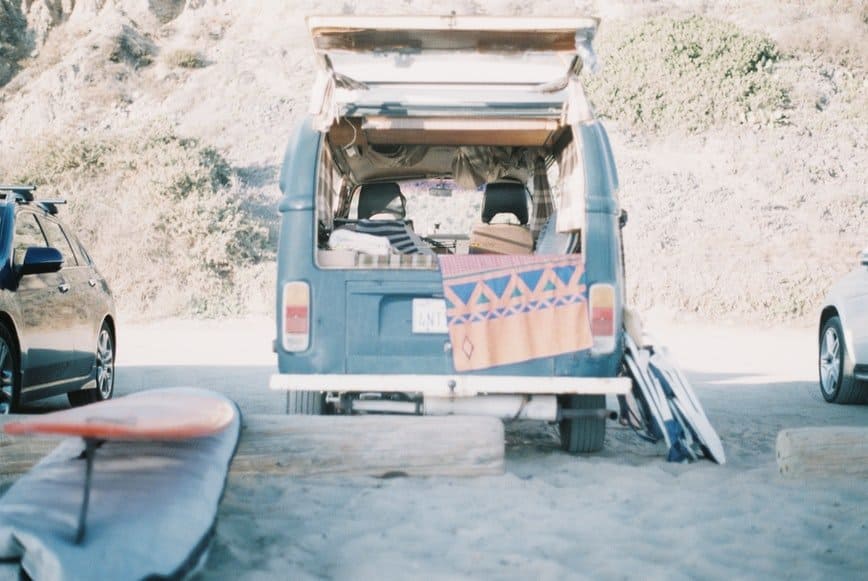 Ventura County Beach
Ventura County is a breathtaking coastal paradise in California that offers abundant natural beauty and recreational activities. The county and the state manage camping opportunities here. To ensure that you have a fantastic Ventura Beach camping experience, here are some pro tips that will help you get started:
Various campgrounds are available for Ventura beach camping – Rincon, Faria, Emma Wood, Point Mugu, McGrath, and Leo Carrillo.
All reservations are to be made at Reserve California.
The amenities across Ventura County beach campgrounds include fire rings, playgrounds, toilets, showers, hookups for RVs, and camping supplies.
The Ventura River Estuary at Emma Wood State Beach campground attracts wildlife such as raccoons, songbirds, and great blue herons. Dolphins can also be visible occasionally just offshore.
Certain campgrounds are pet-friendly, but you should ensure your pets don't go for a swim or a stroll on the beach.
Must-Haves For California Beach Camping
Here is the equipment that you will need when beach camping:
Sleeping Equipment
Tent: You will need sturdy and weather-resistant tents that are easy to set up and offer proper ventilation.
Sleeping bags: Opt for sleeping bags appropriate for the expected temperature range.
Pillows: Purchase comfortable pillows to improve your sleep quality significantly while experiencing the best beach camping in California.
We earn a commission if you make a purchase, at no additional cost to you.
We earn a commission if you make a purchase, at no additional cost to you.
Beach Gear
We earn a commission if you make a purchase, at no additional cost to you.
Cooking Equipment
Portable stove: You need a well-sized and reliable cooking stove.
Utensils: Carry some pots, pans, can openers, spoons, and forks per your requirements.
Fuel: Make sure to carry enough fuel for your stove.
Cooler: A good quality cooler can keep perishable food items fresh, so remember to carry ice.
Reusable water containers: It's important to carry fresh water in reusable containers for drinking, cooking, and cleaning.
Dishwashing supplies: Carry biodegradable soap, a scrubber, and a collapsible basin for efficient dishwashing.
First Aid Gear
First aid kit: A well-stocked kit contains bandages, antiseptic wipes, pain relievers, tweezers, and necessary prescription medicines.
Insect repellants: There are mosquitoes on the beach; purchase repellants.
Emergency essentials: Carry a whistle, flashlight, and multi-tool for emergencies.
Navigation tools: Bring a map, compass, or GPS device to help you explore safely.
Floatation devices: Carry life jackets and flotation devices to be safe while indulging in water activities.
We earn a commission if you make a purchase, at no additional cost to you.
Personal Hygiene
Toiletries: Carry your toothbrush, toothpaste, soap, and other personal hygiene items in a waterproof bag.
Toilet paper: Carry rolls of biodegradable toilet paper.
Towels: Bring some microfiber towels for showering and personal use.
Extras
Trash disposal: Have extra trash bags to clean the campgrounds at designated spots.
Headlamps: To move easily around the campgrounds, carry lightweight and hands-free headlamps.
Firewood and fire starter: You can bring these items if permitted, but most campsites provide them.
Entertainment: Items like books, board games, and cards are great for downtime during beach camping in California.
Binoculars: If you're into bird watching like me, invest in a great pair of binoculars to enjoy that fun little activity.
We earn a commission if you make a purchase, at no additional cost to you.
Conclusion
Beach camping in California is an unforgettable experience, as you can see from this comprehensive guide. Whether you're a seasoned camper or just starting your camping journey, you will make incredible memories on your beach camping journey with the right gear in your arsenal.
Always remember that safety and respect for the environment are paramount, so follow camping regulations, leave no trace behind, and be mindful of local wildlife and ecosystems. No matter which water sport you enjoy, be responsible enough to preserve these beautiful spots for generations to come.
FAQs
What are the top beach camping spots in California?
California has numerous beach camping spots, each with its own unique charm. Some top beach camping spots are Pismo, San Clemente, Huntington, Ventura County, and Avila State Beach.
How can I make a reservation for beach camping in Pismo Beach?
Reservations for Pismo Beach camping can be made through Reserve California. You can also contact them via phone at 1-800-44-7275. Plan in advance to secure your spot, especially during peak seasons.
What amenities are available at Carpinteria camping sites?
Amenities include restrooms, showers, picnic areas, and fire rings. Each campground within Carpinteria will offer slightly different facilities.
Are there any restrictions or regulations for beach camping in Avila Beach?
Avila Beach regulations include campfire rules and pet policies, amongst other restrictions.