When you get out on the road to live full-time in an RV, you'll probably be asking yourself: where can I park my RV to live?
What's more, you left the confines of a house, mortgage payment, and sticks-and-bricks life to save money, so figuring out an affordable place to park your RV to live is a crucial question for any full-time RVer.
And finally, you probably want the freedom to live in a place in your RV for a period of time before rolling out to your next adventure.
So you need a place to live in your RV that doesn't lock you in long-term.
The good news is there are many many places all over the U.S. where you can park your RV to live. From camping networks to public lands to rest stops to discount clubs to rented/purchased RV spots, there really is no end to the places you can park your RV to live in it.
But to do this right, it's important to have an understanding of the types of places you can choose from, how RV parking varies in different regions of the U.S., and how much you might expect to pay.
That's why this post will break it all down for you – we'll talk about the different ways to park your RV to live in it, how much to expect to pay, and how to lock in a great spot to live in your RV.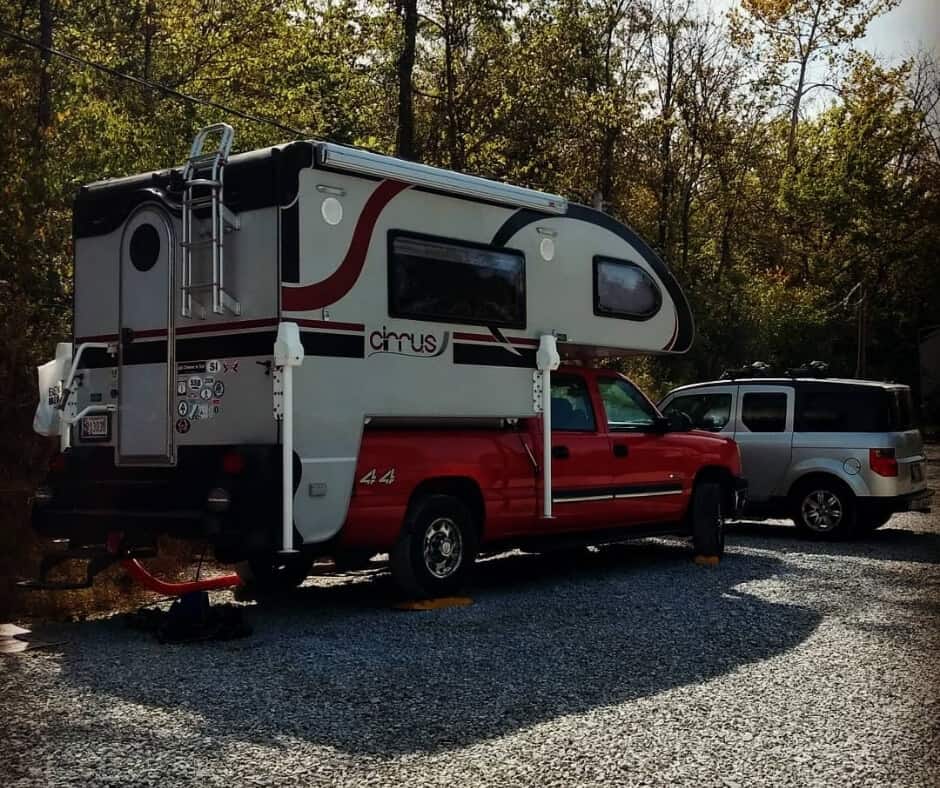 13 Best Places to park your RV to live
More and more people are living full-time on the road which means there are many places you can live in your RV.
Here are 13 different types of networks and places where you can get into that'll let you live in your RV for free or nearly free:
1. Workkamping
This is a tried and true method of securing a spot to live in your RV.

As the name implies, Workkamping is where you sign onto work at a place like a campground, national park, dude ranch, resort, county fairground, factory, event venue, or any other place that might need workers seasonally.
In exchange for your work, you'll almost always be given a free spot to live in your RV with your utilities being covered.
In many instances, you'll also have the opportunity to earn additional pay beyond a free RV spot.
There are tons of Workkamping opportunities all over the United States. The best way to find them is by searching "Workkamping opportunities near [name your place]".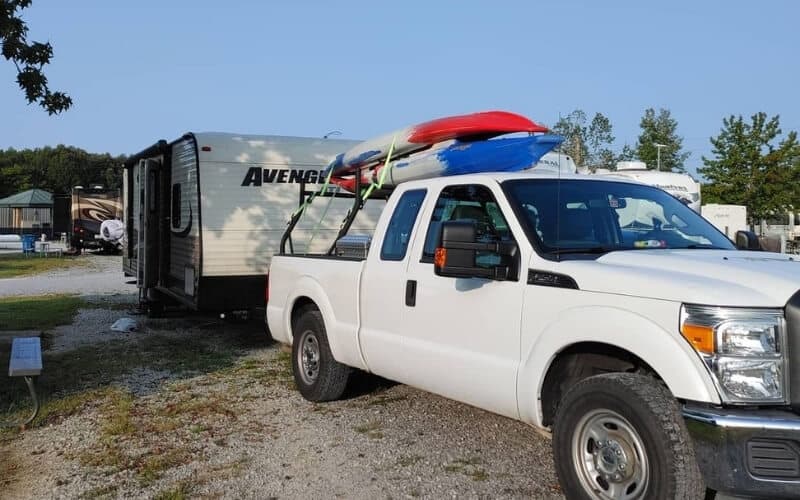 2. Amazon Camperforce
There aren't many folks left whohaven't ordered something right to their door courtesy of Amazon.
But those packages don't magically appear on our doorsteps – there is a vast operation of people, warehouses, and shipping trucks that make that happen.
Heck, we even hear that drones are now starting to deliver stuff for Amazon.
But the point is this – if you want a great place to park your RV to live while also doing some great work, the Amazon Camperforce could be for you.
Amazon's Camperforce is a program that will provide you with a free place to live in your RV in exchange for your working at an Amazon warehouse and helping people get their packages.
You'll be given a free RV site and be paid for your time. Simply search for Amazon Camperforce opportunities near where you want to be to see if this opportunity is available to you.
3. National/State Park host
A dream job for many, you can actually live in your RV in the middle of a national or state park.
This really is as awesome as it seems – from epic campgrounds in the middle of Yellowstone to spots deep within the Great Smoky Mountains, you can park your RV and live in a national park if you work as a host.
Hosts are a vital part of national park operations because they check guests into the RV campgrounds and make sure everyone is behaving.
You'd get free access to the park and a place to live in your RV in exchange for your time spent maintaining your campground, checking guests in, and generally keeping your campground in good order.
As you might imagine, these positions are very competitive and only a few of the many who apply are actually accepted.
But you never know until you try!
You can check out the national/state park website of parks you'd want to live at for more info on hosting opportunities.
4. County Parks
There are many county parks that offer RV camping.
Camping at these parks is generally very affordable and sits in some beautiful parts of the country.
In some cases, you could even serve as a host at these parks and live in your RV for free.
5. Bureau of Land Management Lands
The United States has hundreds of millions of acres of land that are federally owned.
Huge chunks of this land – especially in the western United States – are open for free camping when they are managed by the Bureau of Land Management (BLM for short).
By heading to the Bureau of Land Management's website or searching for "BLM land near me" you can find an array of places to park your RV to live in.
But, there are some drawbacks to be aware of.
BLM lands do not have hookups, so you will need to plan on figuring out your own water, electric, and sewer dump situation.
BLM lands do not have sewer dump stations, so you will need to find a dump station in a town near you. You should never dump your waste on federal lands.
The other drawback is that BLM camping areas are mostly limited to 14 days of use, meaning that after you've camped for 14 days, you'll have to find another spot to camp in.
But with so much BLM land, you can usually find another place to park your RV right around the corner!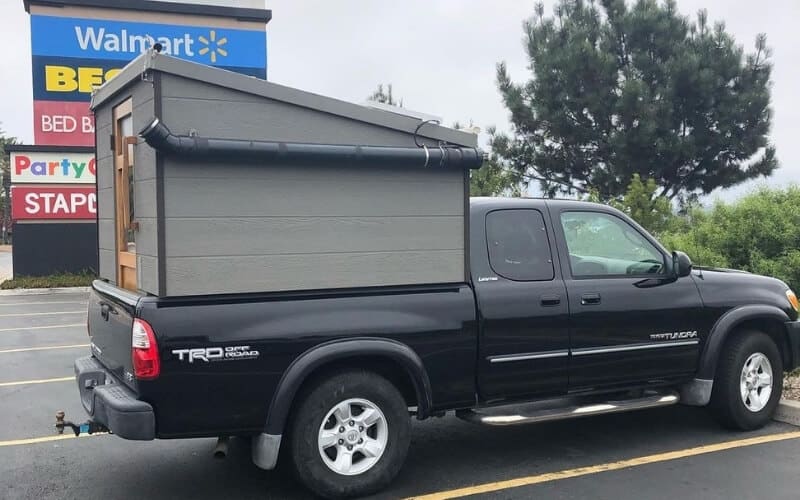 6. Park your RV at approved businesses
Stores like Wal-Mart, Cabelas, and Bass Pro Shop will generally allow you to park your RV for one night while you're between destinations.
You should always call the store in advance to make sure this is okay because overnight parking is not allowed at every location.
As long as it's allowed, this option is a great way to park your RV overnight so you can get some rest on those longer road trips.
7. Membership Clubs
Programs like Thousand Trails and Coast to Coast work by charging a larger on-time fee+annual dues that will then allow you to camp for free or very low cost within their network.
Thousand Trails for example has 193 campgrounds spread around the U.S.
You can buy into one of the 5 Thousand Trails zones to get campgrounds near you or you can buy into the whole network for free camping whenever you're in a Thousand Trails campground.
Coast to Coast also has many campgrounds in it's network, but generally still charges $10/night even after you've paid the large membership fee.
Thousand Trails and Coast to Coast are just two examples of the many membership camping options out there that'll let you park your RV and live in it.
A quick search for "RV membership clubs to park my RV" will show you many options.
These membership clubs might seem expensive on the front end, but if you plan to park your RV and live in it in different places for many years on the road, you can quickly start saving a lot of money.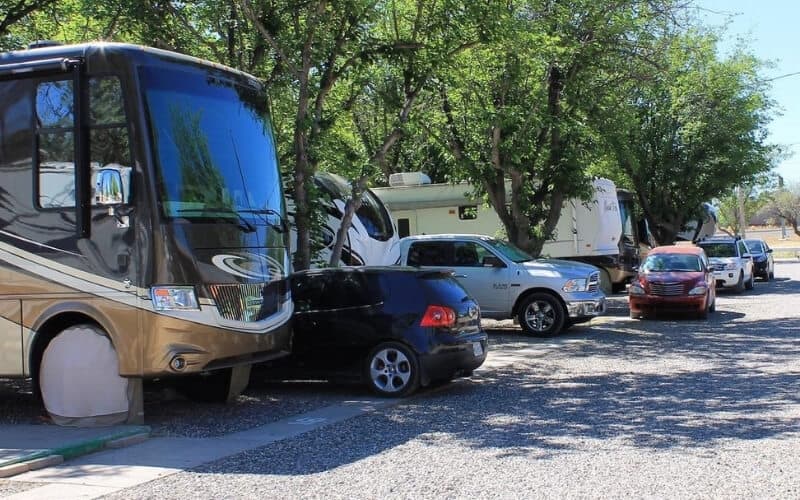 8. Discount RV Clubs
There are many discount clubs out there that will help you park your RV to live in it without spending a fortune.
AAA is a common auto club membership for people in the United States, but it will often get you discounts at many campgrounds around the U.S.
Good Sam Club is one of the largest and most popular campground discount clubs that offers discounts at thousands of member campgrounds.
Passport America offers steep discounts at campgrounds around the U.S., but dates to use the discount can often be limited to weekdays or other low seasons for RV parks.
Escapees is primarily a club to help full-time RV'ers get the resources they need to thrive on the road.
Along with this, Escapees also has a large discount campground network that can save you a bundle while living in your RV.
These are just a few examples of the many different discount clubs that can help you live in your RV for much less. By joining a discount club, you'll be living like a pro on the road.
9. Harvest Hosts Free Overnight RV Camping
Harvest hosts is a network of farms, wineries, ranches, and other venues that allow RVers to park for one night during trips.
By purchasing a Harvest Host membership, you'll be able to stay for free in your RV at any of the 1,000+ locations in the Harvest Hosts network.
The general rule is that you stay in your RV for 1 night only and that you support your host by purchasing something at their shop or winery.
10. Boondockers Welcome
Much like Harvest Hosts, Boondockers Welcome is a network of homes, businesses, and venues where you can park your RV for one night for free because you are a member.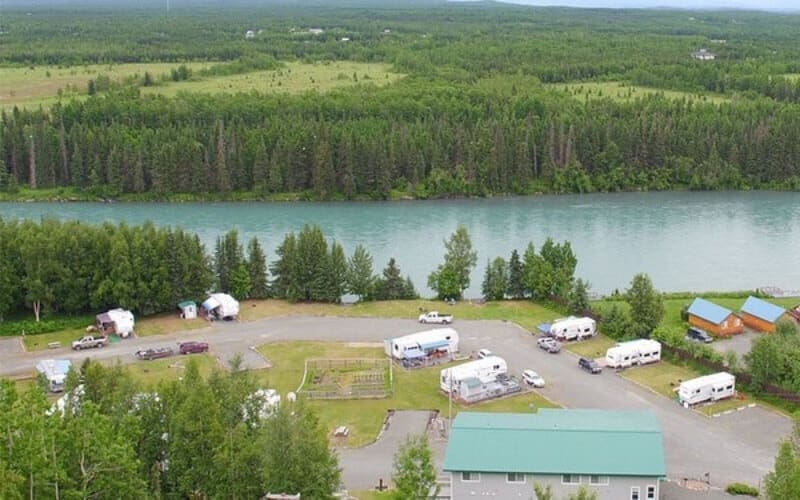 11. Long-Term RV Spot Rental
Many RV campgrounds will allow you to rent a spot long-term to live in your RV.
This can be a great option because the campground will almost always give you a steep discount for renting long term.
It's also nice to live in your RV yet still come home to the same place every night. That way, you can experience the RV life, save money, and hopefully have fun neighbors.
12. Buy an RV spot
If you plan to live in your RV in one place for many years, you might want to consider buying an RV spot.
While not offered at every campground, some campgrounds will actually allow you to purchase a space for your RV.
Once you pay for the spot, you'll be living there in your RV for only the cost of utilities.
This can be a great option if you plan to live in your RV on a more permanent basis.
13. Friends and Family
If you know people who have land, why not ask them if you could park your RV to live at their extra space?
Many RVers do this usually in exchange for paying rent.
But another option is to take on work around your friend or family's home to cover the costs of living on their land in your RV.
There are beautiful pieces of land all over the U.S. that sit unused. If you happen to have friends or family with the space, why not ask them if you could park your RV there for a time?
How much will it cost me to live in my RV?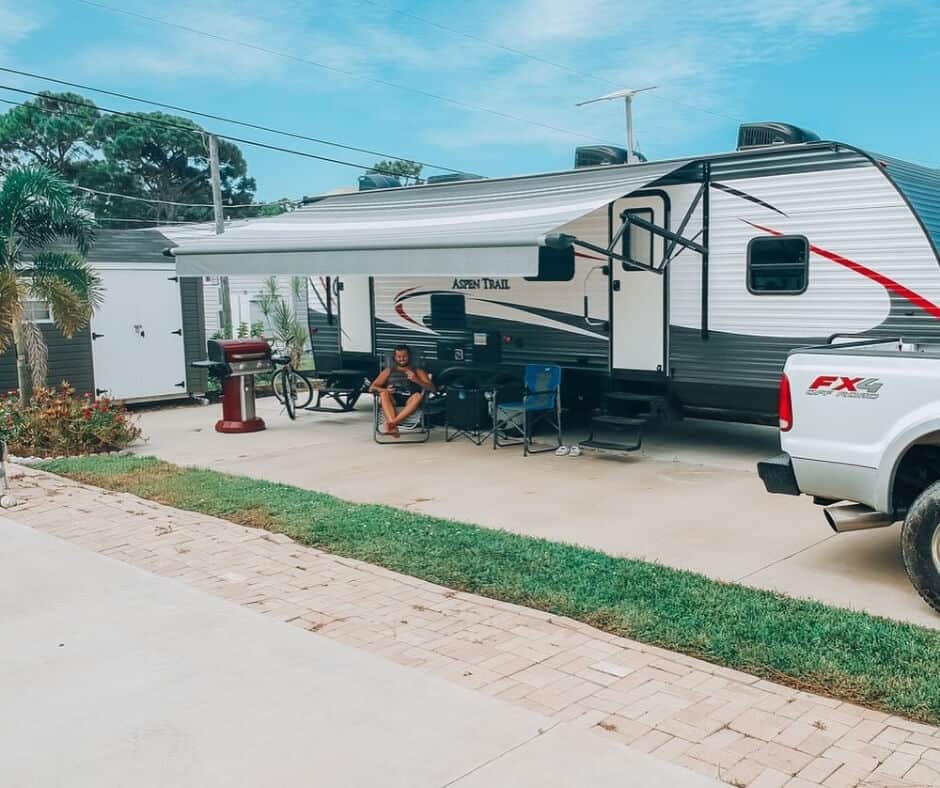 The costs of living in your RV will vary depending on where you want to live, how nice the RV park is, and what kind of creative steps you take to decrease your living costs.
So, the first step you will want to take is to determine the budget you have for living in your RV.
Some people live in their RV for as cheap as $200/month, but these are often in parks or locations that can be run down.
But run down doesn't always have to mean unsafe or undesirable – you may find an RV parking spot for that price that you enjoy very much.
If you want to park your RV and live in the most scenic parts of the United States, this can be done, but you will generally pay more for that privilege.
In popular areas such as those near national parks, the ocean, or majestic mountains, you can find some RV parks that will charge $800+/month – with some parks costing into the thousands of dollars per month!
Even in these popular areas, however, you can find national lands and Bureau of Land Management campgrounds to park your RV for free. You just won't have hookups.
The bottom line is that living in your RV can cost a lot or a little depending on how you handle it.
The best way to live in your RV for low cost is either to stay in one low cost RV park for long periods of time or to travel and make use of free/low cost lands.
If you make use of all the strategies above, there is no reason you can't live in your RV in wonderful locations for less than $4k/year – and oftentimes much less if you take advantage of free camping, campground networks, and discount clubs.
How to lock in a great spot to live in your RV
Locking in a great spot to live in your RV takes time. The best way to start is by first asking yourself some questions:
Do you want to live in your RV primarily in one location or travel around?

What is your ideal budget for living in your RV?

What region of the country do you want to live in in your RV?
Generally, new RVers haven't yet explored enough to find the one or two spots they want to live in in their RV.
That's why it's best for new RVers to take several trips to different locations before deciding the area they would want to live in in their RV.
Once you know where you'd like to live in your RV, then the best way to lock in great spots is doing a fair bit of research ahead of any area you might park your RV.
Call around to RV campgrounds in the area to see what sort of deals they have.
Ask about which discount network is the most popular and gives the best deals for the area where you want to park your RV.
See if there are any campground membership clubs that you could join to save yourself a bundle.
Think if you have friends or family in the area who might offer you a spot to park your RV to live in.
Check classifieds for RV spots for sale or rent. You could also look for anyone with land for rent and call them to see if they might let you park your RV on part of it.
Conclusion
Finding a place to park your RV to live in might seem like a scary task. But there are more and more people every day who are taking the leap into full-time RV living.
That means the options for places to live in your RV are growing every day to fill the demand for RVers needing places to live.
By learning and implementing the strategies above, you'll find some of the best places to live in your RV at the best prices and with the best people to have as neighbors.