Popup campers have long been popular with families who need to sleep a lot of heads, but don't want to invest in a heavy travel trailer and the robust pickup truck needed to tow it.
They tend to be a great entry point for families who need to be mindful of their budget and still want to bask in everything the RV experience has to offer.
If this sounds like your jam, then you are probably wondering how much a popup camper costs?
A new, popup camper with minimal special features will run you right around $10,000. Whereas a new model with a lot of bells, whistles and creature comforts could run as high as $20,000 to $25,000. Of course, there is nothing saying that you have to buy a brand-new popup camper straight off the dealership lot.
When you consider the rapid depreciation most popup campers experience, you might be able to find a gently used one for as little as $2,000.
If this still sounds like too much of an investment for your budget, as you might only make one or two camping trips in a given summer, then renting a popup camper might be the better option.
With so many ways to enjoy what a popup camper has to offer, we decided it was high time to get a low down on one of the most popular types of RV.
Buying A New Popup Camper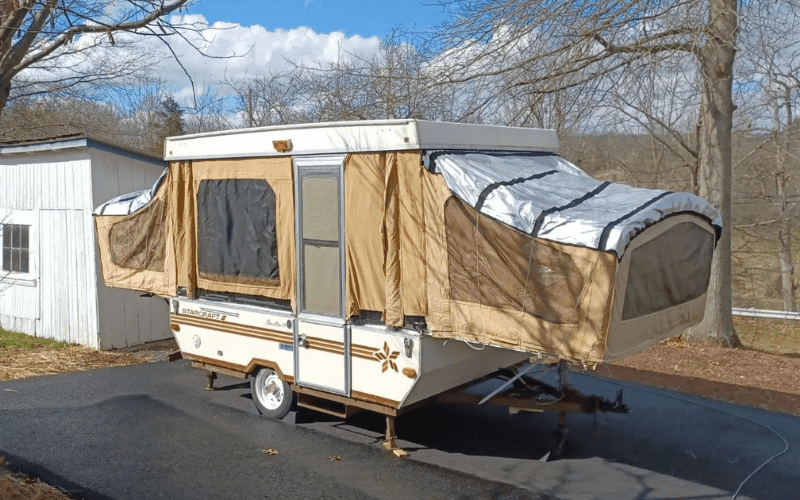 When you consider the relatively low-price tag compared to a lot of other RVs buying a new popup camper is attractive.
You get that "New Camper Smell" as well as the peace of mind that comes with knowing you aren't inheriting someone else's maintenance problems.
At sticker price of $10,000 marks the bottom end of the new popup camper range.
This is a basic, yet functional camper with sleeping space for four to six people, a two-burner stove and perhaps a mini-fridge.
When you fully deck out a new popup camper the price can go up to as high as $25,000.
Features that can increase the cost of a new popup camper:
Additional Costs When Buying A New Popup Camper
Unless you've recently come into a tidy inheritance, chances are good that you will need to finance your new popup camper.
This can add in a variety of additional "Hidden Costs" that might not be immediately obvious when planning your budget.
Financing A Popup Camper
Just like with a car or home loan, most lenders will apply interest to the amount you finance.
At the same time, interest rates are always fluctuating, and your personal credit score can be a factor on the interest rates they offer.
If you were to stretch out your payments over the course of 20 years, and the lending institution offered you 5.5% interest, you could end up paying over $6,000 in additional interest.
This can be a major factor, when you consider that most popup campers have a lifespan of 15 years.
Insurance For A New Popup Camper
Most lenders will require you to carry insurance on your popup camper for the duration of the loan.
The cost can vary based on the value of your popup camper, the amount you took out for the loan, and your personal accident history.
The average cost to insure a new popup camper can range from $200 to $500 a year.
If you happen to take out a 10-year loan this could add an extra $1,000 to $4,000 to the cost of popup camper ownership.
Popup Camper Depreciation
All RVs depreciate, and popup campers are unfortunately some of the fastest depreciating RVs. You can expect it to decrease.
You can expect that brand new popup camper to lose 35 to 40% of its value in the first three years and suffer up to 75% depreciation by the time it hits 5 years old.
The Cost Of A Used Popup Camper
Popup campers tend to be an entry-level RVs. Many families invest in them to get an affordable taste of the RV camping experience.
After a few years, many popup camper owners decide to upgrade to something bigger.
At the same time, popup campers suffer from rapid depreciation. This means, if you are willing to take a chance on a gently pre-owned popup camper, you should be able to find a good deal.
Used Popup Camper Cost Of Ownership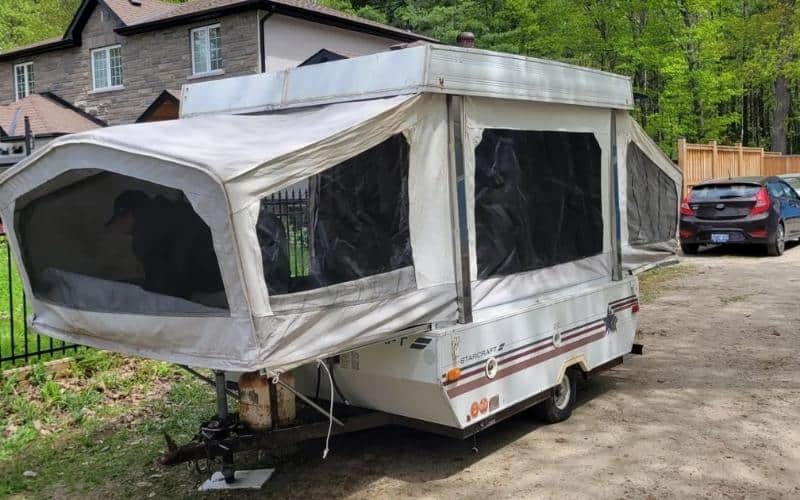 Cost of ownership is one of the potential problems with buying a gently used popup camper.
By three to five years old, most popup campers will experience some type of leak in the tent.
If it is caught early, you might be able to use a simple canvas repair kit to deal with the leak.
If a tent section suffers multiple serious leaks, then you might need a wholesale replacement tent
Mechanical repairs can also be a factor when buying a used popup camper.
The wheels on most popup campers are relatively small, and the bearings can suffer excessive wear and tear within 10,000 to 15,000 miles.
If one starts to go out, it only makes sense to have both sets of bearings replaced and repacked.
Other mechanical repairs and maintenance can also affect a used popup camper's cost of ownership. This includes things like:
Insurance Cost For A Used Popup Camper
If you are financing a used popup camper, the lender will also require you to keep it insured throughout the life of the loan. This can cost between $150 to $350 per year.
If you purchase the used popup camper outright, you won't be required to insure it, unless you live in the state of North Carolina, where all RV's must be insured by law.
Though it might still be a good idea to protect your investment, as most vehicle insurance policies will only cover towed trailers when they are hitched on and being actively towed.
Cost To Winterize & Store A Popup Camper
Technically a popup camper is designed to be able to live outdoors in all four seasons, so long as it is collapsed, and the case is properly sealed.
Though even this can lead to leaks or excess wear and tear. It is best to store your popup camper indoors in the winter to help extend its overall life and makes it easier for you to prevent damage from rodents.
How Much Does It Cost To Rent A Popup Camper?
If you are only going to take one or two RV camping trips per summer, it might make more sense for you to simply rent a popup camper.
Sites like Outdoorsy and RV share can help you connect with popup camper owners who are interested in renting out their popup campers. This can cost anywhere from $50 to $125 a night.
A lot of rental agreements will include setting up the popup camper at the RV park or campground of your choice for a small fee of $25 to $50.
This spares you the stress of having to tow it, back it up or figure out how to set it correctly the first time.
How Does A Popup Camper Affect MPG?
The fuel cost to tow a popup camper is another secret cost of ownership.
While they are lightweight, you can still expect a popup camper to decrease your SUV or other tow vehicle's fuel efficiency by 5 to 7 MPG.
When you factor this in a 300-mile trip towing a popup camper could cost you an additional $75 to $125, depending on the price per gallon of gasoline.
The Real Cost of Popup Camper Ownership
There's no doubt about it, popup campers are incredibly popular and there are a lot of great options on the new and used market.
If you are dead set on buying new and you are thinking about financing, you can expect to pay between $10,000 to $20,000 just on the sticker price.
Then you have to factor in interest from the loan, as well as the insurance that will be required by the lender.
This could add another $200 a year to the cost of ownership and $5,000 to $6,000 in interest over the life of the loan.
So, that $15,000 MSPR popup camper could end up having a final bottom line price of $22,000 over the course of a decade.
On the lower end of the spectrum, a gently used popup camper that has depreciated down to around $3,000 might be bought outright.
Then you wouldn't need to worry about insurance and interest added to the final price tag.
Though you will likely see higher maintenance costs in the first year or two of ownership.
If you have to replace the canvas for another $1,000+ then you could be looking at a popup camper that costs you $3,000 up front and another two grand in the first two years.