Sorting through travel trailer floor plans is like looking for information in an encyclopedia.
There is absolutely no shortage of options and it can be easy to feel overwhelmed. From a practical standpoint, however, a rear kitchen travel trailer makes a lot of sense.
The best rear kitchen travel trailer floor plans provide more living room space for family gatherings and entertainment.
They can also make it easier to prepare meals inside and then quickly transport food and utensils outside when the weather is warm and dry.
Most importantly, many rear kitchen travel trailers feature large pantry areas and residential-sized appliances.
Of course, the best design for you will depend on whether you prefer boondocking, full hookup campsites, or something in between.
Fortunately for you, we have reviewed seven amazing travel trailers with rear kitchens below.
We have highlighted important specifications and the top features for each and suggested the type of camping or campers that each is best for.
If you are looking to invest in a travel trailer this year, these models definitely deserve a closer look.
So let's take that look now!
7 Of the best Rear Kitchen Travel Trailers In 2021
Each of these trailers have nuances that make them uniquely positioned to serve different needs. So let's take a hard look at the specifications and best features of all of them.
1. Forest River Heritage Glen 283RK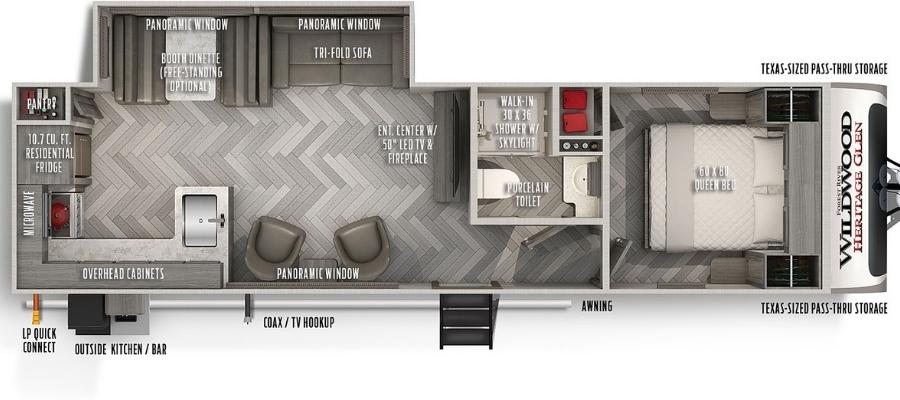 Top Features
Solid Surface, L-Shaped Kitchen Countertop
Full-Height Pantry for Dry Goods Storage
10.7 Cubic-Foot Residential Refrigerator
The kitchen in the Forest River Heritage Glen 283RK travel trailer features residential appliances that provide exceptional perishable food storage capacity and the ease and convenience of a residential kitchen.
The residential refrigerator offers 10.7 cubic feet of storage space and there is a full-height pantry next to it for all of your dry goods.
The range features multiple burners with an oven underneath and a microwave above.
A long, L-shaped counter provides plenty of space for preparing meals. Solid surface countertops give the kitchen a seamless look and make it easy to wipe clean.
Plus, there is a large, single-basin stainless steel sink that gives you plenty of room for cleaning up after meals.
A total of three panoramic windows in the kitchen, dining, and living areas give the space an open feel by letting in an abundance of natural light.
The long slide-out on the opposite side from the kitchen sink provides a comfortable living space across from the kitchen.
LED lighting throughout brightens up the space and makes it energy efficient. Glass inset cabinetry also provides a unique look while providing a practical visual into what is inside cabinets (to take the guesswork out of it for guests!).
On the exterior, a small outdoor kitchen allows you to enjoy indoor-outdoor cooking ability on warmer summer evenings.
Plus, a long awning with built-in LED lighting provides shade during the day, protection from light rain, and cozy ambiance in the evenings.
If you plan to do any cool weather camping with this trailer, you will also benefit from 12-volt heating pads on all holding tanks, a 32-inch glass front electric fireplace, and an upgraded insulation package.
2. Coachmen RV Freedom Express Ultra Lite 246 RKS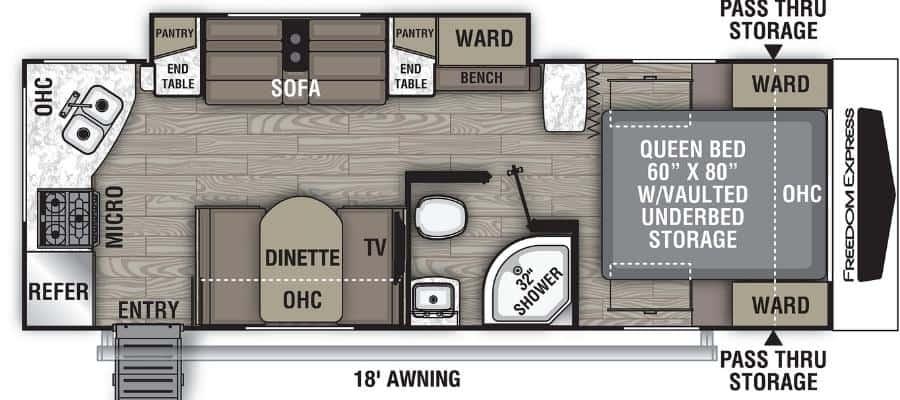 Top Features
Double-Door Refrigerator
Stainless Steel Sink with Cover
Glass-Top Cooking Range
The Coachmen RV Freedom Express Ultra Lite 246RK travel trailer's rear kitchen boasts a three-burner range with a glass top and an oven underneath.
The double-door refrigerator makes it easy to access your perishable foods from any angle and a microwave is convenient for quickly reheating leftovers.
The entry to this travel trailer is right off the kitchen, which makes it easy to hand food items and utensils out to your setup assistants for outdoor dining.
Opposite from the door, a pantry provides ample space for dry food storage and a small end table underneath gives you extra countertop space.
Speaking of those countertops, they are actually extended and angled away from the back wall of your trailer after the cooking range.
This further increases the counter space around the dual-basin stainless steel kitchen sink in this trailer's kitchen.
For cold weather protection, the underbelly of this travel trailer is fully heated. Plus, it also comes with a winterize ready kit that makes it easy to protect your trailer from cold weather damage while you store it during the winter.
There are also a number of options that you can choose to add to this travel trailer for more comfortable living.
That includes a second 15,000 BTU A/C unit, a larger refrigerator, a radiant barrier pack for added insulation, and an upgrade to 50 amp service.
As it is, the pass-through front storage compartment provides plenty of underneath cargo space and the 18-foot awning on the passenger side of the trailer gives you a covered area for comfortable outdoor lounging.
Although it is a close competition, this rig also has the lowest hitch weight of all the rear kitchen travel trailers on our list. That makes it the best option for folks with smaller trucks and even robust SUVs.
3. Grand Design RV Imagine 2250RK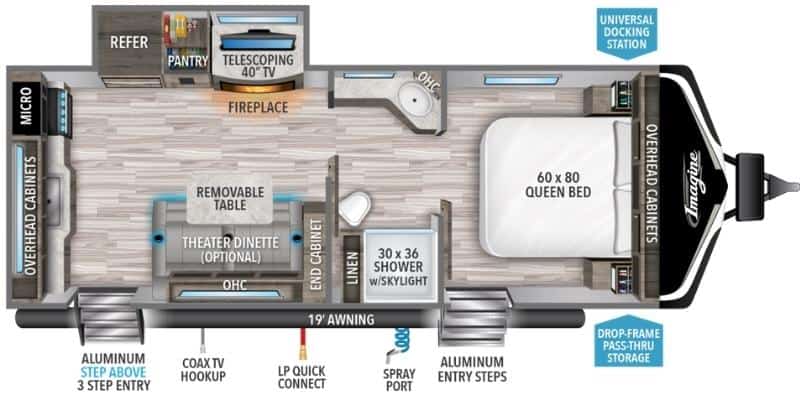 Top Features
Panoramic Rear Window Over Kitchen Sink
Double-Door Refrigerator
Stainless Steel Sink with Cover
The Grand Design Imagine 2250RK has one of the few rear kitchen floor plans that include a large rear window.
So you can enjoy a view out the back of your trailer while you are cooking.
Plus, you can enjoy easy access to your perishable foods with a double-door refrigerator and convenient cooking on a three-burner range, in the oven below, or in the microwave above.
The residential countertops in the kitchen provide a beautiful finish and make everything easier to clean.
While the straight countertops provide slightly less counter space than some other models, a sink cover over the stainless steel sink in this trailer allows you to maximize the counter space when preparing meals.
Above the sink, overhead cabinetry gives you an easy place to store plates, bowls, and other kitchen appliances.
To the right, you will find the large refrigerator and an ample pantry area where you can store your dry food goods.
In the living area, you will be able to enjoy your favorite sports, shows, and movies on a telescoping 40-inch television that pushes back and secures to the wall when you are driving.
Underneath that television, a 5,000-BTU electric fireplace provides warmth and ambiance on cooler evenings.
This travel trailer features a quick-recovery water heater that can recover up to 17.8 gallons of water per hour.
That will make it easier for the whole family to shower without having to wait 30 to 60 minutes for the water heater to recover between showers.
This rig is also a great choice for folks with smaller trucks or SUVs. This trailer's hitch weight isn't much higher than the Freedom Express and it is also one of the only rigs on our list that offers two separate entry doors.
One entrance leads you directly into the bedroom while the other provides kitchen access.
Both are outfitted with aluminum entry steps and a 19 foot awning spans the vast majority of the passenger side of the trailer.
Underneath the awning, there are hookups for propane gas and an outdoor television. Plus, there is a spray port that makes it easier to clean feet before entering the trailer.
4. Prime Time RV LaCrosse 3411RK
Top Features
Single-Basin Stainless Steel Sink with Sink Cover
Residential-Size 12-Volt Refrigerator
Stainless Steel Residential J-Spout Kitchen Faucet
The Prime Time RV LaCrosse 3411RK offers one of the most open kitchen/dining/living room floor plans that you will find among rear kitchen travel trailers.
Slide-outs on both sides of the trailer open up the space in the dining and living areas, respectively.
Plus, there is an additional third slide-out above the headboard of the king-sized bed in the master bedroom. Overall, this means expanded square footage for camping with a larger family.
The kitchen boasts a U-shaped design with the single-basin stainless steel sink on the right and the three-burner range with an oven underneath on the left.
There is also a microwave above the range and solid surface countertops throughout.
Above the counters, ample overhead cabinetry provides storage for kitchen appliances and utensils.
There is also a large pantry next to the 12-volt refrigerator for your dry goods. Brushed nickel fixtures and black hardware throughout provide a sleeker look than many other models.
In the master bedroom, you will also enjoy his and hers full-height closets with a bench area between.
You will also be able to stay comfortable in all climates with bedroom heat and air conditioning vents for better air circulation throughout your sleeping space.
On the exterior of this travel trailer, a 16 foot awning provides shaded lounge space and the underside of the awning includes built-in LED lighting for evening safety and ambiance.
There is also an outdoor shower with a detachable hose and the roof is prepped for a solar panel installation if you are interested in dry camping or boondocking.
Finally, this travel trailer is a great choice if you are interested in extended season camping.
It boasts an enclosed and heating underbelly, heated holding tanks, and double layer insulation on the front cap to keep the bedroom warmer.
5. Keystone RV Cougar Half-Ton 26RKS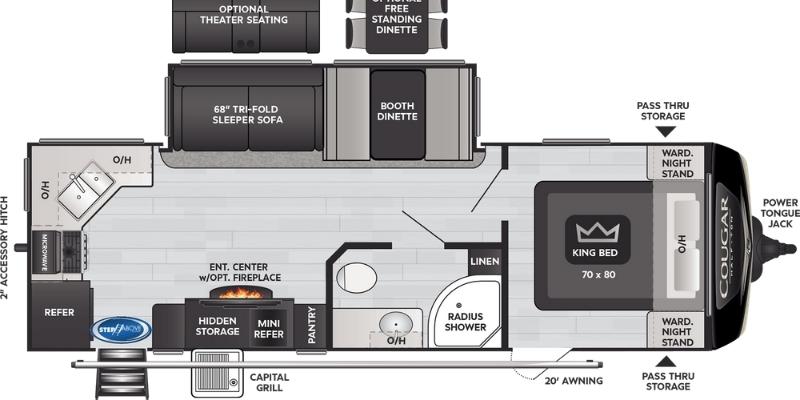 Top Features
10.4 Cubic-Foot Residential Refrigerator
High-Rise Chef's Faucet and Sprayer
Hidden Hinges and Residential Hardware On Cabinet Doors
The chef in your family will enjoy the L-shaped seamless countertops and the added storage that comes with a 10.4 cubic-foot residential refrigerator in the Keystone RV Cougar Half-Ton 26RKS travel trailer.
Whoever gets the privilege of doing dishes after meals will love the stainless steel kitchen sink and the high-rise chef's faucet and sprayer.
Plus, having the solid entry step right off the kitchen makes it easy to transport food, cooking utensils, and place settings out for outdoor dining when the weather is nice.
The kitchen in this travel trailer also boasts hidden hinges on all of the cabinet doors for a sleek finish.
It also includes a cooktop with multiple burners, an oven underneath, and a microwave above for easy reheating.
This travel trailer is another excellent option for anyone with a larger, half-ton truck.
It not only boasts a rear kitchen floor plan, but this trailer also includes an outdoor kitchen with a Capital Grill™ to make your summer cookouts easier.
Also on the exterior of this trailer, you will find an outdoor shower, an electric awning with a gas strut arm, and solar panel installation prep on the roof and side of the trailer.
Plus, the 60-gallon freshwater tank in this trailer is one of the largest in the industry, which makes this a great choice for dry camping.
When it is time to relax, turn on the electric fireplace in the living area with a remote control and flip the television to your favorite show.
If you are hosting guests, they will sleep comfortably on the 68" tri-fold sofa that comes standard in the living room with this floor plan.
For those of you that do not anticipate hosting guests, you can also consider upgrading that tri-fold sofa to theater seating.
Cougar's theater seating option for this travel trailer comes with heat and massage options to soothe your muscles after a long day of adventure.
6. Jayco Jay Flight 29RKS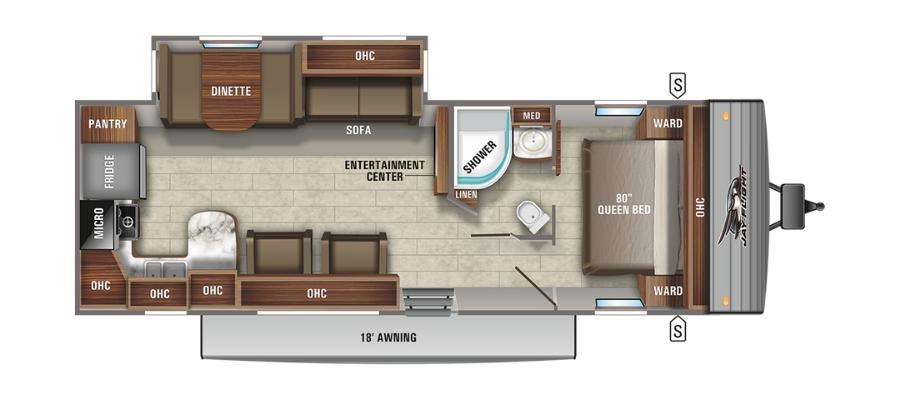 Top Features
Seamless L-Shaped Kitchen Countertops
Large Pantry for Dry Food Storage
Comes with Sink Covers and Rolling Drying Rack
The L-shaped kitchen countertop in the Jayco Jay Flight 29RKS travel trailer's floor plan protects the kitchen from the trailer's entryway.
This keeps kitchen traffic down while also making it easy to set food and utensils on the counter to be transported outside for outdoor dining.
Also in the kitchen, this trailer boasts a stainless steel microwave, a range with multiple burners and an oven.
So you can still bake your famous cookies from the comfort of your travel trailer and cook meals just like you were at home.
On the back wall of this rig, a large pantry on the right provides plenty of storage for dry food goods.
Next to that, the stainless steel residential refrigerator operates on liquid propane or electricity, depending on whether you are traveling or plugged in at a campground.
A stainless steel cooktop, oven, and microwave round out the main appliances in the kitchen of this travel trailer.
From there, seamless countertops provide plenty of room for food prep and a dual-basin kitchen sink comes with sink covers and a rolling drying rack for your dishes.
The Jayco Jay Flight travel trailer has been America's best selling RV for 15 years and counting.
It earns that level of distinction with its JAYCOMMAND™ Smart RV System, which allows you to monitor and adjust the key elements of our travel trailer right from your smartphone, and its modern interior design.
So, if you are out on a hike when the temperatures begin to drop, for example, you will be able to adjust the thermostat from your phone so that you return to a warm and cozy travel trailer.
To mention a few exterior amenities, this trailer is equipped with LED lighting, a quick connect for propane (for outdoor grilling), and an exterior TV bracket for easy installation of an outdoor entertainment center.
7. Heartland RV Sundance XLT 242RK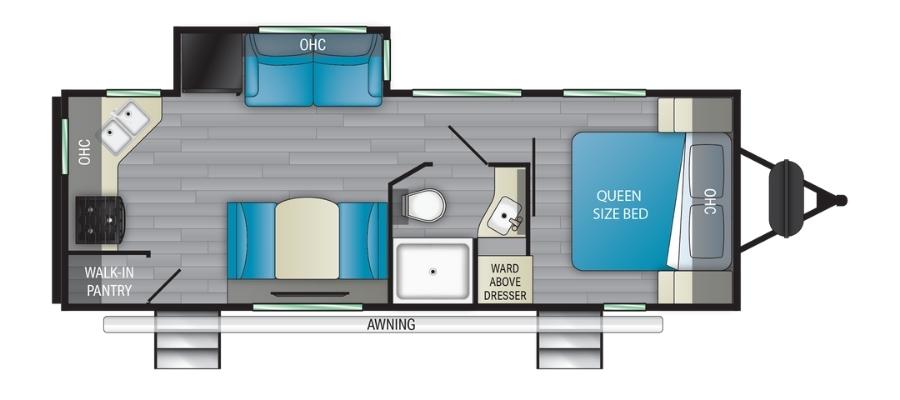 Top Features
Flush Mount Cooking Range with Glass Top
Pressed Countertops
Spring-Loaded, Hidden Hinge Cabinet Doors
In the kitchen, the Heartland RV Sundance XLT 242RK travel trailer is one of the few floor plans with a full-height walk-in pantry.
So if you need more dry food storage and easy access to those dry foods, this is the floor plan for you.
Depending on where you are, this travel trailer can be equipped with a 10 cubic-foot 12-volt refrigerator (eastern buyers) or an eight cubic-foot gas/electric refrigerator (western buyers).
It also includes all stainless steel appliances and a flush-mount cooking range with a glass top for added durability and easier cleaning.
The kitchen layout has an entryway on the passenger side of the trailer, but there is plenty of space for traffic to go in and out without getting too far into your cooking area.
Plus, a slide-out on the driver's side pops out the area where the refrigerator and tri-fold sofa are located, which further increases the interior living space.
Pressed countertops and cabinet doors with hidden hinges give this kitchen a clean, residential look.
It also includes two tinted safety glass windows on the back wall and next to the kitchen sink, respectively.
This allows in plenty of natural light so you don't feel like you are cooking in a dungeon.
Folks with a lot of outdoor recreation gear will love the colossal underneath storage compartment in this travel trailer.
The compartment can be accessed from either side of the trailer and it is equipped with motion-activated LED lighting so that you don't have to worry about needing a flashlight or headlamp when you need to get something out in the evening.
While we are discussing exterior features, this trailer also boasts two sets of entry steps with extra-large handles that make it safer to move in and out of the bedroom or living room.
Plus, an electric awning with built-in LED lighting and roof prep for a solar panel installation.
When it comes to comfort, this travel trailer comes with a 30,000-BTU central furnace and a 13,500-BTU air conditioning unit.
If you frequently travel in very hot or humid climates, you will also have the option of installing a second air conditioning unit in the bedroom or upgrading to a 15,000-BTU A/C unit.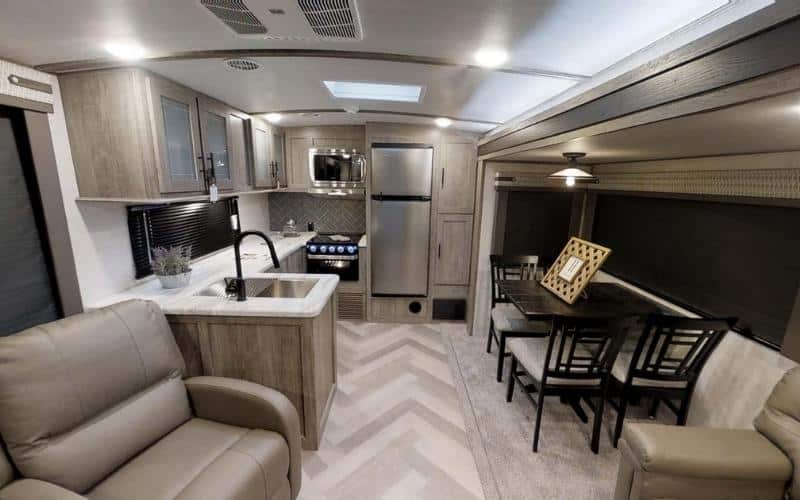 Benefits of a Rear Kitchen Travel Trailer
Why would you choose a rear kitchen travel trailer over a design with the kitchen in the middle or front of the floor plan? Here are few important benefits of this travel trailer floor plan:
Traffic Flow
One of the best parts about a rear kitchen travel trailer is that you don't walk through the door and directly into a centrally-located kitchen.
Most of these floor plans keep the entry door in the center of the trailer so that you don't have dirty feet entering your kitchen while you are trying to cook.
Some, however, do have dual entry doors that provide direct access to either the kitchen or the bedroom.
But this still gives you the ability to control traffic flow in and out of your travel trailer while you are in the kitchen.
Ceiling Height
Front kitchen travel trailers also solve that traffic flow issue, but most floor plans with kitchens in the front feature a step-up design.
This means that you often have lower ceilings in a front kitchen travel trailer compared to models with the kitchen in the middle or rear of the unit.
So, with a rear kitchen travel trailer you will enjoy better traffic flow through your rig while still enjoying a full height ceiling in your kitchen. This is especially important for taller travel trailer owners.
Expanded Pantry Storage
Many rear kitchen travel trailers also have larger pantry areas than you will find with middle kitchen or front kitchen floor plans.
This is mostly because an entire corner or the full width of your trailer can be dedicated to dry food storage.
More Counter Space
If you have ever lived or traveled in an RV or travel trailer, you already know about the limited counter space in most mobile kitchens.
Many of us wind up doing a lot of our food prep on the dining room table because of the lack of counter space in the kitchen.
When it comes to rear kitchen travel trailer floor plans, you will be hard pressed to find floor plans with more counter space than these.
This is because they can extend the counters across the entire back wall of your trailer.
More Comfortable Living Room Space
In many trailers with the kitchen in the middle, it is hard to tell where the kitchen ends and where the living room begins.
Plus, your family might be trying to enjoy entertainment or play a game while you are in the middle of preparing a delicious camping meal.
Rear kitchen travel trailers eliminate this issue by providing a more clear distinction between the kitchen and the living room.
So, not only will you have less traffic through your kitchen while you are cooking, but you will be able to enjoy a more comfortable living room area while activity is going on in the kitchen as well.
Disadvantages of a Rear Kitchen Travel Trailer
There are also a few drawbacks of choosing a travel trailer with a rear kitchen floor plan. So, we think it is in your best interest to point those out as well!
Weight Distribution
Loading the weight of your travel trailer for safe towing is really important. In general, you want to keep about 60% of the weight you load into your trailer in front of the axle.
This is why most of these travel trailers place the storage compartment at the very front of the rig.
That being said, the perishable and dry goods that you load into your travel trailer can actually account for a lot of the loaded weight when it is time to tow.
With the refrigerator and pantry areas located at the very back of the trailer, it can sometimes make it harder to distribute the weight of your trailer evenly for safe towing.
Darker Interior
With some of the older rear kitchen travel trailers, the interior living and cooking spaces wound up being rather poorly lit.
If this is a concern of yours, definitely look for a floor plan that includes panoramic windows on the sides of the trailer.
But you definitely won't be able to enjoy a large window at the back of your trailer with a rear kitchen floor plan.
A Myth About Rear Kitchen Travel Trailer Floor Plans
When you are shopping for a rear kitchen travel trailer, you might hear about this common myth that has been circulating for years.
As with most myths, it did not simply appear out of thin air with absolutely zero validity to back it.
However, manufacturers of modern rear kitchen travel trailers are well aware of this myth and they have taken steps to address it. So, without further adieu, here is the myth:
Your dishes and appliances are more likely to sustain damage from the trailer bouncing while you are towing it.
This is a myth that you will see if you explore any forums about the pros and cons of a rear kitchen travel trailer.
From our research, however, damage to dishes is more likely the result of improper packing than it is attributable to the design of the travel trailer as a whole.
Additionally, the security of the appliances is intentionally designed to handle the extra bouncing that occurs towards the back of a travel trailer when it is being towed.
So, in our opinion, this factor wouldn't be enough to outweigh the benefits that a rear kitchen travel trailer can provide.
Conclusion
A rear kitchen travel trailer makes it easier to keep your cooking space separate from the lounge or recreation areas of your rig.
When kids run in and out of your trailer while you are cooking, they won't be coming right through your kitchen.
Plus, you don't have to deal with the lower ceilings that often come with many front kitchen travel trailers.
This is why a travel trailer with a rear kitchen is a great choice for taller travelers that love to cook.
At the end of the day, the perfect floor plan for you will be highly dependent on your personal preferences.
Because there are so many floor plans out there, we can understand if you feel a little overwhelmed with all of your choices.
We highly encourage travel trailer shoppers to see as many floor plans in person as possible.
This will allow you to really feel how the floor plan will function once you are using it.
Or, you can even rent a few different rear kitchen travel trailers to test them out! As always, we hope that you have enjoyed the reviews of the best rear kitchen travel trailer models we could find and we hope they have helped you increase your RVing Know How.
Let us know what you look for in a travel trailer floor plan in the comments below!