Hello, wanderlusts and travel enthusiasts! The open road beckons, and what better way to answer its summon than with a trusty road companion that's just the right size? Enter the marvelous world of ingeniously designed small motorhomes, each boasting toilets and showers for your convenience. 
These compact wonders are the Swiss Army knives of travel – small but oh-so-mighty! Perfect for couples on a romantic getaway or families looking to bond over campfires and marshmallows, these motorhomes pack in the essentials without emptying the bank.
Worried about steering a behemoth? These little beauties laugh in the face of tight corners and narrow roads. Handling them is as easy as a summer breeze, making them the ideal choice for seasoned travelers and those just dipping their toes into the world of motorhome adventures.
Gear up for an exhilarating journey through the world of small motorhomes! In the upcoming sections, we'll uncover the remarkable features, explore the available types, and provide essential insights for choosing the perfect motorhome.
From exploring the charm of campervans to the allure of Class B and Class C motorhomes, we'll leave no stone unturned. Get ready to be inspired, informed, and captivated as we unlock the secrets of these compact travel companions. Let the adventure begin!
From Campervans to Class C, Uncover Your Perfect Travel Companion:
Whether it's winding through scenic byways or parking by lakeside retreats, small motorhomes are your trusty companions. But let's get this straight; not all tiny motorhomes are created equal. We have three distinct players in this game:  Campervans, Class B motorhomes, and Class C motorhomes. Each wears its cloak of advantages and a few trade-offs.
Now, imagine sipping coffee to mountain views or listening to waves under starry skies – all from the comfort of your own space. The choice between campervans, Class B, and Class C motorhomes is critical to turn this dream into reality. It's like picking a travel buddy – you want to ensure they have the qualities that complement your journey.
With a focus on efficiency, campervans make for easy traveling with their compact build. But when you're looking for something that provides a tad more space without sacrificing maneuverability, Class B motorhomes are the answer. And if you yearn for an even more substantial range of comforts without leaping a full-scale RV, Class C motorhomes seamlessly fill that niche.
So, fasten your seat belts as we dive deeper into the nitty-gritty of these three contenders. I will use my years of experience in RVing to assist you in choosing the perfect road companion for your exploits.
The Charm of Campervans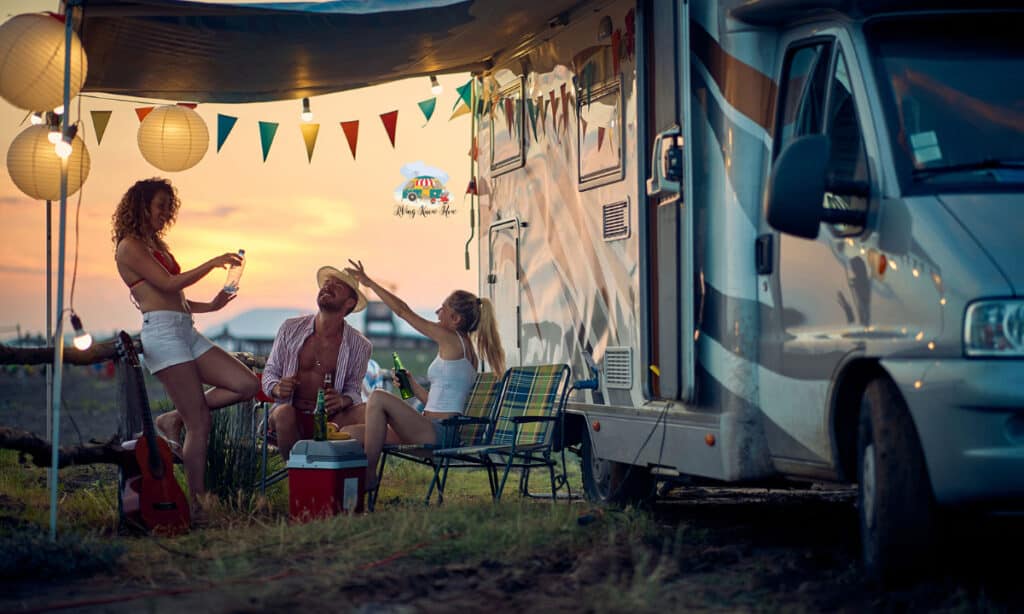 Campervans are the embodiment of freedom and simplicity. Envision a meticulously modified van in a compact living space where every inch is optimized for utility and comfort. With their vibrant demeanor, campervans have an undeniable allure for those who yearn for spontaneous getaways without the hassle of pitching tents or booking hotels.
For some campervan legends, the Volkswagen Westfalia has been a classic favorite, adored for its retro charm. The Mercedes Sprinter comes to mind on the more modern end, celebrated for its dependability and sleek design.
At their core, campervans are streamlined adventurers – compact, practical, and ready for the open road. They resonate with those who fancy spontaneous getaways without the hassle. Simplistic yet efficient, small campervans with toilets and showers are tailored for the wanderers who embrace the essence of mobility and cherish the thrill of a journey unbound by hefty luggage or rigid schedules.
The Allure of Class B Motorhomes
Class B motorhomes exude a balance between comfort and practicality. Think of the agile nature of a campervan, but with an added layer of space and conveniences – this is the realm of Class B motorhomes. They adeptly combine maneuverability with a dash more luxury, ensuring that adventures remain spirited and boundless.
Leading the charge in Class B excellence, Airstream and Pleasure-Way hold their own. Airstream Interstate sets the bar high with plush interiors and ingenious use of space; it combines luxury and functionality. As for Pleasure-Way Plateau, it boasts a modern and sleek design that is as practical as it is eye-catching. Both models exemplify what the smallest Class B RV with shower and toilet can offer to those seeking an elevated travel experience without the bulk of larger RVs.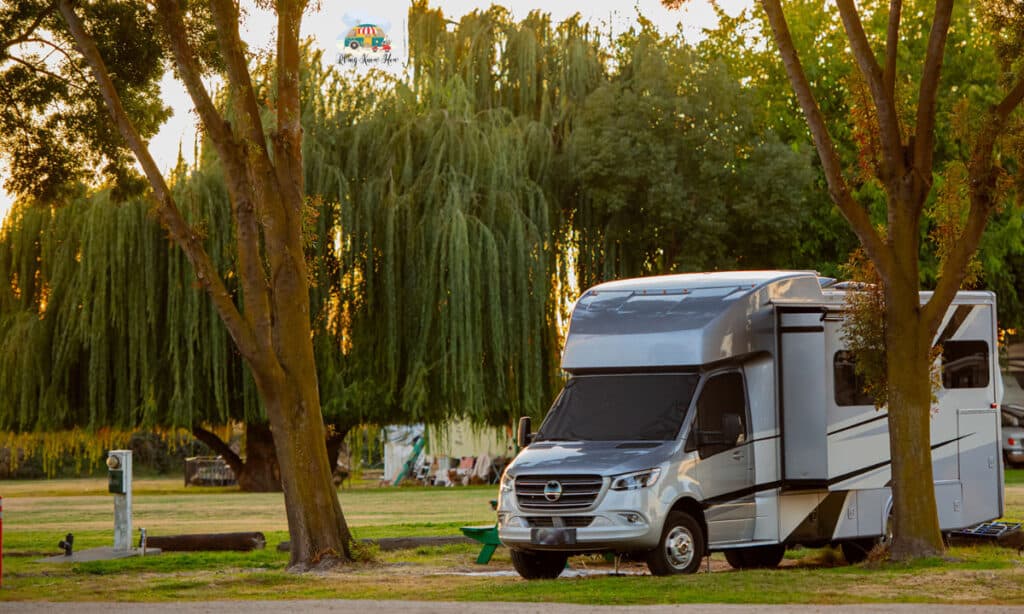 At their heart, Class B motorhomes cater to those yearning for a touch of indulgence without forgoing the simplicity and spryness of a campervan. Striking that sweet spot, they are perfect for explorers who desire an extra cushion and a well-stocked kitchenette as they venture through winding roads and sprawling landscapes.
Class C: A Harmonious Blend
Class C motorhomes are where generous space meets practical features. As the largest within small motorhomes, Class C is built on a sturdy frame and offers essentials like a kitchen, bathroom, sleeping area, and a comfortably sized living space.
Turning the spotlight on some noteworthy models, Winnebago Outlook and Thor Freedom Elite are among the top picks. Winnebago Outlook stands out with its comforting features and well-recognized design. In contrast, Thor Freedom Elite impresses with its rich amenities and a build designed for the long haul.
Class C motorhomes offer the ideal blend of comfort and maneuverability, making them a perfect choice for those who desire extra room and features without the bulk of a full-sized RV. They are the smallest Class C RVs with showers and toilets, ensuring you don't compromise on essential amenities. With Class C motorhomes, you can enjoy spaciousness and convenience while enjoying the benefits of easy navigation on the road.
Choosing the Perfect Motorhome for Your Adventure
Choosing your small motorhome is like piecing together a puzzle of your dream adventure. There's a delicate balance between size, layout, amenities, and price.
Finding the Right Fit
It's crucial to ponder the size. A cozy duo heading for weekend retreats might find a compact camper van perfect. But if you're leading a family expedition or packing a mini-circus worth of gear, Class C's extra elbow room will be your friend.
Layout
The layout is the heart of your motorhome. Traditional designs with separate living, kitchen, and bathroom areas might feel like a home away from home. However, if space-saving wizardry warms your heart, look for unique configurations like loft beds or transformable furniture that defy the very laws of physics.
Amenities
Let's talk goodies. The range is vast. Basic setups have you covered with essentials like a stove and fridge, while luxury variants flaunt conveniences like a satellite dish, solar panels, or even a mini spa. You've got to decide how much glam you need in your adventure.
Price
The price tags on these beauties can vary wildly. Campervans can be a more pocket-friendly option, with prices starting at around $30,000, whereas a fully-loaded Class C can command a king's ransom, with prices starting at approximately $50,000 and going up to $300,000 or more. It's important to marry your desires with your budget; sometimes, that means compromise.
Ultimately, it's about finding the harmony between your dreams and reality. Do your homework, weigh the pros and cons, and let the hunt for the perfect small motorhome be an adventure.
Conclusion
So, we've cruised through the wonderful world of small motorhomes, from the efficient and nimble campervans to the spacious and well-equipped Class C. But, as you may see, there is no one-size-fits-all solution in the world of motorhomes. What fits one person perfectly might not work for someone else. The choice between campervans, Class B, and Class C motorhomes hinges on your adventure style, space needs, and budget.
To wrap it up: campervans are great for light travelers and minimalists, Class B motorhomes offer a balance between comfort and mobility, and Class C motorhomes are for those who don't want to compromise on space or amenities.
Armed with this knowledge, I hope you're ready to hit the road in the motorhome that's just right for you. May your travels be filled with awe-inspiring landscapes and cherished memories. Safe journeys, and take care!
FAQs
What is the smallest campervan with a shower and toilet?
The Winnebago Solis Pocket is among the smallest campervans with a shower and toilet. It's compact yet efficiently designed for comfort on the road.
What is the smallest Class C RV with a bathroom?
The Thor Motor Coach Chateau 22B is one of the smallest Class C RVs with a full bathroom. Its efficient layout maximizes space while providing essential amenities.
What is the smallest motorhome you can buy?
Among the tiniest motorhomes available is the ModVan CV1, based on the Ford Transit chassis. It's exceptionally compact but still includes basic living amenities for two people.
What is the smallest travel trailer with a bathroom?
The Scamp 13' Standard Trailer is one of the smallest travel trailers on the market with a bathroom. Despite its compact size, it has a functional wet bath.