Propane is a very dense hydrocarbon gas, that can be compressed into a liquid state for storage and transport.
This means that there is an awful lot of energy, under pressure, in even the smallest of propane tanks, not to mention the enormous force and energy potential in the large propane tanks that serve as the life blood for your RV.
So, it's a no-brainer that you need to be wise about how you use, transport, and care for your propane tanks at all times.
Even a small failure in your RV propane tank or valve can be a major safety hazard. So you should absolutely cover your RV propane tank, especially when it is full and not in use.
Covering up your RV propane tank will not only keep it in good condition, it also improve the look of your propane tank, and protect your vehicle from damage during transportation.
Read of to understand why an RV propane tank cover is an essential piece of equipment for your rig and best covers you can buy online to ensure your camper safety.
What Is A Propane Tank Cover?
As the name implies, a propane tank cover is a protective shell that both protects your RVs propane tank or tanks from being damaged, while also helping to secure them in place.
They are increasingly popular with travel trailers and small campers that keep the propane tanks in the front of the rig near the nose cone.
Propane tanks in the front of a travel trailer or camper are exceedingly vulnerable to damage from things like stray stones being kicked up by the tow vehicle.
In some campers with a very short tongue, the propane cover can pay for itself in the case of an accidental jackknife when backing into a campsite.
A propane tank cover also helps protect your RV's propane tank from the weather. It reduces chips and dings from hail damage, reduces the risk of long-term rusting issues on the valve and connections.
If you like to camp in the mountains, ice fish, or use your RV as a home base for late fall hunting trips, it can also provide a little insulation against the deep cold that can settle in at night.
This can be a godsend for preventing pre-dawn freeze-ups when your propane tank is running low.
Do I Need A Cover For My Camper's Propane Tanks?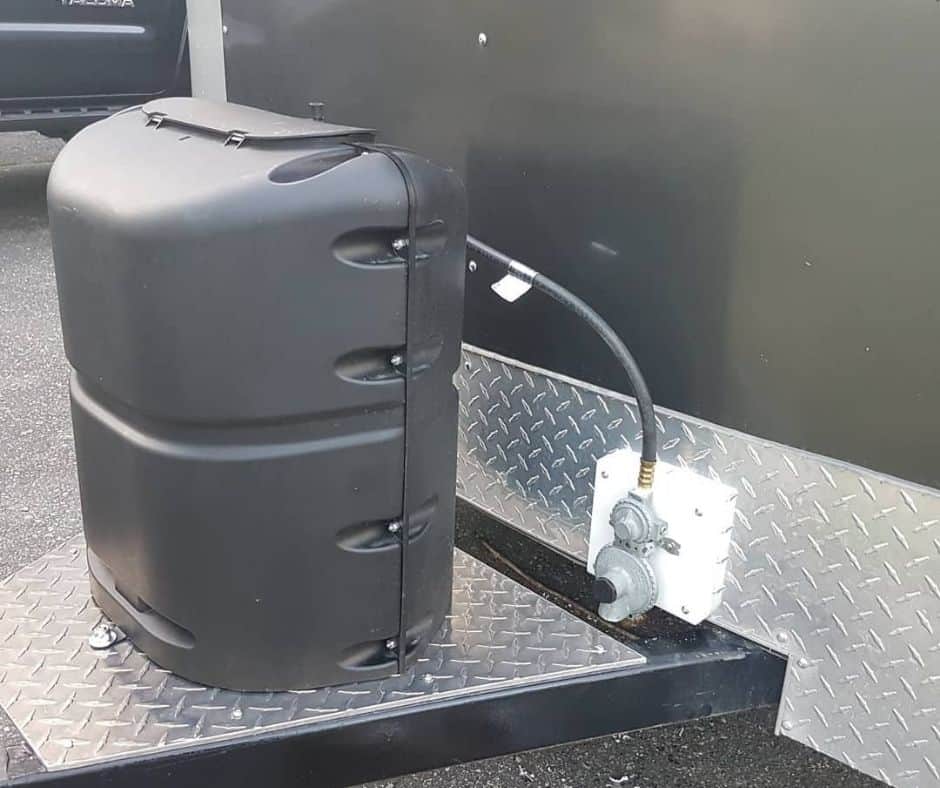 You aren't required to cover your RV's propane tanks by law, though there are several good reasons to do so. Any one of them could help the propane tank pay for itself.
Safety
Safety is the best reason to invest in a propane tank cover for your camper or RV.
A valve failure from rust or damage caused by a stone kicked up by the tow vehicle's rear wheels can cause severe injury and even death. Not to mention damaging the camper itself.
Exchange Acceptance
A lot of propane tank exchanges will turn a stern eye toward accepting an exchange from a tank that is dinged, rusted, and badly damaged.
They often suspect that the tank has been abused and won't pass inspection for refill and resale.
Keeping your tanks in good visual and working condition will go a long way toward retailers accepting your exchange tank.
Protecting The Nose Cone Of Your Camper
More than one travel trailer or camper has been spared damage to the nose cone by a kicked-up stone thanks to the cheap, durable buffer of an RV propane tank cover.
Security
A lot of the best propane tank covers for an RV come with attachment hardware that is more secure than the meager hardware brackets that most RVs have in the front.
This can serve to lock your propane tanks in place when you are driving down a bumpy road, as well as protect your expensive RV propane tanks from would-be thieves when you are away from your campsite.
What To Look for In An RV Propane Tank Cover
There are a few key features to consider when shopping for the best propane tank cover for your RV.
For something seemingly simple, not all RV propane tank covers are created equal.
The following are things you should look for when shopping for the best propane tank cover for your camper or RV.
A Ventilation Feature
Propane gas is highly flammable, even a little trapped inside your new propane tank cover can turn into a major fire hazard. So When shopping for a quality cover make sure to choose a cover with an open bottom or some type of ventilation.
Durable Materials
You don't want your propane tank cover to shatter or crack easily when it inevitably gets hit by a stone on the highway.
So, it's best to pass up cheap plastic and prioritize something like heavy-duty polypropylene with a reinforced structure.
Not only will this help prevent cracks and punctures from stones, but it can also act as a shell if you accidentally jackknife your travel trailer or you back into a wooded spot and a branch comes into contact with the nose cone of your camper.
Heavy-duty cloth propane tank covers can also be in play. Though you want to look for things like padded oxford cloth or similar waterproof materials. This provides durability, padding, and superior puncture resistance.
Robust Attachment Hardware
The wind forces that an RV propane tank cover experience at highway speeds can be immense.
Especially if you are driving into a strong headwind. Strong attachment hardware to secure the propane cover to the tongue or nose cone of your camper will prevent it from becoming a sail.
Security
It is an unfortunate reality that propane tanks sometimes get stolen by thieves, who strike primitive campgrounds looking for items to steal while people are away from camp. A simple padlock can go a long way toward deterring would-be thieves and send them on, rather than waste time trying to break into your RV's propane tank cover.
5 Best RV Propane Tank Covers To Buy In 2023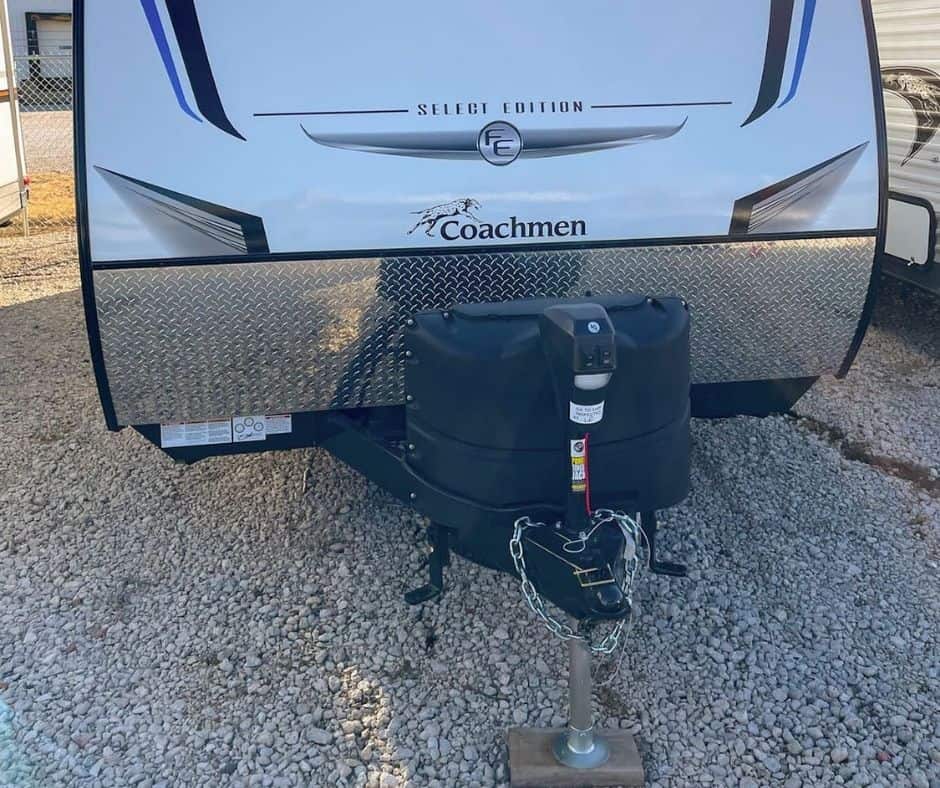 While looking for the best covers for your RV or camper propane tank we kept our eyes out for material build quality, as well as thoughtful engineering.
This included things like secure attachment hardware and the ability to withstand a hit from a stone at highway speed.
We also kept security and ventilation to give you the confidence to invest in one of these high-quality models.
1: Camco Heavy-Duty 20lb or 30lb Dual Propane Tank Cover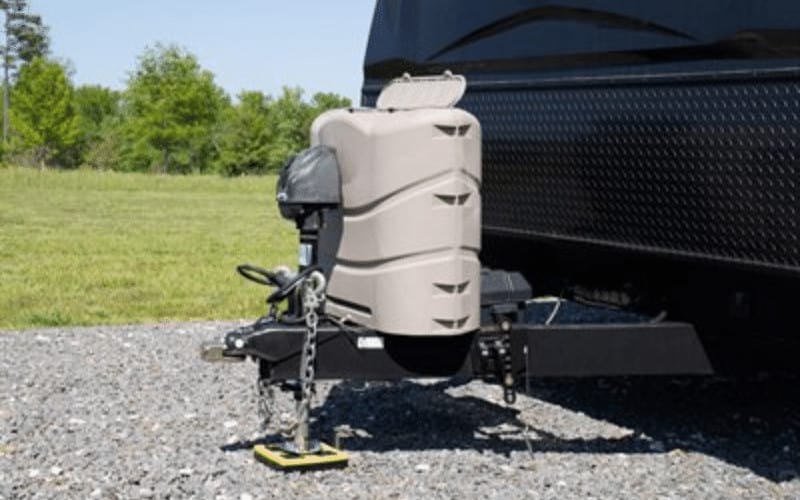 This RV propane tank cover is an updated version of a popular Camco model.
It includes an easy-to-use access port at the top to let you run your propane lines as well as operate the propane tank valves, while still leaving the propane tank cover in place.
The Camco 40559 is made from heavy-duty polypropylene and is molded to reinforce its's structure.
It was designed to be a dual tank cover and will accommodate a pair of 20 or 30-pound liquid propane tanks.
It slips over the tanks easily and then has a pair of retention tabs at the bottom to help secure it firmly in place. You can lock them if need be.
2: TUYU B07T4NYV3F Waterproof Dual Propane Tank Cover
This propane tank cover is made from a special type of heavy-duty oxford cloth, which is the same material used in automotive seat belts.
It is specially padded to make it virtually puncture-proof. All at a great value price point.
It has adjustable straps to hold it in place and will accommodate a pair of 40-pound propane tanks.
There are ports for propane lines and dual zippers on the top. You can even weave a small padlock between the eyes of the zipper for added security when you are away from your campsite.
3: Flame King YSN-PCC-RV 20LB Heavy Duty Cover
Basic black is always in fashion, and that holds true when it comes to finding a propane tank cover for your RV.
This Flame King model is made from heavy-duty polypropylene and is designed to hold a pair of 20-pound liquid propane tanks.
There are dual side ports that let you access the tank as well as pass regulators through, which isn't always the case with competitor models.
It also comes with security hardware to hold it confidently in place at highway speed.
4: Outland Living 740 UV and Weather Resistant Gas Tank Cover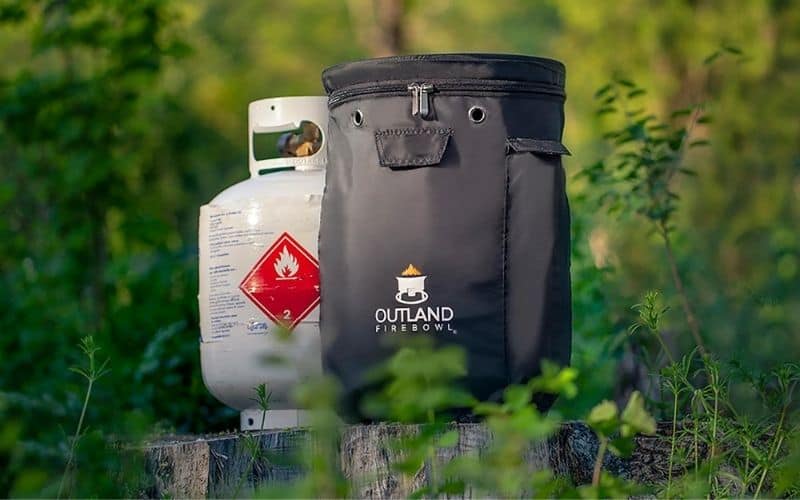 The Outland Living Firebowl is designed to cater to smaller models like teardrop trailers, popup campers, and small travel trailers that run off a single 20-pound liquid propane tank.
With that in mind, it was also designed to be portable when need be. This lets you take it off your camper with ease to use near a picnic table or camp grill. It even has a flat top to help give you a more stable workspace.
The Outland Living Firebowl is made from a special polyester and Dacron blend fabric.
This makes it waterproof, while also imbuing it with superior UV resistance. The eyes on the perimeter zipper can be locked and there are six grommets at the top to ensure proper ventilation.
5: Camco Mfg Single Steel Cover For 20lb RV Propane Tank
This is the single tank version of Camco's dual tank RV propane cover earlier on this list. It is designed to hold a single 20-gallon propane tank.
It is made from rigid, heavy-duty polypropylene, and is molded for strength.
The top port gives you easy access to a propane tank's primary valve and internal regulator.
Then it latches down again. Attachment hardware is included in the purchase, so you get everything you need to put it in place and the peace of mind that comes with knowing it will stay in place.
How Can I Secure My Propane Tanks Against Theft?
A propane tank cover is a great deterrent against theft on its own. Would-be thieves who prowl primitive campgrounds typically have a "Grab & Go" mentality.
Undoing hardware brackets and releasing straps takes time that they don't want to risk.
A propane tank cover that lets you lock the zipper or access port is then a double deterrent.
Can I Safely Put A Smaller Propane Tank Inside A Large Tank Cover?
With a rigid propane tank cover, it is easy to go smaller than capacity, such as putting a 20-pound liquid propane tank in an enclosure meant for a 30-pound tank.
Though with cloth tank covers, it is best to make sure that the tank size and the cover size are close.
Otherwise, you risk added wind stress at highway speed, which can cause the fabric to furl in the breeze.
Conclusion
Protecting your RV's propane tanks with a cover is always a good idea.
The type of tank that is right for you will depend on the size of your rig and the tanks it is designed to carry. As well as your aesthetic preferences.
If you have dual 20 or 30-pound propane tanks on the front of your large travel trailer, then the Camco 40559 is probably the best propane tank cover for your camper.
It can hold either size tank securely and holds confidently in place.
If you have a smaller trailer like a teardrop or a popup and you want to be able to use your 20-gallon propane tank as a portable, then the Outland Living Firebowl might be the best propane tank cover for your camper.
It has ventilation grommets, is waterproof and UV resistant, while also having a flat top to make it convenient around a campsite picnic table.