Are you thinking about how to save on heating your RV this winter?
Do you miss curling up in front of a wood fire on a cold evening?
Do you adore the smell of a fresh wood burning fire, and your outdoor fire pit isn't giving you enough of that cozy aroma?
If you answered yes to any of these questions, an RV wood stove might be just right for you!
An RV wood stove is exactly what you think it is: it's a wood burning stove made specifically for RVs, camper vans, or tiny homes. Wood stove users can provide heat for their RVs using wood instead of using the propane furnace. Many models of RV wood stoves also allow cooking on top of them.
But are wood burning stoves safe for RV use? What are the pros and cons of making the switch to wood? And how can you choose the best small wood stove for your particular RV?
Keep reading to find out if a wood stove would be a good fit for your RV lifestyle!
Can You Put A Wood Burning Stove In Your RV?
A wood burning stove in an RV? Yes!
When some people think of wood stoves, the first thought that comes to mind is a dangerous-looking, ashy, pot-bellied receptacle sitting in the corner of some log cabin in the 1800s. (Okay, that's what first came to my mind!)
But wood burning stoves have become increasingly popular in homes in recent years. So, it's reasonable to conclude that this trend would trickle over to our homes on wheels.
Is It Safe to Install a Wood Stove In An RV?
Definitely.
Wood stoves are safe in RVs as long as they are installed, ventilated, and maintained correctly.
You'll have to be sure you have an adequate clearance area for the walls, ceiling, and furniture fixtures.
The camper wood stove would need to have fireproof flooring called a hearth to sit on.
The hearth will provide a protective barrier between the stove and the floor. It can be made from tile, stone, marble, or brick.
You should also consider installing a heat shield in the area surrounding the stove to protect the wall and furnishings in your RV from damage due to gradual heat buildup.
A chimney flue will have to be installed to exhaust the gases. Be sure to have working smoke and carbon monoxide detectors and avoid ash buildup in the stove and the pipes.
Wood Stove or Electric Fireplace?
Why would you choose a wood stove to heat your RV instead of an electric fireplace?
An electric fireplace would add heat without the use of propane. It will also add a measure of ambiance to your space.
But if you want that distinctive cozy crackle and smell of a real wood fire, the RV stove is the way to go! Also, the wood stove uses no electricity, so it can keep you toasty even if you're off-grid.
Pros of using an RV wood stove
Let's take a moment to consider the pros of having a wood stove to heat your camper.
1. It provides dry heat.
A common issue RVers face in the winter is condensation forming inside the rig. This happens when warm, moist air comes in contact with cold surfaces.
The problem can be major, with condensation causing mold, rust, and moisture damage to surfaces inside the RV.
And propane heating can make this situation worse since burning one pound of propane releases about 1.6 pounds of water!
Wood stove to the rescue! Since wood burning stoves produce dry heat, less moisture builds up in the interior of the RV, so condensation (and the potential for moisture damage) is reduced.
The dry heat also makes a wood stove perfect for drying clothes or shoes that have gotten wet.
2. You can cook on top of some models.
Want to decrease the amount of propane you use for cooking in your RV? Many wood burning stoves feature a flat top you can cook on.
One user reports that she makes toast, boils water, reheats leftovers, and keeps coffee nice and warm on top of her wood burning stove!
3. The fuel can be free or very cheap.
Propane can be expensive, especially if you use it for heating, running the refrigerator, and cooking.
Firewood is a cost-effective alternative to propane. Some RVers gather their wood for free, while others find it cheap from home improvement stores, grocery stores, or gas stations.
4. Wood stoves provide efficient heating.
Although wood burning stoves for RVs are usually quite small, they do a good job heating the space.
Some RVers report that the stoves get their campers so warm that they sometimes need to open a window!
Users can count on at least 2-3 hours of uninterrupted heat from their stoves, but some higher-end models can provide up to 8 hours of heating.
Cons of Installing A Wood Stove For RVs
Now let's balance out the disadvantages to see if having this heat source is right for you camper van or RV.
1. More work.
Using wood heat definitely calls for more work than just turning on a switch! In addition to purchasing or gathering the wood, you'll have to cut it down to the smaller size of the RV stove.
And the smaller the wood is, the faster it will burn. So that might mean reloading every few hours. That can especially be a chore in the middle of a cold night!
Adding to the work also includes emptying ashes and cleaning out the flue pipe regularly.
2. May require some remodeling of your RV.
Since having a wood stove requires an exit vent for the exhaust, you'll have to cut a hole in the roof or wall of your camper for the flue pipe.
Some RVers may worry that this is too risky to be worth it.
You might also have to revamp some of your living area to make a safe, fireproof space for the stove.
3. Not a good choice for those who are sensitive to smoke.
If you or someone RVing with you have asthma, COPD, or any other respiratory condition, a wood stove might not be the best heating option.
And all occupants need to be mindful of carbon monoxide safety! As mentioned before, be sure you have working smoke and carbon monoxide detectors in your camper.
What To Consider When Choosing A Wood Stove For Your RV Or Van conversion
After considering the pros and cons of having a wood burning stove in your RV, you may be interested in making the switch.
There are several options available on the market. So how do you choose the wood-burning stove that is right for you? Here are a few factors to consider when shopping around:
1. What size stove should you get?
When considering the size of wood stove you should get, you'll not only have to think about how much space the actual stove will take up, but also you'll need to know how much clearance will be necessary for safety.
Additionally, you'll need a larger stove if you have a larger camper to heat.
If you plan on cooking on the wood stove, you'll also need to consider the size of the flat stovetop to be sure it will suit your cooking needs.
2. Is the wood stove EPA-certified?
An EPA-certified appliance meets the Environmental Protection Agency's clean air standards.
Only new wood burning stoves can be certified, and this is done during the time of manufacture.
Check the stove itself for clearly marked EPA certification labeling or go online to see if your stove is listed in the EPA certification database.
A certified stove is a good choice because it produces less smoke and needs less wood to produce heat.
This is good news because your air will be cleaner. In addition, less wood means less work!
3. Is a viewing window a must-have?
Are you very interested in spending time in front of your wood stove, watching the bright-orange flames flicker and dance in your living space?
Then be sure to look for a stove with a viewing window in front!
Some models don't come with a see-through door, and this can be a no-go for those searching for the cozy ambiance a wood stove can bring to the RV.
Otherwise, you may be able to save a bit in getting one without the view.
Best Small Wood Stove Options To Consider For Your RV
Are you leaning towards getting a wood-burning stove for your camper? Well, here are a 4 of the best small RV approved wood stoves to consider:
1. Kimberly Wood Stove
Let's start right off with the big gun—the Kimberly!
The Kimberly wood stove is widely considered the premium choice in RV wood stoves. One of the advantages of this stove is that it can continue burning for up to 8 hours.
So that means possibly getting an entire night's sleep without having to refuel.
The other premium features of the Kimberly are its sleek stainless steel design, the requirement for only 6 inches of clearance space, and its ability to heat an area of up to 1,500 square feet of space.
All these premium features come with a premium price tag: almost $4,000. So if price is not a concern, the Kimberly might be the one for you.
2. Cubic Mini Wood Stove—Grizzly and Cub
| | | | | | |
| --- | --- | --- | --- | --- | --- |
| | | | | | |
| Grizzly Cubic Mini Wood Stove | | | | | |
| Cub Cubic Mini Wood Stove | | | | | |
Meet the Cubic Mini Wood Stoves: the Cub and its new big brother, the Grizzly! These are the same stove, just in different sizes.
The company suggests that the Cub is best for spaces less than 200 square feet.
Anything over 200 square feet or any area with high ceilings would be a better match for the Grizzly model.
Either option is great for conserving space in your RV while also adding character.
Both Cubic Mini stoves have a viewing window, removable rail, cooking surface, and gold plated accents. They also produce very little smoke and are eco-friendly.
3. The Dwarf 3kw
If you want a sturdy, traditional wood stove option for your RV, The Dwarf 3kw might be your choice.
This model features a firebox made of brick and cast iron for durability. There's a large viewing window, so you can easily enjoy the ambiance and monitor the size of the flame.
It also has a flue outlet that can either be positioned to vent from the top or the rear of the stove and out the wall of your RV.
The Dwarf 3kw also has convenient features, such as 3 air control options so you can adjust the level of heat output.
It also has a grate with a lever that operates the floor of the firebox and sifts out the ash. Below that is an ash pan that you can remove easily for cleaning.
The only disadvantage with this unit may be its weight; some may feel that 75 pounds of extra weight is a bit much for towing.
4. Survivor Camp Wood Stoves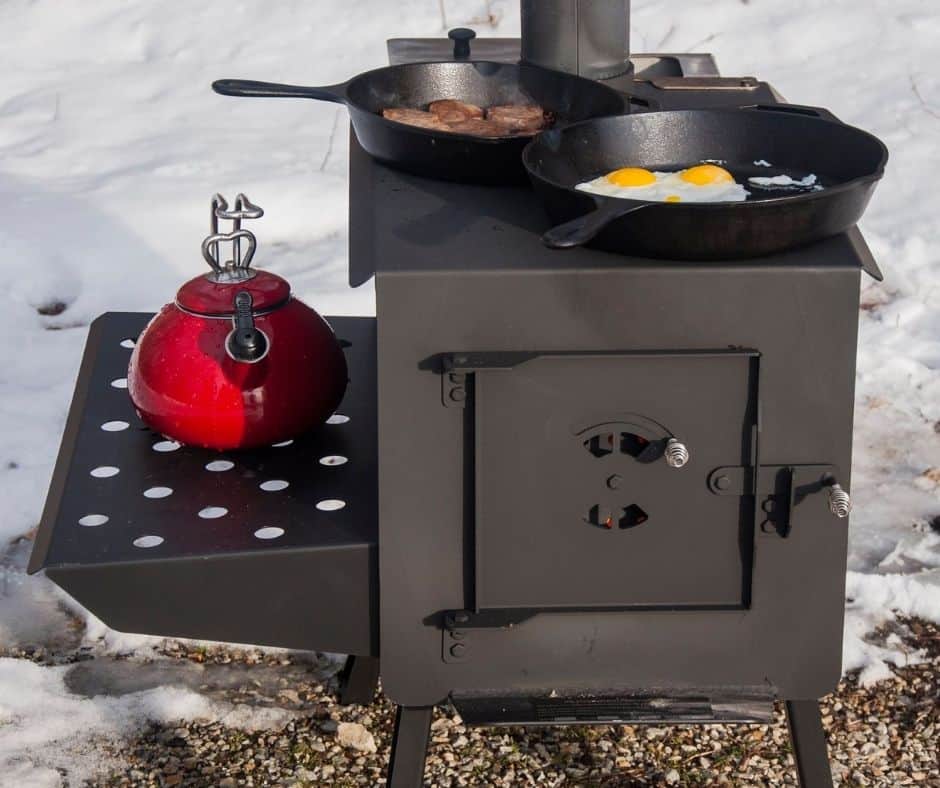 | | | | | | |
| --- | --- | --- | --- | --- | --- |
| | | | | | |
| | 11.5" high, 14.5" wide (Add 10.25" to height when legs are installed.) | | | | $179 without accessories; $259.99 with accessories included |
| | 15.5" high, 17" wide (Add 10.25" to height when legs are installed.) | | | | $199 without accessories; $279.99 with accessories included |
| | 15.5" high, 17" wide (Add 10.25" to height when legs are installed.) | | | | $249 without accessories; $319.99 with accessories included |
The Survivor Camp Stove might be perfect for you if you are very interested in using your wood stove for cooking as well as heating.
All 3 sizes offer a sturdy, large cooking surface that is great for preparing a meal.
Other features include legs that are easy to remove and store inside the firebox when not in use and 12 gauge steel construction that is durable yet lightweight.
The hexagonal firebox provides long burn periods and even heat distribution.
This wood stove model doesn't have a viewing window, so if you want to see the flames flicker and dance, this wouldn't be the option for you.
How to Install a Wood Stove in a Camper Van or RV
Are you all set to make the switch to a wood stove for your RV? Let's take a look at the basic steps involved in installing a wood stove.
This can be done as a DIY project, or you can hire a handyman or fireplace installer to do it for you.
Is Having An RV Wood Stove Right For You?
So after our discussion of wood stove safety, installation, and pros and cons, do you think a wood stove would be a perfect addition to your home on wheels?
Why or why not? Or, if you have a wood stove in your RV, do you have any tips for those who might be thinking of getting one? Let us know in the comments below. Stay warm!