New Mexico is home to some of the most beautiful and diverse state parks in the American Southwest, offering excellent camping opportunities for outdoor enthusiasts. From desert landscapes to high mountain forests, the variety of terrain and ecosystems in New Mexico state parks offer unique camping opportunities for all interests and skill levels.
As a longtime camper and outdoor enthusiast, I have made many fond memories over the years of camping in New Mexico's magnificent state parks. Waking up to golden sunrises over the desert, spotting elk and deer on early morning hikes through alpine forests, and watching in awe as storms roll through the mountains from the comfort of my tent are just some of the experiences that stand out. New Mexico's state parks have allowed me to connect with nature and make lifelong memories, and you could be the next.
In this piece, I will highlight the top state parks in New Mexico for camping designations and provide tips to help you plan your next camping adventure in the Land of Enchantment.
I will share which parks have the most scenic views, the best facilities, and hidden gems worth discovering. Whether you prefer RV camping, tents, or cabins, want to fish or boat on lakeside campgrounds, or simply watch wildlife and sunsets, read till the end, and you will find inspiration for your next camping adventure in New Mexico state parks.
Top 10 Camping And RV Sites In New Mexico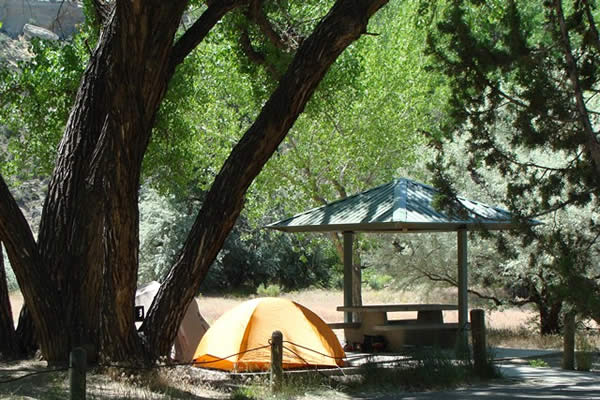 I've spent years in the state parks of New Mexico without paying a considerable sum for accommodation. And the secret? Camping. I have visited a lot of campgrounds, and the following is the list of the best campgrounds based on the amenities, staff behavior, and 4+ ratings on online platforms. Whether you own an RV or prefer a tent, this list covers everything.
Gallo Campground – Chaco Canyon National Park
Gallo Campground allows you to experience the rugged beauty of New Mexico's storied Chaco Culture National Historical Park firsthand. You will find the campground amidst weathered boulders, sandstone cliffs covered in ancient petroglyphs, and the desert environment of Gallo Wash.
Don't expect many amenities; bring ample food, water, and necessary supplies. The access to the campground is via two unpaved roads that can become difficult to traverse after rainfall, so call the campground and ask for weather updates beforehand. The campground sits only a mile from the park's visitor center, where you will stop to pay entrance fees.
There are 32 individual sites, including one ADA-accessible and two areas for groups of 10-30 people. So, this campground is perfect for solo campers as well as groups. All sites have picnic tables and fire grates. Five sites are RV-only, while 27 sites welcome tents and small RVs. You'll get the Basic restroom facilities with flush toilets, but no showers or hookups exist.
While camping in this New Mexico campground, you can hike trails to access ancestral Puebloan archaeological sites near the visitor center.
Here are some amenities and activities you will enjoy at this park:
Amenities
Activities
Accessible flush toilets
Accessible sites
Campfire rings
Drinking water
Dump station
Quiet area
Fire pit
Tent pad platform
Picnic table
Grills/fire ring
Hiking
Interpretive programs
Camping
Historical and cultural site
Biking
Nearby Attractions
Driving two to three hours from this campsite will lead you to:
Alamogordo KOA – White Sands National Park
Nestled in New Mexico's Tularosa Basin, the KOA campground offers a centralized base camp for exploring the region's unique nature and attractions. It has won the 2023 Founder's and 2023 President's awards. The campground accommodates diverse camping styles with RV, tent, and cabin sites.
A large recreation room, covered patio, and inviting pool provide comfortable community spaces to relax during your stay. The campground offers modern amenities complimenting the natural surroundings, including Wi-Fi, cable TV, propane, firewood, bike rentals, and dog-friendly facilities.
The campground will host KOA Rewards Appreciation Weekend in September. Got KOA Rewards? Then save the date for September 8-9, 2023, and score a free night of camping! Stay as a paying guest on Friday, the 8th of September, 2023, and you can stay on Saturday, the 9th of September, 2023, completely free.
Whether exploring nearby parks or relaxing at the campground, this KOA's location, amenities, and community combination provide a rewarding state parks New Mexico camping experience.
Here are the amenities, activities, and nearby attractions you can enjoy when staying at this park:
Amenities
Activities
Nearby Attractions
50 max amp 100′ max length for RVs
Wi-Fi
Cable TV
Pool (25th May – 1st October)
Propane
Firewood
Bike rentals
Horseshoe pit
Laundry facilities
Tetherball
Independence Day fireworks
Horseshoes
Pedal carts
Swimming pool Live music
White Sands National Park, New Mexico
Museum of Space History
Alameda Park Zoo
Heart of the Desert
PistachioLand
Oliver Lee State Park
Lincoln National Forest Trinity Site
Field Tract Campground – Santa Fe National Forest
Field Tract Campground lies near the banks of the Pecos River within New Mexico's Santa Fe National Forest and offers a family-friendly tent and RV camping destination. The medium-sized campground has 15 sites with picnic tables and grills; six units have three-sided shelters for added privacy.
You can enjoy fishing access to the Pecos, hiking on nearby trails into the Pecos Wilderness, wildlife viewing, and stargazing on clear nights. Based on my experience, I'll advise you to follow proper food storage guidelines due to bear activity in the area. The campground's quiet hours are from 10 P.M. to 6 A.M.
Here are the amenities, activities, and attractions you will find near this park:
Amenities
Activities
Nearby Attractions
Tent & RV sites
Picnic tables, grills3-sided shelters
Portable toilets
Drinking water
Host on-site
Paved parking
Fishing
Hiking
Wildlife viewing
Stargazing
Relaxing in nature
Picnicking
Pecos River
Pecos Wilderness trails
Climbing areas within 10 miles
Little Creek RV Park
Little Creek RV Park offers luxury camping amidst the natural beauty of New Mexico's Sacramento Mountains. This 50-acre RV park is just outside the mountain village of Ruidoso, providing easy access to hiking, shopping, and dining facilities. Little Creek contains 100 wide, spacious RV sites with full hookups to accommodate RVs of any size.
The camp offers
Sites for nightly, weekly, monthly, and seasonal reservations.
Facilities for individual campers along with groups and RV clubs.
Leveled gravel pads are suitable for the largest RVs.
Experienced staff familiar with the RV lifestyle.
Little Creek is consistently ranked as a top RV park, having been recommended by Big Rigs Best Bet Campground Directory for over a decade.
Six months ago, I stumbled upon the video below and immediately decided this would be my next destination for camping in Ruidoso, NM.
Here are the amenities, activities, and nearby attractions you will enjoy when staying in this park:
Amenities
Activities
Nearby Attractions
Full hook-ups (water, electric, sewer)
Premium gravel sites
Bathhouse access
Free WiFi
Propane service
Dump station
Laundry facility
Hiking in the Sacramento Mountains
Shopping and dining in Ruidoso
Casinos and racetracks in Ruidoso
Skiing at Ruidoso Winter Park
Exploring historic sites
Cornhole tournaments
Card and game nights
Flying J Ranch Chuckwagon Dinner Show
Spencer Theater for the Performing Arts
Ruidoso Winter Park
Mechem Drive scenic outlook
Camp Rio
Nestled in New Mexico's lush Lincoln National Forest, Camp Rio offers access to natural beauty while providing modern amenities. With free Wi-Fi, you can explore the surrounding mountain roads, trails, and villages while staying connected amidst this scenic landscape.
Camp Rio's natural beauty and modern convenience make it a perfect spot for camping near Ruidoso, NM. The camp lies near White Sands National Monument, Ruidoso, and Carlsbad Caverns. Nearby towns like Cloudcroft and Mayhill also host local events, including art fairs, car shows, and festivals.
Type of Accommodation
Activities To Do
Natural Features
One tent site ideal for stargazing
Eleven tent sites are situated along the river running through the campground, accommodating four people each.
38 RV sites outfitted with electric and water hookups.
Seven lodging sites containing firepits, covered porches, grills, and access to large bathhouses, accommodating up to six people each, with two full beds and two twins.
Biking
Boating
Fishing
Hiking
Horseback riding
PaddlingWind sports
Off-roading (OHV)
Climbing
Snow sports
Swimming
Wildlife watching
Forest
River, stream, or creek
Mountains
Hot Springs Glamp Camp
Hot Springs Glamp Camp, located in Truth or Consequences, New Mexico, provides one-of-a-kind glamping and RV camping near Ruidoso, NM. The campground can accommodate up to 30-foot-long RVs, travel trailers, tents, and vans. Each private site has full hookups for your RV, a paved patio area, and a privacy wall.
You can unwind in the camp's hot spring baths 24/7. What makes the springs special is their pristine, continuously flowing water that contains 38 different minerals, including magnesium, lithium, and silica.
With temperatures ranging from 107°-111°F, these "Sweet Springs" are among the country's most highly mineralized hot springs. The "sweet" designation comes from the lack of sulfur, meaning no unpleasant smells. The natural chloride content sterilizes the water, keeping it fresh and clean.
You can dip in the three outdoor tubs open to fresh air and one indoor jetted tub available 24 hours a day on a first-come, first-served basis. Guests can soak as often as they like, filling and draining the tubs between uses. The natural warmth and mineral-rich properties offer relaxation for mind and body alike.
The last time I stayed at this camp, I was impressed by the clean restrooms, outdoor lounge areas, drinking water stations, and free high-speed Wi-Fi that keeps you connected with the outside world. In addition to standard sites, Glamp Camp offers remodeled vintage RVs, a yurt, and a geodesic dome for overnight rentals. Well-mannered children and trained pets are also welcome.
Glamp Camp aims to create an inviting, tranquil atmosphere for singles, couples, families, and even co-workers needing a relaxing retreat.
Here are some of the amenities and activities you will enjoy when staying at this camping site:
Amenities
Activities
Hot spring baths
Full hook-up campsites
Furnished rentals
Clean restrooms
Drinking waterWiFi access
Outdoor lounges
Hot spring soaking
Hiking
Kayaking and tubing
Bike rentals
Gallery tours
Day trips to White Sands and Elephant Butte
Nearby Attractions:
Midtown Mountain Campground And RV Park
MidTown Mountain Campground and RV Park in Ruidoso, New Mexico, provide the perfect basecamp for exploring the Lincoln National Forest and surrounding area. It provides full hookup RV sites along with tent camping spots. I loved camping there.
The location, right around the corner from downtown Ruidoso is convenient for walking to the shops and restaurants. The sites have plenty of space to park any RV, and the facilities are spotless – the private shower rooms were seriously nicer than some places I have stayed at. The staff is super friendly and helpful. You can enjoy their great amenities like WiFi, barbeque grills, and a nice little hangout area with a TV. Also, I met some cool fellow campers, and the night skies were beautiful there.
The campground is surrounded by the Lincoln National Forest, providing opportunities for adventure with hiking and biking trails just minutes away. You can also enjoy day trips to experience area landmarks like the Three Rivers Petroglyph Site or the dunes of White Sands National Park.
The parks, museums, restaurants, shops, golf courses, and casinos are within walking distance. The campground's central location, first-class amenities, and natural beauty make it a top destination for camping in Ruidoso, NM, for RVs and tent campers alike.
Here are some amenities, activities, and nearby attractions you will enjoy when camping in this park:
Amenities
Activities
Nearby Attractions
+ 98 River Park (Open Dawn to Dusk)+ MMC & RV Gift Shop+ Tent camping spots+ Full hook-ups all RV sites (water, 50/30/20 electricity, sewer) + Free WiFi / 300 Mbps per site+ Private shower in each restroom+ Pavilion with kitchen amenities+ Late check-in available with a reservation+ Hiking trails+ Dog park+ Laundry facility+ 24-hour recorded video + surveillance+ Over 100 pine trees on 2+ acres+ Owners/managers live on-site
Hiking
Biking
Fishing
Golf
Casinos
Museums
Stargazing
Shopping
Cedar Creek Trails
Three Rivers Petroglyph Site
Ski ApacheInn of the Mountain Gods Casino
Golf courses
Restaurants & shops
Spring Lake Regional Park
Spring Lake Regional Park is a top destination for outdoor recreation in Santa Rosa, NM, RV parks. The 320-acre park has a 72-acre reservoir perfect for boating and paddling, with a year-round boat launch and summertime kayak rentals.
Last time, my family and I hosted a giant picnic here, and despite the heat wave, there was plenty of shade, and the picnic tables were in great shape. It was super easy to make the reservation too. Afterward, some of us took a quick walk to the swimming lagoon, and the kids couldn't get enough of the fun water park.
A swimming lagoon with a water park opens on Memorial Day weekend for summertime aquatic fun. It offers recreational swimming, a sandy beach, a snack bar, and lovely picnic lawns. The swimming area provides lifeguards and free lifevests as well.
I also spotted different scenic trails around the lake. The lake was gorgeous, with spots along the shoreline perfect for fishing, sitting, and relaxing.
Nearly 10 miles of scenic trails circle the lake, including the paved 2.3-mile Spring Lake Loop Trail accessible to walkers, runners, cyclists, and wheelchairs.
You can choose from 31 sites in a peaceful oak woodland overlooking the lake. Reserve your spot in advance. Moreover, the site accommodates tents, trailers, and RVs. Cabins are also available to rent. The lake, trails, and swimming lagoon offer recreation and respite for Santa Rosa residents and visitors.
For amenities, activities, and nearby attractions you will enjoy when staying at this facility, see the table below:
Amenities
Activities
Nearby Attractions
31 campsites for tents, RVs,
trailers campsites with sleeping cabins
Paved hiking/biking trails
Swimming lagoon with water park
Lake for paddling and electric motor boats
Kayak rentals
Picnic areas with BBQs
Environmental Discovery Center
Hiking
Biking
Swimming
Paddling
Fishing
Picnicking
Stargazing
Santa Rosa downtown Sonoma County wineries
Annadel State Park
Howarth Park
Manzano's RV Park
Tucked into the foothills of New Mexico's Gila National Forest, Manzano's RV Park provides scenic sites just minutes from downtown Silver City. Its twenty-five spacious RV spots feature sturdy picnic tables and natural privacy courtesy of the surrounding juniper trees, and the pleasant piney aroma adds to the pleasant experience. Oak trees with spreading canopies provide shade over the sites so that you can sit comfortably no matter the weather.
On my last visit, I loved the level sites and reliable electric, water, and sewer hookups that ensured a comfortable stay. Also, the owners have recently renovated the bathrooms. The park holds weekly social events like free barbecue dinners with smoky ribs and spiced beans, making this RV park a top choice for people looking for Silver City, NM, RV parks with a family atmosphere.
The peaceful setting offers excellent views of the area's rolling hills while providing easy access to local attractions.
Downtown Silver City's rustic shops, diverse restaurants, and lively brewery are a quick 5-minute drive away. The campground also serves as a centralized base camp for exploring the ancient Gila Cliff Dwellings, the scenic Catwalk Recreation Trail, and other natural sites in the vast Gila National Forest.
Watch the video below on Mazano's RV Park's official YouTube channel to better understand the amenities and nearby attractions.
10. Silver City KOA RV Park
Silver City KOA provides the perfect base for exploring New Mexico's scenic Gila National Forest and historic southwestern towns. Enjoy nature while relaxing in the campground's comfortable cabins, or use the RV park as a home base while visiting area attractions.
The campground offers cable TV, WiFi, a playground, and a seasonal swimming pool. Clean, private sites come with picnic tables, grills, and some with electric hookups. Centrally located bathrooms and showers ensure convenience.
Silver City KOA offers an array of accommodations to meet diverse camping needs. RV sites come equipped with the campground's signature KOA Patio which provides a level, graveled outdoor space for relaxation alongside your rig.
If you don't have an RV and need something premium than a simple tent, you can book the deluxe cabins that offer comfortable lodging alongside personal bathrooms. You'll appreciate the premium tent sites if you love nature as much as I do. Tent sites have picnic tables, fire rings, and convenient access to restroom facilities nearby.
The helpful staff goes above and beyond to meet the needs of campers, providing maps and area tips and even aiding with RV maintenance. I'll advise you to stay more than three days, explore the nearby Gila National Forest, and enjoy hiking on the trails. You can drive ATVs, four-wheelers, or motorbikes to add a touch of adventure. Due to all these amenities, this RV park makes it to the top of my list of the best Silver City, NM, RV parks.
Amenities you will find here:
50 Max Amp
90′ Max length
Wi-Fi
Pool (5/19 – 10/9)
Snack bar
Propane
Firewood
Pavilion
KampK9®
24-hour laundry facilities
Basketball court
Extended stay
Facilities for RV clubs and groups
Game room
Hiking trails
Horseshoe court
Information on local area events
Pickleball
Playground
Table tennis
Volleyball
Activities you can do here:
Fishing: In Lake Roberts, Bill Evans Lake, and Bear Canyon Lake
Exploring Art Galleries: Silver City is among The Best 100 Small Art Towns In America.
Bicycling: Along the beautiful river valleys and windy forest roads
Golfing: Enjoy the University Gold Course at Scott Park
Hiking: Along the Gila National Forest
Motorcycle touring: Along the beautiful mountain scenery
Hunting: Along the nearby area, lakes and streams
4-Wheeling and jeeping: Along high-desert sandy washes and mountain tracks
Sightseeing – Historic Buckhorn Saloon & Opera House
My Advice For The Best Camping Experience In New Mexico
I made rookie mistakes while camping in the state parks of New Mexico, and I do not want you to do the same. Over the years, I have collected the following tips based on my experience. Now that we have listed the top 10 camping and RV sites, I need you to remember the following to have a great camping experience in New Mexico.
Pack for diverse weather – New Mexico has a range of climates from deserts to mountains. Be prepared with warm layers for cool nights and plenty of sun protection.
Reserve early – Many campgrounds in popular parks fill up quickly. Make New Mexico state park reservations in advance to get your favorite spot.
Read campground reviews – Research the vibe, amenities, site sizes, and recreation access to find the best fit for your travel style.
Consider off-season camping – Fall and spring allow you to avoid crowds while enjoying mild weather, perfect for hiking and other activities.
Pack a high-clearance vehicle if camping in remote areas – Unpaved backcountry roads often require vehicles with extra ground clearance.
Bring a hat, sunglasses, and sunscreen – The New Mexico sun is intense, especially in the arid southern and western regions.
Get out and explore – From prehistoric sites to funky small towns, New Mexico offers incredible diversity beyond the campground.
Talk to the camp hosts – On-site hosts are treasure troves of insider knowledge of the area's hidden gems and best local attractions.
Savor New Mexico cuisine – Fill on classics like huevos rancheros for breakfast and green chile stew around the campfire.
Conclusion
New Mexico's diverse landscape provides many outstanding camping opportunities across its magnificent state parks. From the red rock deserts of the south to the alpine forests of the north, I have listed the campgrounds in the Land of Enchantment that provide a variety of terrain and experiences to outdoor enthusiasts like you and me. Whether you seek the isolation of backcountry tent camping or the convenience of full-service RV parks, this blog is your ultimate go-to guide.
I hope this guide has given you the motivation for the next trip. Keep my tips in mind while planning the trip, and you will indeed create lasting memories while enjoying the state's natural beauty and cultural heritage. Respect the land and its history and keep the parks clean. By embracing the spirit of the open roads and trails ahead, the joys of camping in New Mexico will stay with you long after you return home.
FAQs
What are the top state parks in New Mexico for camping?
Chaco Canyon National Park, White Sands National Park, Spring Lake Regional Park, and Elephant Butte Lake Park are some of the top state parks you should choose for camping in New Mexico.
How can I make reservations at New Mexico state parks for camping?
Most of the state parks in New Mexico are undegovernment'sment's custody. You can visit the website and contact them via the phone numbers and emails given on the website for making the New Mexico state park reservations. Alternatively, you can also use online booking platforms like Tripadvisor.com for making the bookings.
What are the best RV parks in Santa Rosa, New Mexico?
Spring Lake Regional Park, Sonoma County Fair Grounds RV Park, Wine County RV Park, and Windsor RV Park offer top-notch amenities and nearby attractions, making them the best RV parks in Santa Rosa, New Mexico.
Where can I find camping options near Ruidoso, New Mexico?
Little Creek RV Park, Camp Rio, and HotSprings Glamp Camp are the best camping options near Ruidoso, New Mexico. If you need more options, Hipcamp has listed 12 campgrounds near Ruidoso as well.