Truck bed storage drawers will make organizing your tools and recreation gear easier. Many of them add a level of security that you can't get with a standard toolbox too.
When you are living out of your truck permanently or just traveling for an extended period, having an organized truck bed is imperative. Slide-out storage drawers are the best way to maximize your pickup bed space and keep your most-used items readily accessible.
There are a variety of truck bed drawer designs out there. Some are tailored towards contractors and others are meant for serious overlanders. The good news is, that means there really is something for everyone.
As a truck camper myself, I have weeded through the options and picked six of the best sliding drawer system for your pickup truck bed. They range from easy to install to requiring professional installation and vary from incredibly affordable to a bit on the pricey end.
I'm a bit of an organization nerd myself, so I geek out on this stuff. But I hope you enjoy my selections of drawer slides and storage boxes for the bed of your pickup truck!
Why Get Storage Drawers For Your Truck?
Depending on how you use your truck, truck bed drawer system may or may not make sense for you.
In my opinion, these are a few of the benefits of installing storage drawers to your truck bed:
Sealed organization space
Easy access to daily items
Less critical stuff getting lost way up at the front of your truck bed
Maximize space in the rest of your truck bed
Can be used for multiple purposes (camping, organizing work supplies, etc.)
Spend less time loading and unloading your truck (and more time enjoying the great outdoors!)
Types of Storage Systems For Your Pickup Truck
There are a few different types of drawers to familiarize yourself with, so let's briefly describe them before we suggest a few specific models.
Slide In Truck Bed Drawers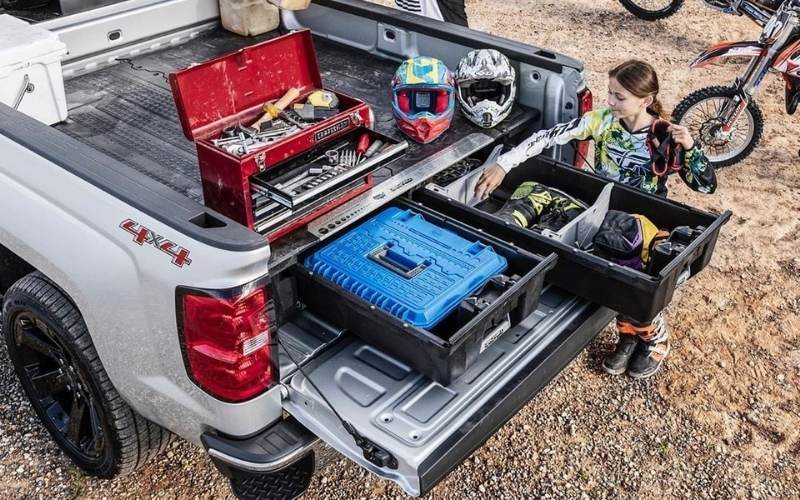 Slide-in storage drawers basically give you more organized truck bed storage and a truck bed platform in one package.
These drawers are usually contoured to the specific dimensions of your truck bed, which means you will need to make sure to choose drawers that are compatible with the specific year, make, and model of your truck.
These drawers are also very heavy-duty. Once installed, you will still be able to use your truck bed just like you did before you had them.
You will just have an additional section of enclosed storage space at the bottom of the bed.
Mobile truck bed organizer Box
Instead of contouring to the exact dimensions of your truck bed, these drawers come in square or rectangular shapes designed to fit different truck bed lengths.
To remain in place, they will usually strap down to the D-ring anchor points that can be found in the corners of most truck beds.
Most mobile drawers include some type of metal or aluminum top so that you can load in heavy or abrasive materials without damaging them.
They also have the benefit of being more easily removable than decked drawers if you need the full height of your truck bed for transporting furniture or other larger items.
Under-The-Bed, Closet-Style Organizers
While they aren't nearly as durable as the other two options above, these sliding drawers are the most affordable and also the easiest to get your hands on.
You can find them at most Wal-Mart or Target superstores, or anywhere else that they sell goods for organizing your home and closet.
They are also super lightweight and they don't lock into place in your truck. That means you can easily remove them to clean them out or shuffle your entire setup around as your needs and interests dictate.
6 Best storage drawer systems For Your Truck Bed
The best sliding storage systems for your truck will depend on you. The make and model of your truck, as well as how you intend to use it, are just a few important factors you will need to consider.
However, I have pulled from my truck camping experience to choose a few designs that I think will be effective for various uses.
1: DECKED Sliding Truck Bed Drawers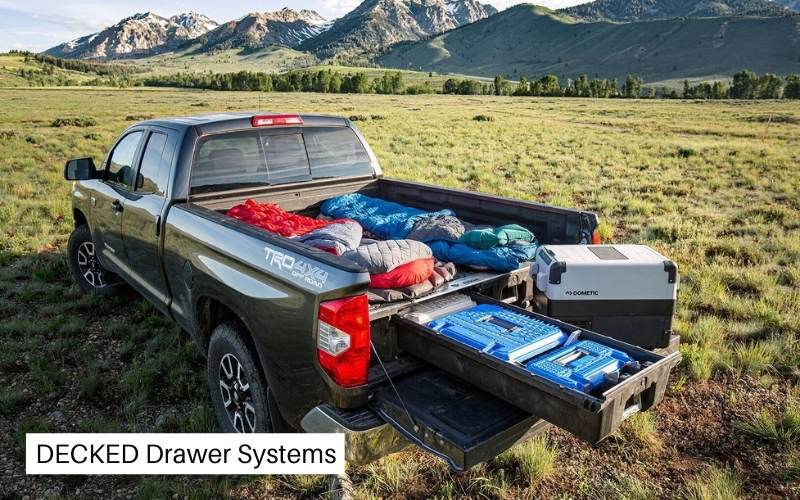 If I hadn't bought a truck that already had a sleeping platform built in the back, I would have wanted this exact solution.
Of course, that would have also required that I had the cash to do it, as these are a bit of an expensive truck bed storage option.
DECKED's drawers are customized to your specific truck. The selection process begins by inputting the year, make, and model of your vehicle. They make drawers for the following models:
Once installed, the drawers can still handle payloads of up to 2,000 pounds. Each drawer holds 200 pounds and can be locked individually.
The entire system is completely weatherproof and stays hidden out of sight when your tailgate is closed.
DECKED also has easy DIY resources to help you install your drawers quickly and efficiently.
No drilling is required for most models and they offer free shipping right to your door. Check out this video for a quick product rundown and installation tips.
2: The Original BEDSLIDE Truck Bed Drawers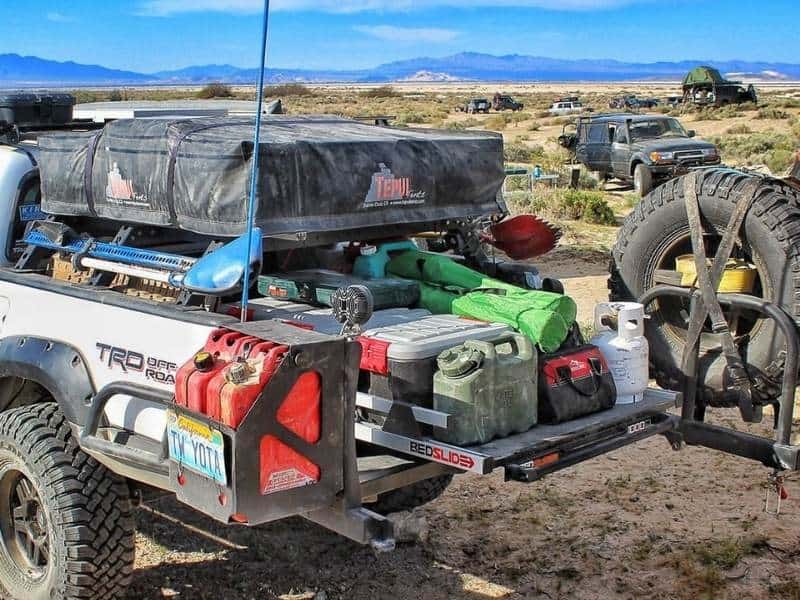 Okay, these things are seriously cool. Excuse me while I nerd out on truck bed organization for a second.
Not only do the drawers slide out, but the entire platform slides out so that you can access everything stored on top of it easily.
Gone would be my days of using an old ski pole to pull out hard-to-reach items at the front of my truck bed.
Just like the Decked system, these drawers are available in different configurations depending on the year, make, and model of your truck.
However, BEDSLIDE asks you to start your search according to the year of your vehicle.
According to their website, they make BEDSLIDES compatible with vehicles going as far back as 1970.
But I would recommend heading over to their site to perform a quick search to see if they make a design that is compatible with your vehicle.
They also have several different BEDSLIDE models to choose from. I'll highlight them here quickly for you:
In addition to these sliding drawers, BEDSLIDE also offers a bunch of accessories. From mounting kits to bike racks to beer can openers, you can truly customize the perfect storage and lifestyle solution for your truck bed.
3: Mobile Strong Truck Bed Storage Drawers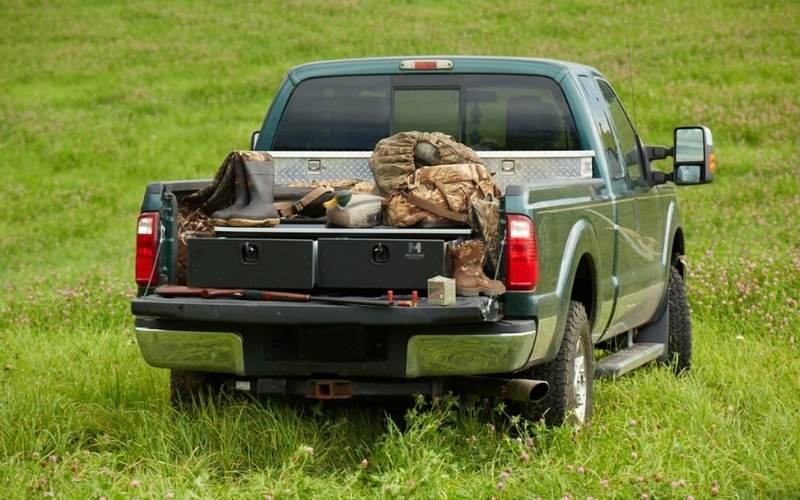 Mobile Strong's most popular set of sliding drawers for your truck feature a square design. Their MS5 Series is five feet long while the MS6 Series gives you an additional foot of storage length.
The main benefit to these sliding drawers is that you don't have to worry about the width of your truck bed when figuring out the fit.
They are both 48 inches wide to fit between your wheel wells without issue.
Instead of a metal top, Mobile Strong went with a rubberized finish for the MS5 and MS6 Series.
I like that they still went with metal trim to protect the edges of the box, but there a softer, more friendly upper surface.
They also have an 11.5" tall and a 15" tall model, depending on how much total storage space you want.
No matter the size, these models are secured to your truck bed using spring-loaded, D-ring tie-downs at the corners.
Just like the DECKED system, the drawers are lockable, but these include carpeted drawer liners.
Knowing how much things used to move around our RV when we drive, having an insulation layer to keep things from shifting and also protect them from damage is key.
In addition to the MS5 Series, Mobile Strong also offers wheel well drawers, a wheel well drawer and bed system (great for dogs!), and a complete Store N' Pull sliding drawer system.
4: TruckVault Storage Drawers
TruckVault caught my eye because they are often used by law enforcement and public safety officials.
But they make a ton of different sliding truck storage drawers for on-duty and off-duty applications.
Security is the number one selling point for these sliding drawer systems.
If you have firearms, ammunition, expensive tools, or other valuables that you want to lock up in your truck bed, TruckVault has you covered.
The next thing that really impressed me about TruckVault was the sheer number of applications for which they make sliding drawer systems. Let's cover a full list here for your quick reference:
On-Duty Applications
Law Enforcement
Fire/EMS
Commercial
Tactical
Military
Off-Duty Applications
Fishing
Shooting Sports
Photography
Overland
Outdoor Recreation
Everyday
For trucks, they also offer an all-weather line, products for trucks with camper shells, and a line of storage drawers for the interior cab of your truck. Sedan and SUV sliding drawer lines are also available, for what it's worth.
As someone that has a camper shell on my truck, their Standard 2 Drawer model caught my eye.
With an approximate depth of just six inches, it would allow me to maximize the remaining space in my camper shell for sleeping and lounging.
They also offer models with depths of approximately 8, 10, and 16 inches if you need more storage space.
Another product I have never seen before is a set of sliding drawers designed specifically for trucks that are pulling a gooseneck trailer.
The All-Weather Gooseneck drawers have a center opening for your trailer hitch with two full-length drawers on the sides and a small drawer in the center.
The drawers can handle up to 265 pounds and they are slim enough (approximately 6 inches deep) to allow plenty of clearance for your gooseneck hitch.
5: Weather Guard PACK RAT Storage Drawers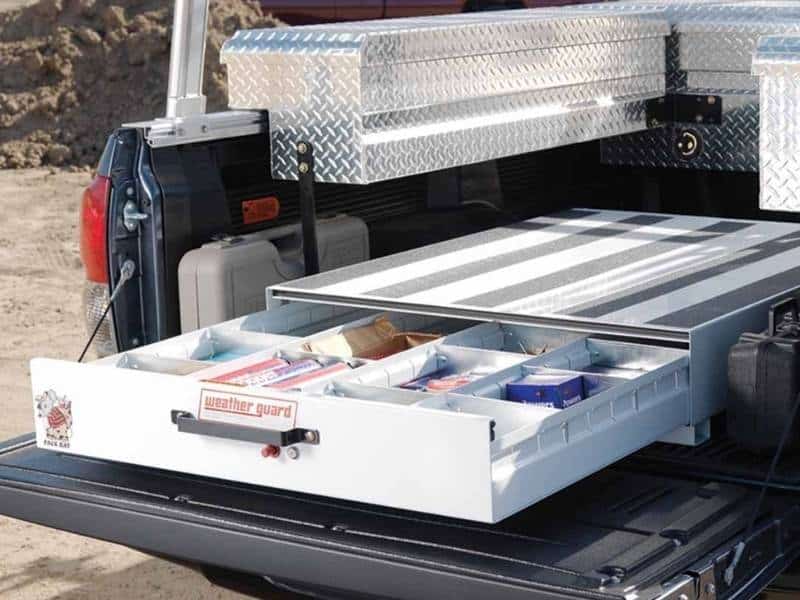 Weather Guard also offers a huge variety of sliding drawers for your truck. I'd recommend looking into their pull-out storage solutions if you want to customize your perfect truck bed organization setup, because they have a lot of options to choose from.
The standard PACK RAT Model 338-5 measures 48" by 40" by 13" and is very similar to the MS5 and MS6 Series from Mobile Strong.
This sliding drawer has a total of four compartments and 24 dividers. To me, that really makes it better for storing and keeping lots of smaller items organized.
If you need drawer space for larger items, I'd recommend the PACK RAT Model 334-3.
This one measures 48" by 30" by 13" and has a large compartment on one side with a smaller compartment divided in six separate spaces on the other side.
That said, those are just two of 24 different PACK RAT models that Weather Guard offers.
So I would highly recommend that you check out the full line of products to evaluate what makes the most sense for your truck.
6: Sterilite Wheeled Latching Boxes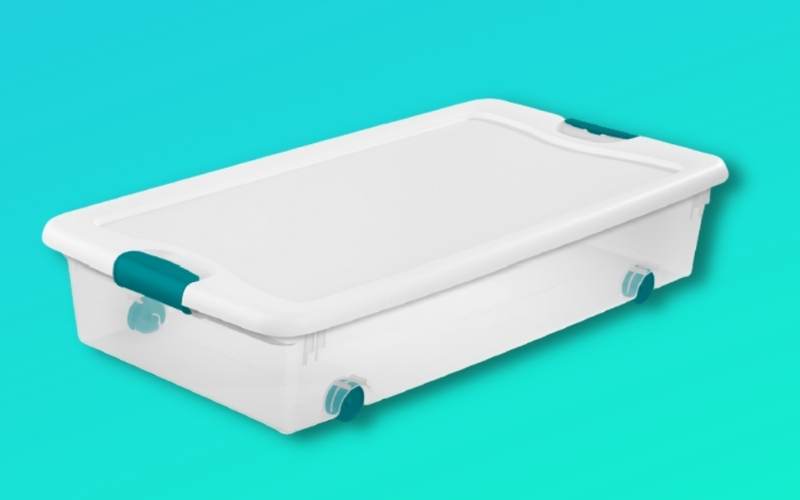 These boxes are the cheapest and easiest solution if you need extra storage for your truck.
To be honest, though I'd only really recommend them if you already have a sleeping platform built back there.
That is because these boxes won't handle very much weight being loaded on top of them. You will need some sort of intermediary to keep weight off the top of the boxes.
Plus, they are really only meant for lighter items like clothing, kitchen utensils, or light recreation gear.
I can't find a maximum weight capacity for them online, but I would say you shouldn't put much more than than 30 or 40 pounds in each box.
For me, this made the most sense because I was searching for a quick, last-minute storage solution.
They are readily available at most Wal-Mart or Home Depot locations and require basically no time to install.
Just make sure you get the wheeled variety because there are plenty of flat-bottom designs that look just like them!
So, Which Is Best For You?
That is going to depend on your budget and your preferences. For me, building a wooden sleeping system across the bed of my truck and then sliding a couple of 56-quart Sterilite Wheeled Latching Boxes underneath was the more economical solution for my clothing and cooking supplies.
If you need to transport tools that need to be locked up overnight or you need a durable surface to pack heavy loads on top of, then I'd say you really can't beat the DECKED Sliding Drawers.
Conclusion
If you are tired of moving a bunch of stuff out of the way to get to what you are actually looking for, it is time to get a set of storage systems for your truck.
They will help you spend less time loading and unloading your truck and more time actually enjoying camping.
As always, we hope that this guide has provided you with some useful insights and, in doing so, increased your overall RVing Know How.
If you have any experience with any of these truck bed organizers, drop us a comment below and let us know how you like them!