You don't want to spend your next vacation deadlifting your entire trailer. It's never a bad idea to call in back-up when moving heavy equipment or lining up your tractor-trailer into just the right spot, but sometimes we don't have the luxury of friends and neighbors to lean on.
You must make minute trailer movements once you get to your final destination, and without the help of the right trailer dolly, you could be stuck trying to lift it all on your own.
Most conventional manual dollies cannot support enough weight to move tractor-trailers. Instead, focus on a dolly made specifically for trailer hauling or a motorized dolly. Unless your trailer weighs less than 500 pounds, you're going to need a heavy-duty system to properly handle your travel trailer without risking breaking the dolly or your back.
If you are using a lightweight tent trailer, you may be able to rely on a typical manual dolly to get the job done.
In all other cases, just because a conventional approach won't work doesn't mean you're out of luck.
The ever-changing travel trailer market is constantly looking for ways to make parking your vehicle a bit easier.
A mix of hand crank engines and AC/DC powered trailer dollies are popping up built for helping you haul your second home, and there are even some companies making manual dollies specifically built to tow your camper.
We'll show you all the current dolly options that can bear the brunt of your travel trailer so you can get an idea of what options are out on the market, and then we'll provide a few of our favorite manual and electric dollies for moving trailers.
What is A Trailer Dolly Used For?
A trailer Dolly helps you to park or move your travel trailer when it is not attached to your full-time towing device.
A high-quality dolly will wield traction power and a jack connected to the hitch of your trailer to make subtle movements a breeze.
Trailer owners can use them to navigate your trailer into tight parking spaces that require greater precision than is available from the rearview mirror of your pick-up.
They are also helpful when you need to make minute adjustments to your trailer without hooking the entire contraption up to your truck.
How Much Does A Trailer Dolly Cost?
A trailer dolly can cost as little as 250$ all the way up to 3,000$, depending on what you need your dolly to do.
A manual trailer dolly will stay well under 1,000$, while high-end power dollies with remote control functions and heavy-duty capacity will stay between 1,500$ and 3,000$.
Every unique job will require a different dolly. You can examine all the different types of dollies to see what each price point has to offer before settling down onto the budget for your needs.
Powered, Hand, or Electric Trailer Dolly – Which One to Choose?
Just like every other aspect of your vacation time, you have plenty of choices when it comes to selecting the dolly to pair with your travel trailer.
Figure out the total weight of your trailer, as well as the situations in which you'll be using the dolly the most, to decide which style is best for you.
Each style has pros and cons and is going to work best in different scenarios.
The only thing every one of these Travel Trailer dollies has in common is they will all make hauling your travel trailer easier.
These Dolly styles will always be able to carry your load so you can get everything lined up just right for a great weekend:
1. Manual Trailer Dolly
Not all Manual dollies are out of the question. Dollies explicitly built for trailer use can take on travel trailers with smaller weight and make it easier to haul around your trailer.
If you have a lightweight camper, you won't need more than a manual dolly, and the option is cheaper and easier to use than any other choice on this list.
Strengths:
Affordable
Lightweight
Adjustable
Weaknesses:
Can't support more than 2,000 Lbs.
Difficult to handle on Sloped Surfaces
2. Electric Motor Dollies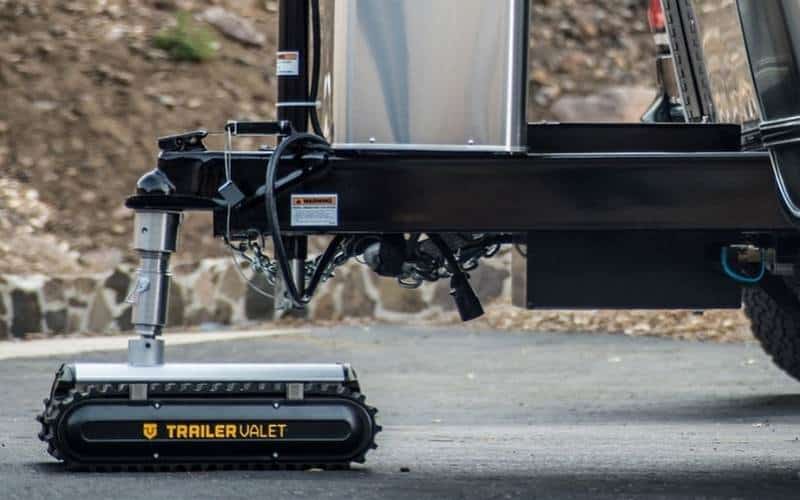 Either powered by a DC winch or AC electric motor, these dollies travel slowly but surely to help you move a hefty trailer.
The engines are powered by either a battery system or through an extension cord, so you'll have to ensure your trailer's power system is capable of moving itself before you head off into the unknown.
Motors turn the wheels to give you greater control over where your dolly is going and less strain on your lower back.
Strengths:
Easy Maintenance
Can handle large Trailers
Can offer several drive Gears
Weaknesses:
Move Slowly
May need an Extension Cord to Function
3. Hand Crank Dolly
Delicately towing the line between manual and electric dollies are hand-crank dollies built to support tough trailers.
A drive system relies on a manual crank to support heavy machinery. Modern features have provided greater protection to the devices, with some models featuring a steering system and emergency brakes if your hands slip off your dolly.
Some companies have gone further still to provide hand-crank dollies that can support electric backup for the most significant jobs.
Strengths:
Don't need to be connected to a power source to function
Can still handle 5,000 lbs
Provide steering and fall protections
Weaknesses:
Still can't move the heaviest trailers
Still somewhat relies on human strength.
Do trailer dollies really work?
Camping is all about thinking outside of the box. Modern travel trailers can carry more comforts of home than ever before, and if you're keen, you can pack in enough in your camper to stay off-grid for weeks at a time.
The only downside of all this freedom is the weight. All our toys can slowly begin to add up, and before you know it, you're towing thousands of pounds of fun behind you to your next vacation.
Your truck can handle this extra burden with ease, but once it's time to sort out the details of your trailer's final resting place, you'll need more maneuverability than your truck can offer.
If you've made it this far, you probably are already convinced that a dolly is a necessary companion for the road.
For those still wondering whether or not the technology is worth the investment, here are a few benefits to using a dolly explicitly made for trailers:
Precision Parking
Maintenance Free Weekend
Prevents Damage – To you and the Trailer!
Greater Precision
Your truck will be more than capable of handling most of the heavy lifting. However, there will be plenty of minute adjustments you'll have to make once you think the move is over.
Perhaps you set up on a cloudy day, but you discover with the first rays of sunshine that your trailer is at a less than opportune angle.
Maybe your next trailer spot won't have much room for error, and you'd rather get up close and personal with the operation than leave things up to chance.
No matter what movements you have to make, packing a trailer mover dolly into the back of your vehicle will save you an afternoon full of heavy lifting.
Low Maintenance
Getting a dolly built for the job may seem more expensive at first glance but could end up saving you precious time and money in the long run.
Trying to put extra strain on a dolly not up to the task could break the dolly on the spot.
Dollies for trailers are built with high-quality steel materials that have proven capable of handling the most demanding trailer loads.
Those extra dollars spent now could save you from having to re-purchase your dolly later.
Prevents Damage
Not only will the right dolly not break down on the job, but it will also save you and your trailer from taking a nasty fall.
Manually hauling a trailer is a recipe for lower back distress, and if you start feeling the pain, you may just drop your trailer without regard.
Built-in safety features and powerful engines on tough dollies will keep things safe and secure no matter where you take your travel trailer.
5 Best powered dollies For Moving Travel Trailers
Now that we know what travel trailer dollies are capable of, we'll show you some travel trailer models that exemplify the high-quality performance these dolly styles are known for.
A powered trailer dolly for your travel trailer is no easy investment, and you want to make sure that the product you're getting can get the job done.
The products on this list were judged based on their price, tow ability, ease of use, and extra features and came out of the market as the standards for their classes of travel trailer dollies.
Here are the 5 best dollies to park or move your travel trailer into tight spots or driveways.
1: Best Manual Dolly: Tow Tuff TMD-1000HSD Adjustable Trailer Dolly
Three wheels of heavy-duty lifting represent the best travel trailer moving that a manual dolly can offer.
Tow Tuff designers used high-quality materials throughout the process, including a corrosion-resistant outer layer.
You can easily slide the handle up and down to reach the perfect level for any travel trailer that you need to haul.
The third wheel takes more weight off of your shoulders and also helps the dolly guide your trailer into tight spaces with ease.
Tow Tuff can support 1,000 pounds, which is just about the best you'll find in a manual dolly.
You'll struggle to use this dolly on inclined surfaces, but if you need a manual dolly to help get the job done, it doesn't get any better than this tow ball, and Tow Tuff added on a one-year warranty to make sure you won't quickly repeat your purchase.
2: Best Budget : Trailer Valet TV5X Lift Jack
The TV5X is out to prove you can find high-class travel trailer dolly performance without a high-end investment. Our favorite budget travel trailer dolly doesn't try to do anything crazy.
Trailer Valet's hand-crank heavy-duty jack can tow up to 5,000 pounds without weighing down the fort too much, at only 51 pounds.
Trailer Valet was one of the first companies to churn out high-quality dollies made specifically for moving trailers.
This affordable option from the company gets any small to midsize jobs done right. If you need electrical backup, the TV5x can be powered by an electric drill for large hauls.
With multiple drive gears, you'll be able to haul your trailer up and downhills, and if the worst happens, a safety brake kicks in to ensure any fall won't cause more damage.
If you don't want any radical features on your dolly, just a powerful helper made from high-quality materials that will get the job done, the TV5X will walk you through any tight spaces.
3: Best Convenient Dolly: Purple Line EM4445 trailer mover
Here we have a truly unique travel trailer dolly. The EM44445 is a permanent installation onto your travel trailer capable of hauling 5,000 pounds, all from the convenience of remote control.
If you're worried about forgetting your dolly at home, this Enduro option will always be right by your side.
Once you get to your destination, you can fully control your travel trailer from the included remote control.
Two is the magic number for this product. Two 12V motors can handle 5000 lbs of camper, and all parts of this product are protected for two years of operation.
When you first get out of the car out of a long drive, you don't always want to spend some time-bending around your trailer and cranking up a dolly.
The installation isn't the easiest thing in the world, but once your EM44445 sits at the ready, the dolly attaches straight to your wheels to take care of the dirty work.
4: Best Heavy Duty Dolly: Parkit360 Motorized Electric Trailer Dolly
The massive 12V battery in this Parkit electric Travel trailer dolly can handle up to 10,000 pounds, ensuring you can move even some of the largest travel trailers with ease.
This electric dolly is a more straightforward option, the battery connects to the reinforced wheels underneath the ball winch, and a protruding handle allows you to navigate precisely.
The 1.5 HP motor will move slowly but surely, even in uphill or downhill situations. Everything you need to charge and operate your heavy-duty trailer dolly ship with this product and an extra controller will instantly put the brakes on the dollies movement if the captain lets go.
It may look like not much more than a manual dolly with a battery strapped on top, but this option is capable of handling heavy workloads.
5: Best High-End Dolly: Trailer Valet RVR5 Motorized Dolly
The cream of the crop, if you have heavy needs out of your travel trailer dolly, this motorized Trailer Valet can get any job done right.
The RVR5 got rid of wheels in favor of a tank-style drivetrain to move quickly over any kind of surface.
Four motors will push along even some dual axle trailers uphill or downhill with ease, and you won't have to get your hands dirty.
The push of the remote control deftly operates all aspects of this behemoth. The lithium-ion battery will haul your trailer for 30 minutes before recharge.
If you're willing to invest a significant chunk of change into making your life easier, let this dolly valet up to 5,500 lbs of travel trailers in style.
Get the Dolly That Works For You
Carrying the right dolly with you will feel like always having an extra set of hands on your next adventure.
Don't plan on leaving the house with any old manual dolly and expect to find success.
Nobody wants to spend their weekend vacations doing a bunch of heavy lifting. While you cannot use an ordinary manual dolly to move a travel trailer, we can now see that various options will make your life easier.
Once you know the weight of your trailer, how much you're willing to work, and where you plan on parking your trailer, find the best dolly for your tractor-trailer.