How much does a trailer cost? This is a common question among those wondering whether or not a trailer is worth purchasing. The price of a travel trailer ranges from as low as $10,000 up to $75,000, with the average trailer being about $24,000. However, you can find a great travel trailer for far less than that – some are even under $10,000, but there are also lots of small and lightweight travel trailers that cost less than $20,000.
If you're an adventurer looking to travel and explore, travel trailers provide great facilities to make your road trip comfortable and enjoyable. With a trailer, you can travel to various national parks and have the comfort of a home away from home throughout your journey.  
In this article, I will go over the different types of travel trailers you can purchase according to your requirements, along with factors that influence the cost of the trailers. I'll also mention additional costs you might have to deal with while using a travel trailer. I also answer frequently asked questions about travel trailers towards the end of the article.
Different Types Of Travel Trailers Along With Their Price
Let's first take a look at the different types of travel trailers. Before we can ask the important question: How much does a trailer cost? 
Standard Travel Trailer
A standard travel trailer is the most basic travel trailer. Up to four people can sleep in it, and you can easily tow it to a truck or an SUV. These are versatile, offering a bathroom, kitchen, and adequate space for comfortable travel.
A standard travel trailer costs around $35,000 on average, but you can find smaller, lighter-weight trailers for much less.
A great option for standard trailers is the 2024 Jay Feather Micro, starting at $36,585. This option has great customer reviews and offers some excellent features at a reasonable price. It contains a 55-gallon water tank, a tub and shower, a fridge, a queen bed, and bunk beds, which can sleep up to 8 people.
Single Wide and Double Wide Travel Trailers
While single-wide trailers tend to be between 12 and 16 feet wide, double-wide trailers are over 20 feet wide. This allows more room to accommodate more people, along with increased comfort. In double-wide trailers, you can add beds and other features such as sofas, fridges, and wardrobes. This makes them better than single-wide trailers.
If you're wondering how much a double-wide trailer will cost, it's important to know that the price ranges depending on the construction. But how much is a double wide on average? Well, a newly constructed double-wide trailer should cost you about $160,000. If you want to know how much a single-wide trailer costs, the average cost is around $80,000. TrueMobileHomes offers some great deals for single and double-wide mobile homes. 
Fifth Wheel Travel Trailer
If you're looking for the most comfortable travel trailer, a fifth-wheel travel trailer will fit your needs. The benefits of using this travel trailer include extra room, more beds, additional bunk beds, and more space for kitchens, sofas, and other accessories. However, you would require a more powerful towing vehicle, like a truck.
Fifth wheels are also more luxurious and cost an average of $45,000, but brand-new ones may cost significantly more ($75,000 to $100,000).
The Reflection 100 series is a great option for fifth-wheel trailers. These are very popular among travelers since they offer a luxurious experience and many amazing features. You can get a 55-gallon water tank for freshwater and the ability for up to ten people to sleep. You will get sofas, a stove, a TV, a shower, a queen bed, and a lot of free room starting from $50,987.
Toy Hauler Travel Trailer
If you're going out on an adventure and need to bring a snowmobile, dirt bike, dune buggy, or ATV, the toy hauler trailer is the solution you should go for. These tend to be quite large and offer a large living area capable of accommodating even ten people. However, these might not be as luxurious as a fifth-wheel travel trailer.
There's usually a ramp off the back, so you can easily unload and load your adventure rigs. The average cost for a toy hauler is usually $40,000 to $100,000.
If you want a toy hauler that will fulfill all your needs, check out the Jayco 2024 Seismic. It has a 102-inch wide body with an 11-foot cargo area. It features a king bed along with useful features such as a fireplace and a king bed. The price starts from $106,605.
Teardrop Travel Trailer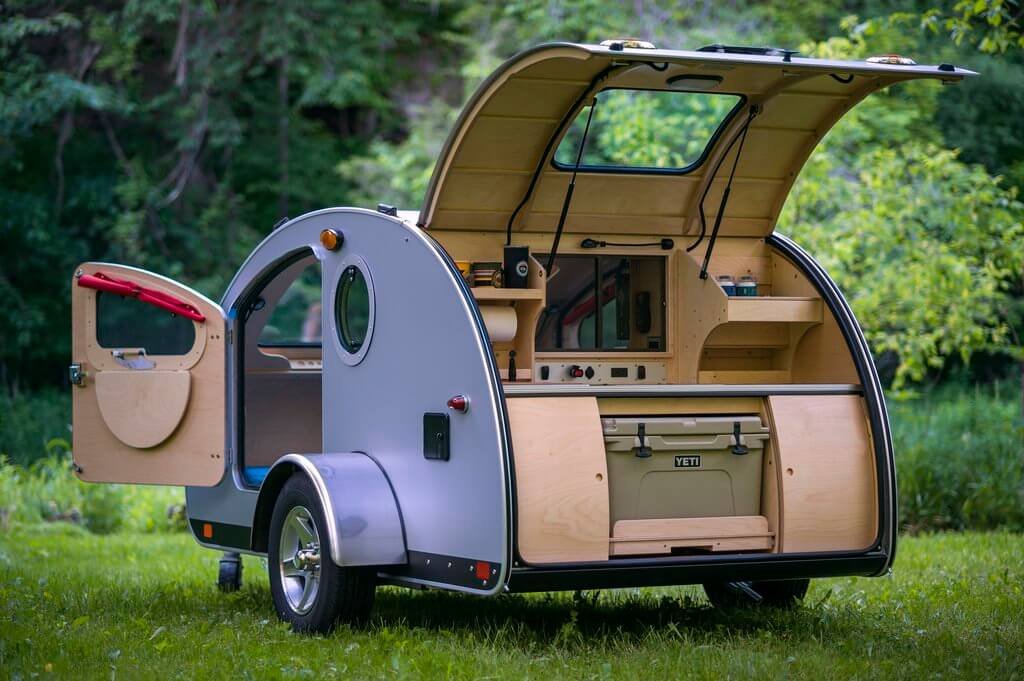 Compared to toy hauler travel trailers, which tend to be some of the largest available trailers, the teardrop travel trailer is one of the smallest options. In this limited space, you can add a bed and a bathroom.
Teardrop campers can cost between $5,000 and $20,000, with luxury or custom models costing upwards of $24,000. The average price is between $12,000.
The NuCamp TAG XL Teardrop Camper is an ideal example of a teardrop trailer. It sleeps up to two people inside on the queen-sized bed, has many windows (including a star-gazing window), and plenty of storage. How much does this trailer cost? Just $20,000!
A-Frame Travel Trailer
A-frame trailers have a unique design, with a peaked roof and a small footprint. This should be a great option if you're looking for a lightweight travel trailer to tow with smaller vehicles. Due to its smaller size, it can only accommodate two to three people.
The A-frame trailers are very lightweight, an advantage if you don't want to buy a huge truck to tow your camper. This type of trailer will cost between $11,000 and $30,000.
The 2024 A122S by ForestRiver is an option if you plan to get an A-frame trailer. It has a flip-up bed, a dinette, a fridge, a stove, and a sink. You can get this for $20,000 to $30,000.
Tent Trailer / Pop-Up Trailer
Another very affordable trailer type is the tent trailer or pop-up trailer. These campers have a hard base and roof, which pops up using a cranking system to reveal canvas (tent) walls and slide-out beds on either end of the trailer.
This trailer will save you a lot of space and is relatively easy to transport due to its lightweight. On the other hand, the downside is that you won't be able to use this at the roadside for cooking or the bathroom; you would need to reveal the tent walls first.
The price ranges from $5,000 to $30,000, with an average price of $15,000.
Rockwood Tent Trailer by Forest River 1940F is an option worth considering. This trailer has much to offer, like a gaucho bed, a fridge with a sink and stove, a dinette, and two foldable beds with an electric water pump. This trailer costs $15,000.
Hybrid Trailer
The difference between these and a tent trailer is that the hybrid trailers have hard walls with collapsible tents that can be expanded to reveal sleeping areas. It's a mixture of standard and tent trailers with more hard construction compared to a tent trailer and more sleeping areas compared to a standard trailer.
A hybrid trailer costs between $18,000 and $40,000, with an average trailer costing about $30,000.
If you're looking for a hybrid trailer, check out the Rockwood Roo 183 by Forest River. This versatile and affordable option features three queen beds with heated mattresses, a decent-sized kitchen, and many other useful features. You can get the latest model for $45,000, while old ones can be purchased for $20,000 to $30,000.
Truck Camper
As the name suggests, a truck camper is a travel trailer that attaches to the back of your pickup truck without needing towing. It is perfect for accommodating up to 4 people, plus you can tow additional gear, like a boat, at the back. These are lightweight and will offer you a bathroom and a kitchen.
The price can be as high as $50,000, with an average truck camper costing about $25,000.
When it comes to truck campers, you can get some great features from Lance 850 Truck Camper. The bedroom over the cab features lots of storage and a Dlx queen innerspring mattress with a pillow top and bedspread. You can add a 100-watt solar system on the rooftop, which you can control from Lance's Easy Charge exterior charging center. The 2023 model costs $50,000, but you can find older and used ones for about $20,000 to $30,000.
Factors Influencing The Price Of Travel Trailers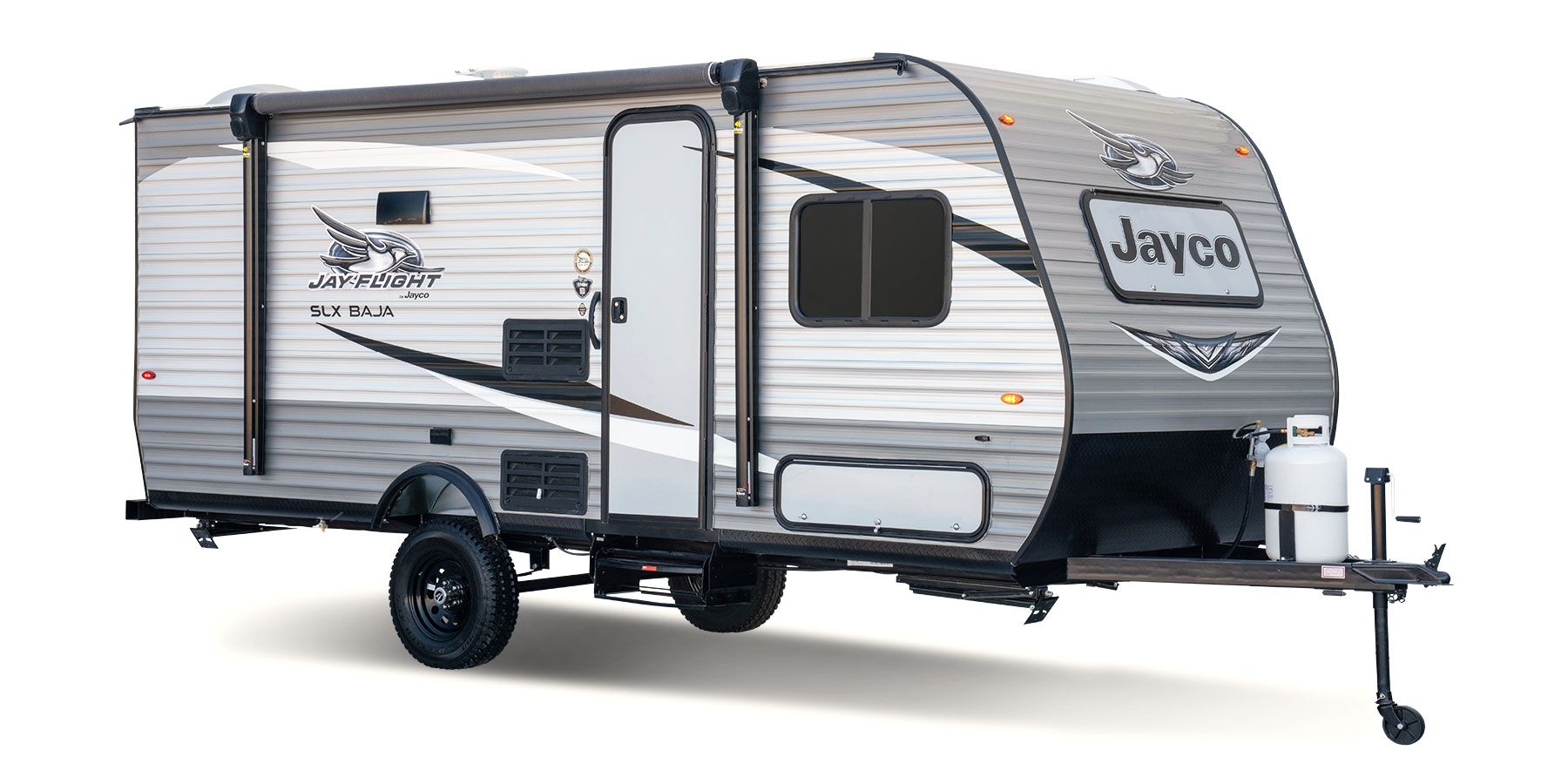 The cost of the travel trailer and the differences due to the type of trailer can be influenced by several factors. These include:
Whether you are purchasing a new or used trailer, older ones are cheaper.
The condition of the trailer: if you purchase a used trailer, the price might be more or less depending on how good the condition is.
Additional features such as a TV, refrigerator, kitchenette, and cabinets would increase the price of the trailer.
A customized trailer tends to cost more compared to regular travel trailers.
Whether you are purchasing the travel trailer permanently or renting it.
Regular maintenance of the trailer can increase the costs.
The prices tend to vary according to the market conditions. There is an increased demand during holidays, so the prices tend to be higher.
Choosing insurance for your trailer will also increase the price.
You may also encounter additional costs such as memberships, registrations, supplies, and taxes.
Things To Buy For Your Travel Trailer
If you're looking to get a travel trailer, here are some of the necessary extras you might consider purchasing:
First-aid kit
Leveling blocks
Walkie-talkies (in case there's no cell service)
Water pressure regulator
Water tank filler valve (so you don't have "bubble back" when filling your fresh water tank)
Spare garden hose (for cleaning up after dumping wastewater)
Camping gear: kitchen dishes, utensils, pots and pans, cleaning supplies, camp chairs/table, tarps, lanterns, sleeping bags or bed linens, etc
Conclusion
A travel trailer will cost you between $10,000 and $75,000. The average price is about $24,000. The cost of the trailer depends on the type of trailer and several other factors, such as the trailer's condition, market conditions, customizations, additional features, and maintenance. You should also consider purchasing some items for your travel trailer to help you. These include first aid kits, leveling blocks, camping gear, and water pressure regulators.
FAQs
1. What is the price of a travel trailer on average?
On average, a travel trailer will cost about $24,000, ranging between $10,000 and $75,000. The price also depends on the type of trailer you are purchasing. A double-wide trailer costs more than a single-wide trailer. The fifth-wheel travel trailers and toy haulers are more expensive than others.
2. What is the average price of a double-wide trailer?
A double-wide travel trailer or a mobile home will cost an average price of $160,000, ranging between $100,000 and $200,000.
3. What is the average price of a single-wide trailer?
For a single-wide trailer, the average price is around $80,000.
4. What is the average cost of renting a mobile home?
The average cost of renting a mobile home for a month is around $600. The price may range between $200 and $1000 depending on the location and the facilities provided.