This guide shares the best tips for washing your RV, different RV wash options, and how to find the best RV wash bay near you.
RVs have a knack for attracting dirt and grime like a magnet, and getting them clean can feel like an Olympic-level challenge. I've also had my fair share of battles with stubborn mud splatters and road dust.
If you're anything like me, you can't help but smile when you see those shiny, sparkling RVs cruising down the highway. And you know what they say, "A clean RV is a happy RV!" But if you own an RV, be aware that cleaning it alone can take six to eight hours. So, to get that clean and happy RV, the RV Wash Bay is the ultimate solution.
In this article, I'll explore the best ways to wash an RV and share some tips to find the nearest and best car wash with RV bays.
Best Way To Wash An RV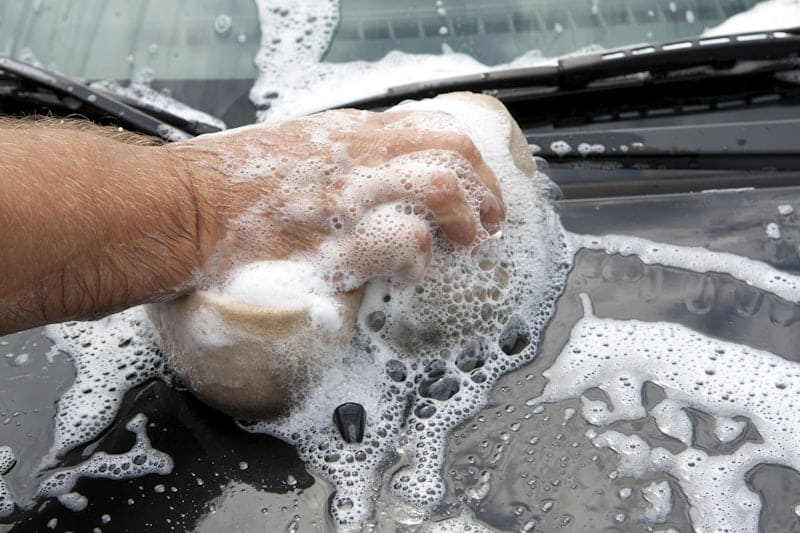 RVs are far more challenging to clean than ordinary cars. Sadly, few places are big enough to drive your RV through to get a commercial RV wash.
Therefore, washing an RV by hand in an RV wash bay is the best way. But it takes a lot of time, effort, and, in most cases, a ladder.
Before we get into the specifics, here's a quick rundown of the process of cleaning an RV by hand:
Find a parking spot that gives you easy access to the top and all four corners.
Get your RV brushes, cleaning solution, a bucket, and a ladder to clean your RV.
Prepare your cleaning solution per the label's directions.
Start from the roof and work down to the tires.
Wash, scrub, rinse, and repeat.
Prevent the soap from drying out before rinsing by working in small portions.
Avoid wet spots on windows by using a sponge.
Check your RV's manual for specific cleaning tips.
RV Wash Soap
When choosing an RV wash soap, avoid dish soap or strong detergents. These detergents can strip the paint or sidings of your RV.
Instead, look for a soap that is specifically designed for RVs. These soaps are formulated to clean effectively without stripping your RV's paint. Furthermore, they often contain ingredients that give a shiny finish to your RV.
RV Wax
Regular car wax can damage your RV's exterior. Personalized RV wax offers UV protection and protects your RV from harmful sun rays.
Some waxes are specially designed for easy application by hand, which makes cleaning an RV much simpler. Therefore, always look for a high-quality wax that gives your RV a long-lasting shine and repels dirt and water effectively.
Looking for the best recommendation for RV wax? Read our article on the five best RV waxes for fiberglass surfaces.
We earn a commission if you make a purchase, at no additional cost to you.
RV Wash Brushes And Wash Mitts
When looking for RV wash brushes and mitts, choose the gentle ones that will not scratch your RV's surface.
Look for brushes with long handles that are easy to grip and handle. These brushes will allow you to reach tricky spots easily. It's best to opt for brushes and mitts designed for RVs, as they are gentle and effective. Some even have adjustable handles to make your cleaning job more comfortable.
Best Options For Washing An RV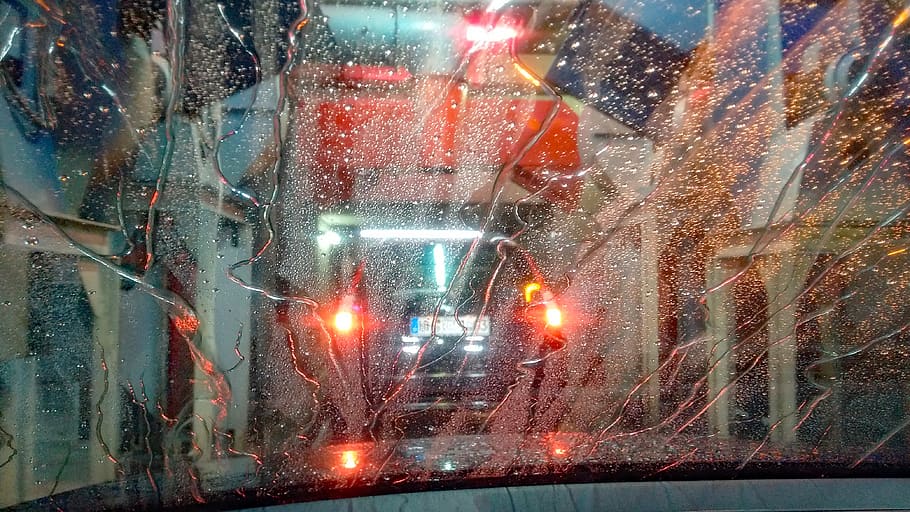 Cleaning your RV can be a lot of work. And finding a car wash with an RV bay can be tricky. Here are some options to keep your RV clean:
DIY
When washing RVs, I'm a big fan of the do-it-yourself (DIY) approach. It allows me to perform annual RV maintenance and spring cleaning. If you are also a DIY enthusiast, I recommend the following options depending on your situation:
DIY at home: If you can wash your rig, ensure you have all the supplies. The most important things to consider are the availability of a ladder, hose, nozzle, and sufficient water supply to give your rig a thorough wash and wax.
DIY at a car wash with RV bay: A DIY car wash bay can be a feasible option for smaller RVs. Look for very tall or completely open bays for a hassle-free experience.
Some RV parks also feature an RV washing bay. However, they may charge a small fee for the additional water usage. They also require you to use a nozzle to minimize water wastage.
Truck Stop And Wash
Truck stops are a great choice If you're looking for a simple and affordable option. However, to ensure availability, you should inquire beforehand.
The prices at truck stops can vary depending on the location, but typically, they charge based on the length of your RV. For instance, if you have a larger RV, you may expect to pay around $50 to $75 for the cleaning.
Always specify to avoid scrub brushes on your RV when opting for this option. These brushes are typically utilized on every rig passing through the bays and can cause scratches to the protective coatings on your RV. Therefore, request power spray and soap mixtures to clean your vehicle.
Mobile Wash Service
Mobile RV wash companies can be a great option If you can't find an RV wash nearby. While they may cost more, they often deliver excellent results. These companies can come to wherever you've parked your RV, and they can even clean awnings, vent plastic, air conditioning covers, and the roof.
The cost of these services depends on the size of your RV, and it can be in the several hundred dollar range. However, the quality and consistency they provide are worth it.
Some campgrounds and RV parks have rules against cleaning vehicles on campsites due to water usage and the need to avoid getting the surroundings dirty. So, if you're staying in a campground, get permission before hiring a mobile RV wash company.
RV Dealership And Detailing Facility
RV dealerships often have an on-site RV wash bay to encourage customers to purchase clean rigs. This option lets you get your RV cleaned while taking care of any repairs or maintenance services you may need.
You can find many RV detailing facilities by using Google and searching for "RV wash bay near me" and checking their reviews. Some facilities may be affiliated with RV dealerships, while others operate independently.
Typically, RV detailing services come with a higher price tag. However, you can expect a complete exterior and interior cleaning. Moreover, many detailers also offer odor-removal services. This can be particularly useful if you're purchasing used RVs and want thorough detailing to refresh your newly acquired rig.
How Often Should You Wash Your RV?
The number of times you should wash your RV usually depends on how often and where you drive it. Here's an ideal timeline for how often you should wash your RV:
If you travel on dusty dirt roads like me, consider washing it a few times a month.
If you're a casual RVer, wash it once a month in an RV wash bay.
If you're a seasonal adventurer, you must thoroughly clean your RV at the beginning and end of each camping season.
Ultimately, how often you wash your RV depends on your preferences and circumstances. For example, if you use an RV cover to shelter your vehicle when not traveling, you may go for several months without washing it.
Pro tip: Apply some wax on your RV after washing it. This will make it shine like new and protect it from fading or cracking.
We earn a commission if you make a purchase, at no additional cost to you.
How Much Does It Cost To Wash An RV?
If you want to keep your RV sparkling clean, you have a few options. The price will depend on how much you want to spend and how deep you want to clean. Here's a rough estimate for the average cost of getting your RV washed:
A basic wash can cost around $5 per foot.
Extras like waxing, rinsing, and some inside cleaning can cost up to $45 per foot.
Blue Beacon RV wash bay, the truck wash service with over 100 locations in the US, charges between $50 and $75 per vehicle.
Final Words
Your RV deserves some love and care, especially after a long trip. Since dead insects and other residue can slowly damage the protective layers, you should prioritize washing your RV regularly. So, whether you do it by yourself or key in the words "car wash with RV bay near me," always remove dirt and debris from your RV as soon as possible.
FAQs
What are the benefits of using an RV wash bay near me?
Using the nearest RV wash bay is convenient as it saves time and ensures your RV gets a thorough cleaning. Plus, you can enjoy a sparkling clean RV without the hassle.
How can I find a reliable RV wash bay near me?
Here are a few options you can try to find a reliable RV wash bay near you:
Ask the people working at the campground where you are staying. Most campgrounds have their own RV wash bays. Otherwise, they will recommend the nearest and most reliable car wash with an RV bay.
Use your favorite search engine and type "RV wash bay near me." This will give you a list of local options.
Check out Yelp. They'll have reviews and ratings for RV wash bays in your area.
Consider visiting the nearest truck stop, Blue Beacon, as RV wash bays are often available.
What services are typically offered at a car wash with an RV bay near me?
A car wash with an RV bay offers exterior cleaning, hand washing, and RV detailing services. Such facilities also include extra services like waxing and interior cleaning of RVs.
Are there any specific precautions I should take when using an RV wash bay near me?
When using an RV wash bay, read and follow any instructions or signage provided. Double-check that all windows, vents, and doors are closed to prevent water from entering the interior. Moreover, always specify to avoid rough and stiff brushes on your RV.