What does RV stand for? RV stands for recreational vehicle. It is a motorized or towable vehicle that combines travel and living quarters for vacations or camping trips. Comforts like sleeping quarters, a kitchen, restrooms, and entertainment systems are typically included. You will come across different types of RVs like motorhomes, campers, travel trailers, and fifth wheels. They offer a self-sufficient way to travel while maintaining home comforts.
In this article, I'll describe an RV and its features that make it feel like home. Making memories and keeping the adventure close to your heart are important parts of an RV vacation. You must understand the different types of RVs to make an appropriate choice to keep you secure and well-prepared.
Key Features Of An RV
RVs have several amenities to meet your daily requirements. The table below presents some key features of RVs.
| | |
| --- | --- |
| Feature | Detail |
| Sleeping area | Sleeping quarters in RVs can range from basic bunk beds to spacious master bedrooms. Even separate sleeping areas for children or visitors are available in some larger RVs. |
| Kitchenette | The kitchenette in many RVs has a stove, oven, microwave, refrigerator, sink, and cabinets for food storage and cooking supplies. This enables us travelers to make food while we are on the move. |
| Bathroom facility | Some RVs frequently come equipped with a bathroom, toilet, sink, and shower. Depending on the style and size of the RV, the bathroom's dimensions and facilities may change. |
| Dining area | RVs sometimes have dining areas with a table and chairs. Eating here and working or playing games in this area is possible. |
| Storage | There are several ways to store clothing, equipment, and personal goods in RVs. Closets, cabinets, and under-bed storage are examples of this. |
| Entertainment | Flat-screen TVs, DVD players, and sound systems are common entertainment features in RVs, providing indoor entertainment for downtime. |
| Climate control | RVs commonly have heating and cooling systems to provide comfort in various weather conditions. |
| Power and utilities | Batteries, generators, or external power sources can power RVs. Some of the other utilities are freshwater tanks, sewage tanks, and camping electrical hookups. |
| Slide-outs | The slide-out is attached to some recreational vehicles (RVs) that can be enlarged when parked, increasing the inside room and space. |
| Awnings | The RV awnings are an extension to provide shade and weather protection. It gives you more room to unwind and enjoy yourself. There are different awnings to cater to different needs. |
| Exterior storage | Larger RVs often have external storage spaces to stock up on tools, grills, and other outdoor gear. |
| Connectivity | Nowadays, some RVs come with mobile and Wi-Fi networking features, enabling you to communicate while traveling with the least errors. |
| Safety features | As you venture into the unknown, safety tools are essential for an RV. RVs generally come with seatbelts, fire extinguishers, smoke detectors, and carbon monoxide detectors. |
| Customization | You can always update your RV with additional features and amenities to suit your needs, which makes it more dependable and comfortable. |
Depending on the model of the RV, the features may vary. Choosing an RV that fits your requirements and travel preferences is important. I will take you through the various types of RVs you can choose from.
Types Of RVs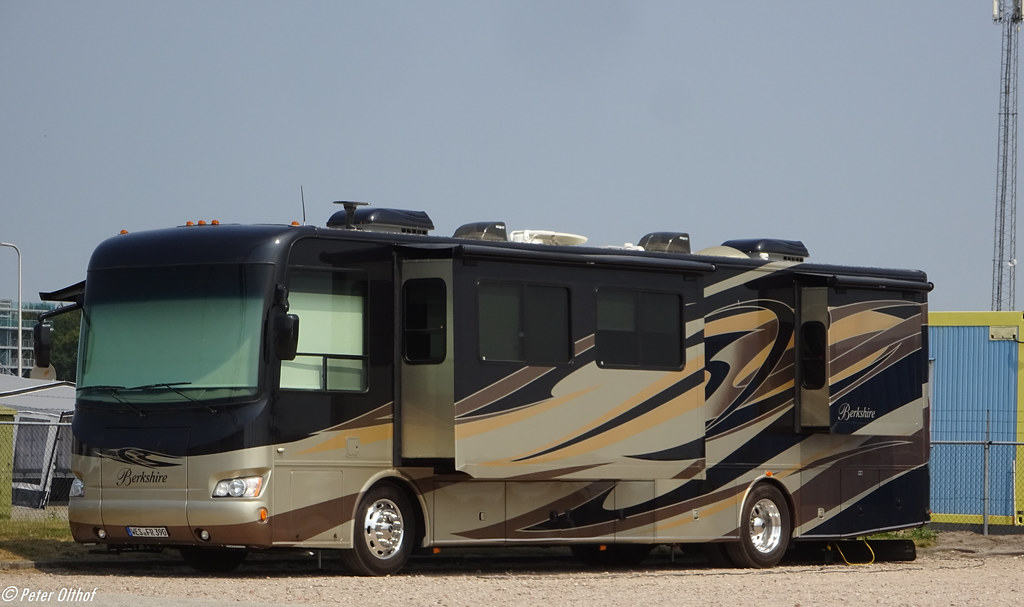 While selecting your RV, it is crucial to understand each type's variety of styles, unique features, and applications. Here are the different types of RVs you can choose from:
Class A Motorhomes
The Class A motorhome is a sizable independent RV built on a unique framework. They typically get the label "luxury RV" and include roomy living areas.
Class A motorhomes can have floor plans ranging from 25 to 45 feet long, including complete kitchens, baths, and multiple sleeping quarters. The Winnebago Forza Class A Motorhome is one of the best examples of this type of RV.
Class B Motorhomes (Campervan)
The Class B motorhome is a small RV with improved maneuverability and fuel economy. It is constructed on a van base and best suits couples or lone travelers.
Class B motorhomes usually range between 16 and 22 feet long and include essential features like a sleeping room and a small kitchenette. The Mercedes-Benz Sprinter-based Airstream Interstate is the best example of a Class B motorhome.
Class C Motorhomes
The Class C is a mid-sized motorhome with a cab-over layout. In terms of size and facilities, it provides a middle ground between Class A and Class B motorhomes.
These come in 20 to 33 feet long and include a sleeping compartment above the cab, living and cooking areas, and restrooms. The Four Winds Class C motorhome by Thor Motor Coach is an excellent example of this type of RV.
Travel Trailer
A travel trailer is a transportable RV that can be towed but lacks an internal combustion engine. There are numerous sizes and floor plans available.
They range from 12 to 35 feet or more. These trailers have a living room, kitchen, and bathrooms. The Airstream Flying Cloud Travel Trailer is a renowned example of this type of vehicle.
Fifth Wheel
Fifth wheels are built to be towed by a pickup truck utilizing a unique fifth-wheel hitch, similar to a travel trailer. These provide more room and stability.
Fifth wheels range from 20 to 40 feet, and the floor is divided into two levels by a raised forward portion that crosses the truck bed—for instance, the Keystone Montana Fifth Wheel.
Toy Hauler
The toy hauler is an RV with a special cargo space for carrying motorbikes, ATVs, or other recreational vehicles. It might be a fifth wheel, travel trailer, or motorhome.
Toy haulers may vary in size but are frequently longer because of the cargo area. When the equipment is unloaded, the area in the back can be transformed into a living room. A good example of these types of vehicles is the Fifth Wheel Heartland Cyclone Toy Hauler.
Pop-up Camper (Folding Camper)
A pop-up camper is a portable, folding camper that is simple to transport and store. It collapses for transportation and opens into a usable space at a campsite.
While expanding to provide sleeping, dining, and occasionally cooking facilities, you can still make it compact for traveling. You can check Forest River Rockwood Freedom Series Pop-Up Camper for reference.
Truck Camper
A truck camper fits within a pickup truck's bed. It keeps the truck operational while providing a small living space.
Truck trailers are usually between 6 and 20 feet long, giving access to a sleeping area, kitchenette, and occasionally a tiny restroom. The Lance 650 Truck Camper is a famous choice for this type of accommodation.
How To Choose An RV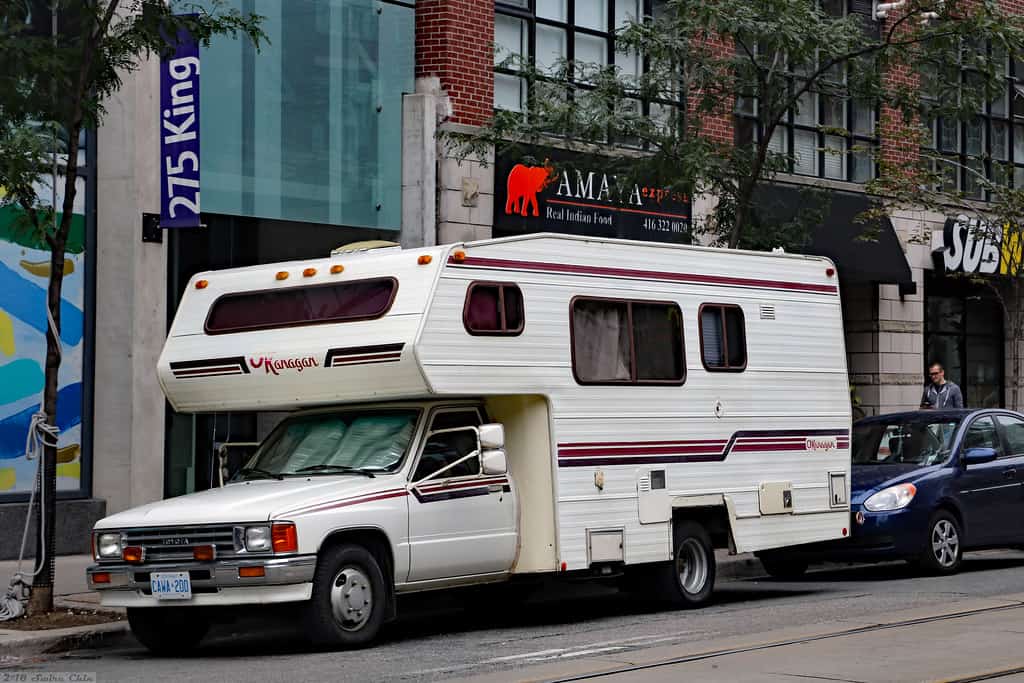 A great travel experience depends on several things, including selecting the right RV. Start by taking your travel preferences and style into account. Pick an RV that can accommodate your needs and is big enough. To choose the best one, consider comfort, mobility, and price.
Larger vehicles offer more amenities and space but may be more challenging to drive.
The cost of an RV can vary, from inexpensive pop-up trailers to pricey motorhomes, so planning your budget is essential. Make sure they match your demands by taking the time to research, read reviews, and compare features carefully.
You can even visit showrooms to check and do a test drive to choose an RV that serves as the appropriate home-on-wheels for unforgettable holidays. This will help you grasp the sizes and layouts of various RVs.
Write down all the amenities you'll require when traveling, such as sleeping quarters, kitchenettes, restrooms, and entertainment systems. When feasible, use fuel-efficient vehicles to protect the environment.
You want to choose an RV that will make your trip comfortable. One that will enable you to enjoy your morning coffee while sitting beneath the awning of your RV as you awake to a gorgeous sunrise by the side of a serene lake.
Fun With RV
Each mile you travel reveals new sceneries and undiscovered treasures waiting to be discovered. You may develop a sense of community and shared adventure by exchanging tales over campfires, stargazing sessions, and barbecues with other travelers.
Set up your camp in the middle of a national park, where you can go biking, hiking, or unwinding by the water. You can be involved in different fun activities that satisfy your adventure rush.
Your trips will be more spontaneous if you can alter your plans at any time; you never know when you'll come upon a charming roadside cafe or a surprising cultural event. An RV enables you to make memories at your speed, whether camping by the beach or driving over mountain passes, turning every trip into a fascinating story.
Drawbacks Of An RV
RVs are a great way to see the world and travel, but there are some disadvantages to be aware of:
Larger RVs, particularly Class A motorhomes, tend to gobble gasoline, raising fuel costs for long journeys.
Larger RVs can be difficult to maneuver, especially in congested urban areas, winding roads, or cramped campsites.
Finding adequate parking spaces for large RVs might be challenging, limiting your access to several locations and attractions.
Regular maintenance is necessary for RVs; repairs can be pricey if specialty parts are required.
Using the RV for local exploration may be less convenient once you set up camp, necessitating a second vehicle for sightseeing.
Setting up and taking down a camp requires time and effort, which may be better for short visits or if you like speedy getaways.
You may have fewer alternatives for lodging because certain RV parks and campgrounds have size restrictions.
Depending on the RV style, passenger sitting may be less comfortable than in conventional cars, particularly on lengthy trips.
If you want a more off-the-grid lifestyle, depending on RV park hookups for electricity, water, and sewage disposal can be troublesome.
Certain weather conditions can impact your comfort and safety, requiring additional planning and safety measures.
There are drawbacks to everything if we want to keep safe. Still, if you thoroughly review the features and your required feasibilities, the advantages of the lifestyle can outweigh the difficulties.
Conclusion
An RV stands for a recreational vehicle, which has developed into a thrilling means of travel and adventure from its modest beginnings to the wide range of alternatives accessible today. They provide an alluring balance of familiarity and freedom, allowing you to turn the open road into your playground while always being close to your comfortable home.
It's clear from comparing that there are different RV kinds. There is an ideal RV for every kind of traveler that accommodates a wide range of preferences and needs, whether you're looking for the roomy luxury of a Class A motorhome or the agile mobility of a camper van.
The thorough description of the essential elements to consider when buying an RV provides prospective purchasers with insightful information. To make wise decisions and prepare for the responsibilities that come with RV ownership, you must consider the beautiful venture and be aware of the difficulties.
Frequently Asked Questions (FAQs):
1. What does the term "RV" mean?
RV stands for "recreational vehicle"https://live.staticflickr.com/3150/2980928155_0f01168528_b.jpg. These are motorized or towed vehicles for travel, camping, and recreational activities. They typically have extra living spaces in addition to bedrooms, kitchens, and frequently bathrooms, which allows people to travel comfortably. They offer a versatile and independent approach to various locations and enjoy the open road's freedom.
 2. How can owning an RV improve the joy of traveling?
Owning an RV enhances the vacation experience in many ways. It provides unmatched freedom and adaptability. With an RV, you may explore remote locations, camp in stunning natural settings, and alter your schedule whenever you like. It could be difficult to retain this level of freedom when using traditional travel methods.
An RV offers a cozy, familiar home on wheels. You won't need to hunt for lodging if your RV has a kitchen, bathroom, and sleeping area. RV camping trips can even promote a sense of community unity. Over the years, I've met hundreds of great people just by being out and about in my RV. In most campsites and RV campgrounds I've been to, similar-minded travelers can come together and enjoy the experience of meeting new friends while traveling.
What makes it even better is that you enjoy the warmth of being home while you wake up to breathtaking views, dine al fresco, and immerse yourself completely.
3. What are the top factors you should consider while buying an RV?
So, you want to buy an RV. There are a few important things to consider to ensure it meets your needs:
Always pick the RV style that specifically matches your lifestyle. This matters because each recreational vehicle has different amenities and sizes.
While bigger RVs may be more difficult to park, smaller RVs are easier to handle but provide less living space.
Ascertain that the interior features, including the storage, kitchen, bathrooms, and bedrooms, satisfy your expectations for comfort and convenience.
Check the motorized RV's fuel economy while preparing for a lengthy trip because fuel expenditures can increase rapidly.
To ensure that the towable RV can be towed safely, ensure the towing vehicle is compatible.
Consider the RV's potential resale value and how long it will retain its value.