With housing prices skyrocketing in so many markets across the United States, more people are seriously considering full-time RVing.
If a new home is going to cost nearly one million, why not invest in a mobile home for a fraction of that price?
If you are weighing this option as well, you must know the reasons to choose a fifth wheel for full-time RVing.
While large RVs for full-time living often exceed $250,000, you can invest in a fifth wheel for less than $100,000.
Fifth-wheel trailers also hold several additional benefits over other types of recreational vehicles.
For example, they make it easy to set up a longer-term basecamp at an RV park and still retain the flexibility to get around in your truck.
But their benefits don't stop there. They offer more storage space, a wider variety of floorplans, and much more.
If you are considering the benefits of a permanent life on the road, you should be aware of the benefits of choosing a fifth-wheel trailer for full-time living!
Fifth Wheel vs a Travel Trailer?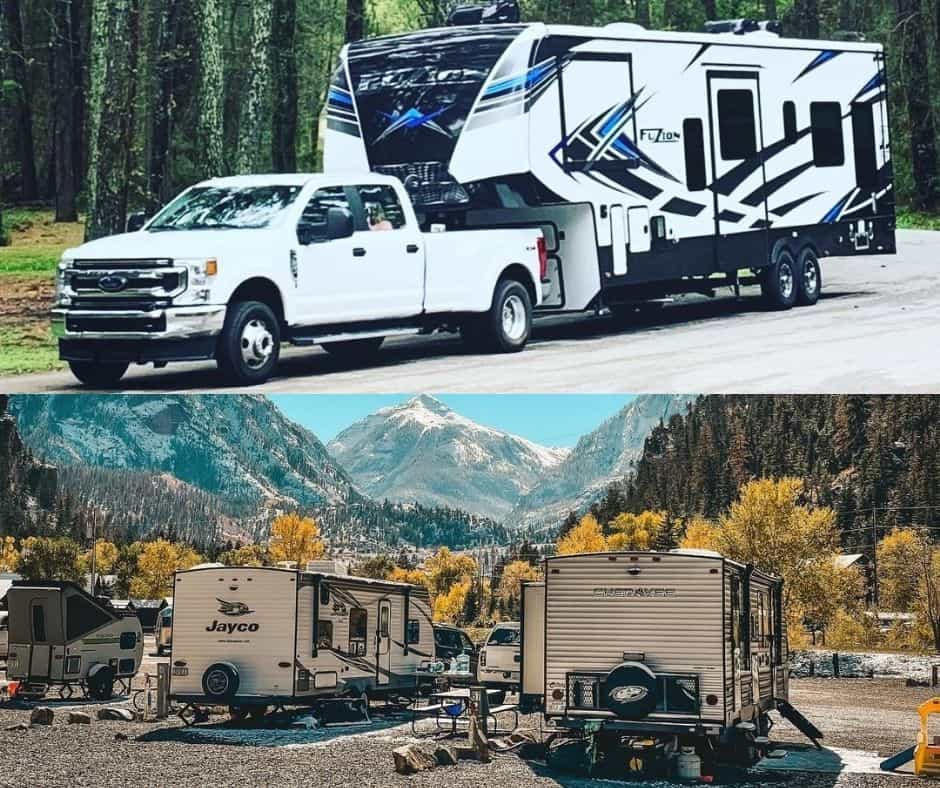 For starters, we think it is important to distinguish between a traditional travel trailer and a modern fifth wheel.
Fifth wheels get their name from the U-shaped couplings that are used to attach the tongue to your towing truck.
The pin box on the fifth wheel slides into this U-shaped coupling and then locks into place.
It is a very similar mechanism to what is used to connect semi-trucks to the trailers they haul.
Travel trailers are made to attach to a hitch ball either on the bumper of a vehicle or on a towing package that is bolted directly to the vehicle's frame.
This allows travel trailers to be towed by a wider variety of vehicles, but they aren't as stable to tow because all of their weight is significantly behind your vehicle's rear axle. They also extend your overall towing length.
11 Reasons To Choose a Fifth Wheel For Full-Time RVing
Making the jump to full-time RVing can be stressful. With a fifth wheel, however, your transition can be easier than it would be with other types of trailers.
These are the 11 reasons why 5'th wheel trailers are the best type of RV for full time living:
1. Fifth Wheels Are Safer To Tow Than Travel Trailers
The first (and arguably most important) reason to choose a fifth wheel for full-time RVing is that they are safer and easier to tow than travel trailers.
This is due to the manner in which they attach to your towing truck.
While it is not recommended to drive more than 300 miles per day when you are living in a fifth wheel full-time, towing safety is still of the utmost importance.
Because they attach to a coupler that is mounted in the bed of your truck (rather than to a bumper hitch or frame-mounted hitch receiver), the tongue weight is placed directly over the rear axle.
This allows your truck to tow with less strain and also minimizes the kind of swaying and bouncing that travel trailers are notorious for at high speeds.
It also reduces the overall length of your truck-and-trailer combination, which can make it easier to navigate tight turns or maneuver into crowded rest areas.
2. Some Fifth Wheels Include a Garage
Another reason to choose a fifth wheel for full-time RVing is that fifth wheels are one of the few types of recreational vehicles that include a garage.
While this isn't true for all models, you can definitely find a fifth wheel with a garage for ATVs or other recreation equipment.
One of the biggest difficulties for folks moving out of a residential home into an RV is consolidating what is often their life's worth of belongings.
In a residential home, your garage probably winds up being a very useful space for the recreation gear, tools, or fun vehicles that can't fit inside of your home.
If you choose a fifth wheel, you will get away with less consolidation, especially if you choose a rig with a rear garage.
Many of these garages also include tie-down points that can handle weights up to (and sometimes exceeding) 5,000 pounds, which allows you to secure a dune buggy, a couple of dirt bikes, or other heavy off-road equipment.
3. Fifth Wheel Trailers are Highly Versatile
One thing that new campers will love about choosing a fifth wheel for full-time RVing is their versatility.
Unlike most other types of travel trailers and RVs, fifth wheels are known for their convertible spaces.
Remember those garages we mentioned earlier? Well, the odds are good that the garage in your fifth wheel can also be converted to a lounge space or even a sleeping space once you set up in camp.
With some models, you will even be able to fold down the rear door and set up outdoor deck space for evening lounging.
When you are new to full-time RVing, the versatility of a fifth wheel is really nice while you figure out exactly how you like to camp and live on the road.
4. Fifth Wheels Are More Affordable Than RVs
When you are specifically searching for a camper that is designed for full-time living, you will also be able to save a little money by choosing a fifth wheel over certain types of RVs.
While you can still spend more than six digits on a super fancy fifth wheel, you will almost always spend less than you would if you were to choose a luxury RV with similar amenities.
On average, people looking for a fifth wheel for full-time living should expect to spend somewhere between $60,000 and $80,000. 
For an RV with similar space and appliances, you could easily wind up spending more than $200,000.
The primary reason for this is the engine, transmission, and other components on an RV, which we will touch on more later.
5. A Fifth Wheel Allows You To Keep a Second Vehicle For Supply Runs
If you choose an RV for full-time living, you will either need to tow a small vehicle or invest in a pair of electric bicycles.
With a fifth wheel, you will always have your truck for supply runs or trips to the trailhead, which is another key reason to choose a fifth wheel for full-time RVing.
When you are living out of one of these rigs permanently, you won't want to relocate every few days to get groceries, empty and refill your holding tanks, or do any of the other regular tasks that come along with this lifestyle.
With a fifth wheel, sure you can bring your bicycles along, but you won't need to worry about bringing a second vehicle because your truck is your second vehicle!
6. Fifth Wheels Don't Have Engines That Can Breakdown
One of the reasons to avoid buying an RV is the high maintenance costs that are associated with engine upkeep.
Fifth wheels don't have an engine to maintain or break down, which is a compelling factor to choose a fifth wheel for full-time RVing.
Fifth wheels still come with maintenance costs, but they are much lower than that of RVs, on average.
These costs are mainly associated with things like cleaning and waxing, winterization, and storage, but you won't have to worry about things like oil changes, tune-ups, or differential services.
On average, fifth wheel owners report spending somewhere between $500 and $1,000 per year on maintenance and repairs. RV owners, on the other hand, report spending somewhere closer to $1,500 or $2,000 annually on their rig.
Additionally, a major downside of living in an RV full-time is that you lose your living space every time your rig needs to go in for engine repairs.
With a fifth wheel, you will still be able to get a ride back to your "home" if you need to drop your truck off at the shop for routine or unexpected maintenance.
7. Fifth Wheels Provide More Living Space in a Smaller Total Length
With an RV, sometimes you lose the first 8-10 feet of your rig to the cockpit, which means you get less than 30 feet of living length in a 36-foot RV.
With a fifth wheel, you will be able to enjoy that full 36 feet of living space.
So another good reason to choose a fifth wheel for full-time RVing is that you will enjoy a more spacious living area while being able to tow a smaller rig.
With RVs of all types, you will have to subtract the cab length from the overall length in order to determine the total amount of interior livable space.
With fifth wheels, the advertised length is the amount of living space you will enjoy.
8. Fifth Wheels Offer a Lot of Different Floor Plans
One of our favorite benefits of shopping for a fifth wheel is the ability to look at all of the different floor plans.
Whether you want a layout with a central kitchen, front kitchen, or rear kitchen, you will be able to find what you're looking for.
Fifth wheel floor plans also include convertible sofas, bunk beds, theater seating, electric fireplaces, outdoor entertainment centers, and so much more. In fact, the number of options can sometimes feel overwhelming.
That being said, choosing the right floor plan is often the most important thing you can do when shopping for a fifth wheel for full-time living.
While other factors should be considered, your level of comfort with the interior layout is arguably the most important.
9. Most Fifth Wheels Have Plenty of Underneath Storage Space
When comparing these recreational vehicles to travel trailers, another reason to choose a fifth wheel is the additional underneath storage space you will be able to take advantage of.
When you are looking at different fifth wheel models to move your life into permanently, we highly recommend looking for a rig with a pass-through storage compartment.
This pass-through storage compartment style is almost exclusive to fifth wheels.
It is also highly important when you are downsizing and moving your entire life into a fifth-wheel camper.
It increases your rig's overall storage capacity and also provides easy access to your belongings from either side of your trailer.
10. Many Fifth Wheels Include Residential Appliances
While all RVs and travel trailers come with all of the major appliances you would have in your house, they are usually smaller and less powerful.
The nicer fifth-wheel trailers, however, typically include residential-style appliances.
The benefits of choosing a fifth wheel for full-time RVing that has residential appliances include a larger refrigerator with more perishable storage space, a more powerful furnace to provide central heat, on-demand hot water for dishwashing or showering, and much more.
Many people choose fifth wheels for full-time living because they allow you to enjoy a more mobile lifestyle without compromising on some of the luxuries that you find so important to life in your current residence.
11. Fifth Wheels Are Stable When Parked
A final reason to choose a fifth wheel for full-time RVing is that they are highly stable once you are parked.
Most of these rigs will include two sets of stabilizing jacks that the trailer rests on before you detach it from your truck.
Furthermore, you can invest in a fifth wheel tripod stabilizer to install underneath your trailer's pin box.
This accessory will provide added support for the front of your trailer, which is especially important if you choose a rig with a front kitchen floor plan.
While most travel trailers do come with some sort of stabilizing jacks at the rear of the rig, the stability of the front usually relies solely on a single wheel that swings down from the trailer's tongue.
If you fail to chock that small wheel in place properly, it can lead to disastrous consequences for your trailer and anyone that is inside of it.
Additionally, travel trailers and even some RVs simply tend to rock or sway more than fifth wheels when you are walking around inside.
Conclusion
For those of you that are transitioning to permanent life on the road, we hope you seriously consider these reasons to choose a fifth wheel for full-time RVing.
These rigs offer so many benefits and help you transition more comfortably when you are moving out of a residential home!