Is vanlife the ultimate life for you? If your answer is "Yes!", and you have found the perfect van for your needs, it's probably time to start planning the camper van conversion.
Unless your van of choice comes ready for life on the road, the conversion will be your next biggest step.
Conversion costs can also be quite steep, and while you can save some of your hard-earned cash by doing the build yourself, a DIY build may be overwhelming and even frightening for some vanlifers.
Luckily, there are several van conversion companies throughout the Western U.S. who are happy to take on your custom van build for you.
They can construct the van of your dreams, and do so with the professional know-how to build a van that has great functionality as well as design.
We've compiled a list of the best van conversion companies to help you choose your partner in building your new home on the road.
15 Best Van Conversion Companies To Match Any Budget
So here are the 15 best camper van conversion companies that can custom builds Ram Promaster, Ford Transit, and Mercedes Sprinter camper van conversions to make your van life dreams a reality.
1. TouRig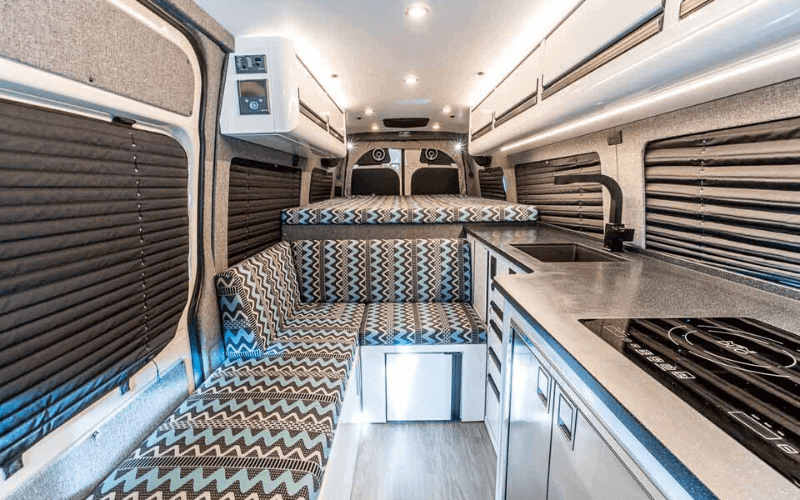 TouRig was founded almost 20 years ago, and their mission to this day is to encourage the spirit of adventure.
They make their relationships with their clients just as important as the van builds, themselves.
Every van is built to be lightweight, durable, and high-performance.
The company's team of skilled tradesmen is made up of professionals with experience in the construction, transportation and maritime industries.
Each dedicates himself (or herself) to excellent craftsmanship, producing a van with exemplary fit and finish.
TouRig offers quality engineering, attention to detail, and ongoing innovation in materials and process.
They have some great custom options for your van's interior, from the floorplan to the materials.
Beyond the build, TouRig offers a shop with an inventory of must-have van accessories such as window covers, storage bags, showers, and more.
The company also sells new and pre-owned converted vans from time to time.
Check out TouRig's reviews to learn more!
2. Outside Van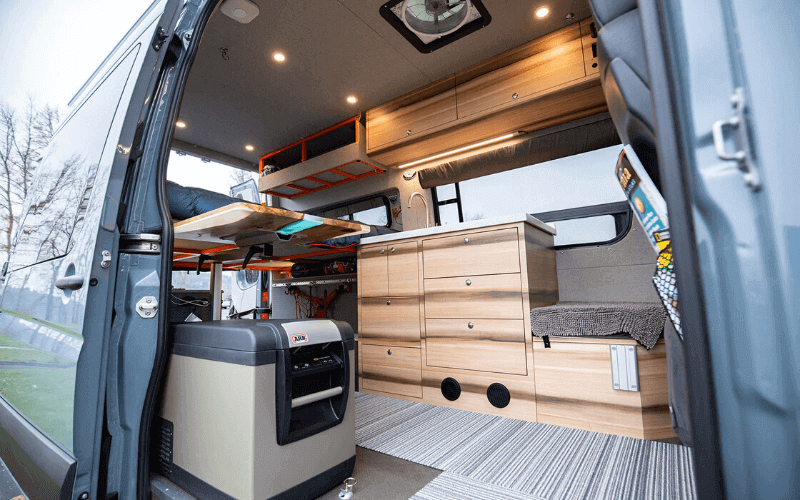 Founded by vanlifers, made for adventures on the road. Outside Van was founded over 30 years ago with the adventure life in mind.
The company does over 100 van conversions every year, with lots of happy customers.
The team at Outside Van is comprised of over 65 skilled professionals.
They pride themselves on being some of the most creative and experienced in the industry, with technicians who are skilled in everything from engineering and systems to woodworking, metalworking and upholstery.
Outside Van designs and builds many interior and exterior components in-house.
With Outside Van, every van build includes their Premium Interior Package.
This package ensures your van has all of the necessary infrastructure, such as insulation and sound damping, finishing, flooring, overhead lighting, a safety package, and exterior vinyl.
From there, you can customize the systems (power, water, heating, cooling, and lighting), function, and interior layout for seating, sleeping, cooking, and anything else!
Outside Van also offers upgrades for TV, audio, Wifi, and more.
Check out Outside Van's reviews to learn more!
3. Sportsmobile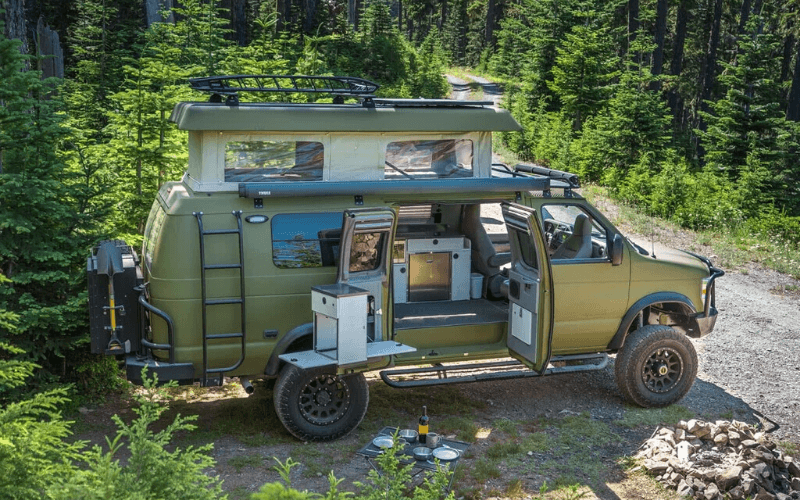 Sportsmobile has done van conversions longer than most of the companies on this list, since 1961! They definitely know what they're doing.
Unlike many van conversion companies, Sportsmobile can accommodate a longer list of van models, including Dodge ProMasters, Chevy / Ford E-Vans, Mercedes Metris', and Sportsmobile Classic 4x4s.
They can also do van conversions on more unique vehicles, such as work vans, mobile clinics and even emergency vehicles.
Simply start with your model, or begin with your vehicle needs from three lengths, high or low roof heights, and whether you want a diesel or gas engine.
Then choose from Sportsmobile's long list of feature and system options.
You can choose to modify your van using their standard plan, or Design Your Own (DYO) for about the same cost.
They even have a DYO studio so that you can design your special van on their website.
One of the perks of working with Sportsmobile is that the company has a network of dealers, which offer traditional auto financing (up to 100% of the van and 50% of the conversion).
Want to do a test run? Sportsmobile offers a variety of van rental options so that you can experience vanlife firsthand before you buy and convert one of your own.
Check out the comments from Sportsmobile owners to learn more!
4. Van Specialties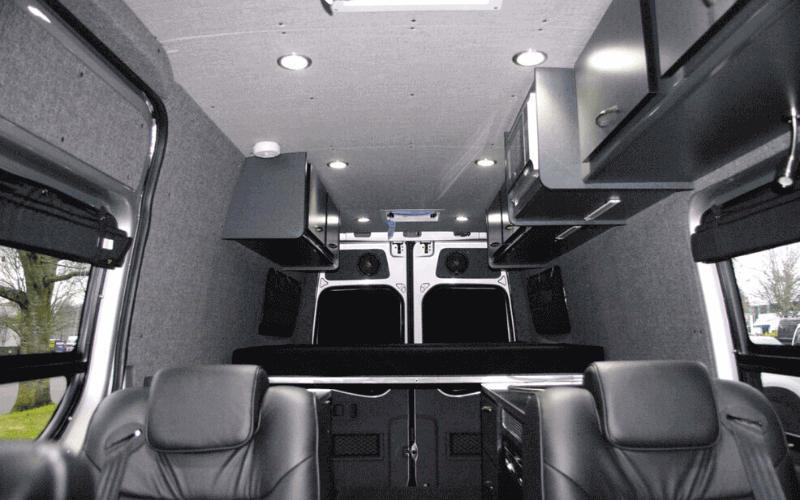 If you're looking for a more affordable, yet still very up-front van conversion based on cost, Van Specialties may be the perfect partner.
Their conversion prices start at a lower rate than some of the other companies on this list.
Van Specialties also has a helpful online quote system with simple check boxes so that you can get an easy-to-understand idea of your conversion costs.
Van Specialties was founded over 40 years ago, and since day-one their passion has been to help clients completely customize their own van builds for living tiny, yet functionally.
What started as a goal to create the perfect recreational vehicle design has grown to a company focused on tailoring each and every van they convert for life on the adventure road.
Their designers and engineers will work with you every step of the way to do a van conversion that makes vanlife easier and more comfortable, at a reasonable price point.
They only use the best parts and materials, with standard options that still stand the test of time for durability and reliability.
Van Specialties construction also incorporates exceptional craftsmanship and next-level expertise in every build.
Check out the reviews about Van Specialties to learn more!
5. Freedom Vans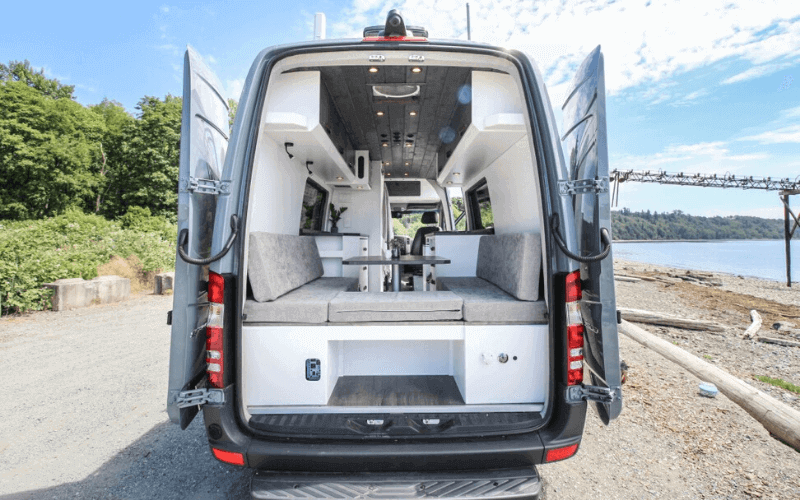 Freedom​​ Vans is all about bringing the freedom of the great outdoors and comfortable off-grid living to their clients.
The Freedom Vans design process and build experience is specially tailored to each van build client, and pricing and project lengths depend on the complexity of the build as well as the vehicle size.
Although they do not offer consulting if you're doing your own build, they will work directly with you to design a unique layout for your van, based on your specific needs and desires, if they are doing the conversion for you.
One of the attractions of working with Freedom Vans for your van conversion is their specialization in solar power systems.
They pay particular attention to detail and craftsmanship, to ensure quality and reliability with their systems.
If you don't need a full conversion, but you want some help with the solar system and other electrical features, Freedom Van offers a few single services such as the solar, fan, battery power system, windows, and diesel heater.
Note: While many of the van conversion companies on this list can supply or source the van for you, Freedom Vans does not.
However, they can recommend Mercedes dealerships in Washington and California.
Check out the reviews about Freedom Vans to learn more!
6. Colorado Camper Van
After over a decade, Colorado Camper Van has been bringing vanlifers' dreams to reality with their van conversions, large and small.
They believe that a life well-lived is one filled with adventure, and they want to make adventure more accessible with their van builds.
Designed to fit a variety of van lifestyles and budgets, Colorado Camper Van is a great partner for your van conversion.
They can help convert a variety of van models for vanlife, and their specialty is adding a pop top on mid- and high-roof vans.
Colorado Camper Van has three primary interior layouts, but they can also do a completely custom build to suit your needs. They can even do trailer pop tops!
Want to do your pop top project yourself? Colorado Camper Van can help, offering DIY pop top kits (prices start at $9,000 and are FOB their dock).
Although the kits are pre-wired, they're only recommended for individuals that are highly mechanically inclined, since you'll need to cut metal, deburr and perform other general mechanical tasks.
Check out the Colorado Camper Van reviews to learn more!
7. Rossmönster Vans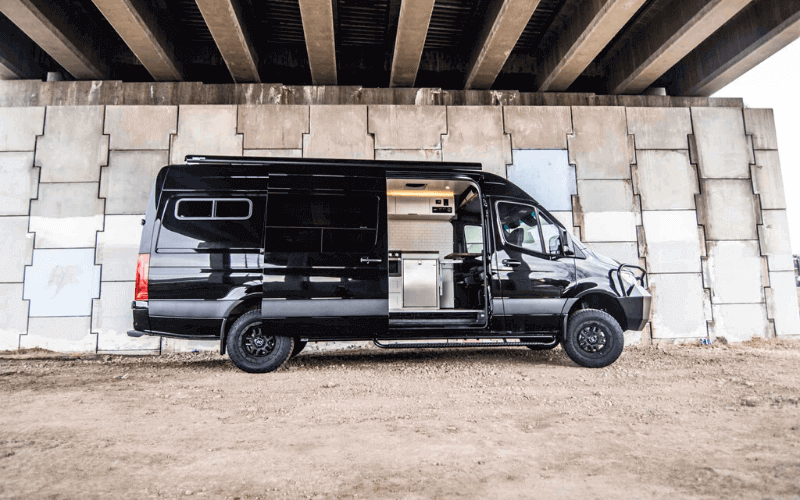 If the interior woodwork is a high priority for your van conversion, Rossmönster Vans is an excellent choice.
The company was founded by expert carpenters and custom woodworkers, complemented by skilled engineers who are passionate about the great outdoors.
In the Swedish language, the translation of 'mönster' is "to design and create artistically, simply, and skillfully."
This philosophy inspires and motivates every van conversion project that they take on.
Rossmönster Vans focuses on delivering quality work with efficient timelines and competitive prices, so you can be confident you're working with a skilled team that is on your side.
Their builds are sleek and beautiful, and every van conversion is completely unique.
The process starts with a Decision Form, which you'll fill out with the help of their useful resources and references.
Then, your Rossmönster designer will deliver a specialized and detailed floor plan for your van's interior, and begin sourcing materials for your build.
If you want a totally custom van build that's backed with experienced support throughout the whole process, Rossmönster Vans is an ideal partner.
Check out the reviews about Rossmönster Vans to learn more!
8. Advanture Co
Whether you're wanting to do a completely custom van build, or you want a van that's expertly laid out with the essentials in a tried-and-true design, Advanture Co. can help.
You can start with their base model and add some upgrades, or design something truly unique that they can build for you.
Advanture's base model includes everything your van will need to be a comfortable home on wheels.
Standard features include their Premium Interior Package, with a kitchenette, cabinets, trifold bed and mattress, outdoor shower, bench seat mounts and diesel heating.
On the exterior, there's also rooftop ventilation, T-vent windows, and a solar setup to keep you running off-grid.
There are dozens of upgrade options available, such as leather seats, a custom water setup, audio upgrades, removable table, custom electrical setup, portable toilet, roof rack, 4G booster, custom upholstery, and more.
Advanture has a "you dream it, we'll build it" mentality when it comes to custom builds and van conversions, so dream away!
If you're limited by budget, Advanture can work with you to build your conversion in stages to make it more affordable.
Check out the reviews about Advanture Co to learn more!
9. Adventure Wagon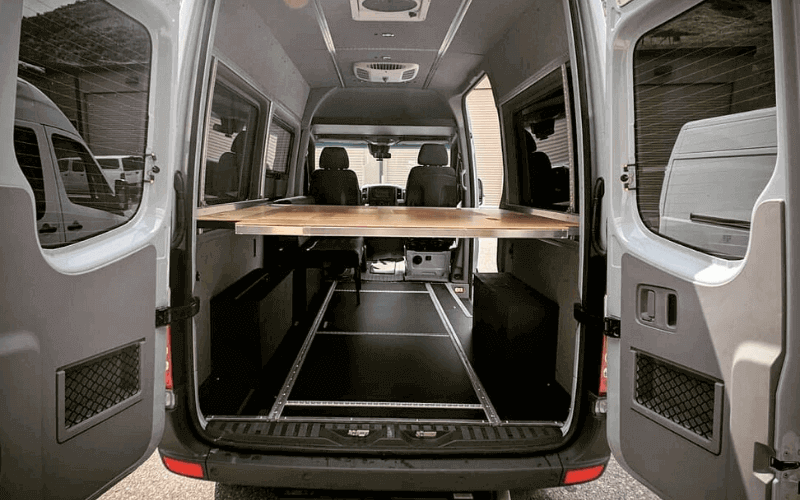 With Adventure Wagon, you can have a van that's more versatile, and functional beyond just one use.
The company specializes in completely configurable, modular interior designs for vans.
So whatever your adventure holds, you can swap things around to modify your van for the trip ahead.
Adventure Wagon's modular systems are top-quality in durability as well as craftsmanship, making them perfect for adventuring on the move.
The versatile and configurable design of these van builds can make your conversion a future investment – you won't need to come back in a year or two to change your interior to meet a change in lifestyle.
You can also save on cost, since the conversion kits can be installed yourself using basic hand tools, with no need for customizing or fabricating.
There are plenty of instructional resources, including video tutorials to help you along the way.
Of course, Adventure Wagon offers a network of certified installation partners if you need more professional assistance or you just don't have the time.
All kits include a complete electrical system with leads for two fans, six lights, four USB ports, four 12v ports, and two accessories (for your heater, sink, etc.).
The kits also have pre-cut insulation, Reflectix, one Maxxair ceiling fan, powder-coated and pre-assembled wall and ceiling bracers and an aircraft-style L-track.
There are marine-grade, upholstered (your choice) plywood panels with Reflectix insulation and ceiling panels with six pre-installed LED lights.
The kits also come with custom-made and upholstered molded trim and mounting hardware.
For an added cost, Adventure Wagon has several upgrade options including their signature sleeping and storage items.
Check out the Adventure Wagon reviews to learn more!
10. Beartooth Vanworks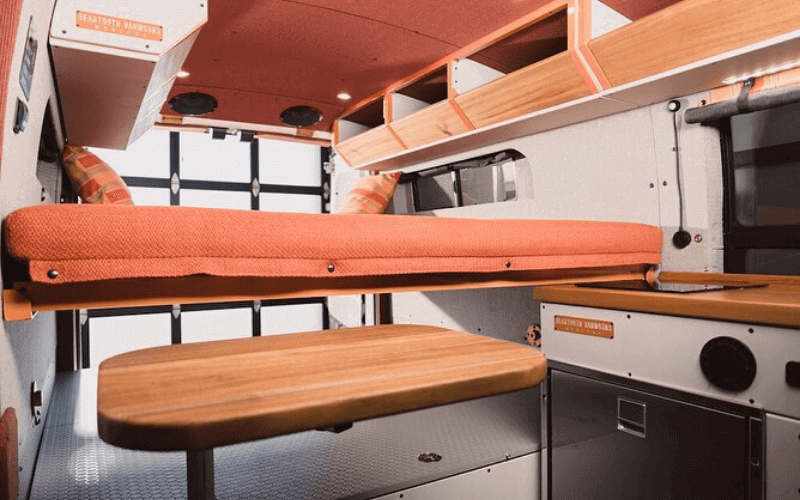 When your adventuring plans include lots of off-roading, particularly in the mountains or colder climates where you'll encounter lots of snow, you might need something a bit more rugged.
Beartooth Vanworks specializes in build-outs for all-weather vans, particularly those traveling in the snow.
The company's First Tracks model is the ultimate ski van conversion, perfect for your basecamp for hitting the slopes in comfort.
Beyond this model, the thing that sets Beartooth Vanworks conversions apart is their activities-based approach to design.
When you work with them to configure your van's layout and capabilities, their priority is to customize the design based on how you intend to live (and play) out of the vehicle.
You'll start by taking a survey to help the Beartooth team learn more about your needs.
Then, they will create a preliminary design and you can work with them to finetune it.
Next, the team will give you a detailed design plan and a custom quote for the project cost.
Once approved, you'll receive a final design with any tweaks applied and your contract agreement, and they'll get started!
The build team has over 70 years of trade experience, so they know what they're doing when it comes to building ruggedized and comfortable camper vans for all kinds of recreational activities.
Check out the reviews about Beartooth Vanworks to learn more!
11. Boulder Campervans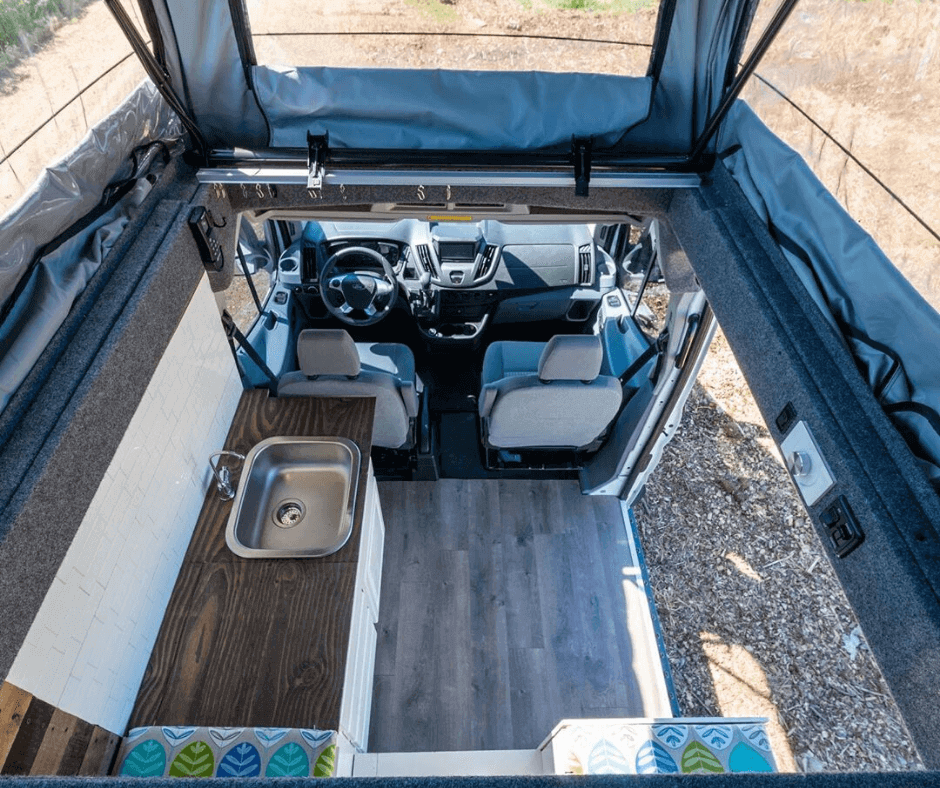 Every campervan is custom when you convert your van with Boulder. This company is all about innovation, working with their clients to incorporate cool new technology and systems to customize each build.
Although they sell and even rent out some of their campervans, the heart of their business is building a one-of-a-kind van for each client.
Quality is a big priority at Boulder Campervans, and they will work with you to create a home on wheels that is top-notch with regard to materials as well as function.
You'll start by completing a survey, noting your van shell (vehicle model) and needs such as how many passengers the van needs to accommodate for seatbelts and sleeping and whether you need 2-, 4-, or all-wheel drive.
You can further customize your conversion with regard to having a toilet, shower, extra insulation, build timeframe, and features or systems you want to include.
Next, the Boulder Campervans team will reach out to schedule a consultation to discuss your build, followed by delivering custom, 3D blueprints designed by their in-house team.
Once you have your blueprints, you can tweak things and refine placement, and choose your lighting, upholstery, materials and other details.
Check out the reviews about Boulder Campervans to learn more!
12. Vanworks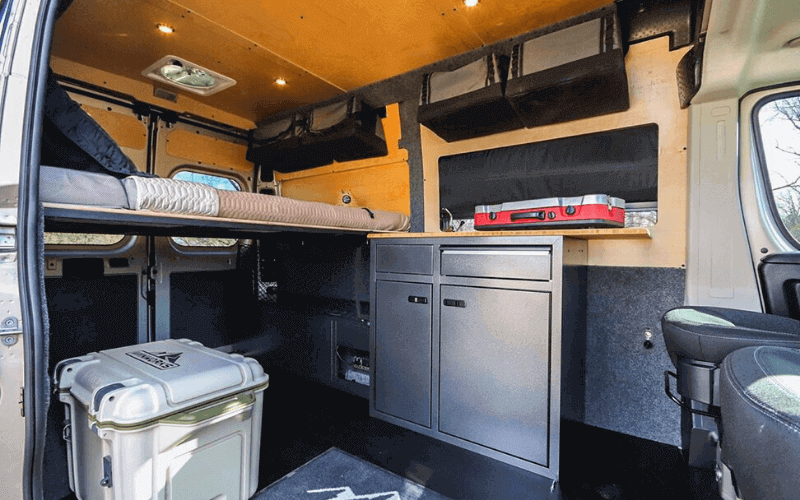 Vanworks is another van conversion company that's been in the game for several decades – over 40 years!
They have refined their shopping experience over the years to make it very user-friendly, with three different van conversion packages.
If you just need the essentials and want to complete the build yourself, just go with the Bear Bones Conversion Kit.
The Base Camp package is a turnkey conversion that's ready to hit the road, while the Trail Ridge Van Conversion Package offers a more upgraded van.
The company always uses the maximum R value insulation possible for the space available inside your van to ensure excellent insulation.
They use R13 for walls and doors and R7 for the ceiling. Vanworks also only uses OEM style windows to prevent any leaks or future issues.
If you're looking for an RV-style toilet system with an under-mounted black water tank, better look elsewhere, though.
However, Vanworks does offer cassette toilets and other alternatives, and you may be better off with one of their systems anyway, since fully integrated systems are much more expensive to install and maintain.
You can trust Vanworks with installing your solar and secondary battery system – it's one of their specialties!
Vanworks also sells lots of different van accessories and systems, so even if you don't work with them to convert your van, you may want to check out their online store for some essentials.
Check out Vanworks' reviews to learn more!
13. Recon Campers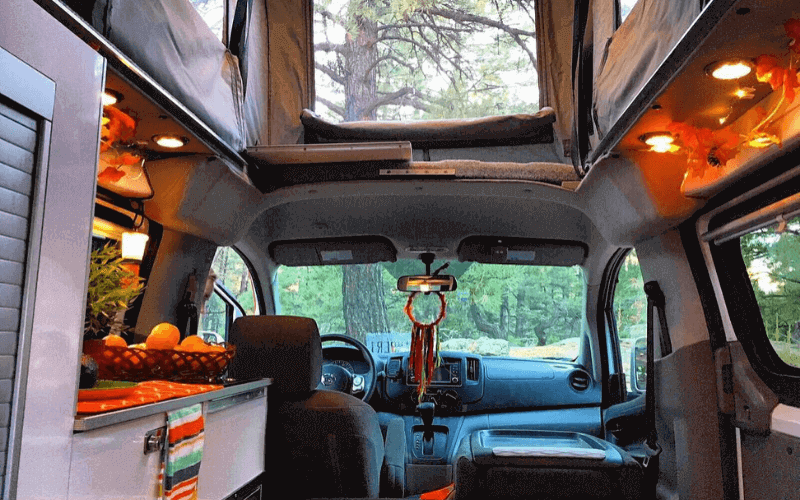 If you want to experience vanlife, but can't afford most of the van conversions on this list, Recon Campers may be the perfect option.
With van conversions starting at just $7,500, this company is much more affordable to get your start with vanlife on a budget.
Recon Campers are more compact passenger vans, and you won't be able to stand inside unless you have the top popped, but these are still excellent vans for overlanding adventures and even tiny living.
All campers are built to order for your base van, which can be 100% financed through the dealer.
You can also qualify for financing for up to 50% of the van conversion.
Recon Campers offers several different options, depending on the extent of your conversion project.
You can just get the pop-up top, or do a full van conversion with their Envy package and add-on options.
The Envy model (conversions starting at $29,950) is equipped with seatbelts and sleeping areas for four, plus all of the important features such as a stove, sink, fridge, hot water heater, outdoor shower, 10-gallon fresh water tank and more.
Check out the reviews about Recon Campers to learn more!
14. El Kapitan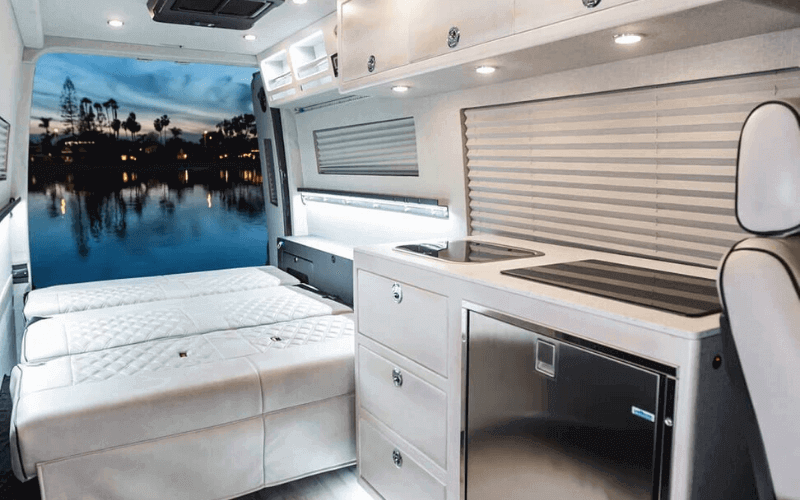 With van conversions for mobile offices, passenger vans, executive transportation and sporting equipment, El Kapitan can take your home on wheels to the next level of luxury.
They also build beautiful camper vans, with a special focus on design, craftsmanship and technology.
El Kapitan's camper van conversions have everything you need for comfort and life on the road, including a sink with hot water, fridge, microwave, range top, toilet, pop-up table, bed, generators, lithium batteries, solar panels and power inverters, and storage space.
You can even add a 12 volt rear air conditioning system to keep you cool in hot climates!
They offer over a dozen different models, so that you can customize your build for your needs.
If you're not quite sure about the floorplan you want for your van, you can browse through El Kapitan's highly-detailed custom floor plans to help guide your decision.
El Kapitan's team has been designing and building camper vans for over 35 years, and they are also certified Mercedes-Benz Sprinter Van Master Upfitters, although they can do conversions on several other vehicle models.
Check out El Kapitan's reviews to learn more!
15. Glamper Van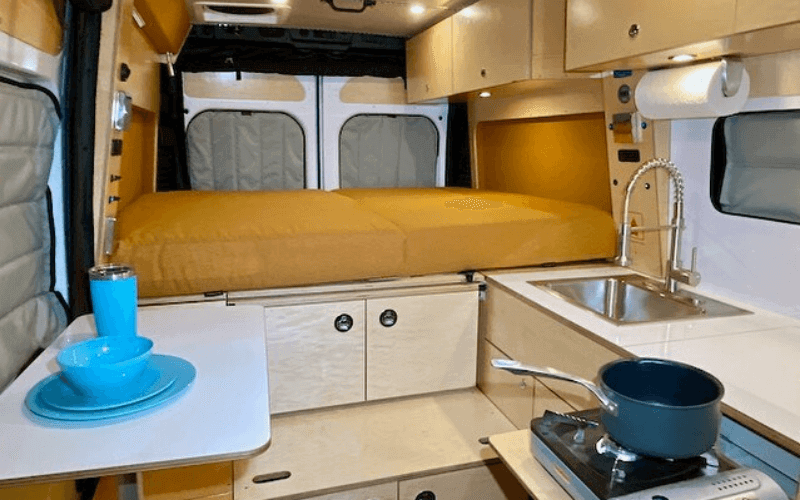 Artfully designed, beautifully outfitted and comfortable for full-time living (and working) on the road, Glamver Van conversions are a top choice for many vanlifers.
They work almost exclusively with RAM ProMaster 136wb vans, and incorporate a fixed design to minimize the build cost and time, however, a great list of add-on options are offered.
So, if you're an open book when it comes to your van conversion and you want something that's both functional and beautiful, Glamper Van may be the perfect partner.
They just don't do custom conversions, so best look elsewhere if their configuration isn't what you're looking for.
Although Glamper Van only works with the RAM ProMaster 136wb vehicle, it's for a reason.
The company developed their design and road tested it over 16 months and 24,000 miles in a wide variety of driving and camping environments, from snow and ice and high elevations to deserts, beaches and even urban camping.
The Glamper Van multi-use vehicle (MUV) model has a queen-sized bed with memory foam mattress, window covers for privacy and insulation, a 65-liter fridge, finely crafted birch plywood surfaces, vinyl floor, and stainless steel drawer and cabinet hardware.
The seats in the front cab can swivel and you can add a table to expand your living space by four feet.
With three auxiliary batteries, there's plenty of power, plus lighting, USB ports and 12v outlets, two powered vents, and an upgraded audio system.
There's also an awning, portable toilet and roof rack – you can even add a rooftop deck!
Check out the reviews about Glamper Van on Outdoorsy to learn more!
Other Van Conversion Companies
If you haven't found what you're looking for on this list, don't worry! There are dozens of other van conversion companies out there.
Here's a quick list of other companies that didn't quite make our list, but still have a lot to offer:
Summarizing The Best Van Conversion Companies
With the vanlife movement growing more each day, it's no surprise that there are so many van conversion companies to choose from! Some have lots of options to choose from, while others only offer conversions on specific van models or floorplan designs.
Luckily, there's a lot of range in price so that you can find the right van conversion company that meets your budget requirements.