Outdoor lovers install a variety of features in their pop-up trailers. It could be extra exterior storage, entertainment system, or rugged wheels.
However, such amenities can put added weight on the collapsible camper. Knowing the pop up trailer weights can either ease or burden your trip.
Pop-up campers are recreational vehicles that bring the coziness of a home on the roads. The average weight of a pop up camper can vary depending on its size, category, and features.
So, how much does a pop up camper weight?
Pop-up campers can weigh anywhere from 1,200 to 3,500 pounds, the average is about 2,300 pounds. It all depends on the type, size and amenities they are equipped with. For example, a tent style pop-up trailer weigh between from 1400 to 3,700 pounds, while a hard-sided pop-up weighs between 1,200 and 2,400 pounds unloaded. Most extreme sport style range between 1,700 to 3,400 pounds.
In this article, you will learn everything about average pop up trailer weights and what you can do to manage the weight of a pop up camper trailer:
How the category defines the weight.
Essential features that you should not forget.
How not to max your towing capacity.
How the weight of a trailer could match your needs.
How to distribute the weight inside a camper.
Why Manage The Weight?
Pop up campers are originally designed to provide travelers a quick way to traverse the outdoors. Hence, weight plays a part in making sure that the trailer is easy to move around.
This is why the whole concept is you open the trailer, and voila, a small living area in the middle of a campsite. Then when it is time to hit the road, you just have to fold it in or down.
With pop-up trailers, you get a compact size. Normally, a camper is composed of a trailer frame, box, and a hard roof. As a result, you can store it in any property with ease.
Yet, this humble outdoor abode provides important camping needs such as pull-out beds.
Furthermore, being compact means easy maneuverability than traditional travel trailers and fifth wheelers.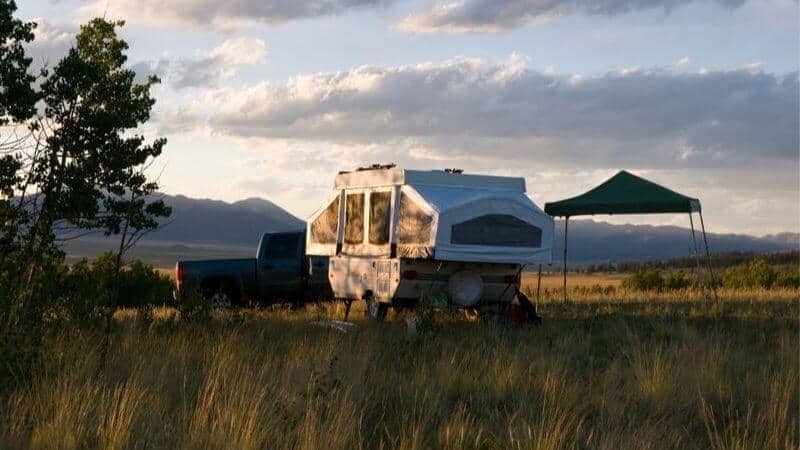 Lastly, pop up campers are for those looking for a more budget-friendly style of traveling. They are not initially designed for several, luxurious features. In simple terms, they stick to the necessities.
Minding the weight will help you determine how many extra features or amenities you can place.
In addition, it helps you estimate how many people can join the ride. Remember, your pick-up truck must be able to tow the total weight.
What Impacts The Weight Of A Pop Up Trailer?
Basically, it would depend on the manufacturers. Although they specify the unloaded weight of trailers, the gross weight varies on the construction and inclusions.
But first, here are basic terms and facts you must know when dealing with weight:
Unloaded Vehicle Weight (UVW)
This is the weight of a pop up trailer in the hands of the manufacturer. It includes the weight of the axels, hitch, and full LP propane tank.
Moreover, the standard features add up to the UVW. These may include:
spare tire (25 pounds)

carbon monoxide detector (1.25 pounds)

mattress (30-50 pounds)

small cabinets (10 to 50 pounds)

water heater (150 pounds)

air conditioning system or fans (70 to 70 pounds)

awning (90 to 120 pounds)

lights (20 to 30 pounds)

fire extinguisher (1.5 to 10 pounds)

small refrigerator (100 to 230 pounds)

stove (110 to 130 pounds)

microwave (60 to 70 pounds)

propane tank (30 to 40 pounds)

outside grill (3 to 10 pounds)

curtains or shades (20 to 40 pounds)
Cargo Carrying Capacity (CCC)
The CCC defines the amount of weight available for accessories, cargo, fresh water, and optional equipment.
Ideally, your cargo carrying capacity should be no more than 10% of the total trailer weight.
For instance, if your pop-up camper has a CCC of 4,000 pounds, then the gross weight can stay below 5,500 pounds.
But typically, the CCC would depend on the category:
Mini and Small – 100 to 300 pounds
Medium – 301 to 550 pounds
Large – 556+ pounds
In addition, keep in mind that you have to bring necessities. Consider the weight of food, beverages, cooking appliances and utensils, food, beverages, and clothing.
Your entertainment system could also impact the CCC. Common items may include a stereo, radio, laptop, and television.
Likewise, the CCC can cover some of the optional pieces of equipment:
chairs
outside folding table
electrical cords
water hose
coolers
generator canoe or kayak and rack
bicycles and rack
extra shelving
Gross Axle Weight Rating (GAWR)
The GAWR is the maximum weight when you consider all cargo that the axels can safely handle.
This is also considered as the hitch weight, which may add extra pounds to the towing vehicle due to the trailer hitch.
Gross Vehicle Weight Ratio (GVRW)
The GVRW covers the hitch or tongue, as well as the total weight of a vehicle's carrying capacity. This also includes the weight of passengers, cargo, and pets.
Hence, you must get a vehicle with a low UWV, but it must also have ample GVRW that can meet your camping needs.
For instance, you have a mid-sized trailer that weighs 1,400 pounds. But then you decide to add a kitchen, a small dining area, and a modest bathroom. The gross weight could equate to 1,700 pounds.
As you can see, their categories are different, but they have different layouts. In this case, the smaller camper outweighed the bigger one. Thus, your layout could impact the weight.
Meanwhile, some large-sized models weigh 1,600 pounds. Yet, they already house a kitchen, dining area, and a bathroom.
Additionally, the tongue weight helps you improve safety. It is advisable to have a tongue weight of between 10% to 15% of the gross trailer weight.
Here are the average tongue weights of pop-up trailers:
Mini pop up camper – 25 to 60 pounds
Small pop up camper – 60 to 150 pounds
Medium pop up camper– 100 to 225 pounds
Large pop up camper– 200 to 450 pounds
Average Weight Of Each Type Of Pop-Up Camper
There are several different types of pop-up campers, from small motorcycle popup trailers to big tent style to hard-sided A-frame camper. This chart provides a focused look at average weights and capacities for most pop-up types.
| Pop-Up Camper Type | Empty Weight Range (lbs.) |
| --- | --- |
| Motorcycle Pop-Up Camper | 250 1o 400 |
| Small Pop-Up Camper | 500 to 1,000 |
| Mid Size Tent Trailer | 1,000 to 1,500 |
| Large Pop-Up Camper | 1,600 to 3,500 |
Mini Size Pop Up Camper Weight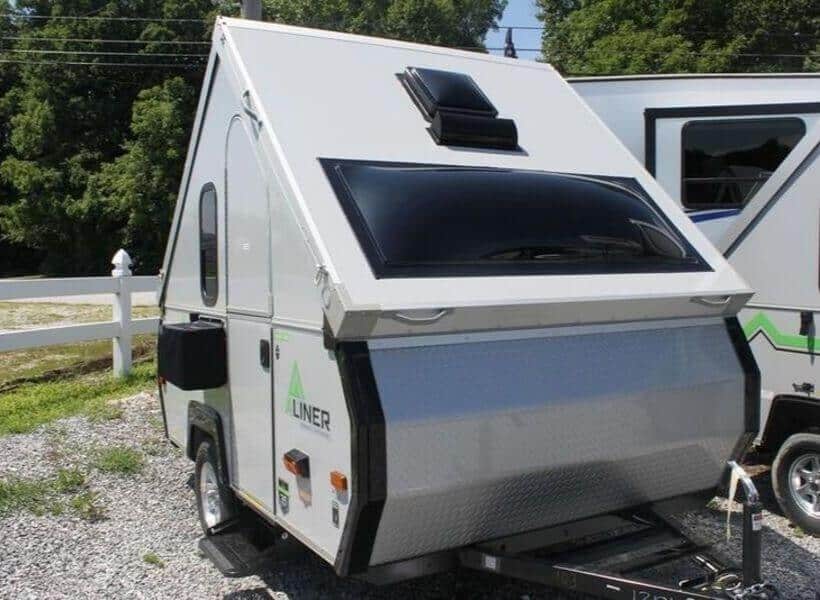 Mini-sized pop up trailer can weigh as little as 250 pounds. This category is advisable if you are not after the 'extras'.
For many, this size will suffice since it can get your stuff on the road in no time. Set up the camper and then place some basic camping tools, and then you are all done.
Moreover, mini-sized campers are easy to tow; even motorcycles can haul it. Likewise, minimalistic models won't put much pressure on your vehicle, let alone driving.
The best thing about this category is that it won't bother your driving much. Similarly, it won't cause too much stress when taking turns or driving up a hill.
Recommendations:
AlinerAlite (400 pounds)
Aspen Lightweight Sentry (325 pounds)
Roadman Campers (275 pounds)
Small Size Pop Up Camper Weight
This category starts at 500 pounds and can go up to 1,000 pounds. It has enough space for the necessities of at least two adults who have a combined weight of 300 pounds.
Small-sized pop up campers tend to have limited storage. Thus, this is frequently favored by weekend travelers.
Most models include sleeping quarters, a basic kitchen, and drawers. Fancier units may come with bathrooms, outdoor showers, and an entertainment system.
It may need a bigger engine, but this type provides more leeway for you to materialize your 'wants'.
Recommendations:
Coachmen Clipper Pop-Up (600 pounds)
Sylvan Sport GO Pop-Up (800 pounds)
The TigerMoth (900 pounds)
Livin' Lite Quicksilver 8.0 (994 pounds)
Medium Size Pop Up Camper Weight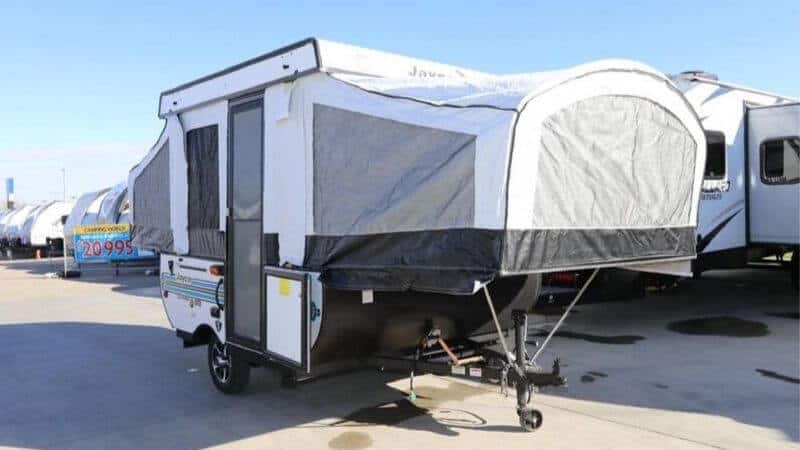 Medium-sized ones usually start at 1,000 pounds. These provide more space for you to install amenities.
Trailers at this category can reach 1,500 pounds. With this space, you may include storage, sleeping quarters, a small kitchen, and a compact dining area.
This type is preferable if you use a standard SUV or crossover. Therefore, you still get sufficient space for a regular vehicle on top of the trailer's space.
More than that, up to four campers can fit inside without struggling for legroom.
Recommendations:
Jayco 8SD Jay Sport (1,500 pounds)
Taxa Cricket Trek (1,500 pounds)
Scamp Campers (1,200 pounds)
Colorado Teardrops Canyonland (1,100 pounds)
Large Pop Up Camper Weight
Large-sized pop up campers can range within 1,600 to 3,700 pounds. They can be as high as 8 to 12 feet.
Aside from that, they can be as long as 17 feet. When fully expanded, some can even reach up to 25 feet.
The good thing about large-sized models is that they can provide more space for extra features. They can house more amenities and camping necessities. Nowadays, some travelers consider this type as 'glamping'.
If you are up for a bit of luxury and extra weight, then might as well consider this type. Large pop-up campers are suitable for couples or families with children who want to go on a long-term trip.
Even though this is the heftiest category, towing won't be a problem, especially if you have a heavy-duty truck.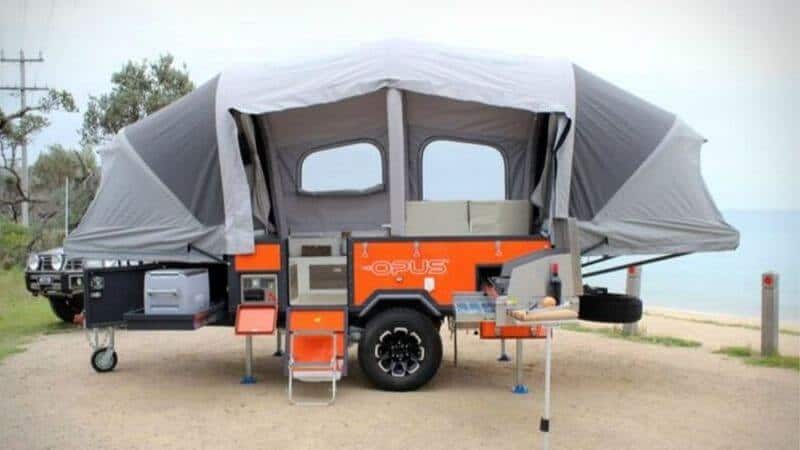 Recommendations:
Air Opus (2,870 pounds)
Forest River Flagstaff Tent Camper range (2,500 pounds)
Starcraft Comet (1,840 pounds)
Viking Epic Series (1,600 pounds)
Factors That Affect The Weight Of A Pop Up Camper
Materials, Design, And Construction
The construction depends on the materials, which also rely on the design. Altogether, they add up to the overall weight.
If we take, for instance, an all-aluminum pop-up trailer, this will weigh much less than those constructed from heavier metals.
Furthermore, aluminum is a cheap option, which makes it desirable for those who are working on a budget.
Although it is easier to damage aluminum, it is also easier to replace than fiberglass.
On the other hand, those who have a bit more luxury to spend can opt for fiberglass campers.
Fortunately, manufacturers have taken the initiative to consider lightweight materials to produce more convenient collapsible campers.
Walls
Pop up trailers typically have 'soft', pull-out walls.This helps keep the trailer easy to set up and store.At first glance, they may not look sturdy enough.
This is why some campers opt to go for hard-sided walls for extra protection. When you have a kitchen or bedroom, hard-sided walls can give insulation.
Bed Platforms
Most collapsible trailers have built-in beds. The good thing is that beds are usually made from lightweight aluminum. Bed platforms can support a trailer up to 2,000 pounds.
Lift System
Originally, lift systems consist of springs, pulley, and other devices. On the downside, these parts add up a lot of weight.
Thus, manufacturers came up with a cleverer lift system. The new method includes a clutch controller winch.
This part uses a cable to connect to the pulley. Once you engage this lift system, you will be able to raise the roof.
For the majority of pop up campers nowadays, you'll need to raise the roof before you can use the product. This makes a trailer even lighter.
Roof
Keep in mind that a collapsible trailer normally has soft walls. Hence, the roof should not be too heavy.
Plastic is the most lightweight material for a roof. But some manufacturers now use fiberglass, which is low maintenance compared to plastic. Old campers use rubber roofs, but they tend to leak.
Floor
Carpet, laminate, and vinyl are the three common choices for the flooring of pop-up trailers.
Vinyl is the crowd favorite because it is the most lightweight. The only problem is that vinyl flooring is harder to install.
On the other hand, some campers prefer a carpet because of its insulation and aesthetic purposes.
However, a carpet is heavier than vinyl. Additionally, a carpet is even harder to clean because it can easily accumulate dust and dirt.
On rare occasions, travelers opt for laminate. Yet, this will make the trailer heavier.
Amenities
Your pop up trailer could have the lightest materials possible, but these could become useless if you have excessive accessories.
It is typical for campers to have sleeping quarters, a convertible dinette, and a freshwater tank.
Even a small kitchen could become the biggest amenity that could make a trailer heavier. When you add a kitchen, you will have to include a gas stove, built-in sink, cupboards, and a refrigerator.
More than that, an entertainment system can increase the trailer's weight as well. Even extra wiring for your entertainment can make all the difference.
Furthermore, those who want bathroom facilities should also prepare for extra weight. Consider installing a shower door, toiler, faucet, and plumbing.
Check whether you can turn the dining area into sleeping quarters. In this way, you can save up on space and weight.
Finally, also assess if you still have room for storage, air conditioning system, and other special add-ons you could think of.
Other Things To Consider
Can My Current Vehicle Tow A Pop-Up Camper?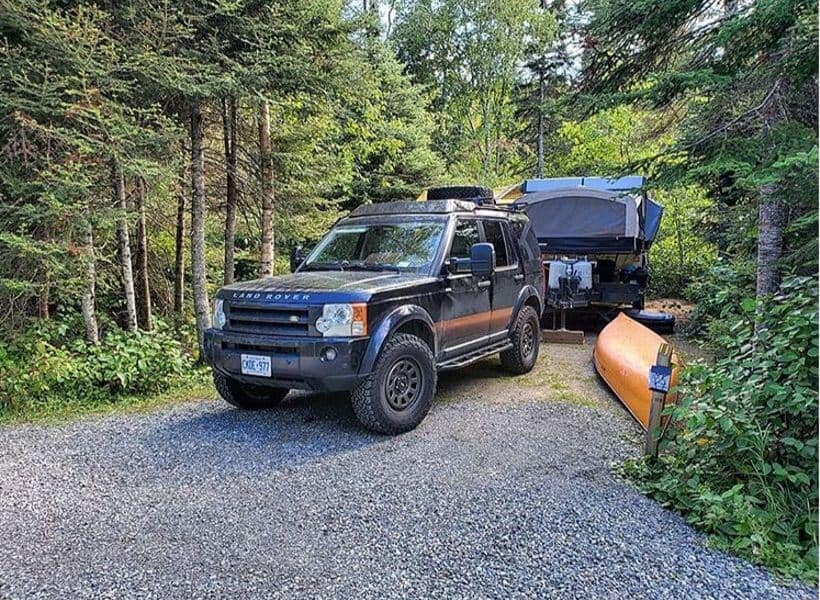 Your towing vehicle will take the toll of the trailer. A pop-up camper can make driving more challenging if it is not within the towing capacity of a truck.
Therefore, you must pick a truck that can handle your required payload.
How Can I Distribute The Weight Inside A Pop Up Trailer?
Let's use a large-sized pop up camper that weighs 2,000 pounds. The manufacturer indicates it has a dry weight of 300 pounds.
You think your basic goods and additional amenities will equate to at least 800 pounds.
Based on the example, the dry weight is 15% of the gross weight. When you add the 800 pounds, the gross weight will hit 2,800 pounds. The dry weight is now at 420 pounds.
2,800 x 0.15 = 420
The best approach is to know the weight distribution capacity of your trailer hitch. Some manufacturers provide a rating for this matter.
The dry weight, loaded weight, and towing weight should be near or middle within the recommended range.
Hence, a trailer with a dry weight of 420 pounds should have a weight capacity within 200 to 600 pounds.
Remember that too much weight can negatively affect the steering capacity of your truck. Meanwhile, too little weight can lead to swaying damage.
Are Trailer Brakes Needed For Pop-Ups?
For added security, both manufacturers and experts recommend using trailer brakes for campers over 3,000 pounds. Note that the braking system must engage all wheels.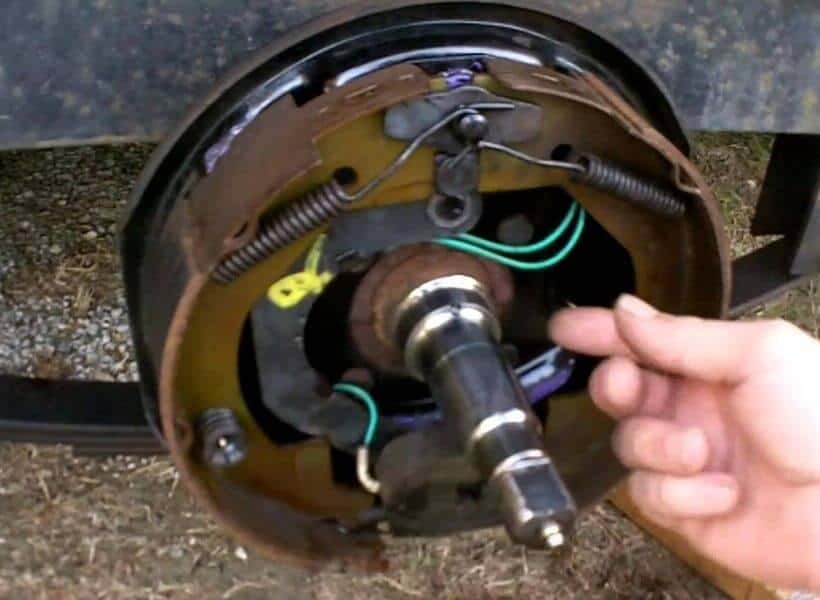 Therefore, you can safely transport small pop-up trailers with a GVWR rating of 3,000 pounds or less even without a brake controller.
If your truck does not have a brake controller, you can install a simpler controller as lieu.
For lightweight collapsible campers, the brakes of your truck should suffice.
Do Not Max Out The Towing Capacity Of Your Vehicle
Your towing pick-up already has its load, so the weight of the trailer could either alleviate or worsen the driving experience. If you hit the peak, your gas mileage will suffer.
Let's say you have a medium-sized pop up camper that weighs 1,200 pounds.
It is advisable to pair this trailer with a pick-up that has a 1,700-pound towing capacity.
If your amenities, gear, and personal stuff are nearing 1,100 pounds, consider cutting down the weight by at least 50 pounds.
Just remember to allocate ample space for your groceries, clothes, camping gear, and other personal supplies.
Damage is possible once you surpass a truck's towing capacity. In effect, you might void the vehicle's warranty.