A travel trailer, also known as a caravan or camper trailer, is similar to a recreational vehicle (RV) for traveling and providing temporary housing. It is a towable vehicle that can be pulled by a truck or an SUV. These come in various sizes, designs, and features to suit different tastes and requirements.
Typically, travel trailers have basic living necessities like sleeping quarters, a kitchen area with cooking equipment, a bathroom with a toilet and shower, and frequently a dining area. Certain models have a lot more to offer.
A 4 season travel trailer is styled and utilized in different weather conditions. These trailers are built with characteristics that improve their insulation and longevity, enabling them to resist hot and cold temperatures. Regular travel trailers are better suited for moderate regions.
I have been regularly camping around the US for many years now, experiencing camping with different groups of people in different RVs, in different seasons, and with different travel trailers.  Now, If you are a regular camper like me, you need something more dependable for every season. So, for a good experience, let's dive into understanding everything you need about a 4-season travel trailer or a 4-season camper trailer.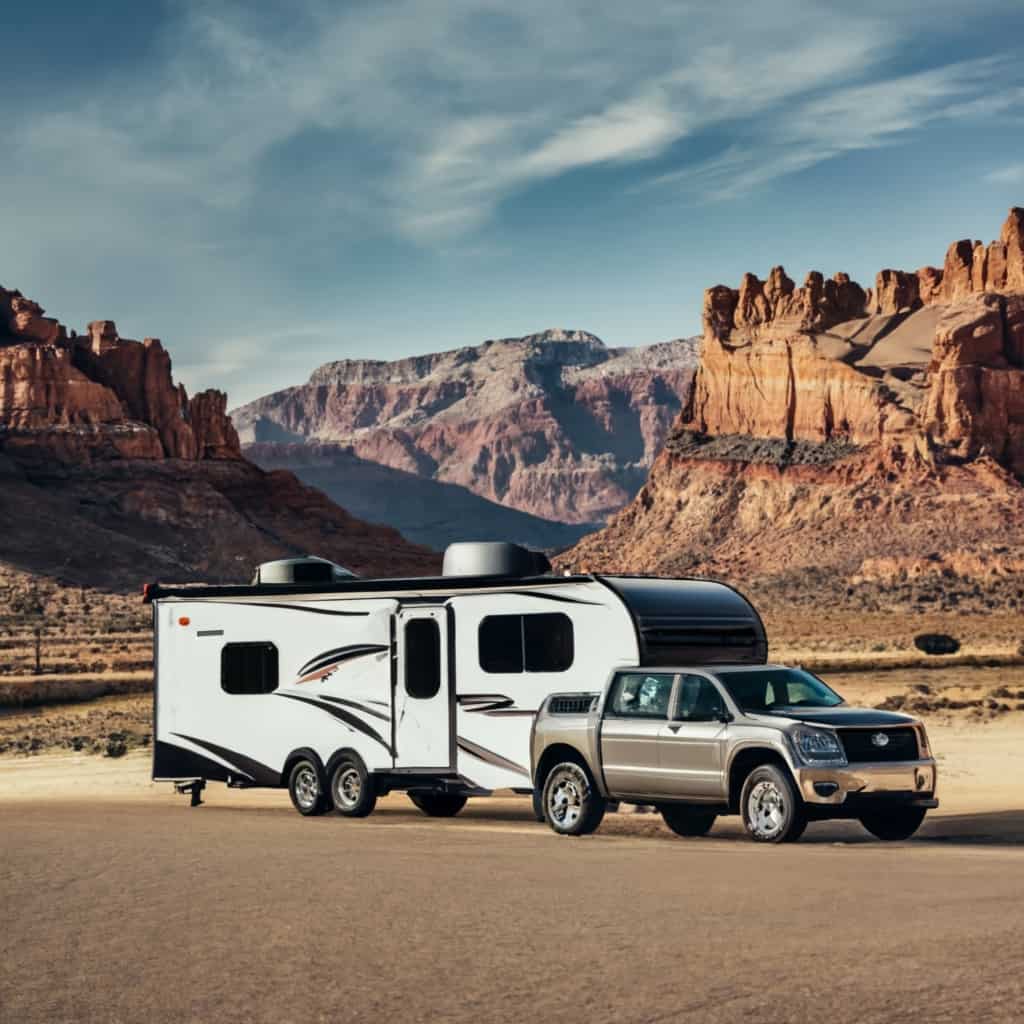 Key Features Of 4-Season Travel Trailers
Before purchasing a four-season travel trailer, it is crucial to take the necessary time to research your individual preferences and special requirements.
Let's start by looking at the main features of 4-season trailers that I used to select the best trailers in my list.
| | |
| --- | --- |
| Feature | Details |
| Insulation | These trailers usually have superior insulation in the walls, floors, and roofs, which helps to keep the interior at a comfortable temperature in both hot and cold weather. |
| Enclosed underbelly | The tanks and pipes are protected from freezing by a sealed underbelly. This is quite important if you're traveling to colder climates. |
| Thermal windows | Double-paned or thermal windows help lessen heat transfer while lowering temperature changes, enabling improved heat control in your trailer. |
| Upgraded materials | You can handle extreme weather with 4-season travel trailers. It has tougher materials and weather-resistant components to create a long-lived lifespan. |
| Ventilation | Moisture buildup cannot be prevented without an efficient ventilation system. To keep mold and mildew from growing, a ventilation system is vital. |
| Insulated pipes and tanks | Water and storage tanks should either be heated often or given the proper insulation to prevent freezing. This system will ensure your comfort and accessibility throughout the trip. |
| Greater ground clearance | Some four-season vehicles have higher ground clearance and are more capable off-road. This boosts longevity and permits more flexible travel. |
Top 7 Best 4 Season Travel Trailers
The range of variety in 4 season travel trailers might get you excited and confused simultaneously. You should always be careful while deciding to ensure that you are selecting the best one for yourself. I will share some of the best 4 season travel trailers, which are well-known for their capability to manage different weather challenges.
Airstream Classic
The Airstream Classic is one of the most reliable travel trailers because of its classic aluminum exterior. Its amazing craftsmanship represents its timelessness and beauty. It has an eye-catching exterior and a very high-quality build, making it long-lasting.
The Airstream Classic has specially built thermal windows and well-insulated walls. This helps create an interior that cools off in summer and controls heat during winter in your trailer, making it comfortable. You can enjoy consistent comfort throughout all seasons because of its amazing heating and cooling systems built into the trailer.
The Airstream Classic is perfect for drifting through winter landscapes or soaking up the summer sun. It meets the measures for both style and functionality in your seasonal travels.
Specifications About Cost And Size
The Airstream Classic varies in size and usually measures between 30 and 33 feet. You can consider this as an expensive choice. The price depends on the model year, size, and other features. You should average your budget between $100,000 and $150,000 for a brand-new Airstream Classic. The pricing highly depends on the market and any customizations you choose.
The Grand Design Reflection
The extended season packaging and the year-round comfort of the Grand Design Reflection are iconic. These solutions include heated and enclosed underbellies, dual-pane windows, and improved insulation.
These essential elements combine to produce a comfortable atmosphere regardless of the weather. Its clever design maximizes space and usability and is one of its best attributes. This thoughtful design makes traveling convenient and enjoyable.
It is a popular option among tourists seeking both elegance and functionality. The Grand Design Reflection is built to handle climatic situations like icy winters or traveling to warmer locales.
Specifications About Cost And Size
Depending on the type and package you choose, the cost of a Grand Design Reflection trailer may vary. Depending on size and features, the price generally ranges between $30,000 and $60,000 or even more. You can choose from a variety of floor plans to suit your taste. The length can vary from 27 to 40 feet.
Oliver Travel Trailer Legacy Elite II
The Legacy Elite II from Oliver Travel Trailers stands out for its exceptional standards. This type is renowned for its superb build quality, ensuring comfort by maintaining a pleasant room temperature.
The all-weather insulation package includes thermal windows and an insulated underbelly, ensuring pleasant interiors in different temperatures. Oliver's Legacy Elite II is a dependable 4-season travel trailer. Its fiberglass components improve structural strength and insulating capabilities, which is responsible for the Legacy Elite II's durability.
The Legacy Elite II is committed to quality and smart design. It provides a comfortable voyage with peace of mind regardless of whether they are experiencing winter chills or summer heat.
Specifications About Cost And Size
The Oliver Travel Trailers Legacy Elite II price varies depending on extra options and modifications. These trailers typically cost more because of their remarkable features and build quality. For the current pricing details, visit the official Oliver Travel Trailers website or contact their dealerships. The Length is approximately around 23.5 feet.
Northwood Arctic Fox
The Northwood Arctic Fox lives up to its name by excelling in extremely cold climates. It is a popular choice for winter lovers. It was designed with heated holding tanks, cutting-edge insulation, and thermal pane windows. Its tough design and off-road ability increase its adaptability, allowing exploration across various terrains.
The heated holding tanks in the trailer keep water from freezing, ensuring operation even in extremely cold temperatures. Its improved insulation and thermal windows keep the interior at a pleasant temperature while protecting travelers from the bitter cold.
The Arctic Fox gives adventurers the confidence to go off-road because of its tough construction and off-road characteristics. Even in the roughest environments, it is best for people looking for winter activities on wheels.
Specifications About Cost And Size
The Northwood Arctic Fox has various sizes to accommodate diverse needs and tastes. These trailers typically have lengths between 22 and 32 feet. Size, extra features, and integrated facilities are some variables that affect prices. The beginning price for a brand-new Arctic Fox trailer can range from $40,000 to $60,000 approximately. Contact dealerships or the manufacturer for the most recent pricing information.
Lance 4-Season Travel Trailers
Lance stands out as a dependable brand of 4-season travel trailers that excel in cold locations and provide comfortable travel all year long. Their trailers have carefully insulated walls and floors to protect them from chilly weather.
The inclusion of cutting-edge heating technologies increases their ability to endure cold weather. Lance is unique because of its attention to detail and use of premium materials. These trailers are made to resist the challenges of all seasons, ensuring durability and dependability.
If you want to experience various locations without sacrificing comfort, Lance trailers offer a complete option due to their intelligent insulation, sturdy structure, and effective heating. Lance is a compelling choice for a reliable and well-designed 4-season travel partner.
Specifications About Cost And Size
Lance offers a variety of sizes to accommodate various preferences and demands. Their four-season travel trailers range from about 20 feet to over 30 feet. The type, size, features, and further improvements can all greatly impact price. The typical price range for Lance 4-season travel trailers is between $30,000 and $70,000.
The Keystone Montana
Offering a residential-style living experience while you're on the go, The Keystone Montana distinguishes out for its remarkable features. This is your scoop if you are looking for home comforts while traveling. The Keystone Montana provides spacious interiors and excellent finishing to avail the aura of elegance and comfort.
The Montana stands out due to its intelligent insulation package, which makes it possible to take advantage of the luxurious comforts even in colder climates. It has an electric fireplace to lend a sense of comfort, making frigid nights feel welcoming and pleasant. The effective heating system adds comfort.
You receive more than a travel trailer when purchasing a Keystone Montana. You get a home away from home. No matter where your journey takes you, you can unwind and relax thanks to its roomy layout, premium materials, and attention to detail.
Specifications About Cost And Size
The Keystone Montana comes in various sizes and floor designs, with lengths between 34 and 41 feet. With so many options, you can be sure Hito will find the design that best satisfies your requirements and preferences.
The cost of a Keystone Montana might vary significantly based on the floor plan, extra features, and market conditions. The beginning price should fall between $50,000 and $80,000, with larger and more feature-rich models commanding a higher premium.
Forest River Rockwood Windjammer
The Forest River Rockwood Windjammer stands out and improves efficiency and aesthetics with its excellent V-nose aerodynamic design. This trailer has a sleek, contemporary appearance. It has a very distinctive design, which also helps the vehicle use less gasoline when traveling. The V-nose makes the vehicle more fuel-efficient for road journeys by decreasing wind resistance.
The Windjammer is a flexible alternative for year-round travel in addition to its aerodynamics. The enclosed underbelly offers superior defense against various climates when combined with improved insulation. This enables you to travel through the sweltering summers to frigid winters comfortably.
The Forest River Rockwood Windjammer has heated mattresses that provide an additional layer of warmth on chilly nights. It guarantees that your trip will be comfortable and pleasurable. It is a cozy house on wheels that is prepared for a variety of activities.
Specifications About Cost And Size
The Forest River Rockwood Windjammer is available in various sizes, usually between 25 and 35 feet. Prices can change depending on the individual model and optional features. Base models cost around $30,000, with higher prices for more advanced features and spacious floorplans.
Conclusion
Choosing the ideal 4-season travel trailer takes careful thought and consideration of your preferences and practical factors. It is similar to choosing the proper travel companion. You want something that fits your lifestyle, can withstand obstacles, and provides comfort while on the road.
Establish your needs and vacation preferences first. Are you an adventurous adventurer or a weekend warrior? Your mobile home should be a comfortable refuge with the layout and amenities matching your comforts. Your partners in battling various climates are improved insulation, thermal windows, and effective heating and cooling systems.
Watch out for weight restrictions; a safe and easy voyage depends on towing capability. Budget carefully while considering the cost of the trailer and future costs. As you go on your adventures, peace of mind can be obtained from reputable manufacturers with strong guarantees.
It is important to examine dealerships; you'll know when you've found the perfect fit. Consider the minute touches that make a big difference as you stroll through the trailers and picture your life there.
Whether you're shining in the sun or embracing the snow, your selected travel trailer should ultimately be an extension of your goals. Your mobile refuge transforms the open road into your own private playground. You'll be prepared to make priceless memories regardless of the season or location on the map if you take your time, research, and follow your gut when you eventually hitch up that ideal 4-season trailer. A happy journey!
Frequently Asked Questions (FAQs)
What are the top features to look for in the best 4 season travel trailer?
The greatest 4-season travel trailers have several key characteristics guarantee durability and comfort all year. Upgraded insulation and thermal windows are a good way to successfully control temperature. Underbellies that are enclosed help with insulation and safeguard against road debris.
For harsh conditions, efficient heating and cooling systems are essential. Tanks and pipes are heated to prevent freezing. Off-road capabilities provide versatility, while tough building materials increase durability. It is always convenient to have thoughtfully planned interiors, including lots of storage, a modern kitchen, and a bathroom.
A strong guarantee and reliable customer service provide peace of mind. For eco-conscious travel, take sustainable components like solar panels. When these characteristics are integrated, your travel trailer is transformed into a dependable house on wheels equipped to handle any terrain.
How does the Lance 4 Seasons travel trailer compare to other models regarding durability and insulation?
The Lance 4-seasons travel trailer excels in toughness and insulation compared to other models. Its robust design, which includes metal framing, guarantees enduring durability against wear and strain. High-quality materials improve its ability to withstand varied terrains and weather conditions.
The Lance has improved insulation in its walls, floors, and ceilings, allowing excellent temperature regulation in hot and cold areas. Thermal pane windows are added to this sturdy insulation, which further aids in keeping a suitable interior climate. A dependable option for winter travel, its heated and covered underbelly prevents freezing.
Overall, the Lance 4-seasons travel trailer stands out as a dependable option for year-round travel because of its sturdy construction, insulation features, and controlled climate.
What are the benefits of owning a 4 season RV for year-round camping and travel?
There are several advantages to owning a 4-season RV for year-round camping and vacation. First and foremost, improved insulation and thermal characteristics maintain indoor comfort in various climates, whether exposed to bitterly cold winters or sweltering summers. This adaptability enables you to travel to many locations regardless of the weather.
With materials and components built to resist the rigors of many terrains and situations, 4-season RVs' robust construction promises longevity and resilience. No matter the outside temperature, having effective heating and cooling systems ensures you can keep a comfortable environment.
Additionally, 4-season RVs frequently have heated pipes, tanks, and underbelly to avoid freezing during the colder months. Extending the camping season with this feature, you can take in the beauty of nature all year round.
A 4-season RV improves your travel experience by enabling you to set out on excursions all year, creating fresh opportunities to discover different landscapes and create memories in all four seasons.
How does a four-season camper trailer differ from regular RVs regarding insulation and weather resistance?
Regular RVs and four-season camper trailers differ primarily in insulation and weather resistance capabilities. Four-season models provide higher insulation with updated materials and are built to resist extreme temperatures and weather conditions. They often have thermal windows that reduce heat transfer and better-insulated walls, floors, and roofs.
On the other hand, regular RVs might only have minimal insulation, making it harder for them to keep a pleasant interior temperature during periods of extreme heat or cold. Four-season campers frequently have enclosed underbellies that shield important parts from road debris and aid in maintaining the quality of the insulation.
In addition, holding tanks and pipelines in four-season campers frequently incorporate heating systems to avoid freezing in cold weather. Their stronger construction and sealing reduce drafts and prevent moisture buildup.
Four-season camper trailers have more insulation, stronger construction, and extra amenities than standard RVs, which increases their capacity to tolerate a wider range of weather conditions.