The majority of RV manufacturers put forth their best efforts when offering quality fifth-wheel trailers to meet most family's travel styles.
Though there are some with a strong reputation for thoughtful engineering and material build quality that will stand the test of time.
Not to mention deliver a better resale value when it comes time to eventually upgrade or downsize.
Of course, fifth-wheel trailers are always a major investment, as they offer the creature comforts and luxury of a large motorhome, yet they let you use your tow vehicle to tour the surrounding area.
So, it's understandable how newcomers to the fifth-wheel marketplace might be a little warry of overspending.
If this sounds like you, then you might be wondering what are some of the best fifth-wheel brands to consider?
Right off the bat, two of the top contenders are Forest River and KZ. Though there are certainly a few other RV manufacturers who have put their due diligence into developing very successful fifth-wheel models that truly hold their long-term value.
So, we decided to wade hip-deep into this arguably crowded field to find six of the best fifth-wheel trailer manufacturers who are known for great customer service and build quality.
Along the way, we looked for manufacturers who have a long-standing reputation for material build quality and sound engineering principles.
We also tried to keep an ear out for fifth-wheel trailer brands that are known for offering superior customer service.
The 6 Best Fifth Wheel Brands in 2023
To be fair, in today's highly competitive RV marketplace, there aren't really any totally terrible brands.
Though there are a few that have more models and have won more awards to be considered the cream of the crop.
If you are in the market for a new fifth-wheel trailer, then you should start your shopping process with one of these lineups.
1: Forest River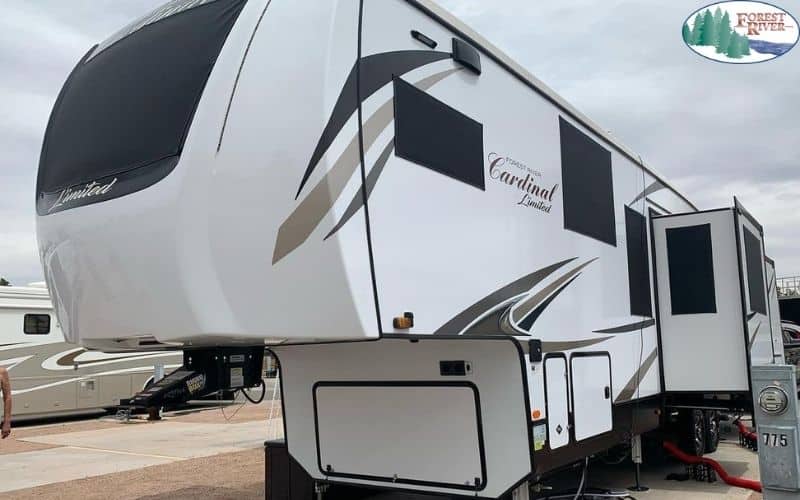 Forest River is one of the largest RV manufacturers. They are a subsidiary of Berkshire Hathaway, which also gives them access to a wide range of superior materials, and well-engineered components as well as state-of-the-art manufacturing technology.
Forest River has been in the industry for a long time. This translates into a deep knowledge base for the type of features and creature comforts that families like best.
They also use this experience to parse out models that are specifically geared toward certain niche interests like boondocking off the grid, or fifth-wheel toy haulers that let you bring your ATV or other outdoor vehicles with you on vacation.
Another one of the nice things about Forest River's lineup of fifth-wheel trailers is that many of their models are engineered to be easy to customize with optional extras.
Then they do their level best to make sure that their licensed dealerships have easy and relatively affordable access to these options.
This lets you realize the fifth-wheel trailer of your dreams faster than a lot of the smaller competitors, while still keeping the price reasonable.
In the past, Forest River did take a few complaints about their customer service. Though they have redoubled their efforts in this arena.
One Of Forest River's Best Fifth-Wheel Trailer
Forest River has a lot of great fifth-wheel trailers to consider. This includes the Cedar Creek and the well-known Cherokee with all its different versions.
Though the 2021 Cardinal Limited stands out an inch or two higher thanks to some of its premium features.
The 2021 Forest River – Cardinal Limited 366DVLE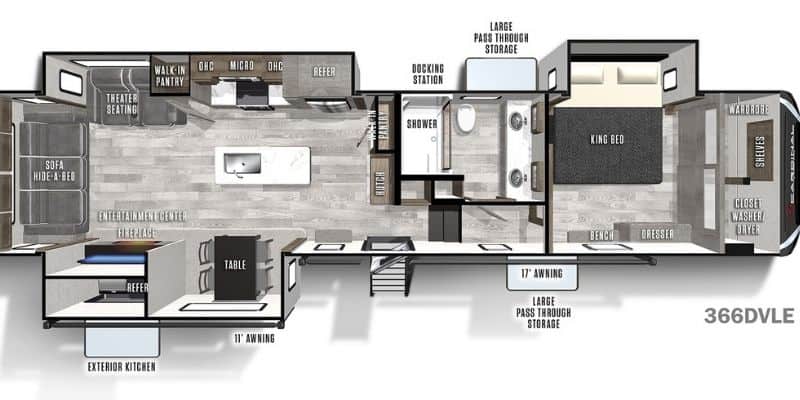 The 2021 Forest River – Cardinal Limited 366DVLE was engineered to feel like a true home away from home.
Case in point, it is a popular model for people who want to full-time in comfort and style.
When you take a closer look at the material build quality, you find a lot of Forest River's signature signs of quality.
This includes things like a plywood roof with a special waterproof PVC membrane that's backed by an impressive 20-year warranty, as well as "Best In Class" underbelly armor to protect the RV's vital plumbing system.
Optional extras include things like roof-mounted solar prep, as well as a 15,000 BTU air conditioner that's dedicated toward cooling the nicely appointed king-size master suite.
You can also upgrade the WiFi network and mobile app instrumentation to a Winegard Wi-Fi/4G Router.
2: Grand Design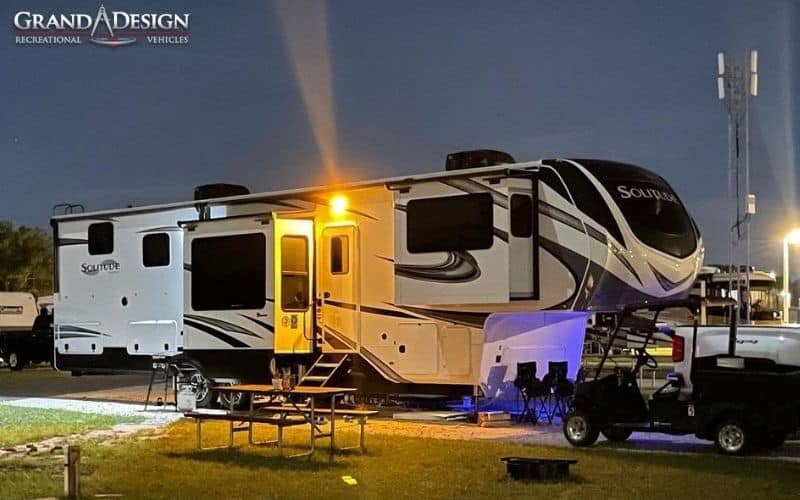 Grand Design is technically owned by Winnebago, which gives them access to the RV industry giant's materials and many of its top components.
Though Grand Design is also allowed to maintain their own identity, without being a rebadging of Winnebago's line.
This gives them the freedom to produce some truly impressive models with the impeccable material build quality.
One of the things that you find in a lot of Grand Design's fifth-wheel trailers is a material selection and engineering that is geared toward models that can handle the weather.
A few are even insulated and come with weatherproofing systems built-in as standard features.
This is different from some of the competitors in this niche that either don't offer four-season weatherproofing packages, or they make them a very expensive optional extra.
Grand Design is also an industry leader in customer service. They also have a reputation for parts that are easily available or a willingness to ship parts to mechanics, service departments, and dealerships.
So, if you do have a problem while you are on the road, you have an above-average chance of getting a timely, affordable repair.
One Of Grand Design's Best Fifth-Wheel Trailer
The Grand Design Reflection and the Solitude are both very popular models in the fifth-wheel trailer niche.
Though the Solitude offers more floorplans and a lot of great optional extras that have it edging out its shoulder to shoulder brother.
The Grand Design – Solitude 380FL-R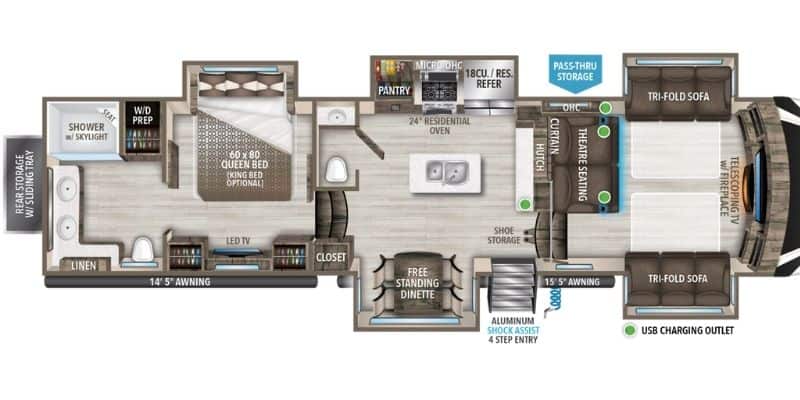 One of the things that jump off the page about the Grand Design Solitude, as well as many of Grand Design's fifth-wheels and travel trailers in their line is the Four Season Package.
This includes a fiberglass insulated roof, as well as an insulated underbelly with a triple insulated floor.
It even has an "Even Flow Heating System" that distributes the climate control and makes it more energy efficient.
To top it off Grand Design had their Four Season Package tested by an outside third-party laboratory which tested and verified that it could handle temperatures as high as 110-degrees and as low as zero degrees Fahrenheit.
With a superior dedication to quality manufacturing like this, you can rest assured that the rest of the Grand Design Solitude dotted their eyes and crossed all their tees on the other mechanical details.
This includes things like H-rated tires on all-steel rims, with protective chip guards in the wheel wells. Fully laminated walls and a CRE 3000 suspension system and 8K brakes.
3: Heartland RV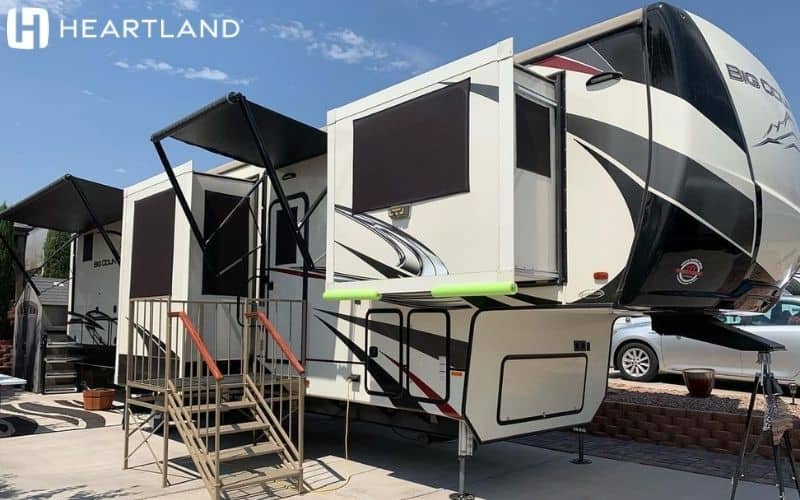 Heartland RV is technically a subsidiary of RV titan Thor Industries, though they have retained their own identity and style, which shows through proudly with their lineup of fifth-wheel trailers.
This also translates into fifth-wheels that are infused with superior material build quality as well as innovation in their engineering.
One of the really refreshing things about Heartland RV is the way their superior customer service and market research is brought to bear in the design, engineering, and development process.
This has helped them cultivate a reputation for listening to what hardworking people want and need in their fifth-wheel trailers.
When you bring all these things together it's helped Heartland RV to become one of the premier fifth-wheel manufacturers in the United States and Canada.
Their entire lineup is infused with models that foster pride of ownership, while also retaining their long-term value.
One Of Heartland RV's Best Fifth-Wheel Trailer
Heartland RV's lineup of high-quality fifth-wheel trailers is truly impressive.
While there are very solid arguments for the Heartland Big Horn, Elk Ridge, Pioneer, and Milestone, the Heartland fifth-wheel that stood out the most to us is the Heartland Big Country.
As the name implies it is a large fifth-wheel RV that is meant to tackle wide open spaces with ease.
The Heartland – Big Country BC 3902 FL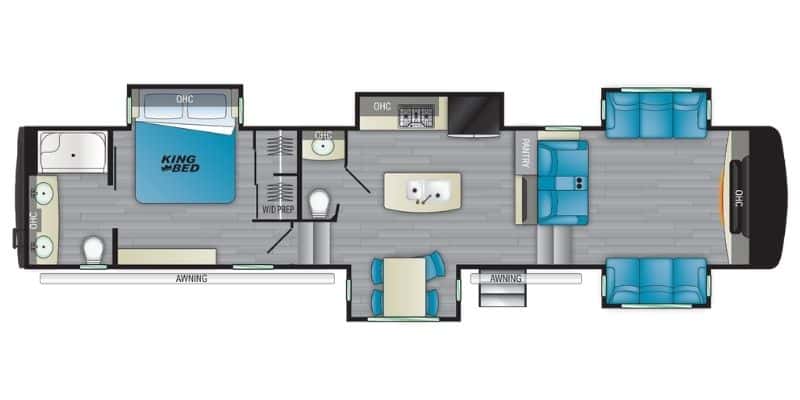 The Big Country is one of, if not the number one most popular of all of Heartland RV's fifth-wheel trailers.
The material build quality starts with things like Azdel laminated sidewalls which is a lightweight non-wood substrate, that acts as a sound barrier while also providing superior insulation value.
You will also appreciate the 2-inch thick sidewalls that are made from high-density block foam insulation that is installed into the aluminum structure.
It's all supported by powder-coated steel I-beam frame with a fully walkable TPO roof system.
If the construction material quality doesn't blow you away, the interior engineering certainly will.
It starts with a nicely appointed "Country Kitchen" with a residential appliance package, along with a full-size pantry, and recessed stainless steel farm style sink with plenty of depth for hand-washing dishes.
The proprietary "Stor-Mor" system provides three-sided access to the basement for up to 30% more storage capacity.
4: Highland RV
On paper, Highland RV is technically owned by Jayco, which is one of the RV industry leaders on its own.
Jayco provides Highland RV access to some of its best materials and components, while still allowing Highland to maintain its own corporate brand image.
This allows them to keep their primary focus on one of the things they do best, which is producing high-quality fifth-wheel trailers that are known for their durability as well as comfort.
Their models have a reputation for being very livable, and well-designed. A lot of the people who live full-time in their RV choose a Highland fifth-wheel trailer as their home.
Another thing you can appreciate about them is their warranty protection and service, which is seen as being some of the best in the fifth-wheel niche.
Since they borrow some of Jayco's best components, you can usually find replacement parts easily when do happen to need them.
Then the repair is often covered under the standard warranty protection. All this is infused with one of the industry's best customer service teams.
One Of Highland RV's Best Fifth-Wheel Trailer
Even though the Mesa Ridge and the Roamer have very loyal followings, it's the Highland Open Range that we felt was the best fifth-wheel trailer in their lineup.
The 2021 version has 8 different floorplans that let you choose the model to best fit your travel style and comfort needs.
The Highland Ridge – Open Range OF427BHS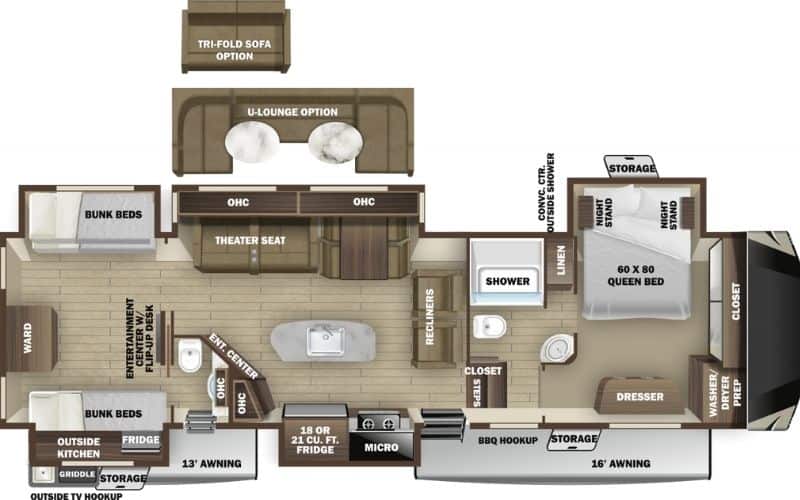 True to its name the 2021 Highland Ridge – Open Range OF427BHS is a large fifth-wheel trailer with a lot of wide space in its wide-open interior.
It features a separate queen-size master suite in the front with a large master bath.
There's an open concept kitchen and living room with an impressive 50-inch TV at midship.
Then in the rear, you'll find a spacious bunkhouse that can sleep four people at a time, and includes its own TV.
This interior layout means that the adults have their privacy and the kids still get their own space far in the back.
They can do their thing, and watch their own TV shows while still being under the same roof.
The material build quality and engineering are another thing that shows through with the 2021 Highland Ridge – Open Range OF427BH.
This starts from the top down with a PVC roof membrane to prevent leaks.
It's backed by a 15-year warranty and is insulated with double layer insulation with radiant foil to keep the interior nice and dry.
There's also a forced air-heated underbelly that is fully enclosed and insulated to prevent freeze-ups on cold nights as well as optimizing the HVAC system.
5: Palomino RV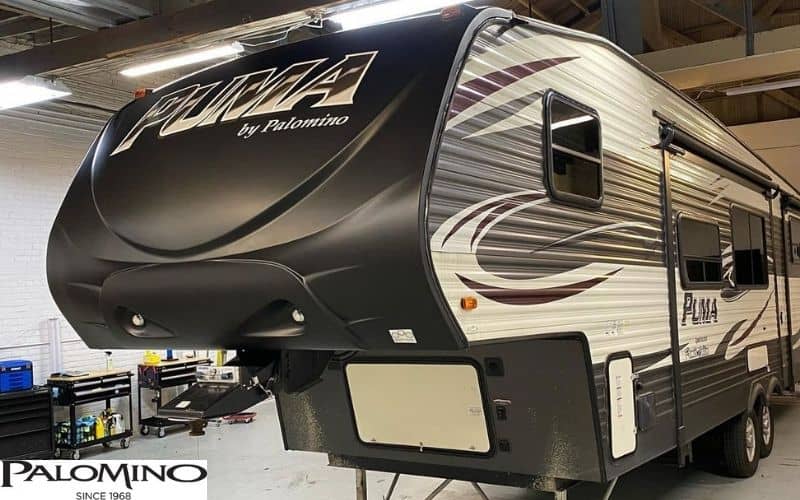 Palomino RV is another subsidiary of Forest River, that is allowed access to the RV industry titan's materials and components, while still retaining their own identity.
This is important for Palomino who has worked hard to cultivate a strong reputation for high-quality RV's spanning over five decades.
Beyond their reputation for superior build quality, Palomino loyalists point out an obvious focus on thoughtful floor plans that optimize the interior space.
While many of their fifth-wheel trailers have one or more power slide-out sections, they don't rely on this to create interior floor space, which really contributes to a feeling of being in a home away from home.
When it comes to customer service and access to parts, Palomino is known for doing its level best to meet the needs of new and loyal customers.
This is thanks in part to their multiple manufacturing facilities that are interspersed throughout the upper Midwest.
One of the things to note about a lot of Palominos fifth-wheels is that many of their popular models also have toy hauler versions available.
If you are the type of family that likes to travel with your ATVs, dirt bikes, kayaks, or other "Toys," Palomino might be a great place to start shopping for your next fifth-wheel trailer.
One Of Palomino RV's Best Fifth-Wheel Trailer
Palomino has a lot of great options in their fifth-wheel trailer lineup.
This includes models like the Columbus and the River Ranch, though the Palomino Puma is arguably their most popular.
It has a lot of unique floorplans to accommodate a wide range of travel styles. This includes two models that are spacious toy haulers.
Though many of the Palomino Puma models are on the lighter end of the spectrum, which makes it nice if you don't want to invest in a one-ton pickup truck.
There are even a few models that can are just within range for a half-ton pickup truck to tow!
The Palomino – Puma 255RKS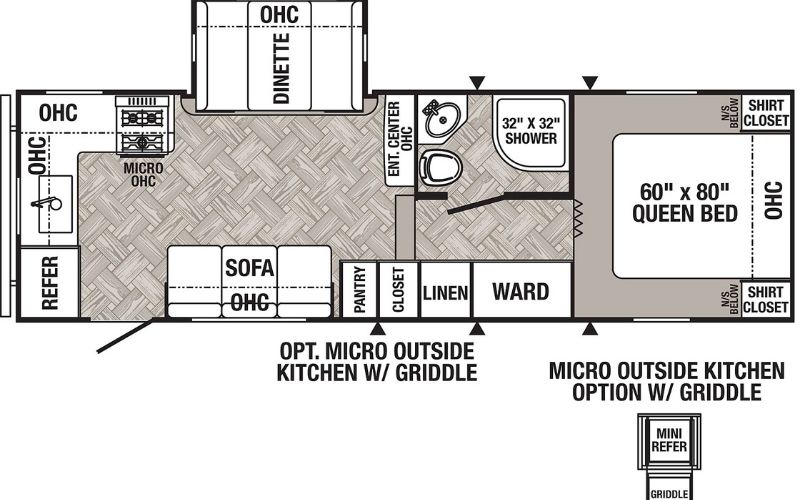 The 2021 Palomino – Puma 255RKS is a relatively light fifth-wheel trailer that was designed to accommodate small families, who still want to appreciate a fair amount of elbow room.
When you take a closer look at the specifications, you see the lightweight towing statistics that make the Puma one of Palomino's most popular fifth-wheels.
The Puma also has "Packages" that you will find with a lot of Palomino's high-value fifth-wheel trailers.
This includes Value Package with special lighting, solar power system pre-wiring, WiFi Prep, and Bluetooth stereo.
There's also the Advantage package that includes key features like an enclosed underbelly, stainless steel kitchen hood, outdoor speakers, and 6-gallon water heater.
These two packages are standard with all models of the Puma.
They also offer an "Optional Package" that has things like upgraded air conditioning, and superior stabilizer jacks as well as a 5,100 BTU electric fireplace.
If you are uncomfortable with a manual connection and hitch release, there is also an optional 3,500-pound tongue jack.
All these features and optional extras are just one of the many reasons why so many people turn to the Palomino lineup to start shopping for the fifth-wheel trailer of their dreams.
6: KZ RVs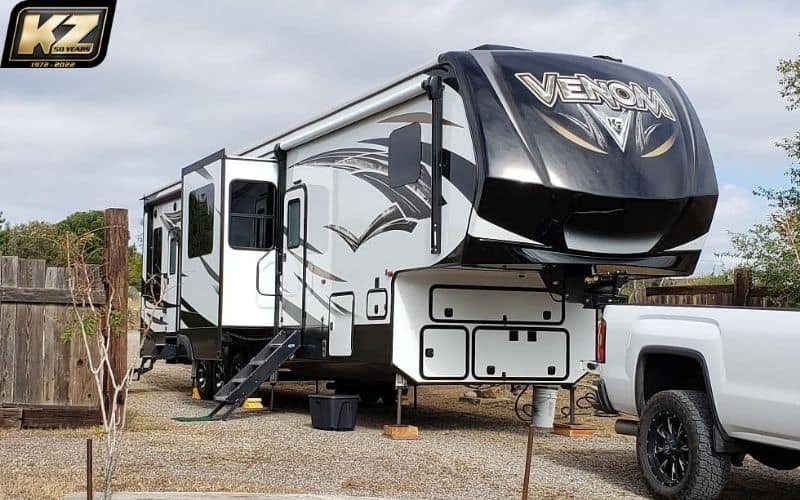 KZ is another one of Thor's subsidiary companies that are allowed to maintain their own corporate identity and material selection.
When it comes to fifth-wheel trailers, they have a wide lineup of standard fifth-wheels as well as some impressive fifth-wheel toy haulers that stand a head taller than a lot of the competition.
KZ was founded in 1972 on a set of core principles that they define as principles of quality, fairness, courtesy, and integrity.
They hold strong to these concepts to this day in every model throughout their vast lineup.
This gives makes them a great place to start shopping for a fifth-wheel trailer. Especially if you love to travel with your ATV, kayak, or dirt bikes.
If you love to dry camp for days of playing and adventuring off the grid, then you might want to move KZ's lineup of fifth-wheels up your list.
They have a reputation for designing high-quality models that are specifically geared for boondocking.
One Of KZ's Best Fifth-Wheel Trailers
KZ has a lot of great traditional fifth-wheel trailers like the Durango and the Sportsmen, though one of their most impressive is their off-road friendly Venom fifth-wheel toy hauler.
It is infused with the kind of materials and special features that you want to support you and your toys for days of off-the-grid boondocking or just staying luxuriously at an RV park.
The K-Z – Venom V4114TK Fifth-Wheel Toy Hauler
If you love to boondock off the grid with your "Toys" along to enhance the adventure then you will stand in awe of the 2021 K-Z – Venom V4114TK fifth-wheel toy hauler has to offer.
This starts with a standard 4-season all-weather package, which you find in a lot of their other fifth-wheel trailers.
It includes heated, insulated, and a fully enclosed underbelly as well as a thermal foil in the floor, roof, front, and rear.
The KZ Venom also has R-11 sidewalls, an R-38 roof, and a floor. This works in tandem with the fully vented attic system that moves moisture and hot air out of the interior.
Like a lot of KZ's fifth-wheel trailers, it is prewired for an optional solar panel. This is an option you should select whenever possible.
It lets you top up the fifth-wheel's house batteries as well as do things like run lights, without draining your battery bank.
The electrical system includes a lithium "Ready Charging Station" with a dual converter that lets you charge lithium-ion batteries as well as lead-acid batteries.
This represents the cutting edge of fifth-wheel RV electrical innovation.
When it comes to the cavernous 13.9-foot garage, it has an E-track system that lets you confidently secure your toys with an adjustable system.
It helps maximize what you can fit in the garage while reducing the kind of flexing that can sometimes stress a "Toy" during transport.
There's also a huge 70-gallon auxiliary fuel tank to let you top up your toys without having to run to a remote gas station.
When you get to your campsite, you can back your toys out and park them up outside. The interior cargo bay then converts into a large bedroom.
It includes a large sit & sleep power bed, as well as a loft bed. There's even a second entertainment center, which gives kids or teenagers their own hangout space.
Conclusion
Fifth-wheel trailers are increasingly popular thanks to their ability to provide the superior comforts of a large motorhome, though you can still detach the tow vehicle to explore the surrounding area.
Starting your shopping process with some of the best fifth-wheel brands on this list will help you establish a baseline for the kind of material build quality and features that best match your travel style.
If you are looking for a lightweight model, then you might want to start shopping with Palomino, which has some of the best fifth-wheel trailers for easy towing.
They offer a lot of optional packages that you can upgrade, as well as models that have cargo bay options.
If you want a toy hauler that can bring your ATV with you and also has the impressive durability to handle life off the grid then KZ might be the best fifth-wheel trailer brand to meet your needs.
They have models with and without toy hauler cargo bays, but all of them are infused with the superior material build quality.
While this isn't the be-all-end-all list of the best fifth-wheel trailer brands, it still represents a great place to start shopping for your new RV.