Are you ready to ditch the traditional lifestyle of making your home in an apartment or house? These days, more people than ever before are making the transition to tiny homes on wheels, in a movement known as vanlife.
How do vanlifers make their life on the road actually work? What is the ultimate-best van for this type of lifestyle?
Vanlife-styles tend to vary greatly, and each vanlifer has a unique experience to be sure. Different vehicles will be preferable, depending on your travel plans.
However, there are some commonalities for the types of vans or vehicles this group of people finds most successful for full-time life on the road.
Best Vans to Live In Full-Time
Cargo vans are the most popular vans for full-time vanlifers, and for good reason.
These vans are usually tall enough inside for occupants to stand, have adequate space for a variety of layouts and features, and can blend in for stealt​​h camping.
Several of the best van models for full-time vanlife are cargo vans, but there are quite a few unique additions.
If you are considering full-time vanlife, check out the list below and then do your research.
Some vans are more suitable for off-road adventures, while others are more conducive to blending in and city camping.
Depending on your budget, style of vanlife, and your needs in a vehicular home, some vans may be preferable to others.
Top 15 Vans for Full-Time Living
Just under 50 percent of vanlifers are doing it full-time, with the rest doing it to travel for a few weeks or months.
According to the survey from OutboundLiving.com, vanlifers primarily prefer cargo vans, but there are a few other popular choices for the types of vans they choose. The breakdown is as follows:
43% – Cargo Van

18% – Passenger Van

13% – Volkswagen or Hippie Van

12% – Other*

8% – Bus or Schoolie

6% – RV
*I, myself, am currently living full-time vanlife with my partner, and our "home" falls under the "Other" category! It's a converted Suburban by SUBOVERLAND.
These are just general categories, though, and today's vanlifers can find lots to choose from when selecting their ideal home for life on the road. Here are the 15 best camper vans for living the van life:
1: Mercedes Sprinter
One of the most popular vanlife vehicles is the Mercedes Sprinter van. This is the quintessential, classic design for the modern day vanlifer.
It usually comes in inconspicuous, neutral colors such as white, gray or black, and can have side windows or not depending on the options available, your choice and/or conversion budget.
Before the conversion, your brand new Sprinter could cost between $35,000 and $57,000, and the conversion alone could cost $30,000 to $150,000 or more.
Despite the high price tag, a Sprinter is the dream van for many. Note: Mercedes, Dodge and Freightliner Sprinter vans are all technically Mercedes Sprinter vans.
The brand may be different depending on the year the vehicle was made.
Special Features: Rear cross-traffic alert, parking assist with rearview camera, drive-away assist, active lane-keeping assist, blind-spot assist, active cruise control with distance assist, active braking assist, downhill speed regulation, and more.
2: RAM ProMaster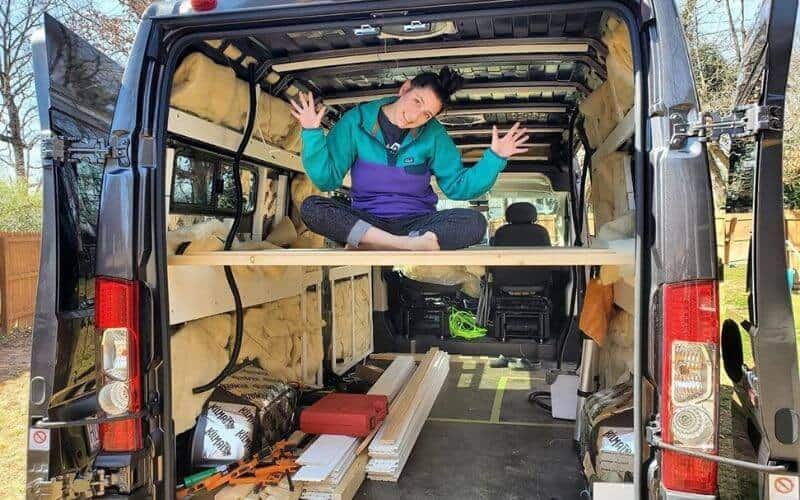 Another popular vehicle for full-time vanlife is the RAM ProMaster. It is low-profile for stealth camping, has a high ceiling inside for standing room, and can be configured for many vanlife-friendly floor plans.
One perk of choosing a RAM ProMaster over a Mercedes Sprinter is that many mechanics across the U.S. are more likely to stock replacement parts for a RAM than a Mercedes, especially in more remote towns.
However, RAM ProMaster vans have a below-average reliability rating, so you may have more breakdowns than you would with another van make or model.
RAM ProMaster vans are more affordable than the luxury Mercedes Sprinter model, costing between $31,000 to $44,000 for a new van, before conversion.
Special Features: State-of-the-art cabin tech, with standard Uconnect® 5-inch touchscreen, Integrated Voice Command, Hands-Free Calling, Bluetooth® Streaming Audio and convenient steering wheel controls.
Rear doors can swing open 260˚, open 60 inches and can fold almost flush against the van's exterior. Dual sliding side doors can open up to 49 inches.
3: Ford Transit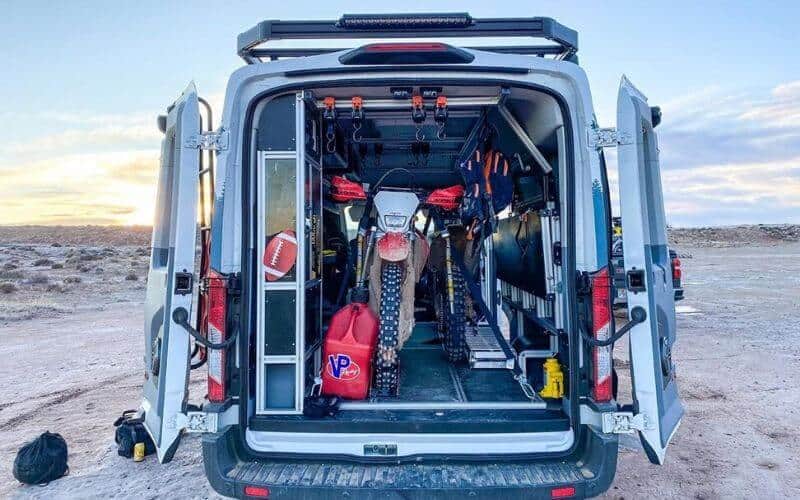 The Ford Transit is an affordable, somewhat more reliable, and comfortable vehicle for full-time vanlife.
It is available in a variety of models, with extra seating or length, colors, and features.
The Cargo Van and Crew Van models have high ceilings so that you can stand up fully inside.
Whether you choose the cargo, crew or passenger van model, the Ford Transit is an excellent and more affordable base vehicle for vanlife.
The price for a new Ford Transit before your conversion will run between $24,275 and $41,000.
Special Features: There's a 31-gallon tank available, as well as Ford's Co-Pilot 360™ technology, front and rear split-view cameras, enhanced active park assist, FordPass Connect™, power sliding side door, two available center consoles, and more.
4: Vauxhall Movano
This U.K. van has everything you need for full-time vanlife, with four available lengths, three heights, and a fuel-efficient diesel engine.
Manual and automatic transmission options are available as well. Choose from a variety of classic panel vans, or go with a Doublecab if you're vanlifing with a family.
New Vauxhall Movano vans typically run between £21,328 and £29,000, before conversion costs.
Special Features: Movano offers a Navi 50 IntelliLink Pro for Apple CarPlay™ and Android Auto™ to project your smartphone onto a 7-inch touchscreen display. There's built-in navigation, permanent rear-view camera, and Lane Departure Warning.
5: VW Bus
The quintessential van for life on the road is the Volkswagen Bus, which is also known as the Hippie Van.
It has a cute, classic look and often comes in some pretty unique and fun colors.
Prices can range widely, depending on the age and condition of the bus, but can cost as little as $19,500 or as much as $145,000.
Some classic VW buses are already converted for vanlife, however, so you can save on the conversion and pay around $30,000, total.
ClassicCars.com and AutoTrader.com are the most popular places to find VW buses, since Volkswagen is no longer selling these vintage buses directly.
The new Volkswagen Bus is electric, which is a big pro for vanlifers who also want to minimize their environmental impact.
It provides nearly 300 miles of estimated range before requiring a re-charge, and can recharge about 80 percent of its energy capacity in 30 minutes.
For vanlifers headed to remote or off-the-grid destinations that don't have charging stations, however, the classic model may be more appropriate.
Special Features: Varies, but it's a classic! Check out Kombi Life on YouTube for some ideas for what full-time vanlife in a VW bus looks like.
6: VW California
Volkswagen's California van is another classic with modern finishes, ready-to-go interior conversion, and reliability.
It has a pop-up roof to expand your interior space, and is already converted with a fully fitted kitchen that includes a cool box, sink and stove kitchen unit.
There's also a camping table and chairs that easily stow away to save space.
Many VW California models come finished in beautiful retro two-tone paint to give it that nostalgic VW bus feel.
Prices for new Volkswagen California camper vans start at £55,281.00 to £63,591.00, depending on whether you choose the California Ocean or California Coast model.
Special Features: LED headlamps with lens, navigation system, Digital Cockpit and Driver Alert System, Adaptive Cruise Control, double glazing in rear seat area and heat-insulating glass in front, Parking sensors, and Manual Pop-up roof and awning (California Coast model).
7: Knaus Boxdrive CUV
If you're looking for a van that's ready to hit the road, without spending the time and money on unique conversion, the Knaus camper van models may be perfect for you.
The Boxdrive and Boxstar Knaus camper vans come pre-made with Knaus' layout, which is both a pro and a con.
You won't need to pay extra for the conversion, but you also won't have control over the interior layout.
These vans are intelligently designed from the inside, out! There's plenty of room to stand inside, and lots of other features that make these vans ideal for full-time vanlife.
The Boxlife models also sleep 5-7 passengers, for families who live on the road.
Knaus Boxdrive vans start at a base price of €79,990, but again, no conversion is needed.
Special Features: Front Assist with city emergency brake function, Trailer Assist, Park Assist and Park Pilot, Atmospheric ambient lighting, Unique form language in furniture construction, floating dinette table, 90-litre compressor refrigerator, variable bench seat in living area, spacious in-room bath, multifunctional vehicle rear, and more.
8: Citroen WildCamp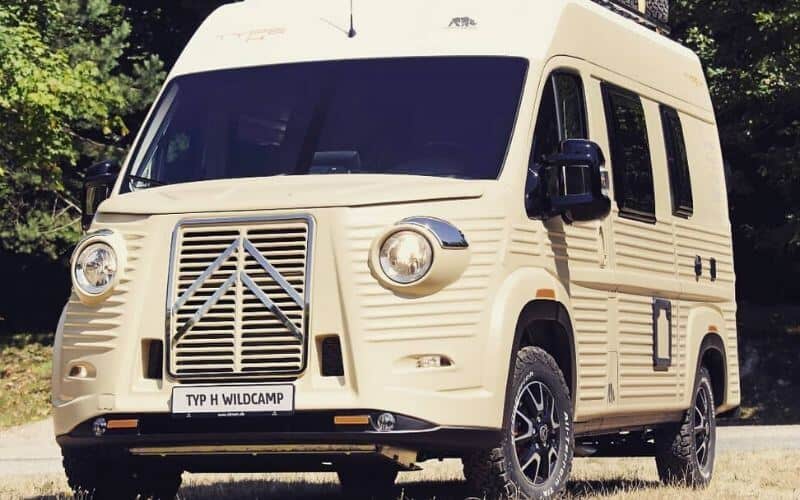 Another classic from decades past, the Citroen WildCamp rivals the Volkswagen van among vanlife enthusiasts.
It's built a bit tougher than the VW bus, however, with a roof rack that has enough storage for two spare wheels, a fold down ladder and more space for your bulky adventure gear.
The WildCamp runs on a 161-hp BlueHDi diesel engine. Inside, the captain's chairs swivel into your living space, and the bed folds down from the living space for versatile living.
The kitchen features a two-burner gas stove, a stainless steel sink, a water jug and a 12v fridge with a built-in freezer.
There is also an in-unit bathroom. Prices for a new Citroen WildCamp range from €27,132 to €41,597.
Special Features: ABS and brake assist, full monitoring systems, Hill Start Assist and built-in captain's chairs. An Alpine 9-inch premium infotainment system is also available if you want a GPS navigation system on board.
9: Mercedes-Benz Luton Box Van
For a cargo van with more of a room-like interior space, the Mercedes-Benz Sprinter Luton is a great option.
Unlike other Sprinter and cargo vans, the cargo area is a rectangular box that may be easier to convert into your living space for life on the road.
However, there are no windows unless you choose to cut them out in the conversion.
The Mercedes Sprinter Luton has a high payload and lowered loading height with front-wheel drive, and features a 9-speed automatic transmission.
Used Luton Box vans will cost about £13,500 to £16,450 before the costs of conversion.
Special Features: MBUX infotainment system and high-resolution 7-inch touchscreen (10.25-inch screen available), LINGUATRONIC "Hey Mercedes" voice control and geocoded map system, increased payload and cargo area, Active Brake Assist, and optional electric parking brake.
10: School Bus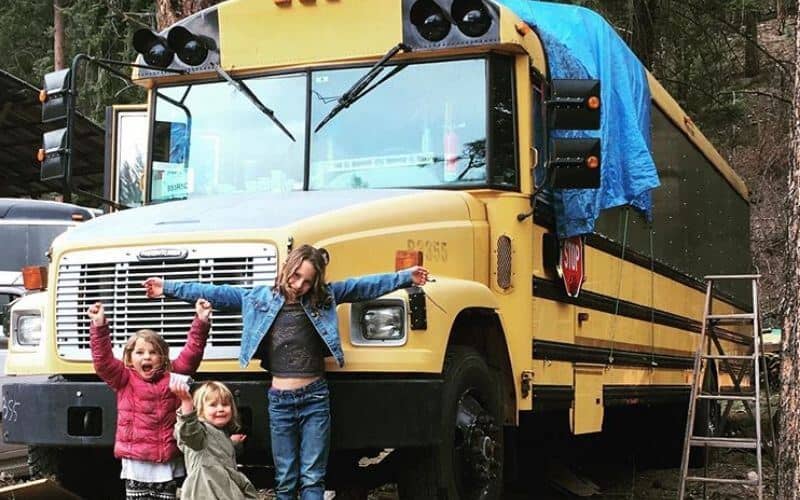 Perhaps the most variable van on this list for living full-time on the road is the school bus, or skoolie.
Buses come in a wide range of sizes and conditions, with some already converted into tiny homes for vanlife, and others needing to be gutted before you can start your unique conversion.
Skoolies are excellent for vanlife because they tend to offer more space inside, which you can convert for your needs.
Some school bus vanlifers build multiple rooms and living spaces in their skoolies, while others like to leave the space open.
You will probably need to take extra measures to insulate your school bus for living on the road, since single-pane windows are a common feature of almost every bus.
Pricing ranges widely for skoolies, and you may be able to find one pre-conversion for only a couple thousand dollars.
Already converted school buses range in price from $18,000 to $35,000 or more.
It's important to have a professional mechanic check out your van or bus before you buy, and this is even more crucial with school buses.
They tend to run larger than most vanlifing vehicles, and may have special mechanics or issues that you will want to know about.
11: Renault Trafic Camper
If you're looking for a van that's perfect for stealth camping and is a bit more subtle on the road, the Renault Trafic is a great fit.
It's modeled like a modern-day passenger van, and pre-conversion has seats for up to nine passengers. The interior design is spacious and modular, perfect for a conversion.
You can also opt to add a SpaceClass table inside the passenger area to cut your conversion costs.
The front cab has lots of clever storage cubbies for all of your knick-knacks.
In terms of reliability, the Trafic has a really good reputation and a strong record, minimizing maintenance and repairs you should expect.
Prices for new Renault Trafic vans range from £25,150 to £27,500, before your conversion.
Special Features: ABS with Electronic Brake Distribution, Start and Stop technology, Electronic Stability Control with Hill Start Assist, rear parking sensors, interior load side panels, LED headlights, left- or right-side loading door option, and the option to add side steps for easier entry and loading.
12: VW Crafter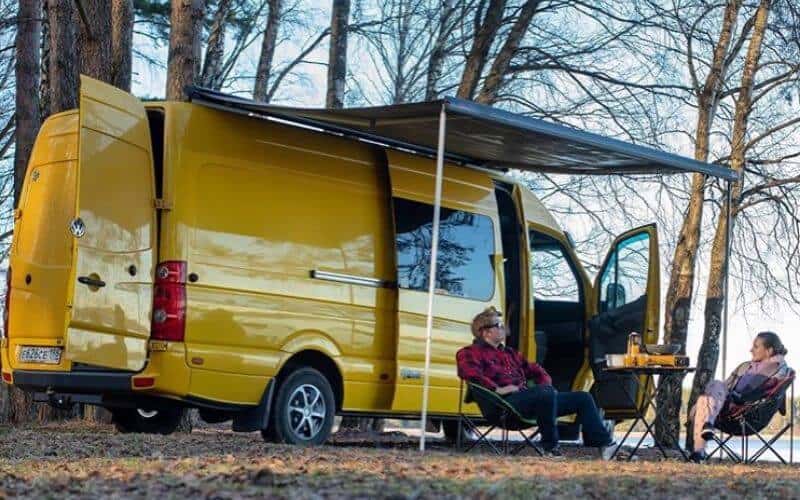 Fans of the Volkswagen brand who want more of a Sprinter van design will love the VW Crafter panel van.
This van is an excellent base for your full-time vanlife vehicle conversion, no matter what size you're looking for.
You can choose from three vehicle lengths and three vehicle heights.
It's also primed for a conversion, with 14 lashing rings recessed into the floor, lashing rails on all of the walls and an interior roof rack to use as the base for your build.
The cabin also has practical storage for smartphones, laptops, tablets, water bottles, coffee cups, sunglasses, a flashlight, folders, gloves and more.
The price for a new VW Crafter before conversion ranges from £26,745 to £48,046.
Special Features: Forward collision warning including autonomous emergency braking, without adaptive cruise control.
It also has Front Assist, City Emergency Braking, Trailer Assist, Park Assist, cross wind assist and side protection alerts.
In the cab, you can choose to have a partition without a window, ergoComfort suspension seats or 2-seater bench in cab, and a sliding door left in load/passenger compartment.
13: Sportsmobile Classic 4×4
More of an adventure van than a tiny home, the Sportsmobile Classic 4×4 is still a great vehicle for vanlife, especially if you need something more rugged for off-road adventures in the national parks.
Plus, it's already converted for living on the road in comfort, with a compact fridge, sink and even a microwave.
The integrated penthouse top provides even more usable space and sleeping options within the van for ultimate comfort and versatility.
There's a countertop and storage cubby that rotates outside for food prep and other needs, and the roof is equipped with a storage rack, solar panel and awning.
An access ladder makes it easy to load, unload and access the roof. Sportsmobile has also ruggedized the exterior with a steel-reinforced fiberglass shell.
Pricing starts at $20,945, but it includes the living space conversion so you can hit the road right away.
Special Features: Advance Adapter Atlas II All Gear Driven Transfer Case, Dynatrac Pro-Roc 60 Front Axle, Dana 60 Rear Axle, Fox 2.0 Performance Series Shocks, High Knuckle Front End for Extra Tie Rod Clearance, Extra Heavy Duty Steering Arm, and more.
14: Four Wheel Campers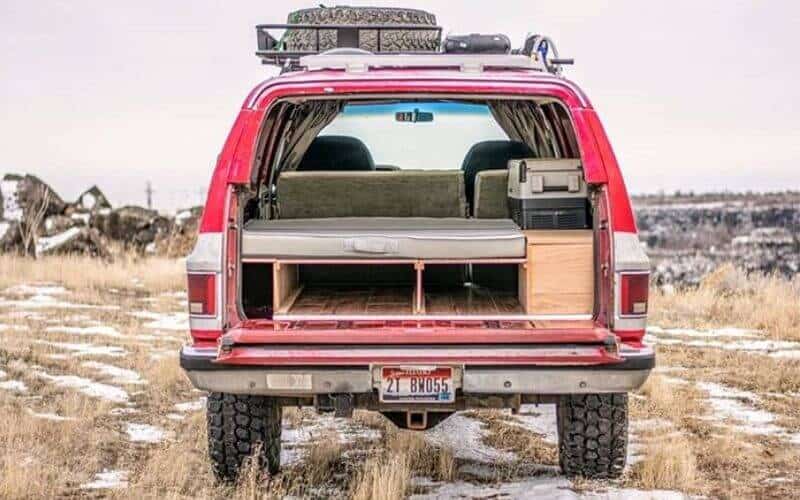 The growing popularity of vanlife has inspired some people to convert their own SUV or van for full-time life on the road.
Almost as variable as skoolies, four wheel campers can be converted from almost any 4wd vehicle.
What's more, you can usually do so at a fraction of the cost to convert many of the other vans on this list.
Features and amenities vary widely, and are only limited by the space you have, your imagination and your budget.
From personal experience, I can tell you that the SUBOVERLAND San model is a great four-wheel camper for full-time vanlife.
This is especially true if you don't have the time or know-how to do your own conversion.
However, it's not for the faint of heart and it's certainly not 'glamping' to live out of one.
It's by far more comfortable and convenient than tent camping, but you can't stand inside and you have to cook and eat in the great outdoors.
Special Features (SUBOVERLAND): 33" all-terrain tires and full-sized spare, storage cubbies/wardrobe, bed platform and full-length drawers, memory foam mattress, wood panel ceiling, rubber flooring throughout, WeatherTech floor mats, solar shower, rooftop basket rack, LED interior lights and on/off switch, insulated window panels and privacy curtains, 100-watt Renogy solar panel, two Renogy 100-AH AUX batteries, Renogy Voyager solar charge controller, Renogy 1000-watt inverter, Wirthco battery isolator, Dometic CFX28 fridge/freezer, and Fantastic Fan.
15: Rivian Electric Truck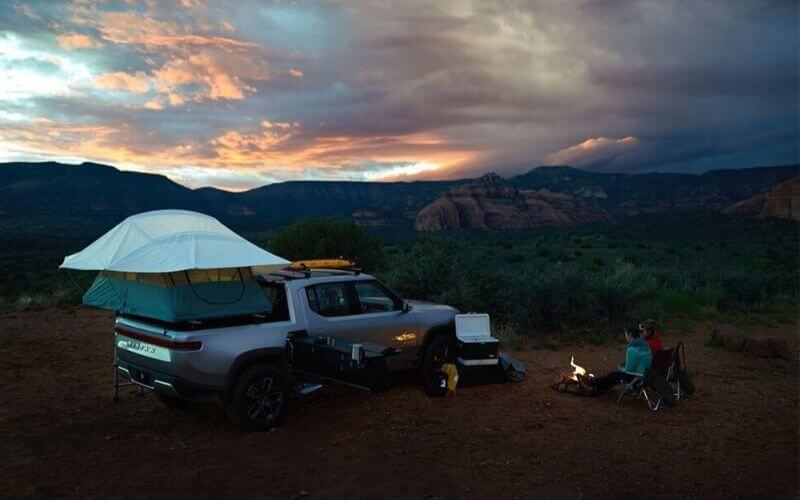 Although it's not a van, technically, the Rivian Electric Truck is the new adventure-mobile of the future. It's fully electric, but has a great range at 400+ miles.
Instead of an interior living space, vanlifers will need to buy and install a pop-up tent on the bed of the truck for sleeping, or just pitch a tent from the ground.
This vehicle is more accommodating for adventures in remote or rugged locations, and probably won't work well as a stealth camper.
However, it's well suited to off-roading and exploring nature from a comfortable and energy-efficient vehicle.
The Rivian is on pre-order only right now, with prices starting at $69,000.
Special Features: Energy-efficient stadium-shaped headlights, digital dashboard, charge-level indicator, lockable storage drawer with 12 cubic feet of space, flexible crossbar system for mounting gear or a pop-up tent, three 110 V outlets, air compressor, and energy-dense weight distribution capacity.
Best Styles Of Vans For Different Types Of Vanlife
With all of the choices, it may be overwhelming to whittle down your options to find the best style and size of vehicle for your version of vanlife.
Below is a quick summary based on different van-lifestyles, and may help you refine your search.
Budget may be a primary factor, which will help narrow down the list of vans to consider from one angle.
However, the way you plan to live while on the road is one of the most relevant ways to find the ideal van for your new lifestyle.
Without further ado, here's our list of the best vans for different priorities of live on the road:
Best All-Around Van for Full-Time Vanlife: Mercedes Sprinter, RAM ProMaster or VW Crafter

Best Van for Travel & Mobile Living: Ford Transit, RAM ProMaster, Knaus Boxdrive

Best Van for Living Big: School Bus (Skoolie) or Mercedes-Benz Luton Box Van

Best Van for Stealth: Renault Trafic, VW Crafter, Ford Transit, RAM ProMaster or SUBOVERLAND (Four Wheel Camper)

Best Adventure Van: Four Wheel Camper, Sportsmobile Classic 4×4, Citroen Wildcamp, VW California

Best Affordable Van: RAM ProMaster, Ford Transit, or other U.S. cargo van

Best Looking Van: Volkswagen Bus

Best Van for Maintenance: RAM ProMaster, Ford Transit, or other U.S. cargo van
How Much Does It Cost To Convert A Van?
Nearly 80 percent of vanlifers choose to save on their conversion costs by outfitting their van themselves.
For nearly half of these people, the conversion took 2-6 months, but around 32 percent have been able to complete a van conversion in less than 8 weeks.
After the complexity of your build, the timeline often depends on your budget, whether you have help, and the amount of time you can dedicate to the project.
If you're working full- or part-time while building your van conversion, it may take a bit longer than if you have the ability to focus on the project full-time.
31% $1,000 to $5,000

24% $5,001 to $10,000

17% $10,001 to $20,000

16% Less than $1,000

8% $20,001 to $40,000

3% Over $40,000
7 Things to Consider When Choosing Your Van for Full-Time Vanlife
As you continue in your journey to find the perfect van for full-time vanlife, there are a number of important factors to consider:
Price
The options vary widely if your van budget is unlimited, but for most vanlifers, budget is a strong factor in their decision.
Most vans – even new ones – can be purchased for around $25,000, but you'll need to keep your conversion budget in mind as well.
However, there are a number of vans on our list above that include the conversion. Also, you may be able to find an older vehicle to convert, or purchase a used van that has already been converted for vanlife.
Size
Some vans, like VW buses and Four Wheel Campers, are smaller and you'll be more limited on space. Others, like school buses, have enough square footage for a couple of rooms.
The happy medium is cargo and passenger vans, which often have enough space for a sleeping and kitchen/living space.
Many cargo van manufacturers also make vans in extended sizes if you need more room.
Mileage & Condition
Full-time vanlifers are probably going to be putting lots of miles on their new 'home', so mileage is a very important factor to consider when choosing a van.
An older vehicle with more miles may break down more often or more quickly reach the end of its life.
The technical state of the van, including its servicing history and whether it's been in an accident, also plays into the consideration for condition. Rust is also something you should be aware of.
Mechanical Complexity
When you're living on the road, you won't always be near a city or town for servicing and you may need to maintain or fix your van yourself.​
If the vehicle is more complex or is imported, it may be a challenge to handle repairs on your own.
Complex mechanics also often mean that maintaining or replacing them can be expensive, even if you're doing the labor yourself.
Parts Availability
One reason many vanlifers choose a U.S. cargo van is because parts are more readily available (if they're traveling in the U.S., that is).
You may want to consider where you plan to go when choosing your van, since the availability and price for replacement parts could significantly affect your travels if you have an issue or breakdown.
Safety
Many of the newer vans have lots of extra road safety features included, as well as extras like parking assist and hill climb assist.
Your van is about to become your home, but it's still a vehicle and you will want to be safe as you travel the open road.
You may also want to consider security and alarm features, especially if you will be stealth camping in cities where your vehicle is more likely to be broken into.
However, if your van doesn't come with a security system, you can always add one.
Appearance
Last, but not least, is the look of your van. It's curb appeal of a different kind, but it still matters for a lot of vanlifers who want an attractive as well as functional space to call their nomadic home.
What Will Vanlife Look Like for You?
Another big consideration for the type of van you choose should be your lifestyle while on the road.
For example, if you're going to be living the digital nomad lifestyle and working remotely from the road, you may want a van that has space for you to work out of.
Your type of journey should play just as much into your choice for a van as the vehicle, itself.
Questions to ask yourself:
What is the weather going to be like?
Will I/we be going to different climates? The insulation and features of your van may need to be different depending on your answer.
Will there be a lot of rain or humidity?
Will we be camping near the ocean a lot? If the answer to either of these questions is "yes", avoid vans that are notorious for rust (i.e. Mercedes Sprinter vans). Click here to learn more about rust and how it affects vanlife.
Will you be traveling a lot of miles, quickly?
Or are you going to take your time? Either way, you'll probably want a vehicle with low miles, but this is especially true if you'll be traveling long distances. You might also want to choose a vehicle with better fuel efficiency so as to save on gas.
Is your travel route mostly on highways or off-road?
You'll have more choices with the former, but you will need a high-clearance or 4×4 van for off-roading travel. Weight will also be a consideration for off-roading and also for your fuel efficiency.
How will you be camping?
​If you are going to be staying in cities and stealth camping, you will want to choose a vehicle that blends in (i.e. a cargo van).
Keep your vehicle's clearance in mind for city camping as well; since taller vehicles may not fit into many parking garages if you need to park there.
If you're primarily going to be camping on free land or in the national forests, an adventure van or even an RV would be totally fine.
Also, if you will be vanlifing across Europe, keep in mind that most roads are very narrow and the towns are small, so larger vehicles may not be the best choice.
Things to Do Before You Buy Your Van
Sure, you may find your perfect van just around the corner in your hometown, but the reality for most people is that it's a bit of a search.
Even if your neighbor up the street has your dream van for sale, there are still some things you should definitely do before you sign the check:
Set Your Budget
After you've narrowed down your list of ideal vans for your style of vanlife, you need to refine your budget.
Be prepared to pay for the value of the car – if there's a bargain deal out there, it's probably for a (bad) reason.
Set your budget based on the vehicle itself, your conversion costs, and the first two years of maintenance.
Just to be safe, a comfortable maintenance budget is probably around $2,500 to $3,500, although it depends on your vehicle and the typical cost for replacement parts.
Be sure to stick to whatever number you set for yourself; as much as you may want to splurge for that perfect van, save your dollars for your travels.
Start Your Search
Beyond the manufacturers, themselves, there are several websites out there that list vans for sale.
Of course, you may find your dream van on Craig's List or Facebook Marketplace, but the options will probably limited to your location.
It's also a lot harder to search using these platforms, because the search filters are not specific to vanlife vehicles. Some good sites to start searching for your van include ConversionTrader.com, ClassicVans.com, CarsForSale.com, and RVtrader.com.
Do Your Research
As you search, be sure to look into all of the details about the vans you're considering. Take note of important technical information such as mileage, age, features, your own personal pros and cons, and of course, price and relevant links to the van listing.
Organize your info into a spreadsheet or document, so that you can refer back to everything you learn at-a-glance.
Bring a Mechanic
Once you've found some vans, or even the van, be sure to have a mechanic check it out before you buy it.
Even if you know your way around an engine, a mechanic can help identify potential issues that you might miss. Inform him or her about your plans, since adding lots of extra miles or living and sleeping in the van may prompt some extra things to think about.
Take a Test Drive.
It should be possible for you to take your potential van for a test drive before you buy it. If you're lucky, you may be able to borrow it for a night or two to test it out in a local campground (for already converted versions).
If not, or if the van you're considering isn't converted for living out of, consider renting a similar model from EscapeCampervans.com, RVShare.com, Outdoorsy.com, or another service.
Even if the model you rent isn't much like your dream van, you can get a more hands-on experience for what life on the road might be like.
You can also test out different features, and you may discover things that change your priorities around before you've spent your hard-earned money on a less-than-perfect van.
Final Thoughts
As overwhelming as buying your van may be, remember that this is the start of a wonderful adventure!
You're about to open yourself up to some amazing experiences and sights, and you will remember this time forever.
Not to mention, you will probably have some crazy stories to tell throughout and after your journeys, meeting new people in all sorts of places.
Don't let the process of finding the perfect van get in the way of that. Hopefully this guide will help you navigate your search with greater knowledge and ease.
At very least, we hope it helps you get on the right track toward finding your new home base for full-time vanlife.
After you've bought your van, it's time to start your conversion! Unless you have purchased a van that's already converted, this can be another somewhat overwhelming task.
We will be following this post with another featuring some great van conversions and layouts, so stay tuned!