RV travel is more popular than ever, with many people wanting to answer the open road call with their own RV. Though times have been tough for you in the past, you might be saddled with a bad credit score that could get in the way of you finding the financing you need for the RV of your dreams.
You might even wonder if buying an RV with bad credit is possible?
The good news is that even if you do have slightly bad credit score, it might still be possible for you to secure financing for an RV. Though just how much of a loan you can get, the interest rate and other critical details can all vary depending on just how low your credit score is, and what you might be able to do to improve it.
To find bad credit RV financing, it is essential to adopt a strategic approach by identifying the root cause of your poor credit score and taking strategic approach to improve it. Once you have addressed these concerns, you turn your attention to finding the right lender to buy the RV of your dreams.
What Credit Score Do You Need for an RV Loan?
The lowest credit score you can have and still hope to secure RV financing for a credit score is around 650 to 660. However, the interest rate will probably be uncomfortably high. If possible, you want to get your credit score to at least 700 or higher to get a decent percentage rate.
Most lenders and underwriters view a credit score of 700+ as a sign of strong creditworthiness from a consistent payment history and low balance utilization.
How to Find Your Credit Score Before You Contact a Lender
The three major credit reporting agencies, Equifax, Experian, and TransUnion, allow you to request your credit score for free once per year. Other credit scores services like Credit Karma and Mint pull your credit score from major sources, though they provide you with an average, estimated score.
The actual credit score that a potential lender uses will come from an amalgam of information they pull directly from Equifax, Experian, and TransUnion.
How Are RV Loans Structured?
One of the good things about RV loans is that they are structured more like a home mortgage than a vehicle loan. This means you can often spread the payments out over a much longer term.
This then reduces your monthly payment, which means you can fit more RV debt into your debt portfolio in a way that an underwriter is more likely to approve.
Tips for Buying An RV with Bad Credit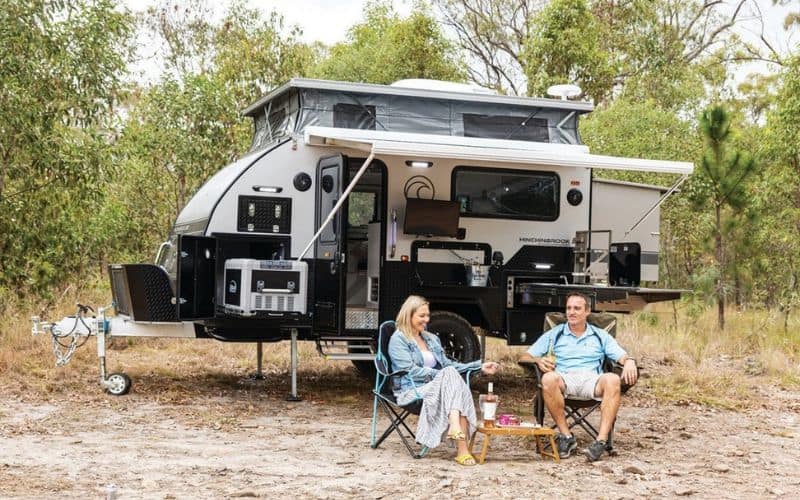 There are a few things to know and a few things you can do to improve your chances of getting financing for an RV, even if you have bad credit.
Taking the time to get your ducks in a row will go a long way toward streamlining the process and keep you from running into any unexpected surprises.
1: Pay Off Outstanding Collections & Debts
Outstanding debts and collections levied against you will severely hurt your chances of securing any financing for an RV. When you check your credit score, you'll get a credit report that will include outstanding collections.
Sometimes there are surprises you didn't realize, like an outstanding damage deposit on an old apartment from 5 years ago or a missed credit card payment you forgot about.
If you go to a lender with these on your credit report, they might deny you out of hand. So, you need to clean up and pay off these old outstanding debts before contacting a lender.
2: Understand How Self-Employment Income Affects Lending Power
A lot of people have "Side Hustles" that count as self-employment income. While this might be a handy way to augment your normal income, a lender will only consider self-employment income with at least two years of stable earning history behind it.
Whether you've been delivering food on the side or giving people rides in the back of your car as an Uber or Lyft driver, if you want that income to count, you need a minimum of two years of earning history to back it up.
3: Use a Loan Calculator to Estimate a Realistic Payment
There are all kinds of online loan calculators that you can use to determine a real-world payment that you can truly afford. Most lenders won't underwrite a loan if the additional monthly payment will put you over 50% of your net monthly income in credit payments.
4: Come Up with a Good Down Payment
The absolute minimum down payment for an RV these days is 10%. Though some lenders insist on your putting down as much as 20% when you finance a new RV.
This serves as earnest money that underwriters will immediately look for before they even consider approving an RV loan for someone with bad credit.
5: Research RVs
Once you have a realistic understanding of a monthly payment you can afford, you can get a better deal on the type of RV you want. Not only does this save you a lot of time wandering around RV dealership lots, but it can also reduce your need to get pre-approved at more than one dealership.
Especially since every time you have a lender check your credit score, it lowers it slightly. By knowing what RVs are available in your area and how much you can pay for them, you can go to the best RV dealership and only have them run your pre-approval credit once.
If you wander from RV dealership to dealership, getting pre-approved with each one, you risk accidentally lowering your credit score to the point that it hurts your percentage rate in the final loan.
Where To Find RV Financing When You Have Bad Credit
There are a few different places to check with when you are trying to get approved financing for an RV with bad credit. It helps to explore each of the following to find the best possible rate and terms.
1: Talk with Your Bank
Your bank is the most familiar with your credit and lending history. They are aware of any past bounced checks, overdrafts, and other smudges on your record. They can often tap into this information without going through a major credit check.
If they turn you down out of hand, you might be in more trouble than you think. They will likely give you some ballpark terms and rates if you have an honest shot at securing financing. Sometimes you can even lock in this rate for up to 30 days, which gives you time to explore your other RV financing options.
2: Check with RV Dealerships
An RV dealership is the next best possible place to get financing for an RV with bad credit. The dealership lives and dies based on the new sales. They have years of experience in spotting bad credit obstacles and ways to help you get the financing you need to purchase your new RV from them.
Just keep in mind that they will have to run your credit, and this credit check will put a minor ding in your credit score. Also, the terms they offer you will be based on you purchasing an RV from them and only them.
If you can't find the make, model, and floorplan of the RV you want, and you go down the road to the next RV dealership, they will need to start the process all over again. This means another credit check and another ding on your credit score.
So, if you are hoping to go through an RV dealership, it helps to shop thoroughly in advance. Make sure they have more than one of the RV floorplans that you want before you ever talk to a salesperson or use words like "Pre-Qualifying."
The salesperson will want to pre-qualify you to make sure they aren't wasting their time trying to sell you on a model. So, it's best to convincingly rehearse the phrase "I'm just looking," anytime you see one approaching you from a distance.
Lending Institutions That Help You Buy an RV with Bad Credit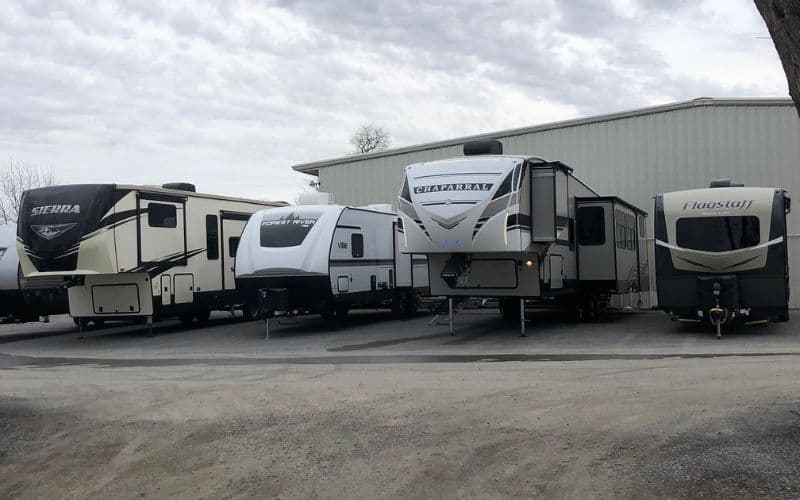 It's worth your time to explore your options beyond your local bank and the RV dealerships that are determined to prequalify you.
In fact, a few national lending institutions have a history of helping people buy an RV with bad credit. Just keep in mind that they will also run a credit check, which will put a ding on your credit score.
1. Good Sam
Good Sam is a membership service designed to cater to the needs of RVers and camping enthusiasts all across the North American continent. They've recently expanded their menu of services to include RV financing and RV insurance. They offer the best possible rates that their RV underwriters will allow, and they understand the industry like the back of their hand.
You should also consider that any RV lender will require you to carry additional RV insurance throughout the life of the loan. If you're already getting your RV financing through Good Sam, you can also bundle the rate to get your RV insurance through them as well seamlessly!
4. Southeast Financial
Southeast Financial is a lending institution with a history of helping people with bad credit to get the financing they need on all sorts of things. This includes RV loans for people with bad credit. They have a bevy of online tools and loan calculators that will help you dial in your loan details before reaching out to one of their representatives.
While they might not always offer you the friendliest terms, they have a history of working with people with bad credit. This includes helping you understand just what type of payments you can afford in the real world, which will frame your RV shopping experience.
3. Camping World
As a fast-growing national chain of RV dealerships, Camping World has recently expanded into its own affiliated RV financing services. This includes friendly terms for people who are planning to purchase from their dealership.
While you are faced with the same challenges of going directly through a local dealership to find your financing, Camping World is one of North America's largest dealers. Sometimes they can even have a specific model from one of their other dealerships transported to your local dealership for little to no fee.
4. National Power Sports
National Power Sports is another leading RV lending institution with a history of helping people with bad credit buy the RV of their dreams. They even offer credit counseling services to help you improve your credit score in the short term. Then they specialize in friendly rates with payments you can handle in the real world.
Since they are also a large national lender, National Power Sports might also be able to work with you to tap into existing equity in other properties that you own or have paid off a significant portion of. They can also help you find financing for other recreational equipment, such as boats, dirt bikes, and more.
How Much RV Can I Afford with Bad Credit?
The RV's type, age, and the price will directly affect your monthly payment and terms. Most financial institutions won't let your total monthly payments exceed 50% to 60% of your monthly average income.
So, how much RV you can afford with bad credit will be largely influenced by the available lending power you still have remaining in an average month.
Let's say that you currently have a net monthly income of $4,000. 50% of which is $2,000. Then let's also say that your mortgage, your credit card payments, and other monthly debt payments cost you an average of $1,500 per month.
This means you can get approved for a maximum monthly payment of up to $500. However, a payment of $300 a month is wiser and more likely to get approved when you have bad credit.
This will give you a little more wiggle room in the future to help with unexpected shoulder bills. This type of monthly payment is in range for things like the Coleman Lantern 236 BH travel trailer or the Heartland Mallard M210 RB.
Getting An RV With Bad Credit – Your Bottom Line
It is possible to buy an RV even if you have bad credit. Though it's smart to understand just how much you can afford and what you can do to clean up any current outstanding debts. From there, you can focus on pulling together a 10 to 20% down payment and finding the right lender.
Your bank is a good first place to start, as they can often give you a ballpark figure on the RV loan you can get approved for without having to perform a full-out credit check. This helps you get a good idea of what kind of price tag you can shop with your bad credit.
If possible, wait to seek pre-approved financing from an RV dealership until you know they have the make, model, and floor plan of the RV you want. This will also keep you from suffering multiple dings to your credit score from multiple credit checks. If possible, try to go to a national RV dealership like Camping World, which has a massive inventory available to help you find just the right RV for your credit score.
Some national lenders specialize in helping people with bad credit to buy an RV. This includes Good Sam, National Power Sports, and Southeast Financial.