Imagine this: You wake up to the melody of birdsong and the aroma of saltwater in the air. The land of sunshine and various landscapes offers a treasure trove of free camping in Florida experiences to suit the interests of any outdoor enthusiast.
Whether you're an adventurer, a family looking for quality time in nature, or a solo traveler looking for solitude, the Sunshine State has a campsite waiting to become your next great adventure.
In this article, I will clarify your perfect campsite in Florida, complete with helpful hints, mistakes to avoid, the best time to visit, and the essential advice of fellow travelers gleaned from user evaluations.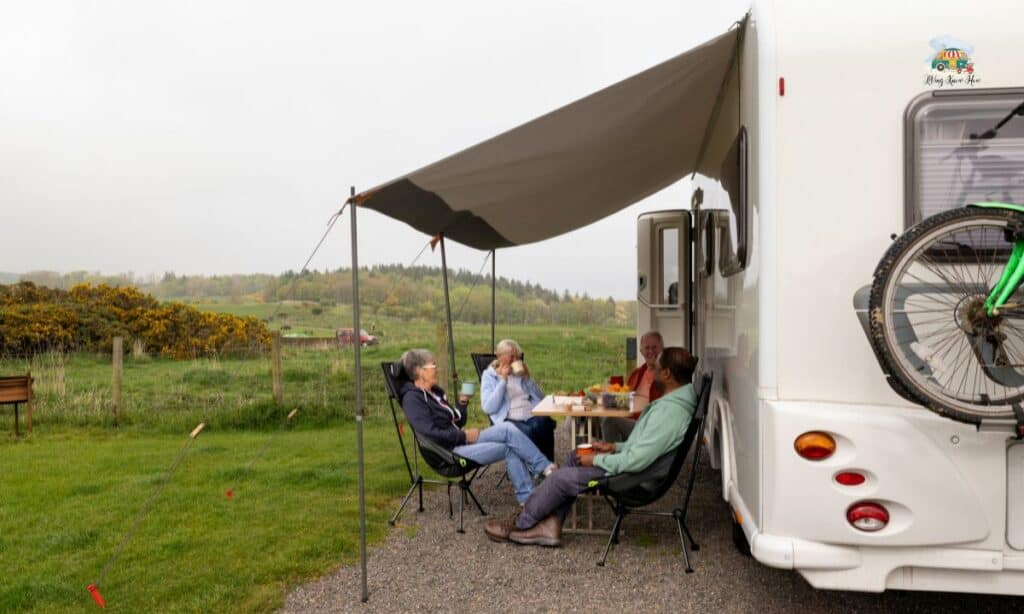 What to Consider for an Ideal Campsite in Florida
Choosing the ideal campsite in Florida is akin to selecting a canvas for your outdoor masterpiece. The first brushstroke is the location; you're spoiled for choice in Florida. Here's what to keep an eye out for when narrowing down your options:
1. Proximity to Nature
Florida's natural beauty is diverse and captivating, from the enchanting beaches along the Gulf Coast to the untamed wilderness of its state parks. Consider what type of environment speaks to your soul.
Do you long for the symphony of crashing waves? Seek a beachside campsite in Florida. Crave the tranquil embrace of towering trees? Opt for a spot within a lush forest. Proximity to the natural wonders you desire will be your guiding star.
2. Campsite Amenities
For some, roughing is part of the adventure; for others, a touch of comfort enhances the experience. Campsites in Florida offer a range of amenities, from basic sites with minimal facilities to those equipped with showers, electricity, and even Wi-Fi. Define your comfort level and choose accordingly.
3. Recreational Activities
Consider the activities that set your heart racing. Whether kayaking through mangrove tunnels, hiking picturesque trails, or snorkeling in crystal-clear springs, make sure your chosen campsite offers the adventures that fuel your passion.
4. Privacy And Seclusion
Are you seeking solitude, or do you thrive in a social camping atmosphere? Some campsites in Florida offer a sense of seclusion, perfect for introspection and serenity, while others encourage communal interactions around shared fire pits and picnic areas.
How To Lock Your Perfect Campsite
Commencing on camping in Key West trip is akin to writing a story. Every campsite has its plot, characters, and climaxes. To craft your perfect narrative, consider these practical tips:
1. Research, Research, Research
The internet is your ally. Dive into online resources, read reviews, watch videos, and study maps. Look for insider tips from fellow campers to uncover hidden gems and avoid disappointments.
2. Reserve Early
In the realm of camping, procrastination can lead to missed opportunities. Florida's destination campgrounds fill up quickly, especially during peak seasons. Make reservations well in advance to secure your piece of paradise.
3. Weather Wisdom
Florida's weather can be as erratic as a mermaid's mood. Check the weather forecast for your chosen dates, and be prepared for sudden changes. Pack appropriate clothing and gear to stay comfortable, rain or shine.
Best Campgrounds In Florida
Florida is a treasure trove for camping enthusiasts, offering a diverse range of campgrounds that cater to every nature lover's dream. From the tranquil beaches of the Anastasia State Park Campground to the tropical forests and freshwater springs of the Bahia Honda State Park Campgrounds, the Sunshine State boasts some of the best camping experiences in the country. Whether you seek beachside relaxation, wilderness adventures, or family-friendly facilities, Florida's campgrounds offer a gateway to unforgettable outdoor escapades.
1. Anastasia State Park Campground: A Coastal Retreat
Its pristine beaches, teeming wildlife, and a medley of recreational pursuits seamlessly blend relaxation with the thrill of adventure.
Where: Nestled snugly between the storied city of St. Augustine and the mighty Atlantic Ocean, the Anastasia State Park Campground emerges as a beckoning haven for beach devotees and nature lovers alike.
Attractions: Picture yourself settling beneath the welcoming canopy of majestic oak trees or perhaps seeking solace within a snug cabin tucked among the dunes.
Your days here can be spent leisurely kayaking through salt-kissed marshes, ambling along picturesque trails, or basking on sun-drenched shores.
As twilight descends, come together around the crackling campfire and be serenaded by the symphony of waves gracefully crashing upon the shore.
2. Bahia Honda State Park Campgrounds: Tropical Utopia
Should your quest be for a glimpse of tropical utopia, your search finds its resolution at the Bahia Honda State Park Campgrounds. Enveloped in a lush tapestry of verdant foliage, it crafts a portrait of serenity in its purest form.
Where: Nestled upon the enchanting islands of the Florida Keys, this campsite in Florida unfolds an aquatic paradise of crystalline waters that teem with vibrant marine life.
Attractions: Underwater explorers, armed with snorkels and fins, shall be enchanted by the enigmatic underwater world that awaits just beyond the shore.
Uncover the vibrant coral reefs, encounter playful dolphins, and plunge into a realm like no other.
Upon returning to terra firma, take a hike to the historic Bahia Honda Rail Bridge, where a reward of panoramic vistas awaits, painting the canvas as far as the eye can behold.
3. Myakka River State Park Campground: A Wilderness Sanctuary
For those longing for an authentic wilderness sanctuary, the Myakka River State Park destination campground unfolds as an untouched Eden, a mosaic of wetlands, prairies, and woodlands.
Where: Nestled upon Florida's Gulf Coast, this campsite in Florida extends an invitation to sever ties with the modern world and rekindle an intimate bond with the unadulterated embrace of nature.
Attractions: Beneath the sheltering embrace of ancient oaks, keep watch for the untamed wildlife that roams with a sense of sovereignty.
Embark on a riveting airboat odyssey across the expansive Myakka Lake, where alligators bask beneath the golden sun, and majestic birds take wing against the cerulean sky.
As the velvet curtain of night unveils a constellation-studded panorama above, indulge in stargazing uninterrupted by the luminescence of urban life.
4. Ocala National Forest Campsites: A Hidden Jewel
Amid its crystalline springs, meandering rivers, and emerald forests, this campsite beckons genuine lovers of the outdoors, offering a canvas upon which solitude and natural beauty intertwine.
Where: Resting deep within the heart of the Sunshine State, the Ocala National Forest Campsites stand as a hidden jewel, a sanctuary for those yearning for an escape steeped in tranquility.
Attractions: Sidle by the inviting waters of Juniper Springs or Alexander Springs, where you can savor the embrace of rejuvenating pools or glide gracefully along the pristine waterways.
Meander through the fragrant pine-scented trails, and perhaps fortune may grace you with a fleeting glimpse of the enigmatic Florida black bear.
As the cloak of night descends, surrender to the gentle serenade of nature's symphony, a lullaby that escorts you into a realm of peaceful slumber.
5. Grayton Beach State Park Campground: Seaside Charisma
Characterized by ivory dunes, waters adorned in emerald hues, and a leisurely ambiance, this campsite serves as a tapestry interwoven with relaxation and outdoor discovery.
Attractions: Bask in the embrace of unhurried days on the shore, where the cadence of waves sets the rhythm for your worries to dissolve.
Rent a paddleboard or kayak to explore the enigmatic coastal dune lakes, an arcane wonder found solely within this realm.
As dusk descends, convene around a flickering campfire, intertwining narratives with fellow wanderers, crafting connections reminiscent of the campfire's warm embrace.
Mistakes To Avoid While Choosing Your Campsite
As with any adventure, pitfalls lie in waiting for the unprepared. Sidestep these common missteps to ensure a camping experience that's smooth sailing:
1. Neglecting The Details
Choosing a campsite based solely on a pretty picture can lead to disappointment. To avoid surprises, read up on destination campground regulations, check-in times, and specific site details.
2. Overlooking Reviews
User reviews are like treasure maps, guiding you toward hidden gems or warning you of potential pitfalls. Don't disregard the wisdom of fellow campers who've ventured before you.
3. Ignoring Your Comfort Zone
While stepping outside your comfort zone can lead to personal growth, it's important to strike a balance. Choosing a campsite in Florida that aligns with your comfort level ensures a more enjoyable experience.
Final Word
To sum it up, Florida's varied landscapes offer many remarkable camping adventures suitable for all types of explorers. Whether you're captivated by coastal allure, entranced by the enigma of the wild, or simply yearning for a serene getaway, Campgrounds in Florida ensure to cater to your every outdoor longing. So, pack up, embrace your adventurous spirit, and lose yourself in the captivating beauty unique to Florida. Your next unforgettable camping escapade eagerly awaits, poised to weave cherished memories that shall endure a lifetime.
FAQs
What are the best free camping spots in Key West, Florida?

Here are some of the best curated free camping spots in Florida:
Sigsbee Campground: Situated on Naval Air Station Key West, Sigsbee Campground offers a unique camping experience with waterfront views. It's open to the public, but reservations and adherence to regulations are necessary.
Boca Chica Beach: For a more rugged beach camping adventure, Boca Chica Beach provides a scenic and serene setting. Remember to follow Leave No Trace principles and be prepared for primitive camping conditions.
Dry Tortugas National Park: Although camping is allowed on Garden Key, it requires some planning, as you'll need to arrange transportation to this remote island. The stunning waters and historic Fort Jefferson make it worth the effort.
Long Key State Park: While not directly in Key West, Long Key State Park offers free primitive camping opportunities amidst beautiful nature. It's a bit further north but provides a peaceful retreat.
How can I find free camping options in Florida for my Key West trip?
Discover cost-effective camping options for your Key West journey by checking websites like FreeCampsites.net or Campendium.
Are there any specific regulations or restrictions for camping in Key West, Florida?

Certainly! When camping in Key West, Florida, it's important to know certain regulations and restrictions.
For example, at Sigsbee Campground on Naval Air Station Key West, you must adhere to base rules like making reservations in advance. When camping at Boca Chica Beach, follow Leave No Trace principles and respect the environment.
If considering camping on Garden Key in Dry Tortugas National Park, remember that transportation arrangements are necessary, and you'll need a camping permit.
Always check the specific rules for each location and practice responsible camping to ensure a positive experience.
What are some tips and recommendations for a successful camping experience in Key West, Florida?
Ensure a successful Key West camping trip by preparing for changing weather, protecting against bugs, and packing essentials like water and food.
What are the top-rated campgrounds in Destin, Florida?
When it comes to top-rated campgrounds in Destin, Florida, you have some excellent options:
Destin RV Beach Resort: This resort-style campground provides a range of amenities, including full hook-ups, pool access, and proximity to local attractions and dining options.
Camp Gulf: With beachfront sites and a family-friendly atmosphere, Camp Gulf offers a great camping experience right by the Gulf of Mexico, with various site options and amenities.
Destin West RV Resort: Situated along the bay, this resort features spacious suites, a pool area, and stunning water views.
Topsail Hill Preserve State Park: Though a bit further from central Destin, this park's natural beauty and serene atmosphere make it worth considering, with various camping options and access to hiking trails.
Each campground has unique features, so choose one that aligns with your preferences and needs for an enjoyable stay in Destin, Florida.
How can I choose the right campground in Destin for my camping trip?
Select the perfect campground in Destin by considering your preferences for beach access, amenities, and proximity to attractions.
Are there any family-friendly campgrounds in Destin, Florida?
Choose family-friendly campgrounds in Destin, Florida, such as Camp Gulf or Henderson Beach State Park, with safe environments and activities.
What amenities and facilities can I expect at campgrounds in Destin, Florida?
Campgrounds in Destin usually offer amenities like water and electric hookups, restrooms, showers, and picnic areas for a comfortable stay.
What makes Camp Gulf in Destin, Florida, a popular camping destination?
Camp Gulf's popularity in Destin stems from its prime beachfront location, exceptional facilities, and recreational opportunities.
What are the nearby attractions and activities available at Camp Gulf in Destin, Florida?
Camp Gulf in Destin, Florida, provides easy access to stunning beaches, water sports, fishing, and nearby attractions like Big Kahuna's Water and Adventure Park.
Are there any beachfront camping options at Camp Gulf in Destin, Florida?
Yes, indeed! Camp Gulf in Destin, Florida, offers wonderful beachfront camping options that allow you to experience the beauty of the shoreline right from your campsite.
Whether in an RV, a cozy cabin, or even tent camping, you can enjoy the convenience of being just steps away from the beach. It's a fantastic way to combine the joys of camping with the relaxation of a beachfront vacation.
Can you provide any testimonials or reviews from previous campers at Camp Gulf in Destin, Florida?
Campers at Camp Gulf in Destin, Florida, rave about its stunning beachfront sites, cleanliness, friendly staff, and memorable family experiences:
"Been here the past 20 years. My favorite beach trip. Camping right there at the beach is just awesome. Kid-friendly activities daily. 2 pools. Slide, basketball, small playground. I love taking my camper we're ever I go" – H K Bailey.
"Grounds were well kept with typical Florida scenery. Spaces are close together, but if you can't handle your rig, get a pull thru site. Still plenty of room for each family to camp" – Samantha F
"You can camp on the beach or off. Clean showers. We have met many friends. The play area for the kids is clean and busy with kids most of the time" –Nikki.