Anchor Down RV Resort is situated on the scenic banks of the French Broad River and is known for its natural splendor, top-notch amenities, and relaxing atmosphere. It is just a short drive from the Great Smoky Mountains and other popular attractions, including hiking trails, theme parks, and restaurants.
I still remember the first time I went to Anchor Down. The gentle French Broad River replaced the rugged peaks as I drove through the highway. It felt like stepping through a secret portal into a world of peace and tranquility.
However, it's not just the natural splendor of this place that makes it different from other camping grounds in Tennessee. It's the inviting atmosphere and friendly vibe that sets it apart. Moreover, it offers full hookups, WiFi, a sparkling pool, convenient laundry facilities, and much more. In this article, we will journey through the scenic Anchor Down RV Ground and explore everything it offers. So, without further ado, let's get right into it.
Getting in Touch with Nature at Anchor Down Resort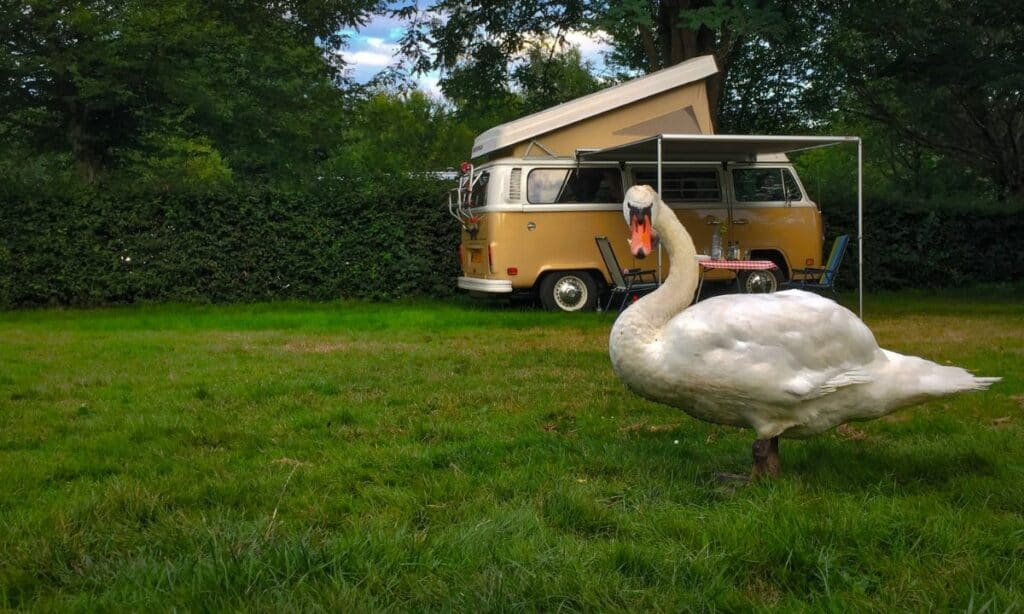 If you are a fan of outdoor adventure, you will fall in love with Anchor Down RV Resort. It boasts picturesque landscapes, tranquil hiking trails, and abundant opportunities for water activities. In this section, we will journey through the natural wonders of Anchor Down RV Resort so you can get a better picture of what all the hype is about.
Picturesque Landscapes
Anchor Down RV Resort offers a blend of diverse landscapes. Whether it's the serene French Broad River, towering peaks, or lush forested hills, at Anchor Down RV Resort, you will be enveloped by picturesque landscapes from all directions. Anchor Down RV Resort offers a peaceful escape into the embrace of mother nature. 
Tranquil Hiking Trails
Anchor Down RV Resort is near the Douglas Lake Trail and Fork Ridge Trail. It offers adventurers and nature lovers the chance to connect with mother nature more meaningfully. The winding Douglas Lake Trail takes you along Douglas Lake, offering sweeping water views and glimpses of local wildlife. 
The Fork Ridge Trail, on the other hand, offers an entirely different experience. It takes hikers through lush forests where towering trees create a mesmerizing effect by blocking the sunlight. It eventually takes you to the top, where panoramic views await to fill your heart with awe. 
Water Activities
If you want a little family adventure at Anchor Down RV resort, head to the French Broad River, famous for its crystal clear water, where you can see fish gliding beneath the surface. You can find a quiet spot along the lush green river beds, pull out your fishing rod and immerse yourself in the tranquil surroundings.
Once you're done fishing, take out the time to rent a boat to explore the river from a different perspective. A boat ride through the French Broad River is a great way to appreciate the scenic beauty of this resort. There are also designated swimming areas with clear water where you will see families and children enjoying themselves on warm summer days. 
Enjoying Comfort and Convenience at Anchor Down RV Resort
Now that you have had some time to take in the incredible natural beauty of Anchor Down RV Resort, it is time to explore some of the comforts and convenience this RV resort offers.
Essential Amenities
Anchor Down RV Resort offers a range of essential amenities to make your stay more comfortable. Some basic amenities include full hookups, WiFi access, dumping stations, laundry facilities, and a refreshing pool. All these amenities ensure that you have a seamless and hassle-free experience. 
Pet Park
One of the best things about Anchor Down RV Resort is that your pets are treated like family here. So, you don't have to worry about getting a sitter for your pets or leaving them with a friend, bring them along, and Anchor Down RV Resort will make sure they have as much fun as you on this vacation. You can leave your pets at the designated park where they run around and play freely. 
Well-Stocked Store
On top of all the amenities and comforts, Anchor Down RV Resort has an onsite store where you can find everything from snacks and beverages to camping supplies and essentials. If you feel like staying a bit longer than planned and you're running low on supply, don't worry. This one-stop-shop store is well-stocked to cater to all your needs. 
Experiencing the culinary delights of Anchor Down
With a diverse variety of food options, Anchor Down RV Resort has something for everyone. Whether you want to taste the local flavors, crave barbecue night with family, or need a light snack, Anchor Down RV Resort has it all. 
Onsite Restaurant
Anchor Down RV Resort has an onsite restaurant that stays open from 7 am to 10 pm and offers various breakfast, lunch, and dinner items. Start your day with waffles, eggs, and bacon, or try the pancakes and yogurt parfaits. For lunch, try the restaurant's famous burgers, salads, and wraps, and end the day with some of the best pizza, pasta, seafood, and steaks in town. 
Barbecue Pits
If you want a more hands-on experience for your dinner, the resort has barbecue pits available for grilling. It is a great way to spend some quality time with your family and enjoy a meal made the way you like it.
Snack Bar
The onsite snack bar is called Snack Shack and is next to the pool. It offers a variety of snacks, drinks, and ice cream, among other tasty options. If you feel like grabbing something to munch on between meals, this is the place to get it. 
Nearby Restaurants
Even though there are plenty of onsite dining options at Anchor Down RV Resort, the surrounding area also offers unique culinary delights. There are plenty of restaurants just a stroll away from the resort. Some of the most popular ones include Lakeside at The Point, Flapjack's Pancake Cabin, and Verardi's Pizza and Wings.
Exploring Nearby Attractions
On the one hand, Anchor Down RV Resort gives you access to some of the most breathtaking natural attractions in the area. On the other hand, you can explore a wide range of entertainment, shopping, and dining options. Here are some of the most popular attractions around the Anchor Down RV Resort. 
The Great Smoky Mountains
The Great Smoky Mountains provide a spectacular backdrop for the resort and are a popular attraction for visitors. If you are into hiking, don't miss the famous Fork Ridge Trail, which will take you around the Mountains and give you a chance to soak in the splendor and beauty of this natural wonder. 
Dollywood
If you are looking for a bit of family fun, head to Dollywood. This popular amusement park near the Anchor Down Resort offers fun for people of all ages with various exciting rides and live music. It also hosts different seasonal festivals, making it one of the most lively attractions in the area. 
Gatlinburg
Gatlinburg is a nearby city where visitors take a break from the camping life. This lively town is known for its artisan shops, lively nightclubs, and diverse shopping and dining options. So, if you are looking for urban excitement on your trip to Anchor Down Resort, head to Gatlinburg, and you will not be disappointed.
Conclusion
Anchor Down RV Park combines nature with modern comforts making it the perfect place for adventurers, nature lovers, and comfort seekers. This blend of natural beauty and convenience makes this resort stand out. To wrap things up, Anchor Down RV Resort has everything you need for your dream vacation. So, get busy packing and get ready to make some life lifelong memories. Safe travels!
FAQs
1. What amenities are offered at Anchor Down RV Resort?
Anchor Down RV Resort offers many amenities, including full hookups, WiFi-Access, dumping stations, laundry facilities, a pool, an onsite store, and an onsite restaurant. 
2. How can I anchor my RV securely at Anchor Down RV Resort?
Anchoring your RV securely at Anchor Down RV Resort is quite simple. The staff there will provide detailed instructions on what you need to do. Follow their instructions closely and double-check all the connections once you are done.
3. What are the nearby attractions and activities available at Anchor Down RV Resort?
Anchor Down RV Resort is near many popular attractions like the Great Smoky Mountains, Douglas Lake Trail, and Fork Ridge Trail. Moreover, there are many exciting activities to partake in and around the resort, including fishing, swimming, hiking, and boating. 
4. Are pets allowed at Anchor Down RV Resort?
Yes, Anchor Down RV Resort is a pet-friendly facility. There is a dedicated pet park where you can leave your pets to enjoy themselves while you explore the surroundings.