Cheap popup campers represent the next step up from tenting. If your family is tired of sleeping on the ground and having to deal with the inevitable agony of an early sunrise beaming through paper-thin nylon tent fabric, then an inexpensive popup camper probably makes a lot of sense.
If you're looking to get off the ground with something that is light and easy to tow, then you are probably wondering what are some of the best cheap popup campers?
Two of the top contenders to start your search are the 2021 Sylvan Sport Go and the Forest River Flagstaff 176LTD. Both have relatively good material build quality for their price tag.
They also have the sleeping space and elbow room that a lot of families prioritize in a popup camper.
Though we didn't want our search to stop there. Truth be told, there are a lot of cheap popup campers worth considering.
6 Cheapest Pop-Up Campers you Can Own in 2023
We dove headfirst into a sea of popup campers to try to find inexpensive models that weren't so cheap as to leave you with a bad case of "Buyer's Remorse."
This included looking for models that also offered a little something special for families that might have different travel styles and tastes. The end result is a list of strong contenders for the title of Best Cheapest Popup Camper.
Here the 6 cheapest pop-up campers to to consider in 2023 if you have humblest budget
1. Sylvan Sport Go Popup Camper
The Sylvan Sport Go is an innovative lightweight popup camper that can be had new for just under $10,000. Though there are some optional extras available through the manufacturer that can potentially drive the price up to as much as $15,000.
Popular upgrades worth considering include things like a spare tire, air mattresses, sleeping bags, a tent awning, and a camp kitchen.You get a lot of quality and innovation for the money with this plucky little popup camper. It has an expandable tent section with a lightweight metal frame like you would expect.
Though the real cherry on top, or off to the side as the case may be is the awning. It's not your typical RV awning either with a problematic flat roof. It's sculpted to divert rainwater away long before it pools. This gives you a lot of truly functional outdoor living space.
2. The Forest River Flagstaff 176LTD Popup Camper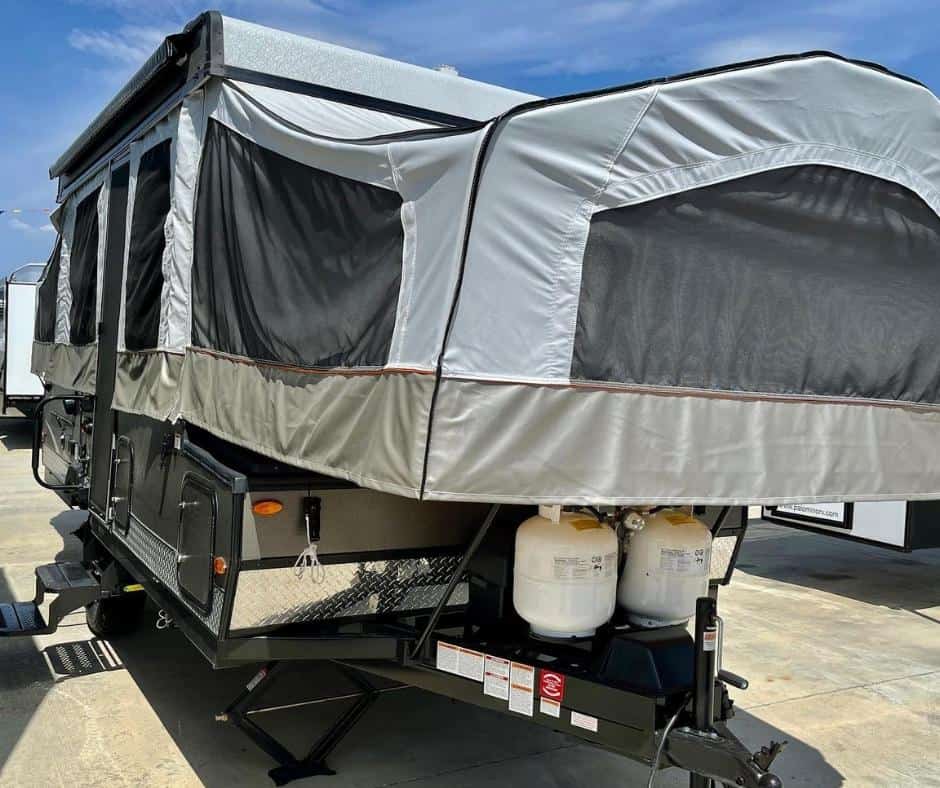 The Flagstaff is one of Forest River's most popular platforms with multiple iterations to suit just about every imaginable budget and travel style. One of the great things about the Forest River Flagstaff 176LTD and similar floor plans is that they can be found on a lot of promotional deals for less than $15,000.
What you get for the money is Forest River's well-known material build quality, as well as a lot of the creature comforts a family prioritizes. With a gross vehicle weight rating of 2,258-pounds, it is well within what you can tow with a typical mid-size SUV.
Yet it also offers a convenient `11 gallon fresh water storage tank for washing hands and dishes. It's also wired for 11 Amp electrical service if you want to stay at an RV campground that offers shore power.
3. Coachmen – Clipper LS 806 XLS Popup Camper
The MSRP of $17,130 might be the first thing you notice about the affordable Coachmen – Clipper LS 806XLS. Though the thing that you might enjoy the most is the fact that it comes with both a 13,500 BTU air conditioner as well as a 20,000 BTU heater.
This makes it one of the rare cheap popup campers that have some semblance of climate control. Great for staying in the mountains, camping in the hot dog days of summer, or just helping you brace against an unseasonably cool summer evening.
Another thing to like about the Coachmen – Clipper LS 806XLS is that it comes with a 16-gallon fresh water storage tank for washing dishes and keeping your hands clean.
It is also paired with an impressive 12,555-pound cargo capacity, which is astonishingly high for a cheap popup camper. It might not be much to look at, but it certainly has it where it counts!
4. Forest River Rockwood Extreme Sports Package 1910 ESP Popup Camper
The Forest River Rockwood Extreme Sports Package 1910 ESP is Forest River's newest offering. It has recently come down in price for a new model, which means it can be had on promotion for just under $19,547.
It also comes with an impressive 13,500 BTU air conditioner as well as a 20-gallon fresh water storage tank. Just bear in mind that the Extreme Sports Package attached to this model beefs up the insulation and material build quality, while also making it solar compatible.
It also comes with dual propane tanks to support the heater for days. There's even a "Porta Loo" included in the purchase and an interactive owner's manual to help you understand how to make the most out of it.
Though all this does drive up the gross vehicle weight rating to as much as 3,500-pounds. This can be a little too heavy for some mid-size SUVs.
Though if your tow vehicle has a commanding tow rating, the Forest River Rockwood Extreme Sports Package 1910 ESP will be able to get you through a lot of rugged conditions. It is one of the few cheap popup campers that you can take boondocking with confidence.
5. Coachmen – Clipper Express 9.0TD Popup Camper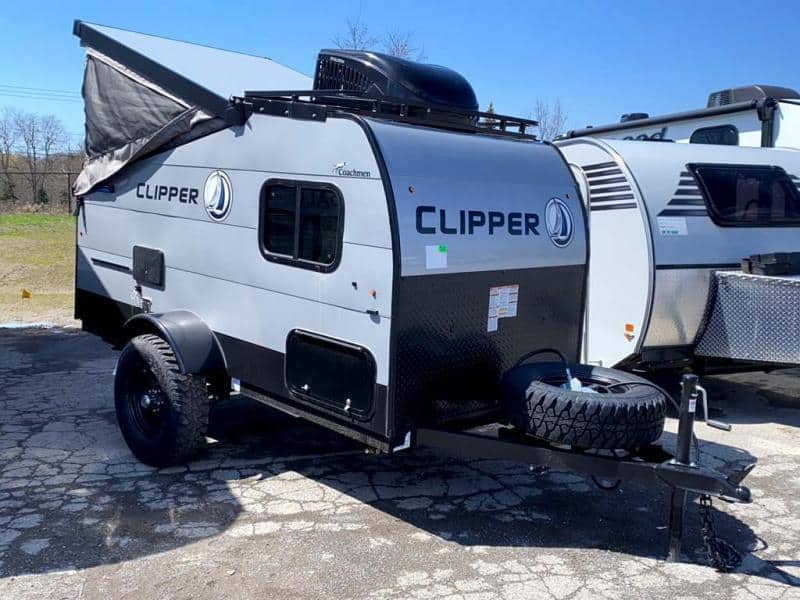 The Coachmen – Clipper Express 9.0TD Popup Camper is sort of the love-child of a popup camper and a teardrop camper. Yet they somehow managed to fit in a 13,500 BTU air conditioner and a 16-gallon fresh water storage tank. All in a model that costs less than $15,000.
It's an impressive feat of engineering to be sure. Though for the compact inexpensive design, you do end up sacrificing the copious sleeping space that popup campers are known for.
In exchange, you get a 54: X 74" mattress in a compact, comfortable little trailer that can be towed by even small SUVs and sedans. The perfect thing for a single person or a couple who wants to get away to a primitive campground that has a lot of pull-up campsites.
6. Turtleback Trailers Adventure Trailer T3
With a starting MSPR of $15,454 and a ton of optional extras, the Turtleback Trailers Adventure Trailer T3 is arguably the most expensive cheap popup trailer on this list.
If the price tag of the T3 trim level is too much for your budget to stomach, you can easily dial back to the T2, which has a base MSRP of $9,745, without feeling like you are missing out on too much.
When you load it up with optional extras, like beefed-up suspension, solar panels, rock guards, and Water Filter System with a UV And Carbon Filter, the price tag can start to soar.
Though even the stripped-down model will give you everything you need to take a popup camper boondocking off the grid for days at a time. The T3 also comes with a Spare Tire, and Dual AGM Batteries, as well as a Prowatt2000 Watt Inverter
Frequently Asked Questions
Are Popup Campers Better Than A Tent?
A popup camper is the next logical step up in price and comfort from even the best of tents.
It gets you off the ground, comes with cooking space, and gives you more interior living space than a tent can.
It also gives you more confidence to be away from animals and insects. It's the next logical step for a family who wants more comfort but wants to stay close to nature.
Do Cheap Popup Campers Come With Heating & AC?
While a lot of cheap popup campers don't have heating or air conditioning as standard, there are a few models that do include them.
Though most of these push the price tag over $10,000, that's before you factor in things like staying at a campsite with shore power or investing in a generator.
Some cheap popup campers come pre-wired for an air conditioner, and most RV dealerships can add one for an extra $750 to $1,000.
Do Popup Campers Come with Bathrooms & Showers?
Cheap popup campers typically sacrifice any sort of bathroom or shower facilities to save on price and weight.
Though there are some new models, and dealerships that will throw in things like a porta-loo as an added bonus.
Otherwise, your cheap popup camper will be limited to campgrounds that include vault toilets.
How Much Is Insurance for A Popup Camper?
If you are going to finance a cheap popup camper, the lender will no doubt require you to carry insurance.
The cost can vary by make and model, as well as your recent accident history.
Though you should be able to insure a cheap popup camper for around $225 to $300 per year.
Some insurance companies will even let you bundle popup camper insurance into your vehicle or home insurance packages at a discount.
Conclusion
With interest in the great outdoors and family budgets tight these days, cheap popup campers are increasingly popular.
Especially for families who are new to the great outdoors who aren't comfortable with camping in a tent, and those experienced camping families who want to get off the ground, but don't want to lose the connection with nature created by four hard walls.
Ultimately, the best cheap popup camper for your family will vary depending on the number of people you need to sleep with and your travel style.
For a small couple, the Coachmen – Clipper Express 9.0TD Popup Camper and the Sylvan Sport Go might be some of the best cheap popup campers. They might be a little light on sleeping space, but they make up for it with comfort and lightweight convenience.
If you have a larger family, where you need to sleep a lot of heads and need some elbow room, then the Forest River Flagstaff 176LTD Popup Camper might be the best cheap popup camper to meet your family's needs.
It has two traditional popup tent canvas sides, with a lot of thoughtful creature comforts infused with the good build quality.