If you go off the beaten path in Missouri you'll find cascading waterfalls, enormous cave systems, and amazing opportunities for boondocking with your RV.
The state contains a vast swath of public land, including Mark Twain National Forest and the Ozarks, among others, there's never a shortage of new places for free dispersed camping in Missouri.
While boondocking sites lack the amenities you'd find at paid campsites, they make up for it by giving you your own private piece of unspoiled wilderness. These free camping areas offer endless recreational activities from spelunking to fishing.
So, whether you're seeking a endless recreational activities, trying to stick to a budget, or just trying to find a place of solitude, these beautiful free campsites are great way to experience Missouri in its purest form!
Read on to learn more about boondocking in Missouri, and discover the best free camping spots In Missouri before you begin your adventure!
Is Boondocking Legal in Missouri?
Yes, but only in certain areas. Public land for boondocking is slim in Missouri.
Federal agencies only control 3.79% of the state; however what it lacks in quantity, it makes up for in quality.
Missouri boasts the best free camping options in the Midwest due to its natural wonders like Mark Twain National Forest and the Ozarks. So, where exactly can you free camp?
Unlike other states, Missouri possesses no BLM land; however, it does have National Forests, Recreations Areas, and certain trailheads for free camping.
If you want to stay closer to a major city you can choose more urbanized options such as rest stops or certain commercial parking lots.
Make sure to always check for signs banning you from boondocking in a given area, and always call a business to make sure it's alright to stay over night in their parking lot.
Missouri is pretty relaxed about RVs parking overnight on city streets but always use care when using this option.
Park in a well-lit area, make your presence minimal, and do not stay in one place longer than a single night. Using common sense you can boondock in Missouri with ease!
Important Tips for Free Camping in Missouri
Missouri is huge—approximately 69,704 square miles, to be more precise.
This breathless landscape contains everything from flat grasslands to oak forests to meandering mountains.
The endless outdoor activities available in these areas make this state one of the best places to go boondocking in the country.
Free camping in Missouri isn't all sunshine and rainbows though! You'll be lacking most amenities, including: no toilets, no trash cans, no treated water, and no power/sewer.
On top of that, you'll be required to carry out extra responsibilities for this type of camping. That's why it's important to educate yourself before you preparing for your boondocking trip in Missouri!
Only Camp at a Dispersed Campsite, or 100ft from Any Administrative Site
What's a dispersed campsite? Easy. It's a site with a numbered placard, found on any public land.
You can camp at any of these for free. Just double check to make sure its not a placard for a paid site.
Neato, but they're all taken. So, what's an administrative site? These include any trails, buildings, or designated recreational areas. As long as you're on public land, and 100ft from any of these sites, you can boondock. Yippee!
Bring the Mosquito Spray and the Nets… And the Flamethrower
Everyone hates mosquitoes. If you ever meet someone that likes them, run the other way.
There are 50 species of mosquitoes in Missouri—50 too many in my opinion.
You'll most often find them in secluded places like boondocking sites. So, make sure you avoid standing water, bring mosquito spray, and load up on chamomile candles.
These annoying little buggers carry all kinds of diseases that you don't want to catch. Stay healthy, be prepared!
Dispersed Camping Limited to 15 days within a 30-consecutive-day Period
You know what they say, if something is free, there's always a catch. That's true when it comes to boondocking in Missouri too.
To prevent people from squatting, and to give every camper their turn, the state prohibits anyone from camping any 15 days within a consecutive 30-day period.
Don't sweat though! Once that time expires you can move to any other state park or national forest, and do it all over again.
Pack in, Pack Out
The best rule of thumb when it comes to camping is to leave your campsite better than the way you found it.
In fact, that's a good rule for anything. Any trash, poop, pee, or other refuse needs to leave with you.
In other words, bring plenty of trash bags and leave extra space in your RV to haul it all out.
Fire Restrictions
Fires devastate Missouri's landscapes every year. Help reduce these tragic events by following county fire bans and following smart fire protocols.
That means, keeping your fire in a pit and drowning it when you're done using it. Otherwise, you could find yourself singing, The Roof is on Fire all the way to prison.
In all seriousness, take caution using open flames. Arson is a felony offense and can result in prison time and/or a huge fine.
Top 10 Boondocking Locations And FREE Camping Spots in Missouri
The options for boondocking Missouri are nearly endless, but if you need a little help getting started, these are some of the best and free camping options in the state. We chose the RV campsites with the most amenities, the top things to do and see nearby, as well as the most gorgeous scenery.
Here's our top 10 FREE, first come, first serve campsites in Missouri: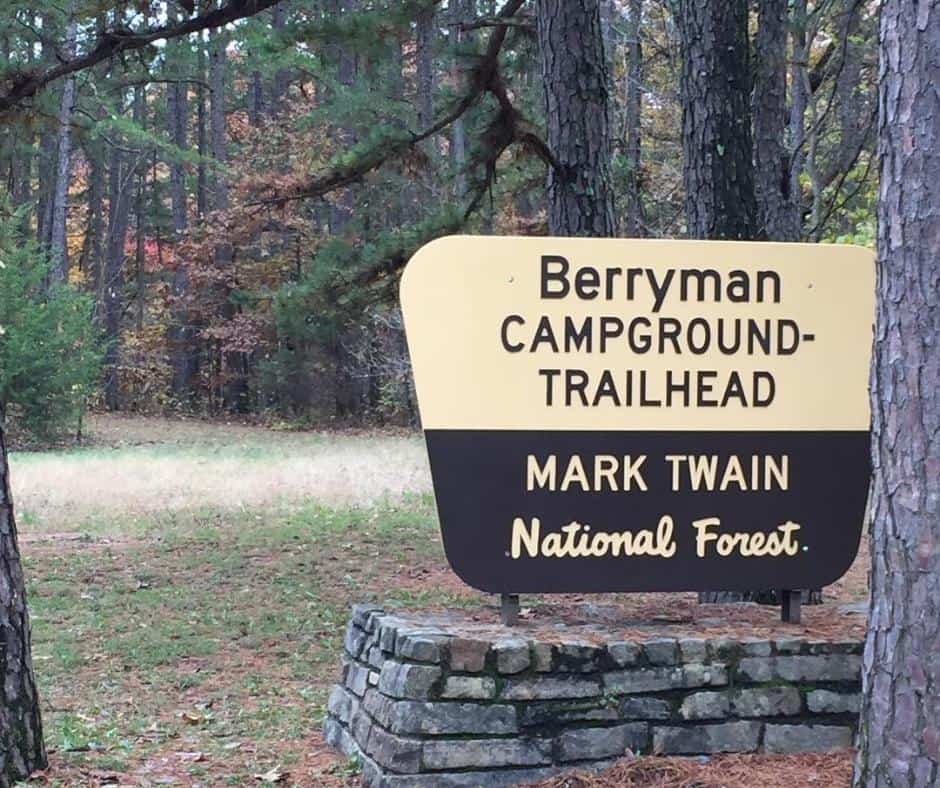 1. Berryman Campground – Mark Twain National Forest
Pack some good meals. This small, remote campground lies within the heart of Mark Twain National Forest.
Built by the Civilian Conservation Corps in 1937, it now provides visitors to Berryman Trail with a place to camp.
There's tons to do in this National Forest including all your favorite outdoor activities, as well as more unique ones, like spelunking.
Why do we love it?
If you enjoy nature, it's probably for two reasons: the beauty and the silence. Fortunately, Berryman campground fits both of those descriptors.
The surrounding woodland runs thick with oak trees and keeps you sheltered from the outside world.
Furthermore, nearby Berryman Trail winds through 24 miles of quaint Ozark timber stands and fields. It provides visitors with an easy opportunity for bike riding, hiking, or horseback riding.
Location
RV Campsite Information
Top Things to do Nearby
For more information on RV camping at Berryman Campground visit HERE.
2. Sulphur Springs Boat Ramp – Greensville, Missouri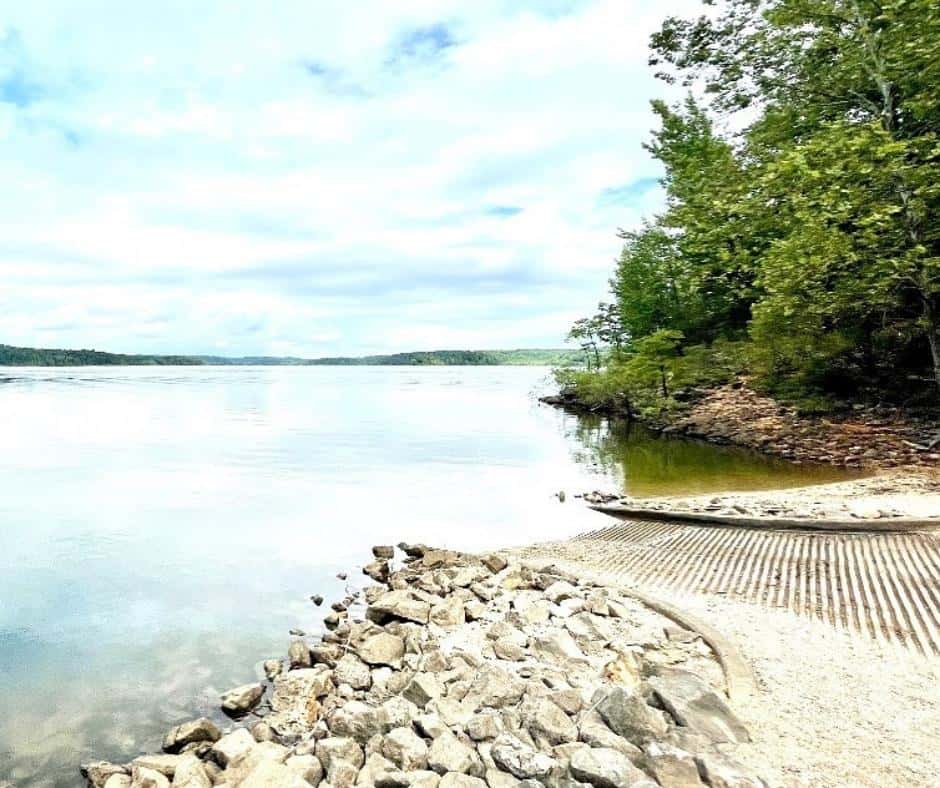 Okay yes, fine, it's a boat ramp; however its also an amazing camping spot. You'll discover it on the eastern shores of Lake Wappapello, an enormous lake near Mark Twain National Forest.
This isolated boat ramp receives few visitors so you can relax knowing your saunter into solitude will go uninterrupted.
Why do we love it?
This extremely small campsite will give you pure, blissful isolation. Not only that, but its also right on the water.
You can wake up in the morning, cook some breakfast, crack open a beer, and go fishing only a few feet away.
Plus, you get to spend the rest of your time marveling at the surrounding serenity of Mark Twain National Forest.
Location
RV Campsite Information
Top Things to do Nearby
For more information on RV camping at Sulphur Springs Boat Ramp visit HERE.
3. Round Prairie Interpretive Site – Mark Twain National Forest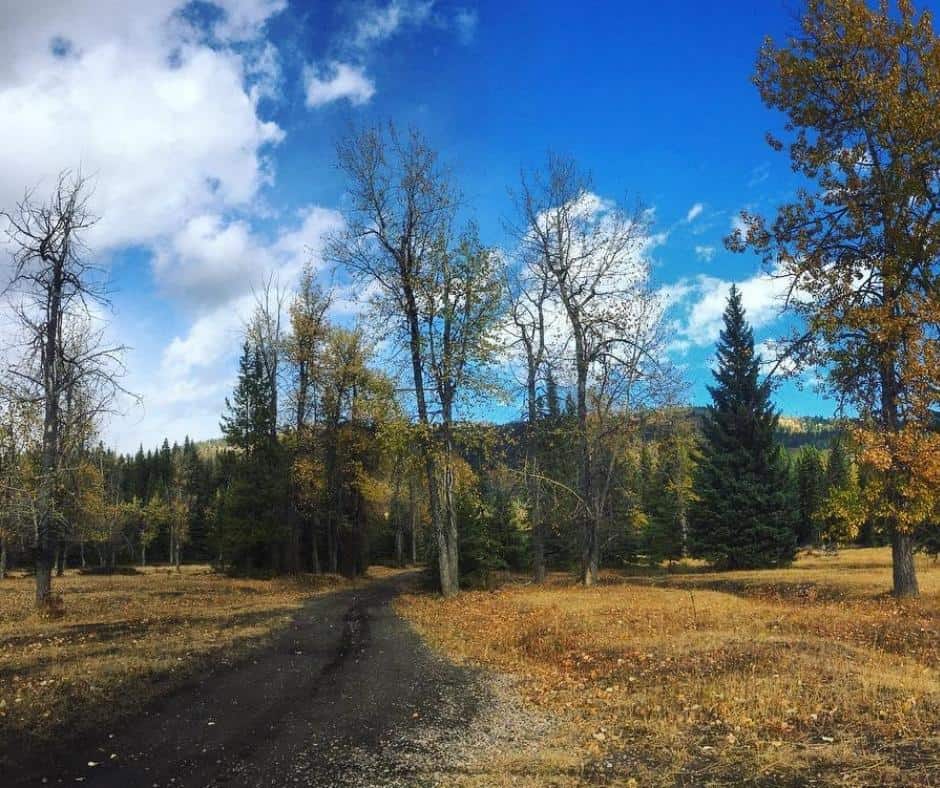 This secluded camping spot, found on the edges of Mark Twain National Forest, puts you in the middle of everything.
You'll find yourself near the Missouri River, Columbia, and tons of recreation areas.
The outdoors activities are prevalent, and the chances for relaxation endless. Don't miss this amazing RV destination!
Why do we love it?
You can really 'get away from it all' at this beautiful spot. The secluded locale and small number of campsites make it an introverts' paradise.
Furthermore, its amenities are extremely limited, scaring off most campers, and leaving you with a private RV camping spot.
If get tired of the silence (we know, unlikely), you can drive a short distance, to the urban wonderland known as Columbia, Missouri.
Location
RV Campsite Information
Top Things to do Nearby
For more information on RV camping at Round Prairie Interpretive Site visit HERE.
4. Whetstone Camping Area – Whetstone Creek Conservation Area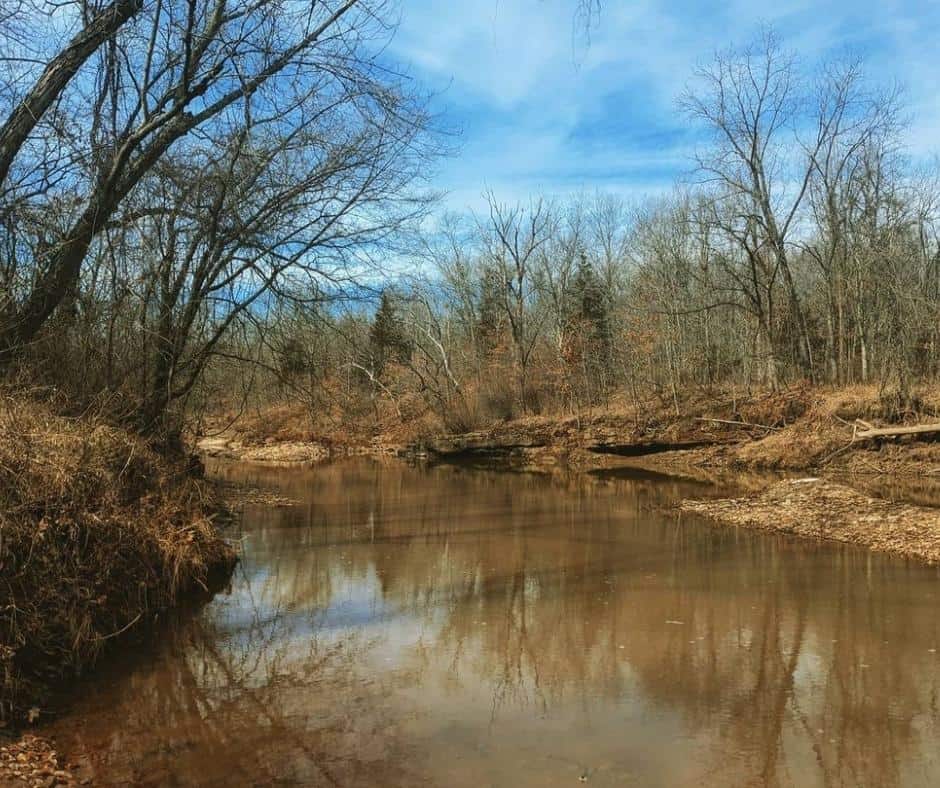 Veer off the highway between Columbia and St. Louis, and take an underdeveloped road for three miles until you come across this camping area.
The oak trees crisp to reds and yellows and purples in the fall, making the entire landscape appear like something from a fairytale.
Rabbit and quail call this place home and attract hunters from all over the country.
Why do we love it?
Just get done exploring St. Louis, or Columbia? We can't think of a better place to stop for the night… Or the week.
No judgement here! This beautiful campsite strikes a happy middle ground between primitive seclusion and modern comforts.
Its situated between two of the most populous cities in Missouri; however, it's also nestled in an isolated scrap of gorgeous 'Show-Me State' forest.
Get the best of both worlds, go to Whetstone Creek Conservation Area.
Location
RV Campsite Information
Top Things to do Nearby
For more information on RV camping at Whetstone Camping Area visit HERE.
5. Paddy Creek Recreation Area – Mark Twain National Forest
Paddy Creek recreation area sits in a niche along Paddy Creek—a tributary that meanders off the nearby Big Piney River.
Both of these beautiful waterways run through Paddy Creek Wilderness, a beautiful landscape with three trailheads for Big Piney Trail.
NOTE: this campsite is only open from April 1st – December 1st.
Why do we love it?
You can park your RV and leave it. This area has plenty for you to do without even needing to leave the general area! There's creeks, larger rivers, woodlands, and even low-lying hills—all in walking distance.
That means you can participate in your favorite outdoor activities, everything from hiking to fishing to horseback riding.
Location
RV Campsite Information
Top Things to do Nearby
For more information on RV camping at Paddy Creek Campground visit HERE.
6. Pinewoods Lake Campground – Mark Twain National Forest
Pinewoods Lake recreation area thrives in Southeast Missouri. It contains a 32-acre lake with a 1.3-mile trail around the its grassy shores.
You'll find the campground three miles away from Ellsinore, a small town containing a grocery store, restaurant, and gas station.
Why do we love it?
Another example of a campground providing the best of both worlds. You get every modern comfort you need in nearby Ellsinore while also getting to enjoy the quiet serenity of an isolated forest.
You can fish at the lake, hike through the forests, and even go kayaking. If you're RV camping with a large group you can rent out the pavilion located on the lake shore and throw a giant BBQ. It's a great place to bring the family!
Location
RV Campsite Information
Top Things to do Nearby
For more information on RV camping at Pinewoods Lake Campground visit HERE.
7. Robert E. Talbot Camping – Robert E. Talbot Conservation Area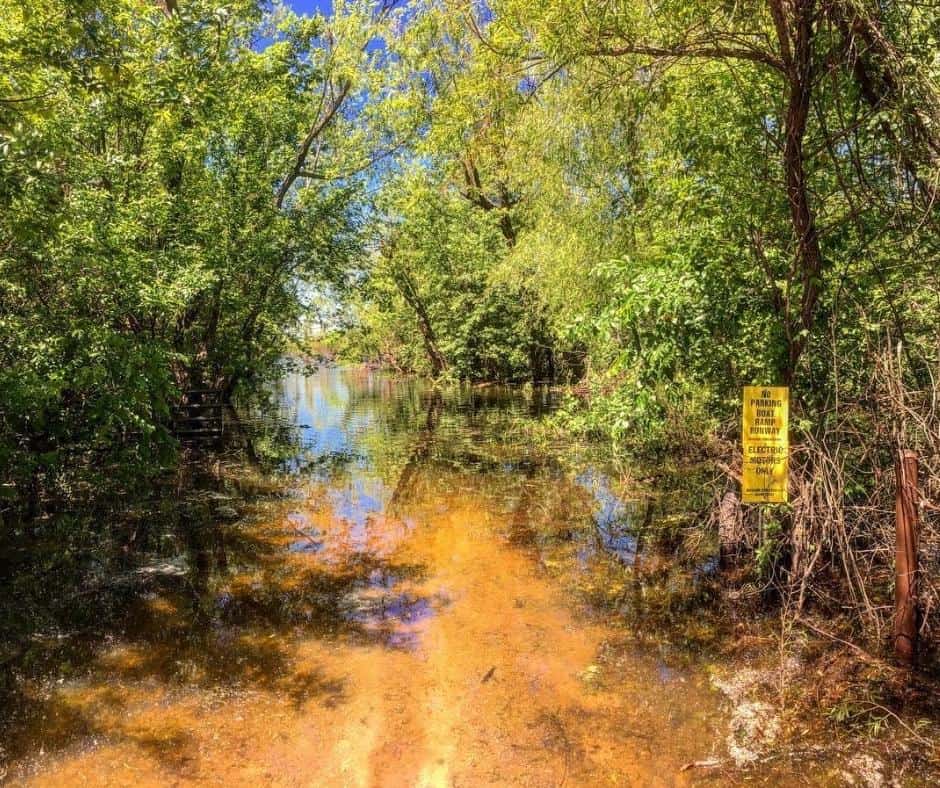 Saunter twelve miles northwest of Mt. Vernon to find this camping area. The charming Spring River rolls along bottomland soil quenching the drier scalp of the forested highlands.
You can hike among the golden grass bristling from the hillsides or hunt small game during the correct season.
Why do we love it?
If you love a true, primitive camping experience then you need to visit Robert E. Talbot.
The sparse forestry and rising landscape will give you impressive views of the surrounding conservation area.
This is the most isolated camping option on our list. So, if privacy is your game, Robert E. Talbot is the name.
Location
RV Campsite Information
Top Things to do Nearby
For more information on RV camping at Robert E. Talbot Campground visit HERE.
8. Thomas Hill Reservoir Conservation Area – Excello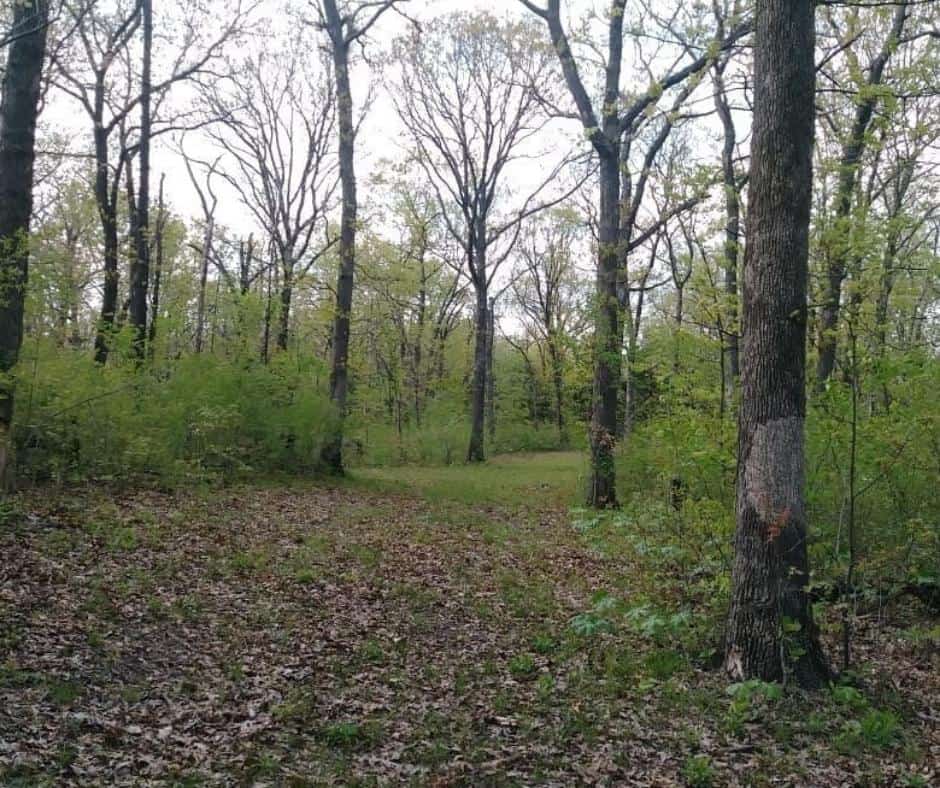 The sparkling waters of Thomas Hill Reservoir shine in a secluded forest near Excello, Missouri.
It's a local watering hole that lacks the larger crowds of more popular lakes and rivers.
On a busy weekend you can still find a camping spot beneath the shady of its tree speckled shores.
Thus, this place isn't a good RV camping spot if you're looking to be at the center of the action; however, its amazing if you need a beautiful place to hide.
Why do we love it?
Nothing beats a water-front campground! Thomas Hill Reservoir overflows with fishing and non-motorized boating opportunities.
We love it because you can wake up with a Bloody Mary in hand and catch a fish in time for lunch.
Plus, this is one of the most immaculate RV campsites on our list, due to its cleanliness and number of amenities.
You'll be shocked that it doesn't have more visitors. Visit this hidden gem before it becomes popular too fast!
Location
RV Campsite Information
Top Things to do Nearby
For more information on RV camping at Thomas Hill Conservation Campground visit HERE.
9. Indian Trail Conservation Area – Salem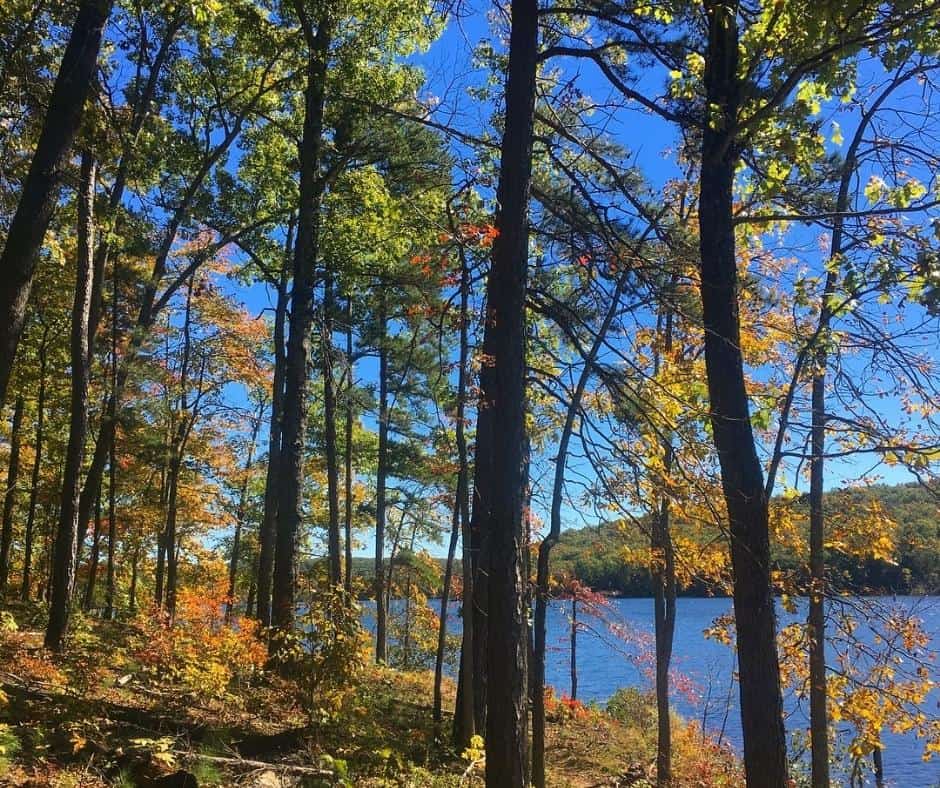 This campsite gazes across Blackwell Lake on the fringes of Mark Twain National Forest.
The body of water stretches 35 acres across the landscape and dwarfs two other nearby ponds.
Though the campsites lack most developed features, their grassy lots maintain good leveling and immaculate cleanliness.
It puts you within driving distance of everything Mark Twain National Forest has to offer without putting you at the center of the crowds.
Why do we love it?
There's something incredibly charming about primitive campsites despite their lack of amenities.
The shaded forests of this water pregnant landscape give visitors both privacy, as well as, an intimate contact with nature.
You can fish at nearby Blackwell Lake, take a stroll through the oak forest, or picnic at one of its two ponds. It's a place for disconnecting and relaxing.
Location
RV Campsite Information
Top Things to do Nearby
For more information on RV camping at Indian Trail Conservation Area visit HERE.

10. Pine Ridge Campground – New Bloomfield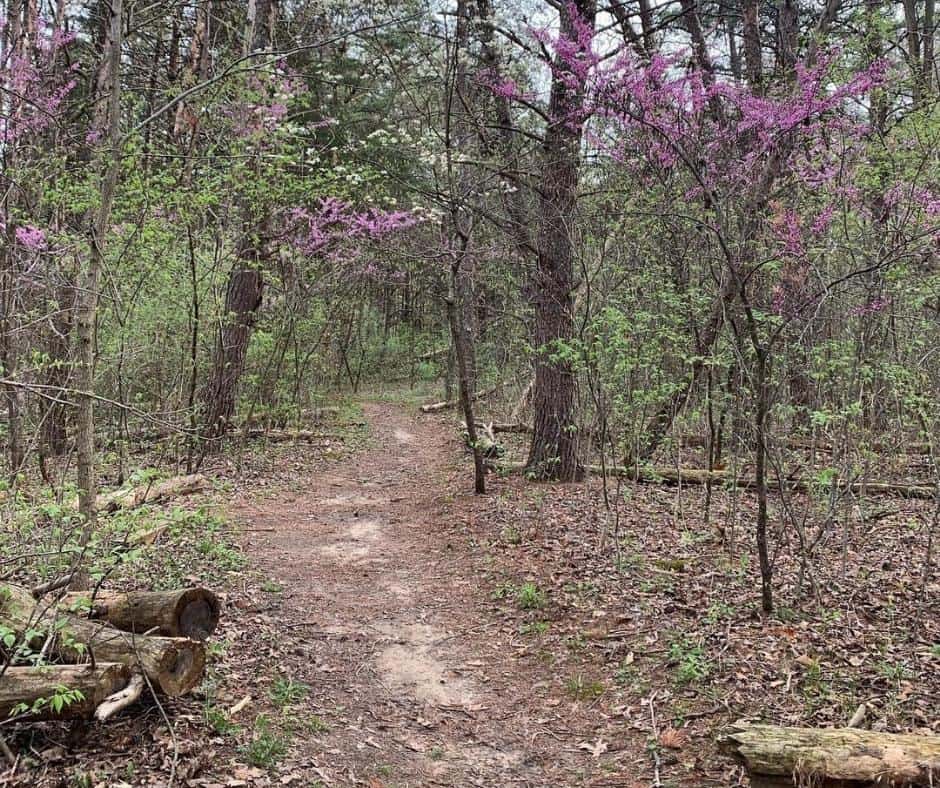 Drive from New Bloomfield, Missouri and make your way to Pine Ridge Recreation Area.
This heavily wooded landscape rests amidst the enormous breadth of Mark Twain National Forest.
It also puts you on the doorstep of a 36-mile hiking trail called Cedar Creek Trail.
NOTE: Closed from December 1st to April 15th due to weather.
Why do we love it?
It's a small, quiet campground within short driving distance of Missouri's state capital.
You can enjoy outdoor activities like fishing in the Missouri River, or hiking along Cedar Creek Trail.
If you get bored you can drive to Jefferson City and learn about the state's fascinating history. It's a spot for history aficionados and nature lovers.
Location
RV Campsite Information
Top Things to do Nearby
For more information on RV camping at Pine Ridge Campground visit HERE.
Most people underestimate the states of the Midwest, but they're mistaken if they do that with Missouri.
This gorgeous, rustic states offers plenty of great boondocking experiences. If you've ever camped in Missouri, we want to hear about it. Tell us your story in the comments below!