The "Tiny House Movement" continues to gain traction throughout the United States and other countries. The concept behind it has much in common with long-term RV vacationing. Chances are if you're reading this, then you are likely wondering which one is right for you, a tiny house or an RV?
While they do have a lot in common, if you take a closer look, you'll find there are some distinct advantages and disadvantages to each.
A tiny house built onto a sturdy trailer tends to not be the sort of thing you want to take on vacation, whereas some RV's don't have all the same amenities of home.
In this article, we'll examine the strengths and weaknesses of each to help you make a more informed choice on which is right for you.
What Is A Tiny House?
The concept of a "Tiny House" advocates a simple lifestyle in a smaller residential space.
They tend to employ creative concepts in furniture and furnishings to make the most of their interior space. This includes things like:
A rooftop terrace
Rooftop container garden
Interior climbing walls
A kitchen extension
Side pop-outs for additional living space
Condensed or collapsible shower or bathtub
Sliding doors on barn rail to transform walls into windows
There are many tiny houses that are set onto a pier or slab foundation, making them a permanent residential structure.
However, there are some which are built onto a heavy-duty trailer, which essentially makes them a small house on wheels.
From a technical standpoint the International Residential Code, Appendix Q defines a Tiny House as a residential structure under 400 square feet.
It is part of the "Tiny House Movement" which promotes financial prudence, as well as economically safe, shared community experiences, as part of a shift in the consumerism-driven mindset.
Many people who are attracted to the Tiny House Movement are interested in the customization of their living space.
There are tiny home manufacturers who specialize in building units exactly to the client's spec.
Some tiny enthusiasts with technical acumen will attempt to build their own. However, there are still specific building codes that still apply.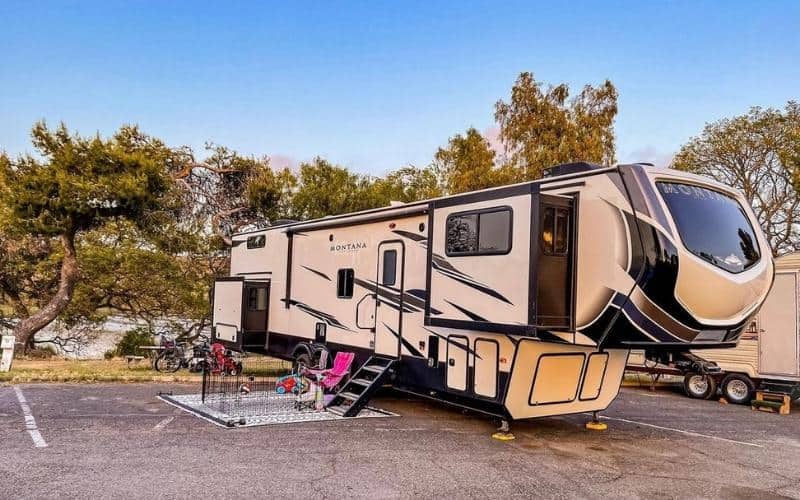 What Is An RV?
The term "Recreational Vehicle" or RV is used to describe a broad range of mobile living accommodations. This includes:
Motorhomes
Campervans
Caravans
Fifth-wheel trailers
Popup campers
Truck campers
Toy haulers
Travel trailers
When it comes to comparing an RV to a tiny house, most people think of Class B or Class C motorhomes and fifth wheel travel trailers.
Motorhomes are essentially a large vehicle with a gasoline or diesel engine, with a frame and floor pan meant to accommodate a small living accommodation.
A fifth wheel camper is essentially a large travel trailer that is attached to a gooseneck hitch the bed of a full-size pickup truck.
What Are The Key Differences Between A Tiny Home And An RV?
The following is a list of things to keep in mind while you decide between an RV and a Tiny Home.
Tiny Homes Are Not Ideal For Vacation Travel
A tiny home that's built on wheels or a heavy-duty travel trailer might seem very similar to a fifth-wheel camper or travel trailer.
Yet most don't have the right kind of suspension to handle significant over the road travel.
If you do need to move beyond your usual local area, you will need to take extra time to make sure everything is secured properly.
Tiny Homes Tend To Have A High Cost Per Square Foot
The Tiny House Movement is still in its relative infancy. While manufacturers do offer a lot of innovative and even cute furnishing features, they have yet to find a way to reduce the overall cost per square foot compared to an RV.
RV manufacturers have decades of experience streamlining the process, mass-producing common components, and installing elements in state-of-the-art manufacturing facilities.
This means RV's cost far less per square foot and per unit compared to a tiny house of the same size.
It also means there are high quality "Pre-owned" or "Used" RV's available for a very low price.
A tiny house might cost between $30,000 to $50,000. Yet you can buy a well-maintained Airstream Travel trailer of the same size for around $15,000. With $5,000 to $7,000 in upgrades, you could take all the comforts of a home with you for far less than the cost of the same size tiny home.
An RV Typically Has Same Floor Bedrooms
Most tiny homes have an upstairs bedroom that requires you to climb up to them from some form of stairs, ladder or climbing wall.
Child, seniors, and individuals with mobility issues can find it challenging to get to bed. It can also be a challenge to get out of bed when they need to use the restroom.
If you or a member of your family has mobility issues, and you want to travel, you should give preference to an RV.
Some Tiny Houses Can't Handle Highway Speeds
A tiny house on a heavy-duty travel trailer might not be designed to handle highway speeds, winds, and travel.
Beyond the potential suspension concerns, the windows are typically not rated to handle things like small stones and debris which can be kicked up when you travel on a highway.
A tiny house with shingles can be very vulnerable to damage caused by the wind that occurs when traveling at highway speeds.
An RV is technically classified as a vehicle. This means it meets specific code requirements for suspension, weight, safety glass, tempered glass, and other factors.
There Is A Wide Range Of Used RVs Compared To Tiny Homes
As a relatively new trend, there are very few new or pre-owned tiny homes available on the market. They also tend to have a more localized market.
You might find a pre-owned tiny home that you absolutely love, but if you live in Florida, and it's being sold in Oregon, chances are it's not going to make the trip in the same condition you bought it in.
RVs have been around for decades and are designed to last for years. Many RV owners take great pride in properly maintaining them. This means you can find new and pre-owned RVs for a very friendly price compared to a tiny home.
If you do happen to find one for sale in another part of the country, it is already capable of making the trip, without any special measures.
Large Motorhomes And RVs Tend To Have Larger Bathrooms
By their very nature, tiny homes are small. One of the places where designers try to save on space is by installing a small bathroom facility.
This might be little more than a basic toilet, or composting toilet with a small shower stall.
Whereas an RV can have a bathroom that is comparable with a second bath that you would find in a traditional home. Some Class A motorhomes even have bathrooms or jacuzzi tubs.
RVs Tend To Get Better Gas Mileage
As I mentioned earlier, RVs are designed to handle traveling on the road. They have better aerodynamics and suspension which also translates into better gas mileage when you do need to take it from point A to point B.
Many RVs Have Better Kitchen Areas
Right after the bathroom, the next place to save space in a tiny home is the kitchen. Many tiny homes seamlessly blend the kitchen and main living room space together.
Most Class A, Class B motorhomes, and fifth wheel campers come with large kitchen spaces, including cupboards, dual basin sinks, large countertops, and some even have dishwashers.
Some Large RVs Have Space For A Landry Room
Some Class A, Class B motorhomes, and fifth wheel campers have enough room for a laundry room with a small washing machine and clothes dryer.
Few tiny homes have room for these "Uni-Tasker" appliances. If you have a tiny home, it means you will have to rely on laundromats, which come with their own additional costs.
RV Parks And Campgrounds Are Setup To Accommodate RVs
Most quality RV parks and campgrounds are set up specifically to handle RVs and may not have the same hookups that you will want for your tiny house. There are some that even have rules against hosting a tiny house.
An RV Is Easier To Resell
While there are a fair number of seniors who travel in their retirement, most RVs are purchased by families who use them to take their kids on memory-making adventures.
When their children are grown, they often sell the RV to another family or dealership.
This also means that there is a more established market for pre-owned RVs, which makes it easier to accurately assess the price.
It also means there is an established marketplace with more interested individuals who want to purchase it.
The concept of a tiny house is so new, that the market is less defined and its harder to find potential buyers for something that is essentially a niche.
The Bottom Line
If you are a tiny house enthusiast, who is looking to stay local while embracing an innovative new way of efficient living, then chances are its hard to talk you out of investing in a tiny home.
On the other hand, if you are looking to travel cross country while taking the comforts of home with you, then chances are you can find an RV that will meet your needs for a reasonable price.