Four-wheel drive trucks are great off-road vehicles. So, it's little surprise that so many camping enthusiasts want to pair their four-wheel drive with a great truck camper that can handle everything life off the beaten track has to throw at it.
The road less travelled is where adventure awaits. If you're looking to get out there and explore the rugged beauty of North America, then a truck camper is the perfect vehicle for your next off-road adventure or your wilderness excursion.
Of course, not all truck campers are created equal, and some are better at off-road living than others.
So we decided to take a closer look at truck campers for all your overlanding adventures and what separates some of the rugged off-road models from those that are better suited to life in an RV park.
They're rugged, they're durable, they go anywhere you want them to.
Why Are Truck Campers So Great For Off-Roading?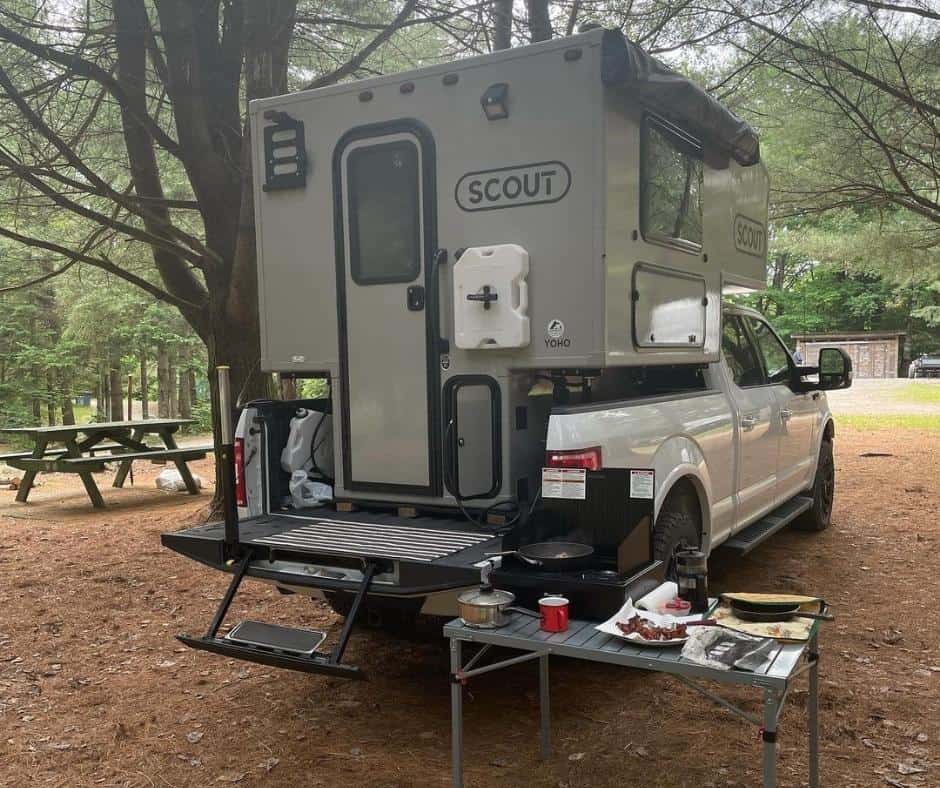 Off-road truck campers offer the versatility of a compact, rugged and nimble camping set up with the level of comfort you would expect from a fully self-contained or enclosed RV.
When paired with the right pickup truck, off-road models are easy to drive and tough enough for life off the open road.
Since the truck camper is firmly installed in the cargo box of the pickup truck, you don't have to worry about something coming detached or tipping over like you do with a teardrop camper or a travel trailer.
This can make a major difference if you like boondocking off the grid in locations where there are some dramatic elevation changes or you need to crawl over an obstacle or three.
What To Look For In An Off-Road Truck Camper?
When you apply the term "Off-Road" to "Truck Camper" you start to lean toward terms like "Heavy-Duty" and "Durable" to give you the confidence that the model is truly capable of handling everything gravel roads and dirt tracks can throw at it.
Beyond these essential descriptors, there are also a few important factors to consider when looking for the best off-road truck camper to meet your travel needs.
The Weight
Every make, model and trim level of pickup truck have a maximum payload capacity for the cargo box.
You need this number to be at least 20% greater than the gross weight of the off-road truck camper you intend to pair it with.
This can vary by make, model, and trim level, but you can use the following numbers as a basic guide.
| Pickup Class | General Weight Of Truck Camper |
| --- | --- |
| Half Ton Pickup Truck | 750 to 1,250 lbs. |
| Three-Quarter Ton Pick Up Truck | 1,250 to 1750 lbs. |
| One Ton Pickup Truck | 1,300 to 2,000 lbs |
The Height Or Style Of Truck Camper
If you've ever been on a boat or walked a slackline, you've probably noticed how the higher your center of gravity is the more unstable everything becomes.
This is also true with truck campers. If you are going to be going far off-road on rocking areas and terrain that can affect how far the truck has to lean to the left or right, then you might want to prioritize a hybrid or popup camper over a taller hard-sided camper.
This will let you travel in a low profile with a lower center of gravity, and less risk of an accidental tip-over on steeply uneven terrain.
The Floor Plan & Cargo Box Dimensions
The size of the cargo box is also a major factor. Terms like short box, standard box, and long box are all key factors when it comes to choosing the right truck camper to pair with the pickup truck.
While you can sometimes fit a truck camper meant for a short-box pickup truck into a standard box with some modification, you can't fit a long-box truck camper into a shorter cargo box safely.
So, always make sure to double-check the dimension of your pickup truck's cargo box with the floor dimensions of the truck camper.
Water Storage Capacity
If you are going to be staying off the grid with your off-road truck camper, then you will also need to account for the amount of water you will need to bring with you.
A lot of the best off-road truck campers will have between 20 to 40 gallons of fresh water storage capacity and a similar amount of wastewater storage capacity.
This is generally enough water for a family of three to four people to stay off the grid for two to three days or more. Given thoughtful water rationing.
Expanded House Batteries
Your RV's house batteries hold the electrical charge you need to power lights and key appliances.
Choosing a truck camper with multiple deep-cycle 12-volt batteries will give you a longer run time when you are boondocking off the grid.
Generator Compatibility
The best truck campers for off-road camping usually either have a generator included in the purchase package or are easily compatible with an off-market generator.
Prioritizing a model with a four-stroke engine will also go a long way toward keeping the ambient noise down.
Solar & Wind Power
While they don't always come with them installed, a lot of the best truck campers for off-roading also have some type of solar or wind generator system.
While it's typically not enough wattage to completely power all your travel needs, it can go a long way toward maintaining your house battery banks.
Propane Tank Storage
An off-road truck camper that can hold more than 25-pounds of propane at a time or can easily be switched between tanks gives you a longer run time on all your propane appliances.
Also, a lot of durable RV absorption refrigerators can also run off propane when needed.
This is a great way to minimize the electrical drain on your house batteries while still being able to keep all your food reasonably cold.
This can also translate into less need for a cooler, which can give you more cargo storage and living space.
Durable RV Appliances
When you take a truck off-road, every bump along the way can have a jarring effect on the appliances in your truck camper.
If possible, you want to prioritize a truck camper that has heavy-duty appliances.
One prime example is an RV absorption refrigerator which has no moving parts.
It will take much more of a beating on the bumpy back and off-road adventures than a standard kitchen refrigerator.
What To Look For In An Off-Road Truck
When coming up with the best off-road camper and truck combination you also need to factor in the pickup truck that will be carrying it.
This translates into a few key things to prioritize in a new truck or things you might want to upgrade in an existing pickup truck.
The Drive Train & Four Wheel Drive Capability
If you are going to go off-road with your pickup truck, then you need one that has four-wheel drive.
Ideally, you want one with a locking rear differential that will power you through tough obstacles, steep inclines, and loose surfaces with more confidence than a truck with a limited-slip differential. Two-wheel drive pickup trucks should be avoided.
The Class Of The Truck
Ideally, you want a three-quarters of a one-ton pickup truck that has a robust engine and even more robust suspension.
This ensures that you have you will have the power you need to move confidently through rough off-road terrain.
While some half-ton pickup trucks can safely hold lightweight off-road truck campers, they might be pushed to their limits in tough terrain conditions.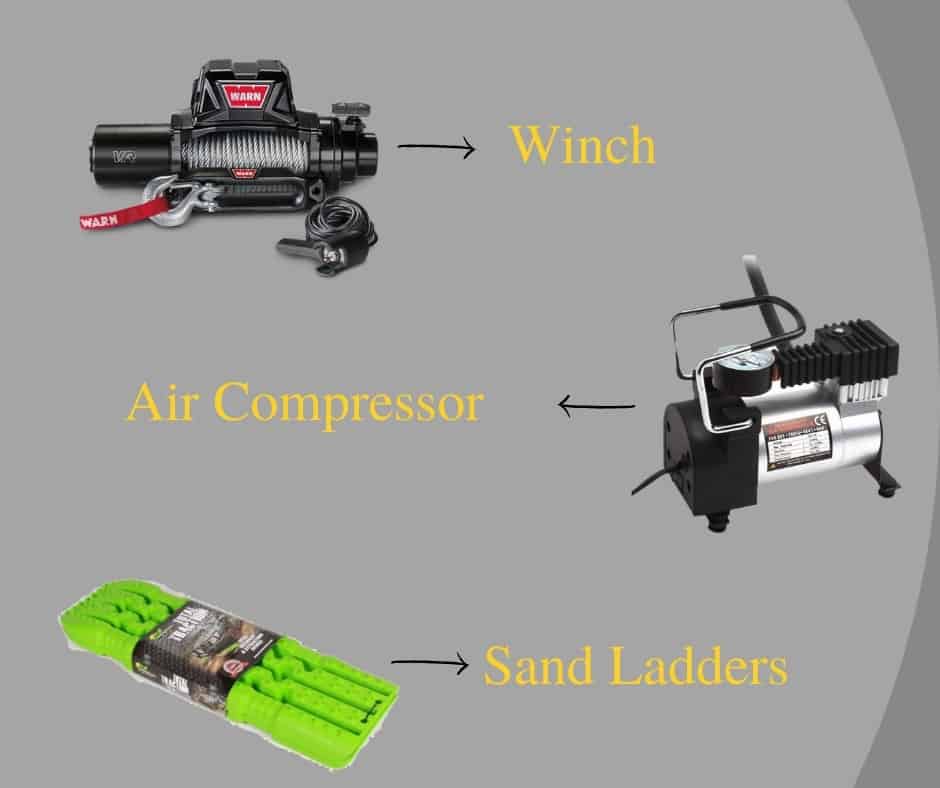 Invest In Off-Roading Tools And Recovery Gear
The reality is that if you are going to push the limits of what your pickup truck and truck camper can take, then you are eventually going to have some kind of problem.
Only when you are overlanding, chances are slim of getting a roadside assistance program or tow truck to come help you.
Before taking your truck and truck camper off-road consider prioritizing a model that has some of the following options or invest them to bring with you.
A Winch
Winches can be linked directly to the vehicle's onboard electric system or another power supply.
This gives you a heavy-duty cable that can pull you out of mud, up a steep incline, or help lower your don't difficult terrain.
Just make sure that the winch you choose is capable of handling the combined gross weight of both the truck as well as the truck camper.
Most people attach winches to the front bumper of their pickup truck.
Though there is usually ample structure in the rear for a secondary winch. Just make sure to take into account where the winch will be mounted in relation to where the truck camper will be secured.
Come Along
While a winch is great for up and down or forwards and backward, it is typically of little help when you are dealing with terrain that pitches side to side.
If you get stuck on a difficult pitch and you don't have anything securing your side to side forces a winch could pull you into a dangerous rollover situation.
A come-along is basically a manual crank that you can use to anchor you to any hard point to help prevent rollovers and possibly assist the winch in providing you with a clean escape from an otherwise harry situation.
An Air Compressor
Flat tires are an unfortunate reality that comes to any form of off-road travel. While a spare tire is certainly handy it's not always the most convenient option.
Sometimes going over rough terrain can dislodge or "Pop" the bead on a tire. This essentially releases the air from the tire without damaging its integrity to hold air.
Having an air compressor that can run off a 12 Volt power source or a filled compressor tank will let you fill up a flat or low tire without the wasted time and effort of replacing it with the spare.
Sand Ladders
A good sand ladder is worth its weight in gold when you are stuck on a loose surface. Best of all they are relatively lightweight and easy to store.
If you are going to be traveling in the desert or you plan on camping on a remote beach, you need to make sure a sand ladder is included in your kit before you head out.
7 Of The Best Off-Road Truck Campers In 2021
Let's say you've sat down and you've taken into the payload capacity of your chosen pickup truck and you've also factored in the type of off-road camping you prefer to do.
Then you also made room in your budget for things like self-recovery equipment.
If it's adventure and wilderness exploration what you're looking for, then here are 7 of the best off-road truck campers that are built to tackle any terrain you take it on.
1. outfitter Apex 8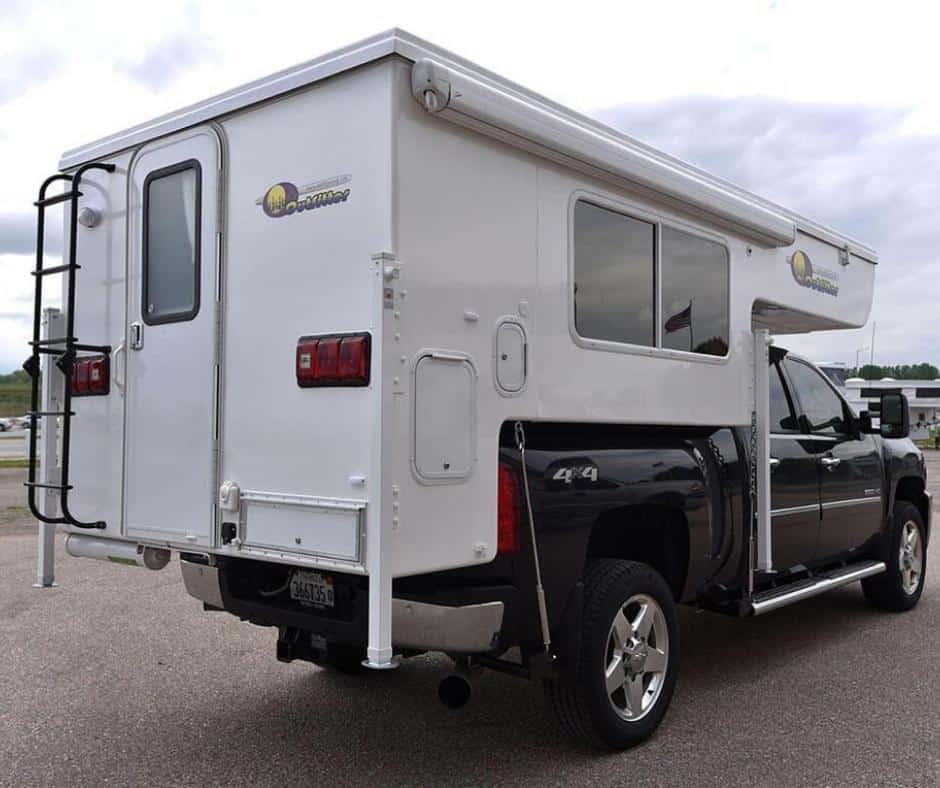 The Apex 8 was specifically engineered for short-bed three-quarter and one-ton trucks that have a cargo box of 8-feet or less in total length.
It is a hard-sided camper that still has a relatively low profile when you are traveling. This helps to reduce the effect of body roll when you are going over uneven terrain.
When you get to your intended destination the roof lifts up via a heavy-duty electric motor to give you the convenience of a popup truck camper, yet the durability of a hard-sided model.
The sidewalls and the roof of the Apex 8 are made from True Composite Foam.
This provides superior insulation for times when you are camping off the grid in overly hot or cold conditions.
It really helps make the most out of the 20,000 BTU furnace for times when you might want to use the Apex 8 as a base camp for fall hunting.
On the inside of the Apex 8, there is a durable 3.0 cubic foot RV absorption refrigerator that can handle life on bumpy roads.
The kitchen also has a 3-burner cooktop, which is somewhat rare in truck campers this size.
There's also a wet bath with a shower and toilet to give you all the comforts of home even when you're boondocking off the grid.
2. The EarthRoamer LTi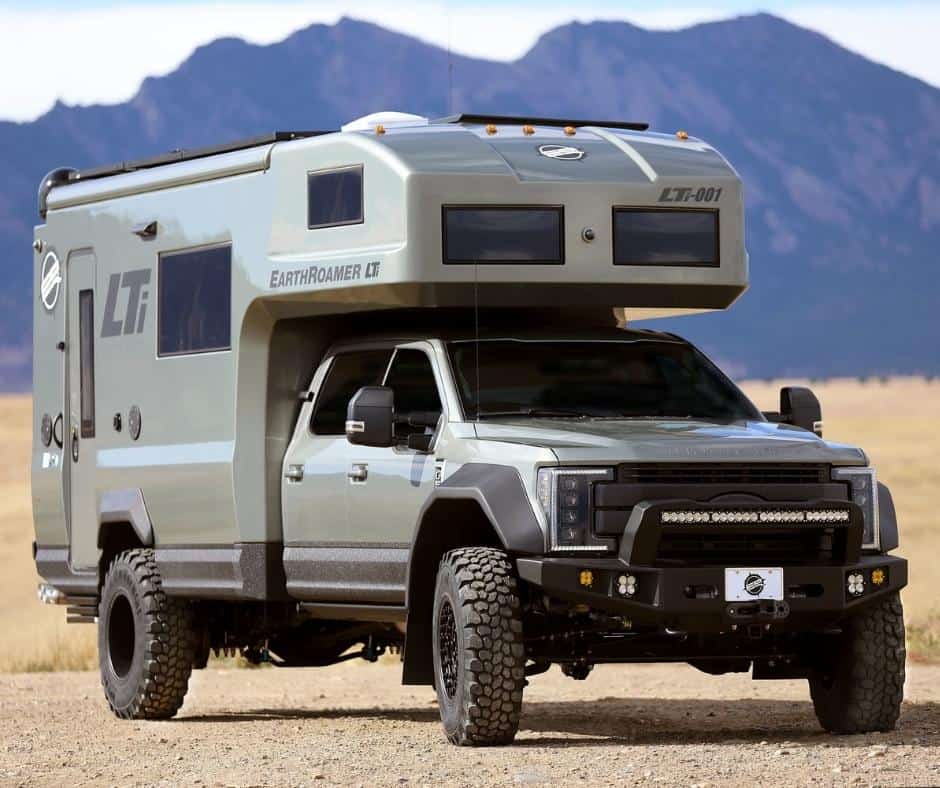 The EarthRoamer LTi is specifically built onto an F550 chassis, so they have already sorted out the process of finding the right truck to pair the truck camper with.
It is a true hard-sided camper that was designed with durability in mind.
You will also appreciate the electrical system which includes an upgraded 11,000 Watt-Hour lithium-ion battery bank as well as a 1,300-watt solar power system.
With thoughtful setup and modest power rationing, you could potentially take this truck camper combo off-road for 5 to 7 days at a time.
The EarthRoamer LTi is available in five different floorplans which let you choose the one that is best for your camping style.
The Telluride provides the most seating which will accommodate a family of four. Though the trade-off is in a slightly smaller kitchen.
If you have two children who need their own space, the Telluride floorplan of the EarthRoamer LTi might be the best floor plan.
The Boulder is on the other end of the spectrum as it offers a large kitchen with tons of pantry food storage space. While it can technically sleep 4 people on paper, 3 is more realistic.
The Breckenridge features a relatively spacious dinette booth with dedicated work and eating space on the driver's side.
It can then convert into a 6-foot long bed, which is perfect for a child. Here again, it can sleep 4 on paper and 3 in the real world.
The Aspen features the longest kitchen of all the floorplans. If you have a foodie in your family or you need to use the EarthRoamer as your hunting camp kitchen, the Aspen floor plan is going to be a great option. Though it only sleeps 3 people in the real world and on paper.
The Crestone has a medium size kitchen with a large counter, which you can use for laying out grab-and-go snacks for a hiking trip or breaking down wild game in the hunting season.
If there's a complaint about the EarthRoamer LTi it's the disparity of the water system. The 100-gallon fresh water storage tank is nice, but it's needlessly large.
Especially when you consider that this off-road truck camper only comes with a 40-gallon gray water storage tank.
It also only has a 5-gallon cassette toilet, which is too small to let you go more than two or three days without having to empty it.
Yet the rest of the rig is perfectly capable of boondocking off the grid for 5 or more days at a shot.
3. The EarthCruiser Terranova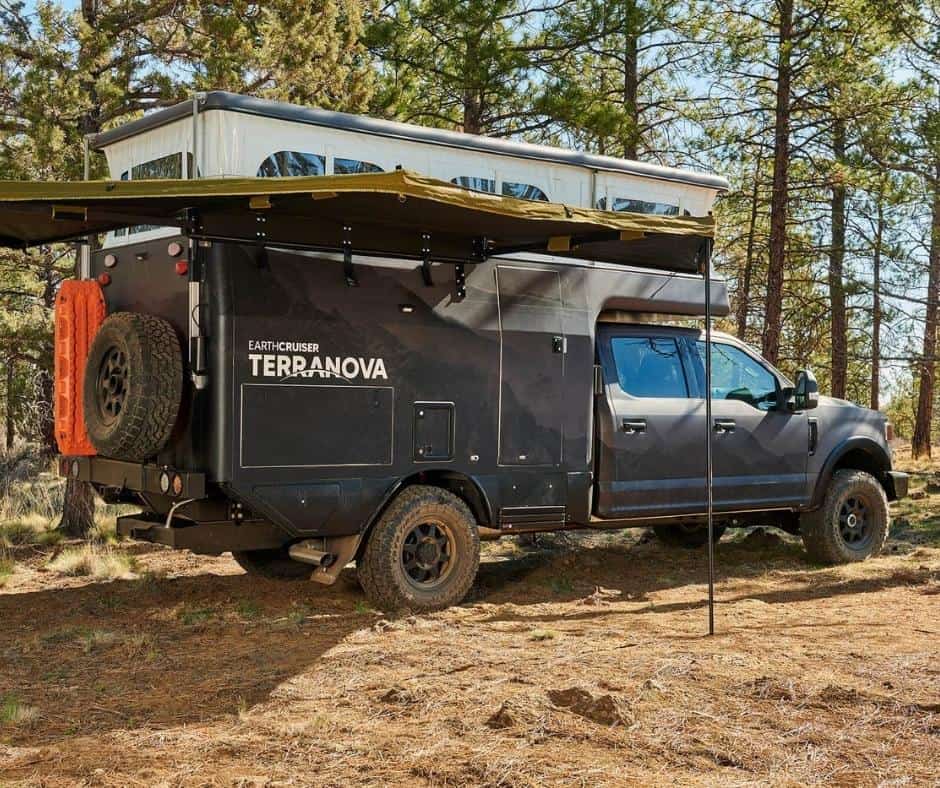 The Earthcruiser Terranova is a hard-sided, low-profile truck camper when you are driving down the road or taking off the beaten path.
This helps reduce the overall center of gravity, which improves handling on uneven surfaces.
It can be custom-built and installed onto any domestic one-ton pickup chassis, which is great if you already have the truck and you are looking for the perfect pairing.
The body of the Terranova features fiberglass construction for superior durability and protection against the elements. This makes it a true four-seasons, all-terrain truck camper.
When you get to your destination, the hard roof raises up a canvas-sided section.
This improves the interior headroom, while also allowing for a 360-degree view of the surrounding area.
The 8 windows include insect, privacy screens, and clear vinyl protective layers.
The Terranova was also thoughtfully designed with air compressors on-board.
This is great if you have a tire go flat, or you need to reduce the air pressure in your tires for better grip over a loose surface and then need to refill them again when you hit hard pavement.
When you work directly with the manufacturer, they can also install a heavy-duty winch on the truck as part of the installation process.
Of course, these aren't the only off-road accessories that you'll enjoy with the Terranova.
It also comes with a 108-Watt Sunflare Solar panel array with a solar controller and monitoring system. It's tied into a 12 volt, 400Ah Lithium house battery bank.
4. The Nimbl Evolution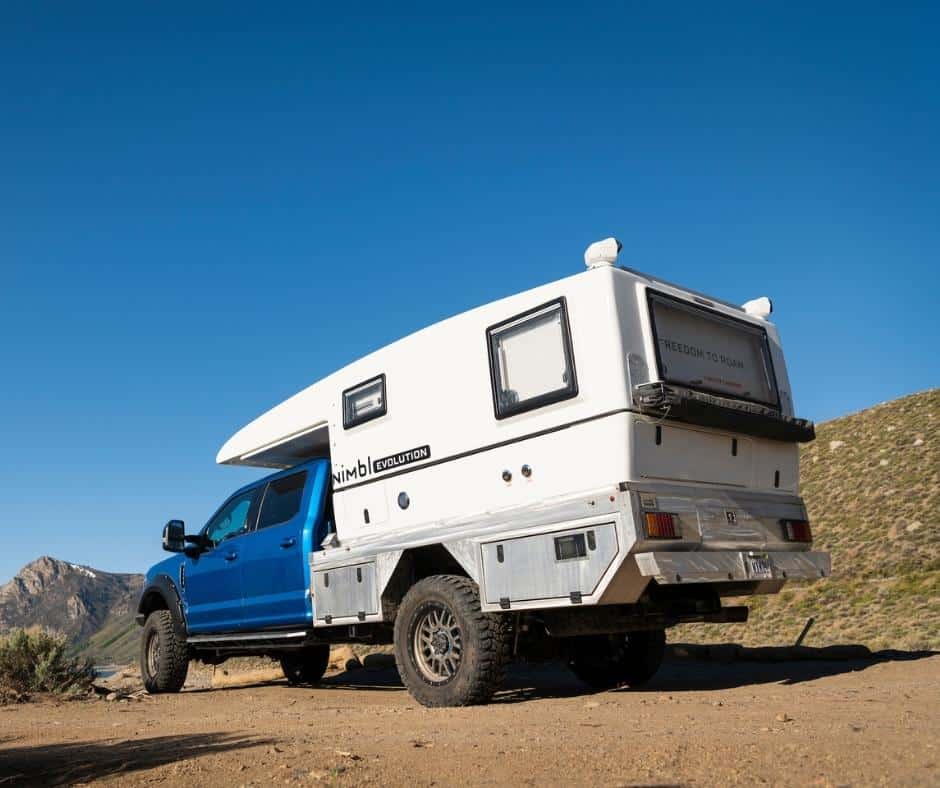 The Nimbl Evolution is another custom-installed off-road truck camper that offers a lot of special features to perfectly pair with your boondock camping style.
It was originally designed to mesh perfectly with the Ford F350 one-ton truck. Though it is also compatible with Chevy 3500 and Dodge 3500 one-ton pickup trucks.
The body of the truck camper is made from thermal blocks with a seamless monocoque composite structure.
Not only does this maximize the rigidity of the body for off-road travel, but it also improves thermal efficiency.
You will appreciate this if you are a backwoods hunter who likes to hunt large tracks of public land in the west each fall.
When you deal directly with the manufacturer they can also offer a wide range of updates and options.
This includes beefing up the suspension system of the pickup truck and boosting it up with 35-inch tires.
This makes for greater suspension travel and a smooth ride when going over rough terrain.
This further helps reduce the amount of shock that's imparted to the structure of the truck camper itself.
You can also have self-recovery gear such as a winch system installed as part of the custom build.
When you set up camp the hard top of the Evolution lifts up. This creates more headroom and provides you with a cab-over full-size bed.
You'll also appreciate the thoughtful storage and the well-appointed kitchen which provide you with the comforts of home that you want even if you are far off the beaten track.
5. The Four Wheel Campers Project M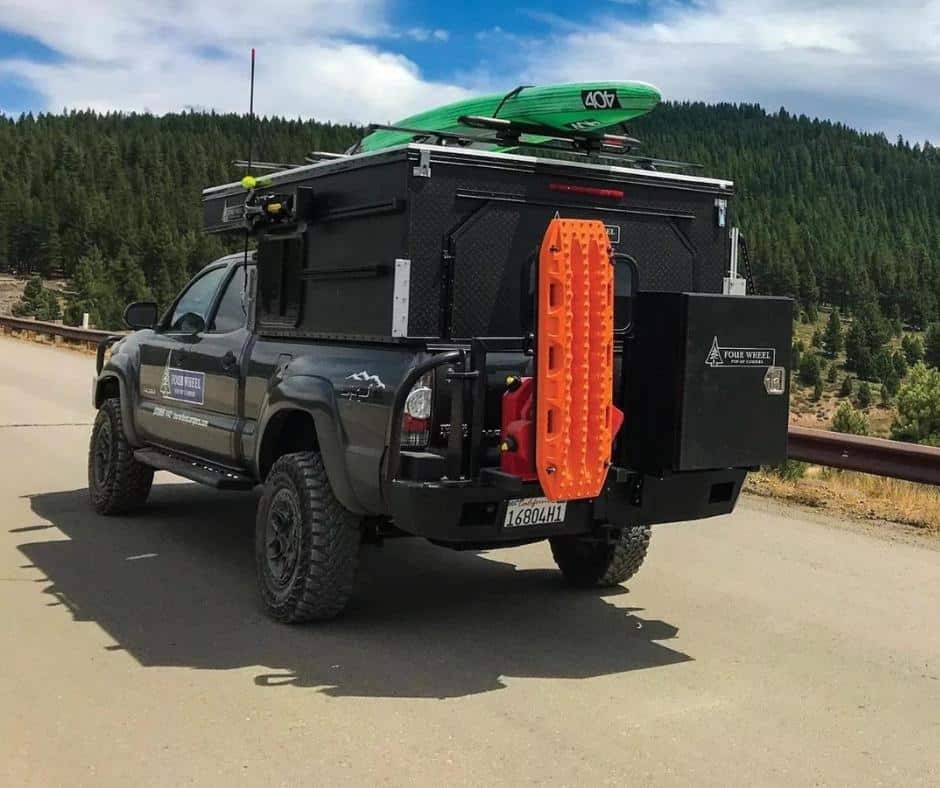 The Project M is a rare off-road truck camper that can easily fit in a half-ton pickup truck's cargo box.
Though the level of customization can significantly affect the weight. So, it's best to work directly with the manufacturer to ensure that your intended build will still pair safely with your intended pickup truck.
When you are traveling down the road or on the road less traveled, this popup camper is neatly compressed.
This has the net effect of lowering your center of gravity, which is handy if you are going to be going over terrain with an uneven pitch and you are a little concerned about the risk of a rollover.
The frame and the side walls are made from welded aluminum, which saves on weight.
The heavy-duty hardtop also allows for a very sturdy roof rack, which lets you bring extra gear or stow long toys like a canoe or kayak.
It's also strong enough to hold a full deer carcass, which might be a priority if you want to use the Project M as a basecamp for backwoods fall hunting.
The list of optional extras for the Project M is truly staggering. It's best to take your time to really think about the things you want to prioritize.
This includes nuts and bolts basics like ratchets and self-recovery gear as well as racks to hold canoes, kayaks, sand ladders, and hand tools.
There are also a lot of sophisticated options to consider such as upgradable and customizable AMG house battery packs and customized electrical components. Not to mention solar panels and monitoring equipment.
6. The Scout Yoho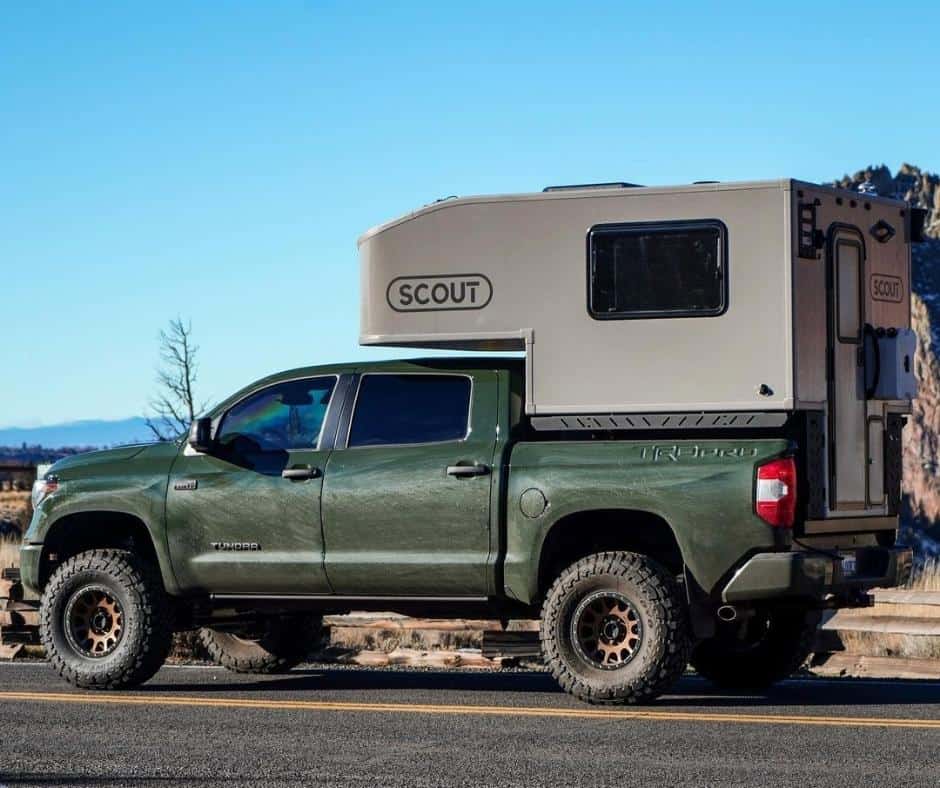 The Scout Yoho is another great lightweight truck camper that will fit in most half-ton or three-quarter-ton truck cargo boxes.
It only has a dry weight of 985-pounds, which won't require you to beef up the suspension system just to take it off-road.
It features composite structural panel construction, which greatly improves thermal efficiency.
It's also the type of material that won't rot, which is great if you want to take the Yoho off-road in wet areas, or you frequently hunt coastal regions where cool fall humidity and salt air can be a factor.
The exterior is made from sheet aluminum which is also impervious to rot and corrosion.
There's also a fair amount of technological innovation worked into the Yoho.
You'll appreciate the 175-Watt monocrystalline solar panel's ability to help top up the house batteries.
Though it might not be enough to frequently recharge 12 Volt deep cycle batteries all the way back up if they dip below 50%.
If you tend to use a lot of power when you're traveling you might want to upgrade the solar panels or also invest in a small four-stroke generator to make sure you can always meet your electrical demand.
One of the great things about the Scout Yoho is that you can take it out when you aren't using it.
This isn't always the case with a lot of larger more robust off-road truck campers.
This means you can use the Yoho for off-road adventures on the weekend or extended boondocking vacations, and still use your pickup like a normal truck on Monday through Friday.
If there's a potential complaint with the Yoho it's that it's pretty tall and hard-sided.
This means it has a rather high center of gravity, which could be an issue if you are climbing steep terrain with an uneven pitch.
If you are concerned about a potential rollover you might want to also budget for a winch or other self-recovery equipment.
7. The NuCamp Cirrus 720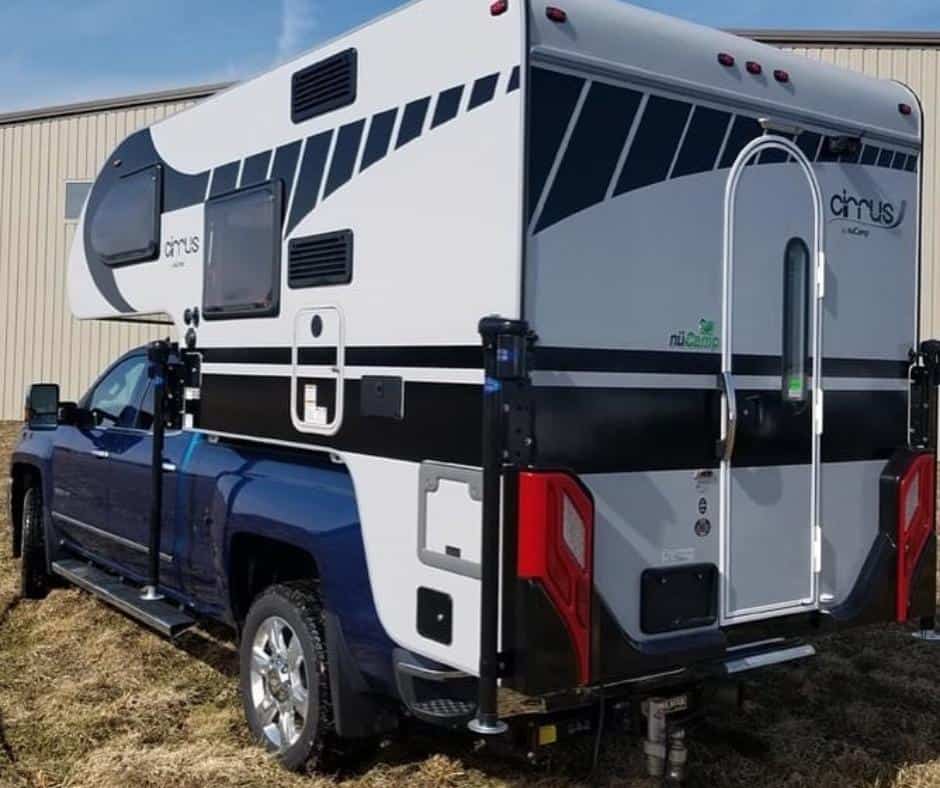 The NuCamp Cirrus 720 is an off-road truck camper that is loaded with innovation.
Just bear in mind that its 1,875-pound dry weight and 2,100-pound gross weight push it just beyond what a half-ton pickup truck can accommodate.
So, it's best to limit this off-road truck camper to three-quart or one-ton pickup trucks.
The NuCamp Cirrus 720 features Laminated & Bonded Azdel™ construction in the sidewalls, which is highly rot and corrosion-resistant. It also has a heavy-duty walk-on roof with adjustable storage racks.
This makes it convenient to bring other things with you like mountain bikes, a canoe, or a kayak.
The roof also supports a 210-watt solar power system, which helps top up the 12 Volt house batteries when you are camping off the grid.
The interior of the NuCamp Cirrus 720 is also very comfortable. There's a wet bath with modest fresh and wastewater tanks supporting it.
It uses an energy and water-efficient ALDE® hydronic central heat/ hot water system to make the most out of the water you have, while also minimizing the amount of energy needed to heat the water for a comfortable warm shower.
Frequently Asked Questions
Is Hard-Sided Or A Popup Truck Camper Better For Off-Roading?
Hard-sided campers are certainly more durable and will typically enjoy a longer life of off-roading than a pop-up truck camper of the same size.
The trade-off is that the center of gravity is usually much higher, and they weigh more, which can increase the risk of a rollover issue if you frequently travel on steep inclines or ground with a steep pitch.
Is It Better To Have A Permanently Installed Truck Camper?
When you work directly with a manufacturer to have a truck camper semi-permanently installed into a pickup truck, you get a more confident marriage between the two.
You also open the door for greater customization, and most manufacturers can also install winches and self-recovery gear as part of the process.
The downside is that it limits the truck to only being used as an off-road vehicle.
If you need your truck as a commuter vehicle or you are a tradesman and you need your truck to work for a living, then you might be better off going with an off-road truck camper that can be uninstalled when you aren't using it.
Conclusion
Off-road enthusiasts can rejoice over the heavy-duty truck campers and customizable options in today's market.
Rugged construction, cutting-edge electrical systems, solar panels, and water efficiency are just a few of the great new options that are taking off-road truck campers beyond what they were just a generation ago.
Finding the right one for you will depend on your travel style, the truck you choose, and your creature comforts.
If you need your truck to earn its keep as a work vehicle, then you definitely want to stick to models that can be installed relatively easily.
For a three-quarter or one-ton truck, the NuCamp Cirrus 720 is going to be the best option.
If you have a half-ton pickup truck then the Scout Yoho will be the best off-road truck camper to meet your needs.
If you are willing to invest in a heavy-duty truck that will spend the next few years with the off-road truck camper installed, then your options open up even further.
The Apex 8 is one of the best off-road truck campers for a three-quarter-ton pickup truck with a short box.
Whereas the Nimbl Evolution will be the best option for a one-ton off-road pickup truck.
Both other incredibly durable construction with the kind of innovative features you need to spend days living off the grid in comfort.