If you drive an SUV or a half-ton vehicle, it can be hard to know what kind of camper to invest in and what your vehicle can tow. Well, with a vehicle that size, a travel trailer under 5000 lbs is the most suitable for towing.
When you are wading through all of the trailer options, it can begin to feel overwhelming, and let's be honest, they all start to look similar.
That's why we put together our top 10 travel trailers under 5000 lbs in this article.
Our goal is to give you a solid base of what to look for in a travel trailer and some of the best current options out there.
Even with a travel trailer that is under 5000 lbs., you can still get all the comforts of an RV. Most of them have sleeping rooms enough for a small family and designs anyone will love.
We did our best to include a variety of layouts and options on our list, and they are in no particular order.
How We Selected The Best Travel Trailers Under 5000 Lbs.
Before we get straight into the list, we wanted to share how we selected each travel trailer below.
So, even if our list only serves as an inspiration and you don't find your dream trailer here, we hope that we will give you some key things to look for when you're shopping.
The primary criterion that we looked for when compiling this list is if the trailer had a Gross Vehicle Weight Rating (GVWR) of 5,000 lbs, not just a dry weight.
Another term often used synonymously with GVWR is the Maximum Loaded Trailer Weight.
Basically, either term is used to determine how much the trailer should weigh, even when carrying cargo.
The dry weight of a trail is how much the trailer weighs with the standard equipment inside. It does not include things like cargo, people, or fluids.
Another term used to describe dry weight is also the Unloaded Vehicle Weight (UVW). So if you see the UVW displayed on a trailer, it means the dry weight.
Beyond the GVWR, we also considered things like:
Up to date design features

Capacity and amount of sleeping space

Quality of materials used

Upgrade options

Past RVers experiences and reviews
All in all, we did our best to pick out high-quality travel trailers under 5000 lbs that you can tow with an SUV or half-ton vehicle.
We sprinkled the list with a bit of variety to show you the different current design options available as well.
10 Awesome Travel Trailers Under 5000 Lbs In 2023
Focusing specifically on camper trailers under 5000lbs, Here we've compiled a list of of 10 Small and light-weight top-tier travel trailers that have a dry weight under 5,000 pounds.
1. Airstream Sport Travel Trailer
| | |
| --- | --- |
| Dry Weight | 2860 lbs |
| GVWR | 3500 lbs |
| Length | 16' 4" |
| Height | Exterior: 8', Interior: 7' 7" |
| Slideouts | None |
| Sleeps | Up to 4 |
Airstream Sport may be the most recognizable and sought-after travel trailer weight under 5,000 pounds design in the world. The identifiable aluminum exterior is one of the reasons this trail is so light.
The sleek exterior design transfers well in the interior. Although the outside looks similar to the models Airstream has had for over eight decades, the inside is up-to-date with appliances and layout.
The Airstream Sport has two floorplans to choose from, so there is some room for customizability.
The most common gripe with this trailer is that it is small, and some people find it cramped.
Either floorplan has a well thought out layout to optimize space and storage. Honestly, you may just need to minimalize your life for a bit when using it.
Each floorplan has a full kitchen with a gas stove, fridge, microwave, and plenty of storage.
There is also a surprisingly roomy bathroom setup, a full dining room, a sitting area, and a bedroom.
Airstream will always be a classic and reliable camper option. Their simplistic design makes a small space feel roomy, cozy, and functional.
Key Features
2. Keystone Passport Travel Trailer
| | |
| --- | --- |
| Dry Weight | Lowest starts at 3160 lbs |
| GVWR | 6 floorplans under 5,000 lbs |
| Length | Up to 37' |
| Height | Either 10' 4" or 10' 5" |
| Slideouts | None |
| Sleeps | Up to 10 |
The customizability is one main factor that drew us to the Keystone Passport. There are 31 floorplan options, and six of those are under 5,000 lbs GVWR.
Each design is slightly different, but all of them have homey designs, furniture, and appliances.
Since most people invest in a camper trailer to get outside more, Keystone focused a lot on the outdoor space here.
Each Keystone Passport option is equipped with standard exterior speakers, a retractable awning, LED awning lights, and a patio entrance light.
Each floorplan has its own special design features, but there are many features that overlap.
If the standard features aren't enough for your needs, Keystone offers tons of expansions to perfect your design.
Key Features
3. KZ Sportsmen Classic Ultra Lightweight Travel Trailer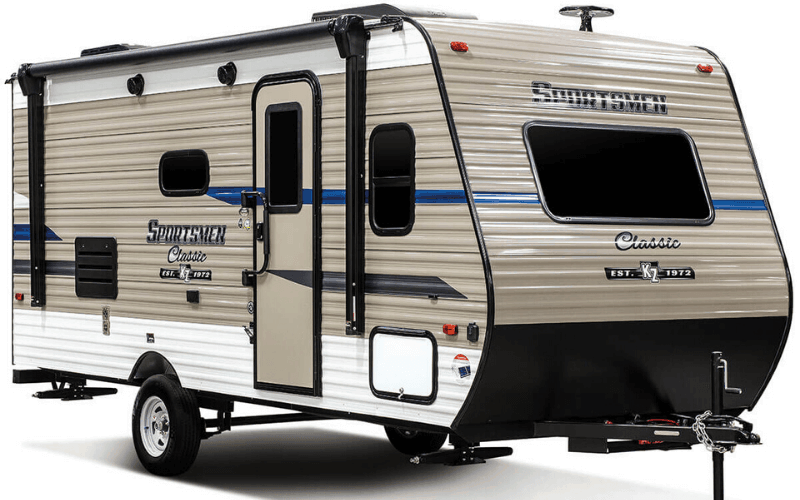 | | |
| --- | --- |
| Dry Weight | Between 2790-3400 |
| GVWR | Between 3500-5000 lbs |
| Length | Up to 23' 2" |
| Height | Up to 90" |
| Slideouts | Marine-grade aqua lodge tent window |
| Sleeps | Up to 5 |
Do not let the length or weight fool you. KZ Sportsmen Classic is the whole package! With seven different floorplans to choose from, you will be able to customize your trailer fully.
One of the floorplans even has a bunk bed option, which is perfect for families.
Most trailers under 5,000 lbs do not offer a bed system like this, but the Sportsman Classic makes it work seamlessly.
One of the other standout features of this trailer option is the off-road upgrade option.
It includes all of the excellent standard features along with extra ground clearance, aluminum rims with 15" mud tires, and an electronically controlled heated holding tank.
The unique option for better off-road capabilities makes your outdoor adventures more rugged and remote.
If getting off-grid is your primary goal, the off-road package, along with being solar prep ready this is the perfect trailer.
There are tons of available upgrade options, but the standard trailer set up is excellent too.
You have multiple bed sizes to choose from, a dining table large enough for a family, and a kitchen with a perfectly deep sink. All of the things that make this trailer feel like home.
Key Features
4. Jayco Hummingbird teardrop-style travel trailer
| | |
| --- | --- |
| Dry Weight | Between 1545-3015 lbs |
| GVWR | Between 2000-3950 lbs |
| Length | Starting at 13' |
| Height | Starting at 80' |
| Slideouts | None |
| Sleeps | Up to 2 |
Jayco has been a leader in the camper trailer and RV world for some time. Their Jayco Hummingbird is a stellar trailer that shows their innovative capabilities.
This will be the smallest trailer on the list today, but not all of their Humminbird's are as small as the 10RK model. Despite the small design, it has everything you need in a camper trailer.
There is an impressive sleeping area inside, and to save room, they made a back hatch the kitchenette. The only downside to the 10RK trailer is that there is no bathroom.
All of the other Jayco Hummingbird trailer designs feature a bathroom along with an interior kitchen and dining area.
Plus, since Jayco is a well-known and established company, there are numerous add-ons and customizations that can be made.
Unlike some other camper trailers, the Jayco Hummingbird is relatively aerodynamic as well. It isn't just because of their size, either.
Jayco took the time to construct a trailer with a rounded profile with front and rear diamond plating.
Key Features
5. Dutchmen Coleman Lantern LT Pull Behind Travel Trailer
| | |
| --- | --- |
| Dry Weight | Between 2986-3980 lbs |
| GVWR | Between 3850-4840 lbs |
| Length | Up to 22' 9" |
| Height | 10' 1" |
| Slideouts | Select Models |
| Sleeps | 4-6 |
Of the 16 models of the Coleman Lantern LT, there are eight that have a GVWR under 5,000 lbs.
All but two have dry weights of less than 5,000 lbs, so depending on what you're using to tow, they may work for you.
Even with the eight models under 5,000 lbs, you still have a lot to choose from.
Although there are numerous layout options, many of the features will be similar.
All of the trailers in the series can sleep at least four people, and the number goes up from there.
If you have a family or like to camp with friends, this is a great trailer. It also works well for couples that are planning long trips or even plan to live in it for a few months.
Key Features
6. Forest River R-Pod Hood River 179 Travel Trailer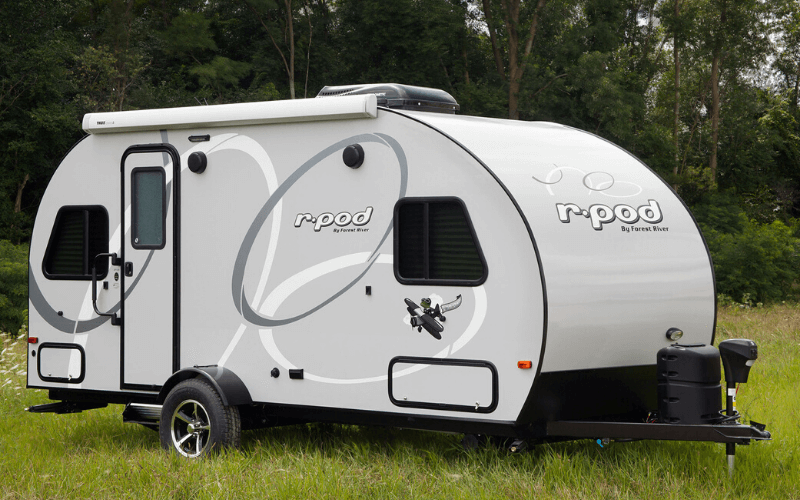 | | |
| --- | --- |
| Dry Weight | 2497-3654 lbs |
| GVWR | Between 3250-4835 lbs |
| Length | 18'-20' |
| Height | 96" |
| Slideouts | Select Models |
| Sleeps | 2-4 |
With nine different floorplan options, the Forest River R-Pod is not only ultra-light, but it is incredibly customizable.
You have the affordability of the standard builds, as well as the luxury of the premium plans as well. Either way, you will be able to enjoy key features.
As one of the lightest trail options, the maximum sleeping capacity in any of their designs are going to be four people.
This is great for a couple or small family that plans to hit the road or even use it for weekend trips throughout the year. Forest River R-Pods are a well-known and established company.
Ask any seasoned RVer and they'll know a thing or two about this trailer.
Key Features
7. Winnebago HIKE
| | |
| --- | --- |
| Dry Weight | Between 3460-3400 lbs |
| GVWR | 4,000 lbs |
| Length | 20' 7.5" |
| Height | 7' 9" |
| Slideouts | None |
| Sleeps | 3-4 |
Winnebago builds several travel trailers that have a GVWR less than 5,000, but this one is a favorite. The Winnebago HIKE has the outdoor adventurer's in mind.
The entire exterior has an exoskeleton to make it efficient to attach large adventure gear like kayaks. Plus, the standard HIKE is already off-road ready.
There are a few add-ons, but honestly, you won't need them. The original model is ideal. There are five different HIKE floorplans to choose from, but only three of them are less than 5,000 lbs GVWR.
The outdoor space and exterior design are what sets this trailer apart from the others.
However, the interior's sleek, contemporary features make the inside cozy and roomy.
The HIKE truly gives you the option to take the comforts of home off-road and off-grid.
You won't have to compromise comfort on your next outdoor adventure with Winnebago.
Key Features
8. Starcraft Satellite 18MK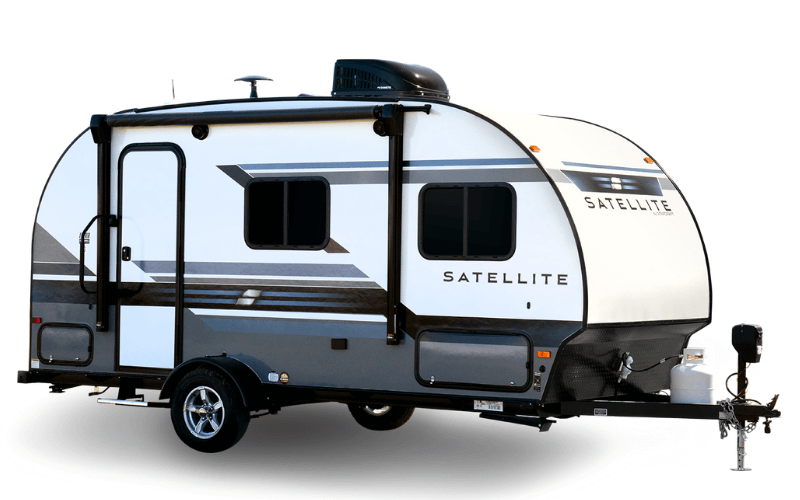 | | |
| --- | --- |
| Dry Weight | Between 3,315 lbs |
| GVWR | 3,950 lbs |
| Length | 22' 3" |
| Height | 76.6" |
| Slideouts | Yes, the dining area |
| Sleeps | 3-4 |
If you are a couple or small family, this minimalistic camper is a great choice.
The Starcraft Satellite provides all the necessary amenities a travel trailer would need and cuts out the rest.
While the interior may be a tad smaller than some of the other options, the layout, storage space, and effective use of a slide-out feature put this trailer on our top 10 list.
With the minimalistic approach, Starcraft was still able to come up with an off-road capable option.
The Extreme Package, along with being solar charger prepped, you can be off-grid and on an adventure in no time.
None of the Satellite series trailers even go over 4,000 lbs GVWR, and we picked the heaviest one for our list.
So, if you want to invest in a well built, durable trailer without upgrading your vehicle for towing, this one should be at the top of your list.
Key Features
9. Coachmen Clipper Ultra-Lite Travel Trailer
| | |
| --- | --- |
| Dry Weight | Between 2306-3984 lbs |
| GVWR | Between 3634-4920 lbs |
| Length | Up to 25' 6" |
| Height | Up to 96" |
| Slideouts | Select Models |
| Sleeps | Up to 5 |
So, there is a lot going on with the Coachmen Clipper Ultra-Lite. This can either be awesome because you have more to choose from or overwhelming with too much to decide.
There are more than 14 models, but not all of them fit our parameters. So the specs below only reflect trailers under 5000 lbs GVWR.
Since there are so many options and not all of them are under 5,000 lbs, be sure to read the specs carefully for the floorplan that you prefer.
Along with the floorplans, you have several optional upgrades. A standard feature amongst all of the floorplans is three beds.
With so much space to sleep, this trailer is perfect for family travel and camping trips.
Plus, with seamless and spill-proof laminate countertops and additional safety features, small children aren't a worry.
Like some of the other trailers on our list, the Clipper Ultra-Lite also has an All Terrain upgrade package.
Key Features
10. Gulf Stream Vista Cruiser Travel Trailer
| | |
| --- | --- |
| Dry Weight | Between 2567-3410 lbs |
| GVWR | Between 3980-4960 lbs |
| Length | 20-23'2" |
| Height | 7' 6" |
| Slideouts | Select Models |
| Sleeps | 3-6 |
Another great Gulf Stream Vista Cruiser travel trailer if you are looking for versatile floorplans and additional space.
The accommodations are built around 1-2 people living inside, but there is room for guests.
You do need to go up in weight to have the option of most of the slide-out designs, but there is one or two under 5,000 lbs GVWR that have it as well.
One significant advantage of this travel trailer is the vacuum-bonded walls and the seamless laminated fiberglass roof.
Gulf Stream is continuously updating its Vista Cruiser design, so every dealer that you go to will likely have a different interior and floorplan.
Key Features
Advantages of a Travel Trailer Under 5000 lbs
When you own a smaller SUV or van, it can be discouraging to be shopping for a travel trailer and not find one that you can tow.
Plus, you may not want to upgrade your vehicle at the same time you invest in a camper trailer.
With a travel trailer under 5000 lbs, you have all the bells and whistles a larger travel trailer or RV would have, but with a fraction of the weight.
There are numerous advantages to investing in a camper under 5000 lbs. Here are a few if you're still on the fence about a travel trailer this size:
Easier to maneuver and drive

Save on gas mileage since they're lighter

Not as expensive of an investment upfront

More off-road capabilities

A chance to become minimalists

Enjoy the freedom of the road and live in one full-time
Many of the advantages of having a travel trailer overlap with the benefits of living in an RV or larger trailer. The only significant difference is the size.
You'll have a chance to travel to more places, keep a smaller vehicle, and still see incredible and remote locations.
Have You Picked Your Favorite Travel Trailer?
There is such a wide variety of travel trailers out there to choose from these days.
Ultimately, it will come down to your personal choice. For me, having the ability to go off-road is an essential factor.
With big RVs and giant travel trailers, you really can't make it too far off main roads.
Having a chance to pull a travel trailer into the mountains or a remote desert landscape with my SUV is an unbeatable experience.
Whatever your reason is for needing or wanting a smaller travel trailer, we hope that we helped to guide you in the right direction.
As you search for your dream travel trailer under 5,000 lbs, take your time. Shopping and exploring your new living options is half the fun!