If you visit any outdoorsy town, you're bound to see a bunch of pop up campers rolling around. Yours could soon be the talk of the town if you invest in an epic luxury popup camper.
A pop-up camper is the best solution for folks with small trucks and SUVs that don't have a ton of room for RV storage in or around their primary residence.
They are small enough not to take up much space and they're also light enough to be towed by smaller vehicles.
They are also a great option for folks that only plan on camping several times a year.
There's no reason to spend an exorbitant amount of money on an RV that's going to restrict your campground choices if you only use it a handful of times every season.
And the best way to enjoy nature in one of the well-appointed, luxury popup camper trailer that you've seen hit the market in recent years.
But, there are many factors that come into play when selecting high end pop-ups.
However, In this guide we compiled a list of the 5 most Luxurious popup campers that have the best-in-class features, design, reviews, ratings and build quality to speak of. 
Yes, come with a premium price tag, but considering the features and feel they provide, it's totally worth to make your outdoor trip successful without compromising the comfort.
Let's get started!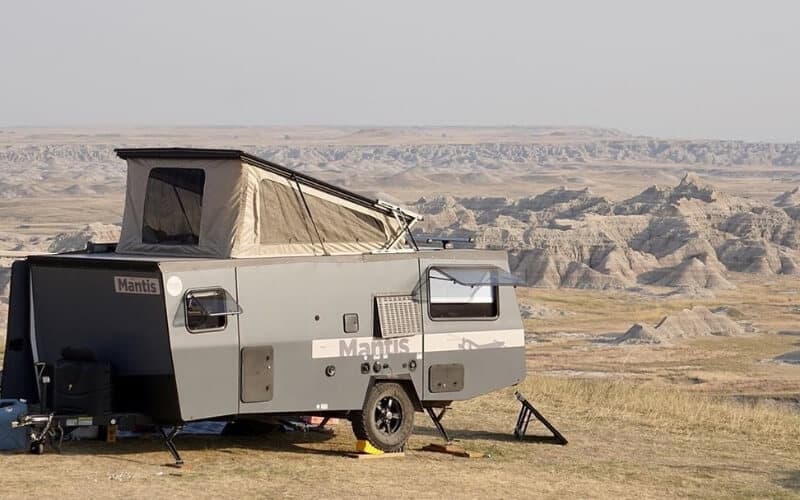 What Makes A Pop Up Camper Luxurious?
First, we should probably clear a few things up. If you're accustomed to an RV (or you don't have much camping experience in general), we can see how you could be a little confused by the title of this guide.
How can a pop-up camper (or even camping in general) be luxurious?
Well, the pop-up campers we're about to tell you about are a major step up from the base models that you can find out there.
And they allow you to relax and enjoy more campsite amenities than you'll ever enjoy when you're just tent camping.
Some of those luxury amenities include:
A covered, weatherproof space that's large enough to stand up inside.

A memory foam mattress (or mattresses in some cases) to rest your tired body at night

Slide-outs for additional living space (when applicable)

Bathrooms and showers on board so you don't have to use shared restroom facilities

Holding tanks for fresh, grey, and black water storage

A refrigerator for storing perishable food items

Climate control systems (heating and A/C) to keep your living space comfortable year-round

Entertainment and media systems for enjoying your favorite shows and/or sports

Solar panel installations for better off-grid capability (when applicable)
While you'll still get the feel of sleeping in a tent, you'll be able to enjoy many of the luxury features that you'd usually find on a much larger RV, travel trailer, or 5th wheel.
Plus, these pop-up campers can be much more affordable than those larger rigs.
Top 5 Luxurious Pop Up Camper Trailers In 2023
If you're looking to buy a new luxury pop up camper, the good news is that you'll have plenty of options at your disposal.
The bad news is that it can be easy to feel overwhelmed by all of those choices. That's why we've canvassed the market to narrow those options down to the five.
Here are the best luxury pop up campers to camp in comfort.
1. Taxa Outdoors 2021 Mantis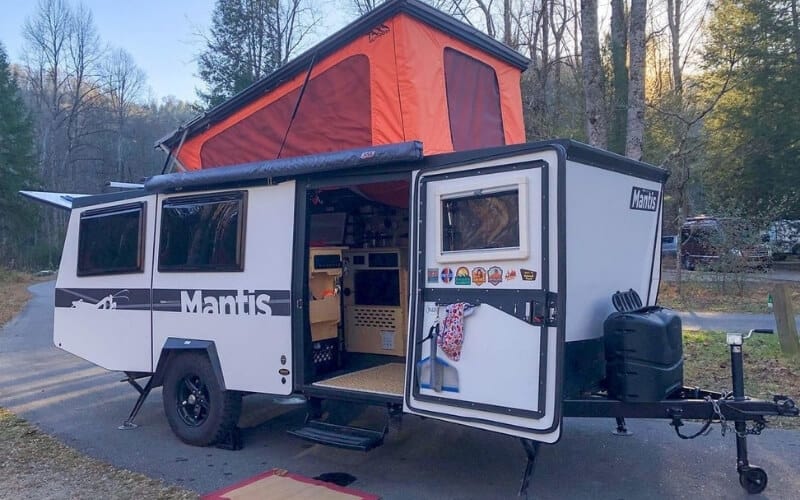 MSRP: $41,950

Open Length: 19'

Ground Clearance: 11.5"

Dry Trailer Weight: 2,972 pounds

Sleeping Capacity: 4+
The Taxa Outdoors 2021 Mantis is easily the most space-age looking luxurious popup camper on our list.
It also happens to be the most compact, which makes it easier to fit in smaller campgrounds that wouldn't quite have space for longer rigs.
This hard-sided popup camping trailer is equipped with some really unique indoor-outdoor living features.
For starters, the full-width rear hatch makes accessing storage bins (and the back bed super easy). Plus, it opens the entire trailer up for better ventilation in hot climates.
Quad stabilizer jacks help to keep this trailer stable while you're moving in and out of it.
The eight-foot awning on the passenger side gives you plenty of shaded space outside the trailer to create a little lounge area.
Plus, this luxury camper boasts flip-up windows that allow for additional air circulation and also helps you enjoy the view when you're parked in spots that other campers can't get to.
The 2021 Mantis model also boasts a full galley kitchen so you can enjoy delicious camping recipes instead of relying on dehydrated meals.
This includes a sink, dual-burner stove, open shelving system and a tower storage system with milk crate drawers, a 16-gallon trash can, and a cooler platform with a 12-volt outlet for connecting an electric cooler like this one from Dometic.
2. Forest River Flagstaff Shamrock 235S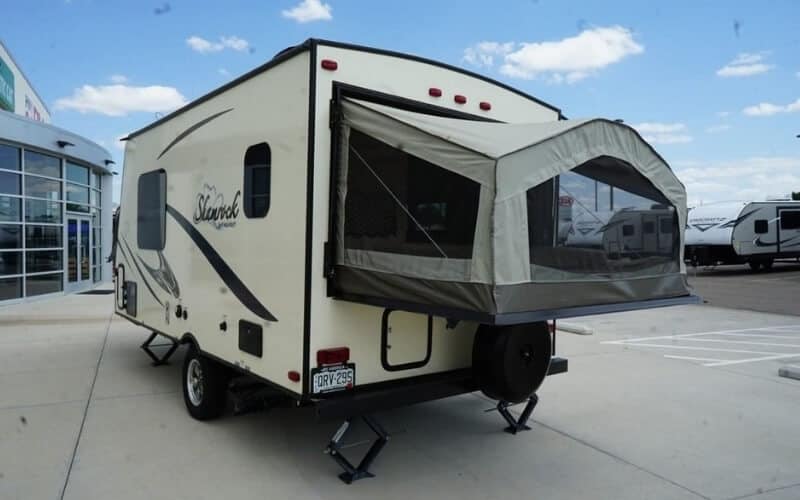 MSRP: $27,995

Open Length: 29'7"

Ground Clearance: 12"

Dry Trailer Weight: 5,418 pounds

Sleeping Capacity: 8
If you need a luxury pop-up camping trailer for large family camping trips, there's no better choice on this list than the Forest River Flagstaff Shamrock 235S.
It offers an unrivaled sleeping capacity and you won't have to pay an exorbitant upcharge to enjoy that additional space.
As you might imagine, additional sleeping space also comes with additional living space.
At nearly 30-feet in length when it's opened, it offers the largest amount of interior square footage of any luxury popup camper on our list.
With a slide-out on the side (plus the two slide-outs at either end), you'll be hard-pressed to find a roomier popup camper out there.
One of our favorite features of the Shamrock camper is its heating and cooling system.
Because it's equipped with a 35,000 BTU ducted furnace system and two MaxxAir ventilation fans, you'll be able to keep it comfortable year-round.
For those days when the weather doesn't quite cooperate, you'll be able to enjoy your favorite shows on the large LED television located in the living area of this camper.
And when the weather is ideal, you can enjoy the option to cook meals outdoors using the slide-out griddle that's hooked up to the camper's internal propane tank.
3. OPUS Camper OP4 Gallery
MSRP: $24,500

Open Length: 21'4"

Ground Clearance: 12.4"

Dry Trailer Weight: 2,870 pounds

Sleeping Capacity: 6
For those of you interested in luxury popup camper That you can take off-road, you shouldn't need to look any further than the OPUS Camper OP4.
This popup camping trailer offers exceptional ground clearance and a rugged, all-terrain chassis that can handle roads that other campers would never dream of attempting.
Another thing that we love about this popup camper is that it sets up in under two minutes.
The tent portion is actually inflatable and that inflation process has been clocked at a measly 90 seconds.
Plus, the tanks on this camping trailer are large enough for you to spend up to four days off-grid without needing to plug in, fill up, or drain your tanks.
The cool part about this camping trailer is that its lower profile helps to keep your fuel economy from going in the tank (pun fully intended) when you're towing it.
And because it's super low when collapsed, you'll be able to load other camping and recreation gear on top of it and maintain easy access to that gear when you arrive at your destination.
When you're set up in camp, this popup offers a full slide-out kitchen with stainless steel cooktop, sink, and prep table.
This design helps you save space for eating or playing card games inside the trailer.
In addition, this popup camper includes a screened-in awning that completely encloses that kitchen area to keep you dry and bug-free when conditions are less-than-ideal.
4. Forest River Rockwood High Wall Series HW277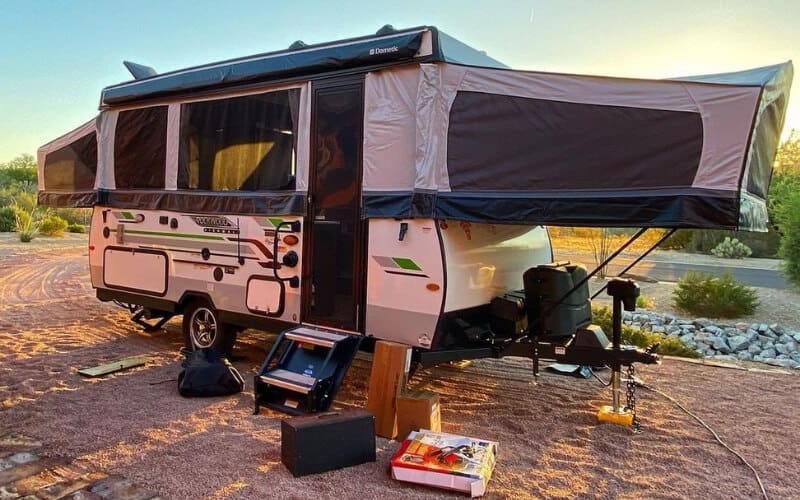 MSRP: $25,326

Open Length: 25'9"

Ground Clearance: 12"

Dry Trailer Weight: 3,334 pounds

Sleeping Capacity: 6
If you're interested in the perfect popup camper for the remote working couple, check out the Forest River Rockwood High Wall Series HW277.
This high end popup camper is one of the few that is equipped with a WiFi Range Booster so that you can connect and get work done from almost anywhere.
But when your family expands (or you want to host friends, family, or weary travelers), you'll be able to enjoy enough sleeping capacity for up to six people without feeling too cramped.
And when you aren't entertaining guests, those sleeping areas can be used for extra gear storage or workstations, respectively.
This is also a great family popup camping trailer if you don't need something quite as large as the Shamrock trailer we mentioned earlier.
And one of our favorite features of the High Wall Series is the outdoor kitchen! It's equipped with a slide-out sink and propane stovetop, plus a gas grill so you can cook inside or outside as needed.
This camping trailer's 13-foot exterior awning provides shade over the outdoor lounge area on hot days and protection from rain when needed.
The slide-out dinette on the driver's side of the camping trailer also helps to create more interior square footage so that everyone can have plenty of space to move about comfortably when the weather isn't at its best.
5. 2021 Aliner Classic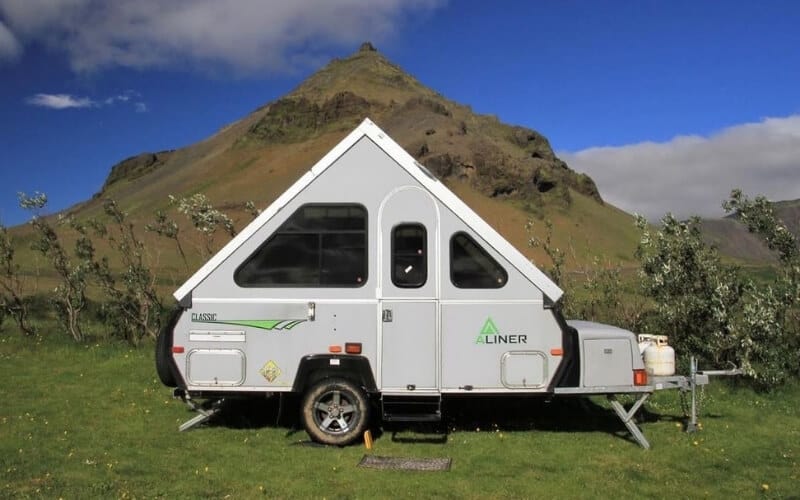 MSRP: $25,616

Open Length: 15'

Ground Clearance: 13"

Dry Trailer Weight: 1,590 pounds

Sleeping Capacity: 4
If you have a smaller truck or an SUV that can't quite tow some of the heavier luxury popup campers we listed earlier, check out the lightweight 2021 Aliner Classic.
This model also features a unique A-frame design that allows you to find that cute A-frame cabin in the woods you've been dreaming about and take it on the road.
Unique to this trailer, you'll be able to enjoy plenty of natural light through the skylights in the top of the unit.
So you'll be able to save battery power (or reduce your electric bill if you're plugged in) by relying on natural light.
But you'll be able to pull the included nightshades across these skylights when you need to black things out and sleep in.
The Aliner's footprint is one of the smallest of the campers on our list, which means you'll be able to camp nearly anywhere imaginable.
And it includes a solar port so you can install panels on the roof and improve your trailer's off-grid capabilities as you discover more places that don't offer your cushy campground amenities.
The Aliner Classic is perfect for the solo traveler or the adventurous couple. It features a sink and microwave inside for basic food prep and dish cleaning.
There's also a small refrigerator under the food prep table and a slide-out stovetop for cooking indoors when you can't spend time cooking or barbecuing outside.
So, Which Is Best For You?
The cold, hard truth is that there's someone out there for which each of these five pop-up campers is the perfect solution.
But, in the interest of providing a little further guidance, here are our top two selections:
If you are in search of the most compact and stylish luxury pop-up camper you can find, it doesn't get much cooler than the Taxa Outdoors 2021 Mantis.
It offers a refreshingly compact design, but it's made primarily for open-air camping in drier climates.
One of our favorite Mantis features is its ability to set up in 90 seconds so you can don't have to spend 20 minutes setting up your rig when you roll into campgrounds later in the evening.
For those of you that are looking for a family-friendly rig with as much sleeping space as you can get your hands-on, you'll probably want to check out the Forest River Flagstaff Shamrock 235S.
This camping trailer is light and compact enough to be towed by smaller trucks, but it still offers an abundance of sleeping and living space once you reach your destination.
Conclusion
If you're trying to convince your significant other to accompany you on more camping trips, a luxury pop-up camper can be a great way to make everyone feel more comfortable.
You get the nostalgia of sleeping in a tent-like structure and your partner gets to enjoy the comfort of a proper restroom and shower when needed.
These luxury pop up camping trailers represent the best that the RV and camping trailer industry has to offer for 2021.
And we wish you nothing but the best of luck when it comes to narrowing down your choices and selecting the new luxury pop-up camper that will help you travel far and wide in style in the coming years.