Any trip to the backcountry is improved when you take your motorcycle along.
There are miles of country to explore, and a motorcycle is a slick vessel that can take you out further. The woods turn into a playground, and it's all yours.
Unfortunately, we can't often ride out from our house and get to the trails, and there are plenty of other things we have to pack with us.
Luckily, modern campers don't have to leave their favorite toys at home.
If you can't imagine heading out without bringing your bike with you, there are RV's with motorcycle storage so you can ensure you have everything you need for a good time.
Some models put more emphasis on the garage, while others put more focus on the living space.
In this post, we'll explore the Best RVs with integrated bike/gear garages, so you can bring your favorite vehicle for outdoor exploration with you on your next camping trip.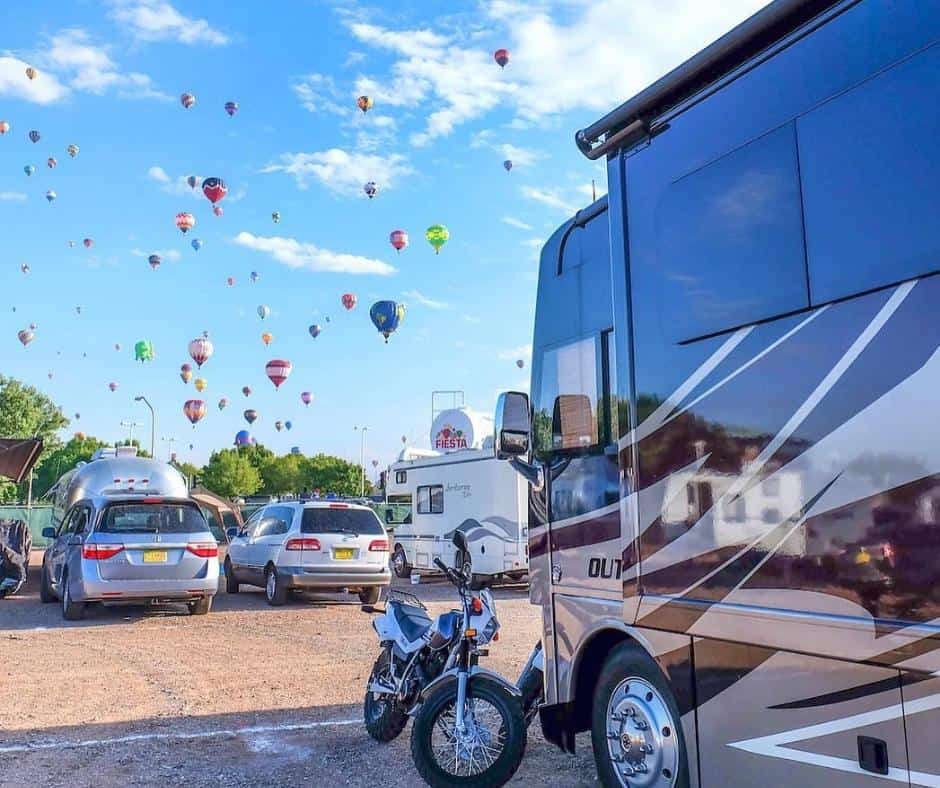 Which RVs can store motorcycles?
Only certain RV styles can offer the storage space and weight capacity necessary to be the best RVs with motorcycle storage.
These RVs are favorite choices of families who want to explore more once they reach their campsites:
Each RV seeks to make the most out of their space differently, and the RV's with motorcycle storage on this list all excel in a specific role that makes your time on the road better.
Some Toy Hauler RVs will sacrifice living space in favor of a more oversized garage, capable of housing motorcycles for the whole family.
RVs built for motorcycle storage are a small niche within the larger spectrum of RVs.
The RVs on this list have motorcycles in their minds every step of the way, which will provide a far better storage experience than retrofitting a space to work for your needs.
Let's explore these different setups.
Class A RVs with Motorcycle Storage
Class A RVs are the most well-known RVs on the market. They provide plenty of comforts of home and pack enough space on the road for the whole family to fit.
However, they don't usually include a massive space for storing motorcycles.
When designing an RV for the whole family that can also fit in motorcycles, the RVs on this list provided an excellent combination of high-quality interior design and space for the essential things.
Sturdy Class A RVs that have storage for motorcycles will often come with rear access ramps that connect to the storage area in the back of the vehicle.
Others include high-tech hydraulic lift systems that effortlessly support your motorcycle on the outside of the RV, while the inside takes care of the comfort.
If you have a larger family traveling with you, Class A RVs with motorcycle garage can still provide sleeping space for 8-10 travelers.
These setups are great choices if you want your RV to store your motorcycle without sacrificing interior beauty.
You can expect full kitchens, entertainment areas, and spacious bathrooms, along with a home for your motorcycle.
Toy Haulers
Toy haulers are a type of RV that has a built-in garage on the interior of the RV. Toy Haulers garages are spacious enough for multiple motorcycles or whatever else needs hauling along.
These beasts are specifically made to carry things with you on your trip. Some high-end toy haulers will provide a queen-sized sleeping space alongside a garage as spacious as the one at home.
This garage can easily convert into a den or living space without the same standard of comfort as a Class A RV when not in use.
These RVs with motorcycle storage can come either as travel trailers or stand-alone motorhomes and are the best choice if you are looking for the most carrying capacity for your buck.
Toy haulers contain fewer amenities than a Class A RV but offer unparalleled storage for your motorcycles.
Now that you know the options out there, you can decide which option will work best for your personal needs.
We'll walk you through the best RVs with motorcycle storage in all designations so you can see what defines the industry standard.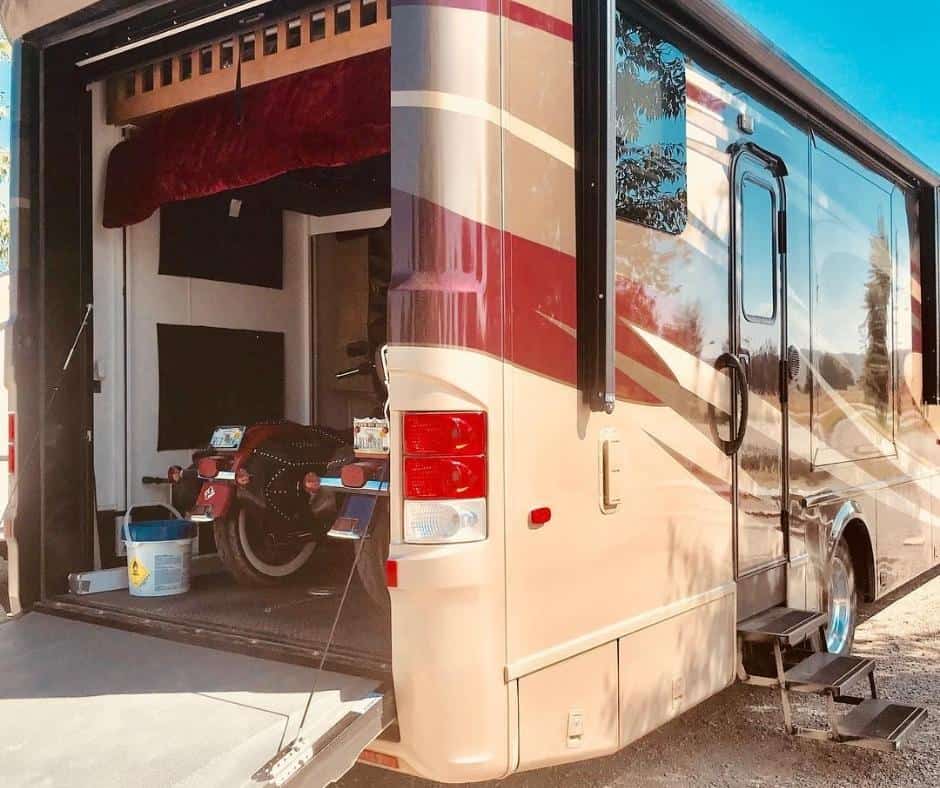 6 High-quality RV's With Motorcycle Storage
A high-quality storage experience starts in the design process and is a focus during every step of the construction process.
Engineers sought to create space for every vehicle in your garage without making your trip feel unwieldy or cramped.
Our motorcycles are our prized possessions. If you are planning on investing in a high-quality RV, it is crucial to make sure it can protect your motorcycle, your family and give you space to relax once you drive your new RV home.
You may be able to store your motorcycle in many different larger RV's, but only the best can provide the spaciousness, comfort, and efficiency needed to be applicable to many different families.
We kept a variety of needs in mind when reviewing these motorhomes and toy hullers and did our best to show off the best in class options that each fill a different void in the process.
These are 6 of the Best RVs with Motorcycle storage:
 1. Newmar Canyon Star 3927 Class A Motorhome
You'll find Newmar's 2021 Canyon Star parked at the corner between comfort and convenience.
This is a rare Class A RV with motorcycle storage that still packs in all the interior design features you'd expect out of the Class.
A 10' X 10' garage is tucked in the back of the rig. The entire rear was built with motorcycles in mind, so you won't have to worry about fit.
The garage has a spring-assisted ramp at the back for quick access. Simple operation makes it the perfect assistant for offloading the bikes safely.
Enjoy plenty of space to stretch out after a day in the trails in this RV. A large shower and bath space make cleaning up a breeze.
The master bedroom includes a closet, TV, and Queen Bed. 2 slide-outs ensure you've got plenty of room.
The interior trim of these Class A RV's are customizable and modern. The large comfy couches will make everyone feel at home and give plenty of friends a chance to sleep over.
With all the perks packed into the interior of this Class A RV, the added-on garage space makes this the best Class A RV for motorcycle storage.
2. Keystone Carbon 418

Toy Haulers can bring more to the table than a space for your motorcycles. Modern options provide the travel trailer with incredible interior design and comfort, and the garage offers plenty of room for your toys.
The Carbon 418 is the best option in the carbon lineup, whose 15-foot garage doubles as a guest bedroom once you get the bikes out of the way.
These Toy Haulers were designed with outdoor sports in mind, suiting the exterior, interior, and garage for those looking for a comfy place to end a day in the woods.
Keystone built this garage to get dirty. A rubber floor extends the space's durability. The garage comes with tie-downs ready to keep 5,000 pounds in place. Just like the storage, engineers built the living area to last.
A full bathroom allows for a better soak, and in the 2021 model, updated air conditioning units provide 20% more cooling power thanks to the higher degrees of circulation.
If you're looking for a towable home that comes with motorcycle storage, the Keystone Carbon will get you out there.
3. Thor Outlaw Class A 38MB

You could hide out a long time in this Thor Outlaw Class A RV with motorcycle storage. While the garage length is the smallest on our list, those with less intensive storage needs will feel at home in the recreational vehicle that comes with solar power.
Zero-G technology protects the garage door to make loading and unloading a more straightforward process.
A remote fueling station has everything you need to fill up your motorcycle's tank and holds 30 gallons of fuel.
Your storage space quickly converts into a comfy lounge once the bikes are unloaded, complete with a drop-down queen bed.
This space can be converted to a second bedroom if traveling with others.
You'll find the latest Bluetooth technology and wiring systems fueling the technology inside your rig.
They found enough space for a residential refrigerator, making it easier to cook for the whole family.
Another fantastic Class A RV that allows you all the benefits of home, Thor Outlaw has made sure to include storage for your motorcycle.
4. Highland Ridge Highlander Toy Hauler Fifth Wheel

You can take the Highland Ridge Highlander with you wherever you're heading, thanks to the extra details Highland Ridge tacks on to their toy haulers.
Doorways and storage areas are double insulated, and every model ships with the Four Seasons Package to keep you warm on the coldest nights.
The toy hauler's garage has plenty of space for storage, and is sealed off from the living space to prevent any fumes contaminating the room.
The entire underbelly is heated, so you won't have to worry about pipes freezing.
Look forward to a hot shower in the huge shower space. This kitchen doesn't pack some of the same amenities as others on this list, but you'll have plenty of fridge space for leftovers.
Fall asleep in your king bed and get ready to do it all again in this Spacious toy hauler RV with motorcycle storage.
5. Renegade Classic Custom Motorhome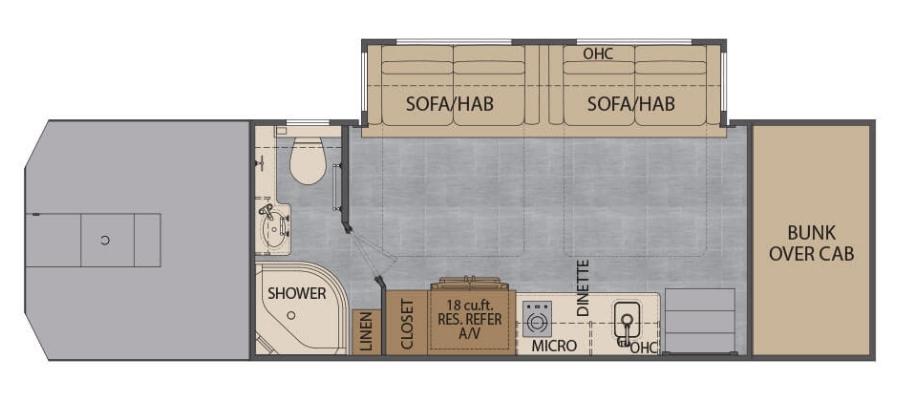 The Renegade Classic is a Super motorhome, with customization and size options not typically seen in Recreational Vehicles.
The company is based out of the American midwest and offers complete customization on each buildout.
They have proven up to the task in the past, once custom building a 26-foot RV garage capable of holding classic cars.
Standard Interior Features include a convection oven and washer and dryer options, as well as a full-scale entertainment space.
The Renegade Classic provides auto-leveling and exterior LED lights that let you engage the parking brake with style.
If you want an RV with motorcycle storage space that you can design to suit your needs, the Renegade Classic has the options to make your trip better.
6. Forest River XLR Boost 27QB Toy Hauler RV
Forest River XLR is a high-end toy hauler that is worth the investment. The Toy hauler commits totally to your outdoor toys and equipment to guarantee you won't have to leave anything behind. Right away, the 14'6 inches of garage space made us double-take.
Just under half of this RV is dedicated to storage space. If you want an RV capable of hauling multiple motorcycles as well as any other outdoor items you can't leave behind, tow this Forest River XLR Boost with you to serve as the perfect headquarters for your journey.
The devil is in the details, and the exterior of the XLR boost includes a separate 30-gallon fuel tank to ensure you have plenty of gas for your motorcycle.
While this option's primary function is space and storage capacity, the designers didn't skimp on the amenities.
The interior design highlight is the master bedroom, with a queen-sized bed and tons of storage space.
Bedside tables provide a spot for the little things. The ergonomic bathroom has a stand-up shower unit, cabinet space, and a sink, all maximized to save space.
Your kitchen will be slightly smaller, but Forest River found space for an LED TV and decorative countertops. Amenities include a sink, faucet, fridge, microwave, and stove.
As you can see, while still serving as a toy hauler, this sleek option provides everything you and your motorcycles need for a week in the woods.
How Much Space do Two Motorcycles Take Up?
You should require a 7' by 4' space to store two motorcycles properly. You may be able to squeeze your bikes into a smaller space, but sharp turns can lead to damage if your cycles aren't given the proper space.
How Do the Motorcycles Get Secured For Transit?
Any RV with motorcycle storage will include a tie-down system for your bike. Ensure your bike has at least four different ropes tying it down to the floor in case one fails.
In addition to the tie-downs, look for an included stand or provide your own wheel lock mechanism that will keep things still.
Each RV Provides Something Different
If you can't imagine traveling without your motorcycle, give yourself ample space to look for the right RV.
Investing in an RV with motorcycle storage is more than just a way to bring the bike along.
Each RV will fill a different set of needs, and not one option is the best at everything.
If you'd instead go with a Class A RV, the Newmar Canyon Star 3927 will be a confident companion.
Those just looking to tow along their bikes and find a good night's sleep won't need anything more than the Forest River XLR 27 QB
High-end budgets will love the freedom the Renegade Classic brings, while those looking for a cheaper option find everything they need in the Thor Outlaw 38MB.
True road dogs will feel warm in their Highland Ridge Highlander, and rocky mountain lovers can elope in style in their Keystone Carbon 418
Your RV will work as your pit stop, finish line, and much more. Find the right combination of storage and functionality for your needs, and then find the RV right for you.