Are you planning an RV vacation and want to comfortably travel around with the benefits of power efficiency in different weathers and roads? RV generators are useful in such situations. I will help you learn about the best-suited ones available in the market.
When driving into the wilderness, you will find yourself far away from the power outlets, and you still want to use or enjoy all the power-charged conveniences of home. A trustworthy RV generator will come in handy in this situation. These reliable powerhouses are your key to freedom; they will keep your fridge cool and your electronics charged. They will help you power your air conditioner on those sweltering summer days.
Choosing the right generator for an RV can be challenging as many options are available. To help you with this dilemma, I will take you into the world of RV generators. Make sure you read all the way to the end if you also want to know the answers to some of the most frequently asked questions about generators you can use when traveling by RV. 
What Is An RV Generator? 
RV Generators are the power source for your RV when you are away from power outlets, power shores, or other electrical hookups. For RV enthusiasts, these portable power units are a lifeline because they provide the comfort of electricity even in off-the-grid or remote settings.
These generators come in various shapes and sizes, but they all have the same basic function of generating the power required to drive the RV's appliances, electronics, and onboard systems. They are frequently propelled by gasoline, propane, or diesel fuel and can also produce energy using internal combustion engines.
Primary Functions Of An RV Generator
An RV Generator can help you in many effective ways. Let's understand its primary goals:
Produce alternating current (AC) power for running devices like air conditioners, refrigerators, microwaves, and televisions.
Recharge the house batteries in the RV, assuring a constant supply of electricity for lights, water pumps, and other 12-volt devices.
Enable the usage of electrical outlets and amenities, enhancing the overall comfort and convenience of RV living and allowing travelers to enjoy all the conveniences of home while on the road.
Different Types Of RV Generator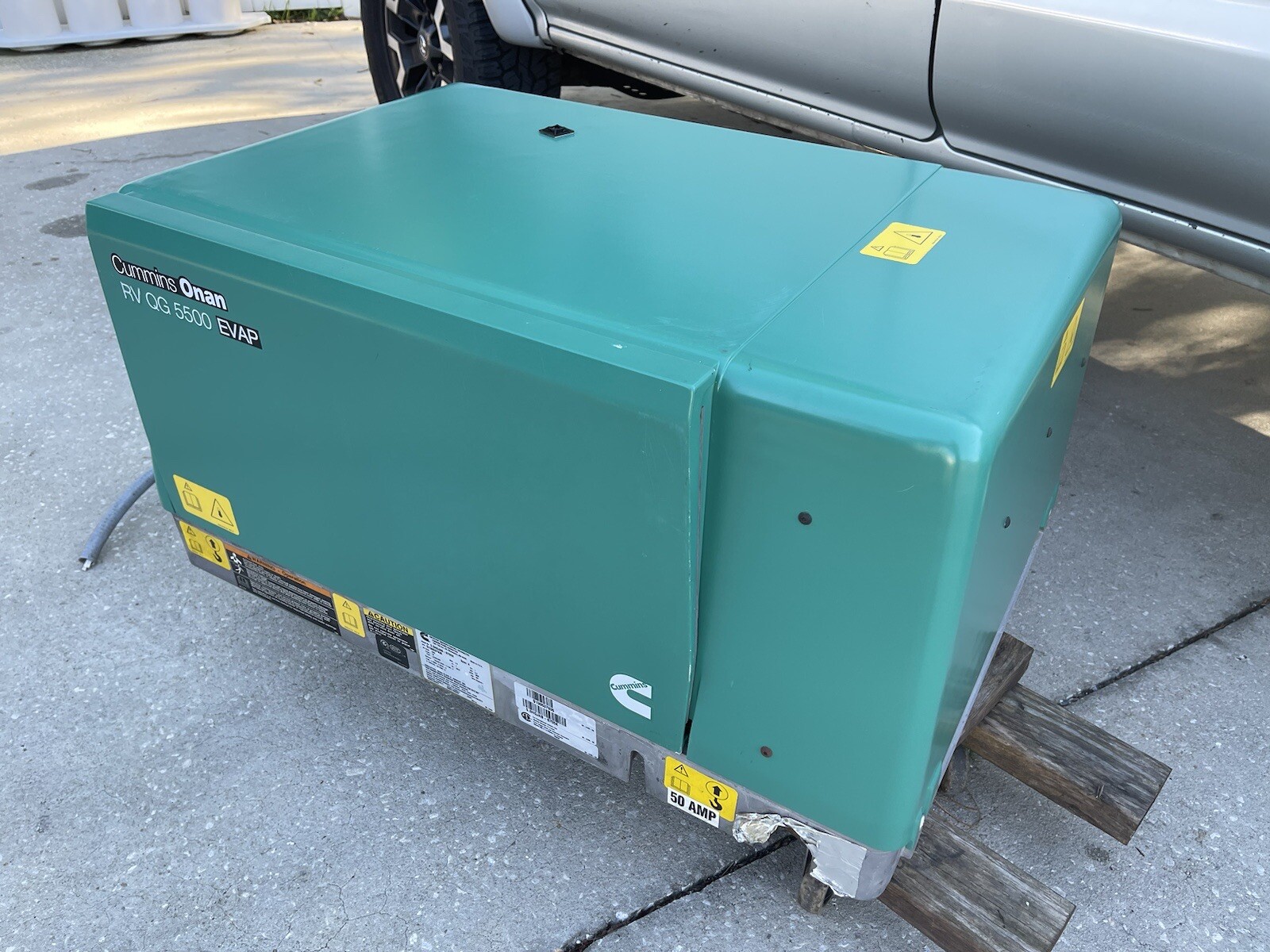 As an RV owner, you can select a generator that best meets their unique requirements and preferences by comparing models' power outputs, portability, noise levels, and fuel efficiency.
In my initial days, one of my friends and I planned an RV trip on his new Travel Camper. On our first RV adventure, we did not carry a portable RV generator as an extra power source. We had our fair share of troubles when we had a breakdown in the middle of nowhere with dead batteries on every appliance or gadget you can think of. To save you from the same fate, I will shed some light on the available types of RV generators.
| | |
| --- | --- |
| Type of Generator | Details |
| Gasoline generator | These portable RV generators for camping powered by gasoline are readily available at reasonable prices. |
| Propane generator | Propane gas is the fuel source for these generators. If you are in a rural location, propane will be more accessible than gasoline and has the potential to be both more effective and cleaner burning. It is also a portable RV generator, making it easy to travel. |
| Diesel generator | Diesel generators are renowned for their long lifespans and high fuel efficiency. Because of their durability and power output, they are frequently utilized in bigger RVs and motorhomes. Usually, because of their size and weight, these are not portable. They are often used for bigger RVs as built-in or onboard generators. |
| Inverter generator | Inverter generators are the type of portable generators for camping that offer clean and reliable electricity. These are safe for delicate electronic gadgets. This type is more fuel-efficient than most generators and makes less noise. |
| Built-in generator | Diesel, propane, or gasoline power these generators permanently integrated into the RV. They are incorporated into the RV's electrical system, offering a smooth power supply for regular usage. |
| Solar generator | Solar generators for RVs generate power from the sun with the help of solar panels. They are eco-friendly and perfect for RVing off the grid. The generator uses batteries to store energy that can be used later. Solar generators are portable RV generators you carry and set up under the bright sun. |
| Hybrid generator | These RV generators allow you the flexibility to select your fuel because they can run on various fuels, including gasoline and propane. Both portable and installation-ready hybrid generators are available. Their portability varies between versions. |
Top 8 Portable RV Generators For Camping
It is essential to know that new models in the RV generator market keep changing and advancing. Making an informed decision requires thorough research into the most recent options and reading reviews. The following are a few well-known brands and models of RV generators that I can trust:
1. Honda EU2200i
The Honda EU2200i is an inverter generator that can power smaller RVs or as a backup generator for bigger rigs. It is renowned for its dependability and quiet performance. If you are irritated by generator noise, this is the best option.
Specifications:
Power Output: 2,200 watts
Fuel: Gasoline
Inverter Technology: Yes
Noise Level: Low (between 48 and 57 dB).
Features include an eco-throttle for fuel saving and parallel functionality for enhanced power.
Pricing: Contact a certified Honda dealer or an online store for the most recent price information.
2. Champion 3400-watt Dual Fuel Generator
As you can see from the name, Champion 3400-watt dual-fuel generators are dual-fuel generators that offer versatility. These come with remote start features and give sufficient energy to use RV appliances. The remote start makes it convenient, specifically in bad weather.
Specifications:
Power Output: 3,400 Watts (starting), 3100 Watts (running)
Fuel: Gasoline or propane
Inverter Technology: Yes
Noise Level: Around 59 dB.
Features: Dual-fuel capabilities, remote start, and RV-ready outlets.
Pricing: Contact a certified dealer or an online store for the most recent price information.
3. Cummins Onan RV QG 4000
Cummins Onan generators have a good reputation in the RV industry. The RV QG 4000 is renowned for its robustness, capacity to run more appliances, and larger RVs. It gives you more amenities, making it reliable for extended trips.
Specifications:
Power Output: 4000 Watts
Fuel: Gasoline
Inverter Technology: No
Noise Level: The noise varies, often around 68 – 70 dB.
These are reliable and durable, more fitted for large RVs.
Pricing: Contact a certified dealer or an online store for the most recent price information.
4. Generac GP3500iO
Generac is a recognizable brand name in the generator sector. RVers who desire power and quiet operation might consider the Generac GP3500iO portable inverter generator since it combines efficiency with low noise.
Specifications:
Power Output: 3500 Watts (starting), 3000 Watts (running)
Fuel: Gasoline
Inverter Technology: No
Noise Level: Approximately 57 dB.
These are compact, portable, and parallel-ready.
Pricing: Contact a certified dealer or an online store for the most recent price information.
5. Westinghouse iGen4500DF
Westinghouse dual-fuel inverter generator balances both power and portability. These suit  RVers who need dependable and fuel-efficient RV generators that can be accessible in any remote area with fuel efficiency. 
Specifications:
Power Output: 4500 Watts (starting), 3700 Watts (running)
Fuel: Gasoline or propane
Inverter Technology: Yes
Noise Level: Approximately 52 dB.
Features include dual fuel capabilities, remote start, and LED data center.
Pricing: Contact a certified dealer or an online store for the most recent price information.
6. Yamaha EF3000iSEB
The Yamaha EF3000iSEB is another top-notch Yamaha generator that lives up to this reputation. It has a boost technology that can manage appliances with high demand, such as fridges, air conditioners, and others, quietly without much noise.
Specifications:
Power Output: 3000 Watts
Fuel: Gasoline
Inverter Technology: Yes
Noise Level: Approximately 53 – 60 dB.
Features include boost technology, wireless remote start, and Yamaha's smart throttle.
Pricing: Contact a certified Yamaha dealer or an online store for the most recent price information.
7. Briggs & Stratton P4500 Power Smart Series
Briggs & Stratton's inverter generator is renowned for being dependable and fuel-efficient. It is a good choice for RVers looking for an equipped generator to power delicate appliances and devices inside the RV without risking damage.
Specifications:
Power Output: 4500 Watts (starting), 3700 Watt (running)
Fuel: Gasoline
Inverter Technology: Yes
Noise Level: Approximately 59 dB.
These are quiet and efficient with parallel capability and LCD display.
Pricing: Contact a certified dealer or an online store for the most recent price information.
8. Cummins Onan RV QG 5500
The Cumin Onon RV QG 5500 generator is well known for its durability and reliability with on-demand design. These are suitable for large RVs because of their high performance. The Onan 5500 generators are very user-friendly, with smooth operations and low noise levels.
Specifications:
Power Output: 5500 Watts
Fuel: Gasoline
Inverter Technology: No
Noise Level: Approximately 68-70 dB.
These are highly durable, reliable, and suitable for large appliances.
Pricing: Contact a certified dealer or an online store for the most recent price information.
Factors To Consider While Choosing Your RV Generator:
Choosing the appropriate RV generator will guarantee a dependable power source while on the road. There is a vast range from large built-in generators to small ones for camping. Here are some tips to help you select the best RV generator:
Calculate your power requirements based on the devices and appliances you intend to utilize in your RV. Select a generator with enough watts to comfortably manage your load.
Diesel, propane, and gasoline-powered RV generators are all readily accessible. Consider your personal preferences and the accessibility of your preferred fuel type.
Consider the generator's size and weight. Ensure it will fit in your RV's storage area and be easy to carry and set up.
Look up the decibel (dB) noise rating of the generator. In campgrounds, quieter generators are more comfortable for you and your neighbors.
Consider the generator's fuel capacity and how long it can operate. This will enable you to increase your electricity supply and select models with fuel-efficient features.
Generators can be started manually or electrically using a pull cord. Pick a starting strategy that is convenient and mobile for you.
Look into reliable generator brands known for their quality, dependability, and customer service. To determine client happiness, read user reviews.
Think about the generator's upkeep requirements. Certain models could require more frequent maintenance than others.
Choose a generator based on your demands and budget to get the best value. Cost should be weighed against the features and dependability you need.
To protect your generator and RV, look for safety measures like automatic shutdown in case of low oil levels or overloading.
Conditions Necessitating Portable RV Generators
Portable RV generators are incredibly versatile. I have been using them for various situations to provide electrical power for my RV and outdoor adventures. Here are some common situations for which I carry a portable RV generator:
Boondocking or Dry Camping: I prefer carrying a portable generator to power my RV's appliances, lights, and other gadgets when camping in remote locations without access to electrical hookups.
Campgrounds with Limited Electrical Hook: A portable generator may complement your power source and ensure adequate electricity, even in campgrounds with partial or limited electrical hookups.
Emergency Backup Power: Your RV generator can supply backup power for crucial equipment and keep you comfortable and safe during a power outage at a campsite or natural catastrophe.
RV Maintenance and Repairs: A portable generator gives me the supply of electricity for tools and equipment, simplifying the task of maintaining or repairing my RV.
Battery Charging: If you have solar panels or need to recharge the batteries in your RV, you can top off your battery bank with a portable generator when the sun isn't shining or on overcast days.
Running Air Conditioning: A generator can run your RV's air conditioner throughout the sweltering summer months, keeping the interior nice and cozy.
Camping in Cold Weather: When camping in cold weather, you may need a generator to power electric heaters and protect the interior of your RV from freezing.
In any of these scenarios, a portable RV generator gives you the ease and assurance of having a dependable power source, enabling you to appreciate your RV excursions fully.
Conclusion
The value of a portable RV generator cannot be emphasized in RV travel. This underrated hero gives my adventures power, allowing me to travel off the main track, camp in isolated areas, and live comfortably according to my terms. One thing becomes evident as we conclude that necessitates using a dependable portable RV generator for camping; it's not just a convenience but a necessity for the contemporary RVer.
The situations where a portable generator shows to be helpful are as vast as the landscapes you'll visit, regardless of whether you're an experienced traveler or just starting on your RV excursions. These small powerhouses supply the energy required to make your experience amazing, whether in the untamed wilderness or somewhere between.
The RV generator has allowed me to camp freely deep within the forest or other terrains. Imagine the excitement of tailgating with friends and enjoying grilled treats as your generator runs the game-day entertainment in the background. If unexpected events suddenly make the campsite dark, your generator kicks in to keep the lights on, the refrigerator cold, and the AC operating.
However, it's not just about convenience but also mental tranquility. It's your security blanket, power source, and pass to a more cozy and pleasurable RV lifestyle. As you go on your next trip, remember that your RV generator is ready to fuel your aspirations by giving you flexibility, dependability, and freedom. 
Frequently Asked Questions (FAQs):
1. How does the Onan 5500 generator compare to other RV generators in terms of performance and reliability?
The Cummins Onan RV QG 5500 generator is a renowned option in the world of RV generators; it is well-known for its performance and reliability. Here are the few factors that make it stand out in comparison to most RV generators:
Performance:
Onan 5500, as its name suggests, has 5500-watt power, which makes it appropriate for bigger RVs with several appliances and high-demand needs. It can easily power appliances such as microwaves, air conditioners, and other gadgets.
Onan generators include modern technology to ensure a safe and reliable power supply, which makes them suitable when using delicate electronics. They will continue to perform even under heavy loads.
Reliability:
Cummins Onan generators are famous for their longevity and reliability. They are designed to withstand the rigors of RV travel and frequent use, essential for a camper who spends much time outdoors.
Onan generators have excellent customer service and a network of authorized repair facilities, which is beneficial if you encounter maintenance or repair issues while traveling.
These are designed to boost fuel efficiency, providing reliable power without consuming excessive fuel.
Regular upkeep, careful load management, and following manufacturer guidelines can all impact a generator's performance and dependability. Although the Onan 5500 generator is a solid choice for many RVers, the "best" generator depends on your particular RV's size, energy needs, and personal preferences. It's often advantageous to assess various models, read user reviews, and consider your needs before buying.
2. What are the advantages of using a Cummins Onan generator for your RV power needs?
There are several clear benefits to using a Cummins Onan generator for your RV power requirements:
The durability and dependability of Cummins Onan generators are well known. They provide reliable power whenever you need it since they withstand the demands of RV travel.
Onan generators are available in various sizes, including large-capacity models like the Onan 5500 generator. This indicates they can comfortably run all your equipment, including air conditioning.
Onan generators frequently use inverter technology, which produces clean and reliable electricity. They may thus safeguard your equipment from voltage fluctuations, making them suited for delicate electronics.
Onan generators are built to maximize fuel efficiency, providing effective operation to increase your power supply without needing to refuel frequently.
Network of authorized service centers: Cummins, Onan's parent company, maintains a substantial network of these facilities. This guarantees that even while you're abroad, you can get access to professional support and maintenance.
Quiet operation: Many Onan models are renowned for their generally quiet operation, making camping more tranquil.
Whether you're boondocking off the grid or taking advantage of the conveniences of a campground, Cummins Onan generators offer the dependability, performance, and support required to improve your RV excursions.
3. How does a solar generator for RVs work, and what are the benefits of using one for camping trips?
An RV solar generator sometimes called a solar power system or solar panel installation, uses the sun's energy to produce electricity for your recreational vehicle. Here are its features and advantages:
How It Operates:
Photovoltaic cells in solar panels, commonly positioned on the RV's roof, convert sunlight into direct current (DC) electricity.
Incoming solar energy is regulated and optimized by a charge controller to avoid overcharging the RV's batteries.
The appliances and devices in your RV are powered by the alternating current (AC) produced by the inverter or inverters.
Batteries can store extra energy, which you can use at night or overcast days.
Benefits:
Solar energy is clean and sustainable as it helps you reduce carbon production, dependence on fossil fuels, and environmental effects.
For a long trip, solar panels can help you manage fuel or generator use costs.
Solar generators for RVs operate quietly, leaving you with less noise.
Enjoy camping without worrying about having access to electricity in remote locations.
Solar systems require much less maintenance than traditional generators.
Your RV batteries may last longer, owing to solar charging.