Florida is a paradise for RVers owing to its 1,350 miles of gorgeous coastline and subtropical climate. This Sunshine State is the perfect spot for spending the cold winter in luxury RV resorts and having a dreamy vacation with your family amidst palm trees, clear coastal water, and famous beaches.
As a full-time RVer, I have explored much of the United States in my 40-foot motorhome. But there's just something special about spending the winter in Florida. The warm weather, gorgeous sunsets, and laidback vibe make it an ideal escape from the monotonous life routine.
Last year, I upgraded from standard RV parks to luxury resorts. Let me tell you – it was an absolute game-changer! The fantastic amenities like pools, hot tubs, and golf courses, coupled with top-notch sites with full hookups, took my glamping to the next level.
After staying at numerous RV luxury resorts across Florida, I've compiled this list of favorites. Whether you're looking for an action-packed vacation or want to lounge by the pool, this article is your ultimate guide. Keep reading for the inside scoop on the top luxury RV resorts in the Sunshine State!
Top 5 RV Luxury Resorts in Florida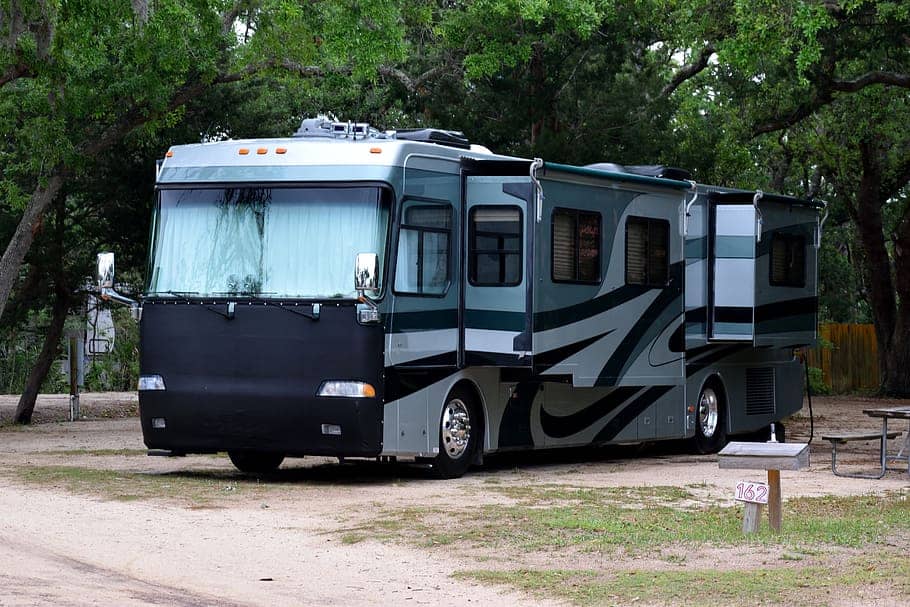 In this list, I have chosen the RV luxury resorts in Florida that offer a prime location, first-rate amenities, and consistently excellent ratings of 4 stars or higher.
Bluewater Key Luxury RV Resort
Bluewater Key RV Resort provides luxury camping 14.5 miles outside Key West, Florida. It contains 81 total RV sites, each privately owned, but you can also rent them. Bluewater RV Key West is a gated community with around-the-clock security.

You can choose from bayfront, canal-side, or tropical garden settings. All sites include full hookups and amenities like private outdoor kitchens and tiki huts. Based on my last experience, bayfront sites are better if you want to enjoy scenic water views and cooling breezes. 
Start your morning with a few laps in the sparkling pool with a view of the swaying palms. You can also rent kayaks, paddleboards, or boats from the resort to cruise the blue Florida Keys waters just footsteps away. Don't miss out on snorkeling if you enjoy vibrant marine life below the surface. Swing by the fitness center for a quick workout. 
Finding your favorite food option is a breeze. Dine in any of the nearest 50 restaurants and explore the area's famous seafood. As the sun dips lower, relax in the lounge chairs on your tranquil tiki hut dock and soak in the sunset colors reflecting on the water.
Amenities you will find here include:
Free Parking
Complimentary high-speed Internet (WiFi)
Outdoor pool
Pets allowed
Self-serve laundry
Rooms with ocean view
Disney's Fort Wilderness Resort
After many amazing vacations at Disney's Fort Wilderness Resort, I consider it my home away from home. As an avid camper or an RVer, you will love its scenic setting spanning 750 wooded acres with deer, rabbits, and ducks roaming around. RVs, trailers, tents – every camping style is welcome.
I book a Premium Meadow site close to conveniences like the Meadow Trading Post and bike rentals. But you also have the option to choose from the premium campsite, entire hookup campsite, tent, or pop-up campsite. 
During the day, you can enjoy kayaking along the tranquil river, playing volleyball on the sandy court, and exploring trails on our rented golf carts. Cool off at the Meadow pool with its fun waterslide if the Florida heat feels intense.
After active days, you can relax at nightly campfires and roast marshmallows with Chip' n Dale. Singing campfire songs together gives nostalgic childhood memories. Don't forget to splurge on the Hoop-Dee-Doo Musical Revue dinner show for an entertaining night of frontier-style hijinks.
With its wealth of recreation and entertainment, beautiful scenery, and welcoming community vibe, Fort Wilderness provides a one-of-a-kind camping experience. The amenities make it easy to have memorable adventures with family and friends while still enjoying the comforts of home.
Amenities you will find here include:
Complimentary parking space with each campsite for one motorized vehicle
RV rentals
High-speed internet
Official recreational and cruising vehicles for moving around in the woods
Online check-in
Designated smoking areas
Disney water and bus transportation
ATM
Laundry and dry cleaning services
Pools
Pony and wagon rides
Fishing
Canoe and kayak rentals
Basketball and volleyball courts
Jogging trails
Keys Palms RV Resort
Keys Palms RV Resort offers luxury waterfront camping on the shores of Florida Bay with easy access to local attractions. The resort has just 30 sites, allowing for a quieter, more secluded ambiance.
Spacious RV sites feature full hookups, including water, sewer, and cable TV connections, along with high-speed WiFi. Concrete pads make parking a breeze. The RV sites are close together, but there's a decent-sized bush/hedge between them, and many sites overlook the bay.
At Key Palms, you can enjoy the large heated pool and spa or hang out on the expansive pool deck. There's also a small beach, perfect if you enjoy sunsets. Hop aboard your boat from the on-site marina to cruise the blue waters and keep up your exercise routine at the fitness room.
Based on reviews, the resort's friendly staff makes Keys Palms shine. They go out of their way to ensure guests feel comfortable and welcome. For RVers traveling with older adult family members, the staff's thoughtful assistance helps ensure an enjoyable stay.
There are 64 restaurants within a 5-mile radius to experience the area's fresh seafood and local cuisine. The location also provides convenient access to 24 nearby attractions like the John Pennekamp Coral Reef State Park and theatres, letting you experience all the activities of Key Largo. All these facilities make it one of Florida's best RV luxury resorts.
Amenities you will find here include:
Free Parking
Complimentary high-speed Internet (WiFi)
Pool
A fitness center with a gym/workout room
Beach
Bicycle rental
Children's television networks
Cable/satellite TV
Ocean view and pool view rooms
Coastline RV Resort
The Coastline RV Resort is on Highway 98 in Eastpoint, Florida. The resort borders Apalachicola Bay and St. George Sound providing direct access to the area's beautiful natural scenery. Enjoy unobstructed views of the water, nearby islands, and stunning sunrises and sunsets.
The resort features 103 full hookup RV sites that accommodate rigs up to 45 feet long. Amenities include free WiFi, cable TV, indoor and outdoor clubhouses, laundry facilities, a pickleball court, and two pools. 
You can also rent guest cottages and suites if you are a non-RV traveler. The cottages are comfortable, clean, and well-equipped. The welcoming staff and peaceful atmosphere made my trip a memorable one.
This RV luxury resort in Florida also offers picnic tables, grills, and waterfront views. An on-site restaurant provides dining steps away from your RV or cottage. The resort allows pets so you can bring your furry friends along. Walk a few steps and enjoy a nearby nature reserve, environmental education center, and local woodcraft store.
With its scenic waterside setting, amenities, and proximity to famous tourist destinations, Coastline RV Resort provides a convenient home base for exploring Florida's "Forgotten Coast."
Amenities you will find here include:
Free Parking
Free high-speed Internet (WiFi)
Pool
Vending machine
Beach
Boating
Children's Activities
Pets allowed
Air-conditioned rooms with iron, refrigerator, microwave, satellite TV, and private bathroom
Santa Rosa RV Resort
Santa Rosa Waterfront RV Resort provides panoramic views and cool breezes along the serene Santa Rosa Sound in Navarre, Florida. This 3000 square ft. resort provides easy access to top Gulf Coast attractions while maintaining a peaceful, relaxing setting.
The resort features 88 spacious RV sites, with 24 premium waterfront spots directly overlooking the 1300 ft. shoreline. Concrete pads keep the RV stable, and you get access to full hookups with 30/50 amp electric, water, sewer, cable, and WiFi.
Imagine waking up to the sun rising over the sound from your private patio. You can enjoy freshly brewed coffee in the brand-new clubhouse and quickly work out in the fitness center. After beachcombing at the resort's private beach, refresh in the shimmering pool and enjoy a race down the waterslide with your friends. Kids can enjoy themselves in the playground while you try your luck at the 300-foot-long fishing pier.
Charter fishing outings, kayaking, and tee times on championship golf courses will keep you busy throughout your stay. You can also visit the nearby Gulf Islands National Seashore, which is one of the world's top-rated beaches on TripAdvisor. Destin, Pensacola, and numerous other options are a quick drive away for dining and shopping.
Amenities you will find here include:
Free Parking
Complimentary high-speed Internet (WiFi)
Pool
A fitness center with a gym/workout room
Beach
Children's Activities 
Kids' outdoor play equipment
Pets allowed
Maximizing Your Stay
Years of RVing have left me with six important tips. To make the most of your stay at a luxury RV resort in Florida, I'll advise you to do everything I suggest in the table below:
| | |
| --- | --- |
| Action | Details |
| Book early | The most popular resorts book up months in advance, especially during peak winter. Reserve your site early to get your top choice. |
| Ask about specials | Many resorts offer promotions during certain times of the year. Inquire about any current deals when booking. Getting a rate discount will make your luxury getaway even sweeter. |
| Take advantage of amenities. | Luxury RV resorts offer many amenities, from pools and hot tubs to pickleball courts and golf simulators. Take full advantage of everything offered to maximize your vacation fun. |
| Consider your site needs. | Know what kind of site suits your rig before booking. Do you need a back-in or pull-through? How much space? Share your needs with the resort to secure the perfect site. |
| Embrace the resort community. | Part of the fun of luxury RV resorts is the built-in community. Attend social events, play games, and get to know your neighbors for a richer experience. |
| Stretch your stay | Why limit your luxury vacation to just a few days? Many resorts offer discounted weekly and monthly rates. Extend your stay to take full advantage of everything the resort offers. |
Benefits Of Having A Luxury RV In Florida
Florida's luxury RV resorts cater to luxury motorhomes with features like spacious sites, full hookups, premium patio areas, and easy accessibility for large rigs. With scenic locales and resort-style amenities, it's easy to see why so many high-end rigs make their way to the Sunshine State. Owning the RV of your dreams lets you experience Florida's best luxury resorts in style and comfort.
Why You Should Have A Luxury RV In Florida
Large, spacious, and luxurious RVs provide ample room to relax and entertain. Resort sites accommodate large rigs easily.
Luxury RVs offer high-end features like full-body paint, automatic awnings, wireless smart systems, and spacious living areas. These align well with the upscale atmosphere at luxury resorts.
Florida's tropical climate means you spend most of the outdoors enjoying amenities. A luxury RV allows you to return to an equally luxurious interior.
Luxury rigs have high resale value should you sell after using them mostly in Florida rather than long road trips.
Driving a luxury RV adds prestige and makes a statement fitting Florida's high-end resort ambiance.
Many RV luxury resorts in Florida offer private beach access. A luxury RV allows you to utilize and appreciate your private space fully.
As an RV enthusiast, I love visiting resorts and spotting gorgeous new luxury RVs in Florida. Prevosts, Tiffins, Newells – you name the $500k+ brand, and it's probably pulled into one of Florida's premier RV resorts.
While staying at Ocean Resort in Key West, I met a delightful couple who owned a luxury Featherlite motorhome. As avid scuba divers, they described the convenience of stowing their dive gear in their spacious coach while exploring the area's famed coral reefs.
Finding RV For Sale In Florida
Buying a new luxury RV upfront can cost between $40,000 to $2,000,000. In contrast, even America's top 1% earns $650,000 annually. For RVers seeking luxury on a budget, buying a used coach is a smart option. Florida's huge pre-owned luxury RV market makes it possible to find high-end rigs at significant savings compared to new ones.
Used luxury rigs generally provide all the amenities and reliability of new models but at lower prices. Well-maintained used RVs can last many more years while providing a comfortable, luxury environment.

I browsed inventory at the Camping World on a recent trip. It is fun test-driving the latest model luxury motorhomes for sale and imagining the resort adventures you could have in them.
Optimum RV offers a brilliant selection of luxury RVs for sale in Florida. They have listed all the specs and attached pictures of the RVs so you can purchase them online. They also offer discounts on upfront payments, while you can pay in installments.
Tips To Find The Best RV For Sale In Florida
Finding an RV for sale in Florida could be tricky, and you can overlook the minor details that can impact your long-term experience with your luxury rig. To get the best value for your money, keep the following advice in mind:
Have a mechanical inspection done by a certified RV technician: They will thoroughly inspect the engine, transmission, slide-outs, electrical system, etc.
Review maintenance records and service history: This will reveal important information about the RV's condition and how well it was cared for.
Inspect the interior closely: Look for signs of wear, water damage, or pet odors. Test all appliances and electronics.
Take a test drive: Ensure the RV drives, steers, and handles well at highway speeds. Test all systems, like air conditioning, during the drive.
Hire an independent appraiser if needed: They will provide an objective valuation to negotiate a fair purchase price.
Research common issues for the make/model: This will help you know what to look out for during inspections.
Consider getting a warranty from the dealer: For added peace of mind and protection.
Negotiate the best price: Used luxury RVs have some price flexibility, so leverage any flaws uncovered during the inspection.
Evaluating a used luxury RV for sale in Florida thoroughly will help ensure you make a wise, informed purchase decision.
Conclusion
Florida is a perfect RV spot to spend quality time with your family. This is a popular tourist destination, so there are equally large numbers of luxury RV resorts. I have listed the top five RV luxury resorts in Florida that provide top-notch amenities, have great staff, and are rated four or more stars online.
If you want to enjoy the luxuries of an expensive RV but can't spend half a million greenbacks, I've listed some tips and sources to help you find the best RVs for sale. With all the hurdles out of your way, pack up now and make long-lasting memories in Florida. 
FAQs
What are the top luxury RV resorts in Florida?
Blue Water Key RV Resort, Disney's Fort Wilderness Resort, Keys Palms RV Resort, Coastline RV Resort, and Santa Rosa RV Resort are some of the best luxury RV resorts you can enjoy in Florida.  
How much does staying at a luxury RV resort in Key West cost?
The cost of staying at a luxury RV resort in Florida ranges from $500-1500, based on the weather. The prices are higher in winter.
What amenities can I expect at Bluewater RV in Key West?
Bluewater RV Lodge offers free parking and high-speed WiFi. You also get an outdoor pool, rooms with ocean views, self-service laundry, kayaking, and snorkeling. You can also bring your furry friends along.  
What are the advantages of owning a luxury RV in Florida?
Luxury RVs in Florida offer ample space with high-end amenities, so you return to an equally luxurious interior after spending the day in the mesmerizing landscapes of Florida. These RVs also have a high resale value and allow you to utilize your private space better.