When the mercury in the thermometer dips below freezing, it can be tempting to head as far south as possible to escape the cold.
Cold temperatures are especially tough if you are a full-time RVer. My wife and I full-time in an Airstream — I'll never forget the time we were in Tucson and froze our tails off one night even with the heater running.
We thought we were as far south as we could get and yet, we were still cold. If you've ever found yourself in a spot like this, you might be asking: Is it safe to RV in Mexico?
It can be quite safe to RV in Mexico if you have the right plan and travel with a safety mindset. On the other hand, there are reasons you might want to avoid RVing in Mexico. If you travel alone, have a lead foot, have no knowledge of the Spanish language, and/or don't like travelling with a game-plan, then RVing in Mexico would likely not be safe for you.
In this post, we'll break down the strategy and conditions that can make RVing in Mexico safe while also pointing out situations where you should avoid RVing in Mexico.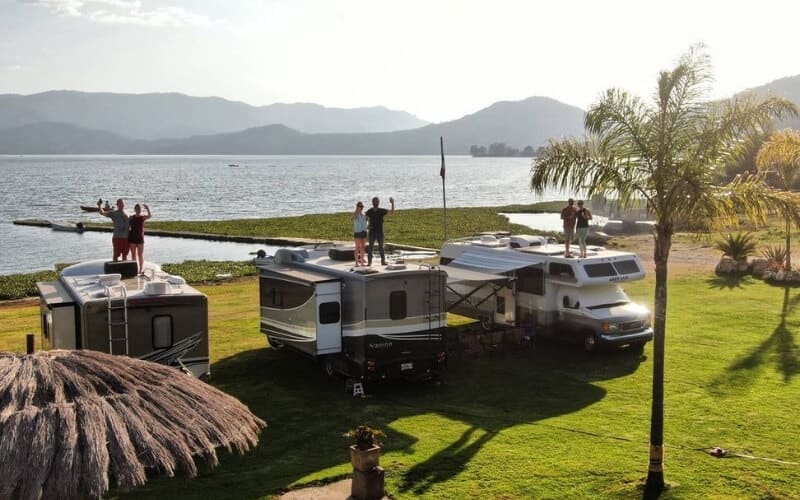 Why Would You Avoid RVing In Mexico?
RVing in Mexico is not a one-size-fits-all idea. For example, you might have heard friends say they "RVd in Mexico" — which might really mean they drove their camper to a beach town and stayed put.
That's a very different trip from RVing all over Mexico.
The point is, if you're thinking about RVing in Mexico, you need to assess the safety of the specific areas you want to go to and the unique way you plan to travel.
If some or all of the following is true for you, you should avoid RVing in Mexico:
Safety concerns for the area you want to go to
Rather than avoiding RVing in Mexico because of countrywide travel warnings you see online (that's like deciding to avoid New York State because of high crime rates for a tiny neighborhood in NYC), you should only avoid RVing in Mexico if you find specific information about travel dangers in the area you want to go to.
If, for example, you wanted to RV all along Mexican border towns, you'd likely want to avoid this trip due to higher general crime rates in those cities.
Language barrier
If you have no knowledge of the Spanish language, no desire to learn a few phrases, and/or no interest in hiring a Spanish speaking guide, you should probably avoid RVing in Mexico.
You don't like rough roads
If you're the type of RVer who always seeks out that perfectly paved road and gets nervous about potholes, you should probably avoid RVing in Mexico.
Mexican roads range from good to terrifying. If you're not ready to drive slow, have a navigator guide you, and/or traverse roads with a caravan of people you know, you might want to avoid RVing in Mexico.
You need well put together RV parks and campgrounds
Mexico has some wonderful RV parks. But they also have RV parks that are more disorganized than just about anything you'll find stateside.
For some of us, that can be a fun adventure as we roll with the punches of fluctuating electricity, water shut offs, and other misadventures.
Personally, I find that to be all part of the adventure of RVing and I often meet some incredible people when I break out of comfort-zones.
But if you're just not wired that way and crave well-established RV parks, you should either plan your Mexico RVing very carefully or avoid RVing in Mexico all together.
If you're bringing pets
You can bring pets to Mexico. But you'll have to provide just about every record you've ever gotten for your animals and you'll need to have all sorts of vaccinations and meds up to date.
If that seems like too much hassle, you should avoid RVing in Mexico.
7 Reasons Consider RVing In Mexico?
Just as there might be reasons for you to avoid RVing in Mexico there are also many reasons why you should consider RVing south of the border:
Great weather — Even the southernmost places in the U.S. can still freeze. Not so with many areas of Mexico.

Great people — Mexico does it right when it comes to welcoming visitors. You'll be hard pressed to find a warmer, more welcoming group of folks than the ones you'll find along the way while RVing in Mexico.

Caravans are fun — One of the best ways to RV in Mexico is with a caravan of friends or of a group you put together with fellow RVers. It'll help keep you safe and you'll probably make lifelong friends and memories on the trip.

Good cell coverage — You'll generally have reliable cell service in Mexico.

Low costs — From campgrounds to food to repairs you might need along the way, you can save a bundle while RVing in Mexico compared to the U.S.

Practice Spanish — If your Spanish is somewhat bueno and you make an effort to speak it while RVing in Mexico, you can make big linguistic improvements while you travel.

Good places to park your RV along the way — Even if Mexican campgrounds can be less well put together than their U.S. counterparts, they are still often very warm and inviting places that are run by families.
On top of that, Mexico's national gas stations (Pemex) almost always offer a safe, secure, and guarded place to stay for the night.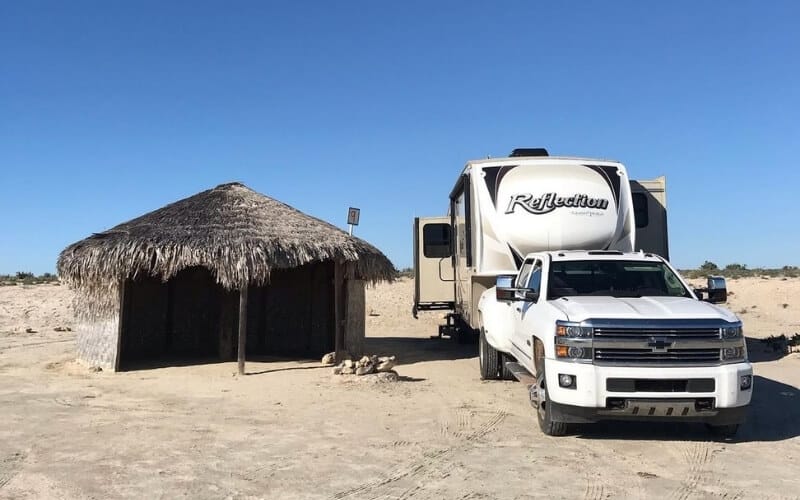 How To Stay Safe: Practice A Safety Mindset To RV In Mexico
If you plan to RV in Mexico, there are several strategies for staying safe:
Don't carry wads of cash
As with international travel of any kind, don't set yourself up for a bad situation if you don't have to. Carry limited amounts of cash and use secure ATMs to get what you need.
The ATM fees you pay will be a small price to make sure you don't lose a fat wad of cash.
Don't stand out
You know how they tell you not to stare up at tall buildings in New York because they'll know you're a tourist? The same is true here. Be low key.
Don't wear crazy clothes or valuable looking items. You'll never be able to totally blend in, but you can still take steps to not draw attention when you RV in Mexico.
Travel in groups
The best strategy for safely RVing in Mexico is to travel as part of a caravan with people you trust.
Avoid travelling at night
This is as much because of the roads as it is for your personal safety. Mexican highways are full of speed bumps and potholes that are almost impossible to see at night.
Additionally, you can help protect yourself from criminal activity by travelling only when you can see and be seen. Start early and end early while RVing in Mexico.
Travel with extra supplies
Bring extra water, blankets, food, and anything else you might need in case you have to unexpectedly stop in a place for a long time.
You should also bring extra repair items for your RV like extra leaf springs, a bearing kit, extra spares, etc.
Make sure you have the basic tools you need to keep your RV running as you travel through Mexico.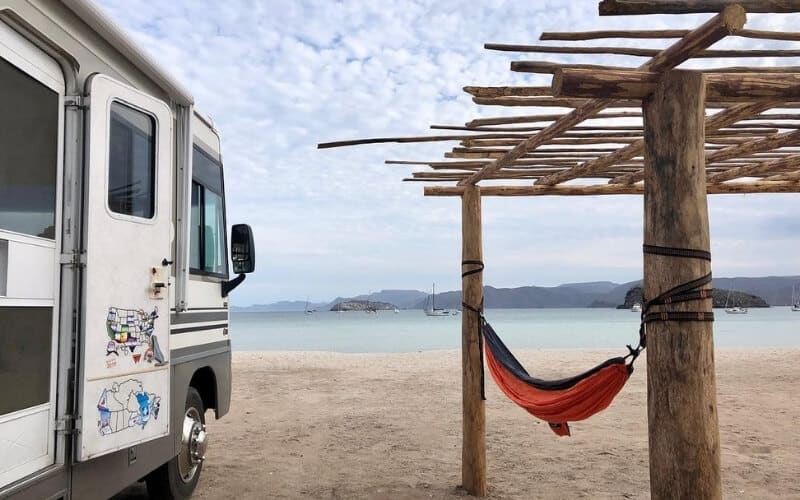 What You'll Need To RV In Mexico
There are several tools you need to avoid problems and safely travel in Mexico:
Other Tips For RVing in Mexico
As you now probably see, RVing in Mexico can be safe in the right situations, but there are also situations where you'd want to avoid it.
If you do plan to RV in Mexico, there are a few other tips you should be aware of.
Use toll roads
Mexican toll roads are affordable and will be generally safer and of higher quality than other roads.
Mexican toll roads also offer roadside assistance services that might not be available elsewhere.
Work on your Spanish
Unless you plan to hire a Spanish speaking guide or are already fluent, it'll pay to learn some Spanish phrases before you start RVing in Mexico.
Once in Mexico, why not practice your language skills by starting conversations with locals?
This is a great way to experience a new culture, learn something new, and truly immerse yourself in the Mexico RVing trip.
Find beachside spots for beautiful weather and low prices
RVing and camping by U.S. beaches can be very expensive. Not so in Mexico.
You can find highly affordable spots with low camping and food prices, all while enjoying some of the world's most beautiful beaches from the doorstep of your RV.
It can be very safe to RV in Mexico, but there are also situations where RVing in Mexico is to be avoided.
By understanding the what, how, why and when of a safe RVing trip to Mexico, you'll be set to make this international trip in your RV.
Just be sure to plan ahead and really get to know the areas of Mexico you're considering RVing to.