There are many ways to enjoy the RV lifestyle that doesn't require buying a prototypical motorhome.
Many people see travel trailers and truck campers as a great alternative, as you can still use the tow vehicle for transportation for the rest of the year.
The Ford F-150 is the most popular full-size truck of all time, making it a prime choice for truck campers and towing travel trailers.
As strong as it is, exceeding its capacity can lead to serious safety issues. So, what size travel trailer can an F-150 pull?
The short answer is that most modern-day F-150s can safely pull a travel trailer that weighs around 5,000 to 8,000 pounds with gear, depending on the engine, rear-axle ratio, and the addition of available options. However, there are some exceptions to this general rule of thumb. Not to mention automotive salespersons love to play fast and loose with numbers and glowing metaphors.
This article will look closely at the F-150's towing capacity, including some of the competition. We will also explore how full-size trucks can be used to make the most out of your RV experience.
Demystifying Some Of The Technical Jargon Around Full-Size Trucks
There are a lot of different terms that truck manufacturers use to describe the vehicles in their line.
Some are technically correct, while others are closer to being metaphors than statistics.
This includes terms like:
Light duty truck
Rabbit truck
Heavy-duty truck
Super duty truck
Super crew
Half-ton truck
Four-wheel drive
Two-wheel or rear-wheel drive
Of course, Ford isn't alone in applying these terms. The F-150's direct competitors in North America use many of these terms as well. This includes the:
The Ram 1500
The Chevrolet Silverado 1500
The GMC Sierra 1500
The Nissan Titan
The Toyota Tundra
The F-150 and its direct competitors are classified as "Half Ton" trucks for all intents and purposes. Now don't like this confuse you.
The term "Half Ton" doesn't refer to the vehicle's actual weight. If you put most of these trucks on a weigh station scale, you'll find they ring anywhere between 5,000 to 7,000 pounds.
A "Half Ton" essentially means that the suspension system and materials of the box can handle a payload that weighs around half a ton.
Taken in context, the available payload directly impacts towing capability. Today many half-ton trucks like the F-150 have a higher payload than just half a ton.
However, they still don't qualify for the next category up, which is the "Three-Quarter Ton" pickup trucks like the F-250, which is available with a gasoline or a diesel engine.
The F-150 and many other half-ton trucks in this class usually come with a trailer tow package, which in some iterations can tow up to 13,000 pounds. However, this rating is classified as an empty truck with no passengers and other gear.
When loaded with gear, equipment, and passengers, a range of 6,000 pounds is more realistic when it comes to safe towing capacity.
How Is Payload Relevant To Towing Capacity?
The payload is technically about the weight capacity of the box and the suspension.
This also has a direct relationship to the tongue weight, defined as the amount of pressure or weight the hitch places on the F-150 or any other towing vehicle.
The pressure of the hitch is also influenced by the total weight of the trailer, as well as how that weight is distributed within the trailer.
The higher the total weight is and how much of that weight is being placed on the hitch, the higher the tongue weight is.
Tongue weight is a double-edged sword. On the one side, increased tongue weight makes the entire rig more stable.
This also helps avoid things like dangerous trailer sway when you are driving down the road.
If a trailer is too light or has the vast majority of the weight in its back, it could cause the trailer to sway out of control at high speeds or to bounce dangerously when going over uneven surfaces.
On the other side, too much tongue weight can make the trailer difficult to pull.
In an extreme case, an overloaded tongue can crack, split, or have the welds fail, leading to a major accident while you are driving.
To prevent these problems, Ford and its competitors recommend a tongue weight of roughly 10%-15% of the overall trailer weight, including any loaded gear.
There's some basic math you can do any time you are towing with your F-150 to ensure you stay in the safe range.
Assuming an average payload of around 2,000 pounds, you should also factor in at least another 1,000 pounds for passengers and equipment.
This leaves you only around 1,000 pounds for your tongue weight without exceeding the recommended safety limit.
What Is Gross Vehicle Weight?
Also known as GVW, it is the measurement that considers the entire weight of the vehicle.
This includes your truck's dry weight, with an empty tank of gas, and the entire weight of the payload in the box.
When you add it to the high and trailer weight, it should not exceed your Gross Vehicle Weight Rating, which you can find in your owner's manual.
Is The F-150 Available With A Diesel Engine?
Technically, Ford does offer the F-150 with a diesel engine. However, they are somewhat rare and may be hard to find.
Most of their diesel engines are reserved for larger vehicles in their lines, like the F250 (Three-Quarter Ton) and the F-350 (One Ton) pickup trucks.
Is There An Advantage To Having A Diesel Engine?
Diesel engines tend to produce more torque and overall power. Diesel fuel is also more energy-dense than gasoline, so you get better fuel efficiency. This can be a nice thing if you are going to be frequently towing heavy trailers.
However, the power and fuel efficiency difference in trucks of this size is marginal.
It's also offset by the fact that diesel engines typically cost more than their gasoline counterparts.
If you are only going to be towing a camper or boat once or twice a month, it will probably take a long time to see a return on investment by going with a diesel engine over gasoline.
Is Having Four-Wheel Drive An Advantage When It Comes To Towing Trailers?
This depends a lot on where you live, your budget, and where you will tow.
A truck with only rear-wheel drive means the power is always sent to the two rear wheels. Many F-150 trim packages include 4-wheel drive, which raises the price dramatically.
Yet you should note that there is a difference between "All Wheel Drive" and "Four Wheel Drive."
An F-150 with four-wheel drive generally travels along, acting like its rear-wheel drive sibling.
When road conditions become loose or slippery, you can turn a knob or press a button, which engages the front transfer box to send some of the vehicle's power to the front wheels. This also uses up a little more gasoline.
If you live in a part of the country that doesn't see snow and ice in the winter, and you will only be towing a boat or camper on paved roads, you can get by just fine with a rear-wheel drive truck.
If you live somewhere that sees ice and snow in the winter, or you will tow your camper on loose surfaces, then the extra money you spend on a four-wheel drive truck will pay for itself in short order.
For example, In Minnesota, North Dakota, South Dakota, Wisconsin, parts of Maine, and Canada, people frequently tow ice shanty campers onto frozen lakes in the wintertime.
In a situation like this, not having a four-wheel drive will likely leave you stuck and at risk for hypothermia.
Most F-150s with four-wheel drive have "Four High" and "Four Low." When you engage the four-wheel drive system, it activates a locking or limited-slip differential, and the front hubs move slightly slower than the rear hubs.
You should never drive around in four high unless the conditions are indeed loose or slippery.
Driving in four high in dry conditions when you have proper traction can damage hubs and other components.
You rarely use four-wheel low and should only be reserved when pulling out a stuck camper or vehicle.
I owned my F-150 for four years before I ever used four lows, and that was to pull down an old garage I was demolishing! You should not drive on the road in four low at all costs.
Can An F-150 Tow A Fifth Wheel Trailer?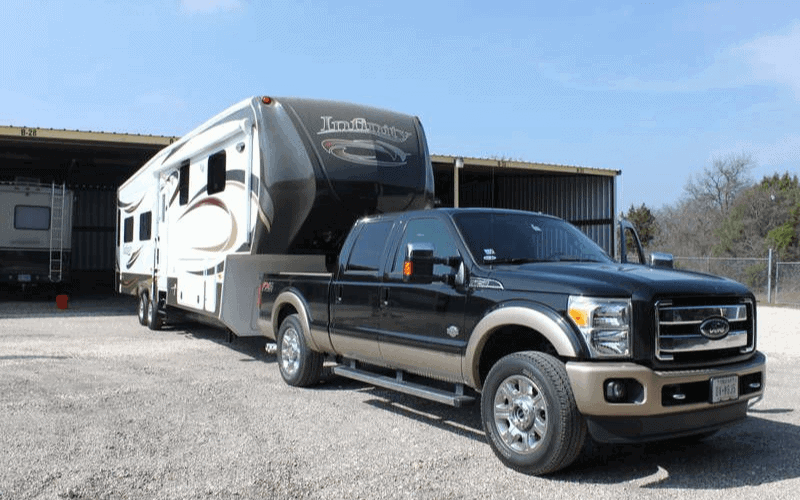 If you really crunch the numbers an F-150 can technically tow a smaller fifth-wheel trailer. Yet even Ford themselves don't recommend this. Fifth wheel trailers also require a special type of goose-neck hitch, which is mounted into the box of the truck. This alters the payload dynamics of the vehicle.
If you own a fifth-wheel camper or are considering buying one, you should look at one of the higher grades of a full-size truck.
The F-250 and the F-350 are better suited to handle a fifth-wheel camper.
What Is The Practical Towing Capacity Of The Ford F-150?
The Ford F-150 has been "Best in Class" for towing capacity and overall sales for the last 40 years.
This is a point of pride for the manufacturer that sometimes obscures the hard facts and figures with glowing metaphors.
When it comes down to the nuts and bolts of it, just how much your F-150 can tow will depend on the model and the trim package.
If we look at the 2018 version of the F-150, we find a variety of configurations, including the following:
The XL
XLT
The Lariat
The King Ranch
Platinum
The Limited Edition
The Raptor
Despite the name, the XL is essentially the most basic model of the F-150. On the other end of the spectrum is the "Limited Edition," which comes outfitted with all the popular features.
The much-beloved Raptor is like the Limited Edition or the Platinum, but all of its off-road features are enhanced, and it carries the most powerful gasoline engine in the line. You also see this reflected in the price.
When determining the towing capacity, there are a few key factors you need to consider.
1. Engine strength
The more power the engine produces, the more weight it can move. This translates directly into horsepower and torque, which play a critical role in towing capacity.
The 2018 F-150 has several possible engines. This includes:
The 3.3-liter naturally aspirated V6
The EcoBoost V6
The 5.0-liter V8
The 3.5-liter EcoBoost V6
The 3.5-liter high-output EcoBoost V6 found in 2017 and earlier models
With the Raptor, a High Output engine produces maximum torque and generates an impressive 510-foot pounds of torque @ 3,500 rpm. This gives it up to 450 horsepower.
2. Axle Ratio
Axle ratio plays a key role in how a vehicle uses the torque produced by the engine, which of course, plays a role in towing capacity.
Torque is the force that moves the wheels of your truck and trailer. You feel it most when you accelerate from a stop.
Once you and your load are at full speed, torque doesn't come into play.
The axle ratio determines how many times the wheels will turn to use the energy the engine produces effectively.
The slower they turn, the more of the engine's energy is put into pulling the vehicle and trailer. When they turn quickly, that energy is not as productive or efficient.
Axle tramping is a strange type of "Wheel Hopping" that can occur in rear-wheel drive vehicles.
It is caused by sudden torque loads on the suspension, which essentially cause the driven wheels to shake violently as they rotate and then spring back.
Even a little axle tramping can have a very profound negative impact on a trailer being towed behind you.
3. The Length And Weight Of The Truck
The relationship between the truck's length and weight to the trailer's length and weight can also impact towing efficiency and handling.
When you have a tow vehicle like the F-150 hitched to a trailer, the two directly affect each other. The faster you drive, the stronger this relationship becomes.
Essentially, the faster an object goes, the more mass it has. This can lead to problems in high winds or issues with trailer sway.
Since the truck is the only thing with power and control, you want it to be in command of the situation.
Ideally, you want the truck to weigh more than the camper being towed. When the trailer exceeds the truck's weight, it can push the truck down a hill, increase the risk of a trailer sway incident, or even damage parts of the truck's town package.
The length of the truck and the relationship to the trailer being towed behind it also profoundly affect handling and the turning circle.
If you are going to be driving the truck and camper on roads with wide lanes, directly into an RV park with a straight and true pull-through site access, then you might not notice a disparity between the length of the truck and the trailer.
However, this scenario is about as rare as unicorns and rainbows. Even if you are sticking to paved surfaces and man-made RV parks, you will still have moments where you need to back up or turn a tight corner.
You are at higher risk for disaster if you consider taking a long trailer for some backwoods camping.
4. Payload
As we discussed earlier, a truck's payload is essentially the maximum total weight of the driver, passengers, gear, and fuel, combined.
If you go over the stated payload capacity, you are at high risk of having complications related to tongue weight.
Payload involves many factors, and in the case of the Ford F-150, it varies by trim level and engine. The following are some baseline statistics for the 2018 F-150 based on trim.
The 3.3 Liter gasoline engine on a Ford F-150 XL with four-wheel drive and a supercrew cab has a maximum payload of 1,680 pounds.
The 5 Liter V8 gas engine with two-wheel drive (rear) with a regular cab has a maximum payload of 3,270 pounds.
These differences are pretty stark when you consider that the 5 Liter has almost double the payload of the basic F-150 XL.
5. Towing Package
In all this, it's important to pay attention to the towing package. This is essentially an enhancement of components that Ford builds into the truck to improve the towing performance.
It includes the towing hitch itself and several elements that increase towing capacity and improve the overall handling.
There are some variations and added features that you might find from one trim level to the next. This includes things like:
The Class IV Trailer Hitch comes with Ford's basic towing package. It is considered an optional extra with the XL and XLT.
However, it comes as a standard feature with the Lariat, King Ranch, Platinum, and Limited Edition models.
It has a towing capacity of up to 6,000 pounds with the 3.3L Ti-VC T V6 and the 2.7L EcoBoost engines.
The Class IV Trailer Hitch has a maximum towing capacity of up to 7,000 pounds in the 3.5L EcoBoost engine and the 5.0L V8 engines.
The Class IV Trailer Hitch includes:
A 4-pin and 7-pin wiring harness to power the trailer lights
A Class IV Trailer Hitch Receiver
A Smart Trailer Tow Connector for trailers with electronic brake assist systems
6. Trailer Tow Package
With the Raptor version of the F-150, you will also get things like an auxiliary transmission oil cooler and an upgraded front stabilizer bar. It has a towing capacity of up to 11,1000 pounds
It also includes:
A 4-pin and 7-pin wiring harness to power the trailer lights
A Class IV Trailer Hitch Receiver
A Smart Trailer Tow Connector for trailers with electronic brake assist systems
Auxiliary Transmission Oil
A cooler
An Upgraded front stabilizer bar
Max. Trailer Tow Package
An Electronic-locking Rear Axle
There is also a heavy-duty tow package option with a towing capacity of up to 13,200 pounds.
It includes:
A 4-pin and 7-pin wiring harness to power the trailer lights
A Class IV Trailer Hitch Receiver
A Smart Trailer Tow Connector for trailers with electronic brake assist systems
Auxiliary Transmission Oil
An Upgraded Front Stabilizer Bar
An Engine Oil Cooler
A 36-gallon fuel tank
An Integrated Trailer Brake Controller
An Upgraded Rear Bumper
It also allows you to add the Pro Trailer Backup Assist system
Let's make things a bit easier.
Putting Towing Capacity Into Perspective
Some of the more exotic features of the Ford F-150 Raptor and its other tow packages aren't exactly "Run of the Mill."
To put it into perspective on the low end, an F-150 Lariat, with a 3.3L Ti-VCT V6 engine, will produce around 290 horsepower and 265-foot pounds of torque.
In this configuration, you are looking at around a 5,000-pound maximum towing range, which isn't enough to pull a large RV.
It's probably enough to pull a small to a modest camping trailer.
Now, suppose you were to take that same Lariat and equip it with the 3.5L V6 EcoBoost engine, which produces 375 horsepower and 470 foot-pounds of torque, with a SuperCrew cab as well as the long bed and an upgraded towing. In that case, you'd be looking at a maximum F-150 ecoboost towing capacity of closer to 10,000 pounds.
This would allow you to take a robust-size camper trailer with you and maybe even a tow-behind toy.
Remember To Always Account For Tongue Weight
Just be mindful of tongue weight. If possible, you always want to keep it around 12% and 15% of your overall trailer weight.
One way to make the most out of this and keep yourself closer to the safe end of the spectrum is to get smart about what you are packing and where you keep it.
Over the years, I have towed a wide range of campers, fish houses, ice shanties, and boats overloaded with tent camping gear.
In that, I've learned that you need to ensure you are towing under your maximum towing limit, as stated in the owner's manual.
A trailer sway incident or getting in a pinch trying to pull an overloaded camper up a wet sandy hill really can turn into a dangerous situation.
One thing that has helped the F-150 remain so popular with the RV community and individuals who need to tow trailers for work or play is its superior payload and towing capacity.
Still, you must respect that even the strongest truck has its limits.
Staying inside them, packing thoughtfully, and being mindful of tongue weight will help keep you safe on your trip and preserve your high-value investments.
Are There Other Things I Can Do To Prevent Trailer Sway?
This is another one of those moments where a pinch of prevention is worth a pound.
The National Highway Traffic Safety Administration (NHTSA) offers the following tips to help prevent trailer sway from occurring.
One: Always adhere to the manufacturer recommended gear when towing.
Two: Drive slowly, which produces less strain on the tow vehicle as well as the trailer.
Three: Try to avoid making any sudden or sharp turns while driving fast.
Four: Check the tire pressure of the tow vehicle as well as the trailer. Under-inflated tires reduce the load-carrying capacity of both.
What Should I Do If My Trailer Starts To Sway?
Sometimes you can perfectly pack and distribute the load in your trailer, be mindful of the tongue weight and towing capacity, and still experience trailer sway.
Sometimes, something beyond your control, like a strong wind, can cause a trailer to sway.
When this happens, it can be quite alarming. Experience any trailer sway in the first few miles of a journey. You should take it as a sign that something is loaded wrong or you have accidentally exceeded the reasonable capacity of the payload or tongue weight.
In a moment like this, you need to stop, adjust, unpack, or even slowly drive back home to leave some non-essential things behind.
You must keep a cool head if you are driving down the road and the trailer starts to sway.
Sometimes the knee-jerk reaction is to accelerate, which could make the sway even worse.
The first thing to do is slow down by taking your foot off the accelerator but not immediately braking. Heavy braking can sometimes exacerbate the sway of an overly heavy trailer.
This is one of those times when you can and should turn on the four-way hazard lights.
If a rogue burst of wind causes the sway, and the trailer comes under control within a few seconds of decelerating, you might be okay.
If things are threatening to get out of control, or a storm is making it too hard to keep the trailer moving straight, then, by all means, pull over as soon as possible.
I once spent a very tense 45 minutes in a mini-golf parking lot waiting for a windstorm to pass rather than risk skidding across three lanes of traffic!