Are you looking for a comfortable place to sleep while camping? Wilderness RV Mattresses have the right one for you! These mattresses are for campers like you. They provide the ideal balance of firmness and coziness, letting you sleep well after a day spent exploring the great outdoors.
When I camp, I know the struggle of finding a good place to sleep. Bumpy roads and chilly nights can ruin the fun. But here's the good news: Wilderness RV Mattresses will fix this problem. They use unique technology and super materials to give you a cozy sleep in your RV. No more tossing and turning – just peaceful sleep and energized mornings.
I'll go into the world of Wilderness RV Mattresses in this article. I'll explain why they're superior to others, and you'll hear personal testimonials from people who adore them. I'll also give you some pointers on how to improve your camping sleep. If you stay until the end, you'll understand everything there is to know about these beds and how they may enhance your outdoor adventures. Prepare to sleep like a king or queen while on your trips!
Unveiling The Comfort Secrets: Benefits Of Wilderness RV Mattresses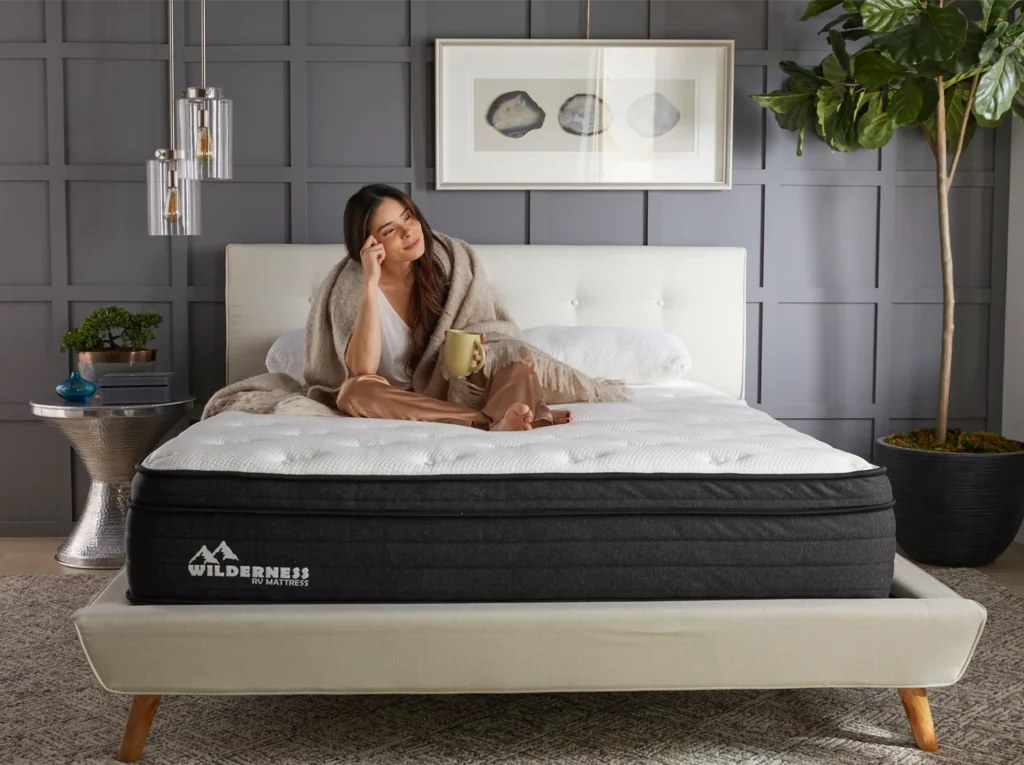 Like other specialized mattresses, Wilderness RV Mattresses meet the needs of recreational vehicles (RVs) and outdoor lovers who like to camp, take road trips, or live on the road. These mattresses find an ideal balance between comfort, durability, space, and often weight.
Some of the benefits of Wilderness RV Mattresses:
Comfortable and supportive: The finest materials that offer outstanding comfort and support make these mattresses. They follow the contours of your body and relieve pressure areas.
Durable: These mattresses resist the rigors of RV travel with high-density foams and materials.
Easy to care: They can be machine-washed and dried or spot cleaned.
Versatile: You'll find these mattresses in various shapes and sizes. Also, they include several functions, including cooling technology and customizable firmness.
Warranty: There is a limited warranty available for Wilderness RV beds. RV owners can feel secure knowing that this guarantee covers manufacturing flaws.
Innovative Features That Set Wilderness RV Mattresses Apart
Due to their unique design features, RV mattresses from Wilderness stand out and redefine comfort in outdoor sleeping. The characteristics carefully put into these mattresses to improve your sleep experience are what set them apart.
Responsive memory foam for personalized comfort:
Unlike conventional mattresses, Wilderness RV mattresses utilize advanced memory foam that responds to your body's contours. This adaptive material conforms to your shape, offering a personalized level of comfort that ensures you wake up feeling refreshed and free from pressure points.
Zoned support system for optimal spinal alignment:
The zoned support system in Wilderness RV mattresses is a game-changer. It provides varying levels of support to different parts of your body. This feature promotes proper spinal alignment and reduces the risk of waking up with aches or stiffness, especially after a day of outdoor activities.
Temperature-regulating technologies for all-season comfort:
Camping often exposes us to fluctuating temperatures. Wilderness RV mattresses address this challenge with temperature-regulating technologies. These mattresses dissipate excess heat, keeping you cool during warmer nights and providing cozy warmth when the temperatures drop.
Motion isolation for undisturbed sleep:
Sharing an RV with a partner can sometimes lead to disruptive sleep due to movements. RV mattresses from Wilderness tackle this issue with exceptional motion isolation. If your partner tosses and turns, you can rest undisturbed, ensuring both of you wake up feeling well-rested.
Durable materials for long-lasting performance:
Outdoor adventures can be tough on mattresses, but Wilderness RV mattresses endure. High-quality materials, such as robust coils and durable foams, ensure your mattress retains its shape and support even after repeated camping trips.
Custom sizing to fit various RVs:
RVs come in various sizes and shapes, and RV mattresses from Wilderness recognize this diversity. With custom sizing options, these mattresses fit snugly into any RV model, maximizing comfort and available space without compromising sleep quality.
Expert Insights: The Science of Sleep and Camping Comfort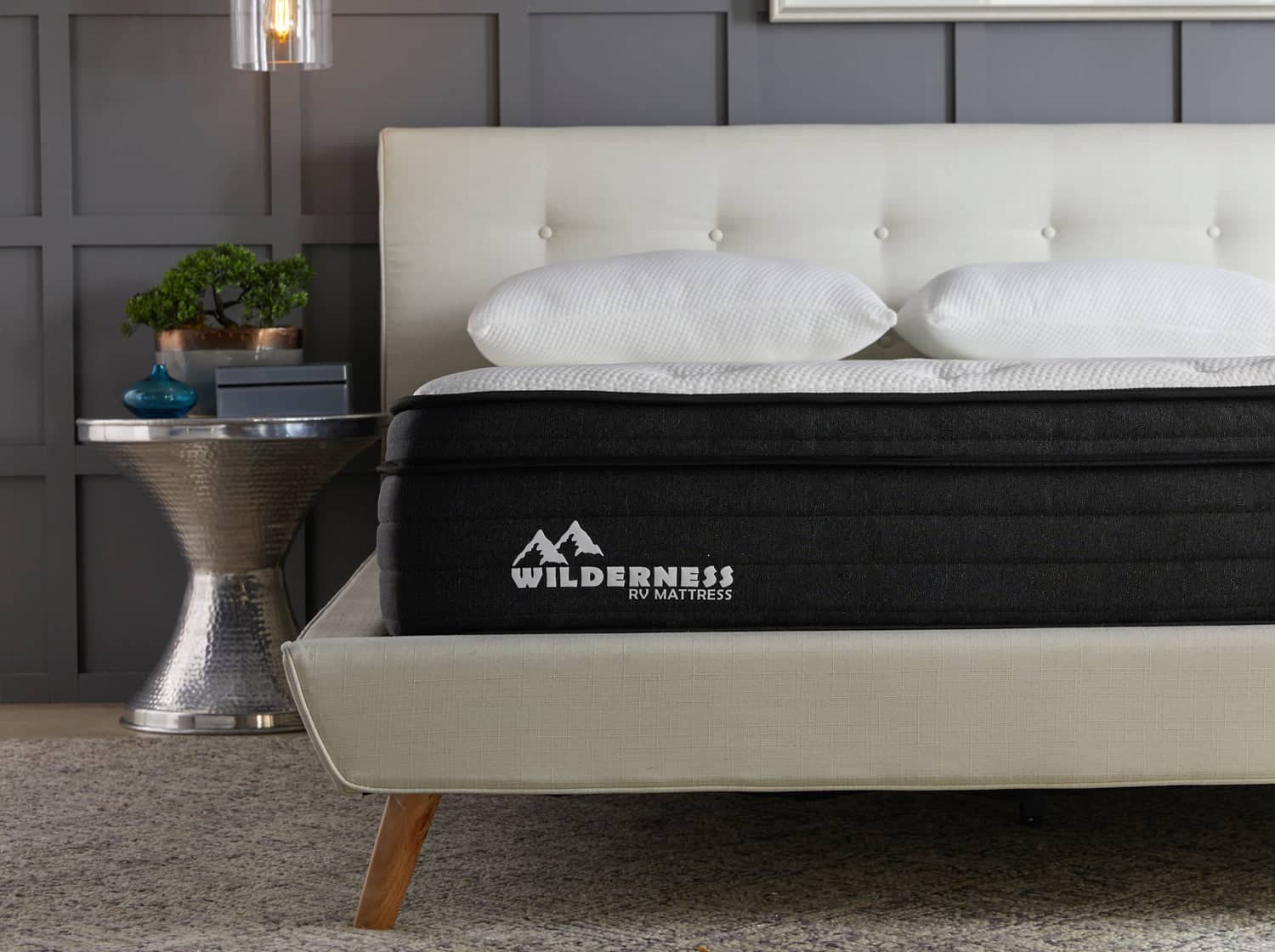 Sleep research shows how a good night's sleep can boost outdoor adventures. These ideas guide Wilderness RV mattresses so you wake up refreshed and ready for the day's adventures.
Sleep's Effect on Camping:
The magic of sleep: Quality sleep is terrific fuel for outdoor adventures. Discovering the different sleep stages and their ability to improve physical and mental health is like finding a camping gem.
Your recharger: Your body recovers and recharges during deep sleep, preparing you for adventures. A comfy mattress isn't simply a luxury; it's essential for remaining on top throughout outdoor adventures.
How Wilderness RV Mattresses Meet Sleep Science
A comfortable embrace: Wilderness RV mattresses embrace your body. This helps you sleep and supports your body's natural curves, pampering your muscles after a fun day.
Goodbye to aches: These mattresses reduce pressure points, improving blood flow and eliminating aches and pains. It's like a new day with more adventures.
Comparing Wilderness RV Mattresses Across Models
Here is a table with a comparison of the key specs of these RV mattresses:
| | | | | |
| --- | --- | --- | --- | --- |
| Feature | Dream Bunk | Canyon | Aspen | Montana Hybrid |
| Foam type | High-density foam | Memory foam and high-density foam | Memory foam and latex blend | Memory foam, latex, and springs |
| Thickness | 8inch | 10inch | 10inch | 10inch |
| Firmness | Medium-firm | Medium-firm | Medium-firm | Medium-firm |
| Warranty | Ten years | Ten years | Ten years | 10 years |
| Price | Starting at $499 | Starting at $699 | Starting at $999 | Starting at $1,299 |
Which Model Is Right For You?
The best way to decide which Wilderness RV mattress is right for you is to consider your budget, your sleeping preferences, and the size of your RV. If you are looking for an affordable option, the Dream Bunk is a good choice. The Canyon or Aspen are good options for a more comfortable mattress. And if you seek the best possible mattress, the Montana Hybrid is the way to go.
Whichever model you pick, you can be confident you'll receive a high-quality mattress that will give you years of support.
When selecting a Wilderness RV mattress, keep the following in mind as well:
Your pattern of sleeping: Your mattress must be soft enough to conform to your body if you like to sleep on your side. Your mattress must be firm enough to support you if you sleep on your back.
The size of your RV: Verify that your chosen mattress will fit in the available area.
Your spending plan: The cost of a Wilderness RV bed can range from a few hundred to over a thousand dollars. Set a budget before you go shopping to avoid going overboard.
Adventure-Tested: Wilderness RV Mattress Reviews
When camping in extreme conditions, getting a good night's sleep can be challenging. But getting enough rest is essential to stay safe and healthy on your adventure.
That's where Wilderness RV mattresses come in. These mattresses provide comfort and support, even in the most challenging environments.
We checked what a few extreme campers say about their experiences with Wilderness RV mattresses:
"Bought this for our travel trailer and loved it so much that we replaced our mattress at home. My parents slept in our RV and bought one for their home. They are now buying one for their RV." – Customer.
"This mattress is a good upgrade from the original camper mattress. This past weekend was my 1st trip with the new mattress, and I slept much better. It was a bit firmer than I expected but still a comfortable feel. Time will tell whether or not it will retain its comfort. I am delighted with the purchase." –Teresa U.
These are just a few examples of how  RV mattresses from Wilderness RV can help you get a good night's sleep, even in extreme conditions. If you're an avid camper, you owe it to yourself to try one out.
How Mattress Quality Affects Overall Camping Satisfaction
When camping, you want to relax and enjoy the great outdoors. But if you're not getting a good night's sleep, it can be hard to do that.
Therefore, mattress quality is essential for camping comfort. A good mattress will support and relax you so you can wake up refreshed and eager to explore.
Maintaining Your Wilderness RV Mattress for Longevity
Caring for your Wilderness RV mattress like a pro is your ticket to nights of cozy comfort and lasting quality. With some care, you can keep your mattress in tip-top shape, ensuring it stands the test of time and continues to be your sleep haven during outdoor escapades.
Tips for Extending The Lifespan Of Your Mattress
Keep it balanced. Just like you, your mattress benefits from a change of position. Rotate and flip it regularly to even out wear and tear, so you can enjoy consistent support and comfort no matter where you sleep.
Regular Cleaning Routines For A Hygienic Sleep Environment
Dust away the day. A quick vacuum session using a handheld attachment keeps your mattress fresh and free from pesky debris. Give it a little love and attention, and it'll reward you with a cleaner sleep zone.
Sunshine Breeze
If the sun is shining, let your mattress catch some rays. Fresh air and sunshine naturally help zap away bacteria and odors, ensuring your sleeping spot stays inviting.
Proper Storage During Off-Seasons To Prevent Damage
Cozy and dry: When it's time to tuck your mattress away, choose a spot that's cool, dry, and well-ventilated. Dampness is a no-no, so keep it cozy in a space that's free from moisture.
Lift it: Elevate your mattress during storage to avoid direct contact with the ground. This simple step removes potential damage and ensures your mattress is ready for the next adventure.
Importance of Using a Quality Mattress Protector
Shield from surprises: Accidents happen, but a good mattress protector keeps spills at bay. It's like having a guardian that prevents liquids from seeping in, keeping your mattress safe from stains and moisture.
Allergen Armor: Mattress protectors also work wonders against allergens. They block out dust mites, pet dander, and other irritants, making your sleep zone a haven for rest, not sniffles.
Eco-Friendly Choices In Crafting Wilderness RV Mattresses
Wilderness RV mattresses are made from eco-friendly materials from the beginning to the end. It's all about ensuring your comfort doesn't harm our beautiful outdoors.
Materials: Wilderness RV beds are made from organic cotton, wool, and latex. Better for the environment than synthetic materials like memory foam.
Manufacturing process: Wilderness RV uses energy-efficient machinery and reduces waste in its manufacturing process.
Packaging: Recycled or recyclable Wilderness RV mattresses are recycled and used to make new products.
Certification: Wilderness RV mattresses are approved by the Greenguard Environmental Institute and the Sustainable Forestry Initiative. These certifications indicate that the mattress is created with eco-friendly materials and methods.
Wilderness RV uses eco-friendly materials and procedures to make its products more sustainable and environmentally beneficial. So, when you choose an RV mattress from Wilderness, you support these initiatives and save the world.
Warranty And Support
All Wilderness RV mattresses have a 10-year warranty. Any manufacturing flaws, including body impressions larger than one inch, are covered by this warranty. The warranty does not cover damage brought on by abuse or misuse.
Customer Support Resources
Customer service options from Wilderness RV mattresses include:
A 24/7 helpline for clients: 888-844-7701
A knowledge base and FAQs on their website where you can also interact with a chatbot
A contact email for questions from customers:

[email protected]

A social media presence where clients can contact the business
How To Address Concerns
You can contact Wilderness RV's customer support team if you have a problem with your mattress. 
The steps to fix your Wilderness RV mattress are as follows:
Wilderness RV mattresses' Contact Us option is on their website.
Fill out the contact form with your name, email, phone number, and a brief explanation of your issue.
Click "Submit".
The company promises that a customer care specialist will help you fix your issue within 24 hours.
Conclusion
For RV owners seeking a soft and supportive sleeping surface, Wilderness RV Mattresses are an excellent choice. They are more durable than other brands since they are created with high-quality materials and attention. Additionally, they include a limited warranty that gives RV owners peace of mind.
The most crucial considerations when selecting a Wilderness RV mattress are your spending limit, your sleeping habits, and the size of your RV. The Dream Bunk is an excellent choice if money is tight. The Aspen or Montana Hybrid are excellent options for a more luxurious mattress. In addition, if you prefer to sleep on your side, you might want to pick a mattress with a softer pillow top.
You can be confident that any model you select receives a high-quality mattress that will give you years of restful sleep. So why are you still waiting? By starting your search today, find the ideal Wilderness RV mattress for your upcoming vacation! You can always thank me later.
FAQs
1. What are the key features and benefits of Wilderness RV mattresses?
Made with the finest materials like organic cotton, pocketed coils, and gel memory foam
Supportive and comfortable for all body types
Various sizes and designs are offered to fit any RV
include a limited warranty
Eco-friendly products and procedures
2. How do Wilderness RV mattresses compare to other brands regarding comfort and durability?
Wilderness RV mattresses are more comfortable and long-lasting than most other brands since they are built with premium materials and precise design. Furthermore, they include a limited warranty that gives RV owners peace of mind.
3. Are there any specific customer reviews or testimonials that highlight the quality of Wilderness RV mattresses?
Yes, many positive wilderness mattress reviews by customers and testimonials highlight the quality of Wilderness RV mattresses. We have discussed a few of them in our article.
4. What is the average lifespan of a Wilderness RV mattress?
A Wilderness RV mattress has a 10-15 year lifespan on average. However, it could last even longer with proper maintenance. Here are some suggestions for increasing the life of the mattress in your Wilderness RV:
Regularly rotate the mattress.
Maintain a spotless and debris-free mattress.
Be careful not to overstretch the mattress.
Avoid trampolining on the mattress or engaging in other activities that can harm it.