Class B RVs have been gaining a lot of attention, and it's easy to understand why. Between their compact size, sturdy chassis, and ability to travel nearly anywhere, there's a lot to love about Class B RVs.
However, these motorhomes aren't suitable for every situation, and there are several reasons you may want to avoid Class B RVs.
The compact size of Class B RVs can be their strength or their downfall. These large camper vans are great for adventure travel, yet not as ideal for those who like to set up a cozy campsite.
They also cost more per square foot than other RVs while providing limited storage, amenities, and living space.
There is an abundance of information available on what makes Class B RVs unique from other recreational vehicles, but what's spoken about less is how they're not right for every situation.
Below we'll look at five reasons to avoid Class B RVs as well as what RV setup may be a better alternative for your needs.
What is a Class B RV?
Class B RVs are the smallest type of motorhome, usually measuring between 18 and 24 feet long.
Despite their size, they are compact and often come outfitted with the most basic RV amenities.
They require no special license to drive and are easy to maneuver in narrow city streets as well as in off-road conditions.
With a small learning curve and a world of possibilities available, Class B RVs have become a popular choice, especially with those new to RVing.
Unlike Class A and Class C motorhomes that place a built-out living space onto a flatbed chassis, Class B RVs are built into a solid van chassis.
This makes them a safer vehicle overall, but between the material and the logistics, it also makes manufacturing Class B RVs more expensive.
Class B RVs commonly have all basic RV amenities, including a convertible bed, kitchenette, and a wet bath. The category of RVs is quite broad though, and amenities can vary based on the size of the vehicle.
Smaller campervans may only have a portable toilet and limited kitchen amenities, while larger Class B+ RVs can come with full baths and even slide-outs.
For the most part, the size and amenities of the vehicle will also be reflected in the price.
The small size of Class B RVs means easy maneuverability, less money spent on gas, and a smaller learning curve for new motorhome drivers. These are great aspects for anyone who:
One to four people can usually travel comfortably in a Class B RV, dependent on the number of seatbelts and sleeping spaces available.
However, there isn't much room to stretch out in most models, nor privacy or personal space.
This makes Class B RVs mostly ideal for couples or single travelers who want maximum flexibility in where they can venture and who are comfortable giving up some creature comforts for it.
Top 5 Reasons to Avoid Class B RVs
The broad category of Class B RVs includes everything from the classic VW Bus to a large Mercedes Sprinter Van complete with all imaginable amenities.
Class B RVs are versatile and compact, but often compromise space and comfort to gain these.
If you're still on the fence on whether a Class B RV is the right choice for you, let's discuss five reasons to avoid getting one.
1. Class B RVs Have the Highest Price Per Square Foot
Cost is one of the biggest deterrents of Class B RVs. They may not always be the most expensive choice of the motorhome, but they do tend to have the highest cost per square foot.
This is especially true for new vehicles, and even more so when considering customization options.
The average starting cost of the cheapest new Class B RVs on the market is around $60,000.
On the other end of the spectrum, large Class B+ RVs with full amenities begin at over $100,000 and can easily cost over $300,000 for custom builds.
This comes out to an average of $950 per square foot, compared to the $500 per square foot average of a Class C RV.
Class B RVs tend to be more expensive than other motorhomes for several reasons.
The manufacturing process requires the solid van chassis to be outfitted with furniture, plumbing and electricity, which is much more difficult than building the living space from the inside out and adding features as the build progresses.
The solid frame and the materials used throughout Class B RVs also make production more expensive, resulting in a higher final price tag.
More recently, the spike in social media popularity alongside supply chain shortages has also increased costs.
As travel limitations and restrictions continue and while the economy remains unstable, many have turned to RVing as an alternative to travel and even as an alternative to rent.
However, a small supply of parts and vehicles catering to high customer demand has resulted in a spike in prices.
2. Class B RVs are Compact
One of the unique qualities of Class B RVs is how compact they are. However, traveling compact is really only ideal for those who prefer flexibility in where they can drive over an abundance of amenities.
Class B RVs don't have a lot of space to move around, so it's important to consider how much time you're likely to spend indoors. In doing so, be sure to think about:
Class B RVs are great for those who don't mind sharing intimate living quarters. Without separate spaces, Class B RVs allow little to no privacy, and only larger vehicles have space for multiple sleeping spaces.
Traveling in such a small space requires both people to be very comfortable around each other and with the living arrangement.
Open communication and patience are necessary skills for anyone planning to travel in a Class B RV together.
The climate and general weather conditions of where you plan to travel are also important to consider.
While Class B RVs are great for those who spend most of their time outdoors, this may be limited when traveling in cold or wet climates.
Consider what it would be like to be stuck indoors on a rainy day, and whether you'd find the space in a Class B RV cozy or confining.
Creatives have long been part of the road travel community, and an increasing amount of people looking into RVs as alternatives to housing and travel are finding ways to work as freelancers, entrepreneurs, and digital nomads.
Before committing to a small vehicle, you should also consider the space you may need for any work, crafts, or other projects.
3. Class B RVs are Your Camp and Your Transportation
When traveling in a Class B RV, your vehicle is your camp as well as your transportation.
While this may be fine for those who travel frequently, it is not ideal for anyone wanting to set up camp for extended periods of time.
With a Class B RV, you'll have to break camp anytime you wish to drive somewhere. This means day outings, grocery trips, and even running to the corner store for toothpaste.
Furthermore, Class B RVs are only equipped to carry a limited number of supplies, which means you'll have to restock frequently.
They have less storage space and come with smaller refrigerators than other RVs, but what can make the biggest difference is the limited size of their fresh water and holding tanks.
Class B RVs usually come with two or three holding tanks, depending on the bathroom setup.
These include a freshwater tank that supplies sinks showers, and toilets, as well as a holding tank that collects gray water and, in some cases, a black water tank that holds toilet waste as well.
With an average capacity of 16 to 40 gallons, the freshwater tanks found in Class B RVs are relatively small compared to those found in other RVs.
The gray water holding tank capacity can range from 8 to 35 gallons, and a black water tank may hold up to 26 gallons.
Learning how to conserve water and how to prevent holding tanks from filling up quickly can help you extend your stay, but such limited capacities will inevitably require you to either refill or unload more frequently than other RVs.
If you like to be on the move and spend your nights anywhere the road may take you, then a Class B RV may be perfect.
If you prefer to set up a campsite as a home base and explore the surrounding area from there, then you may want to consider a different type of RV.
4. Class B RVs Have Very Little Storage Space
The compact design of Class B RVs doesn't only take away from privacy and room to stretch out, but it takes away from storage space as well.
Whether you have hobbies that require a lot of gear, or maybe you wish to travel in your RV full time, a lack of storage may be difficult for anyone who doesn't want to pack lite.
The amount of cargo space in each Class B RV will vary by design, but it will always be primarily in tucked-away places such as under the bed or seating area.
Many of those areas will only be accessible by moving something, which results in a constant shuffle and a necessity to arrange your belongings by how frequently and easily you need to be able to get to them.
Maximizing wall space with hooks and shelving is a great way to increase storage.
Racks and mounts can also be added to the back or top of vehicles for items such as bicycles or kayaks, and hitch cargo containers may be useful for any additional equipment.
5. Class B RVs Have Limited Amenities
While there is no guarantee as to the amenities found in small camper vans, most standard Class B RVs come equipped with at least the basics.
These commonly include a kitchenette with a sink, refrigerator, stove, and sometimes an oven, as well as a convertible bed and seating area and a wet bath.
It's everything you need to get by comfortably, but it can also take some getting used to.
Kitchenettes are a great feature to have on hand because they allow you to cook your favorite meals right in your vehicle.
However, cooking in the kitchenette of a Class B RV can be quite different than cooking in a regular kitchen.
Counter space is limited, messes happen quickly, and your limited storage space for ingredients and supplies will force you to plan your meals or just be flexible.
To maximize living space, most Class B RV beds are convertible. Oftentimes they are Murphy beds that fold down from the wall, though sometimes beds sit on slated slides or are made to lift up to the ceiling on a pulley system.
Regardless of which type of convertible bed your RV has, the constant conversion results in having to get used to making and unmaking your bed daily while also keeping storage space available for cushions and bedding.
Other Options Besides Class B RVs
When deciding which type of motorhome is right for you, it helps to look at the good and bad that each can offer.
If you can relate to the five reasons to avoid Class B RVs, then it may be a good idea to consider other RV options.
To help you figure out the right RV for your needs, let's take a look at the strengths and weaknesses of each.
Class A and Class C Motorhomes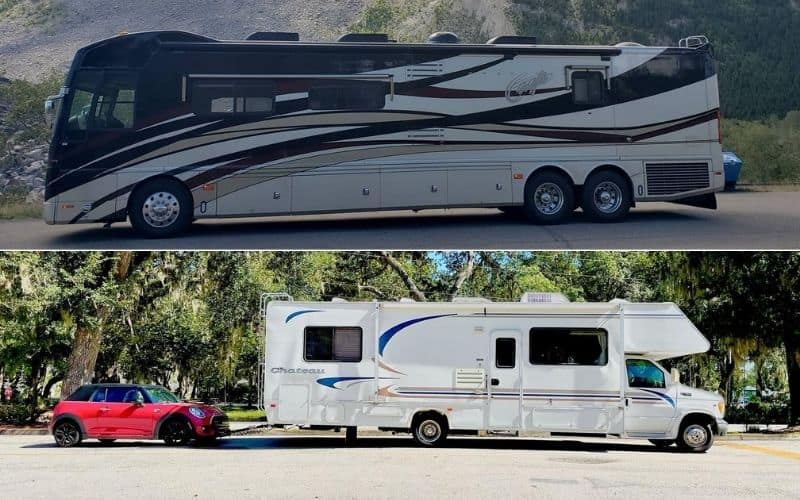 If you like the idea of having a self-contained RV that is both a motorized vehicle and living quarters all in one, but want either more space or a smaller price tag, then you may want to consider another type of motorhome.
Class C RVs tend to be slightly larger than Class B RVs, but also offer more room and amenities.
It is not uncommon to find Class C RVs equipped with a full bathroom as well as a decent kitchen space and a permanent bed.
Some Class C RVs even have one or two slide-outs to increase the living space when parked.
They provide a comfortable space and don't require a separate license to operate, but Class C RVs may be too large to easily navigate city streets.
And while they are comparatively cheaper than Class B RVs, they also get significantly worse gas mileage.
Class A RVs are the largest type of motorhome. They can be up to 45 feet long and may come with multiple slide-outs.
They usually come with bathroom and bedroom spaces as well as a full kitchen, full-sized refrigerator, and separate living space.
Class A RVs are big and heavy and not ideal for traversing off-road terrain. They are also costly on gas and can be difficult to operate for anyone not used to driving buses or other large vehicles.
Depending on the size of the RV, a special license may also be needed, and some states may even require you to stop at weigh stations. While Class B RVs offer flexibility over comfort, Class A RVs do the opposite.
Although they have more storage and living space, both types of motorhomes are considered less safe than Class B RVs.
Class A and Class C RVs are built from flimsy and often cheap materials that don't offer much safety or protection in the event of an accident, and this structure is then attached onto a chassis.
These motorhomes do not have to pass the same road safety tests as other vehicles, and passengers are only intended to travel in the main chassis in seats complete with seat belts.
Travel Trailers and Fifth Wheels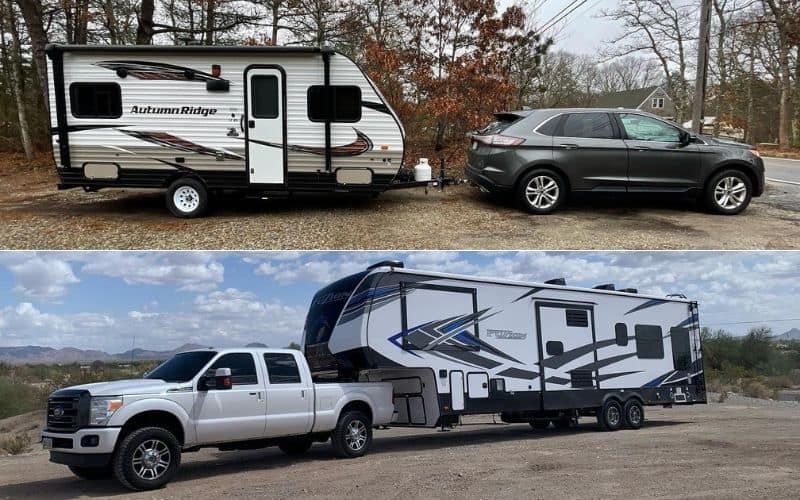 If the main reason you wish to avoid Class B RVs is that there is no separate commuter vehicle, then you may want to consider a travel trailer or fifth wheel instead.
Travel trailers come in a huge assortment of sizes, from small teardrop trailers to large trailers with the same amenities as a Class A motorhome. The wonderful thing about towing a travel trailer is the towing vehicle.
When you arrive at your campsite, you have the luxury of detaching your vehicle, setting up camp, and coming and going as you please.
This not only allows you to keep a campsite, but it saves on gas and allows you greater freedom to explore as well.
The average size of travel trailers is 20 feet, which is large enough to have a full bathroom, permanent bed, separate living space, kitchenette, and possibly even a slide!
On the other hand, towing a vehicle does come with a small learning curve for anyone new to towing.
It will also require some extra towing equipment such as a hitch and hitch lock, sway bars, and backup camera.
If you like the idea of towing a trailer, but desire the space and amenities of a Class A RV, then you'd enjoy a fifth wheel.
Fifth wheels are towable trailers that attach to a fifth-wheel hitch attached to the inside of a truck bed.
One of the unique features of the fifth wheel is the additional space located over the truck bed.
This space usually serves as an additional sleeping or living space and can significantly increase the overall living space without increasing the length of the caravan.
Fifth wheels can come with multiple bathrooms, bedrooms, and slides, as well as ample storage space and a full kitchen.
Fifth wheels offer a stable connection and are easier to tow than travel trailers, but they require a large enough truck to handle the weight off the trailer.
They are bulky and heavy and not flexible in where they can travel. Fifth wheels are primarily ideal for families who desire comfort and space, or full-time RVing.
While both Class C and Class A RVs can also tow a separate vehicle, towing a vehicle with an RV rather than an RV with a vehicle can make a significant difference in the cost of gas.
Conclusion
They may be popular for adventurous and outdoorsy travelers, but there are also many reasons to avoid Class B RVs.
If the high cost per square foot doesn't scare you away, then it may be the lack of storage space, the close quarters, or the limited amenities.
After all, one of the great things about traveling in an RV is to bring all of your desired amenities along, and Class B RVs just don't cut it for everyone.