Dishwashers were one of those impressive home inventions that revolutionized housework. So, it only makes sense that they would find their way into the world of RVs.
The interior of a lot of RV dishwashers works on the same principles as a residential dishwasher.
However, the amount of water they use and the immense amount of power to run them means you can't really take a residential dishwasher and simply jam it in your RV.
When it comes to engineering, most RV dishwashers can be parsed into two types either "Built In" or a "Countertop" dishwasher.
Unfortunately, they typically only come standard in luxury Class A motorhomes and fifth-wheel trailers.
If you are thinking about installing or replacing one in your current rig, you might feel a little spoiled for choice.
You might even be wondering, what are some of the best RV dishwashers? Two of the top choices are the Farberware FDW05ASBWHA and the SPT SD-9263W, though they certainly aren't the only RV dishwashers worthy of your money and the time it takes to install them.
Though the process of finding the best RV dishwasher for your RV starts with rinsing out some important details.
The Differences Between A Built-in & Countertop RV Dishwasher
The first step in choosing the best dishwasher for your RV starts with deciding between whether you want a built-in model or a countertop one.
Each has its own benefits and drawbacks depending on the available space you have in your RV's kitchen as well as the available power and the size of your water storage tanks.
Built-In RV Dishwashers
With a built-in RV dishwasher, you are getting a model that looks a lot like what you are used to seeing in your home or apartment kitchen. They operate much the same way, and there are models that are designed to be water and energy efficient.
Though they still aren't ideal for an RV with small water storage tanks or modest house batteries. This is the type of dishwasher that should probably only be used when you are connected to an RV campground's water, sewer and shore power electricity.
Though the biggest challenge with a built-in RV dishwasher is the installation. If you have a Class A motorhome or a luxury fifth-wheel trailer and you are replacing an outdated dishwasher, installation isn't a big deal.
Though if you are putting a new aftermarket RV dishwasher in a travel trailer or some other type of camper that wasn't originally designed, then you have to mind a lot of details to install it properly.
This starts with understanding the dimensions you have to work with in either your RV's kitchen island or under-the-counter cupboards. You have to make sure that all three dimensions of the RV dishwasher will fit in the space available, without removing any of the existing countertop structural components.
With a built-in RV dishwasher, you have to also take into account where water and drain lines will run. This includes allowing enough room for them to feed and drain the RV dishwasher without being pinched or compressed. This might involve improvising a way to run them up through the RV's floor.
Countertop RV Dishwashers
Countertop RV dishwashers are sometimes referred to as portable dishwashers. They can be put just about anywhere within reach of incoming water and a drain. A lot of people will position them near their RV's kitchen sink to let them do their thing.
Though they tend to be small enough that you can semi-permanently install them in a nearby cabinet.
Countertop RV dishwashers still use a fair amount of water and power. So, it's best to reserve their use to times when you have an RV campgrounds water, sewer, and shore power electricity available.
They also tend to have a smaller capacity than a lot of the popular built-in RV dishwashers.
Weight Considerations
If you are adding an RV dishwasher where there has never been one before, then you need to count it's weight against the payload capacity or gross vehicle weight rating limit of the RV.
Especially with a built-in RV dishwasher which can weigh 80 to 160-pounds or more.
Here Is A List Of The Best RV Dishwashers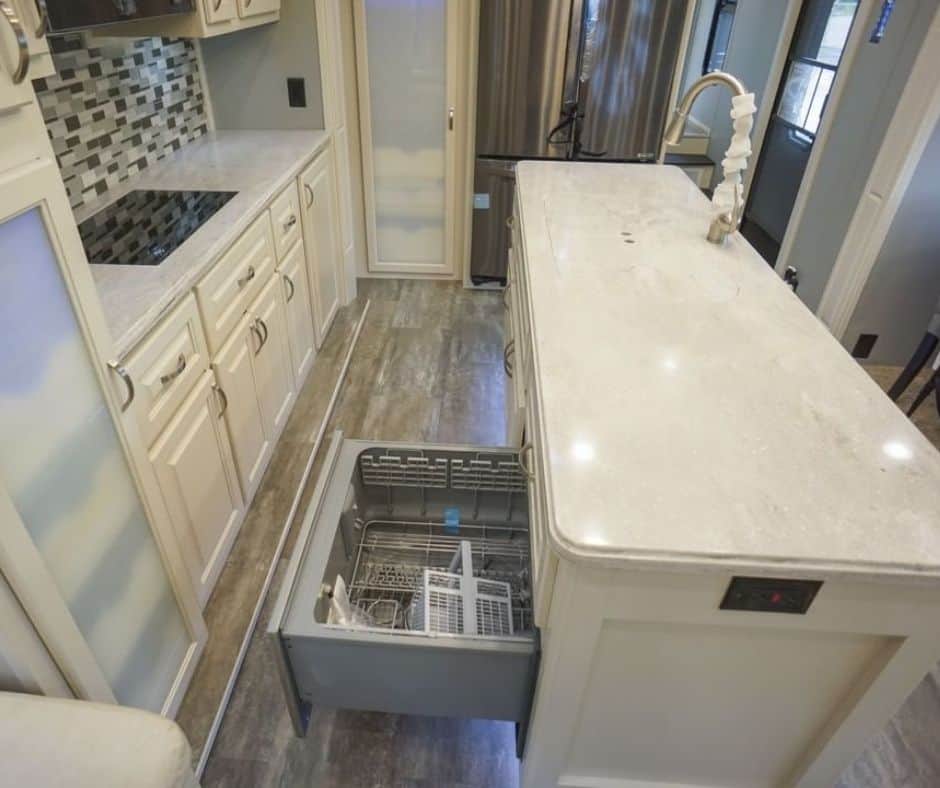 The 5 Best RV Dishwashers Of 2023
When reviewing the best RV dishwashers, we made sure to include both built-in and countertop models to suit the needs of just about any size RV.
Along the way we also kept an eye out for material build quality, water consumption, and ease of use.
In the case of built-in RV dishwashers, we also did our best to find models that had a reputation for being easy to install.
Here are 6 of our favorite small RV dishwashers options to meet just about any traveling family's needs.
1: Farberware Portable Countertop RV Dishwasher
The Farberware FDW05ASBWHA is a compact RV dishwasher that is infused with thoughtful engineering.
Right off the bat, while it is technically considered to be a countertop dishwasher, it was also designed to be relatively easy to install into a typical RV cabinet.
Just keep in mind that it tips the scales at just over 45 pounds. So, it is definitely the sort of thing that needs to be firmly planted on a counter or installed in a lower cabinet.
The Farberware FDW05ASBWHA was designed to fit different dishes up to 12 inches in diameter.
It includes a small rack for holding small items, but there isn't a traditional basket.
This plays into the fact that it has five different washing modes as well as a special "Steam" mode to let you safely sterilize baby items and other sensitive medical accessories.
One of the great things about the Farberware FDW05ASBWHA is that it uses very little water.
A single cycle consumes only 5 liters of fresh water and it includes a built-in reservoir.
You can hook it up to a standard water line for times when you want to install it in a lower cabinet as an improvised built-in.
If you just want to use it as a countertop RV dishwasher, it can be easily attached to your RV's kitchen sink faucet in seconds.
The typical dishwashing cycle is rated to take up to 40 minutes. Though some of the special washing modes like the "Fruit Washing" mode will certainly take less.
At the end of the washing cycle the air refresh function of the Farberware FDW05ASBWHA enhances drying performance.
If there is an area of complaint with the Farberware FDW05ASBWHA, it is the slightly high price.
It also has a somewhat below average capacity, which makes more sense if you have a small family and you need a dishwasher for your travel trailer.
It's probably not ideal for a fifth-wheel or a motorhome toting around a family of four or more.
2: Danby Quiet 6 Wash Cycles RV Dishwasher
The Danby DDW621WDB Countertop Dishwasher is technically a countertop RV dishwasher, though it could just as easily be permanently installed on a counter or inserted into a lower cabinet as an improvised built-in dishwasher.
It's exterior styling cues also lend to installation, which can be handy depending on the layout of your RV's kitchen.
The Danby DDW621WDB has an above average capacity compared to a lot of other countertop RV dishwashers.
It has 6 different washing cycles to choose from. This also translates to a water usage of 3.1 gallons per cycle, which is still relatively efficient for any dishwasher.
A single load of dishes from start to finish through drying will draw 5.7 Amps and consume 680 Watts. At the same time, this RV dishwasher is rated to be Energy Star compliant.
There are some convenient features engineered into the Danby DDW621WDB. It was designed to be as quiet as possible, with a rating of just 52 decibels.
This is handy in an RV which usually has a compact interior, and you don't want the dishwasher competing with the TV show you are washing or the music you want to listen to.
It's also worth noting that the Danby DDW621WDB RV dishwasher has a schedule timer, which lets you set it up to run after you've gone to bed, and the low noise level likely won't keep you up.
3: EdgeStar Portable Countertop Dishwasher For Camper
The EdgeStar DWP62SV is another high-quality countertop RV dishwasher that can just as easily be installed into a lower cabinet or onto an RV kitchen countertop.
To that point it features a stainless steel exterior finish that will blend in perfectly with other stainless steel kitchen appliances.
You can also appreciate that the stainless steel construction is backed by a 1-year manufacturer's warranty.
If you have a family of more than four people, or you want to do an entire day's dishes in one single load, then you will appreciate the high capacity of the EdgeStar DWP62SV.
When fully loaded it can truly hold up to 6 full place settings. It was also designed to run quietly at a maximum noise level of just 52.3 decibels, which is on par with an electric toothbrush, or a typical conversation between two people.
Of course, the trade off with all this capacity is that the EdgeStar DWP62SV uses 2.85 gallons of water per cycle and up to 1,160 watts of power with a 5.7 Amp draw.
The water consumption is still relatively conservative. However, the Wattage is a little on the high end for what is originally a countertop RV dishwasher.
Two areas of complaint that you might want to note with the EdgeStar DWP62SV is that the water hose it comes with is a little bit cheaply made.
Though this is easily addressed with a replacement hose from just about any hardware store.
At the same time, the 2.85 gallons of water it uses per cycle doesn't do the best job of washing caked on dishes.
If you do have a roasting pan with some stuck on food chunks, you might want to give it a good hand washing to make sure that the EdgeStar DWP62SV gets it completely clean.
4: SPT Energy Star Portable RV Dishwasher
There's no question about it, even though the manufacturer wants to claim that this model can be "Portable" the SPT SD-9263W is meant to be used as a built-in RV dishwasher.
To that point, it weighs 118 pounds all on its own. Marketing terms aside, for an RV kitchen, this is a high capacity dishwasher that will hold up to 8 full place settings in a single load.
If you have a travel trailer or a fifth-wheel trailer, and you prefer to wash all the dishes in a single load, then this built-in model deserves a good hard look.
While it does use up to 5 gallons of freshwater per cycle and consumes up to 1,000 Watts per load, the SPT SD-9263W is still Energy Star rated.
By RV standards, this might seem like a lot of water and power if you are boondocking off the grid, but in terms of home dishwashing appliances, it's still very efficient.
Another feather in the SPT SD-9263W's cap is that it is also CSA listed for safety.
If there are some modest complaints with the SPT SD-9263W, it's that the power and water hose need to be secured during installation.
You could also argue that the price is a little high, and there isn't much in the way of warranty backing it, which you would expect at this price point.
5: Vesta Built-In RV Dishwasher
The WESTLAND SALES DWV335BBS Vesta is a compact, 61-pound, built-in RV dishwasher that was engineered with easy installation in mind.
While there are RV dishwashers that will hold more dishes, this one will easily tuck under a counter cabinet, which can save you a lot of installation time.
It can also be found for a better price than many of the shoulder-to-shoulder competitors in this niche.
If you have stainless steel appliances in your RV's kitchen, the exterior finish will be a good match.
There are different settings for the type of wash you want to program. This can affect the volume of water used from as low as 2.4 to as much as 4.2 gallons per load.
Though the average cycle is rated to use 2.74 gallons per load, which is very efficient when it comes to built-in RV dishwashers.
One of the tradeoffs that comes with compact size in a built-in RV dishwasher, is that the WESTLAND SALES DWV335BBS Vesta doesn't fit large pans very well.
You might have to wash griddles, Paella pans and similar cookware by hand.
6: EdgeStar8 Place Setting Built-In RV Dishwasher
EdgeStar has been making a name for themselves in RV-friendly appliances. So, it's no wonder they show up for a second time on this list of RV dishwashers with their BIDW1802BL Built-In model.
It is an 18-inch-wide built-in dishwasher with one of the friendliest price points for this type of model.
It was engineered to be compact, yet it has the capacity to hold up to 8 place settings when thoughtfully loaded.
The EdgeStar BIDW1802BL has six distinct wash cycles, though Heavy, Normal, and Rapid are the most common options that you will use.
There is also a special "Heated Dry" option that consumes more power, but it helps dry the dishes completely.
If you have small children or you sometimes need to wash sensitive medical equipment, you will find the "Sanitize" setting helpful. It also does a great job of removing bacteria from your dirty silverware.
Safety in innovation was also a major factor in the design of the EdgeStar BIDW1802BL.
To that point, it comes with a special leakage sensor that instantly shuts off the water flow anytime it senses a leak.
It was also engineered to run as quietly as possible, rated to only produce 52 when running
It has a digital display center, which looks sleek. This particular model has a black exterior finish.
Though it is also available with a stainless steel or white exterior to match just about any RV kitchen décor.
There are two minor complaints with the EdgeStar BIDW1802BL. The first is that it uses feet, which can make installation a little complicated when you are setting it deep into a cabinet.
You might want to remove the feet, and just level the floor in the installation area to streamline things. You could also argue that the instructions aren't all that easy to read.
Can I Use An RV Dishwasher When Boondocking?
Unfortunately, boondocking off the grid and using an RV dishwasher is not a good idea.
Not unless you have a large fresh water and gray water storage tank paired with a robust house battery system, charged by a robust generator.
How Much Water Does An RV Dishwasher Use?
The average RV dishwasher will use between 4 to 6 gallons depending on the model.
This doesn't include the water used to rinse the grease and food debris off the dishes before putting them in the dishwasher.
When you consider that the average family of four might run the dishwasher once or twice a day, this much water can become a major drain on your freshwater reserves and gray water storage capacity.
Do RV Dishwashers Need Special Detergent?
Unless the owner's manual states otherwise, you can use a typical dishwashing detergent in your RV's dishwasher.
Just note that if you are the type of person who cheats at home using regular dishwashing soap like Dawn or Palmolive in your residential dishwasher that it could come back to haunt you in your RV dishwasher.
The lower capacity and shorter running cycles can leave you with a lot of suds and even a potential overflow problem if you try to use liquid soap in an RV dishwasher.
It might also void your warranty coverage for a specific model.
Will I Need To Upgrade My RV's Hot Water Heater For A Dishwasher?
You shouldn't have to worry, so long as your RV has a 10-gallon hot water heater and you time your family's showers wisely.
If you have a 6 gallon hot water heater, and you want to run a high capacity built-in RV dishwasher, then you should seriously consider upgrading to either a larger 10+ gallon hot water heater, or a cutting edge RV tankless water heater to give you hot water on demand.
Conclusion
With demand for RV compatible dishwashers on the rise, manufacturers have been more than happy to offer up some high-quality models.
The best RV dishwasher for your rig will depend on the available size in your kitchen as well as the size of the loads you need to clean at any one time.
Not to mention your willingness to complete the install or pay a professional to do it.
If you have a modest kitchen and you don't want to deal with the hassle of a complicated install, then the Farberware FDW05ASBWHA might be the best RV dishwasher for your rig.
It is compact enough to live its life on your RV's kitchen counter, or it can be installed into a cabinet as an improvised built-in.
If you have small children and you need to keep bottles and pacifiers clean, the sanitize mode will pay for itself in due time.
If you have a family of four or more, and your RV kitchen has the space to accommodate a built-in model, then the SPT SD-9263W or the EdgeStar BIDW1802BL might be the best RV dishwasher to meet your needs.
Both have the capacity to wash all of a family's daily dishes in one load, while being able to fit in with just about any RV's décor.