When it comes to full-time RVing, it can be a real challenge getting your mail because you're constantly on the road, traveling through different towns and states.
Even if you have a sticks-and-bricks home somewhere, getting your mail there means that it'll be delayed in getting to you.
You'll have to wait for the mail to hit your house and then either wait for friends or family to send it to you or wait to get your mail until your next visit home.
By letting your mail get that delayed, you run the risk of missing out on vital deadlines such as insurance premium payments, automated toll tickets, tax information with deadlines, or any other time sensitive item that might be mailed to you.
All of this begs the question — What are the best mail forwarding services for RVers?
In short, the ones are services that allow you to establish a new home state or domicile (because after all, when you're full-time on the road, it can be tough to know which state you're really a resident of), provide great value, and offer some sort of mail scanning service.
In this article, we'll explain mail forwarding services, discuss the idea of domicile, explore how to choose the company you work with, and then list out the best mail forwarding services options that are suitable for RVers regardless of whether you're traveling full-time, seasonally, or on weekends.
What Are Mail Forwarding Services For RVers
Just as the name implies, these businesses provide a way for you to get your mail while you are full-time RVing.
They have varying levels of costs and services associated with them (we'll unpack all of that in a moment). Here is how they generally work:
You sign up for your RV mail forwarding service of choice.

You pay an initiation fee, postage deposit, and (sometimes) sign up to pay a monthly fee.

You gain access to an online dashboard.

From your dashboard, you can:

Request to have physical mail sent to you whenever you will be in one place for a long enough period of time.

Request to have your physical mail sent to you on a regular interval to a forwarding address of your choice.

Request to have your mail scanned so you can see it without needing a physical copy of it.

Request to have packages sent to you that might have arrived to your forwarding address

NOTE: It's generally best to have packages directly sent to wherever you are at the time because mail forwarding services will usually charge a lot of money to hold and send packages for you.

Depending on your RVer mail forwarding service, you might also sign up and pay for a Domicile — meaning a state to call home. More on that next.
Why choose a mail forwarding service for RVers?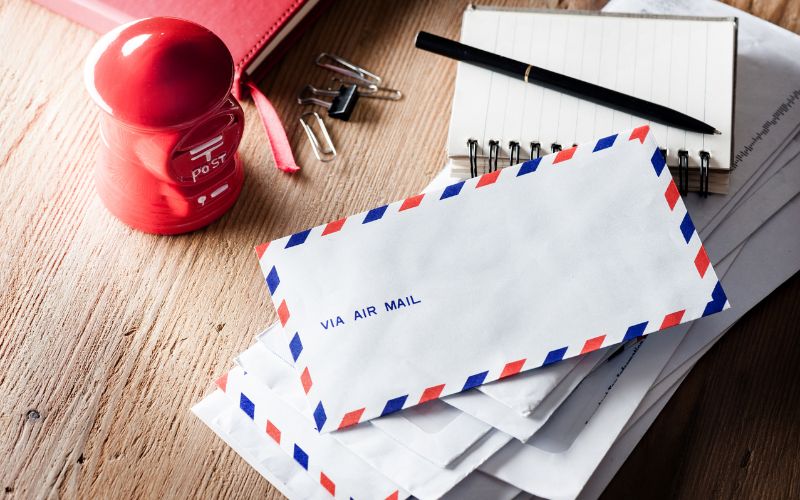 Because it will help you simplify your RVing life and avoid costly delays.
While it might seem tempting to save money and have friends and family forward your mail to you, many mailed items like automated tolls, insurance bills, etc, have tight deadlines and you'll incur fees if you miss them.
Even if you think you'll return home from RVing often enough to catch important mail, you might be surprised when a sneaky bill, toll, or fine with a tight deadline manages to slip right into a long window when you're away.
Forwarding companies offer an affordable solution to avoid these challenges.
How Much Does an RV Mail Forwarding Service Cost?
Costs for these services vary depending on the amenities you select. For basic virtual mail scanning with limited physical mail forwarding options, you can expect to pay $8-10 per month.
For higher end packages offering domicile, physical mail forwarding, and mail scanning, you can expect to pay $20+ per month.
To Domicile Or Not To Domicile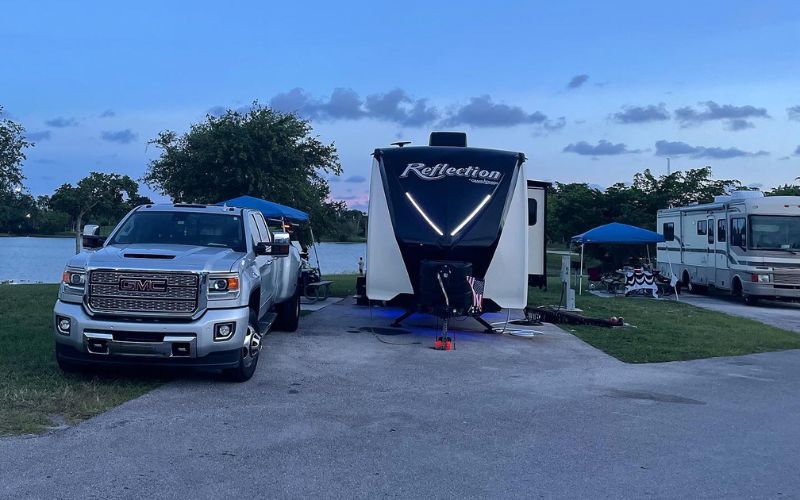 When you're a full-time RVer, it can become a challenge to handle matters at the state level.
For example, when you need to renew your driver's license and they ask for a current bill, what would you provide?
Or, when it comes to income tax, in which state do you file? Do you even need to file at all?
Some full-time RVers still have a house in the state they left, whereas others sell their home to get on the road.
Either way, having a new domicile when full-time RVing can be a great direction to go.
What is a domicile? Domicile is simply a legal term for becoming a resident of a state while you're full-time RVing.
Generally, people domicile either in Texas, South Dakota, or Florida because these states have laws that allow for full-time RVers to become residents – with certain stipulations.
These three states also do not have a state income tax, a huge benefit for full-time RVers — even full-time RVers that still have a regular home in an income tax state.
Domiciling can be a great choice for these reasons:
Generally speaking, it makes the most sense to couple domicile services with mail forwarding services unless you plan to return to your former home or have strong ties to your previous state of residence.
How To Choose The Best RV Mail Forwarding Service For You
When it comes to choosing the best service for you, there are several factors you want to consider:
Price — While most companies are competitively priced, there may be features — such as mail scanning — that you don't want or need that could save you money. Companies that include domicile services generally charge more as well.

Fees — What features are included versus those that charge you extra? Some mail forwarding services will seem very cheap until you realize that extra fees are charged for every service.

Customer service — Will someone be available to call when you need help? When you need to request that mail be sent to you? Some services even allow you to call and go over mail that has been delivered — if this is a service you'd like, does the provider offer it?

Do you need a real address or just a PO Box? — FedEx and UPS don't deliver to PO Boxes, so this isn't a good option if you receive a lot of mail from these companies. If, on the other hand, you only receive mail from the USPS, a PO Box can be a good and cost effective option because you can request that mail be sent to you at different addresses.

Do you need mail scanning? — Some services will offer to scan your mail for you. They will either scan the front of the package, the inside, or both. Deciding which service you'd prefer will help you determine the best mail forwarding service for your needs.

Junk mail sorting? — If you get a great deal of junk mail, some mail forwarding services for RVers will offer to eliminate junk mail for you so you get a cheaper price when requesting your mailing.

Storage — Do you need a mail forwarding provider who can store larger quantities of mail or will you have it shipped to you frequently?
How Do Mail Forwarding Services For RVers Work?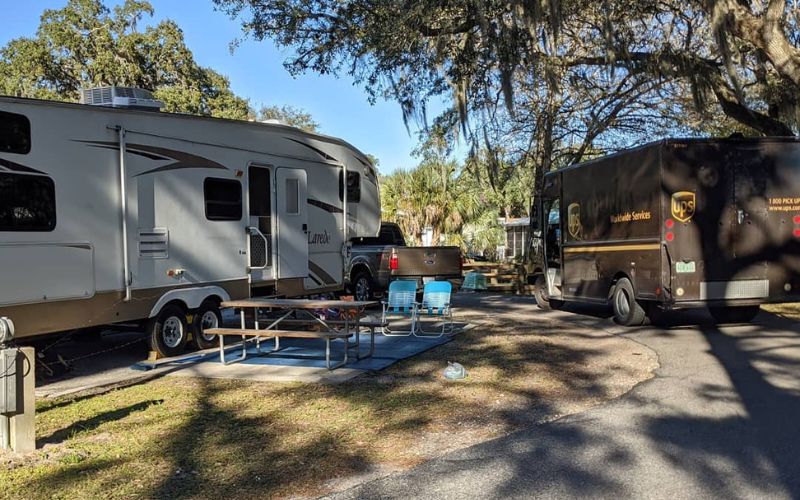 Mail forwarding services are fairly simple services that involve just a few steps:
You sign up with a reputable company offering mail forwarding.

That company establishes a mailing address for you.

You have your mail sent to that address.

You jump onto an online portal or call your service provider to request your mail.

You can also set it so your mail is automatically forwarded to you at certain intervals — just be sure to change your forwarding address as you move!

Your mail is delivered to you via the method you chose — physical delivery, mail scanning, or some combination of both.
What Are The Best Mail Forwarding Services For RVers?
When ranking these services we considered a few things.
First, we want to see that they have excellent customer service and stellar customer reviews.
Second, we give preference to forwarding services that also offer domiciling services because it's very important for full-time RVers to establish a home state.
Third, we selected only the mail forwarding services that represent the best value for RVers.
1. Escapees RV Club
Escapees RV club tops out our list because they offer an all-around slate of services for RVers, including mail forwarding.
From domiciling in either Florida, South Dakota, or Texas to the events they host to the wonderful magazine they put out about the RVing lifestyle, Escapees really has it all.
Escapees even offers a mail scanning for just $10 per month that will allow you to view your mail contents online so you can read it and then have it destroyed.
Best of all, the Escapees team is a wonderfully friendly and helpful crew and their reviews show it.
Here is how their offerings break down:
| | | | |
| --- | --- | --- | --- |
| | | | |
| | | | |
| | | | |
| | | | |
| | | | |
| | | | |
| | | | |
| | | | |
| | | | |
| | | | |
| Custom Forwarding Schedule | | | |
| Receive & Forward UPS & FedEx | | | |
| Receive & Forward Packages | | | |
| | | | |
| | | | |
2. MyRVmail.com
MyRVmail.com is partnered with Good Sam RV Club meaning that members of Good Sam benefit from special discounts by joining MyRVmail.
Good Sam also has an app that will pair with this mail forwarding service for ease of use.
Good Sam and MyRVmail are well known companies within the RVing industry due to the way they take care of their customers and the extent of their offerings that are tailor made to simplify RVing life.
Here is what MyRVmail forwarding service looks like:
| | | |
| --- | --- | --- |
| | | |
| | | |
| | | |
| | | |
| | | |
| | | |
| Review mail by phone with a live person | | |
| No limits on mail, no fees for incoming packages, and no storage fees | | |
| Email summaries for new mail received each day (on request) | | |
| Email alerts for important documents like jury summons, court summons, or certified mail | | |
| View front face of envelopes, packages, and magazines | | |
3. St. Brendan's Isle
St. Brendan's has been around since 1988 and has been a long time favorite of RVers and boaters alike for their friendly team, great rates, and highly affordable pricing.
At $13.99 per month plus a $100 deposit, their Travelers Special is one of the best deals when it comes to mail forwarding services for RVers.
Customers consistently give St. Brendan's Isle positive reviews for their great prices, easy service, and flexible commitment.
Here's the breakdown of the Travelers Special:
| | |
| --- | --- |
| | |
| | |
| | |
| | |
| Review mail by phone with a live person | |
| | Yes, $0.10/day for packages left longer than 30 days |
| | Not included in Traveler's Special (available as an add-on for an additional $7.99/month) |
4. Traveling Mailbox
Traveling Mailbox is one of the most affordable mail forwarding services for RVers if you don't plan to actually have a lot of physical mail forwarded to you.
That's because the focus of Traveling Mailbox is primarily on making it easy for you to see scanned copies of your mail online.
Traveling mailbox even features a mobile app where you can see and control your mail right from your phone.
The benefit of this service is it saves you money if you don't need domicile services and don't need much physical mail actually sent to you.
| | | | |
| --- | --- | --- | --- |
| | | | |
| | | | |
| Incoming Envelopes Per Month | | | |
| | | | |
| | | | |
| | $2 per shipment + postage | $2 per shipment + postage | $2 per shipment + postage |
5. Dakota Post
South Dakota is a favorite state for RVers because it's an easy state to domicile in that doesn't charge state income tax on personal or business income.
Dakota Post is dedicated to helping RVers domicile in South Dakota while also getting their mail forwarded to them wherever they go.
Dakota Post also provides additional services like helping you register a South Dakota LLC, registering vehicles, getting your South Dakota driver's license, and much more.
With an average rating on Facebook of 4.7 you can be sure that their team will take great care of you for all your mail forwarding and domiciling needs.
They break their pricing up based on the frequency with which you have your mail sent to you:
| | | | | |
| --- | --- | --- | --- | --- |
| | | | | |
| | | | | |
| Online access to view scanned mail | | | | |
| | | | | |
| | | | | |
| Mail Forwarding Worldwide | | | | |
6. America's Mailbox
This is the mail forwarding service used by the Family Motorcoach Association, one of the largest RVing clubs in the country.
America's Mailbox will also help you get a domicile address in South Dakota.
They offer one of the widest ranges of subscription levels of any mail forwarding service for RVers – meaning you're bound to get all you want within one of the packages.
America's Mailbox also receives very high marks from its customers and has been in business for a very long time.
Here are the different levels they offer:
| | | | | | |
| --- | --- | --- | --- | --- | --- |
| | | | | | |
| | | | | | |
| | | | | | |
| | | | | | |
| | | | | | |
| Online account to view mail and request forwarding? | | | | | |
| | | | | | |
| | | | | | |
Mail forwarding services are a must for folks living full-time on the road. The good news is, there are many such services available for a variety of mailing needs as you travel.
Along with mail forwarding, many of these services allow you to establish a domicile, or a new home state, because you're otherwise fully on the road.
By taking the time to pick the best mail forwarding service for you and your RVing family, you'll save a lot of headache and hassle as you enjoy your RVing journey.