Minivans took the world by storm in the 1980s and 90s. To this day it remains one of the most versatile ways for a family to get everyone and their gear from Point A to Point B.
So, it would be no big surprise for you to wonder if it is possible to convert a minivan into a cool camper?
Of course, with all that interior room, and a wide sliding door for easy loading, it is very much possible to convert a gently used minivan into a great camper.
So, be ready to be blown away by these 10 creative minivan camper conversions.
What Is A Minivan Camper?
Full size vans have been converted into camper vans since the early 1980s. This trend was picked up again by the "Van Life" trend transforming full-size Ford Transit and Mercedes Benz Sprinter vans into creative takes on what a Class B motorhome can be.
Though these are still bulky vehicles that don't always take well to tight turns and will have your knuckles turning white when high winds blow at the van broadside.
A minivan camper strives to make the most out of the nimble handling and versatility of the modern-day minivan, while also drawing inspiration from the resurrected conversion van concept.
This typically calls for taking the back seat out to transform some serious square footage into customized sleeping and living quarters.
What Are The Best Minivan Models To Convert Into A Camper?
Before we dive headlong into some amazing minivan camper conversions to wet your creative appetite, we should first take a look at some of the best minivan models to consider as a starting point.
These are models that offer a blend of versatility, durability, and convenience.
You might also be able to find them for a comfortable price that leaves more wiggle room in your budget for converting it to the camper of your dreams.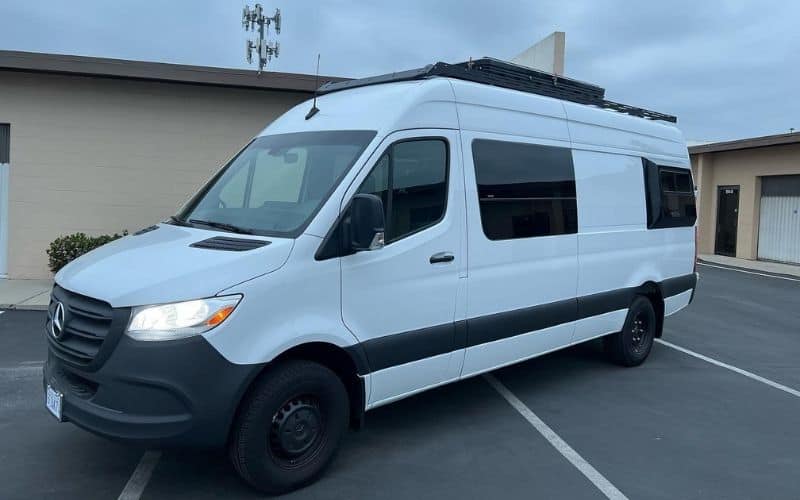 No surprise here, the Mercedes Benz Sprinter is widely considered to be the vanguard force driving the "Van Life" revolution forward.
So, it's no wonder that people are turning to the Mercedes Benz Metris as a popular minivan with all the chops deserving of a camper conversion.
The suspension system on the Metris can accommodate around 2,000-pounds, which is more than enough to support a bed, kitchenette, and water storage tanks.
There's also a fair amount of headroom in the large rear cargo area. Best of all, it has a towing capacity of up to 5,000-pounds, which is impressive for a minivan.
It gives you the ability to pull a trailer with extra gear, an ATV or any of your other favorite "Toys."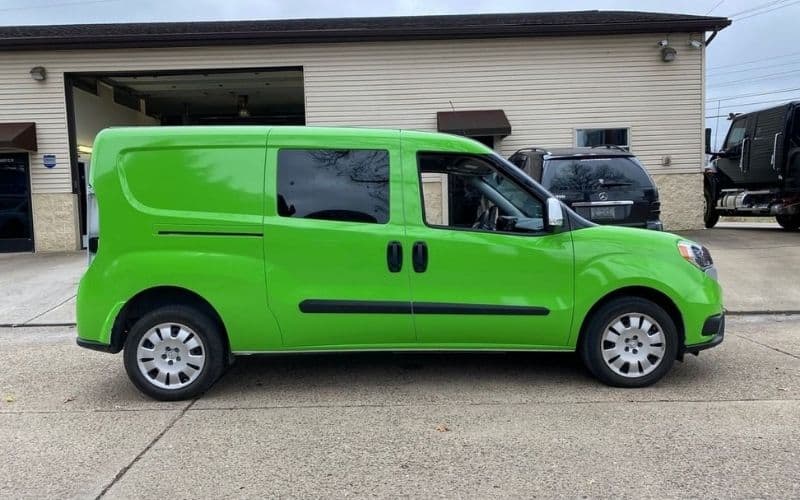 Rubbing shoulders and standing a little taller than the Mercedes Benz Metris, the RAM ProMaster City offers great payload capacity.
It also has more interior headroom. Not to mention the ability to tow up to 2,000-pounds with confidence. Yet it isn't too tall, which lets you install a cargo rack on the reinforced roof.
The engineering of the RAM ProMaster City minivan also takes well to camper conversion.
It has dial sliding door and split back doors just like you would find in a transit van. The interior also has a lot of storage compartments that come standard.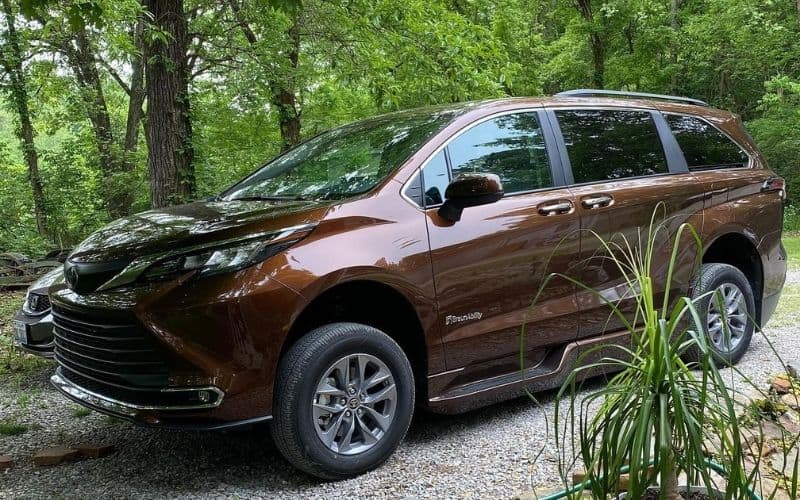 Like a lot of the vehicles in Toyota's lineup, the Sienna minivan has the kind of durability and reliability that immediately lends to camper conversion.
It also helps that it has good fuel economy and a towing capacity of up to 3,500-pounds.
There are also a lot of models and trim levels that have all-wheel drive which can come in handy if you like to camp off the beaten trail.
There are also a lot of engineering cues that lend well to converting this minivan into a camper.
The flat, reinforced roof is just begging you to add a cargo roof rack or solar panels.
At the same time the removable chair mounts and the stow-away third row seats offer up a smooth floor canvas to paint your creative camper ideas on.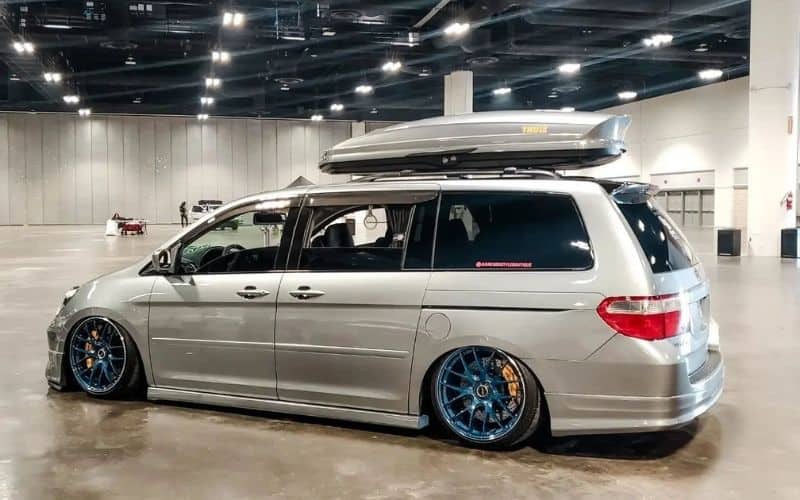 Right off the bat Honda is one of the most reliable brands in the world. This gives you the confidence in knowing that your minivan camper conversion will do its best to take care of you.
At the same time, the Honda Odyssey is a very popular used minivan, which means if it does break down or need maintenance, you'll be able to find parts quickly and affordably.
5. The Dodge Grand Caravan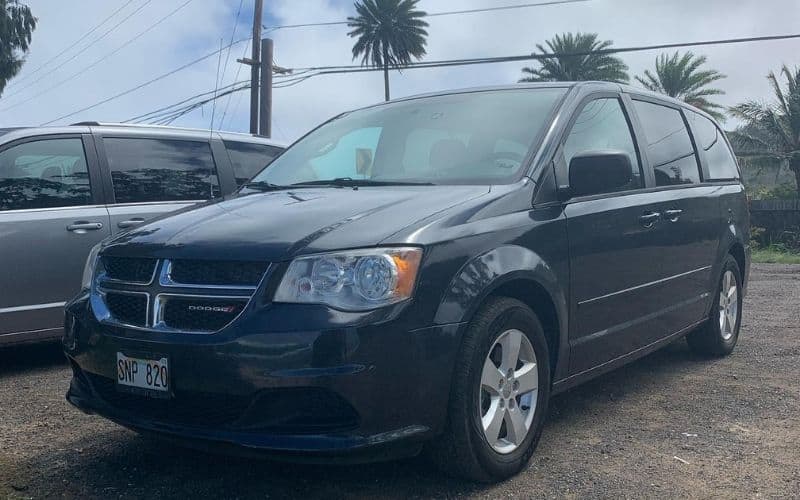 You can't swing a stick without hitting a Dodge Grand Caravan. This means that you can easily find a gently pre-owned model with a friendly price tag.
It also means that you can find parts and certified mechanics with tons of experience working on them.
There are some four-cylinder models, though they tend to be low on power and the higher revs actually drive down MPG for RV purposes. So, it's best to lean toward a six-cylinder version.
At the same time, the Dodge Grand Caravan also offers a strong payload capacity to accommodate your minivan conversion build as well as a robust towing capacity of up to 3,600 pounds.
It has a long interior with tons of storage space as well as rear stow-n-go seats.
10 Amazing Minivan Camper Conversions To Spark Your Creative Vision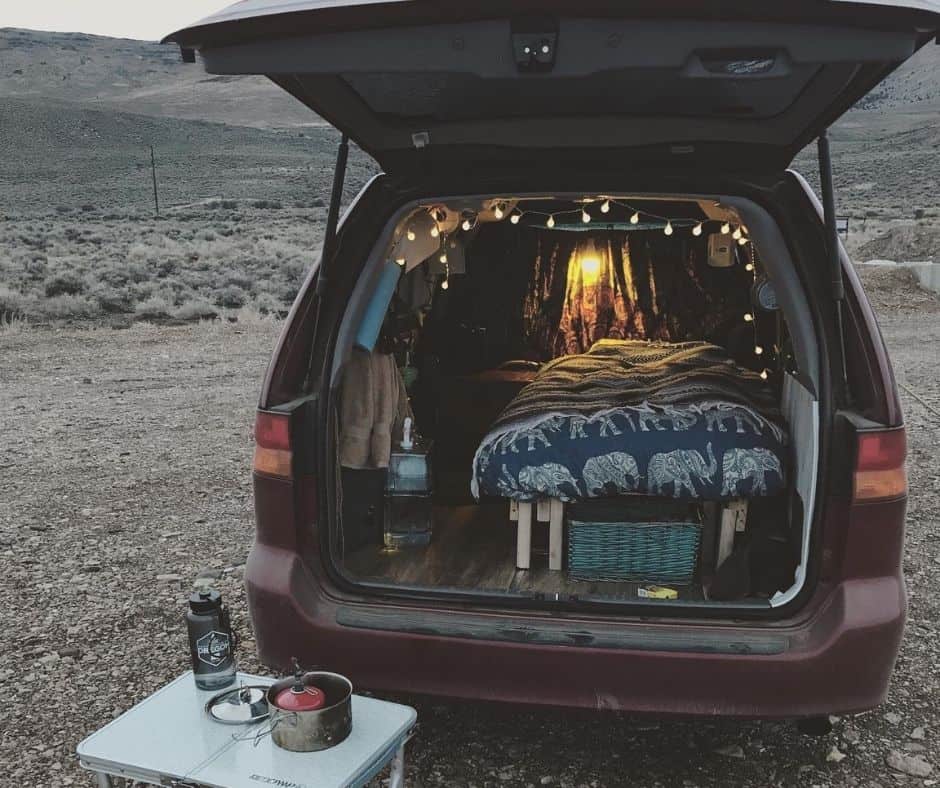 Finding a great deal on a good minivan is just the first step in the long process of creating the campervan of your dreams.
So, we decided to scour the internet to find some amazing examples that show off a minivan's camper conversion potential.
The following curated videos and reviews offer up a full spectrum of build and "No-Build" minivan camper conversions.
It is rife with ideas for just about any budget or travel style. Some from as low as $350 to some conversions costing thousands of dollars.
1. Minivan Converted to A Gorgeous Farmhouse Style Tiny Home
The couple at Kyle & Madison travel started out with a Honda Odyssey as the minivan canvas for their camper conversion.
They took their inspiration from the "Tiny Home" trend that has swept the nation to create a minivan camper that feels a lot like the lovechild of a rustic farmhouse and a modern-day RV campervan.
This starts with the rustic wood styling throughout to cultivate the farmhouse feel. Then they made use of every square inch of possible storage space.
This helps keep things like kitchen items and other loose tools stowed away and organized.
This goes a long way toward optimizing the available internal space. They even went so far as to install a running sink.
2. The Insulated Stealth Minivan Camper Upcycle
Upcycling is all the rage, as a great way to take something that may not be as useful as it originally was yet has enough functionality and versatility to be repurposed to live again.
It is the basic creation of Ryan "Kodiak" Brown, whose life as an adventure cyclist transitioned into an upcycled Van Life experience in his Dodge Grand Caravan.
He takes a minimalist approach when it comes to what he brings with him and how he keeps things organized.
This includes making use of things like paracords to hang clothes and lightweight items.
Sealable tote bins and hanging wall racks. Since very little is permanently affixed it lets Kodiak change the layout to meet his needs for whatever adventure he is engaged in at the moment.
3. A Toyota Sienna Minivan Converted Into A Motorhome With Bathroom And Kitchen
For some people the ability to go to the bathroom in privacy is one of the keystone differences that separates us from the rest of the animal kingdom.
So, it only makes sense that someone would create a minivan camper conversion that features one.
It also makes sense that the creator Renk would choose a reliable Toyota Sienna as the platform for what turns out to be a complete build that only costs around $350.
It was designed to accommodate tall people as best as possible. It also has a kitchen in the rear hatch that keeps the driver from having to live all day with the smell of their previous meal.
At the same time, it was also designed to be modular enough that they can take it out easily and put it into a different van, should they ever need to upgrade to a different vehicle.
4. A Minivan Camper Conversion That Sleeps 3
Here again we see the versatility and reliability of the Honda Odyssey on full display.
It even goes so far as to include some running water as well as minifridge, all without compromising the sleeping space.
This was important since it needs to comfortably sleep a family of three.
The creator Lili Mai even went so far as to create a portable bathroom set up with a folding seat, and a giant creamer can as a sealable repository.
This is a must for ladies who want their privacy as well as little kids who sometimes need to go to the bathroom with little notice.
5. Chantelle's My Basic Journey Minivan Camper Conversion
Here we see the uber-popular Dodge Grand Caravan on display for its versatility and dependability. Not to mention an affordable price tag.
Chantelle prioritized being able to create it herself, despite not being mechanically inclined, as well as affordable.
This called for a fair amount of upcycling to create functional storage and living furniture.
The build started with getting rid of the back seats and integrating a floor leveling plan that called for spray foam and shaving it to level before applying vinyl flooring.
This created the base for her memory foam bed. Then she blocked out the windows to give her privacy, while also taking the time to decorate them to give the interior a homier feel.
6. Dave OTG's Stealth Off The Grid Minivan Camper Conversion
This impressive minivan camper conversion uses the 2009 Toyota Sienna LE as the base.
Dave OTG started out with a goal of making it off-road capable, yet this trim level of the Toyota Sienna having front wheel drive, the creator had Falken trail rated tires installed.
Then he had it lifted to give the minivan a full 12 inches of ground clearance.
This build is the epitome of what a minivan camper conversion can be when meticulous attention to detail is applied.
He went the extra mile to make it four-season capable with a Maxxair roof fan, Reflectix insulated sidewalls, and a diesel heater.
The kitchen area is laid out to maximize versatility, while still taking up a minimal amount of space. It even includes a state-of-the-art induction cooktop and a single burner propane stove.
Going the extra mile, he even built this minivan camper to charge all his essential devices. This includes an Android head unit, Phone/DSLR Mic.
Then it is also installed with solar panels, a solar charge controller and a battery bank to help him store power when living off the grid.
7. Elaine Travel Grandma's Minivan Camper Conversion
Elaine proves to us that you are never too old to adventure. She started out with this Dodge Grand Caravan and a minimalist approach to finding out her own travel preferences.
This started out with an initial journey equipped with little more than a bed, an ottoman, and a few other essentials.
When she finished her initial cross country journey Elaine got to work developing the minivan camper of her dreams.
It starts with a parting screen door at the sliding door. This keeps bugs out, while letting fresh air in. It's also a lot more effective at blocking pests who are prone to fly in anytime the suction of the big sliding door opens.
The stow and go seating lets her lay the seats down flat when she is traveling, but still use them when she is home to take her grandchildren around.
The rear of the minivan camper doubles as a kitchen when she needs to cook or a bedroom when she and her husband want to go to bed.
It even includes extending foot space to let them stretch out. USB fans and Reflectix insulated panels help maintain proper climate control.
8. Marshall's Mellow Nomadic Adventures Dodge Grand Caravan
Marshall from Mellow Nomadic Adventures grabs hold of what the 2013 Dodge Grand Caravan has to offer and doesn't let go.
He prioritizes the driver's side sliding door to give him quick and easy access if he needs to switch out from driving to the living area in the rear interior.
The interior gains privacy with high-quality blackout curtains. The flooring is made from a tongue and groove composite material to give him a stable base.
Then he uses the underside of the flooring for running wiring as well as storing essential camping items.
Marshall borrows from a popular feature on a lot of teardrop campers by turning the rear hatch into a kitchen area.
This keeps the odors of cooking a meal from permeating the rest of his interior living space.
It includes thoughtful waterproofing where he needs it and the overhead tailgate gives him some protection from the rain.
In a severe storm the cooktop is even portable enough to be brought inside or into a pavilion tent. He uses a Jackery fridge/freezer combo to chill perishables.
9. Adventuring With Amada's No Build Dodge Grand Caravan Minivan Camper Conversion
This is a practical No-Build Dodge Grand Caravan minivan camper conversion.
This is her adventure machine that lives in full time when she is on the road, while still maintaining an apartment as her permanent residence.
Amanda starts with using a Yeti powered cooler to act as her refrigerator. The sleeping area sits in the middle of the minivan's interior.
The bedside table has serves as interior storage and can be accessed via the driver's side sliding door for exterior storage.
She uses a Jackery 240 as an internal power station for charging her essential devices.
This includes powering the USB port for her swamp cooler bedside air conditioner as well as her laptop and other devices that she needs to work from the road.
10. David's Tiny Home Minivan Camper
David is a frugally minded man who is approaching the retirement years of his life while embracing affordable travel.
So, it only makes sense that he would also embrace the minivan camper conversion trend.
He uses Chrysler Town & Country, which is essentially a rebadged Dodge Grand Caravan.
He emphasizes thoughtful simplicity, without compromising functionality. This iteration is his third build for this versatile Town & Country model.
He uses a standard sheet of plywood, cut down to 7 feet in length to create an extremely stable, level floor and base for his Therma rest inflatable bed mattress. Yet it still offers a lot of storage underneath.
A folding table pulls out to let him make the most out of the rear hatch area. It creates a veritable "Trunk" with the stow and go seats fully removed.
Frequently Asked Questions
How Much Does It Cost To Convert A Minivan Into A Camper?
As you see in this list, some of the no-build minivan camper conversions can be done for as little as $350 to $400.
Though you can certainly spend well over $1500 or $2,000 to truly deck a minivan out with creature comforts, off-road upgrades and electronics like you see with Dave OTG's build.
It all depends on what your priorities are, and how much of a budget you can put together.
How Much Does It Cost To Maintain A Minivan?
One of the great things about minivans is that they are relatively inexpensive to maintain and repair.
In the United States market the cost per year to maintain a minivan can range from as low as $400 a year for something like the Honda Odyssey, to as much as $750 per year for the higher trim levels of the Dodge Grand Caravan.
Though even on the high end it is still less than the $885 average annual maintenance cost of a typical SUV.