A lot of people think that you need to own a gas-guzzling full-size pickup truck just to be able to tow a travel trailer.
It's the sort of big investment that doesn't really pay off if you only need to take your travel trailer, fifth-wheel, or other types of towable RV on one or two vacations each year.
This problem can be especially vexing if you want to use your trailer as a seasonal home base, or you want to park your destination trailer on a piece of land and leave it there in the long term.
Thankfully, there are trained and highly experienced professionals who can tow your trailer for you. Though finding the right one, at the best price can feel a little bit confusing.
In this article, we will demystify the process of finding the right professional to tow your trailer, as well as how to know when the price is right.
This includes provisions you might need to make for special scenarios and emergency situations.
Find RV Transport Services Near Me
The transport sector continues to evolve, which means there are a surprising number of RV transport specialists who are well-equipped to help you move your towable RV, at just about any distance.
This might be taking it from the manufacturer to a local dealership, bringing your trailer from your home to private land, transporting your destination travel trailer to a seasonal campground, or bringing your trailer home in an emergency.
RV dealerships in particular tend to have one or two dedicated RV transporters who can deliver your new trailer directly to you, as part of the purchase price.
If necessary, they can even haul it at a greater distance for a modest fee.
How Much Does It Cost to Transport an RV?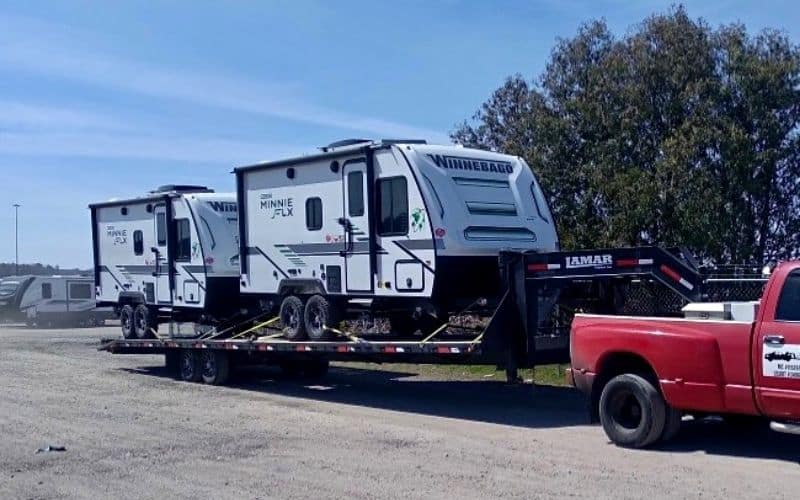 Distance is the biggest factor when it comes to determining the cost to transport a trailer or other type of towable RV. The per-mile scale can also change with longer distances.
While the price per mile will likely vary from one RV transport company to the next, you can expect to pay an average range of $3.00 to $4.25 per mile for a trip that is 100 miles or less.
If you are purchasing a new trailer from a local RV dealership, they might cover these costs for you the first time.
For longer trips of 1,000 miles or more the price per mile can drop significantly. Most long-distance RV transport companies will charge between $1.10 to $2.15 per mile.
How Much Does It Cost To Transport A Rental Trailer?
These days sites like RVshare and Outdoorsy help families like yours connect with private RV owners who are willing to rent out their travel trailers, popup campers, and fifth-wheel trailers.
Many of them offer delivery or towing services for people who don't have a full-size pickup truck, or who aren't comfortable towing a trailer.
Most will deliver the trailer to a local campground or RV park within a close radius of their hometown, for free. This is usually 25 to 50 miles.
Though in more remote areas like Montana, the UP of Michigan, and Northern Minnesota, they might offer free delivery within a 100 miles radius.
So, if you want to save money on your transport or delivery costs with a rental RV, you need to be methodical with choosing the areas you want to search in.
Then make sure to set the mileage filter into less than a 50-mile radius.
Beyond that 50-to-100-mile range, most private RV owners and rental companies will charge between $1 to $3 per mile.
Which can really drive up the cost of your vacation. Though most include the cost of setup as a flat fee.
Why Hire Someone To Transport Your Trailer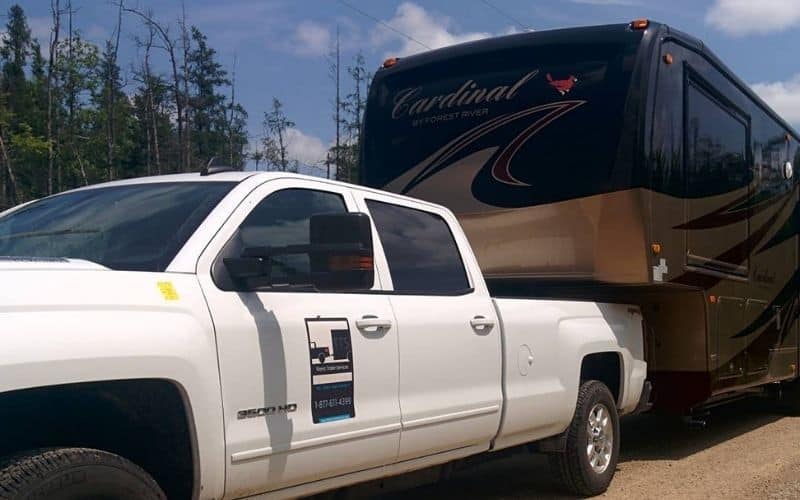 There are several different reasons why you might want to hire someone to transport your trailer for you.
Some are practical, everyday matters, and some could be special occasions or even emergency situations. This includes things like:
Does Transport Cost Include Setup?
A lot of RV transport companies are just transporters, and might not be well-versed in doing things like connecting sewer and water hookups.
Though RV dealership transporters and RV rental transporters might be willing to handle setup and connections for you for a flat rate between $50 to $200.
Understanding RV Transport Costs
Let's say that you have your own pickup truck, that is capable of towing an RV that you bought from a private seller or a dealership that is far away from your current location.
You might be weighing the cost of towing it yourself or paying the per-mile price offered by a professional transport company.
When determining your costs consider the following factors:
Are RV Transport Services Insured?
When looking for the best RV transport service to tow your trailer or RV, you need to make sure that they are fully insured.
This goes beyond the liability and commercial comprehensive coverage that someone with a Class A or CDL needs to have.
They also need to carry RV transport insurance to cover any towable that weighs 26,000-pounds or more.
How Far Will An RV Dealership Deliver A New RV?
Most RV Dealerships have a limited range that they will deliver a new trailer that you purchase directly from them.
This is usually up to 50 miles. If you need transport beyond that, then they will usually charge you $2.00 to $3.50 per mile.
Though you should beware the "Markup" that a lot of dealerships place on associated fees like this.
If you do need them to transport your new towable RV more than 50 miles, you might want to ask for a price quote.
Then contact a local RV transporter and ask for a competitive quote.
They might not give you the first 50-miles for free, but there isn't going to be a dealership markup cost attached to it either.
Conclusion
There are plenty of professional transport companies that will tow your RV for you.
Though most won't handle setup the way an RV transport specialist might be willing to do for a fee.
If you are thinking about renting an RV, but you don't have a truck capable of towing it, or you aren't comfortable towing such a large rig on the open road, then contracting a private rental through a site like Outdoorsy or RV share makes sense.
Not only are they adept at making these transports, most will set up for you. Though to keep your RV transport costs as low as possible, it's wise to limit your search radius to 50 miles or less.
If you are purchasing a new trailer from an RV dealership, and you want them to bring it to you, or your seasonal campsite, it's reasonable to expect free transportation within a 50-mile radius.
Then they will likely ask you to pay between $2.00 to $3.50 per mile beyond that.
If you are thinking about going this route, make sure to get a competitive quote from a local RV transporter to ferret out any potential markup costs the dealership might be assessing.