South Carolina beachfront campgrounds are a coastal paradise with gorgeous beaches, an appealing climate, and a range of outdoor activities. My family and I have been camping in South Carolina from the State Park of Myrtle Beach to Hunting Island for many years. So, if you are struggling to find a campground in South Carolina, I am here to make life easier for you.
Coastal campgrounds in South Carolina are popular because, quite frankly, no place comes close. From Charleston to Lakewood Camping Resort and beyond, these campsites provide gorgeous coastal views, fantastic amenities, and abundant activities that will make your camping experience unique.
In this article, I will include feedback from previous campers who share their experiences about each campground so that it's not just my word. I'll even help answer some frequently asked questions at the end.
So let's explore the world of beachfront camping in South Carolina and help you choose the ideal campground for your next trip!
Best 15 Coastal Campgrounds In South Carolina
My list features the best coastal campgrounds in South Carolina based on not one but several different criteria, including the following:
Amenities: The places featured in this list have a range of amenities to make your time there comfortable and convenient. Most campgrounds featured on this list have showers, laundry services, public restrooms, and more.
Facilities: There's plenty to see and do with the options on my list. These campgrounds have fun facilities like bird watching, swimming, hiking, etc.
Activities: Since you will find many explorers enjoying these parks and campgrounds, I've only included the ones with exciting activities and games you can enjoy with your family and loved ones.
Camper Reviews: To get the inside scoop on the experiences these campgrounds offer, I've found reviews from those with inside knowledge about those sites.
So here it is – the following are the best 15 coastal campgrounds in South Carolina, along with a brief description of each campground, its location, facilities, activities, and previous camper reviews:
Huntington Beach State Park
Location: Murrells Inlet, SC
Huntington Beach State Park offers some of the most beautiful oceanfront campgrounds in South Carolina, with spacious campsites nestled among the dunes. There are plenty of amenities to make your stay comfortable and enjoyable. Expect full hookups, clean showers, and a campground store close. 
At this state park, you'll find many activities to entertain you and your family. You can go swimming, sunbathing, birdwatching, and hiking in this camp. From personal; experience, I will advise you to see the nearby Atalaya Castle before leaving.
Sherry Hoagland, one of the regular campers, enjoyed her experience and stated that Huntington Beach State Park had easy access to showers and bathroom facilities and that the experience was overall inexpensive.
State Park Near Edisto Beach
Location: Edisto Island, SC
Edisto Beach State Park, located on the remote Edisto Island, is a nature lover's heaven. You'll find diverse animals among lush trees and bushes. The campsite has oceanfront sites and amenities like showers and laundry.
There's also plenty to do for you and your family. Fishing, crabbing, shelling, and bicycling along picturesque paths are all options you can enjoy while staying here.
Madi Hankinson, a seasoned camper, said, "The absolute best relaxing beach campground ever. Plenty of beach access, well-kept grounds, and clean restrooms and showers. Plenty of restaurants within walking or bike riding distance." 
State Park Of Myrtle Beach
Location: Myrtle Beach, SC
Myrtle Beach State Park is located directly on the Atlantic Ocean's coastlines and provides beachfront and forested campsites. You'll have no trouble with the amenities on site as it boasts the complete list: Wi-Fi, full hookups, and clean facilities.
It's challenging to get bored whenever we visit the State Park of Myrtle Beach because there are many things to do. My kids enjoy swimming, fishing, hiking, and relaxing on the lovely beach.
According to Melinda C., a previous visitor to Myrtle Beach, "The staff is friendly, the store is well stocked, and the grounds are well kept. There isn't a bad campsite in the place!"
Family Campground At Ocean Lakes
Location: Myrtle Beach, SC
Ocean Lakes Family Campground is popular for families looking for an exciting coastal camping experience. While it can get crowded in the summer, the visit is well worth it for me and my family. There's always so much to do, and this sprawling campsite has a variety of attractions, including pools, a water park, mini-golf, and even a nature center on-site.
What impressed me about Ocean Lakes is that camping fans may use beachside access and other fun things like fishing and biking.
A previous visitor, Lee Holden, states that it was a nice place that was well maintained, yet could be expensive for some, which could price them out of the experience.
Lakewood Camping Resort
Location: Myrtle Beach, SC
Nestled along the shores of the Atlantic, Lakewood Camping Resort is a premier oceanfront RV park. Besides being drop-dead gorgeous, the resort has an array of amenities, including pools, a lazy river, a water park, and a mini-golf course.
You can enjoy direct beach access, fishing, biking, and organized events. The staff that was there was very helpful and made our experience as smooth as they could have.
"The campground is great, with many activities and amenities for all ages. We love the accessibility to golf carts on site, slides, pools, ice cream, and camp store.", said Crystal Seitz, who enjoyed camping at the Lakewood Camping Resort.
Hunting Island State Park
Location: Beaufort, SC
Hunting Island State Park is a coastal treasure with miles of unspoiled beaches and magnificent scenery. My wife won't stop talking about it for weeks after every time we've gone down there.
The campsite has the usual oceanfront sites and facilities you would expect, including bathrooms, a camp store, and a fishing pier, so you can be sure your trip will be comfortable and hassle-free.
If you love exploring, this is the place for you. Swimming, hiking the nature paths, exploring the old lighthouse, and seeing animals are all options awaiting you when you visit. According to La Tompkins, "Excellent State Park, even with the lighthouse closed, is well worth the trip. Great beach!"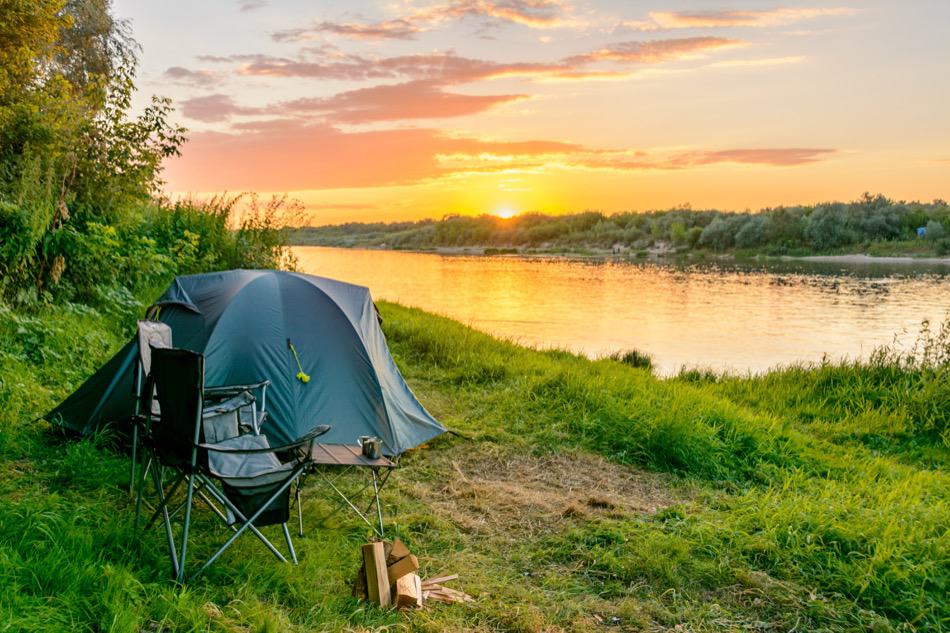 James Island Park
Location: Charleston, SC
James Island County Park provides a unique coastal camping experience of oceanfront RV parks in Charleston, SC. You won't be disappointed as it's a beautiful place to drive down to and set up camp. The campground features spacious campsites with full hookups and clean facilities like bathrooms, showers, etc. At this site, you may use the park's trails to go swimming, biking, fishing, kayaking, and hiking, which the kids enjoyed thoroughly.
Ann Wright, one of the campers at James Island Park, thoroughly enjoyed her experience and said, " Plenty to do. Relax and enjoy the scenery. Visit the climbing wall. Rent kayaks. Camp and fish. Festivals and activities all year long."
Ocean View Resort Campground
Location: Ocean View, SC
Ocean View Resort Campground is a family-friendly oceanfront campground with direct beach access. A diverse crowd of families comes down here, especially during the warmer months. It's got everything you can ask for, like a pool, a playground, and a game room. The staff is also polite, friendly and helpful. We had a great time at Ocean View and can't wait to visit again.
According to Juan Beltran, whose family visits regularly, "Very nice and friendly staff clean bathrooms we come here every year."
Pirateland Family Camping Resort
Location: Myrtle Beach, SC
If you're looking for something different, this is the place for you. Pirateland offers a pirate-themed experience that the kids enjoy, unlike other options. This resort is right along the Myrtle Beach shoreline.
You can enjoy plenty of fun things to do as they have pools, a lazy river, a water park, and a mini-golf course at the campsite. 
The pirate-themed activities made the beach, fishing, and kayaking enjoyable when we visited.
Michele Claterback, a regular camper, loved camping here and, in her review, said, "Great Campground! On the beach! Great prices, and the staff in the office is #1! Super clean bathrooms/shower!"
Oceanfront Camping at Briarcliffe RV Resort
Location: Myrtle Beach, SC
Briarcliffe RV Resort has many beachside camping attractions. If you're looking for a fun and relaxed spot that is child friendly, this is the place for you. The resort's best attractions include a swimming pool, a playground, and a clubhouse.
Anne C, who visited the park, said, "Checking in was a breeze, and the entire office staff was great. Our kids loved the golf and arcade room." 
WillowTree RV Resort and Campground
Location: Longs, SC 29568
WillowTree RV Resort and Campground is a peaceful beachside hideaway near Myrtle Beach. The campsite has a large swimming pool, a fishing lake, full hookups, and a dog park. Campers can even take advantage of beachside access, fishing, and rafting.
William Moglan is a WillowTree regular and had nothing but good things to say, "By far the best campground at the beach.! Beautiful sites, plenty of room, very well-kept grounds, immaculate bathrooms!"
Apache Family Campground and Pier
Location: Myrtle Beach, SC
If you love fishing, this is the campground for you. Apache Family Campground and Pier is an oceanfront campground for families known for its fishing pier. At the same time, it also comes complete with a pool, a playground, and an arcade that will keep the kids engaged for hours.
While Nicholas enjoyed camping at the Apache Family Campground and Pier, he found it a bit expensive. He says, "Great location and nice facilities but a little pricey for all it offers."
Lakewood Beach Resort
Location: Myrtle Beach, SC
Lakewood Beach Resort provides oceanfront camping in the heart of Myrtle Beach. We loved the overall picturesque beauty of the place and the clear blue water.
The resort has many state-of-the-art amenities, and we were impressed with how clean everything was. We saw a lazy river, pools, a water park, and a mini-golf course. 
Campers can have direct beach access and relax by fishing, riding, and participating in the many events they have organized.
Jenny R, who traveled with her family, said, "The list of free things to do for the kids is appreciated and well planned! The fish fry truck was good, and Trading Post pizza was good too. Security was noticeable patrolling on their golf carts."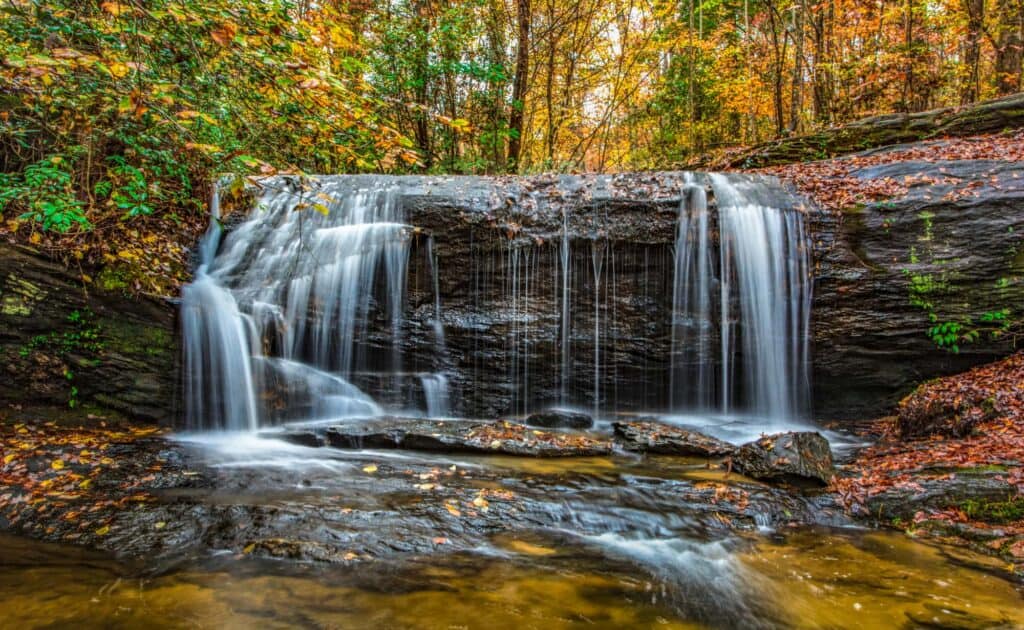 Ocean Waves Campground
Location: Waves, SC
Ocean Waves Campground is a lovely beachside campsite recognized for its tranquil ambiance. This is my go-to destination for peace and calm whenever I need to clear my head.
As with many options on this comprehensive list, you'll find food staff and amenities here. The campsite has clean restrooms and plenty to do, giving you the experience of the best South Carolina beachfront campgrounds. 
There's plenty to do in this relaxed and serene environment, and visitors may relax on the beach, fish, or explore neighboring attractions.
According to Rodney Johnson, who enjoyed his experience at Ocean Waves Campground, "Awesome clean family camping with a great staff that cares for their campers!"
Charleston Holiday KOA
Location: Ladson, SC
Charleston KOA Holiday is a family-friendly campsite in historic Charleston. We loved how family-friendly it was and made plenty of great friends there. It features a jumping pillow, a dog park, pools, and organized events. 
Campers can enjoy their family time with a visit to historic sites in Charleston, fishing, or relaxing on the beach.
Kayla had a great experience but found the place a bit expensive. In her review, she said, "Nice place, decent location but a bit overpriced, in my opinion."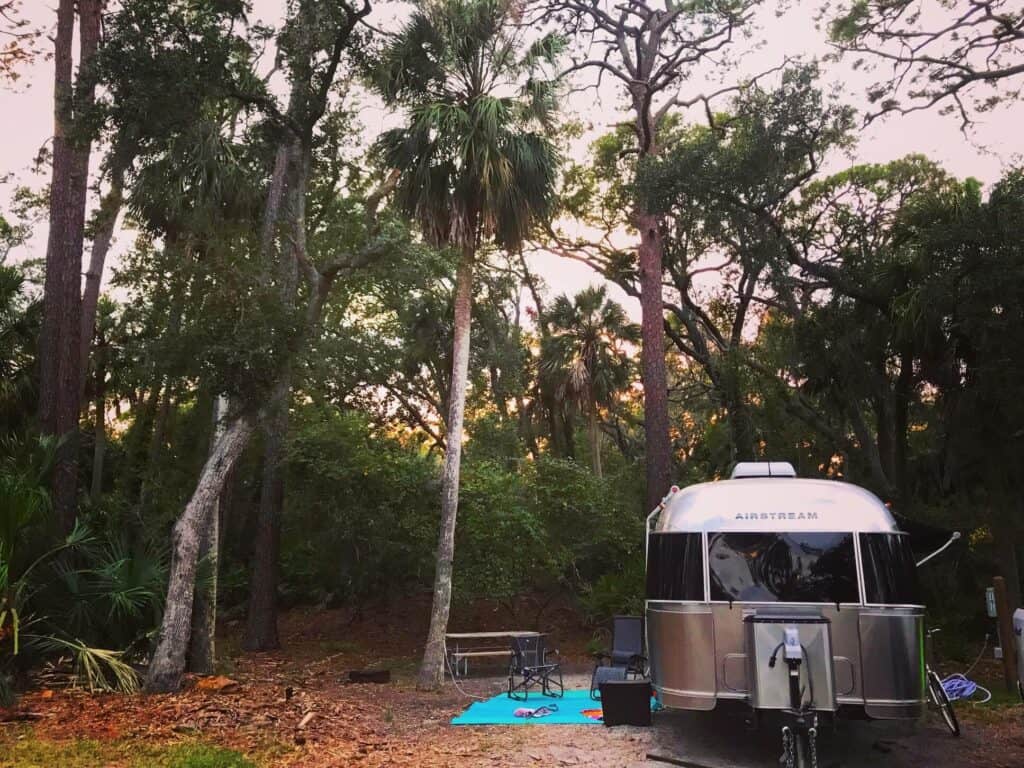 Conclusion
The campgrounds I have presented in this review cater to all tastes, whether you seek a relaxing escape or an action-packed adventure. Showers, laundry facilities, Wi-Fi access, pools, playgrounds, and game rooms provide comfort and convenience throughout your stay.
Swimming, sunbathing, hiking, bicycling, fishing, boating, and golfing are just a few activities that will keep you busy and immersed in the natural beauty surrounding you.
Don't simply take my word for it, though. Previous campers have shared their experiences, providing essential insights into each campground's ambiance and offerings. Their reviews help you choose the ideal campground for your interests and needs.
So, if you want to go oceanfront camping, South Carolina is the place to go. Pick one of these South Carolina beachfront campgrounds for your next camping trip, whether you're drawn to the elegance of Charleston or the bright excitement of Myrtle Beach. 
Immerse yourself in the natural beauty of South Carolina's beaches, engage in outdoor activities, and make memories that will last forever. Discover the allure of seaside camping in South Carolina for a once-in-a-lifetime adventure.
Frequently Asked Questions (FAQs)
Can you camp on South Beach?
Yes, camping is permitted on South Beach in approved locations, offering a one-of-a-kind experience of sleeping beneath the stars beside the beach.
What is the most popular type of campground?
Oceanfront campsites are the most popular campground form in South Carolina, where campers may enjoy spectacular coastline views and direct access to the beach.
Does Virginia Beach have a campground?
Virginia Beach has various campgrounds, such as First Landing State Park, where tourists may enjoy the gorgeous coastal surroundings while camping.
What is the largest campground on the East Coast?
Ocean Lakes Family Campground near Myrtle Beach, South Carolina, is known as the largest campsite on the East Coast due to its vast size and various facilities.
Can you sleep in a tent on the beach overnight?
Sleeping in a tent on the beach overnight is permitted in some regions and at certain times, but verifying local rules and securing the necessary permits is important.
Can you sleep in a beach tent?
Yes, you can sleep in a beach tent, which provides a practical and comfortable shelter for overnight stays near the ocean while allowing you to enjoy the coastal wind and wave noises.