SUVs are very popular for their durable versatility. Many SUVs have the horsepower to tow a camper on the weekend, while still getting you around in comfort and style on Monday through Friday.
Finding the right SUV to pair with your camper does take a discerning eye. Right about now you might be wondering what is the best SUV to tow your camper or travel trailer? This process starts with identifying some basic characteristics
Most full size SUVs have the engine, torque, transmission and other features to comfortably tow travel trailer weights around 7,000 to 8,000-pounds. Though there area few like the Ford Expedition, with it's upgraded tow package that can confidently tow as much as 9,300-pounds. This is enough towing capacity to handle a fully loaded travel trailer camper.
In this article, we will take a closer look at some of the most popular SUVs, the best trim levels to maximize their towing capacity and other key features.
8 Of The Best SUVs For Towing A Trailer
SUVs have undergone a lot of evolution since their meteoric rise in the late 1990s. Today the marketplace of potential tow vehicles is extremely rich.
While you might feel spoiled for choice at first glance, I think you'll find there are a few SUVs for towing a travel trailer that rises above the others.
Below is a list of the top 7 towing SUVs topull a travel trailer safely and securely.
1. The Dodge Durango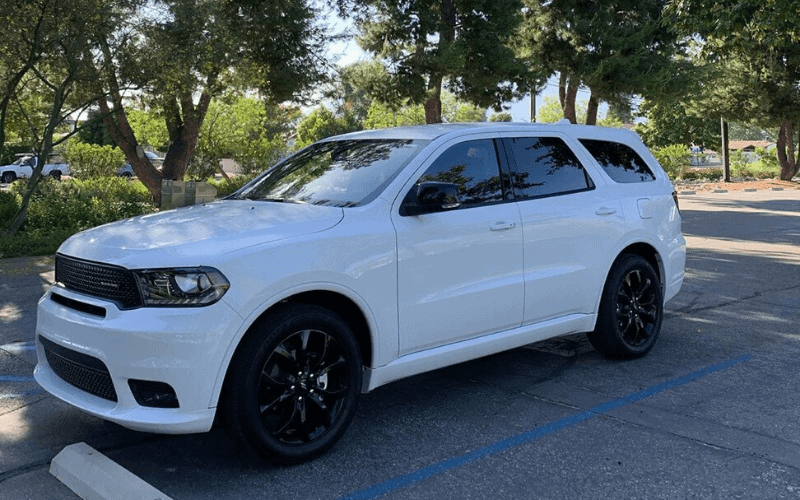 The Dodge Durango has evolved from it's earlier versions to become a powerful towing machine that's capable of pulling most travel trailers.
Yet it also looks good and has the ride comfort you want as a daily driver.
When the Dodge Durango first appeared on the scene in the late 1990's it essentially just used the Dodge Dakota pickup truck platform.
The rear cargo box was converted into seating and storage. The rear suspension even used the pickup truck leaf springs.
About The SUV
It was reinvented in 2011 to become its entity independent of its light-duty pickup truck forebearers.
This translates into an impressive 8,700-pound towing capacity from a 3.6-liter V6 engine.
SUV Towing Capabilities
It has a rear-wheel-drive standard with an 8-speed transmission to put the power down when you need it.
There are also iterations of the 2020 Dodge Durango that offer 4-wheel drive packages.
Though you might not need it if you are going to be towing your travel trailer on paved roads from your home to an RV park.
You will get the best towing statistics from the SRT trim level with Dodge's proprietary Trailer Tow Group IV package.
This includes 470 foot-pounds of torque a Class IV receiver hitch, a trailer brake controller, a compact spare tire, and a 7- and 4-pin wiring harness.
2. The Ford Expedition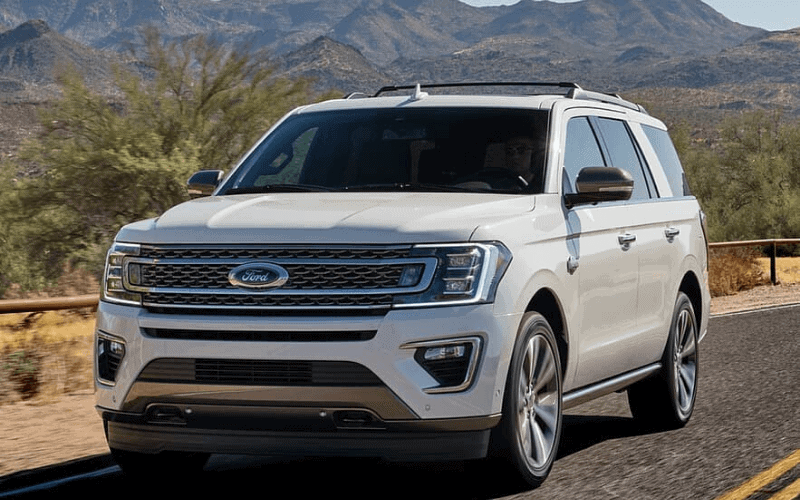 The 2020 Ford Expedition is the definition of the term "Robust." It's grown more sophisticated over the years from its days as a converted F-150.
Today's version of the Expedition gives you comfort and smooth handling in a full-size SUV as well as impressive towing characteristics.
All with an average MPG that won't make you cringe like its older brother.
About The SUV
The 3.6-liter V6 engine is quite the departure from the Ford Expedition of a decade ago, which lumbered down the road with an inefficient 5.4-liter Triton V8.
The 2020 Expedition also has the creature comforts you want in an SUV that you are going to drive to the office Monday through Friday.
Yet it has the torque to pull a large boat or a heavy travel trailer camper.
SUV Towing Capabilities
You will get the best towing statistics from the XLT trim level of the Ford Expedition.
This includes standard rear-wheel drive but adds on the $1,570 Heavy-Duty Trailer Tow Package.
This includes a heavy-duty radiator, as well as a 3.73 limited-slip differential.
There's also an integrated trailer brake controller paired with Ford's Pro Trailer Backup Assist.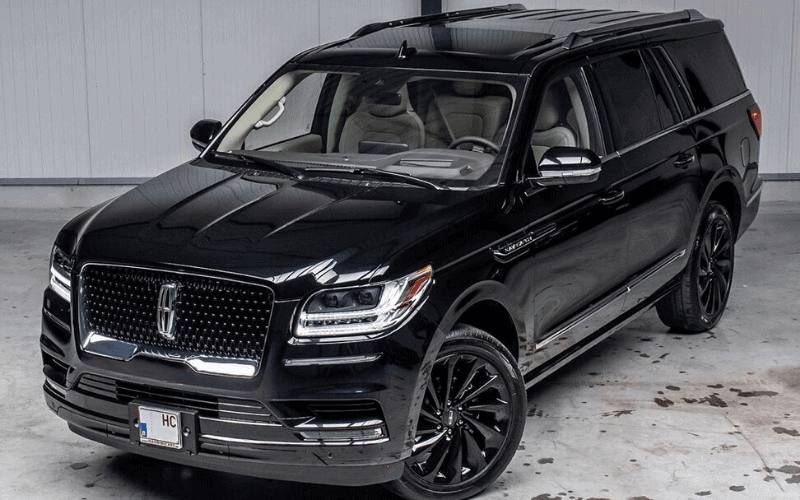 Lincoln has long been a luxury car company and you see that come through in spades with the 2020 Lincoln Navigator.
Lincoln is technically under the Ford Motor Company umbrella, which means you are getting a lot of what makes the Ford Expedition so popular, yet all the creature comforts are turned up a notch.
About The SUV
Sitting in the seat for the first time, you feel the comfort and luxury that you expect in a Lincoln vehicle.
At the same time, it also offers a smoothness of control and handling.
This is thanks to Lincoln's proprietary Driveline traction control system and the Navigator's upgraded suspension.
An impressively engineered 10-speed transmission helps put down the power from the 3.5-liter V6.
About The SUV Towing Capacity
To get the most towing capacity out of the 2020 Lincoln Navigator you will want to select one with the optional Heavy-Duty Trailer Tow Package that comes with mid-level Reserve trim.
This adds a 4-and-7-pin wiring harness, as well as a heavy-duty radiator, a trailer brake controller, and a trailer sway control system.
It also adds a two-speed transfer case, as well as Lincoln's Pro-Trailer Backup Assist.
4. The Chevrolet Tahoe
The Chevy Tahoe offers a lot of horsepower and torque that you need for times when you want to take your travel trailer camper off the beaten path.
It's a great option for people who love to go too rustic campgrounds with their RV trailer, yet still want a commanding presence in their daily driver.
About The SUV
The automotive industry is gradually transitioning away from the 8-cylinder engine, much to the chagrin of some.
If you are the kind of person who loves the power and rumble of a V8 and you are okay with the fuel consumption that comes with it, the 2020 Chevy Tahoe might be the best full-size SUV to tow your travel trailer.
It has rear-wheel drive with an anti-lock braking system and driveline traction control.
About The SUV Towing Capacity
If you want the best tow characteristics possible from the 2020 Chevrolet Tahoe then you'll want to take the base model and upgrade it with the Max Trailering Package.
This adds a 3.42 axle ratio, as well as a trailer brake controller. This package also includes a heavy-duty suspension package and an air leveler.
5. The Nissan Armada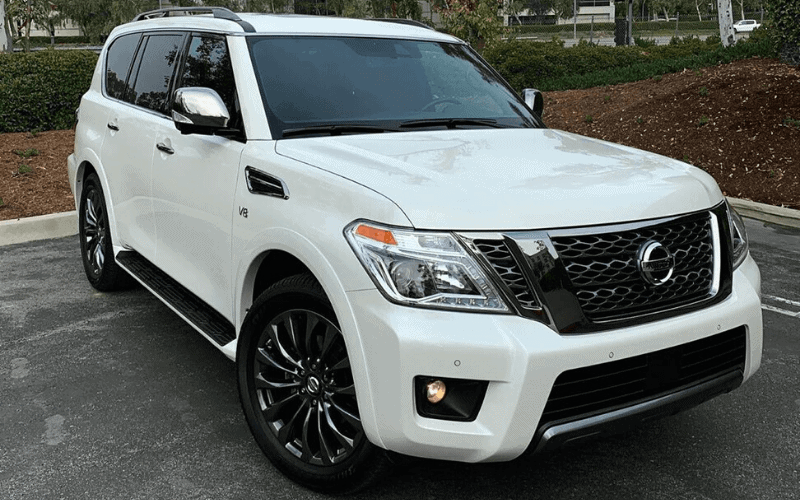 Nissan is a somewhat new presence in the full-size SUV niche.
So, the Armada was designed to bring the comforts of a daily driver, at a price point that's arguably more comfortable than some of the domestic competitors.
About the SUV
The 5.6-Liter V8 engine that comes standard in the 2020 Nissan Armada is surprisingly more fuel-efficient than you might think.
This is thanks in part to the 7-speed automatic transmission with overdrive.
The interior was also designed with comfort in mind, yet Nissan did their best to not make it feel like they cut any corners.
About The SUV Towing Capacity
If you want to get the most out of the towing capacity, you will want to upgrade to the special Driver Package that Nissan offers with several of their models.
This adds a tow hitch receiver as well as the critical trailer brake wiring.
The Driver Package also includes a power liftgate, and fog lights, as well as thirdrow of seats with a power-folding mechanism.
6. The Infiniti QX80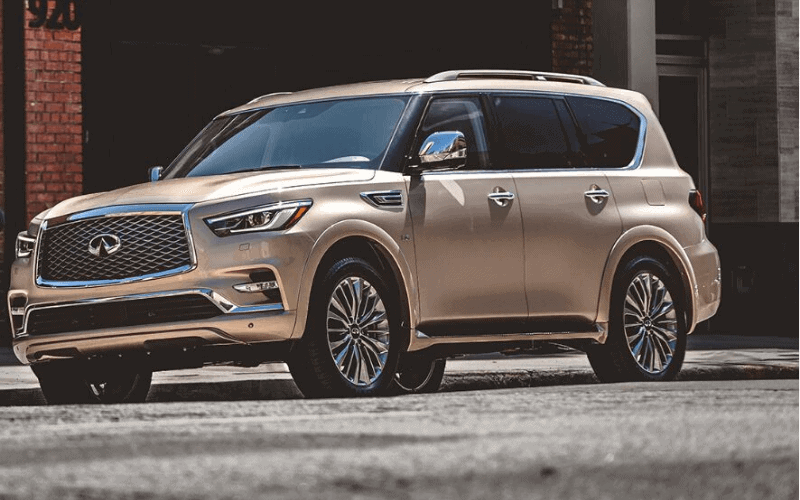 The Infiniti QX80 has a robust 5.6-liter V8 engine that appeals to a lot of US and Canadian consumers who prioritize power and torque.
Yet it also brings the sophistication and features that you expect from a Japanese luxury car manufacturer.
About The SUV
The 5.6-Liter V8 engine in the Infiniti QX80 produces an impressive amount of torque when you need it.
Not to mention the sophisticated traction control system that comes standard.
Yet the interior has all the comfort features you'll enjoy like heated seats, rear AC, sliding glass sunroof, and Infiniti's "In-Touch" navigation system.
About The SUV Towing Capacity
On its own the standard family base package that comes with the Infiniti QX80 is impressive.
When you upgrade to the Luxe model you get a Class IV tow hitch with a 7-pin wiring harness.
It also comes with a Weight-Distributing Hitch Ball Mount which maximizes the Infiniti QX80's towing capacity at 8,500-pounds.
7. The Land Rover Discovery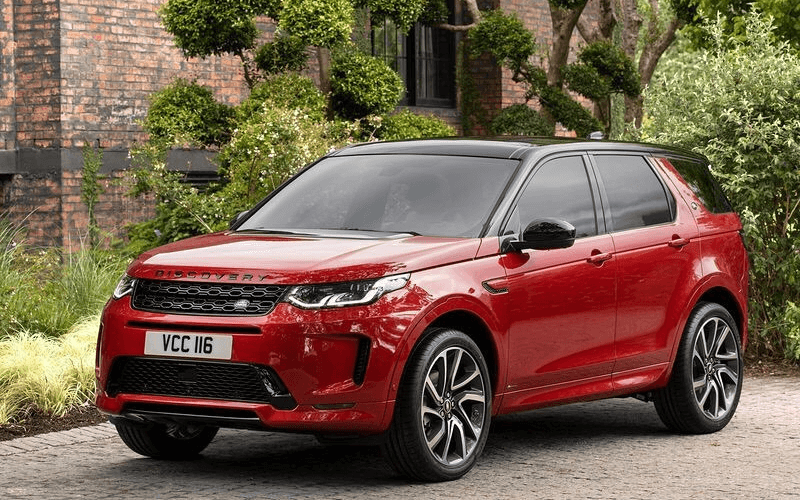 Land Rover has done an impressive job of expanding its presence in the North American marketplace.
Their Discovery model has been the spearhead of this advance thanks to its thoughtful engineering and durability.
As well as the sophisticated Terrain Response system Land Rover equipped it with. It's even available with a special turbo diesel engine.
About The SUV
The Land Rover Discovery comes with a 3-liter V-6 engine that can generate up to 340 horsepower at 6,500 RPMs.
It comes standard with an anti-lock braking system and traction control. Though Terrain Response four-wheel drive is the thing that stands out with the Discovery.
The vehicle continually monitors the performance of the 4-wheel drive system to maximize traction and performance.
It's especially handy if you are looking for a full-size SUV that can be a serious off-roader.
About The SUVs towing Capacity
There are several iterations and upgrades available for the Land Rover Discovery.
The SE model upgrade helps you make the most out of the power produced by the 3-liter V6 engine. This includes adding a tow hitch receiver.
8. The Kia Sorento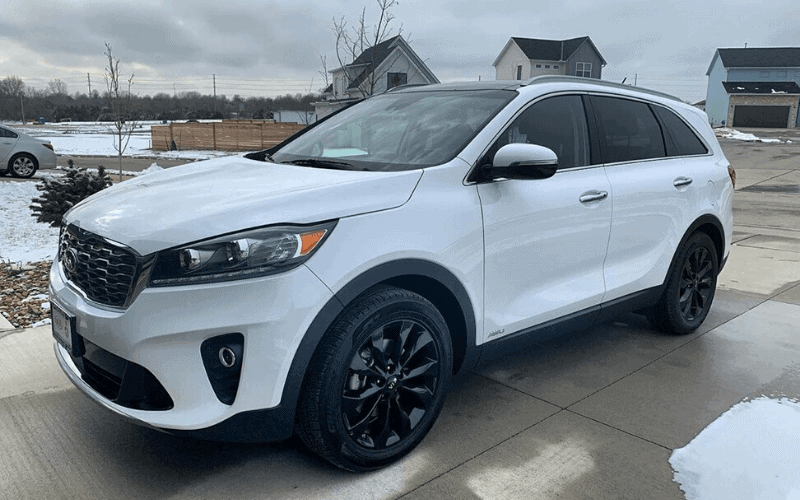 The Sorento is one of Kia's most popular models and their V6, EX, and SX models come with an upgraded 3.3-liter V-6 engine.
This makes it capable of towing lightweight travel trailers with a gross weight of 5,000-pounds.
It's pretty impressive for something that originally designed to be a daily driver, and little else.
About The SUV
Putting a 3.3-liter V-6 engine in such a lightweight SUV means it has the power to put you back in your seat.
The all-wheel drive train you get with the EX and SX models combined with the sophisticated traction control system translates to superior, confident handling in pretty much all road conditions.
About The SUV Towing Capacity
Right off the bat, to get to the 5,000-pound maximum towing capacity you need to go for the EX or SX version of the Kia Sorento with all-wheel drive.
This is part of the Dynamax package, which will include a hitch.
---
Choosing The Best SUV for Towing
There are some basic terms, and how they determine if a specific SUV is defined as a mid-size, full size, or a crossover.
You also want to take note of how these different classes of SUV can influence their towing capacity, compared to the dry or gross weight of your travel trailer.
1: Hitch Weight And Tongue Weight
The characteristics of your camper and how you load it will influence the amount of force or weight that is applied to the tongue.
This, of course, translates into the weight on the hitch of the SUV. You also need to keep in mind that the hitch itself can be a factor in the overall weight you are towing.
With some towing package, the hitch can add up to 100 extra pounds. Thoughtfully distributing the load inside your camper can reduce the tongue and hitch weight.
This will go a long way toward reducing your chances of suffering a dangerous trailer sway issue when you're on the road.
Tongue weight is defined as the amount of pressure your hitch puts on the tow vehicle. Ideally, you want the tongue weight to be right around 12% of the total weight you are towing.
The more you go over this percentage the more strain you put on the tow vehicle as well as increasing the chances of a trailer sway problem.
How Much Does The Average Travel Trailer Weigh?
When we are talking about travel trailer campers and not simple cargo haulers, you are looking at an average weight of around 7,000 to 8,000 pounds.
Though this is just a ballpark number. There are some that only ring in around 5,000 whereas some behemoth travel trailers can weigh upwards of 10,000.
It's important to note that these are "Dry Weight" numbers. When you start filling water tanks and jamming your camping gear inside that weight can go up.
If you want to keep close track of the gross weight when fully loaded, you should also factor in that a gallon of water weighs 8.34-pounds.
How Much Can An SUV Really Tow?
The towing statistics put forth by auto manufacturers is considered to be the maximum capacity the vehicle can pull based on it's torque, suspension and other key characteristics.
Most experienced drivers and professional operators will tell you to not push it all the way up to the max. It's best to give yourself a little bit of leeway.
Things like a strong head wind, loose surfaces, and steep inclines can tax even the most robust tow vehicle.
Giving yourself a 15 to 20% buffer will reduce your chances of suffering from severe trailer sway or an accident at highway speed.
The Difference Between A Midsize, A Crossover And Full-Size SUV
Terms like mid-size and full-size denote the overall size of the vehicle itself as well as it's general towing capacity.
Just a few years ago a lot of American-made full-size SUVs were just half-ton pickup trucks where the manufacturer converted the cargo box into passenger seating.
They got the same sort of MPG or worse as the truck iteration. If you didn't have a small family, you were often just better off getting the half-ton pickup truck. Today the modern-day SUV has evolved.
Crossover SUVs
A Crossover SUV often uses the platform of a sedan, then beefs it up with other features. This sometimes includes an all-wheel drive or four-wheel drive trains as well as optional tow packages.
Some of the more robust crossover SUVs can handle towing a lightweight travel trailer, though most are limited to other RV classes like teardrop and popup campers.
Mid-Size SUVs
The mid-size SUV niche has expanded in recent years. This is thanks in part to superior engineering principles doing away with the rollover problems that doomed them in the 1990s.
Some of the best midsize SUVs have all-wheel drive or four-wheel drive trains. They have the robust towing capabilities to handle a modest-size travel trailer on the weekend, but they can still give you the comfort you want as a "Daily Driver."
The average midsize SUV can tow around 5,000 pounds. A few can even handle towing up to 7,000-pounds. Just keep in mind that these are gross numbers and not dry weight.
If you take a travel trailer with a 5,000-pound dry weight and you load it with another 500 pounds of water, food, and gear, and hitch it to a midsize SUV with a 5,000-pound towing capacity, you could find yourself in serious trouble!
Full-Size SUVs
Full-size SUVs have finally started to evolve out of being redesigned pickup trucks into their classification of vehicle. They have robust towing characteristics.
Almost all of them come with a towing package as standard. All-wheel drive or four-wheel drive trains almost always come as standard.
A few even have an optional rear locking differential for times when you need to tow a lot of weight on loose surface conditions.
Since they are so large and powerful, the towing capacity range is wide. This also tends to translate into fuel efficiency.
A lightweight full-size SUV might only have a towing capacity of 6,000-pounds, but it will get better fuel consumption number towing and driving than a larger SUV with a 9,000-pound towing capacity.
Frequently Asked Questions
What's The Best Way To Load My Travel Trailer To Reduce Tongue Weight?
Right off the bat, there's nothing you can do to alter the travel trailer's dry weight and how that translates to the tongue weight transferred to the hitch.
However, there are things you can do to reduce the gross weight of the trailer when loaded.
Leaving the water storage tanks empty – If you're staying at an RV park, chances are they can supply you with fresh water.
When you consider that a gallon of water weighs 8.34-pounds, you can save a lot of weight by traveling dry.
Pack equipment properly – Try to pack the bulk of your gear over the rear axle of the trailer. Especially the heavy stuff.
This will reduce the overall load on the tongue and hitch. Trailers that are loaded with too much heavy gear near the far front or rear tend to be at increased risk of suffering from trailer sway.
Can You Pull A Fifth Wheel Trailer With An SUV?
Fifth wheel trailers typically require a special type of robust hitch that's mounted into the box of a full size pickup truck.
However, it might be theoretically possible for an SUV to pull a fifth wheel trailer with a special Automated Safety Hitch.
Unfortunately, this is only a remote option for pairing the most robust full-size SUVs with a lightweight fifth wheel.
If you have a fifth wheel trailer or you are thinking about buying one, you really should think long and hard about investing in a half-ton, three-quarter ton or a one-ton pickup truck.
Is A V8 Engine Better Than A V6 For Towing A Travel Trailer?
Just a few years ago people would have scoffed at the thought of a V6 being a better engine for a tow vehicle than a robust V8.
However, recent advancements in engine and transmission design as well as suspension systems, has given V6 tow vehicle a little more credibility.
You certainly get better gas mileage with a V6 SUV when using it as your daily driver.
If you have a light weight travel trailer, under say 6,000 or 6,500 pounds, a V6 SUV might get the job done confidently.
If you are going to go much more over a 6,000-pound gross weight, then you really should lean hard toward a V8 SUV for your tow vehicle.
Especially if you are going to be towing it in hilly areas or taking your camper to rustic campgrounds where the roads can be rough.
Most V8s simply have the extra power you need to take on challenging road conditions, where a V6 might balk.
Conclusion
Modern-day SUVs have evolved a lot in recent years to become something more than just modified pickup trucks with added passenger space.
The revolutions in traction control, multiple speed transmissions, and comfort features have further helped flood the market with some great options.
Finding the best SUV for towing your travel trailer starts by crunching the numbers.
Find the dry weight of the camper and then make a thoughtful rough estimate of how much gear you will be packing into it to ballpark the gross weight.
If you have a lightweight travel trailer that rings in under 5,000 pounds, then you might want to give a good hard look at the Kia Sorento EX or SX with all-wheel drive.
It has the statistics to handle the job on the weekends, yet it still gets you around during the workweek at a friendly price point.
On the other end of the spectrum, if you need to tow a heavy travel trailer and you don't want to skimp on the torque, or you simply like a domestic V8 engine, then the Chevrolet Tahoe might be on our radar.
It has the size and power to get the job done. You just have to accept that the fuel economy isn't going to be all that impressive.
If you want a touch of luxury in your daily driver, and you still want the power, you might want to move the Infiniti QX80.
It has everything you need to feel like the CEO when you're driving it to the office Monday through Friday. Yet it also has the V8 engine and tow statistics to tackle a heavy travel trailer.
Whatever your preferences and priorities, chances are the best SUV for towing your travel trailer is on this list.